PLACES TO GO ON LAND HOME PLACES TO GO ON WATER
Kentucky River Kayak Trek
Monday July 21, 2008
Convergence of the Forks to Dam 14 (Mile 249)
The maps were incorrect! Usually when I make assumptions I find that I'm woefully inaccurate. It's nice to know that my judgment is actually correct for once! As I wrote in my last entry, I was curious about the old bridge over the South Fork of the river around mile 6, so today I decided to have a look around prior to embarking on my paddle today in order to test my theory that Pine Grove Road no longer goes across the river as the maps indicate.
I headed down KY1411 with this purpose in mind, and I hadn't quite gotten to
Pine Grove Road when I was halted by a construction crew. A man waved me to stop and I did so, all the while being bummed out that I wouldn't be able to confirm my theory. Well, I'm not one to stop and ask pesky questions of people - especially when these men were obviously hard at work - but I absolutely had to. The man had come right up to the car and I just couldn't pass up the opportunity.

This man turned out to be very kind in putting up with me and was quite interesting. He was from the Kentucky Transportation Cabinet by the insignia on his shirt and he put an end to my suspense. The bridge in question hadn't been used in years, and the road itself hadn't gone through for quite some time. We talked for a while and I found out that we had some of the same interests in the outdoors (caving in particular) as well as in philosophy (of slowing life down a little). This conversation turned out to be quite uplifting to me since it's always nice to know that someone else shares your views.

I got to the ramp and started out a little after
. The ducks I saw last Monday were back. I hadn't seen them on Wednesday or Friday, and once on the water, I paddled back down to where the forks all converge (the South Fork is the last) at mile 254.7.

Here we go! If I can get in 3 days of kayaking a week I may be able to get the river done in about 3 months the way I'm going. Again, I'm doing this river in circuit routes because it has no appreciable current. I'll go to one point, make a circuit, come back home for a day, and then head back to another point just downriver. I'll repeat this until I get to
Carrollton where the river ends at the Ohio River, and hopefully I'll be done by the time it starts to get really cold.

The town of
Beattyville continues on the right at this point and the community of Proctor starts on the left just beyond it. Also on the right there are 2 creeks which come in. This was interesting because on the map there's only one creek (the converged
Crystal
Creek
and Silver Creek) which comes in here. I wondered if the creeks might have somehow diverged since the map was printed or if one was just unnamed.

Well, I wasn't going to form any conclusions on this. I figured I'd quit while I was ahead! Anyway, the first creek was several yards wide on this day, while the second was a matter of feet wide – a little smaller. I wasn't able to paddle up these creeks to explore them further since they were choked with deadfall debris.

There's a boat ramp on the Proctor side after these creeks enter. It's a nice ramp but I'm not sure if it's public. There are also some really nice houses in here and there were a couple kids riding what looked to be motocross type bikes around the periphery of one. It looked like fun.

By this point the view on the right is no longer that of Beattyville but of a railroad track (CSX presumably) which is atop a second tier on the bank with wooded hills and occasional rock cliffs thrown in. I'd love to take a train ride all through here. I think it would be nice to get that perspective too since, as I recall from last year, this track will follow the river for quite a while. Maybe I'll try to hit up the CSX people for a ride sometime if that's even possible.

At the curve left at mile 254 there was a little creek which emerged from under a little concrete bridge on the right. This must be the Marrey Creek. On the left side the scenery had turned to farmland after Proctor, and there appeared to be quite a large and wide open one here. In fact, it's only significantly wooded spot was a haven for the cows which a saw lolling around on the bank of this curve. I also noticed at this point that there were a ton of gar fish which jumped out of my way in all directions as I paddled. I see so many of these fish and not many others. Maybe it's just because they swim closer to the surface than the other fish do…

Anyway, after this bend there's a straight section for about a mile, and at mile 253 Mike's Branch enters. It was almost dry today though. I got really lucky here because I was able to take one of the best shots ever of a blue heron. One of them flew in just behind me in what looked like the pursuit of a fish. At first I had a problem though. I could have gotten some even better shots, but the battery in my camera died!

This really vexes me because my camera only uses about one tenth of a battery! The batteries cease to work in the camera but I am still able to use them in other things. In fact, I powered my I-pod dock speakers for an entire Keeneland horse racing session this fall with just one set of batteries left over from my camera – maddening. I've got a couple dozen of these partially used batteries now.
To my relief though, I encountered another bold heron just further down and got some more shots. This was unreal. I'd tried for almost a couple years to get some good heron shots and today I get several. Go figure…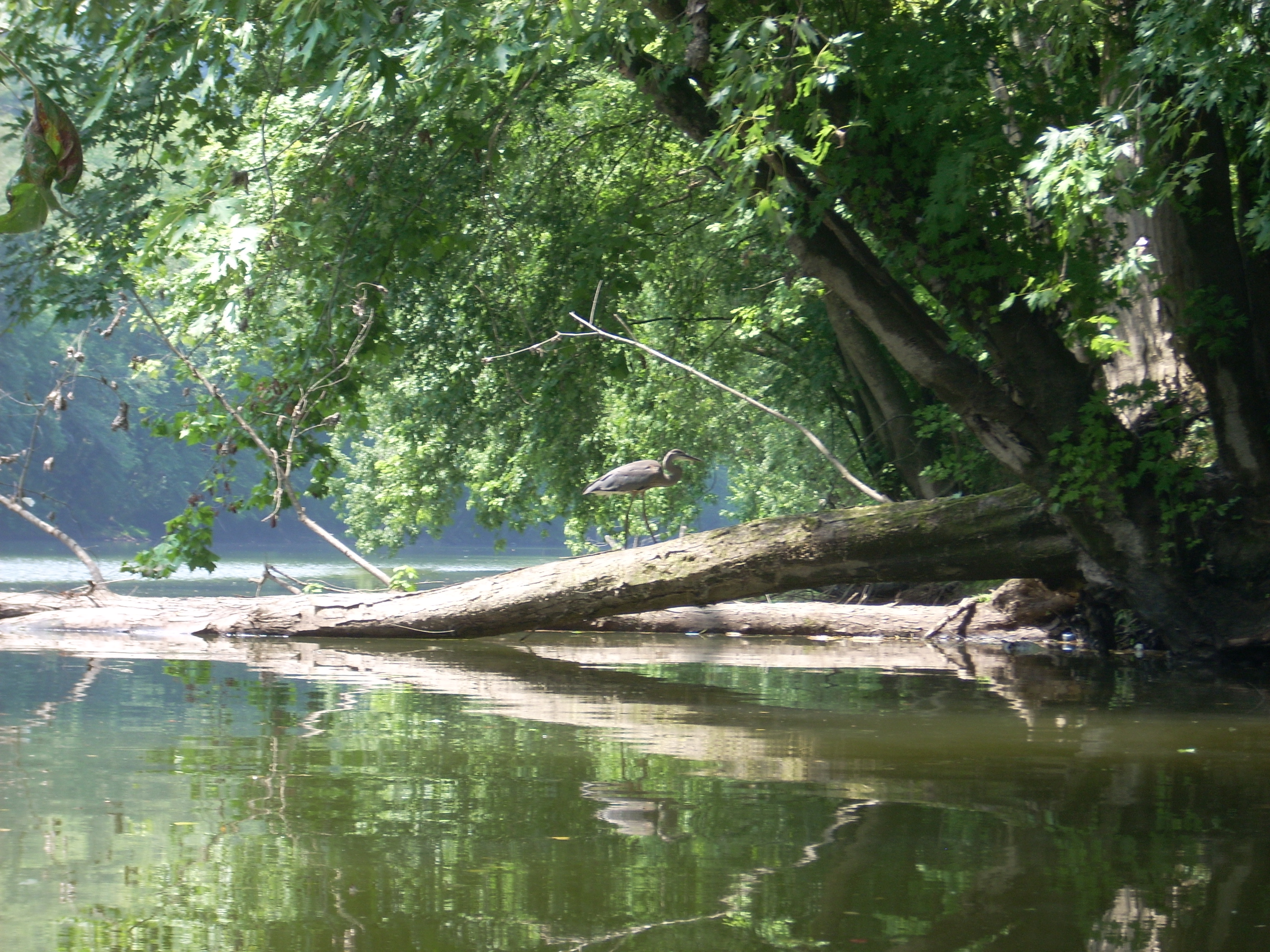 The river bends right just after mile 253 and Bakers Bar is supposedly on the right but wasn't evident to me. Neither was the Dirksen Branch which comes in just after mile 252. I must have gone right by it! The landscape at this point is forested hills on the left with farmland on the right – a scenery shift from bank to bank, the frequency of which will come to characterize the entire length of this river. Therefore, if you get too bored, don't worry. Things will soon change!
The community of Belle Point is back from the bank on the right at mile 251, but I couldn't see it from the river. The Contrary Creek comes in after this. Last year I noted that it lived up to its name because it was the only creek around with any water in it, and today I was able to paddle up about a quarter mile and under a railroad bridge before debris stopped me. When I emerged I paddled all the way to the other bank and noticed a lot more gar. There's no ledge to the bank over here. It slopes gently down.
The river goes into a somewhat sharp curve left halfway between mile 251 and 250, and upon rounding this curve there's another long straightaway which goes on for a little more than a mile before you get to the dam. It was just prior to reaching this dam that I spotted an interesting structure back through the trees which I hadn't noticed last year. Made of brick, it was actually curved on the side which faced the river and there were several spots where windows may once have been. I'd be interested to get the background on this structure.
By this point I had seen the dam in the distance. Each time I come to one of these every nerve in my body perks up. I am always acutely aware of my every move in relation to one, so I hugged close to the right side (the lock-through side at this dam – it varies from dam to dam) and I do mean CLOSE! I never take any chances. To go over a dam means almost certain death.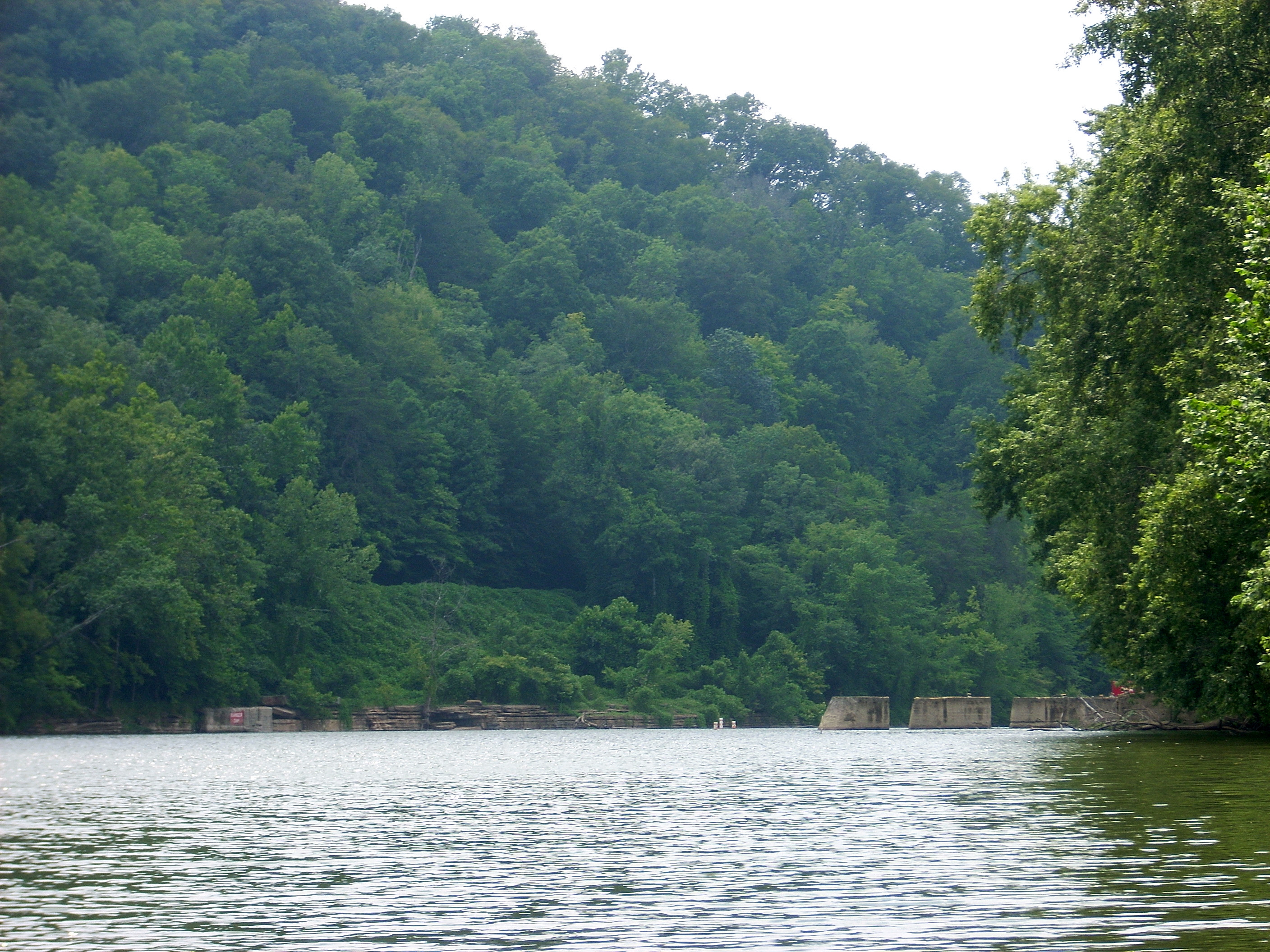 Both dams and the water that runs over them can be extremely deceptive. 2 men died a couple weeks ago downstream of a dam. One was apparently swimming in water that was calm on the surface. Beneath it though, it was swirling so hard that it pulled him under and, as I hear so often in cases like this, a friend went in to try and save him but instead also drowned. It really puts my heart into my throat – the ultimate sacrifice for a friend. Therefore, if you're not familiar with dams, my best advice is not to go near them.

Anyway, I really inched along and slowly reached the lock side. They call them lock and dams. The dam is where the water goes over and generally it stretches about 2/3 over the river. The rest of the way across will be the lock. This is the area where the boats are able to go around the dam if there's someone there to open them up. However, and as far as I know, only 1 out of 14 of these lock and dams sometimes has someone there to do this. The rest seem abandoned.

My vision is to have so many kayaks and canoes on the river along with the powerboats that they'll have to hire someone to do this at every dam full time. This vision also includes having public parks with campgrounds at each one (kind of like at dam 10 at

Boonesboro State Park). Of course, these grounds would have to be monitored very closely due to the inherent danger of the dams, but maybe something could be done architecturally to mitigate this risk and to allow for beaches and/or swimming areas as well.

Or maybe all this is just a dream.

Who knows…

Anyway, I'd explain the locking procedure more fully if I knew exactly how it works but, suffice it to say, it's an area that should be calm enough for boats to drift up. Not being in a power boat though, you never know. I was still very careful and only once I'd reached the corner of the lock which meets the shore did I stop to take a look. There were some steps that went up, but the problem was that they'd really been silted over with dirt and debris which had turned to mud, making them slippery. With deadfalls kind of cornering my boat in anyway though, I decided to try and climb them. There were about 10 steps.

Upon reaching the top I observed that there was a chain link fence surrounding the lock and dam area atop the bank. Someone had knocked this particular section down though and I decided to go a little way in and take some pictures. There was a park up here too. Well, I noticed but didn't properly negotiate the fence; which, although toppled, had a bottom portion which protruded upwards. I tripped over this and fell hard onto the fence and the pavement beneath. My hands had been on the camera so I wasn't able to break much of my fall. I managed to damage one of my wrists and hoped that the lens to my camera was not damaged as well. I had been snapping a shot when I fell. Dumb.

On the way back the gar were still out in force. I took more pictures of them and also of the place where the South Fork meets the converged North/Middle Fork to form the main river. Having done this, I said goodbye to the ducks at the ramp and left for home.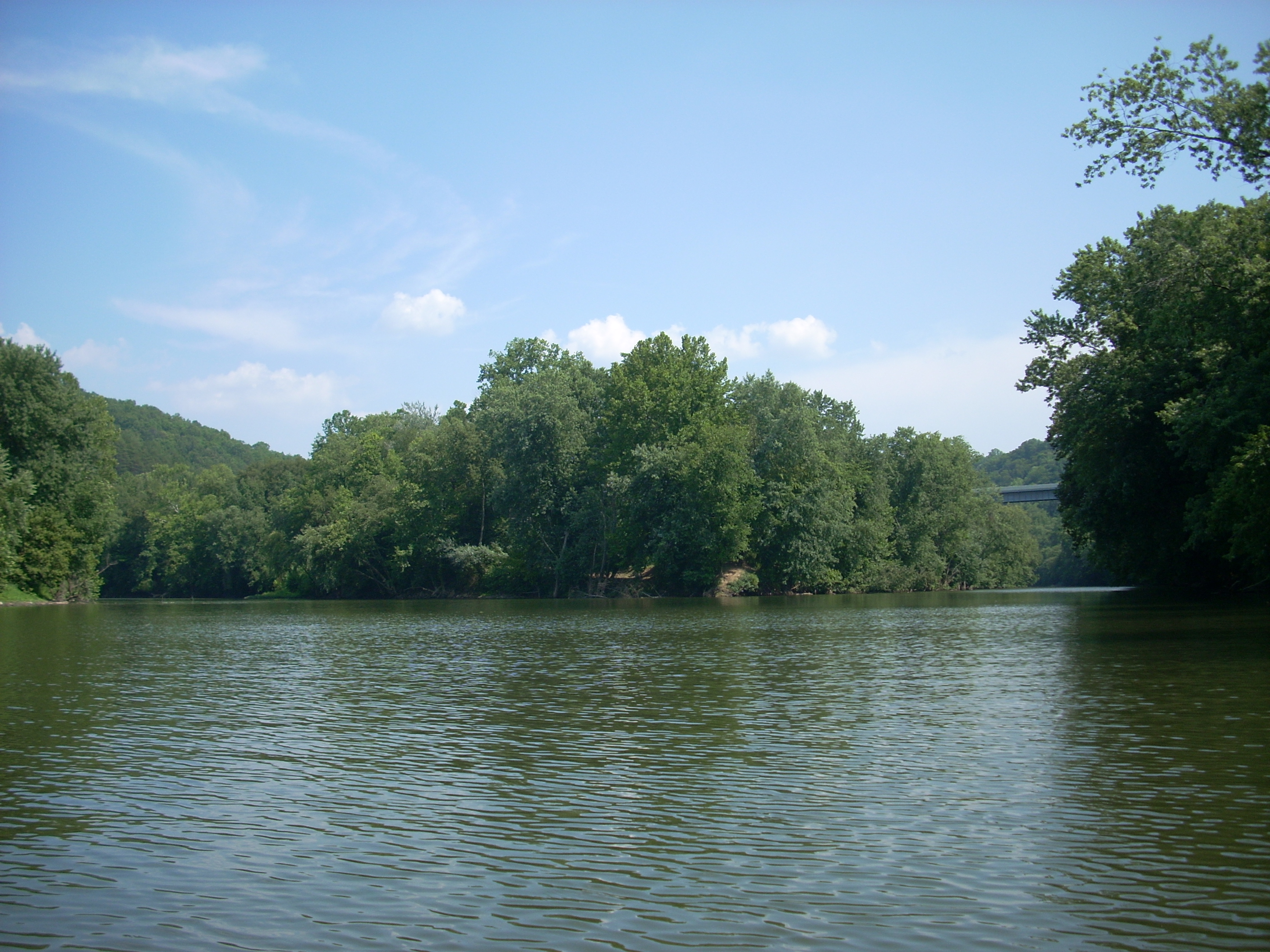 When visiting here at other times I'd left around dusk, but I was earlier today. I can't describe this exactly but there's something really neat about driving back (North in my case) on KY11 at dusk. This is the case for me around Natural Bridge Park but especially for some reason around the community of Torrent, Kentucky.
Torrent seems to consist of a resort, a convenience store and a couple houses from all that you can see from the road, yet the convenience/liquor store is the coolest looking one I've ever seen. The resort is also amazing to look at since it's perched amid a semicircle of sheer rock cliffs which tower over it.
DIRECTIONS:
At the junction of KY 11 and KY 52 in Beattyville turn East on East Main Street. Go to the second street (the aptly named Water Street) and take a right. The street dead ends at the boat ramp. There's plenty of room for many vehicles. There is no fee to use the ramp.