PLACES TO GO ON LAND HOME PLACES TO GO ON WATER
2008 Kentucky River Kayak Trek
Friday, October 17, 2008
Dam 1 to Carrollton, Kentucky on the Ohio River!
Four more miles to go! I was reminded all day of Arnold Schwarzenegger's chant at the republican convention back in 2004 when he was supporting George Bush for president – "Foa moa yeah's … foa moa yeah's". It looked to me like I was actually going to make it, but I'm never certain. Something can always happen even though it certainly looked good. I FELT FANTASTIC!
As I've mentioned before, when I'm heading out for a trip I'm usually pretty fired up and I want some tunes that will match that mood, so I'll try to select something that will pick me up and throw me around a little. Well, this particular morning I was particularly fired up, so I wanted something that really rocked. Anberlin is my favorite band, but I also like Mae's Singularity release, and this was the one I chose to listen to on the ride. I was singing along to the disk the whole way out – like that scene with Tom Cruise in the Jerry McGuire movie – all fired up!
After all the craziness on Wednesday trying to find a put-in, I knew exactly where this one was since I had already driven past it. And, wow, can I tell you that the location is simply amazing! You've simply got to check it out – highly recommended! What you get is a vast view of the Ohio River from the park along with the Kentucky River which drains into it. For me it was breathtaking - a fine reward to greet me as I began to paddle my final few miles. The ramp itself is actually on the Ohio River near the mouth of the Kentucky.
You know what I think? I think that the first ramp (in Beattyville) and this ramp are my favorites on the river. They're both in scenic locations, they both appear to be well maintained, and they both look relatively safe. I got my gear and boat down and headed out…
And would you know that on the way up to dam 1 the river gave me a gift?!? In the distance at one point I saw a basketball floating on the river... OK… I'd seen plenty of basketballs on the Kentucky River
… This is, after all, a basketball state!

What made this one special though, was that as I paddled near it, I saw that it had a Cleveland Cavaliers logo on it – my favorite team!

(I spent many years in that city after college.)

I couldn't believe my luck! Wasn't it strange, though, that I had met with such a coincidence?!? (If, however, there is anyone that is missing this basketball I would be most happy to return it. In fact, I don't know how far it might have traveled down the river. It could belong to anyone as far up as Beattyville - although I know that that's highly unlikely).
Another thing I noticed on the way up was that once I got near the dam, I saw what I guessed was either a white heron or an egret. It's in the picture below…
When I got to the dam I noticed a couple people who looked like they were camping near the beach (there's one on both sides here) on the lock side – and what a fantastic spot to do it in! I wasn't too sure about whether or not they should have been there, however, and I'll not speculate as to the permissibility of this. For that matter, I can't really post pictures of the dam either because it may identify these 2. At any rate, I sure wish they would open these things up to such activities!

In this last stretch of the trip downriver, there are a couple of squiggly curves which form a backward "S" from the dam to mile 2, and then the last 2 miles will be straight all the way to the Ohio with farmland on the left side, and the outskirts of Carrollton on the right.

Starting out, there's a wide open area around the dam and then the river narrows a bit, but it's still at it's widest of the trip (as you might expect). Just before mile 2 Major's Run enters from the left on Heath's Bend

(one of those squiggly curves I mentioned). I was able to get about 100 feet, and as I emerged I was looking down the river at a long alley.

I couldn't see the Ohio River yet, but I did see what the charts indicated was the Admiral's Landing Dock along with a ramp next to it on the left. Admiral's Landing looked like it must have been (or could still be – I couldn't tell if it was open) a restaurant/bar housed in an old barge on the bank. It really looked pretty cool, although bank erosion must be a concern!
As I was passing under some power lines soon after this, I noticed what must have been about 50 crows atop them – I had witnesses! I was actually going to finish this trip! I wouldn't have to swim the rest as I'd pledged in a previous journal that I would do if something happened!
The blue bridge for US42 was next to appear, and as I paddled nearer to it, I could see the Ohio River and a barge moving upstream in the distance. I wish that I could have been closer to see what it would have been like to paddle a short distance from one (near the shoreline, of course!), because I'd read how Eddy Harris described these in his narration of his paddle down the Mississippi River (awesome book - http://www.eddyharris.com/books/mississippi.htm). For today, at least, this wasn't to be.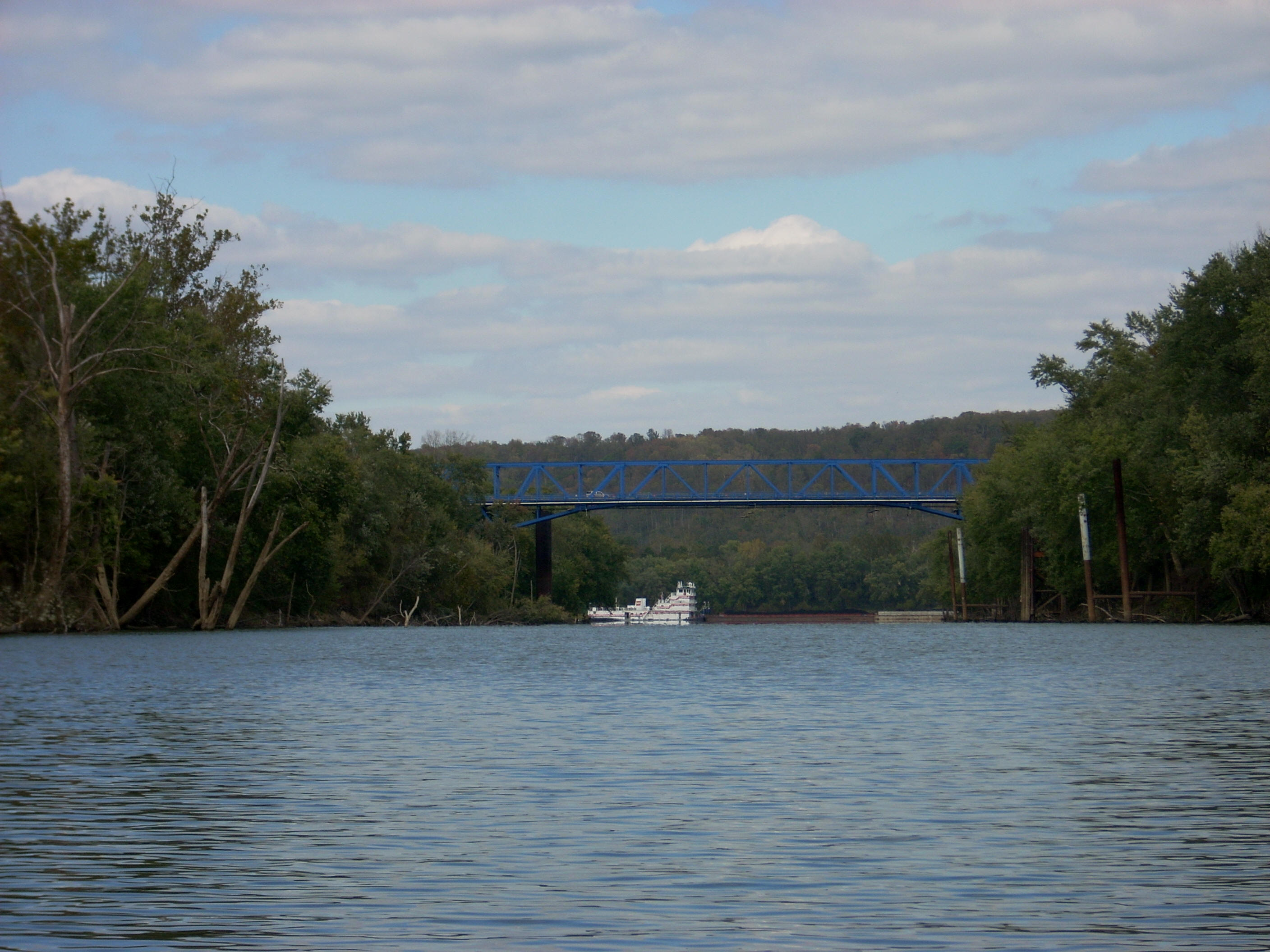 [10/17/09 Update – It was at about this very point, while out here to celebrate the 1 year anniversary of the completion of this trip with a buddy of mine, I was thrilled to see a steamboat coming our way! In all the time I've spent on this river I have really gotten to appreciate its history, and so it's been with regret that I've realized that I was too late to see the steamboats plying the river as they did way back when. Well, today I'm very happy to say that I've had a chance to see a little bit of what things might have looked like. A steamboat on the river is truly a fantastic thing to see!]
Anyway, before the bridge there were remnants visible of an old barge facility which the charts indicated as being the one called Liter's Quarry on the right. On the left after the bridge was the community of Prestonville, Kentucky opposite from Carrollton, and there were some more old bridge piers there. The picture below was taken at the mouth of the Kentucky as it enters the Ohio. I'd made it!
But I wasn't quite ready to call it quits yet… I was curious to see just how the Kentucky River

compared to the Ohio as far as the width across... From a point just before the Kentucky widened at the mouth to meet to Ohio, I paddled directly across – 60 paddles – 120 feet. The Ohio? … 360 - exactly 6 times the width of the river I'd been traveling on!

Once on the other side of the

Ohio I got what I think were some great pictures of Carrollton (it was hard to get a straight one as I wasn't used to the waves), and as I did, I noticed that the Ohio has a ton of ramps! Hmmm… interesting… maybe I should move to Carrollton and try paddling the Ohio next year? I wouldn't go all the way, of course… but maybe… just a teeny little part to see what it's like? Maybe more? … We'll see.
I got back to the ramp after enjoying some time amid the awesome scenery, and was getting pretty hungry. It was time to check out the River's Edge Restaurant and see about that fish fry I'd heard about from the fisherman I'd met upstream on Monday's trip…
Once there however, I just couldn't get past breakfast! I noticed that it was available even though it was somewhere around 2, and it's one of my favorite meals – just plain old eggs with a double order of hash browns! What I failed to do, though, was to sit in the back where they have windows which overlook the river. I sat at the counter. The meal was great anyway!
I usually head back from a trip in silence because I like to savor the memory of what I've done. This time, however, it was different. A friend of mine, Tom Forsey, is an exceptionally talented singer and songwriter with 4 cd's out (www.t4crecords.com), and I'd brought along one of these with me to listen to today. Tom is a funny guy, and his songs are apt to put me in a great state of mind as I think of him and listen to his lyrics. We're both advocates of the outdoors and of "old school" values.
Anyway, when I got back home I saw a neighbor and asked her to take a picture of the crazy guy who had just kayaked the entire Kentucky River!
I look forward to more great trips as the weather begins to warm next year. For now though, I've got some relatives to visit. All the best!
James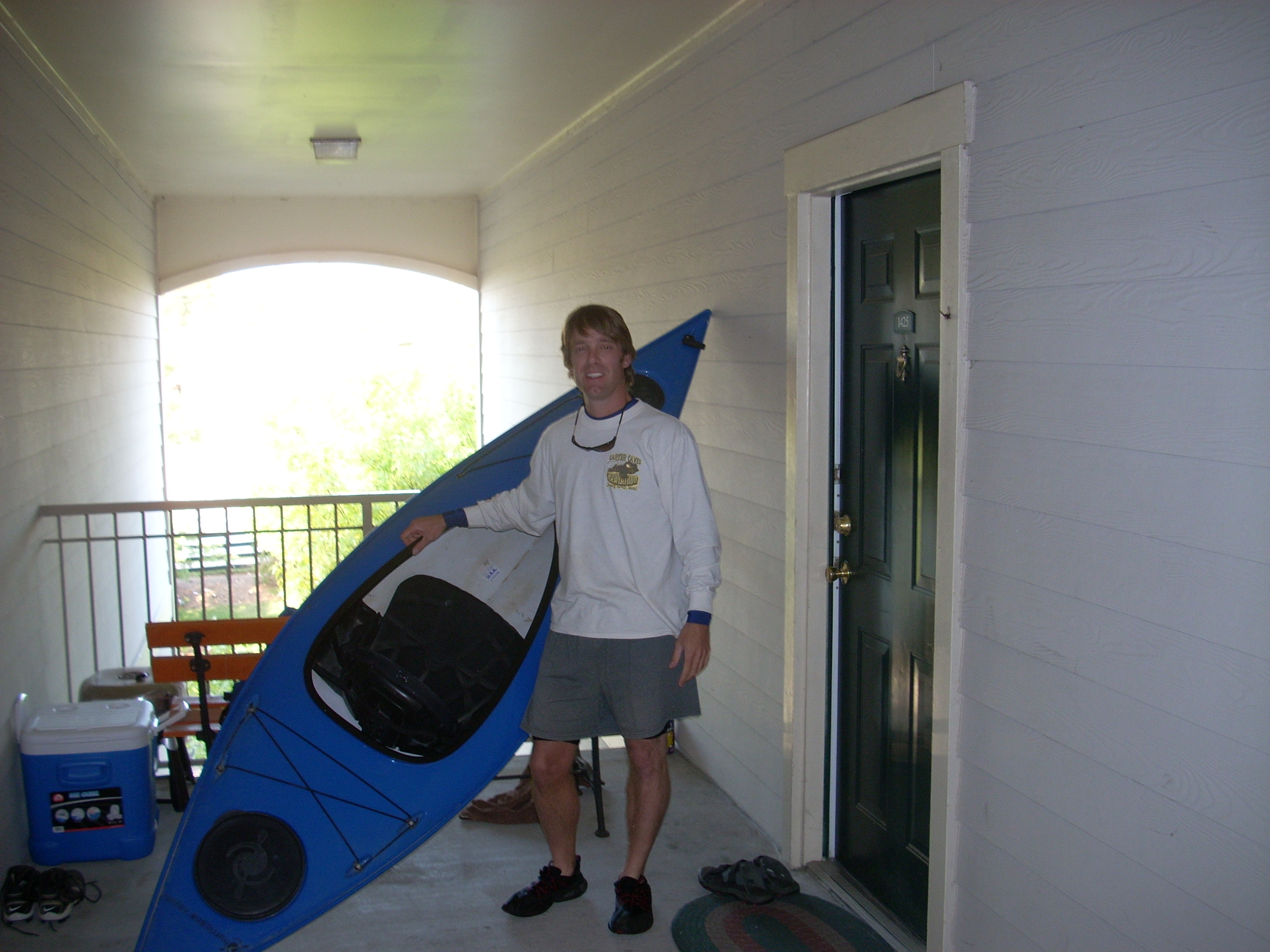 I look forward to more great trips as the weather begins to warm next year. For now though, I've got some relatives to visit. All the best!
James
DIRECTIONS:
It always depends on which direction you're coming from, of course, but coming in from Lexington, I took KY227. Once in Carrollton you'll take a left on US42 and the park with the ramp (Point Park) will be on the right just off River Road (how bout that!). You'll see a sign for it just before you go over the bridge.