PLACES TO GO ON LAND HOME PLACES TO GO ON WATER
2008 Kentucky River Kayak Trek
Monday, October 13, 2008
Drennon Creek to Eagle Creek (Mile 11)
Farmland! Amber waves of grain! …and tobacco …and cow pastures…
The drive out was filled with fantastic looking farms: the horse farms on US60 between Lexington
and Frankfort, and the farmland on KY127 and KY355 in particular.

(I noticed something else on the drive too - there's a Paul Sawyier art gallery in a little strip shopping center next to the Rebecca Ruth candy store on US60 – open Tuesday to Saturday.)

When I turned on to KY355 though, I was stopped.

A dump truck of the sort I'd seen on previous drives out here had overturned.

I hoped that the driver was OK.

The ramp, of course, was again hard to find for someone who had never been out here before. I'd heard that it was in the wildlife management area near Perry Park, but I noticed only one small little sign for this area, and there were only a couple narrow gravel roads on either side of KY355 for it. Thus, I drove on looking for another sign and a clear place at which the ramp might be.

No luck... When I got to the sign for the Eagle Creek Resort, I knew I'd gone too far. I turned back and tried both of the little gravel roads back at the wildlife area sign. One of these led to a little parking area and then to a walking path that was blocked off to vehicle traffic at the end. The walk was through tall weeds and I didn't think the ramp could possibly be back there, but I had to make absolutely certain. If this was the place to put in, I'd have to use it or I'd be in trouble. I'd also have to carry my boat and gear quite a way though.

I soon found, once I had walked down the path a little, that this was ridiculous. This couldn't possibly be it, so I drove down the gravel road on the other side to see if there would be anyone to ask... I couldn't even get through. What I eventually found was a guy by the side of the road and I asked him.
Turns out the ramp had been immediately after a bridge right after the Perry Park Country Club on the left. Again, please use the directions below so you won't have to make the same mistakes I did if you decide to come out here. This ramp is also on the opposite side of the Big Twin Creek than is indicated on the river charts.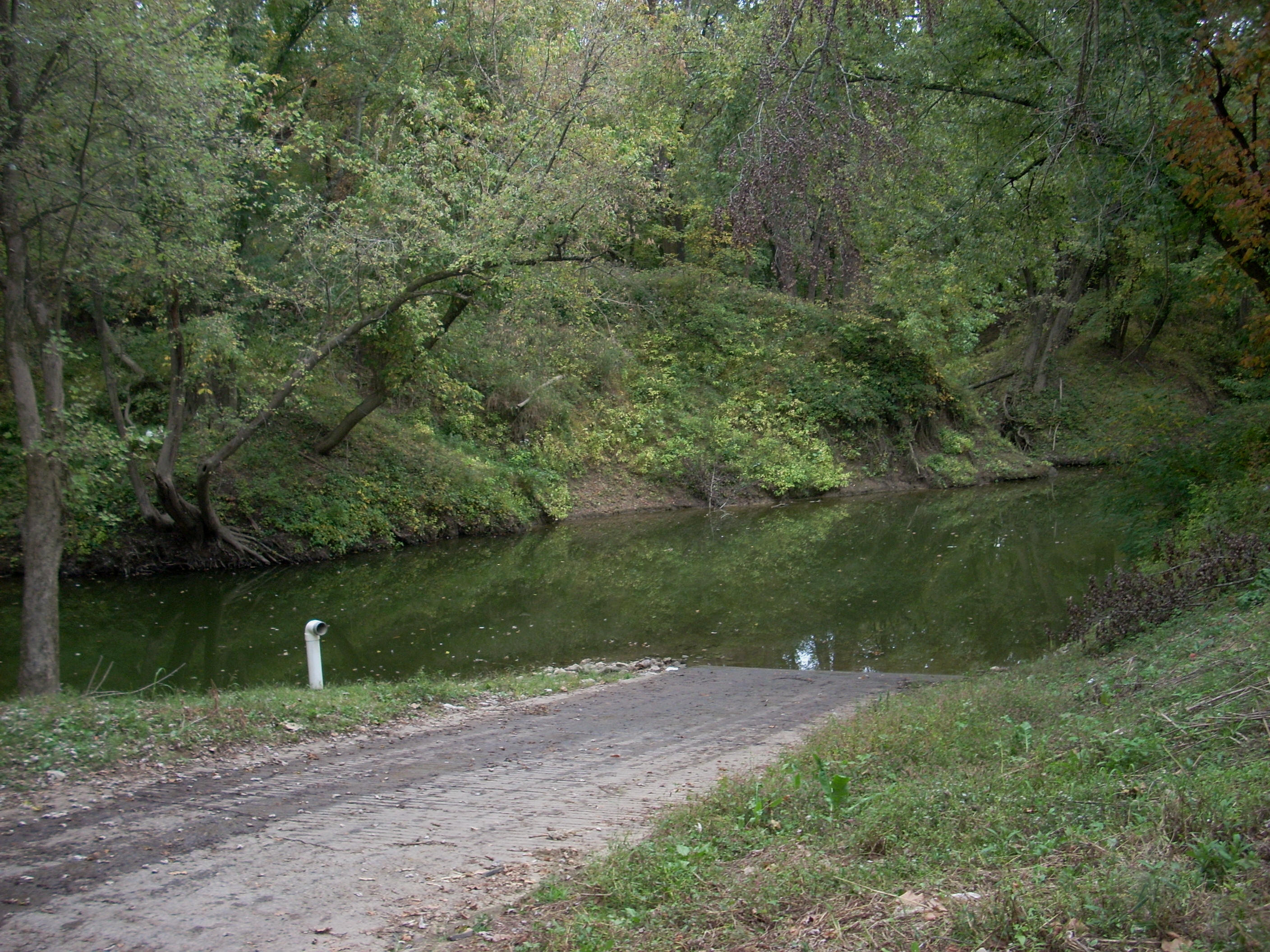 Once at the ramp, I paddled this creek (Twin Creek) and the Mill Creek on my way back up to the Drennon Creek where I'd stopped on Friday. On the way I encountered what I think was the first hawk I've seen, but I also encountered a couple men in a power boat who just seemed to be in a foul state of mind. They first zipped right by, staring straight ahead as I waved, and then they stopped just ahead of me and kept their backs turned as I paddled by. This was odd... In an environment like this it must be incredibly awkward to just completely ignore someone in this way without so much as an acknowledgement of their presence.
Then, when I paused to turn around at the mouth of the Drennon Creek - a place which had filled me with such a feeling of tranquility on Friday - guess who zips right up behind me and stops in a childish attempt at intimidation? These same guys! Had I not experienced this I would not have believed it. I heard them power up as I was rearranging my gear in preparation for the return trip, but I didn't think they would do this. Something was wrong with these men. Power boaters are almost always the friendliest and most fun loving of people, so I'll pray that whatever the hardship that has occurred to put these men in such a frame of mind be eased so that their hearts may be softened.
At any rate, I was in an awkward position. I loathe imitating such foolish actions, but I felt compelled to ignore these guys as they had ignored me! At the time I believed that anything I said or did would have provoked them into more lunacy. As I finished prepping they engaged in a conversation between themselves, presumably to ease the discomfort they must have felt as they completely ignored me a third time even though I was right next to them - and they were talking about religion. Religion!
Anyway, as I moved on we were both happy. They must have been content believing that their actions had worked to their advantage, and I was happy too because (once again) aggressive action had proven pointless. I had no intention of staying in the creek – I'd already paddled it. The bottom line is that while I'm sure this isn't the normal behavior of these guys, you can't let acts like this bring you down to the level of those who would practice them. Good actors can move beyond such incidents with the peace of mind of a clear conscience as their reward.
Back to the river… There's a rocky area on the left as you paddle out of this creek, and above it there's a house which at first looks like a store. (This would be a perfect location for a store - right on the river with an easy walk up for any supplies one might need.) The house must be part of the community of Drennon Springs, Kentucky which comes close to bordering the river here. On the other side, and throughout most of the trip today, the farmland took a 2 step pattern with the area from the first to the second step being a forest-like setting (some areas make for ideal little parks). The farms were on top of the second step.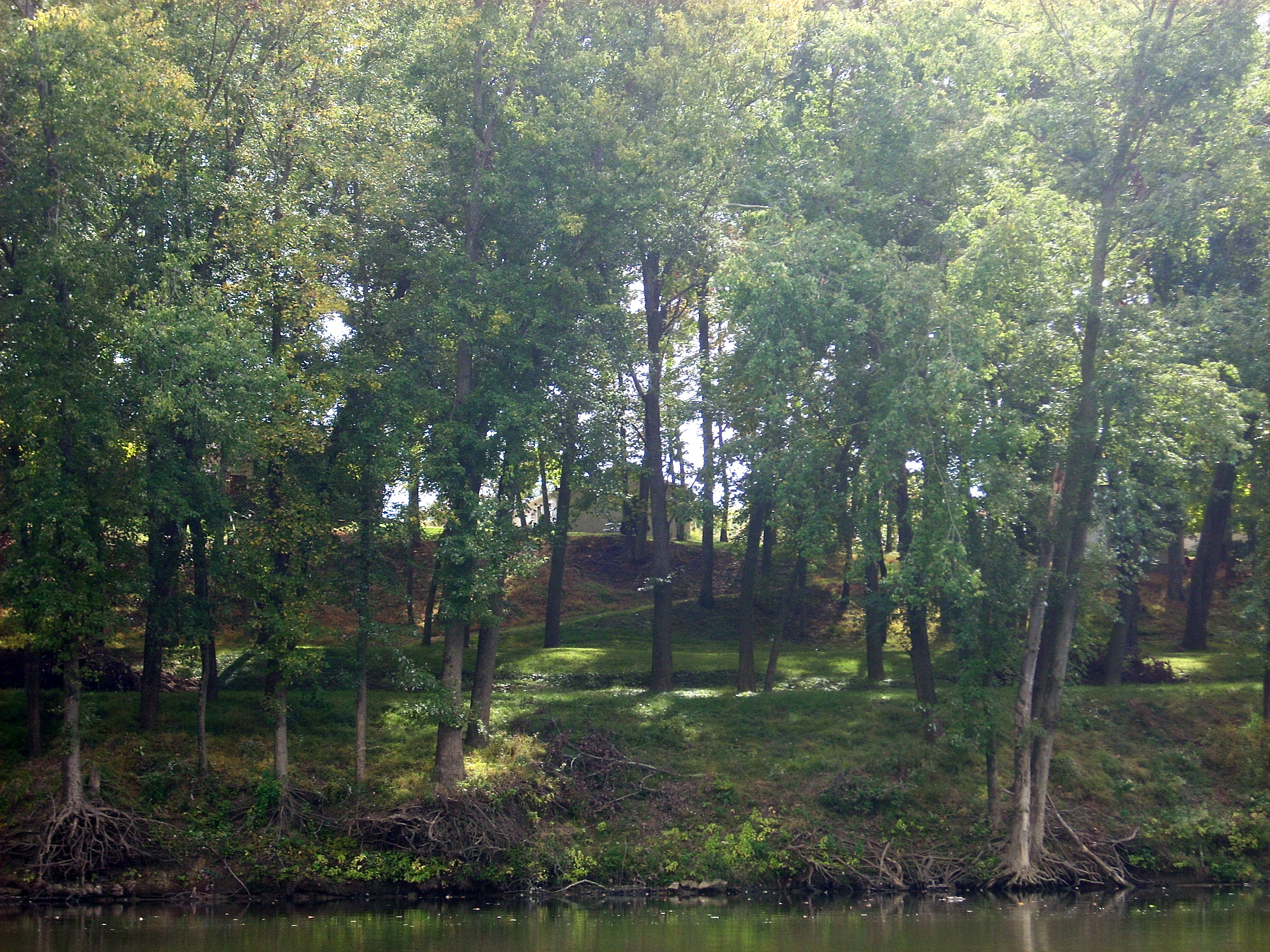 At about mile 20 I spoke with a real boater – a friendly one! He was out with his son fishing and, like me, he seemed to be real easy going - probably more so. I asked him what
Carrollton
was like, and he said it was pretty small - just small town America
.

It seems that to the folks out here, it's just another little town, but to me it's everything! It signifies the end of my trip. Besides, I love small towns! I will be extremely happy to see what it's like.
He told me that they have a restaurant out there, and I couldn't remember exactly what he said the name of it was until I looked it up - it was the Rivers Edge Restaurant. I'll try to stop there for a celebratory dinner if I finish the river. He also said they'll have a fish fry on Friday, my target finish date. That would be awesome! I might not have found out about this place had I not met these 2. Thank you!
The charts indicated that Spring Port was on the left at around mile 19, but there was only one dwelling visible to me there. On the other side, though, there were quite a few houses and it appeared that this was about where the Perry Park Resort was. I saw signs for it coming in. There's a spillway coming down to the water here too right at mile 19, and after this the river makes a curve right. I spotted a buck on the left which looked like it was digging for something (and I had, in fact, seen a lot of deer too around this area on the way up - and on the creeks too).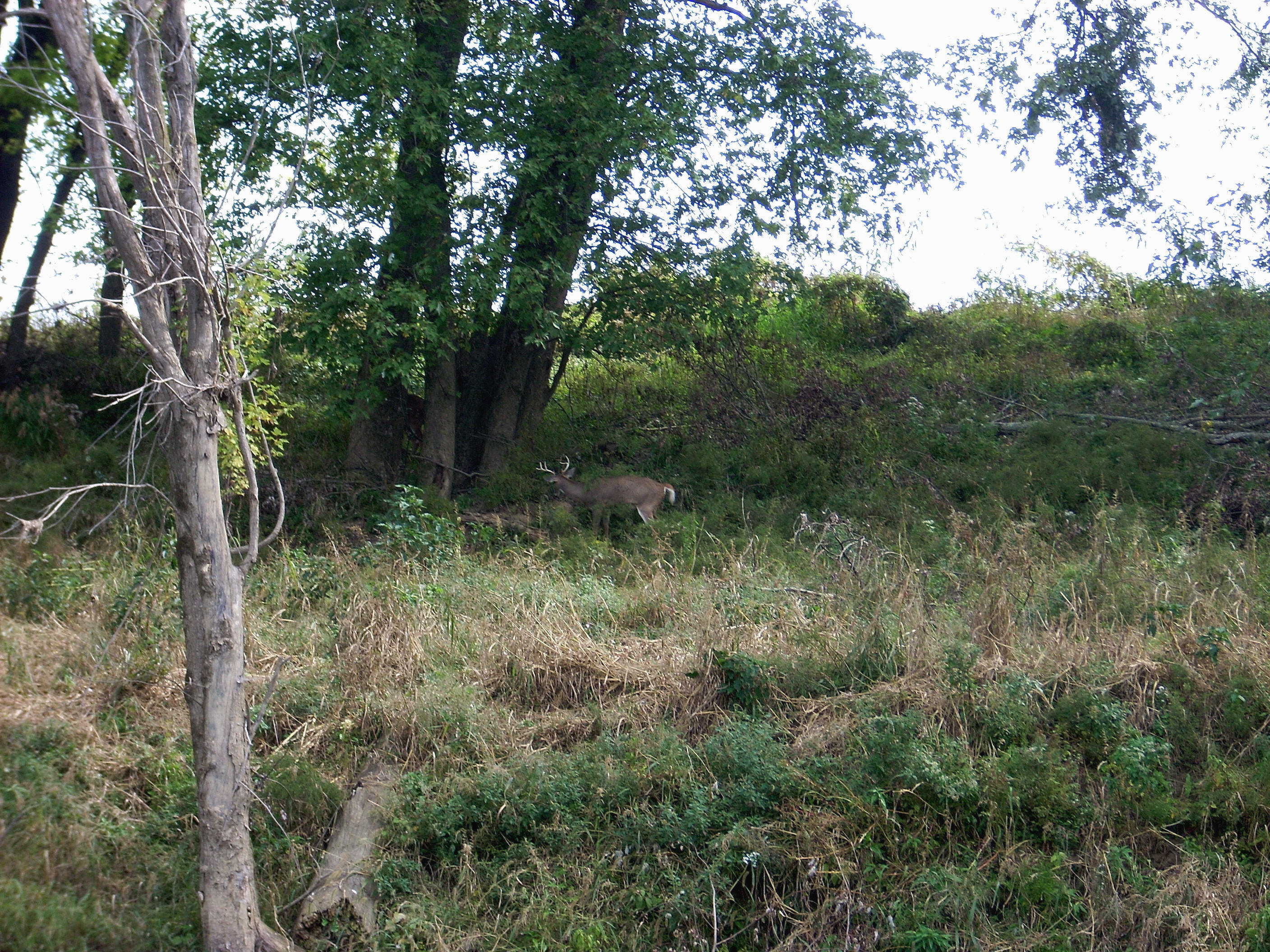 Mile 18 was one curve right and the Mill Creek entered the river from the right at the end. I got in about ¼ mile. The community of Perry Park is between this river and the one I put in on, the Big Twin Creek. These creeks are very close together and kind of "sandwich" the community in between them. Big Twin is longer, as I got in about 1/2 mile when I started my paddle today, and just after the put-in I used there was an old collapsed concrete bridge. As I paddled past this stream now I noticed 3 people fishing on the downriver side of the mouth. There's a pleasant rocky area here.
What I saw next was something else which I would not have expected (although, to be honest I had seen it from the road coming in). I wasn't really sure what this was, but it looked like they had an old steam engine up there. It was right at the shoreline, and directly behind it there were some colorfully foliated trees which stretched up a hillside in the background – a great scene!
At this point I was in the straight stretch of mile 17 and right about in the middle of it the Little Twin Creek entered from the right. It looked fairly sizeable on the charts, but I only got in about 100 yards or so. You'd go under the bridge for KY355 after the first little curve if the water was higher. Moxley Landing is downriver from the mouth of this and it might have been another ferry location.
After this point the river is pretty much straight down to mile 15 with farms on the left and KY355 winding along on the right, and when I got down to mile 15 I saw on the charts that the Locust Grove Summer Cottages are or were here on the left. On my return trip I encountered another friendly fisherman at this spot. He was baiting a line which stretched all the way across the river, and he said that he had recently gotten a license to fish commercially here on the river with his father. It sounded like last year had been rough for them but that this year was better.
This was the kind of person I could have talked with for a couple hours, and I would have learned a lot, yet by that time it was getting late and I had to return. I did think to ask him about the cottages, and although he didn't remember them as having been prominent here, he did say that they had a log cabin on their property up there which had a sign carved either in it or on it that said "Locust Lodge". He thought the date on it was from the 1800's! I guess these cottages probably aren't in operation anymore!
The next stretch of river is straight for a little over a mile, and the Canes Creel comes in on the left at the end. This spot was an old buffalo crossing. I paddled into the creek about 100 feet. There was a little concrete bridge going over it at the end - just out of my line of sight - because I couldn't quite get back that far. I did, however, see what I thought was another paddle fish around this area when I came out.
The stretch from this point to mile 11 at Eagle Creek is basically a right curve made up of a pair of mile long semi-straight alleys. Guillion's Run at mile 12 wasn't navigable. The stream had a deadfall right at the entrance which actually looked like it could have been deliberately placed there in order to dam it up. At the end of this curve I noticed several wooden docks on the right bank in the Eagle Creek Resort area, which has the look of an RV park/campground. There's a good ramp here too (2 of them, in fact), but from everything I've heard it's private and not useable.
I'll paddle the Eagle Creek the next time, and I've heard that it's a pretty long creek. In fact, given the lower elevations of the land now, I wonder if it will be the longest on the river (in terms of paddle-ability). I'll find out! Looking in and to the right of its mouth there's a nice little muddy area at the tip of the point and it looks like another, older ramp used to come down to this. It looks like an ideal fishing spot! Having seen it I headed back and out.
I sure wish I could utilize the Eagle Creek ramp next time because it would be perfect. What I'll need to do instead is find another place to put in. This will require quite a bit of luck with the way things tend to go with me and put-ins. I usually end up finding one in the end, but this will be the first time that I have absolutely no clue as to where one might be! This could get really interesting…
DIRECTIONS:
The ramp is off of KY355 right in Perry Park, Kentucky. If you come in from the south you'll see the sign for the Perry Park Resort. Look for the first little bridge after this. The ramp is on your left immediately after you cross it. If you come in from the north you'll see the little green sign indicating that you are in Perry Park and the turnoff is right after this. If you go over the bridge and see the Perry Park Resort sign you've gone just a tad too far.