PLACES TO GO ON LAND HOME PLACES TO GO ON WATER

2008 Kentucky River Kayak Trek

Monday, September 23, 2008

Dam 5 to Bear Branch on Mulholand Bend (Mile 74)

Anyone reading these…

.

..wait…

Is

anyone reading these? I think some members of my family are, but that's probably just because they're my family and they're being nice.

I should say that if anyone is reading these they'll know that getting to the put-ins on the

Kentucky River is often the most interesting part of the experience – and today was certainly no exception. I first went through Versailles and then through some large and scenic farms, and as I neared Clifton on KY1964 I descended through a stretch of winding road which reminded me of the drives I had going to the Valley View Ferry and the Brooklyn put-ins.

Once down in

Clifton, however, I again got lost. The Fish and Wildlife Boating Access Guide has the ramp as being off Buck Run Road, and I saw a road about where this was supposed to be, but there was no street sign visible to me. I kept going to see if I could find the sign further down. Clifton is not that large, so I figured I could double back if I needed to...

I needed to. I found out later that the sign for Buck Run is receded enough from the intersection that only people who might know where it is (those living on this street!) can see the sign. When I eventually stumbled onto it I asked a lady walking there if she would point the way, and wouldn't you know, that she told me the ramp is not even off this road! It's off

Lower Clifton! I was to turn around, take a left on Lower Clifton and go straight when the road curved. I'll just say this: if you'd like to head down here, follow the directions below. I've already suffered all of the misdirection and made all the mistakes for you. You won't need to repeat them.

This ramp is paved and it splits in two at the end. It's a good one, but I wasn't quite comfortable with this spot at first. Something just didn't feel right. Some kind of scrap metal was strewn all over the ramp and, assuming this was intentional, my first thought was that anyone who would do such a thing might be awkward to deal with if I ran into them. Since I was hesitant to drive over this I parked my car in the grass at the top of the hill and walked all my stuff down.

I paddled up to Lock and Dam 5. The lock door is now concreted and there's another nice beach downriver. The water flow was really low on this day, however, because the paper had indicated that the central part of the state was in a moderate drought. So, of the water that was going over the dam, most of it was coming over the ends while the middle was completely dry. As part of the construction, there are 3 metal cylinders here just below the lock side, which appear to be filled with concrete. The same kinds of cylinders were being input as part of the dam 9 reconstruction.

The forested hills begin on the right as you enter a left curve immediately after the dam. There were some nice fall scenes on this side, and I noticed for the first time (there would be a few more today) that I could see glimpses of the rock faces through the trees in the distance. As we progress through fall the trees are starting to defoliate, making this possible.

You'll only be able to see the cliffs from a distance though, because when you paddle right up to a hill the foliage on the trees at the bottom will block your view. The color progression of this foliage is interesting. It starts out green on the trees at the bottom, and then gets more and more colorful as you adjust your gaze upward. Then, at the top, the trees will be defoliated and you'll see the rock faces.

C-clop, c-clup! I always fail to mention c-clop, c-clup! Whenever you pass by a low overhang on the river, be it a rock formation jutting out over the surface of the water or even a low mud bank, you'll hear this noise. It's made when the wake of your boat produces a little wave which hits these overhangs - the bigger the wake the more dense the sound. A power boat will make the c-clop, c-clup while my kayak will usually produce more of a c-clip, c-cloop or a plopping sound. If you stop and listen to this it's really quite pleasant!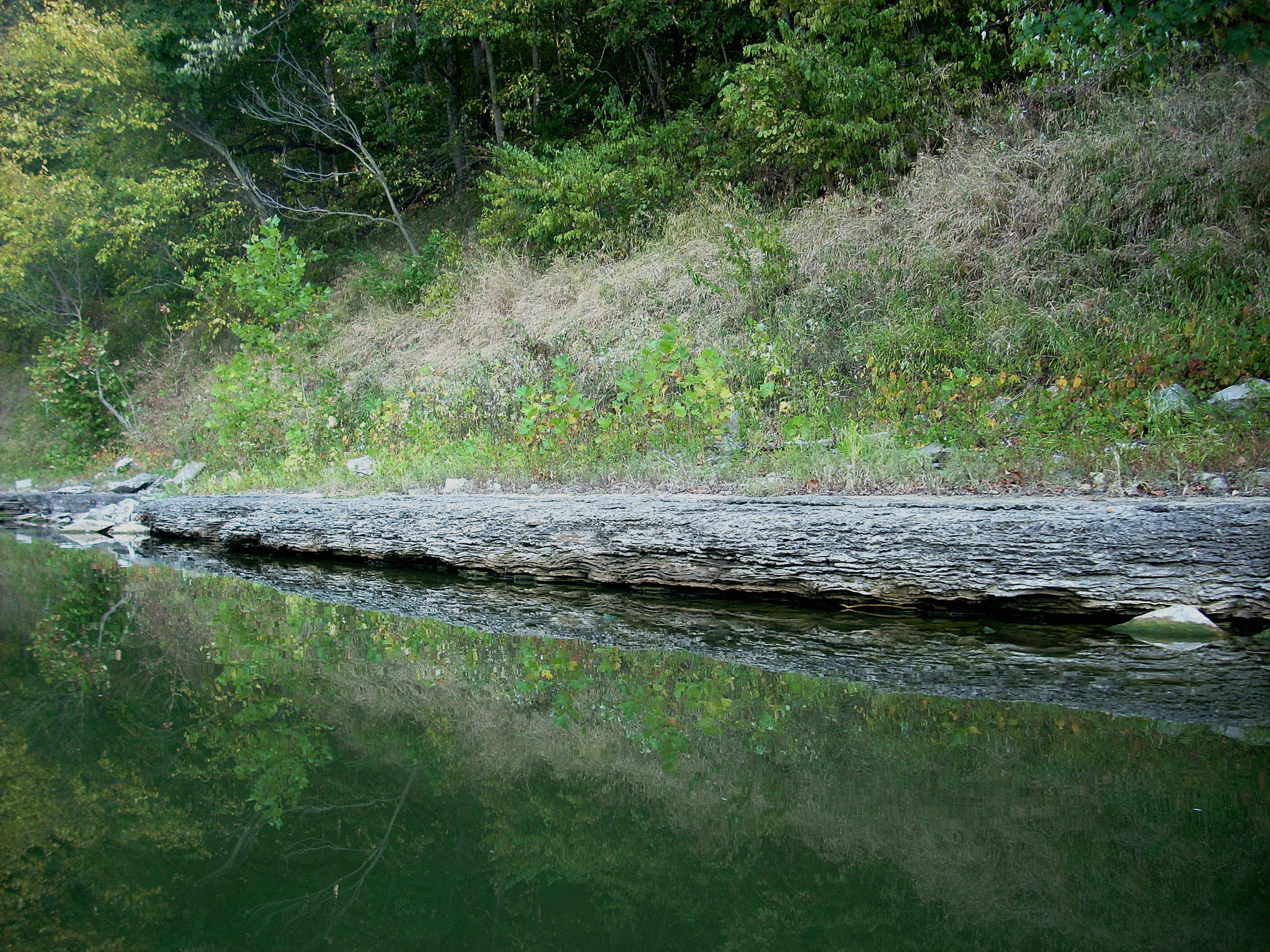 That reminds me, too, that power boats will usually slow down for paddlers out of courtesy. They don't want their wakes to tip you over. Not all of them do this though, and while that might seem a bit rude (it does bother some paddlers), it doesn't bother me too much. My boat is pretty stable (knock on wood!) and I've gotten used to it, so when a boat powers by without slowing down I don't usually mind. In fact, I think it's kind of fun (unless, of course, they get too close; which, thankfully, hasn't happened yet)! The Kentucky River is so placid that these waves just create a little extra excitement. On a lake with more choppy waters this might be a little different, but not here.
Except for the Little Benson Creek further down, the incoming streams in this section usually can't get out of their own way. They're hiding behind their shoals so that you can't navigate them. 3 of these enter as you go around Redmond Bend and Bar between miles 81 and 79.5, and they include Sharps Branch first, followed by Dark Hollow Branch (incoming from the left), and then Buck Run on the right.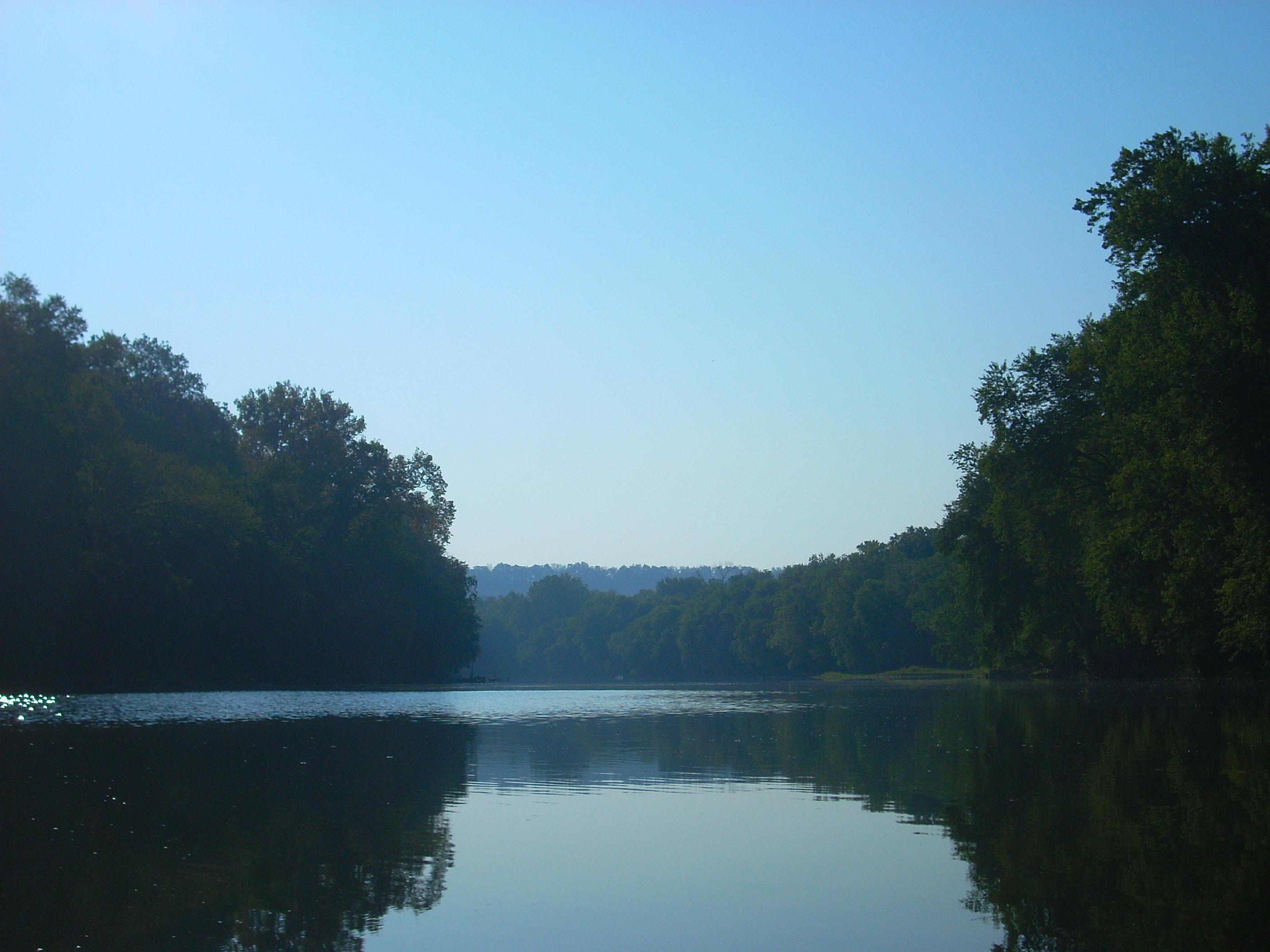 In this area I saw a couple things which grabbed my attention. The first, at about mile 81 was one of those old boat ramps I talk about sometimes. I got a picture of this as an example of a really old ramp.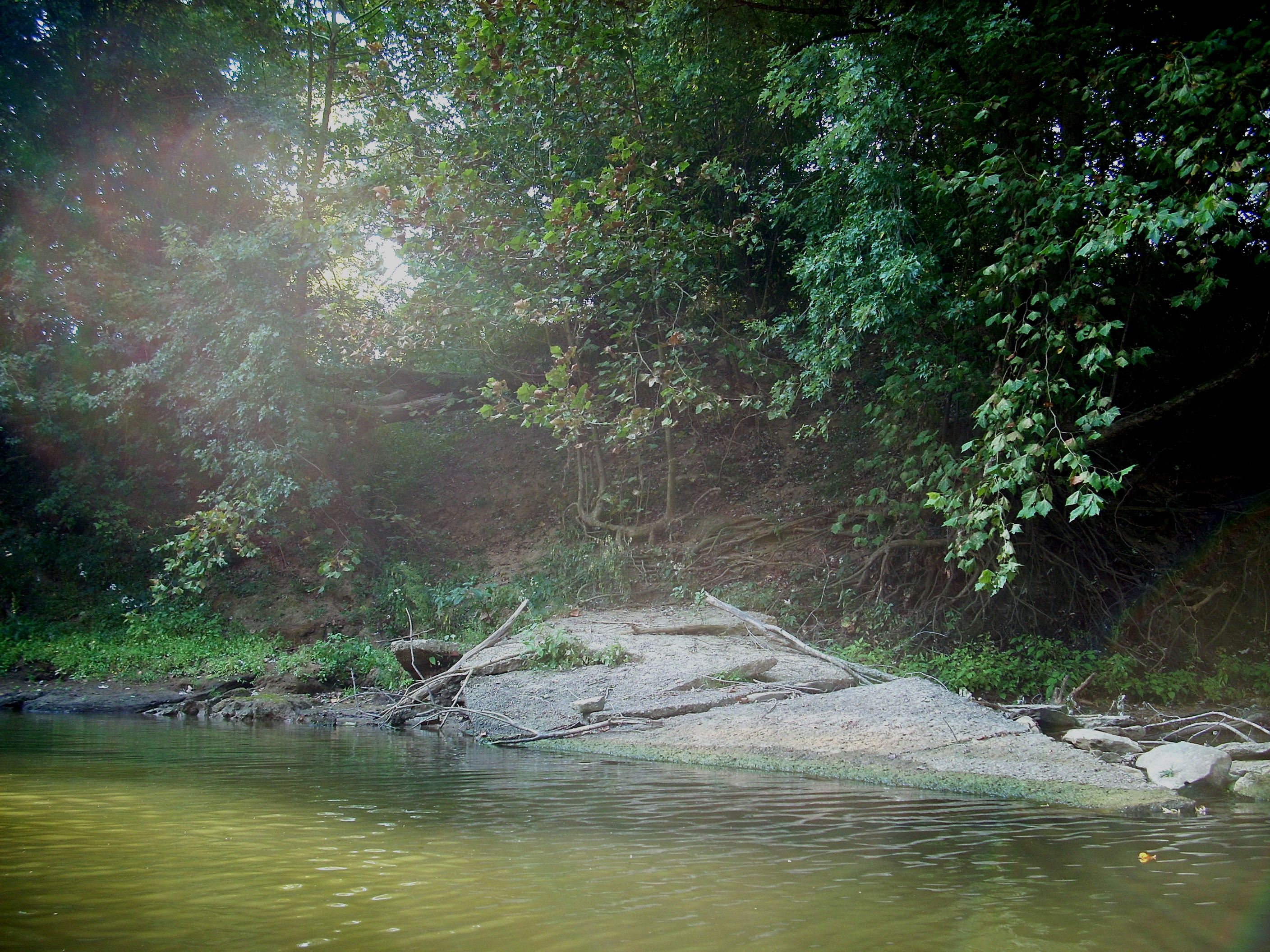 The second was what looked like a homemade wooden boat. This wasn't a canoe or kayak - it was a rowboat, although I would see 2 wooden canoes later in the day. To make a point of it, I can't remember having seen any other boats made of wood on my travels to this point. Maybe there's a craftsman out here that specializes in boats like these? They're really nice.
Following Buck Run the community of Clifton will start to become visible on the right. There isn't much room for it with the hills in here, so the houses will become visible one right after the other in a line all the way down the shoreline for another mile and a half or so. I saw something at the start of this line that I thought was pretty cool. There was one house with 2 boats: one was a large canoe and the other a very small kayak. Maybe a father and his son like to paddle together? On the left side is what looks to be farmland atop a high bank.
The boat ramp from which I put in enters the picture at a curve left at mile 79. It comes in immediately downriver from Ross Run, partially over its' shoal, and as I getting a picture of the ramp I noticed someone at the top just past my car. This person appeared to be whacking at some bushes with what appeared to be something like a dog leash, and the scene had the appearance of someone exercising idle frustration. It, combined with the junk strewn over the ramp, really had me wondering who I might have to deal with when I got back. Kids would be in school by this time... The situation would be on my mind for the rest of the day.
Mile 79 starts more or less of an "S" shape which extends down to mile 74. You're at the bottom of the letter to start, and the Clifton houses on the right will end just after the curve left a bit after mile 178 (Reindeer Lodge Bend). I did, in fact, see some deer here on the left side. Reindeer or not, I don't know, but once around this you'll feel like you're back in the wilderness again (except for some power lines).
On the straightaways of the "S" you'll see more little spots of rock cliffs atop the hills in the distance, and on the right curve of the letter (at mile 76), the Turkey Run enters from the left. There's a Lovers Leap here somewhere atop the hills on the same side according to the charts, although there was another Lovers Leap back between mile 159 and 160 just above dam 9.
Watts Branch and Bar are just after mile 75 and at mile 74 the Little Benson Creek enters from the right where the hills have receded and switched sides of the river. Its' bar looked like a little tropical paradise from my angle. Very inviting!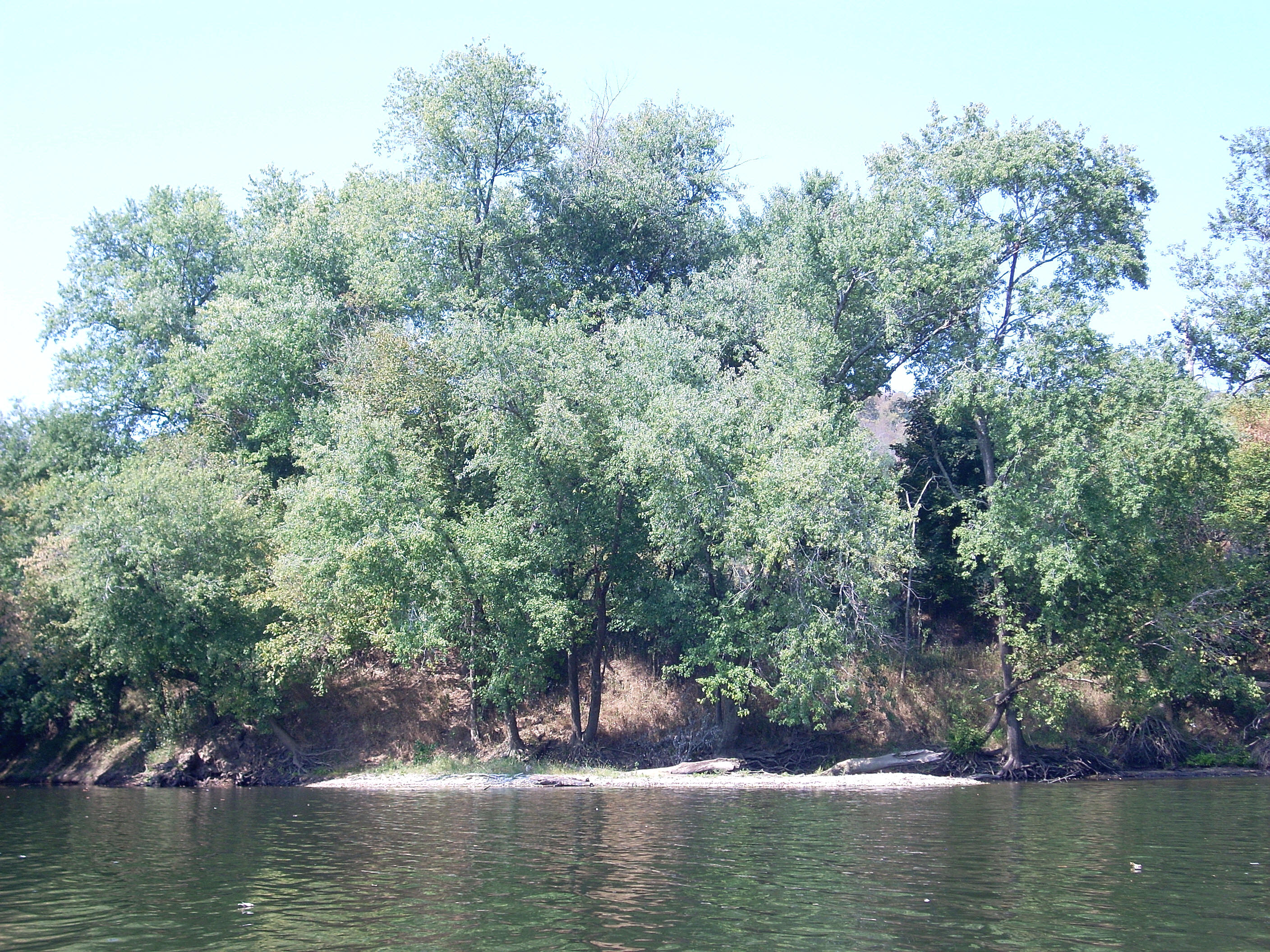 I got into Little Benson about 200 yards. Coming in, I saw 2 more deer, and when I got to the point where I had to turn back I saw a beaver. The water was really shallow and it was kind of walking/wading in my direction to get to the shelter of its dam just to my left. I didn't see it quickly enough, however, and whilst I was stumbling and fumbling to quickly retrieve my camera, it was gone.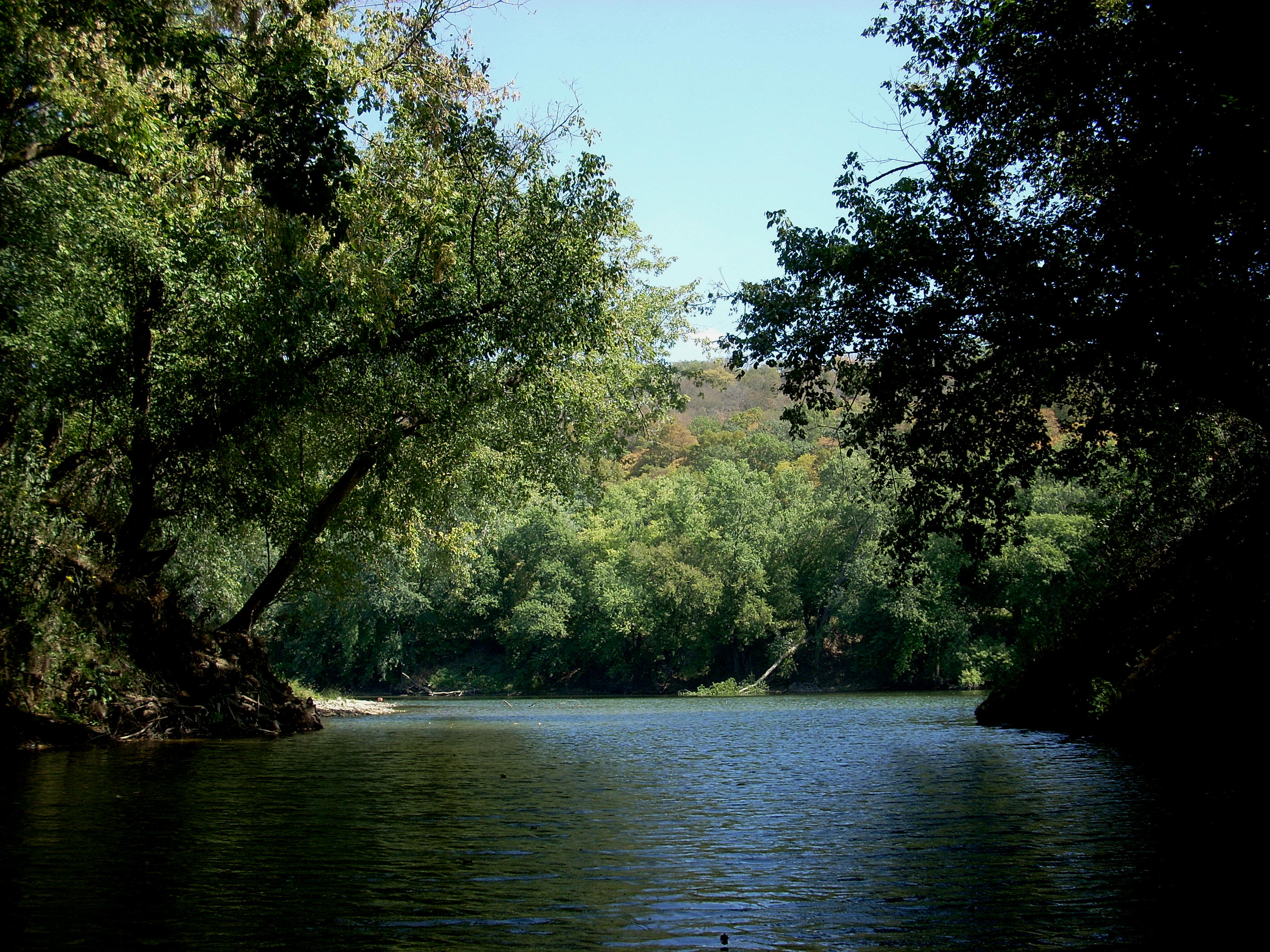 At first I was going to stop here and head back, but I figured I'd go a little bit further. Mulholand Bend is a very short, very quick little curve which is more like a bump in the midst of the very long straight section I'd been paddling. Were it not for this, the straight would extend another 2 miles.
Once you've gone around this bend, the Bear Branch will enter (dry today) at a shoal on the right. There's another paved ramp here – private I think for Shore Acres - while there will be a little beach on the left. Though small, this beach looks to be the only maintained one since Boonesborough Park's beach way back at mile 176. It appears to be private for some houses atop the hill here.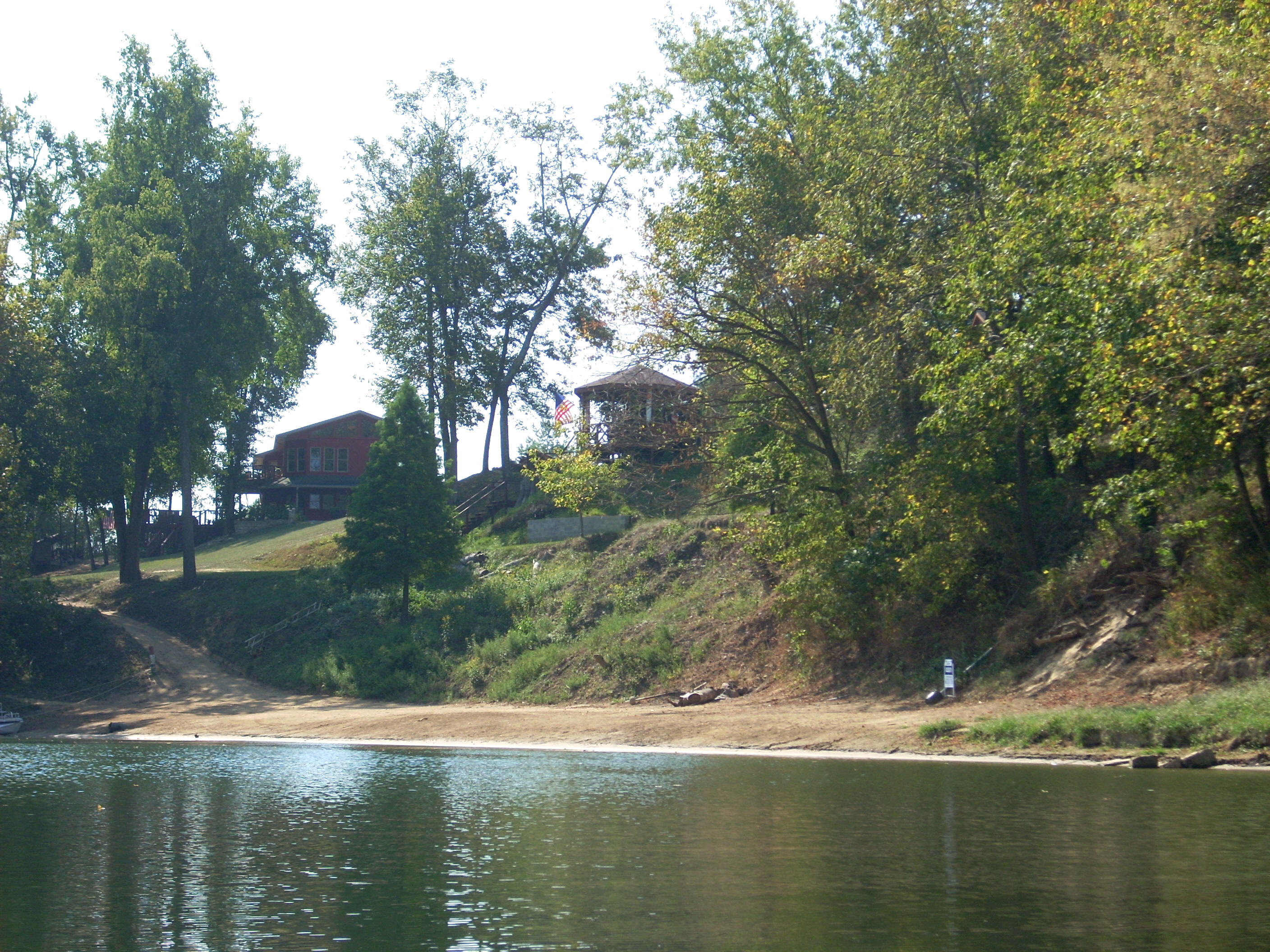 After this I headed back and took my time doing so. Ramps are naturally more popular after people get home from work and, as I mentioned, I wasn't sure what things would be like when I got back. I wanted to have people around in case there'd be any trouble. How did it turn out? Not a hitch! There were a couple trucks and trailers along with my car at the ramp when I returned and no people at all - friendly or no. I probably needn't have been concerned. I guess women's intuition is better than men's!
There's one last spot I need to mention from my return to the ramp. Near Little Benson Creek on the opposite side was a large downed tree, and on that tree had been set up a little wooden pier. Wooden steps had been made and nailed to the fallen tree trunk and they extended down to the river along with a wooden railing along one side. The steps ended at the "pier" which looked pretty stable although it was a bit atilt. It's really neat what a little imagination can come up with! Kids would love this – as do some "grown-ups" like me!
DIRECTIONS:
NOTE: The are 3 Clifton, Kentucky's! This Clifton is the one in Woodford County.
Take KY1964 (a.k.a. Clifton Road) west of Versailles to Clifton, Kentucky. Go west on Little Clifton Road. Little Clifton is a semicircle road which may also be referred to as Broadway. The ramp is on the southwest end of this arc. Don't take Buck Creek Road, there's no ramp on it – at least not anymore.