PLACES TO GO ON LAND HOME PLACES TO GO ON WATER
2008 Kentucky River Kayak Trek
Wednesday, September 17, 2008
Bailey Run to Dam 5 (Mile 82)
I couldn't do it. I couldn't get out of bed early enough to make a portage of dam 5 worthwhile in assisting navigation on this trip. It's a lot easier to sleep when the weather gets cooler isn't it? It's also harder to wake up! At any rate, today would be a short trip and that was fine with me. I'd waited quite a while to paddle here and I'd be able to fully enjoy it.
You know what I think? I think that when your plans don't work out it means that the Lord wants to show you something. It might be something totally different than what you expected, but I really believe there's meaning there. I don't think I'm overly religious, but I do believe in a higher power, and I believe that that higher power can work in such ways.
On the way out to Tyrone I stopped to take a look at the train I had seen the last time I came out. It turned out to be part of the
Bluegrass
Railroad
Museum
(http://www.bgrm.org/) which lies just west of Versailles in a large park complex. They apparently offer rides on the train, and I can vouch for the "scenic" in this railroad! You can see the tracks all through the countryside as you make this drive to the river.
Then, once you reach the Kentucky, you'll find that there are two bridges that span it. One, of course, is the road bridge and the other is a railroad variety which is (or once was) used by the Southern Railroad. The scenic train may cross over this, but in my two days out here I didn't see any trains crossing over it.
The Blackburn Memorial Bridge, meanwhile, is the one that you'll pass over. Note here the clever slogan on the Wild Turkey billboard sign! It lies straight ahead so as to have a captive audience. It reads: "Bourbon Lovers, Welcome to
Paradise!" Well, I agree. This might be my favorite scenic spot on the river. It's beautiful out here!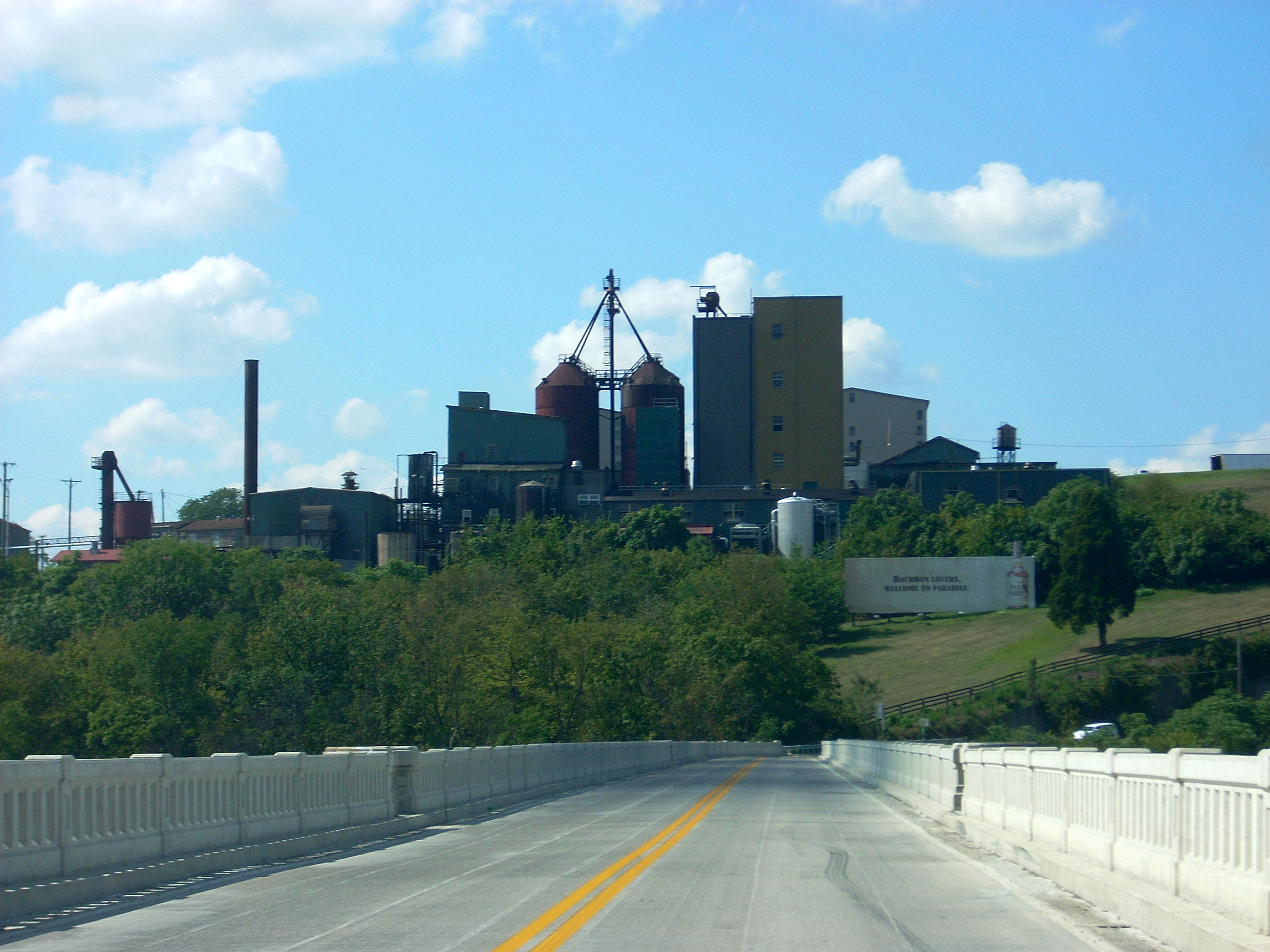 Something else I noticed here really piqued my interest too.
Apparently Anderson
County
was having a burgoo festival in Lawrenceburg in a couple weeks! I LOVE BURGOO! I remember being impressed with Lawrenceburg the last time I visited, but now I know that it's my kind of place!
Anyway, when I ultimately arrived in Tyrone there was no missing the ramp this time! Given my travails finding it in the last section I now knew exactly where it was - and the ducks were still there too! I put my boat at the bottom of the ramp, drove the car up and came back down with my gear. Doing so, I noticed that those ducks were checking out my boat! It was funny. "Hey! Leave my boat alone!"
One thing about this location is that it's quite industrial. There's a quarry, a distillery and a steam generation plant within a mile of the ramp (heading downriver), but I began the day by paddling into Bailey Run. Here I got in about 100 yards before I noticed some large stones visible near the entrance. They might have been part of a structure associated with the quarry at one time. I could tell already, however, that unlike the rock quarry just downstream from Irvine, there was no question that this one was still operating. It was abuzz with activity, and as I paddled back into this stream I could see all the rock dust and smell all the fuel being used – it also got me to sneezing.
Anyway, once you get back to the river you'll find that there are 4 straight water intakes from mile 84 to mile 83 - 3 of them come almost immediately (one for the Kentucky Stone Company Quarry, one for the Wild Turkey Distillery and one for the city of
Lawrenceburg). Then there's a final one for Kentucky Utilities' Tyrone Steam Generating Plant further down on the other side. At the point where the first 3 come in, you'll also see those 2 bridges I mentioned before - the Blackburn Memorial (US62 Bridge) and the Southern Railroad Company Bridge. Both are incredibly well done.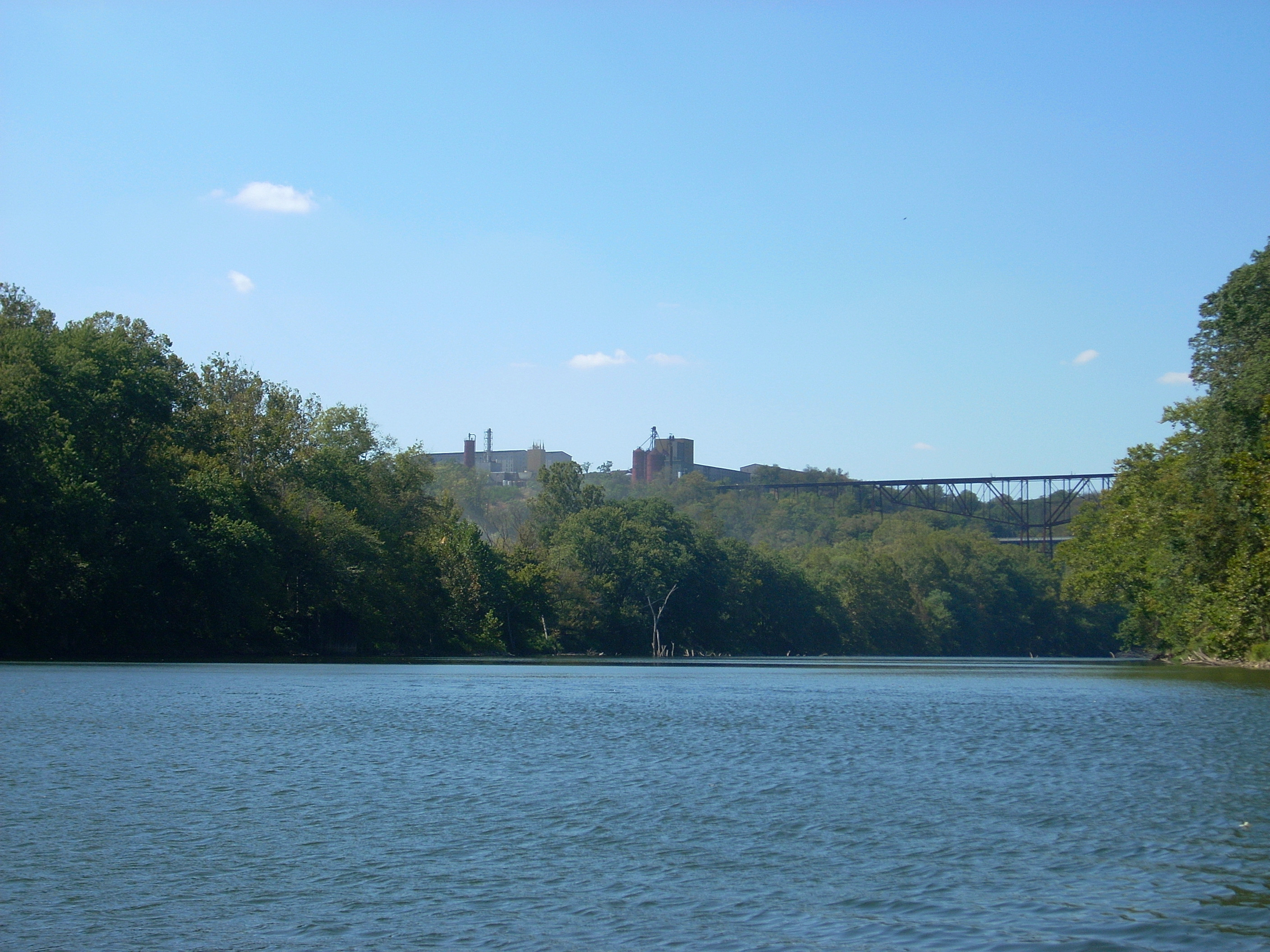 After you pass the bridges you'll find that the river will slowly curve right and it was in here that I began to hear quite a bit of noise from the direction of the steam generation plant. Most of it was a garbled voice over a loudspeaker. This was a new noise for me to hear on the river and I had the strangest urge to say: "Yeah, I'll have a cheeseburger, large fries and a medium drink please."
As I slowly made the curve the plant edged closer and closer into view with each downriver paddle stroke, and once it was fully revealed I found it to be quite a structure. It's about as large as the one back in Ford, Kentucky and it has 2 brick and concrete structures down at the rivers' edge, one of which has grates. This one, I guessed, was the water intake.
The main complex is atop the right bank and here I found some guys enjoying their lunch down by the peaceful water. I gave them a wave from across the river. Also of note here is an old paved ramp which looks like it hasn't been used in decades (in fact, there was another further down which looked even older).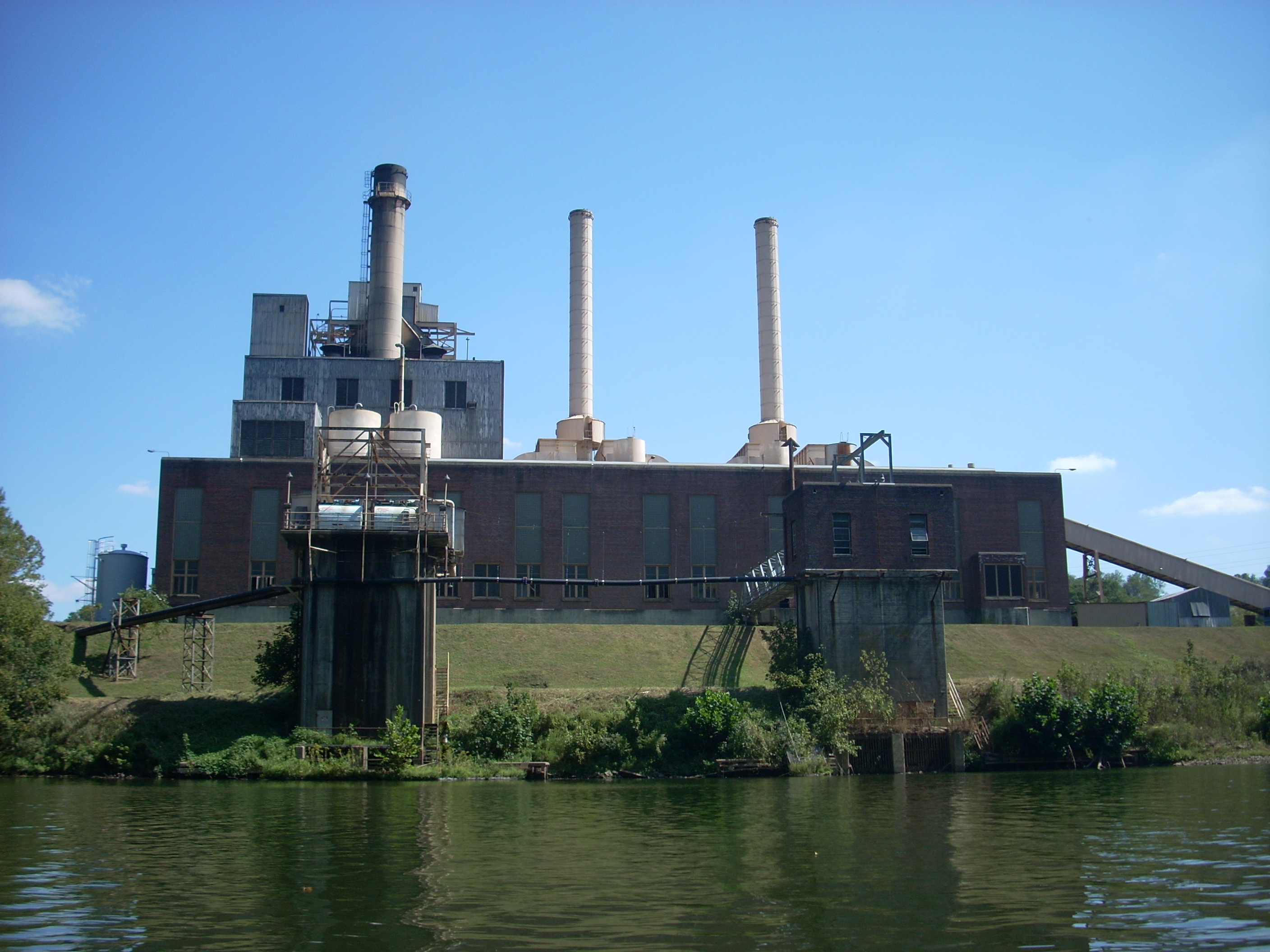 Just downriver from the plant I found its water discharge, and while I recall that the Ford Steam Generation Plant had a torrent of a discharge, this one was tamer so I paddled in a little bit. Sure enough, the water began to get quite warm, and the further I paddled in the more I began to wonder if the heat could actually start to melt my boat! (This would be the last running water of the day although there would be 2 more unnamed streams which would enter further down.)
Once the curve begins to straighten you'll see the dam down at the end of the straightaway at mile 82. The
paddling book I was using indicated that this was the most difficult portage on the Kentucky and that you'd have to bring a rope with you in order to do it. That doesn't appear to be the case anymore as there was a spot just at the end where I was able to get out and walk right up.

In fact, there wasn't too much vegetation here either and since the dams seem to be getting lower and lower the further downriver I go, the climb didn't seem that bad.
One of the old lock houses is still here – at least I think it's an original lock house, although it does have some additions which probably stray from the initial look it might have had. It also appears to be lived in so I treaded lightly, although I did get some pictures.
I forgot to make a point of it, but from the pictures I took upriver from this lock and dam it might be concreted over like dam 6 was. Also like #6, there are some large rocks at the bottom here where I found some power boat fishermen out trying their luck. This is yet another nice spot with a downriver beach that I'll describe in more detail on the next trip.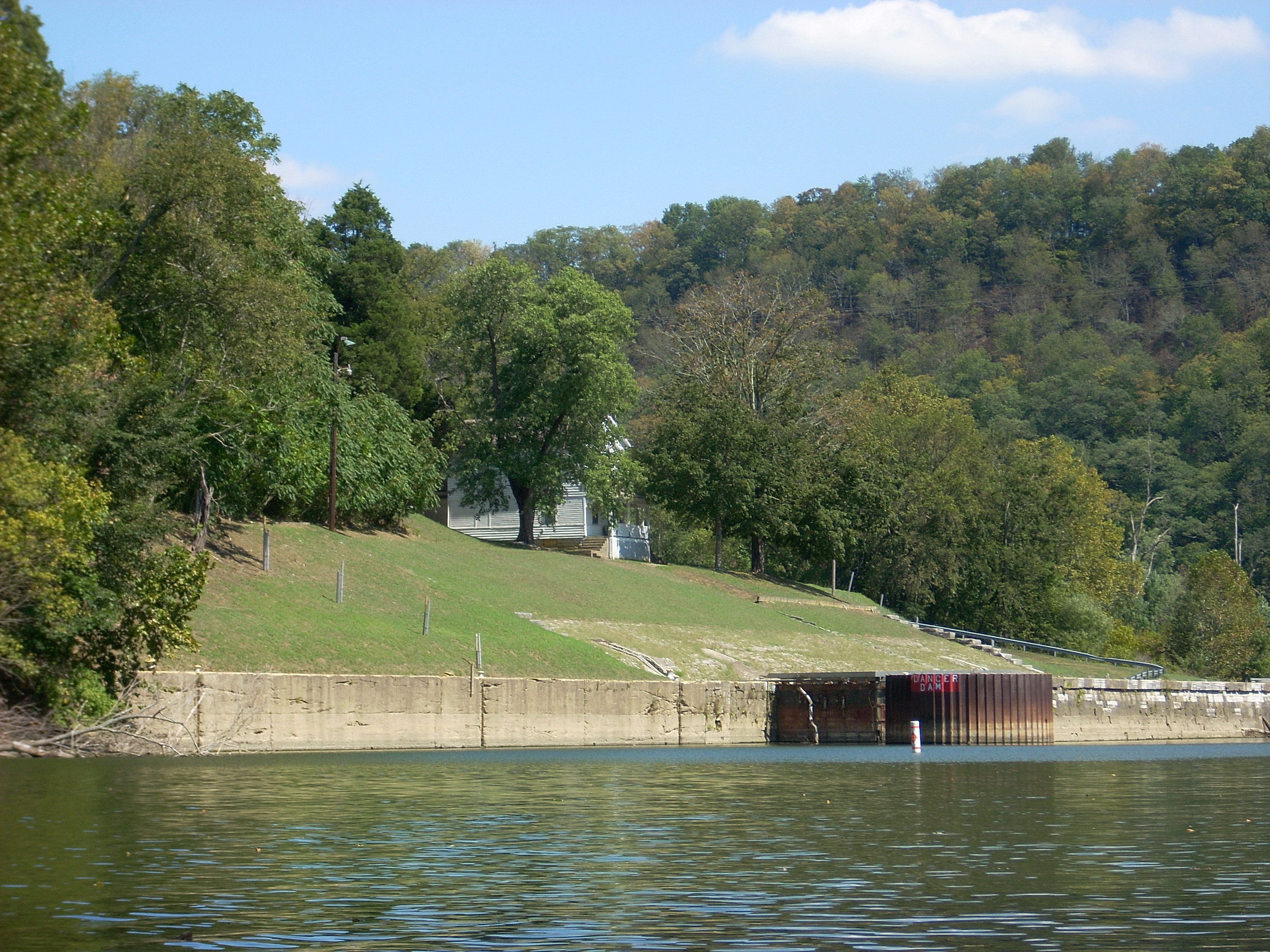 Having seen all this I headed back. Along the way I noticed some more of those orange blobs with white spots. I frequently see these attached to the bottom of underwater tree branches and I still wonder what they are. I assume they're eggs of some kind, but I'm not sure.
Once back at the ramp I kind of just floated around for a while, relaxing and taking more pictures. The ducks were asleep on the bank at this point, and when I got back up to the car I saw what had been buzzing around me on the water today! I've mentioned before having things buzzing all around me one the water, but up until now I haven't been exactly sure of what they were. I figured they could be anything from stinging insects to flies. Well I now know that they're flies! You'll see that the one on the car is HUGE – perhaps an inch and a half long!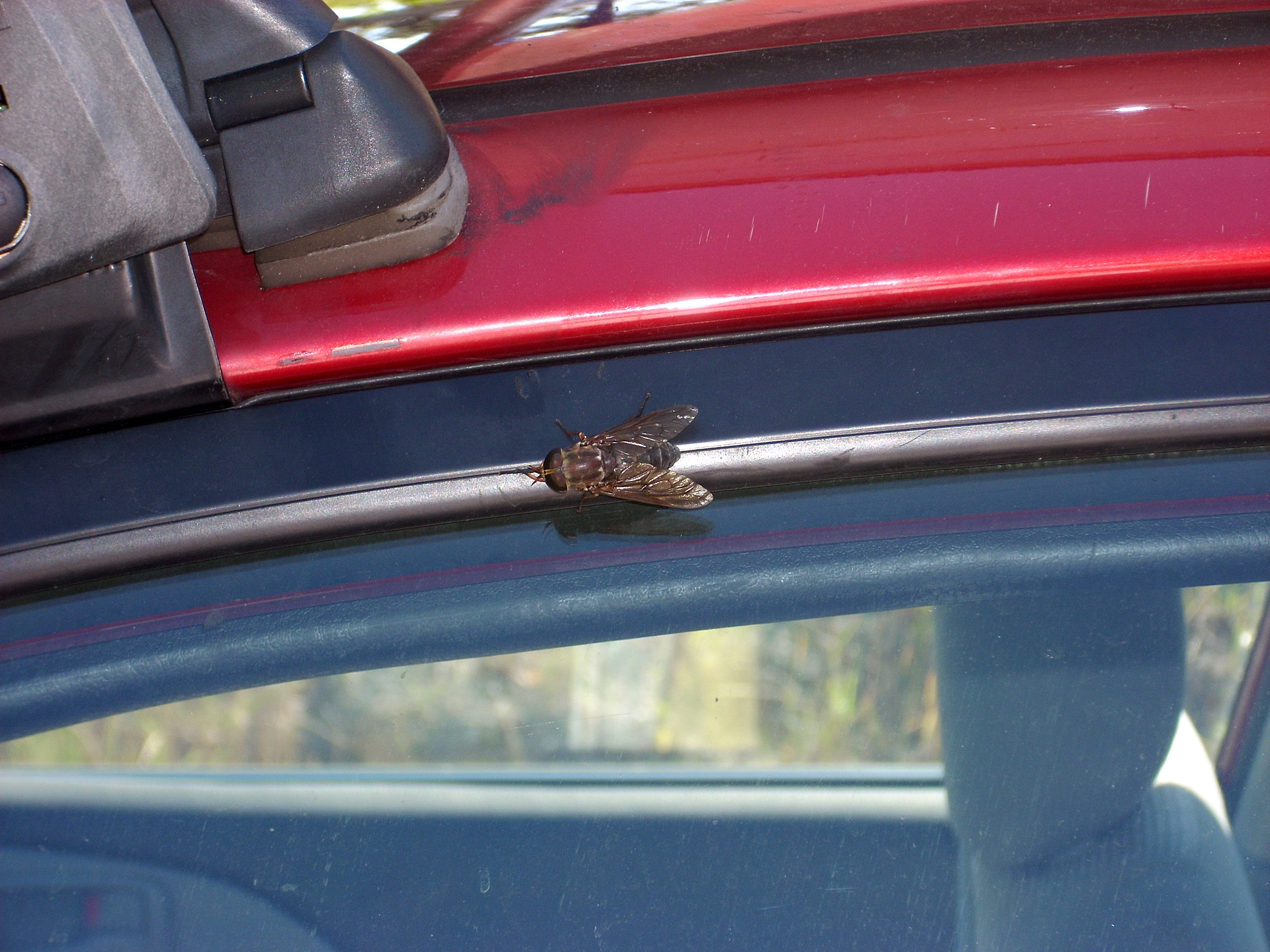 DIRECTIONS:
Take US62 in Kentucky to KY1510 and then follow it south to Tyrone. After you cross the Kentucky River you'll make the same left turn that you'd make if you were going to the Wild Turkey Distillery. Pass a rock quarry on the left and then make an immediate left after the bridge. This will lead you straight to the ramp.
.