PLACES TO GO ON LAND HOME PLACES TO GO ON WATER
2008 Kentucky River Kayak Trek
Tuesday, September 2, 2008
Mile 129 to Dam 7 (Mile 117)
Labor Day had snuck up on me. I hadn't made any plans and didn't end up doing a thing except read and take a few long walks. It bummed me out because not only did I feel like I missed out on some fun, I also felt like I hadn't accomplished anything. I felt useless! Today would help me get over that feeling though - I'd be making a longer trip than usual.
I headed out to High Bridge, Kentucky early and not really knowing what to expect. I'd been to the park at High Bridge before and I knew where it was. I also knew where dam 7 was. What I didn't know was the exact location of the ramp on the navigation charts…
I did, however, figure it out pretty quickly, because when I got close there was a large sign alongside the road with "Boat Ramp" painted on it. Funny… I hadn't noticed this sign when I visited last year, but I guess my mind must have been on getting to the dam. Anyway, it was pretty much right there and it pointed me through a grassy area which, at first, looked like I was going over someone's lawn. There were a couple trailers here and a paved roundabout for the ramp.
I parked my car at an angle just above the ramp so that it would be fairly level in order to unload my kayak, and I wound up in a kind of funny position partially blocking the ramp. I'd make this quick! Besides, there wasn't anyone around... At least, that was, until I noticed a man heading toward me from one of the trailers.
I asked him if I was supposed to pay him, or if I should just put the money in the box that was there. He said I could do either, so I handed him $4 as per the sign and he held out 2 of them for me to take back (apparently this ramp is only $2 for paddlers and twice that for power boaters). The man's honesty was refreshing, and he mentioned that quite a few people had been out here over the past weekend – about 30 of them paddlers.
I parked my car in the grassy area he indicated near the side of the ramp, paddled down to the dam, then up the Dix River, and then up to the point of the river that I'd left off last Thursday. I'll again relate this trip in downriver order as I've done for this whole trek, but something I noticed in passing through the community of High Bridge on my way upriver really caught my attention.
As I headed into the Dix River it seemed as though someone living here was a really lousy neighbor! There was pleasant music playing, but it was playing so loudly that it seemed totally obnoxious. Soft jazz played at a blaring decibel level?!? Well, when I paddled out the music had morphed into what sounded like a man screaming and yelling, and it dawned on me that this horrible noise was not coming from an individual house, but from the High Bridge Park atop the mountain – and there seemed to be quite a lot of people up there.
I knew the park had a bandstand which would probably amplify the sound, as would the valley, but I hadn't seen anyone at the park when I drove up to the gate to take a quick picture of it only an hour prior. There must have been quite a caravan of people come in during that span of time! Maybe this was some kind of revival meeting?
Anyway, when I got to mile 129 I saw the first cows I'd seen since above dam 10. They were on the left bank atop a forested landing but seemed a bit agitated - possibly because I also heard the sound of an animal in the distance which seemed to be in some kind of distress. Nonetheless, I was happy to see the cows. They way they just stare at you!
In their somewhat distressed state, however, they were moving around and "mooing" a little more than usual. Well, I was in a pretty goofy mood by this point, so I started "mooing" too, and the more vocal I was, the more vocal they were - we had quite a bit of noise going for a while. Presently, though, I began to feel a little self conscious... What if someone came to the shoreline and saw me? It would be a bit embarrassing. The cows had me beat as noise machines anyway, so I decided to head on out.
You're still in the heart of the palisades on this trip, and if you don't have forested banks, then you'll have a rocky cliff on one side or the other the entire way. The cliff side was to the right as I started, then it switched to the left to make room for the Jessamine Creek to come in, and later it switched back to the right at mile 127 after the Jessamine Creek.
The navigation charts indicate that there's something on the left called the Halfway House at mile 128.5. This is supposedly a chimney type rock formation, but there was nothing visible to me. Besides, the rock cliffs hadn't yet made the transition from the right at this point. The formation could have been between some trees so I couldn't see it, but the bottom line was that I couldn't figure out exactly what or where this was. Please keep in mind, however, that I am not the most observant person on God's green earth! [I've since been enlightened on this. The Halfway House was not a rock formation, but an actual house on this (Polly) bend. It was supposedly at exactly the halfway point between the first navigable part of the river up in Beattyville and the Ohio River. Nothing remains of it now, but I'd love to see this house rebuilt to historical specs. Hopefully it will be someday, in honor of the river! My thanks to George Dean of Jessamine County for providing me with this info.]
I did manage to find an "hourglass" formation as well as an "altar" formation further down the river though! (Side note: there's a shoal on the right in this section which will be the largest of the day, but the stream is unnamed on the charts. To me this was interesting since some of the other creeks with much smaller shoals are named.)
The Jessamine Creek enters from the right at mile 127.5. I got in 100 yards. The creek was named by an early explorer for his daughter and it was, in turn, the namesake of this county. It looked like it ran right up against a tall palisade in the distance just beyond the spot where I was stopped by debris, but I couldn't quite get to it.
At mile 127 back at the river was the spot where the Downs Ferry used to run across. There was a marker for this, but at this point I realized what might have happened to the other markers in the last pool… Remember how I mentioned in a previous entry that Kentuckians like to shoot? Well, this particular marker (#14) had been so shot up that half of it was gone! In fact, it looked like it could have been targeted from across the river by a shooter atop the mountain here, but it occurred to me that even as far back as the pioneer days they needed to practice their shooting as a matter of survival. Thus, the shooting doesn't seem so incongruous when you look at it from that perspective. Yes, it breaks the peace, but it doesn't bother me.
The palisade here recedes on the left at mile 126.5 as another crops in on the other side of Oxbow Bend. It briefly remains, only to fade back into the distance again once you've rounded Oxbow. No sooner than it's done with this disappearing act, the left side palisade will have returned to be with you for another 5 miles straight - all the way around Handy's Bend! The palisades are teasing you again! There are 3 small shoals on this long bend if you want to rest a little.
Boat Hollow is a stream which comes in along this bend, but it was dry at mile 124, while the Twin Branch comes in (also dry today) at mile 122.5. It was between these that I noticed a huge tower of some kind on the same (left) side. It was thin and looked to climb ½ mile high – possibly a cell phone tower? At mile 122 the rock palisades attempted a comeback on the right side, but the left held its ground for another half mile. It wasn't done showing off yet!
All this time you've been winding around Handy's Bend, and while the scenery will be the same, I don't think you'll mind. The leaves, as I've mentioned before, start to change color on the river at this time of year; so along with the grey palisades, you can add all the other colors of autumn! The effect is simply wonderful, and in some places there's a color progression down the mountain with the leaves changing color at the top, while being almost completely defoliated in the middle and green at the bottom! I couldn't stop taking pictures and I wished I'd had more time to just sit, gape and take it all in.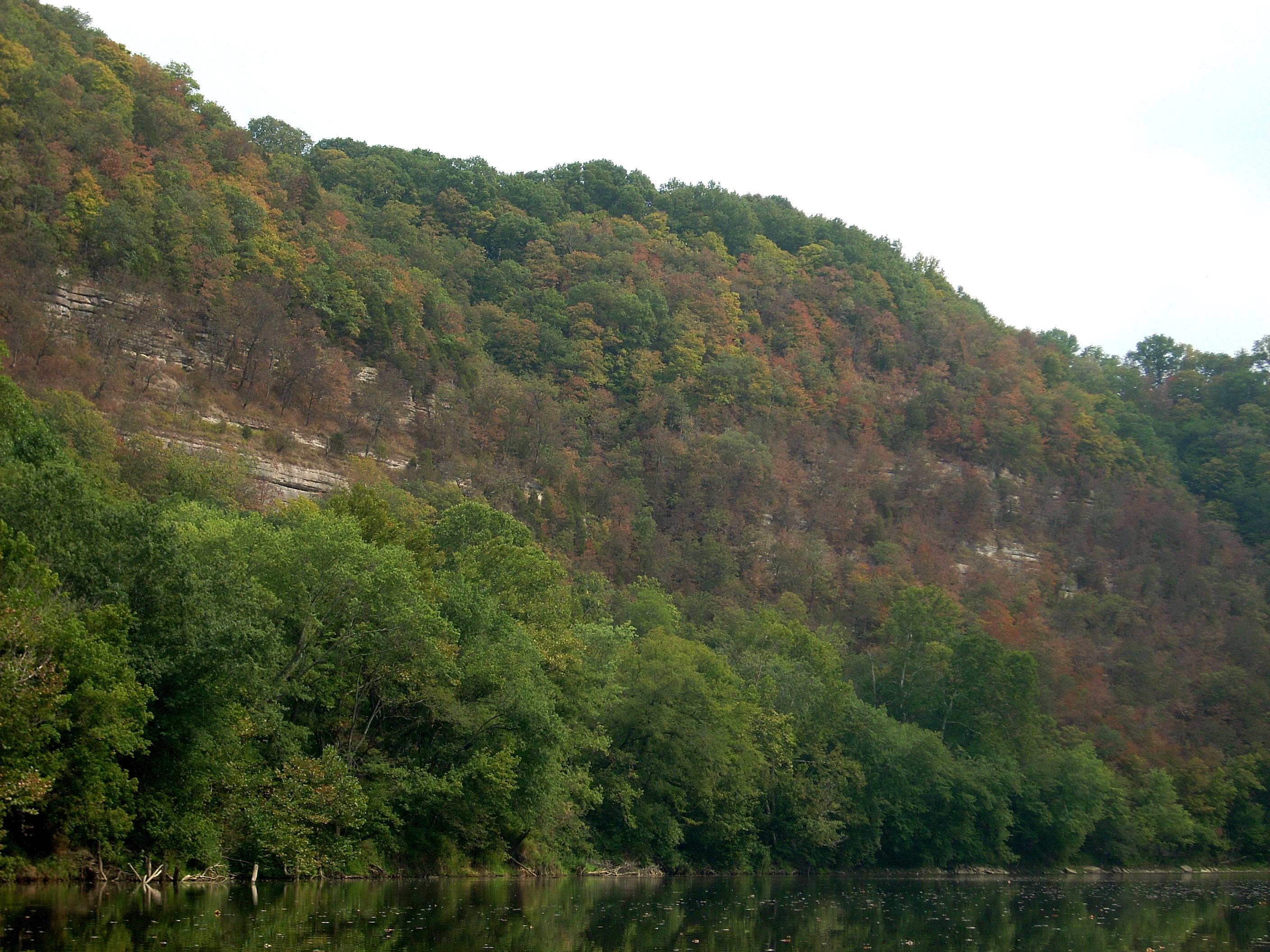 To that point, the stillness of the river is another pleasant aspect of it which I've not spoken enough about. When you stop you can't hear much of anything else besides the sounds of nature. As for me when I stop, I can usually hear the locusts in the trees, and an occasional insect buzzing nearby (perhaps too close). Birds may be singing and I may possibly become aware of some rustling in the leaves which is made by some animal almost always too reluctant to be seen. The sounds of fish jumping may even be heard or there could be some water trickling down the banks after a mountain rain. That's about it! My fellow kayaker from back at the Red River section put it something like this: Some may come out to the river and you can stop them and ask them what they hear. They'll say: "nothing". You'll say: "exactly"! For that's the beauty of it…
By mile 121.5 (where McQuie's Ferry ran – there's a marker) you're starting to veer left. You'll be entering into Bowman's Bend here which extends for about 2 miles. The palisades are on the right now, and at mile 121 there were 2 more markers, one on either side of the river. Bowman's Bend was apparently named for a family that once operated a warehouse near the left bank at this location, and apparently the land here had more recently been purchased by the Nature Conservancy (www.nature.org), who've made it part of the Sally Brown Nature Preserve. In fact, the road leading to this is supposedly aptly named as Bowman's Bottom Road - how about that!
There was yet another ferry that operated on the other side of the river at about this same point of mile 121, and Bethel Academy used to be here as well. It seems they must have really squeezed this in, though, because there's not much room between the river and the rock cliffs on the right side at this point!
The acreage at Majors Landing at mile 120 was once owned by a family of the same name that operated another warehouse here, as well as yet another ferry and even an excursion cruise boat! This must have been somewhat akin to the Dixie Belle at Shakers Landing a couple more miles down.
On the right here was where I spotted my "hourglass" and "altar" rock formations. Am I stretching things a bit? I'll let you be the judge… The pictures are below. Sometimes finding rock formations is like trying to find different shapes in the clouds - their forms sometimes lie only in the eye of the beholder.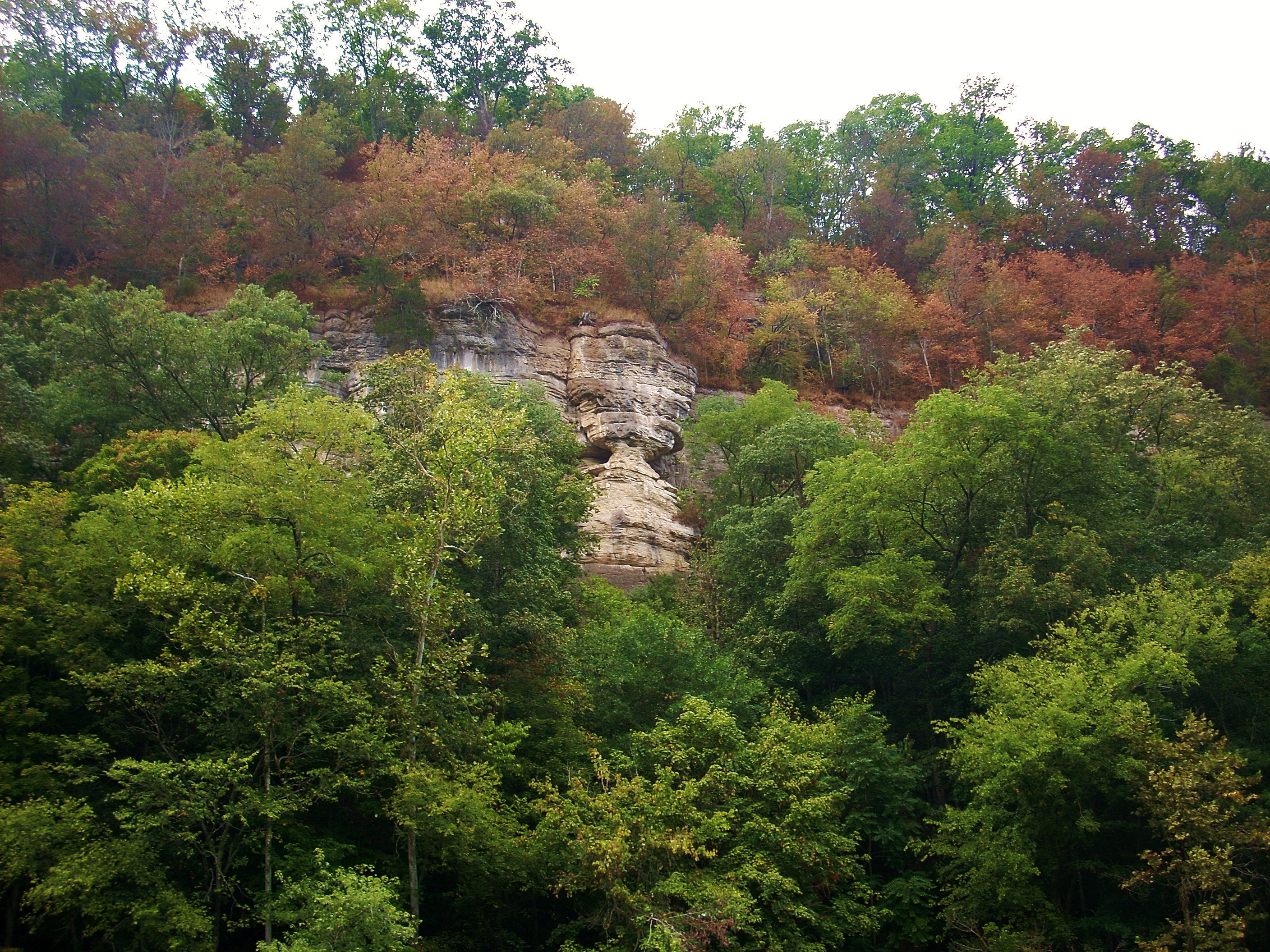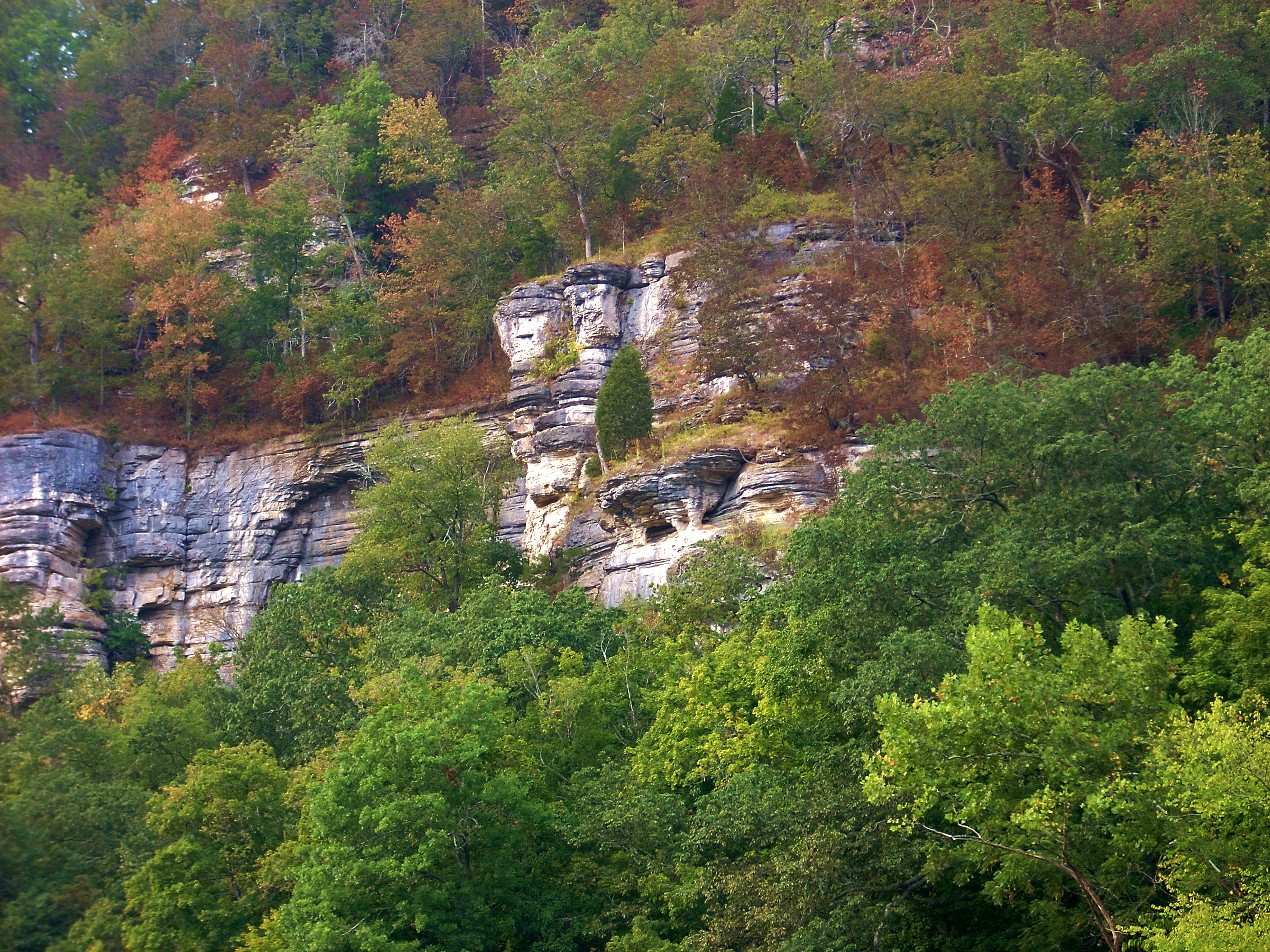 Nearing mile 119 the rock cliffs switch sides again to let in the community of High Bridge on the right. This looks like a really nice place from the water. The grounds of the houses here, as well as the houses themselves, appear to be quite well maintained; and, as you might expect, most of them seem to have their own boats and docks too.
When I'd visited High Bridge Park and the dam the previous year I hadn't known how to get down to this community. Well, hard as it is to believe from the look of things, the road ( Dix Drive – dead end) which leads to it goes right under High Bridge itself along the riverbank. You wouldn't believe that there'd be enough room to get it in - and there isn't much as I found out, because I drove down this road on my way out and, as I pulled aside for a car to get by me, I was pretty much kissing the side of the cliff!
Getting back to the river, at mile 118.5 on the left there's supposedly a cave which I completely missed. There were simply too many other things to see and concentrate on! On the right, however, I did notice the spot which was apparently the site at which a tramway used to carry timber up to the saw mill that used to be here.
Back when the logging industry was hot, they'd float branded logs downriver from as far up as one of the forks and they'd have something called a "boom" which extended from the shoreline to catch these logs. There's no longer any trace (as far as I can tell) of any of this, although there was another marker to commemorate it. The Jessamine folks with their guidebook and markers had come through again. I wouldn't have known this was even here!
The Dix River comes in at mile 118, and I got up not quite a mile. I could have gotten in a bit further had I not seen a power boat right ahead with 2 fishermen. Each of them had cast a line off on an opposite side of the boat too, so I wasn't going to make them both reel back in - I turned back. The dam couldn't have been much further back anyway; because there was a warning sign for it next to what would have been (at higher water) a sweet waterfall on the left just as I turned around. The Dix is supposed quite a fishing spot, so I imagine that it would be very difficult on any day to get all the way back to the dam without encountering at least one boat.
This river is really nice though, and it mirrors the Kentucky in its scenery - even has its own palisades too. In fact, there's an incredible cabin a little way down on the left as you enter. I almost missed it, yet it's real close to the water. This may be my favorite place yet. From what I can see, it looks like the roof is made of metal, while the logs look almost new. At any rate, it's really nicely done. I don't know if it's an original or a reconstruction of an old one, but it's NICE! Its even modern with a security system sign, so don't get any crazy ideas about taking any liberties here! Not that you would.
At the mouth of the Dix is a paved ramp (from which yet another ferry used to run across to the Jessamine side of the river), and as you look across the river here, you get a great view of the High Bridge over the river almost ½ mile down. This was an engineering marvel back when it was built, and it still is! In fact, the present bridge was built around the previous one, so it retains many of the same characteristics of the original - it's just even larger and sturdier. It carries, it's said, about 40 trains per day. I just missed one! The bridge is still the highest over a navigable waterway in the United States, and it was once a huge tourist attraction. You can still find many old postcards of it on online auction sites.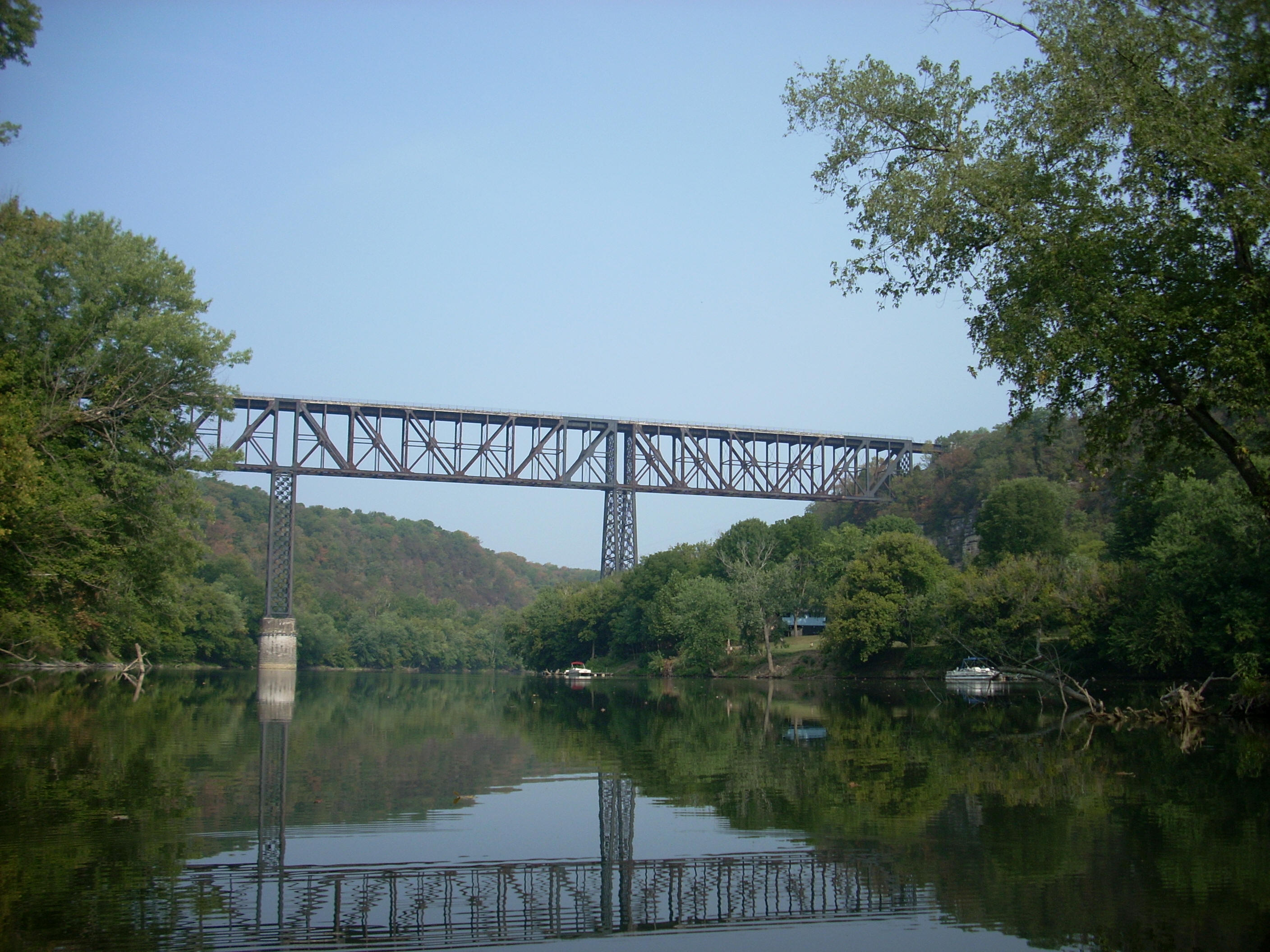 The Cedar Branch comes in right after the bridge on the left and you're apt to miss this too, as I nearly did. I couldn't really get into it as it comes in over a shoal which was only just under the surface of the water today. There's a significant stone structure back into it several yards which may have been for a bridge.
The Harrodsburg water intake is right here too, but I couldn't see it very well through the foliage. Shaker Landing was also here as was the Shaker Ferry... Y'know what? I'll just say that this whole mile has an absolute ton of stuff! OK? You've just gotta come out here! Because…
In addition to all of this: the community of High Bridge, the palisades, the caves, High Bridge itself, the Dix River, the water intake, Shaker Landing, Cedar Branch and all the history in general you've also got the Dixie Belle (or, in my jargon, the "Dixie Belly") and the Paul Sawyier shanty boat plus dam 7 a little further down!!! I think it's really quite remarkable!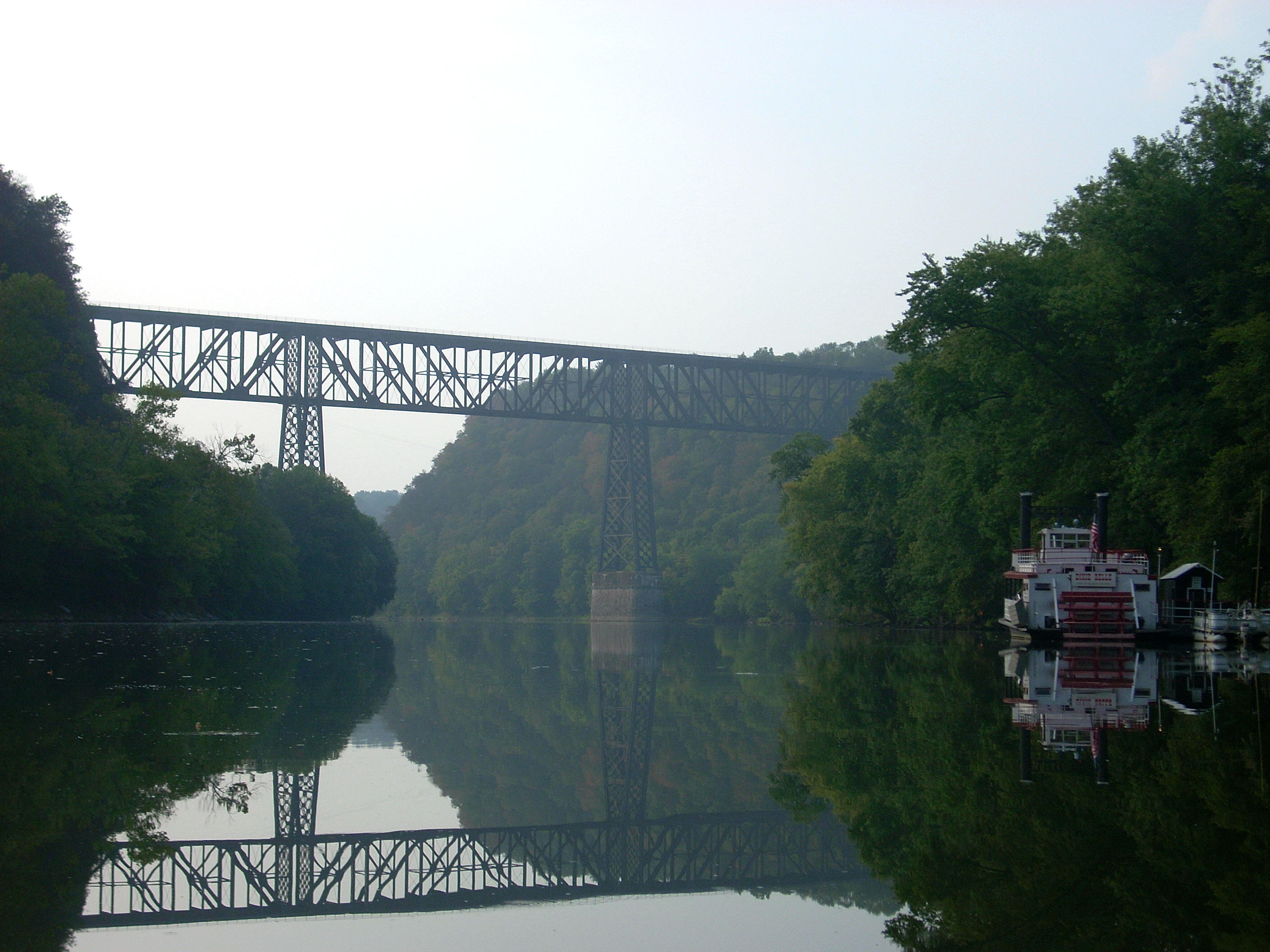 The Dixie Belle operates to this day from Shaker Landing, and it will take you one a one hour cruise of the river if you like. It operates as part of the Shaker Village of Pleasant Hill (www.shakervillageky.org) which is a restoration of the Shaker community that was once here. This is a real nice place that is definitely worth a visit. They also have a ton of hiking trails, both through the forest and through farmland.
Down at this landing on the river though, the Shakers conducted quite a bit of commerce as their products were in very high demand due to their high quality. The landing was also used a lot in the civil war, and the foundations of warehouses can apparently still be seen atop this left bank.
The Sawyier shanty boat (which appears to be used as a gear shed now) was once owned by an artist named Paul Sawyier who was a really fascinating man. Born in
Ohio, he moved to Frankfort and was trained in art. From 1909 to 1913 he then lived in this boat as he traveled up and down the river painting some amazing river scenes (there are currently 2 art galleries in Frankfort which specialize in his artwork). He never married, although he did have a lifelong love, and it's thought that they never tied the knot because they were both caring for aging parents. If this is true, then it's another reminder of how caring people were back then.

Lock and dam 7 at mile 117 has a hydroelectric power plant alongside it, and the lock side looked like many of the others with a fairly steep climb of several yards through vegetation. The ladder here was easily accessible though, and the lock (at least from this side) was not very high - there are only about 10 steps to climb. Thus, this portage wouldn't be terribly difficult from this side.
There are a couple sheds atop the bank here, although the lock houses appear to be long gone. This spot is right alongside some rock cliffs too which contain some caves, and it appeared as though these had been explored over the past Labor Day weekend - there were 3 trash bags full of stuff.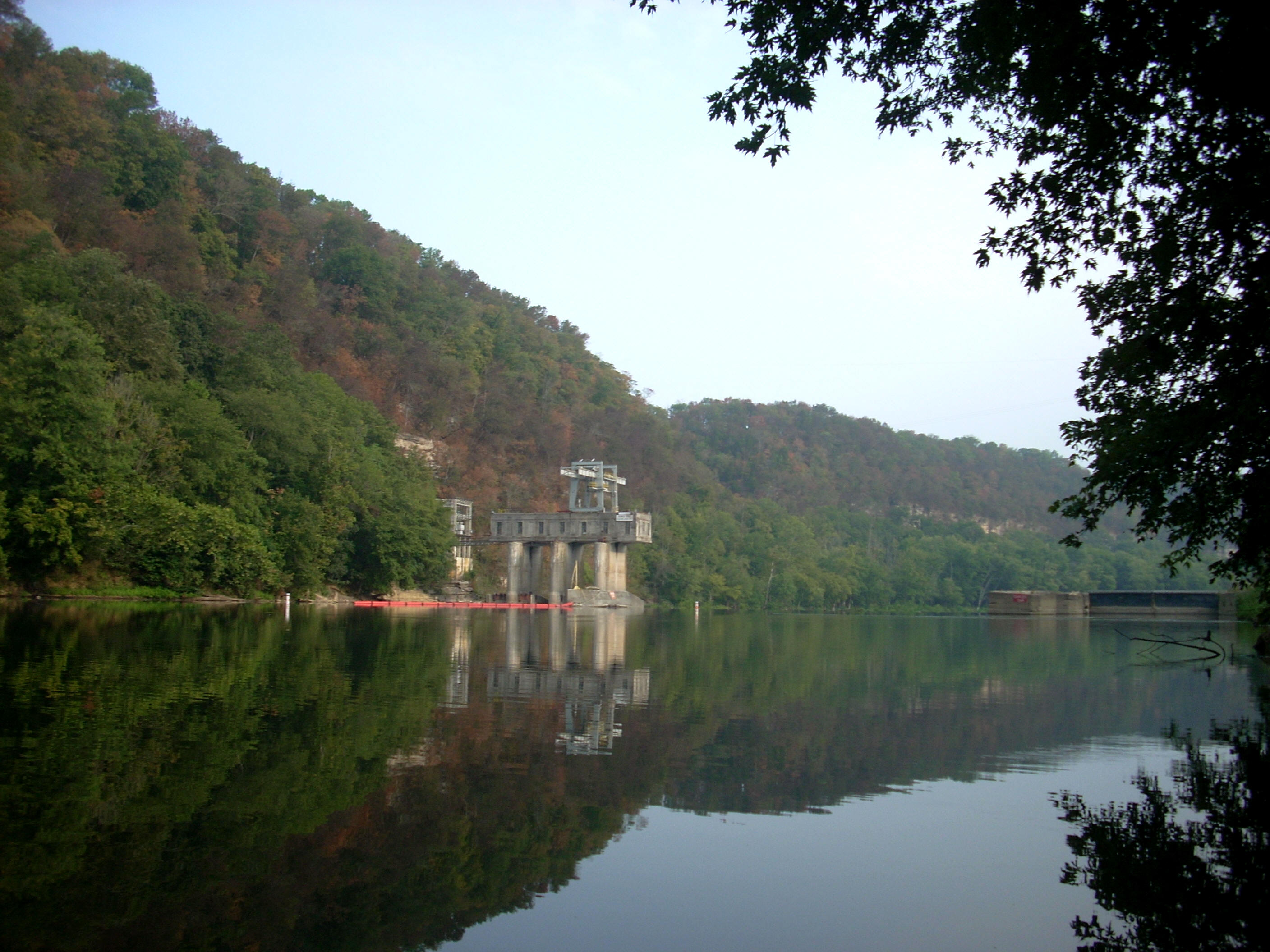 As mentioned, when I got back to the car and headed out, I drove along the length of Dix Drive and got some more pictures of the bridge.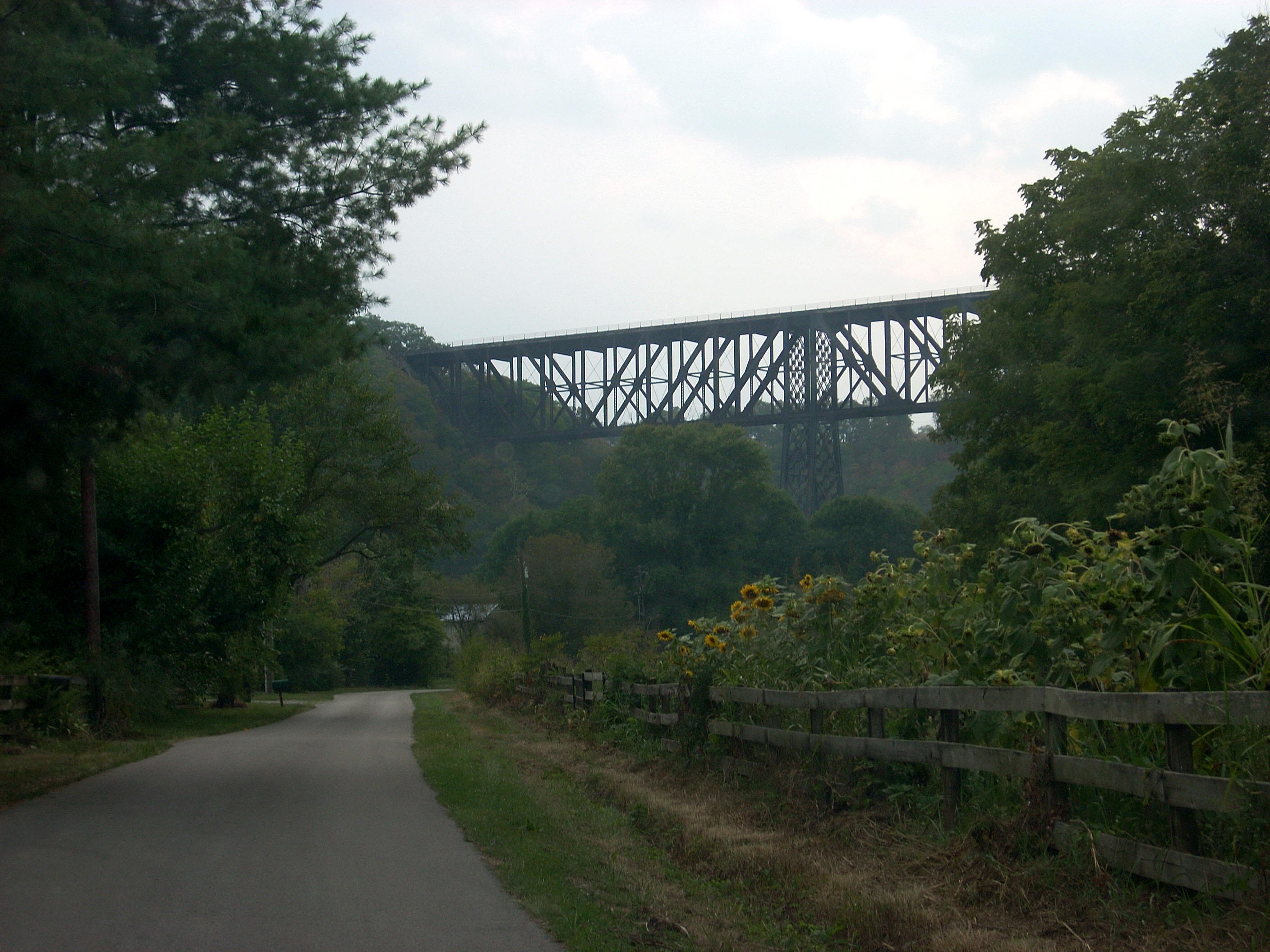 I was going to stop by the park too, but there were still a ton of people there, so I decided to just wait until next time to revisit the place. This is quite a nice park and they do have a little museum which is a tribute to the community and to the river. There's also an overlook.
DIRECTIONS:
KY29 south to
High
Bridge
. The road pretty much ends at
High
Bridge
Park
, but immediately before this, you'll take the final right off KY29 onto Lock Road. Go maybe ½ mile (if that) and you'll see a sign painted with "Boat Ramp" on it right after a set of stone pillars. If you go too far you'll just come to the lock and dam grounds and you can turn back on the roundabout.
.