PLACES TO GO ON LAND HOME PLACES TO GO ON WATER
2008 Kentucky River Kayak Trek
Monday, August 25, 2008
Lower Hunters Bar at Sawmill Run to Dam 8 (Mile 140)
At about the time last years trip ended I had been reading a book called Mississippi Solo by Eddy Harris (http://www.eddyharris.com/books/mississippi.htm). I picked up the book and could not put it down until I absolutely had to at page 100. I figured this would be a good place to stop because I'd be able to easily remember where I had left off.
Well, I never got back to it! The way my trip ended last year, I hadn't had the heart to pick it back up again, and I eventually forgot about it. That was until this past weekend. I decided that I'd start it again from the beginning – just as I restarted this kayak trek from the very beginning. The author paddled the Mississippi River alone from its start at Lake Itaska in Minnesota all the way to New Orleans. The book was, for me, a wonderful and all absorbing read and I can recommend it to anyone – paddler or no.
Even though this author went almost exactly 10 times as far as I'm going, camping all the way, I feel I've found a kindred spirit as there aren't many people who decide to paddle the entire length of long rivers. As the saying goes though: wherever you go, there you are! Well, I don't think I would be doing this if I weren't really meant to.
It's funny that when I started this journey I was approaching the river from a purely recreational point of view, and that now I've become totally immersed in its' history as well. I do feel that the story of this river should be retold from a historical as well as from a recreational perspective. That's because so much of its' history has been forgotten and so much of its' recreational value is unknown. Every time I either uncover something else about it or am told of something else, I am incredibly intrigued because I've discovered what many other river appreciating people have long known: the spirit of a river can really get to a person. I paddle it alone on this day, but I am never truly alone.
I started out the day by heading to Nicholasville via Tate's Creek Road. I hadn't noticed previously, but there are large swaths of farm acreage up for sale from Lexington to Nicholasville and this saddens me because I know that much of it will probably be torn up to build subdivisions or shopping centers.
Nicholasville itself is really nice with tons of historical houses and a sweet downtown, but it's become so incredibly congested that I try to avoid going directly through it if I can. There has been so much growth in this entire region that it threatens to become one giant city centered in Lexington (in fact, some say it already is!).
Once I got to KY39 it was better. There are several old farmhouses out here with lots of land, although some of them are in need of some TLC, and I'd love to see them refurbished. My grandmother grew up in a farmhouse similar to these in rural southern Indiana near Shawneetown on the Ohio River.
The ramp for the put-in I used is at the end of KY39 at the river, and the area has really been cleared out for quite a bit of parking; so much so, that it looks like they might even be doing more with it. I believe this ramp is also called the Nickell boat ramp, and it's nicely paved. The community of Paint Lick is located near here, as was a ferry of the same name which operated until 1950. Paint Lick was, in fact, another one of the stops for the showboats I've mentioned. There's another ramp directly across the river here too called the Hunter's Ferry, or Buckeye Ridge ramp.
I paddled up to the Lower Hunters Bar at Sawmill Run where I stopped last Thursday on the last leg of this trek. There's a shoal here and I spotted a couple figures which appeared to have a blue tint. I thought they were herons at first although these birds usually seem to be solo acts.
Now, herons have long necks and all, but as I paddled closer I thought: "Boy, those herons seem to have extremely long necks!" Well, these turned out to be 2 pipes sticking out of pails in the ground! They weren't there last Thursday, and I had no idea what they were for, but they did give me a chuckle. (As mentioned in the last entry, this shoal either was or was near the spot of the old Lower Hunter's Ferry.)
At any rate, my trip today began here with forested hills on the left which were rocky just at the shore. I noticed for the first time too, that the leaves were beginning to turn color and this made for a nice, nearly fall-like scene on this side.
The right bank was made of mud or sand with a landing on top 15-20 feet up the bank, and for about the first mile and a half there are several getaways and cabins here ( River Road accesses these spots).
At about mile 147.5, there was a ramp with a little dock of 4 boats, and in another spot was what appeared to be a very old lifeguard stand made of steel. Former beach here, or just a relocated chair? I'm intrigued…
There was also a little shoal at a power line over the river on the left just about at mile 146.5 which was a bit deceptive because, like some of the shoals I noticed on the last leg of the trip, it was a lot longer under the surface than it appeared.
Wild Horse Branch comes in at a large shoal on the right side after the river begins a curve left just after this. There's a gravel road which leads down to it, and while the large number of turkey buzzards that had been loitering here when I paddled up were no longer around, a mess of noisy crows sure were! Can these birds ever make a racket!
After a curve right in the river at mile 146, I was back at the ramp where I started. The Paint Lick Creek enters here on the left, and I got into it just about 1/2 mile – the same as I had the Silver Creek on the last trip. (In fact, I'd get into the Sugar Creek further down almost exactly the same distance. Thus, all 3 of these creeks (the paddle-able ones in this pool) are of roughly the same straight paddle length – at least when I was there.)
There was a pack of dogs on the ramp to the right side of the mouth of Paint Lick when I entered. It looked like a collie and a few puppies, and they peered at me from over the bank as I paddled in. The collie didn't take to me very well though as I stopped to take a picture of them. I somehow merited a growl. How rude!
Once you paddle back out of this stream, a sandy beach will be on the right just downriver from the KY39 ramp, and from here you'll launch into a backward "C" curve which is called the Teater's Turnhole Bend. The right side of this curve will start and end with just a rocky bottom at the river bank, but it'll tower higher in the middle, and there are a number of spots which would be nice waterfalls at higher water.
Dry Run comes in at one of them, but it was indistinguishable from the rest - dry. In fact, that name seems familiar... Going back to look at the charts again…
Yep! Dry Branch at mile 161.5, Dry Run at 173.5, that's it… I thought I'd passed more "drys" than this; but I have, indeed, paddled past at least one stream with this same name.
The next 2 streams should, I believe, be about ½ mile further down than they appear on the navigation charts. The first, Teater's Branch enters from the left at about mile 144.5, dry over a large shoal. The Teater's Ferry ran across the river somewhere in here at one point. In fact, on the opposite side I saw remnants of a metal ladder at a smaller shoal – was this used in conjunction with the old ferry? – I just don't know. The second stream, Yates Branch, enters from the right at about mile 144, and it looks like someone lives in a nice old cabin here.
After these streams enter, the rocky bank switches to the left briefly before really opening up for some farmland at the top of a landing maybe 10 feet up the bank, and as you look downriver here you may be able to spot a boat on the right at the end of your line of vision.
Upon reaching this spot, you'll find what looks to be a private camp which, in the minds of kids young or old, must be absolutely idyllic! There are a few ATV paths and roads which lead to this and there's another shoal as well. There's also what looks like an old pier in front of all this, and I first thought that this must have been part of the old Davis ferry which used to operate in this area. I found out, however, that that ferry supposedly ran across the river closer to the mouth of the Sugar Creek which I hadn't reached yet. This just left me to wonder about the pier…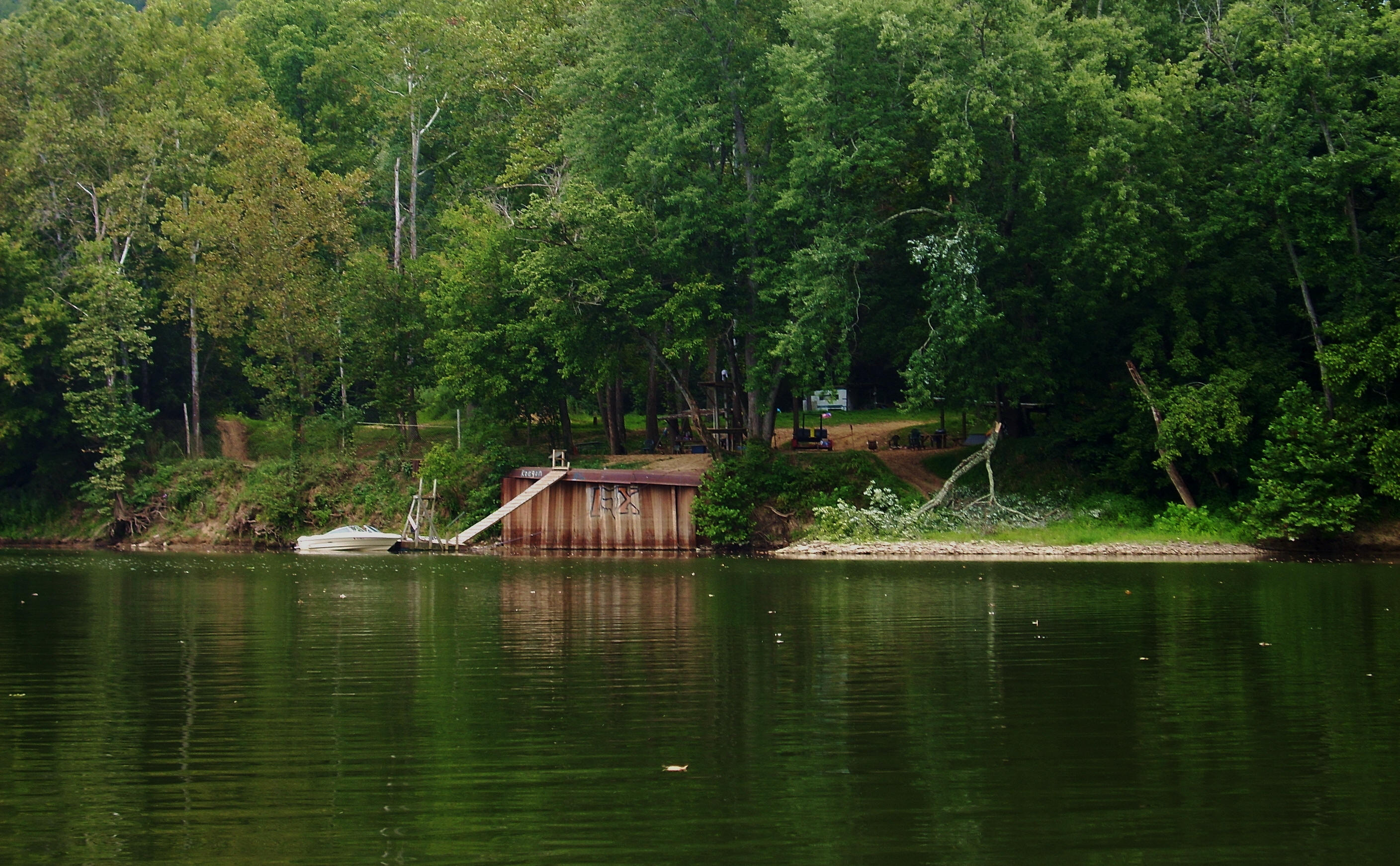 Anyhow, once you do reach Sugar Creek, both sides of the river have incredible botanical history (as per the Jessamine County Boating Guide)! On the left was Quantico Landing, once a premier tobacco market whose fame in the early 1800's extended all the way to investors in Britain. This bygone community once had a tavern, hotel, sawmill, gristmill, tobacco warehouse, and ferry which operated until 1939. Some of these structures once extended all the way into the Sugar Creek which comes in at about mile 142.5.
I paddled into this, as mentioned before, about 1/2 mile and found the creek to be my favorite on the river since the Boone Creek back near the I75 Bridge. Part of the charm here is that at the end of the straight lane as you paddle in, you'll be able to see the little rock cliffs which extend all the way to the streams' end at a rocky shoal. It's at this shoal that you can also spot a couple old barns, and if you take some time to merge into the tranquil atmosphere here, you can drift back in time and imagine what Quantico might have looked like back in "the day". Of course, with the little cliffs here too, you'd also be able to see a few waterfalls in here during higher water periods – altogether, this is one fantastic creek!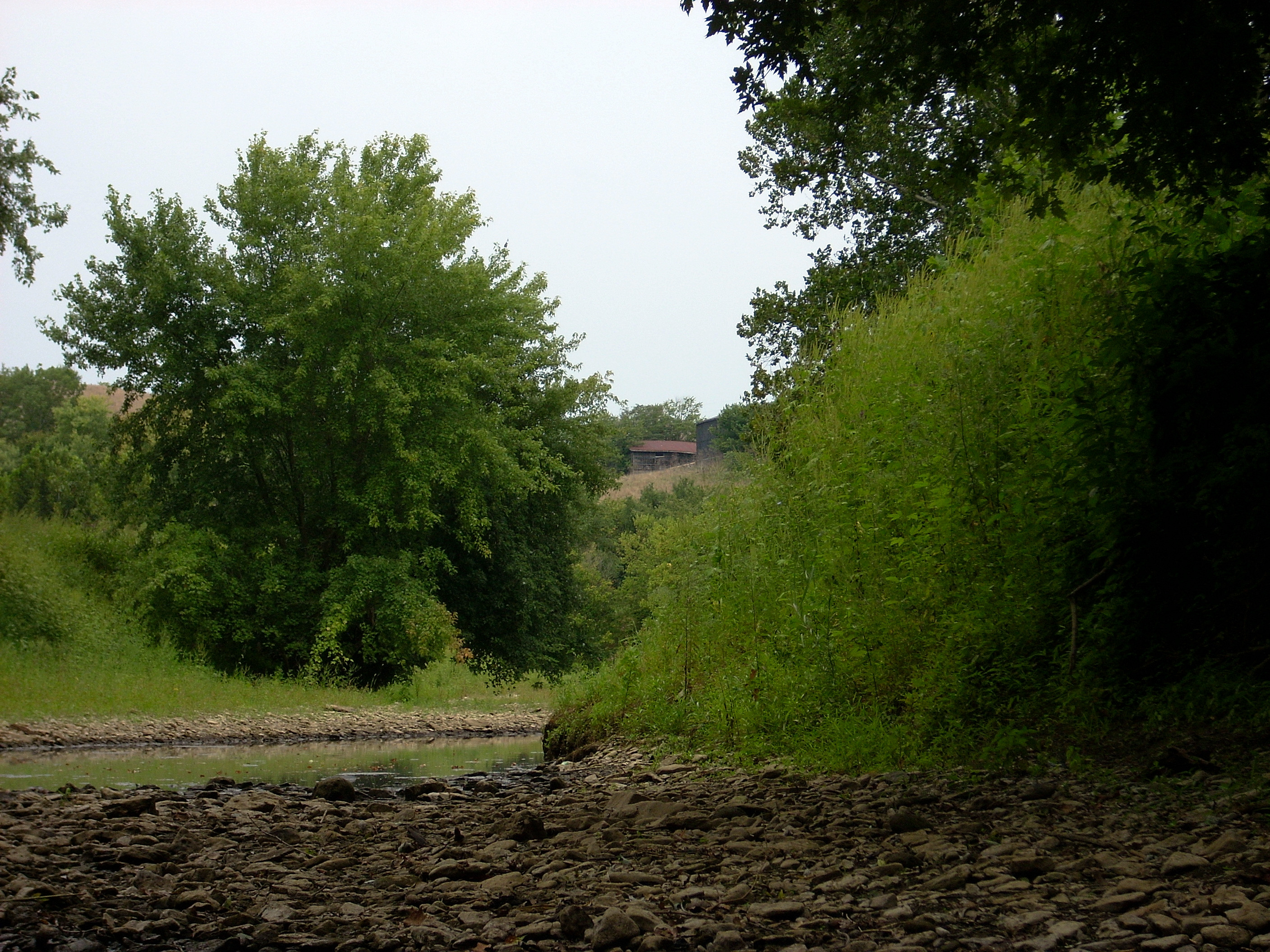 With Quantico Landing on the left, Firstvineyard was on the river right, almost directly across from it according to the guide (although the navigation charts have this nearer to mile 137, five miles down). [I've actually been able to get some clarification on this since I wrote this journal. According to George Dean of Jessamine County the spot was, indeed, here. Thank you Mr. Dean.]
Anyway, and by all accounts, a man from
Switzerland came to the U.S. about 1800 and spent 2 years searching for an ideal spot upon which to start a vineyard. Well, this turned out to be the spot, and it was our nations' first commercial vineyard! I'm not sure how many people know that – I certainly didn't!
It only lasted until 1809 though... Apparently it was doomed to disease and frost, which is truly tragic because the Swiss colony then ended up consolidating their wine operation not far away in
Switzerland County, Indiana
– and it remains there to this very day. Sadly, nothing is even visible of this old winery here now - it looks to be just another forested landing atop the bank of the river.
Coming down from this landing at one point though is another remnant of a ramp, and there's an iron gate blocking access to it at what looks like a gravel road (it could be Sugar Creek Pike). I wondered if this old ramp was at one time used by the vintners...
At a sharp right bend in the river after this I could hear the Lancaster water intake off on the left but I couldn't really see it. It's a smaller structure than the last 2 intakes I've seen and it was only partly visible through the trees. The Davis Creek comes in here too, dry. Right at its shoal, though, was a partially hollowed out tree trunk that had become a little habitat for mussels and algae – an interesting microcosm of this river ecosystem.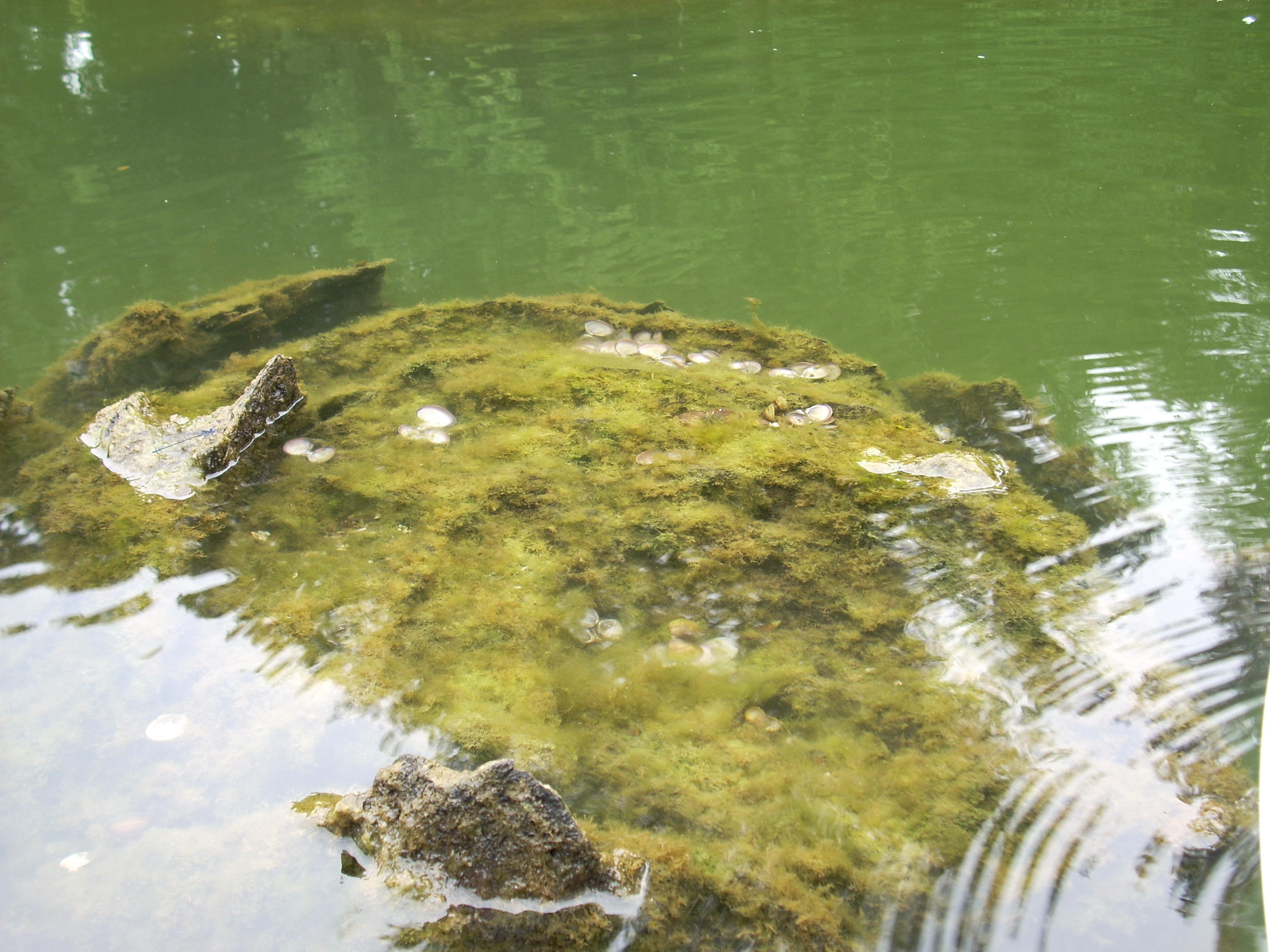 The sight on my right, however, really brought me down. You might as well have put a sinker on my heart, 'cause it went straight down. Remember when I was discussing the fishing lines caught in the trees in the last entry? Well, a bird had been snagged here and had died. It was a large bird by the appearance of the feathers, and I imagined that it might have been a heron considering that they do like these shady overhangs. It could also have been a turkey buzzard too though... Either way, this must have been an agonizing death as the poor animal tried desperately to free itself only to get further snagged. Truly a lousy way to go!
As you straighten out the Davis Bar will be on your left, and the mile from 141 to dam 8 at 140 will be densely forested on this side except at the middle of the mile where it was being cleared out at the time of this writing for what might become another camp or getaway.
On the right – and I'm not sure how much land Firstvineyard covered – there's what seems to be farmland, yet I know from last year it's part of the lock and dam 8 grounds. Lemme tell ya - this lock is OUT THERE! When I drove here to scout it last year, the most noteworthy things were the potholes in the road which, had you driven into them, you might well have wound up in India
on the other side!

The grounds too, from what I recall (I didn't venture up the bank today), had only one structure left standing which had been used for target practice. As far as the portage, this one would be quite a walk around, like many of the others; and I saw today, too, that you'd have to walk up a steep overgrown bank on this side to do it (although there is a ladder on the side of the lock as another option).

Y'know, with the exception of lock and dam 10 so far, which was easy enough to get around, if everyone that visited these dams were to throw a handful of little rocks down just at the bank where the lock corners come in (on either end, it doesn't matter), we might have some nice put ins at these locks in a few years! Ha! Maybe that and an occasional weed whacking during the summer months. I'd be happy with that for a while until they hired full time lockmasters again (at least for the summer) and added campgrounds! Maybe in my lifetime…
As I headed back I took the shot below of the hill which would have been part of the Quantico Landing landscape. Davis Bar is visible on the right.
It was on the way back that I heard almost continuous thunder in the distance, which sounded like it could easily have been coming from right over my car back at the put in. I was hoping this wouldn't be like the trip from dam 13 to Old Landing that I made last month! Luckily enough, I ended up staying dry (with no lightning!), although it did rain on the drive back.
Kentuckians sure like to shoot! When I got back to the ramp someone was firing away. I never saw them as they were back in the trees, but I sure heard them. There'd also been what sounded like a shooting range in the dam 10-9 pool, and I heard shooting at the ramp back at the Red River as well. I've also heard it on some of my hikes. In fact, one out and back hike actually ended at one (at the Kleber Wildlife Management Area)!
As a final note, on the drive back I passed the "Yee Haw Grocery" on KY39. Nice!
DIRECTIONS:
Another easy one... Take KY 39 South from Nicholasville and follow it all the way till it dead ends at the river. Follow it from Nicholasville though or from another point north of the river because KY39 starts up