PLACES TO GO ON LAND HOME PLACES TO GO ON WATER
2008
Kentucky River
Kayak Trek
Friday, August 15, 2008
Two Mile Creek to I75 Bridge (Mile 170)
This was a really action packed day! It had a bit of everything. Have I mentioned before that I may now be certifiably insane? I took 257 pictures today!
It was a misty morning (couldn't see anything at all over the I75 bridge) as the day started out with a trip to Boonesborough State Park, and once there I drove right in thinking that the access to the lock and dam houses (and direct access to the dam itself) was a bit further down the road from the entrance. Wrong! If you go through the main entrance you'll see the swimming pool just on the right side as you enter, and if you head toward it and go to the left of the building adjacent to the pool you'll see a gravel path leading up some steps. This path leads right to the lock and dam houses and – THE KENTUCKY RIVER MUSEUM!
Ta-da! Eureka! I know I'm an official river geek now because I fairly ran up that path! I couldn't wait to catch a glimpse! I went in the door to the first lock house and found it to be the museums main entrance. A very kind woman there put up with me. I told her what I was doing and informed her of my happiness to find her museum. She said it would be OK to put the kayak in there and she told me a little bit about the museum.
The house I entered is apparently the main museum and the other house has been left exactly the way it was when this place was operational. There are other little housings around the grounds too which were used to store some of the equipment. All of it looks fantastic and its' been very well restored. Will you LOOK at this!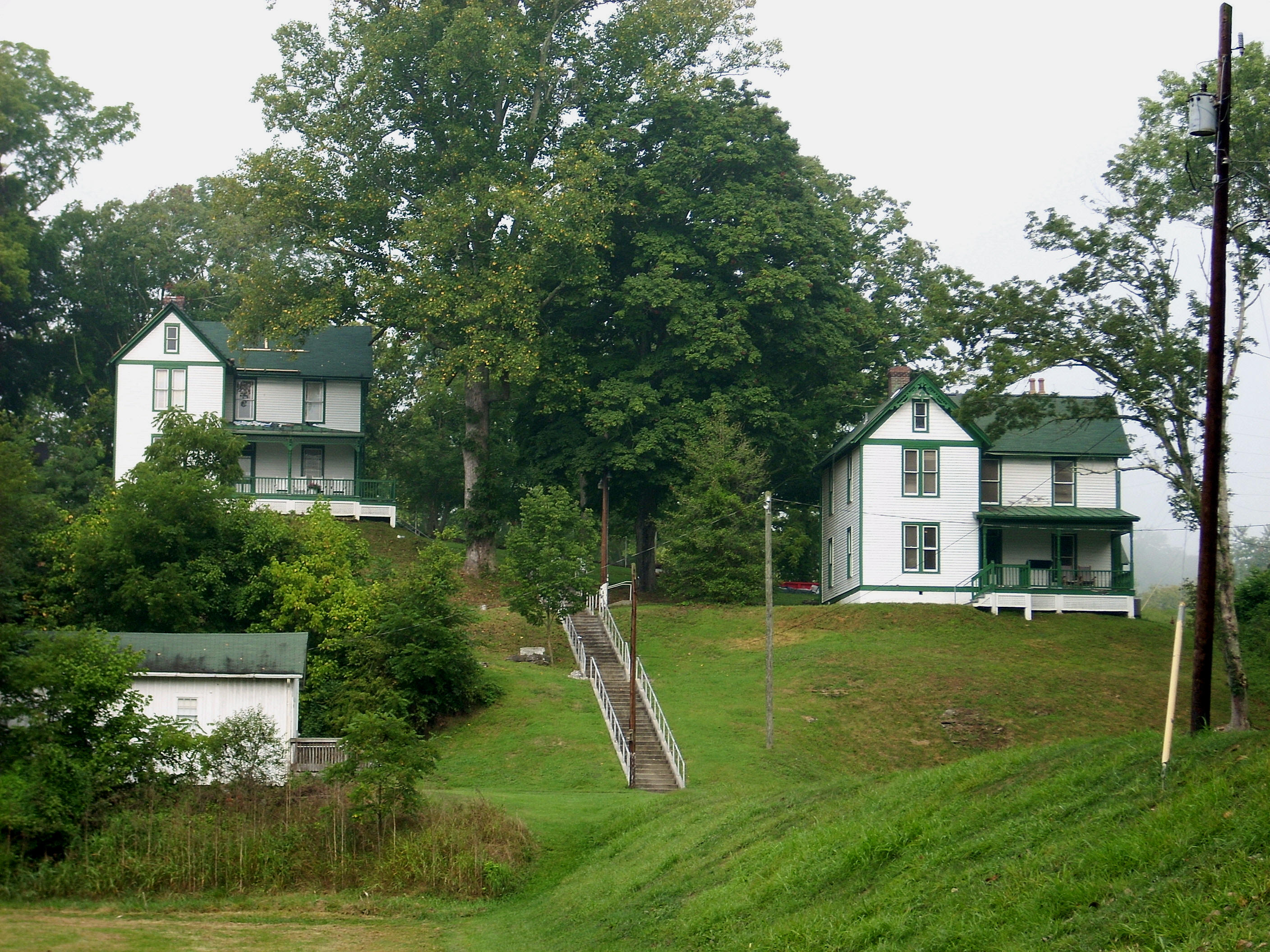 This lock was apparently operated by a man named Walters who lived here with his wife and their 10 kids – 9 girls and a boy. Talk about a giving person! Lockmaster Walters had a job where he was at the beck and call of anyone and everyone just about 24/7/365 and he still raised 10 children!?! I can't even conceive of this! He even had time to compose a diary of his daily observations which ended up being voluminous!
I am, without doubt, coming back here soon. The place has a really good feel to it. Today though, I had to get going because I wanted to get to the 1/3 point of the converged river under the I75 bridge. It was a struggle though leaving the museum.
I'm torn: I'm not sure I'll put in directly at this dam again. It's a loooong walk around and down with your boat and gear. I think I'll do this like I've done it in the past instead: go to the ramp just below the dam, paddle up and port around. It's probably 6 one way and ½ dozen the other though - I'm just not sure. Take your pick, but they don't seem to mind either way. BE CAREFUL though, of course!
Getting started, I made the most of my equipment haul. It was fun as I imagined myself as a lockmaster taking his gear down to the water. I doubt they had kayaks, but I'll bet they hauled lots of other kinds of equipment up and down these steps.
As for the actual put-in, you'll have to watch out for goose droppings, but it's pretty easy because it's kind of protected in a little pool on the side of the lock. My friend from Wednesday had shed some light on this for me. I knew that the beach was supposedly formed from the ice storms of the early 1900's, but apparently this little area was carved out by them as well as the ice piled up. They had to build a fortification to stretch to the lock afterward and this formed the pool. It's a quiet little spot now which the geese seem to like it a lot. There are usually some around.
As I paddled up to Two Mile Creek it was still misty out and it looked like there was "Smoke on the water!" Da da da…da da..da da. Da da da…DA DA! (Deep Purple dontcha know).
As I mentioned from Wednesday's trip, the Boonedocks Marina is immediately downriver from the Two Mile, and this was where I would technically start my paddle today. It appears to be a little larger than the marina in
Irvine
with about 30 boats.
I began my paddle back downriver with farmland on the left and hills on the right, and it was at about mile 179 that I heard a voice from atop this right bank: "How many miles per gallon do you get in that thing?" There was a man up there with his dog just enjoying the river, and this was somewhat funny because all I could see of the man was his head above the weeds on the bank. It was like the old Home Improvement sitcom show where all you could see of the guys' neighbor was the top of his head. What a marketing gimmick that was! You just HAD to see the rest of the guys' face (I don't know if they ever revealed who that was!).
Anyway, this gentleman and I talked for about ½ hour. I mostly listened actually. I'm not usually much of a talker in person. I think other people are much more interesting. Get past a couple subjects with me and I'll probably bore you to tears. Anyway, this man had done quite a lot on this river and others and he mentioned having lived in the area for quite a while. He also said, however, that he knew a girl who had drowned paddling the Boone Creek about 20 years ago, and this was a little deflating. I'd keep her in my thoughts for the rest of the trip.
He then mentioned a couple more things which really intrigued me. Apparently there's an old mill up the Lower Howard Creek behind the Halls on the River Restaurant and there's also a spring back in Jouett Creek (aka. Dewitt Creek). I had planned to explore both of these today so I was really interested to know this. I thanked him as we parted ways and I continued downriver.
By the time you reach some power lines going over the river at mile 178.5 the city of Ford
, Kentucky will be on the right. I couldn't see any houses myself, but I did see what looked to be a rock quarry. That's because there was a rock pile which ran for about ½ mile all the way down to the Ford Steam Generation Plant at mile 177.5.
I'd love to get a tour of this plant, which you can see from the river here, and there's a lot of other activity as well. There are 2 railroad bridges which go over the river, there's a large rush of water emanating from the plant on the right (which looks like class 2 whitewater) and there are also remnants of a very large dock. Not to be outdone, the Otter Creek also comes in from the left.
Otter Creek looked pretty large - about like the Red River
- and I got in for a count of 750 which, I'm guessing, is about 2/3 mile. Again, these side creeks are really pleasant, and as I got further into this one the landscape cleared out and I was finally able to get a great view of some of that rolling farmland I'd been missing. The slope in one spot, in particular, was real gentle down to the river and there weren't many trees, so I could see all the way up. I was thankful for this and took advantage by getting a few pictures.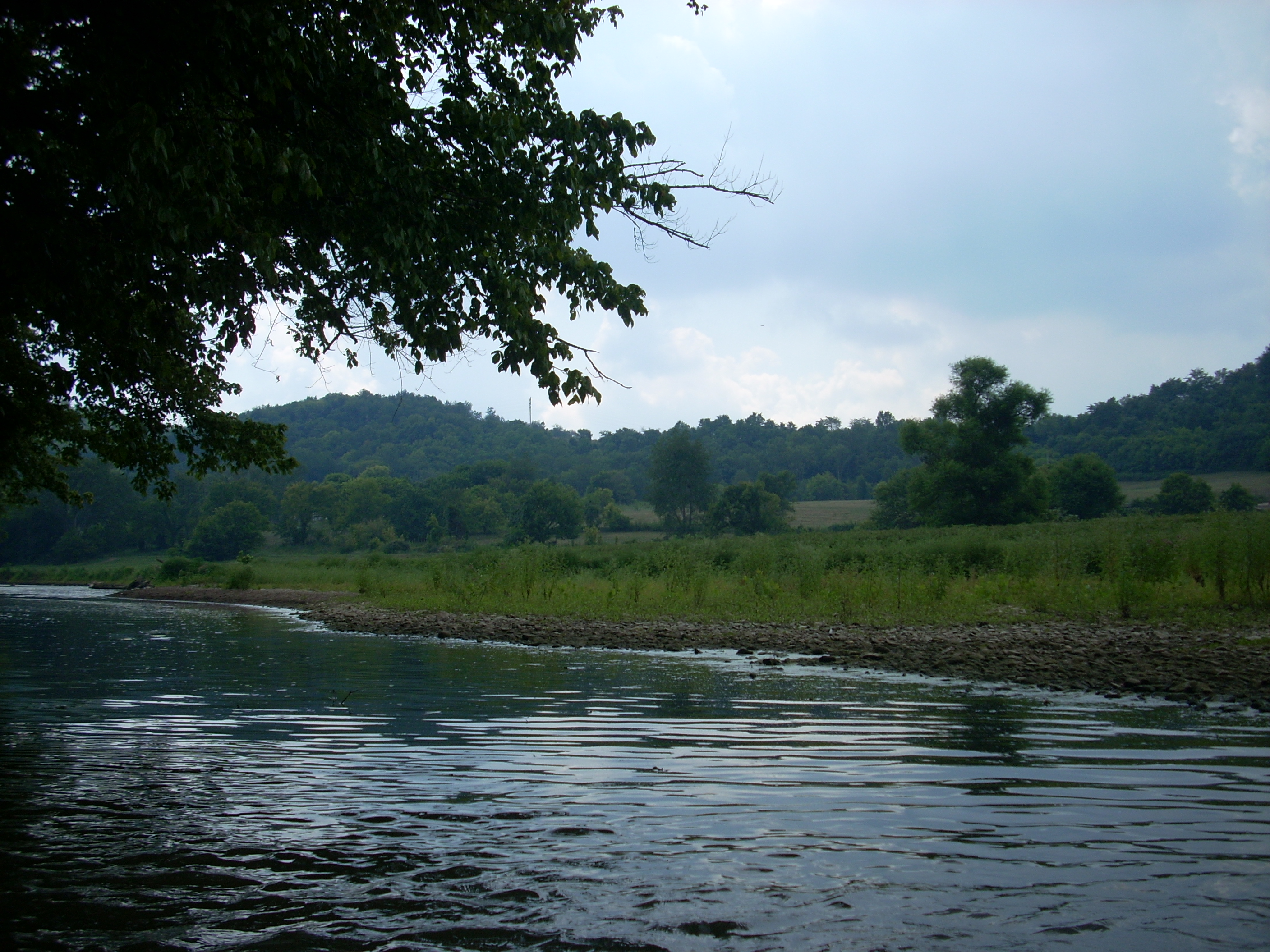 Getting back to the main river, there's another marina between mile 177 and 176 that had about 15 boats, and one of these was a little steamboat called the Leland Davis. It was half submerged and tilted over on one side, but it looked like it would be super nice if it could be rescued and renovated. Personally, I don't think I was meant to be materially successful or it would have happened by now, but I'd sure like to see someone who has had that kind of good fortune put some money into this. I think it would be quite worthwhile.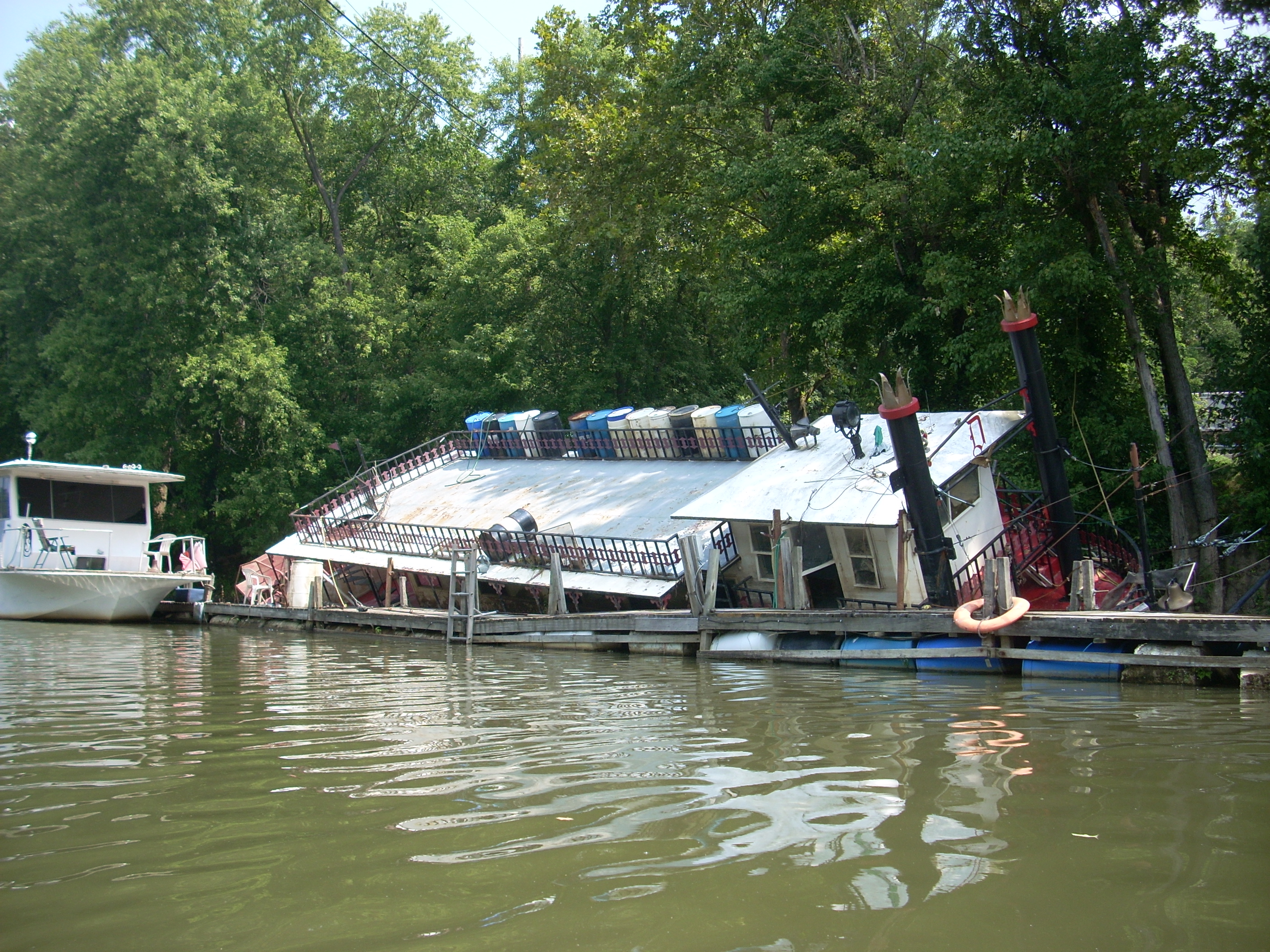 This makes me think again about the book I'm reading on the
Kentucky River (by William E. Ellis www.kentuckypress.com) which mentions that there used to be showboats which would come up and down the river in the summer and play to audiences along the shoreline. In fact, they did this at Boonesborough Beach

. It was one of the sites they'd regularly visit, among about a dozen others.

[UPDATE 2013: I've just received an email from an interesting gentleman who states:

"You made notice of a partially submerged paddle boat that is at a boat dock just up river from lock #10 at Boonesborough, named the Leland Davis. Here's what I know about it... About 15 or so years ago, I was at my parents house... and someone knocked at the door. He stated that he wanted to lock through the lock, but the lockmaster was not there (at this time the lock was still in operation and run by the Corps of Engineers). He asked if I would contact the lockmaster so that he could lock through. I called the lockmaster and he told the gentleman that he would have to wait until tomorrow. This guy then invited me down to check out his boat and it was the Leland Davis. He gave me a tour and some of its history, little of which I remember. If I recall correctly, he had bought it somewhere up the Ohio river and had partially restored it. He, and this group of people he was with, were sailing it down to Boonesborough to what at the time was the Davis dock and restaurant (all locks were still operable at this time). I think that they were going to use the boat for cruises or a floating restaurant or something like that. Nonetheless later that year, I was down around the Boonesborough area... so I drove by the dock to see if they made it. The boat was there (floating). Many years after this I was there again and noticed it sunk. I guess it's still that way."

My many thanks to David in Carrollton for this intersting information!]

Lock and dam 10, where I originally put my boat in, became visible at this point in the distance, and the approach to it seemed similar to the approach to dam 13. There were remnants of another dock visible as I approached the lock side, and I could also see some geese where I planned to take out at the very corner of the lock up ahead. There were 6 white ones and a darker one. They waddled off as I came near.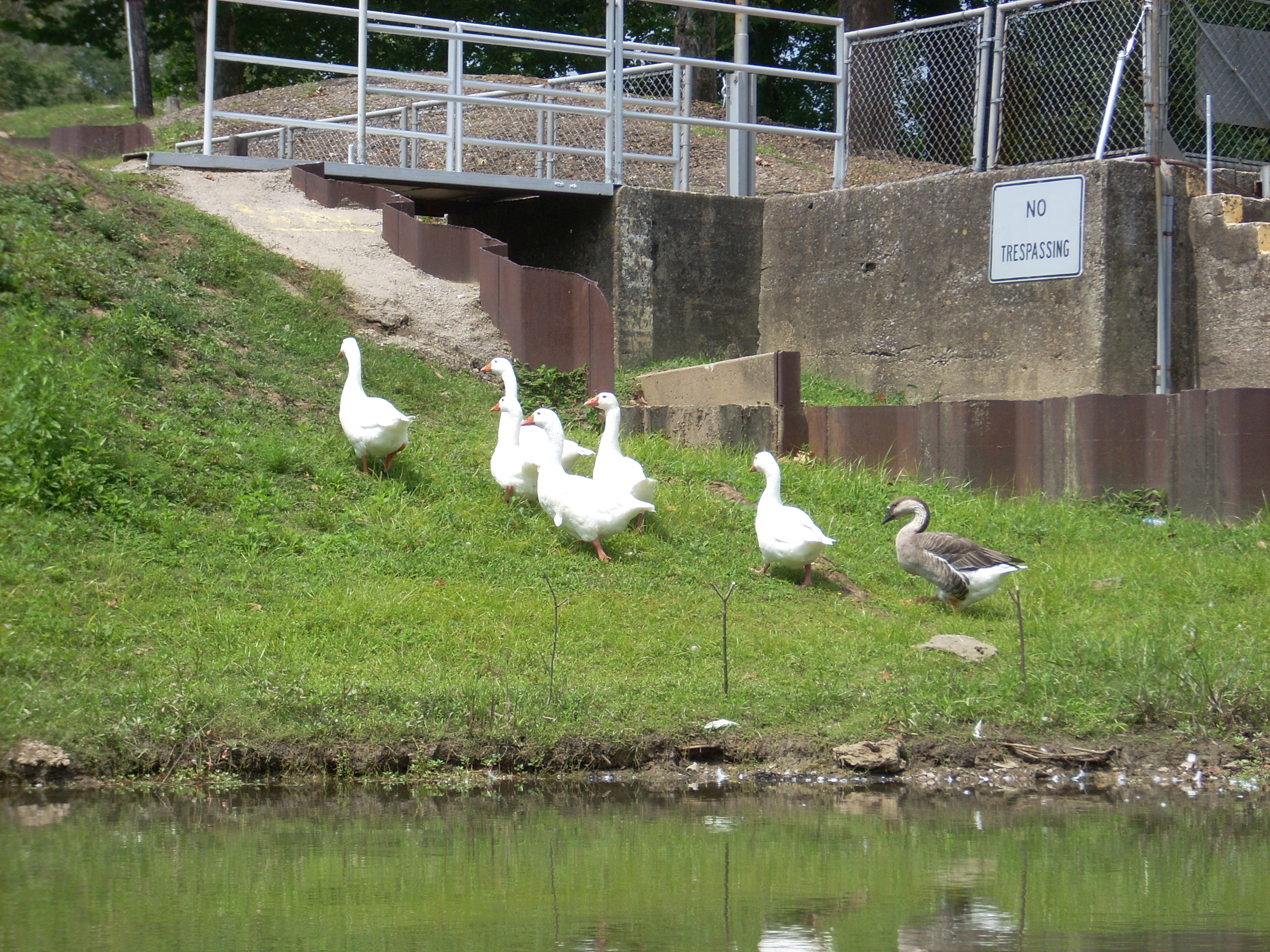 This portage is really pretty easy compared to the others because you don't have to walk nearly as far and the access points are relatively easy to get to. One side has a real gentle slope and the other has a beach. You still have to be cautious though. I planned to port this on another day this past spring, but once I got my boat up I realized that there was way too much flow to the water going over the dam for my comfort. It was more tranquil today.
The beach at mile 176 is actually quite large but it's not used much since the park has a pool now. Apparently the coliform bacteria make swimming in the river here a dubious proposition – hence the pool. This is really a shame because I've learned that this beach used to be quite a hangout back in the day, and that at one time (before the government purchased the land for the park), there used to be a vacation getaway out here with a dozen or more little cabins. [I've since learned a bit more about the beach. According to Gary of Boone County, it used to be quite a hangout back in the 1950's - a real party beach apparently - but when it got too rowdy in the early 1960's they had to shut it down and it was then taken over by the state. Thanks Gary!]
Today there looks to be some kind of lodge-type building atop the beach, but I'm not sure. Another thing of interest here, as indicated on the navigation charts, is that the first ferry chartered to operate on the
Kentucky River
was established here.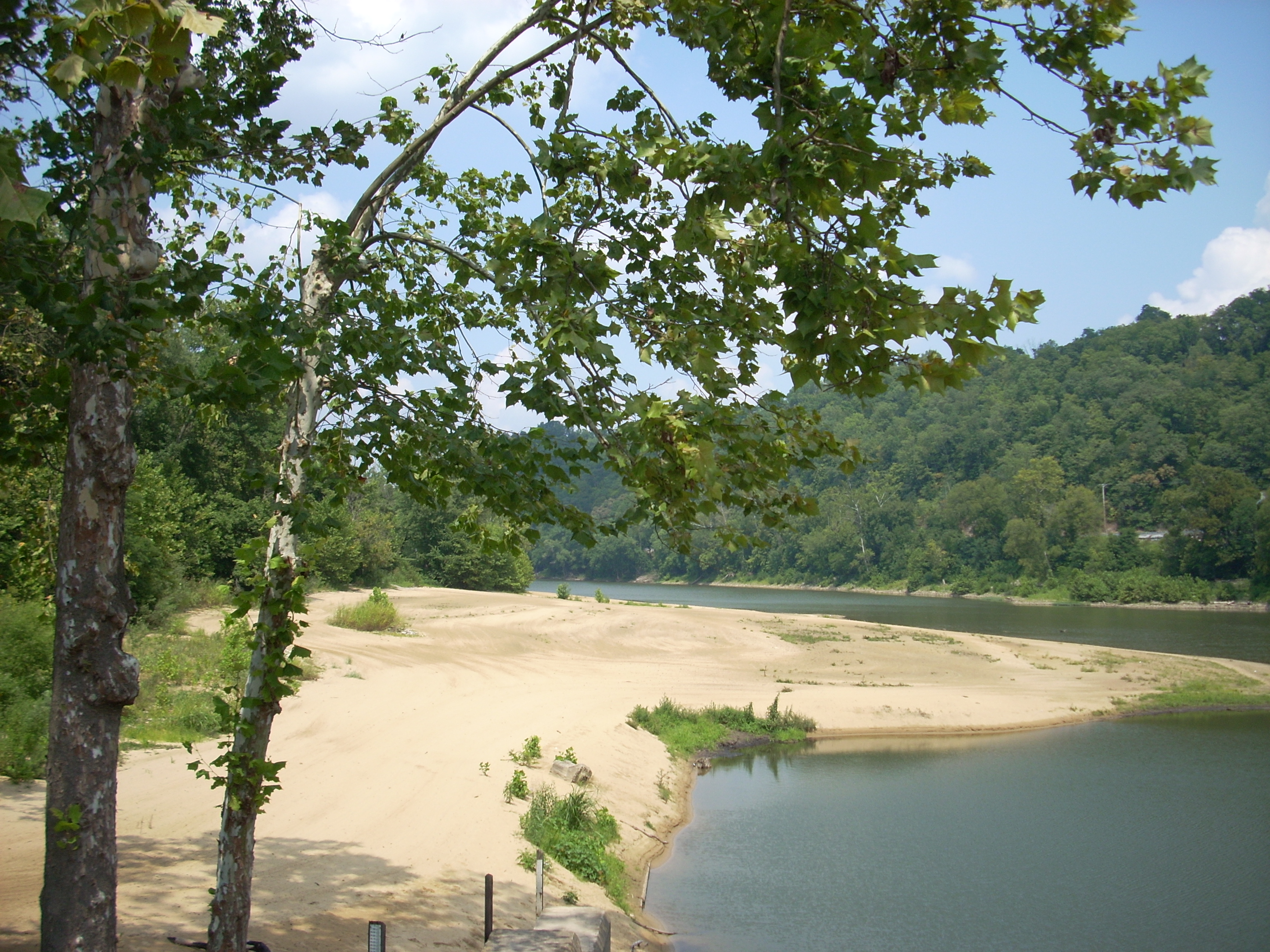 From this beach we have another shape taking form in the river - another slide. Unlike the slide after dam 11 though, we'll be going up the ladder and down the slide this time instead of up. The shape extends from the beach all the way down to about the I75 bridge at mile 170, but the first portion between mile 176 and mile 175 is another one that has a lot going on. The beach ends just before a boat ramp comes down from the park on the same (left) side. This is the one I mentioned at the beginning of this journal. I've used it before, and it's a nice one. There's a campground here too.
Right after this, as some power lines go over the river, you can look left and catch a glimpse of what the charts indicate is the Kentucky Stone Company quarry, and between these power lines and the large bridge over the river for KY627 there are what look to be some more pier remnants. In fact, it also appears that there are remnants of boat ramps too. I'm guessing that this is where the aforementioned ferry ran for Boonesborough. There's even an old submerged boat and a seemingly abandoned boat here too. In fact, this whole section has a lot of interesting old boat hulks especially if you count the Leland Davis steamboat I had just seen at the marina on the section above the dam. There would be more…
The River View Marina looked to be the largest yet with about 40 boats, and it comes in at about mile 175, as does the largest rock cliff of the trip so far. This must be where the palisades start – at mile 175. There's even a nearly square shaped cave entrance up in this cliff. This would be difficult to get to, but it sure would be fun to explore!
There are now quite a few houses on the right side too, and these extend from this marina all the way down to nearly mile 173 - many of them have their own private docks as well. Thus, some of the boats I saw might belong to private dock owners and not the marina, so my marina boat count above might be a little off. Nevertheless, this is definitely the most populated area since
Irvine
and Ravenna. After all, the community of Boonesborough is right here and Winchester and Ford are close.
The Lower Howard Creek
enters from the left at the top of the slide shape, and this is where the community of Lisletown is. Once again, there were quite a few more houses and private docks here, as it seemed that everyone in Lisletown had his or her own dock!
What can I say about the Lower Howard? Only that it's one of 2 magnificent beauties you'll see today! You'll have to get past a deadfall at the entrance, but once you do you'll wind in and almost immediately see Halls on the River (http://www.hallsontheriver.com/). This restaurant, which would probably be more aptly named Hall's on the Little Howard Creek, has an intricate stitching of decks visible from down on the river, and it even looks like some of the tables have their own private decks. To my perspective underneath, the whole thing has the feel of something out of the Swiss Family Robinson. Really sweet looking!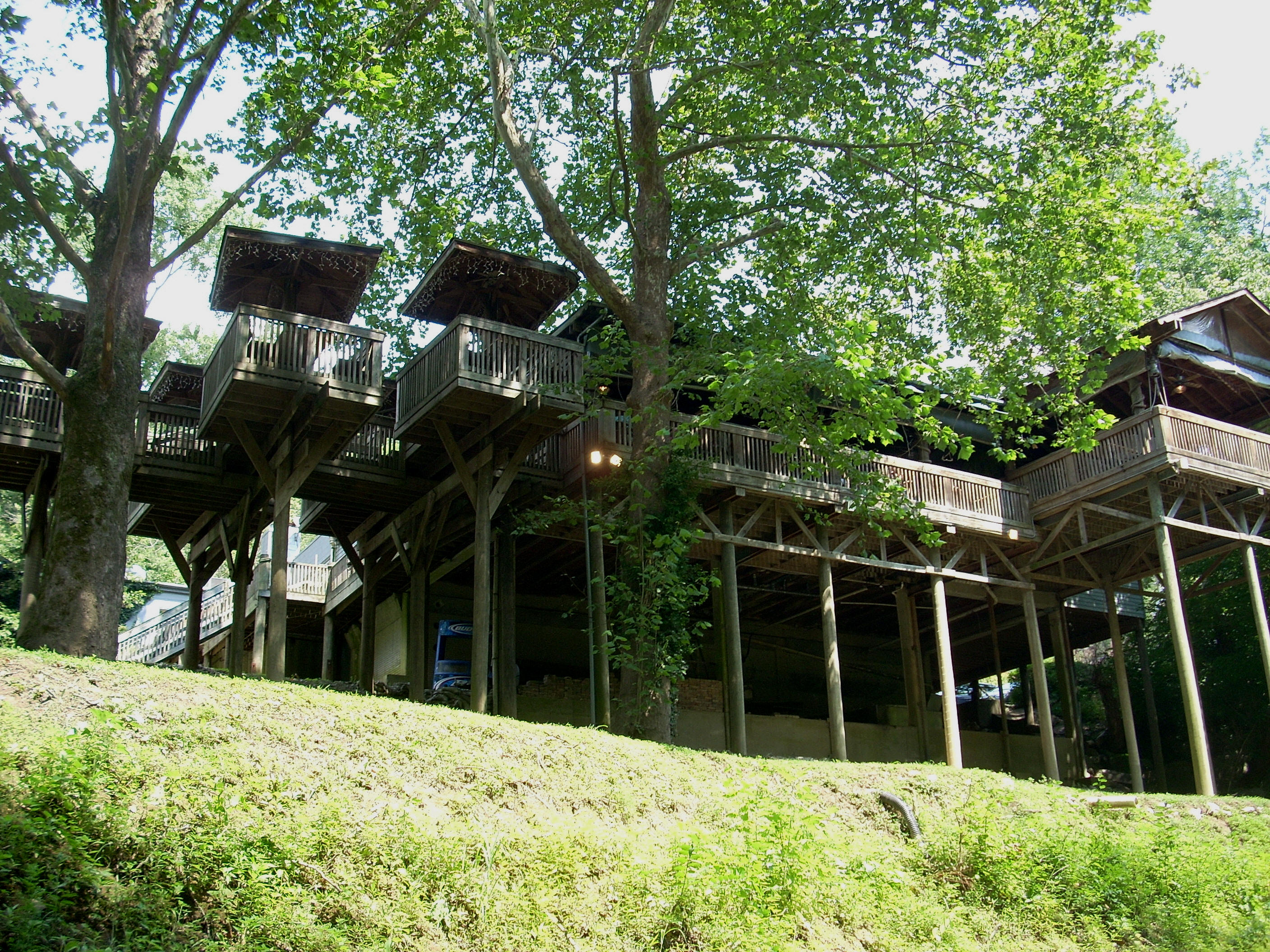 This creek is somewhat interesting to navigate. You have to really weave back in because it gets quite shallow. I was quite keen though on seeing if I could reach that old mill the gentleman back near Ford was talking about, but I ran out of creek about 200 yards in. There's quite a parking lot back here for Halls too. It isn't your normal, run of the mill, parking lot. It's circular with concrete reinforcement all around its base and it even has some really nice antique-style light posts. Everything out here at Hall's seems to be first rate. Anyway, I stopped, got out of the kayak, and walked back into the creek for a little bit but never did find the mill. I'll go back and do a more thorough search sometime.
[UPDATE: Wes near Boonesboro provided me with some more information on the creek:
I am very familiar with Lower Howard's Creek (you called it Little Howard's Creek) and the old mill ruins you mentioned in the description of that section. Lower Howard's Creek, from the mouth to several miles upstream, goes through the Lower Howard's Creek Nature and Heritage Preserve. There are hikes scheduled there regularly with a guide, the preserve is gated and not open to the public without a guide because of endangered plant species and the fragile historic ruins. The mill ruins are a couple of miles upstream from the mouth so you aren't even close when you are at Hall's Restaurant. The guided hikes are great and you hear all about the history of the mill and the early settlers that lived in the creek valley beginning in the late 1700s. You can access the hike schedule at www.lowerhowardscreek.org.
Thank you Wes!
Upon emerging from the creek there's another incredibly intriguing boat hulk on the main river. It's all rusted out, but it looks like it was quite something when it was running. It's pretty large and it's got a smiley face and Kilroy painted on it. When I first got the
Kentucky River
book I mentioned before and saw the picture of this I was thrilled that I'd be able to learn something about it. The boat was apparently a tow boat and it had a few different names: originally the Helen H. when built in 1929, then the Emma II and finally the Brooklyn. There were plans to refurbish it but they never fully materialized I guess. All this fascinates me.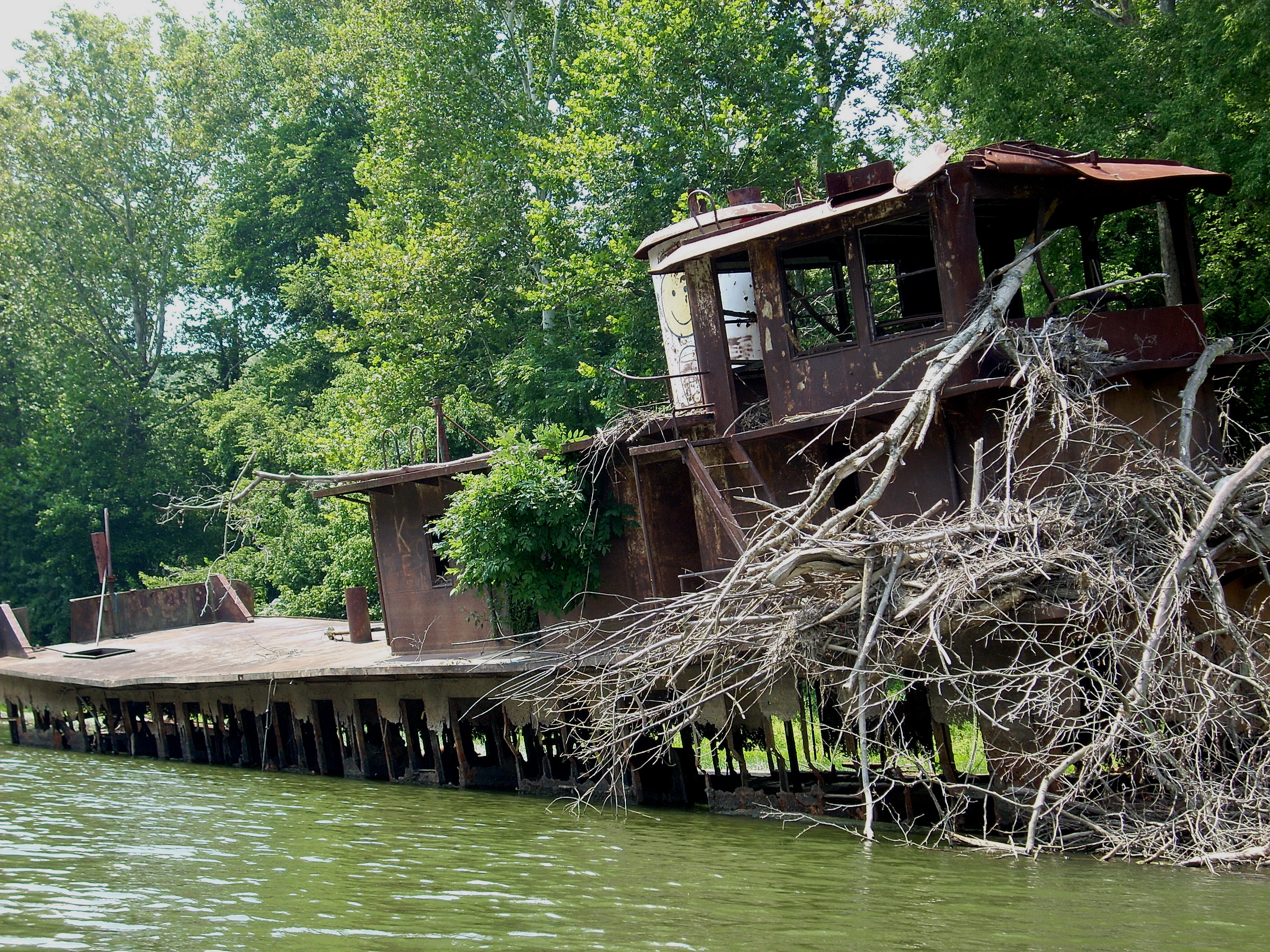 [UPDATE 2013: David in Carrollton was able to provide more information on this vessel too:
"...the other submerged boat near Boonesborough (that is located near the Hall's on the River restaurant) used to be located slightly upriver closer to Boonsborough, pretty much under the State Route 627 bridge. It was also submerged there as well. Someone got it floating and moved it to its current location near Hall's, where after a few years it sunk again. it's been there now for many years."
Thanks again David!]
By now you're on your way down the slide shape in the river – WHOO-HOO! It's a long one. Almost 4 miles without too many curves, it's sometimes difficult for me to ascertain exactly where I am on this - I've become accustomed to quite a bit more meandering. There are houses all the way to Dewitt Creek on the right side, and I know there are some on the left too back through the trees. It gets quite loud in here sometimes as there's a shooting range. I've been through this particular section before, yet every time I do, I'm always really tempted to yell: "Don't shoot! I come in peace!" I don't want to encourage them though... My luck they'd probably use me as a moving target!
Dewitt Creek (also known as Jouett Creek) comes in after some more rock cliffs on the right between mile 174 and 173. This was the creek where the guy in Ford had said there's a spring, but it was clogged up immediately by a deadfall. I would have needed to be a lot more adventurous than I was willing to get on this particular day to find out about the spring. Anyone got a chainsaw? Directly across on the left is Dry Run. Guess what? Dry over a shoal.
At a little bend right there are a couple more shoals, and it was near these that I spotted an animal down by the shore getting some water. It was so quiet I didn't think it was a dog, but it was, and there were at least 3 more of the same type - black and white dogs. It was at these shoals too that I began to see my minnow friends again. They seem to swim in a crescent shape a lot of the time, but I haven't yet been able to get a picture of them which is to my liking. They must number in the billions on this river even though they're pretty much prey to all, because I definitely know that they're helping to sustain the gar population along with other species of fish.
Nearing mile 172 on the left there are rock cliffs which will grow taller and taller until mile 171, where they'll switch to the right. It's within this mile on the left that there's a winding ledge down at the rivers' edge which extends anywhere from 4 to 6 feet up. It forms an interesting pattern as you paddle up against it and look down.
Just after mile 171 the Calloway Branch (as opposed to the Calloway Creek back at mile 213) enters on the left and the Boone Creek enters on the right. You can also see the I75 bridge and the US25 bridge here in the distance. I got into the Calloway maybe 75 yards or so before being halted just after a bridge. There's a sandy beach immediately downriver from the mouth of this creek which, I'm told, used to be a public beach. [The aforementioned Mr. White also informed me that this was more of a family beach in contrast to what the Boonesborough Beach used to be.]
Paddling over to the Boone, I got in about the same distance I got into the Lower Howard – maybe a couple hundred yards. I've said it before, and I'll say it again: this creek is one magnificent stunner of a beauty! It comes in just after a rock cliff so you'll have some sweet looking rock formations on the left and some forest on the right as you paddle in.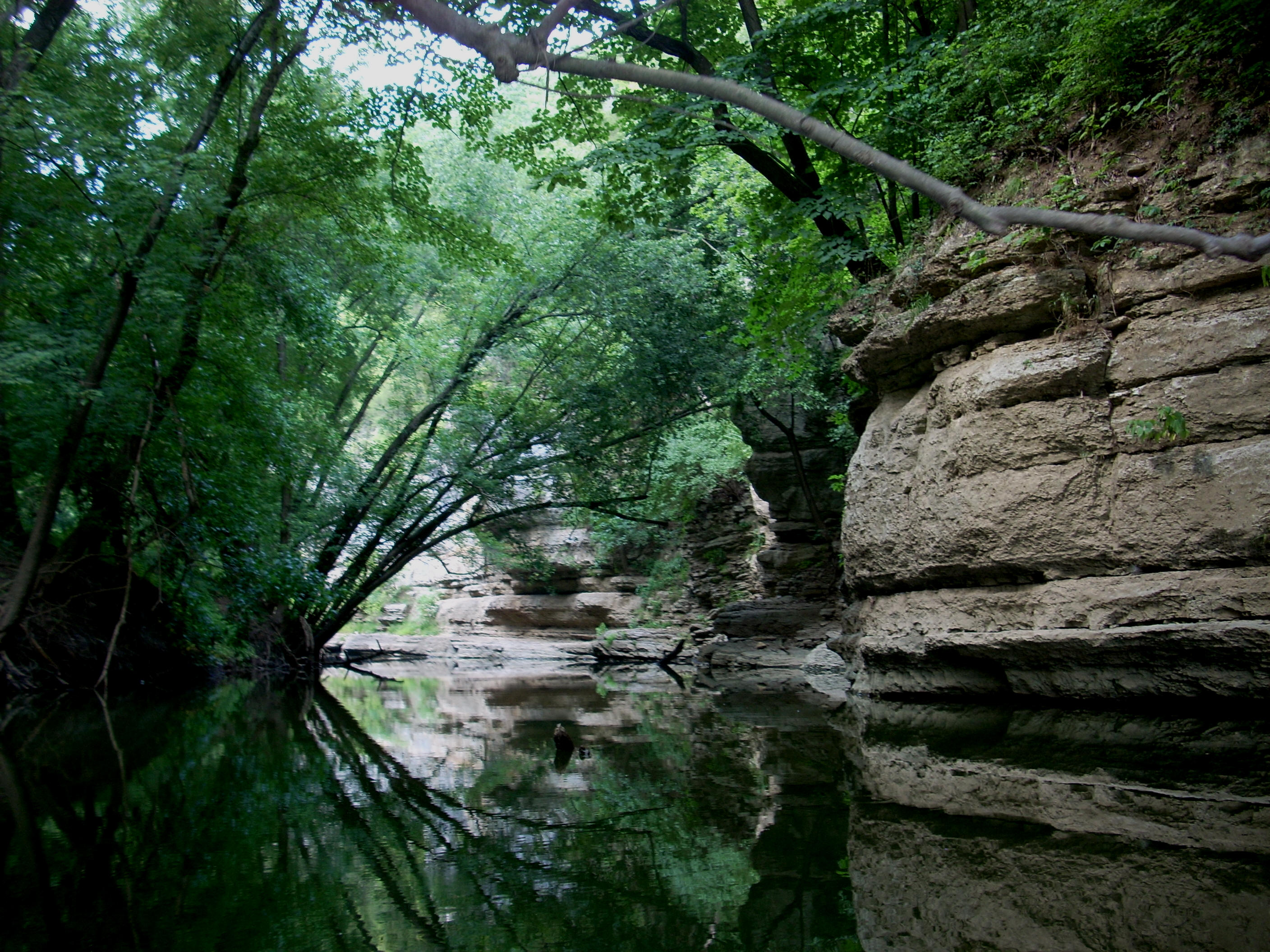 There's just something about this creek that gets to you. I again regret hearing about the man's friend who died here though. It's such a beautiful creek that it's hard to imagine such a tragedy could strike here. I took my time on the Boone and really enjoyed the atmosphere. As you paddle out it looks like one point of the rock face has a pair of lips!
Once you've emerged from this creek, you'll be able to see the two aforementioned bridges which look like they're one double deck bridge from a certain perspective. The I75 Bridge, as you'd expect, is a towering giant over the river. It pretty much dwarfs the other bridge along with just about everything else, and immediately prior to reaching it, there's a really nice looking bar and restaurant called the Riptide. They've got a beach volleyball setup, a dock which would support at least a dozen boats and a very large deck with an outdoor bar just above the river's edge. The place looks like sheer fun, and I'd seen nothing like it on the river thus far.
Just down from the I75 Bridge and also on the right (did I mention that the Riptide was on the right?) is yet another large abandoned boat. It's still afloat by all appearances and it has an old gasoline pump on the side. Could this have been the old Clay's Ferry? It would have gone across the river at about this point...
At any rate, I'd have to explore this further on my next trip and get more pictures then, because it was time for me to head back. I've left a lot of ground to cover for the next trip though. I'll have to do about 25 miles roundtrip not including all the side streams if I want to finish this pool at dam 9 next week. We'll see how things go.
DIRECTIONS:
KY627 to KY388 (following the signs to
Boonesborough
State Park
). You can only go one way here. Go to the second entrance past the campground/put-put golf entrance. This is the main entrance to the park on the left and you'll see the pool here with a slide. As you come in the entrance you can go one of two ways: you can head toward the pool and to the left of its building if you want to put in at the dam below the museum or you can go all the way back in to reach the boat ramp. You can take your pick.