PLACES TO GO ON LAND DESTRESS OUTDOORS HOME PLACES TO GO ON WATER
Hamilton Pool Preserve
Sunday, March 22, 2009
Having come to Texas from Kentucky in order to enjoy some of the warmer weather, I was fully ready to start hiking, and today was the day. I was also pleased to have the company of my mother, who had agreed to come with me. Mom had ankle replacement surgery last summer. Yep, ankle REPLACEMENT! Before this, she could not take a step without pain. Today she was taking a hike with her son – albeit, with care!
Most of the parks in Texas (or at least around the Austin and San Antonio areas as per the hiking guide I was using today - http://www.menasharidge.com/product.php?productid=16189&cat=0&page=1) charge fees for entry, but since mom was with me we got in free. Whoo-hoo – the power of seniors (though mom doesn't look it)!
From the onset it was quite apparent that this park is very popular on weekends. They do allow swimming, after all, and the parking lot was pretty well filled up by the time we arrived. In fact, as we made our way down the ravine which would lead us to Hamilton Creek to start the hike, we were passed up by many people eager to reach the swimming hole. There were families, college students and seniors all heading down – whether to swim or just "hoof it" on the trails.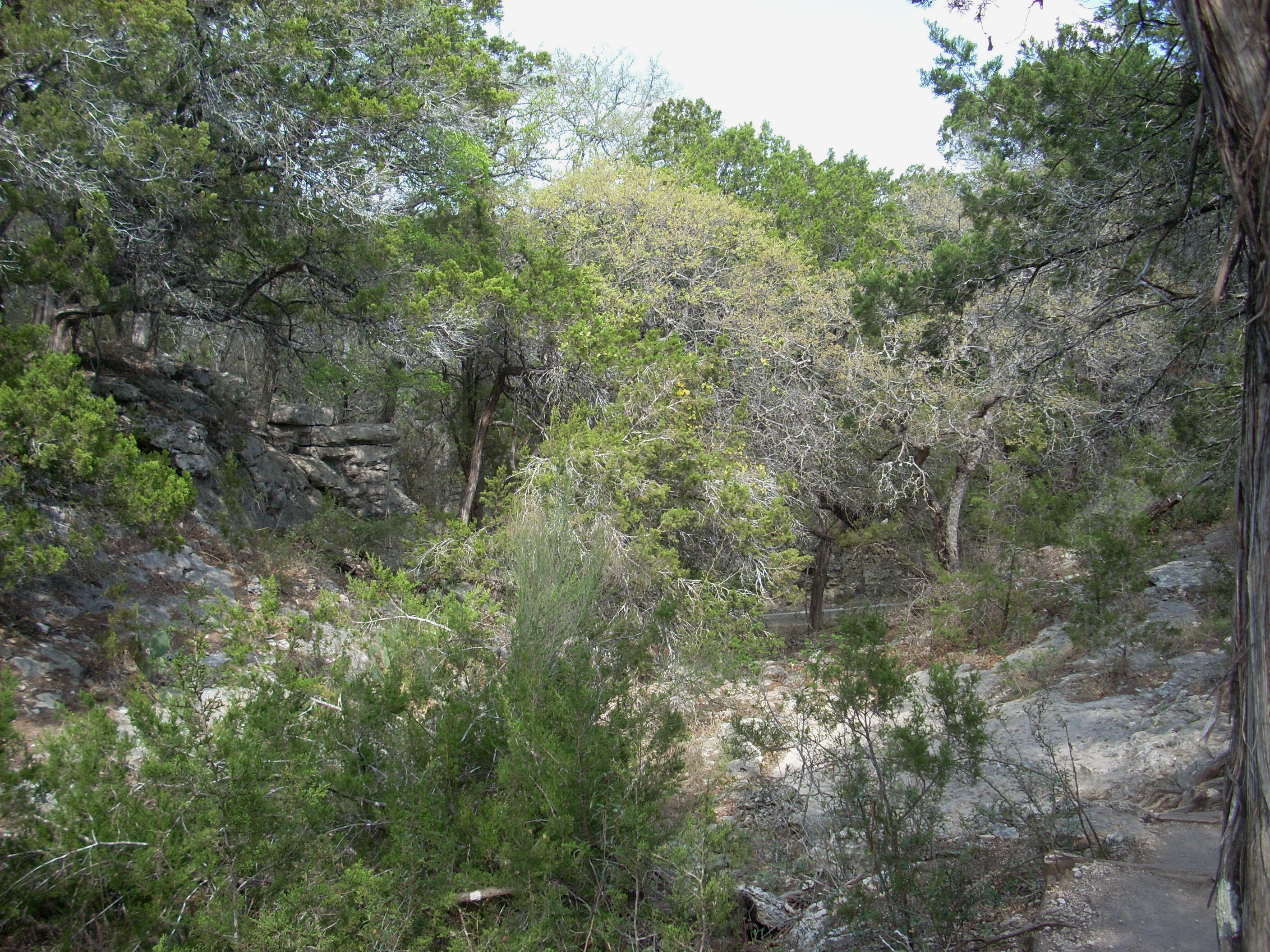 The total length of this hike is supposedly 1.7 miles as per the guide, and most of this is an out and back hike directly along the meanders of the Hamilton Creek which flows into the Pedernales River. There's also a small offshoot of the trail which leads to the pool, and you can take this once you reach the bottom of the hill and head right. That's what we did.
The guide describes the valley you'll walk through as looking downright prehistoric, and I most certainly did get this feeling as I went. Shoot… a dinosaur could jump out at any minute - really interesting!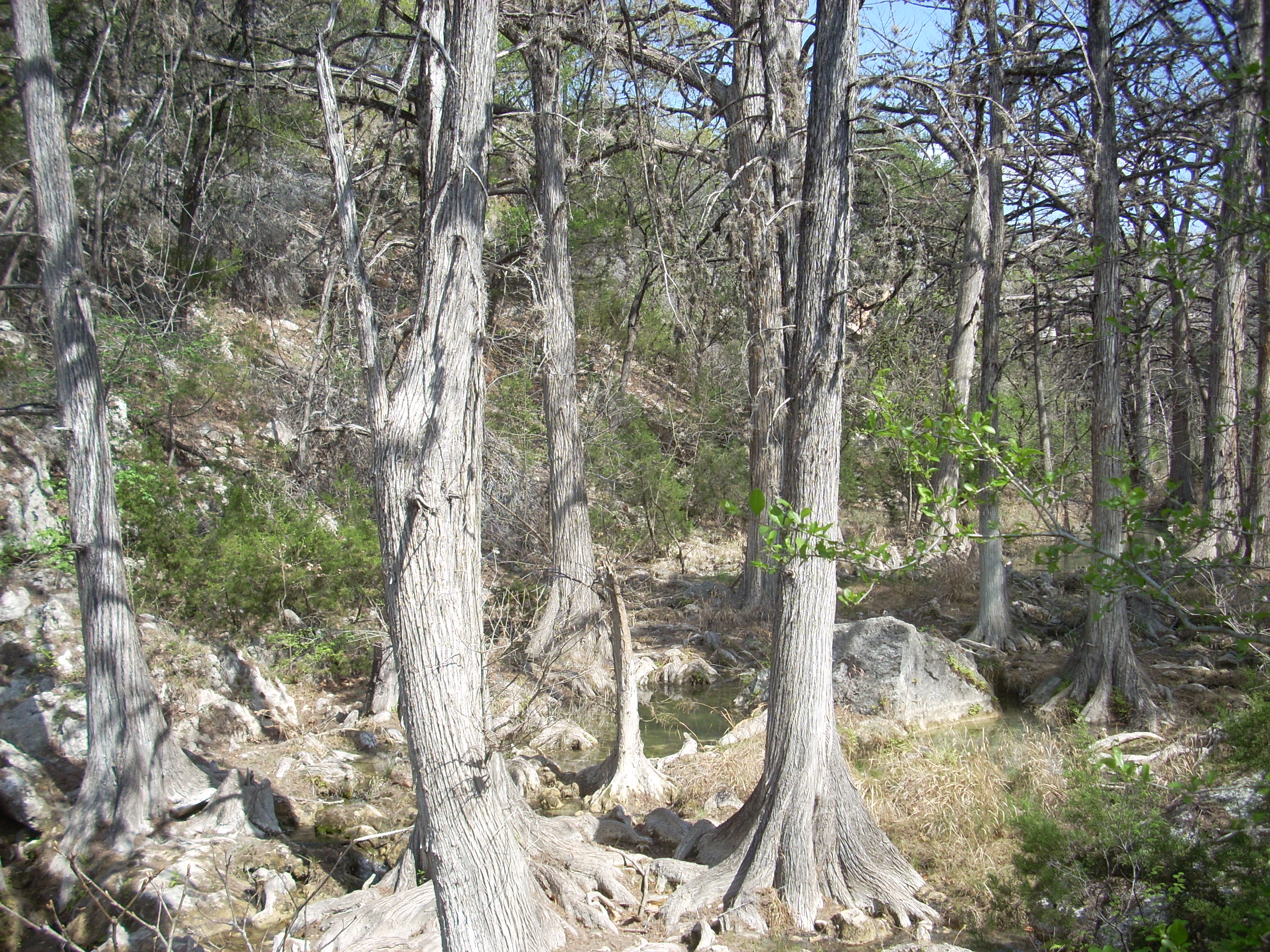 By this point you'll also hear all the people, and you'll soon start to catch glimpses of the rock overhang (which usually has a waterfall going over it – today it was kind of just trickling rain) and the turquoise water that are hallmarks of the namesake of this park – the Hamilton Pool.
The first sight of this pool was a breathtaking one for me, and once there I dipped my cap in the turquoise water to cool off a bit. You can walk all the way around this little pool and under the rock overhang too. In fact, when the water is flowing you'll be walking directly behind a waterfall! The place is absolutely amazing! Will you LOOK at this!?!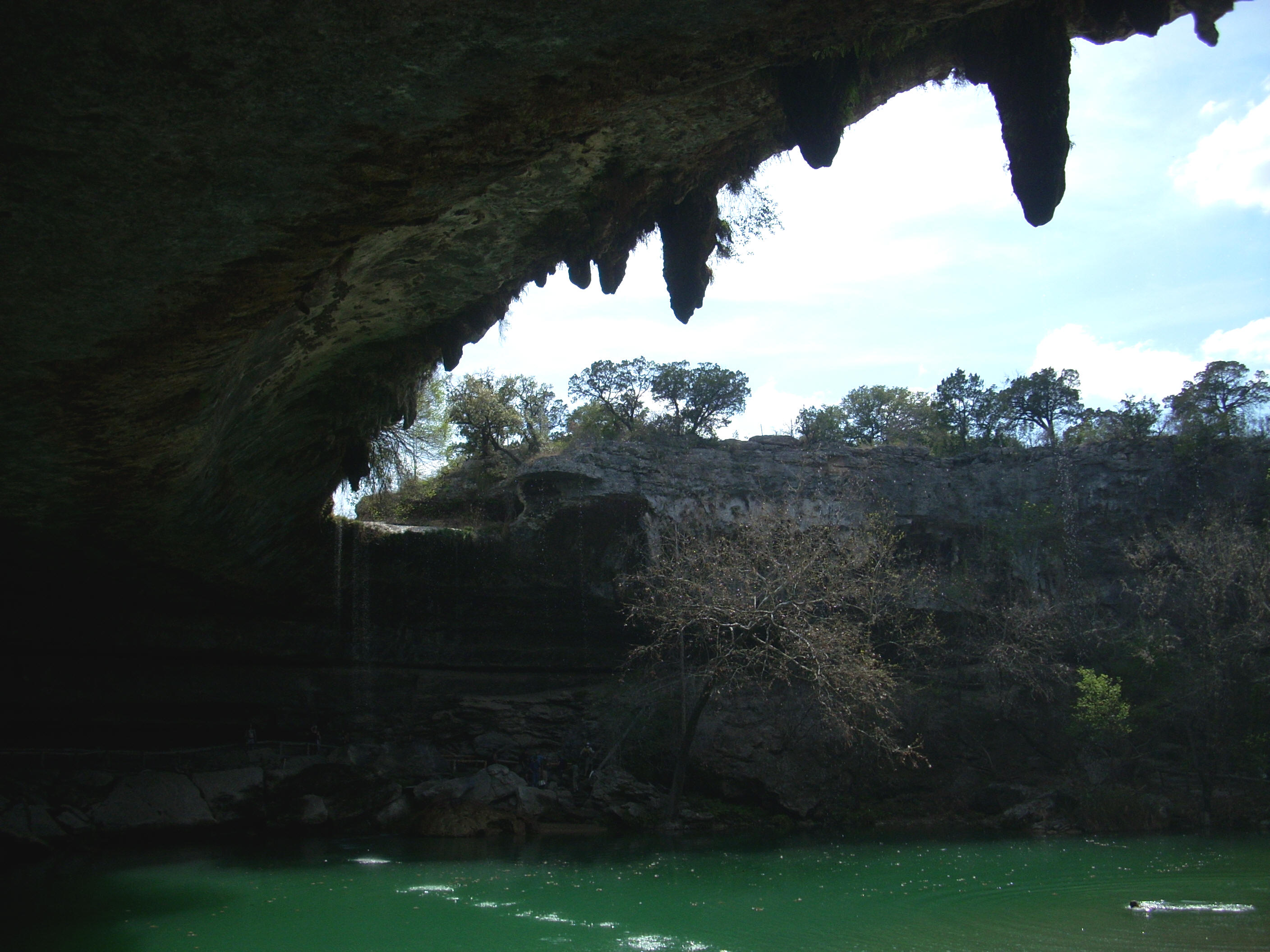 There were about 50 people on the little beach as we proceeded to walk around, and as we did the moss on the rocks really added to the ambiance of the place. It has a lush feel even at low water. Also as you walk there's one spot which reminded me of caving, as we had to kind of sidle through a tight spot between the cave wall and another rock formation.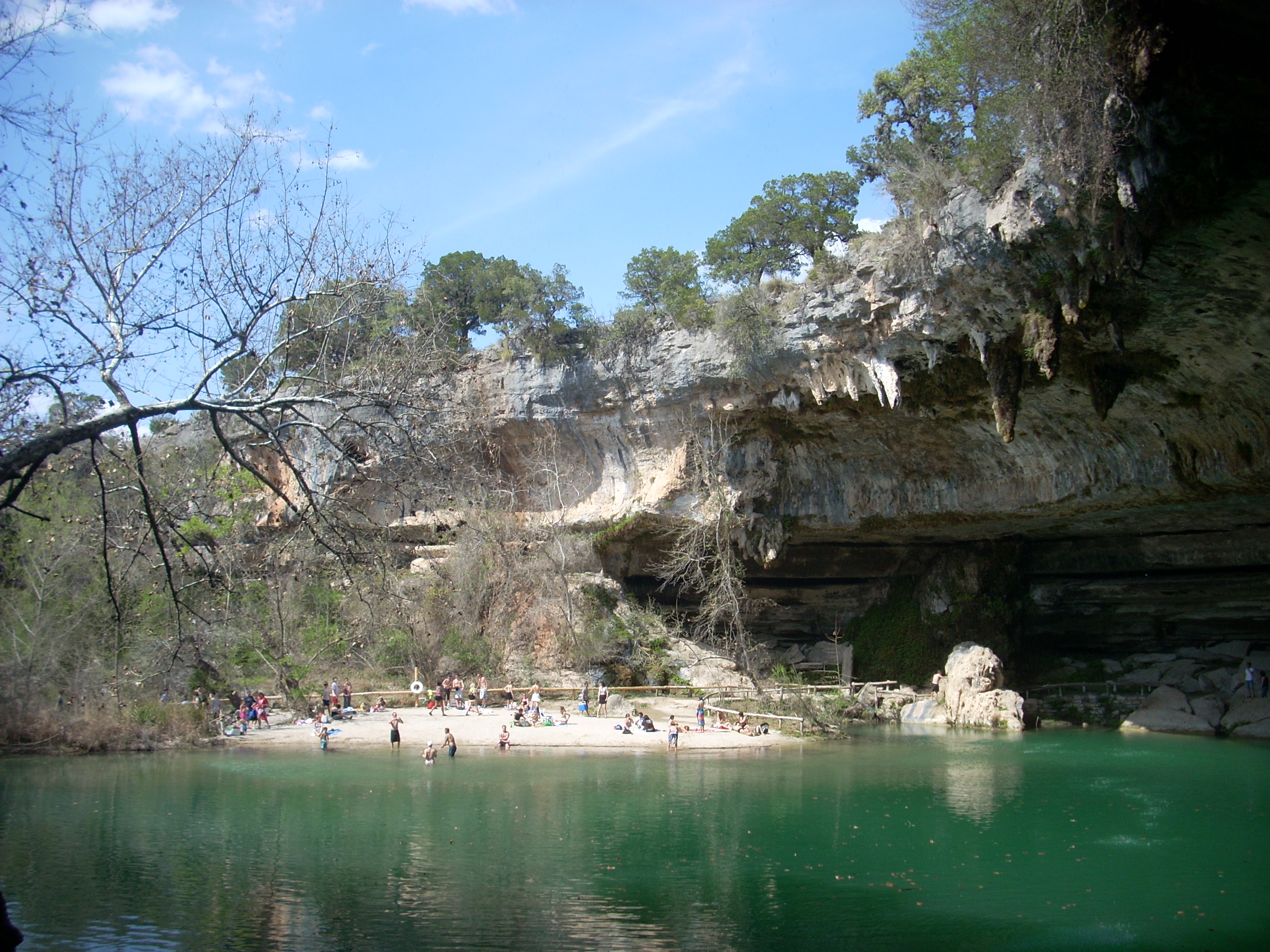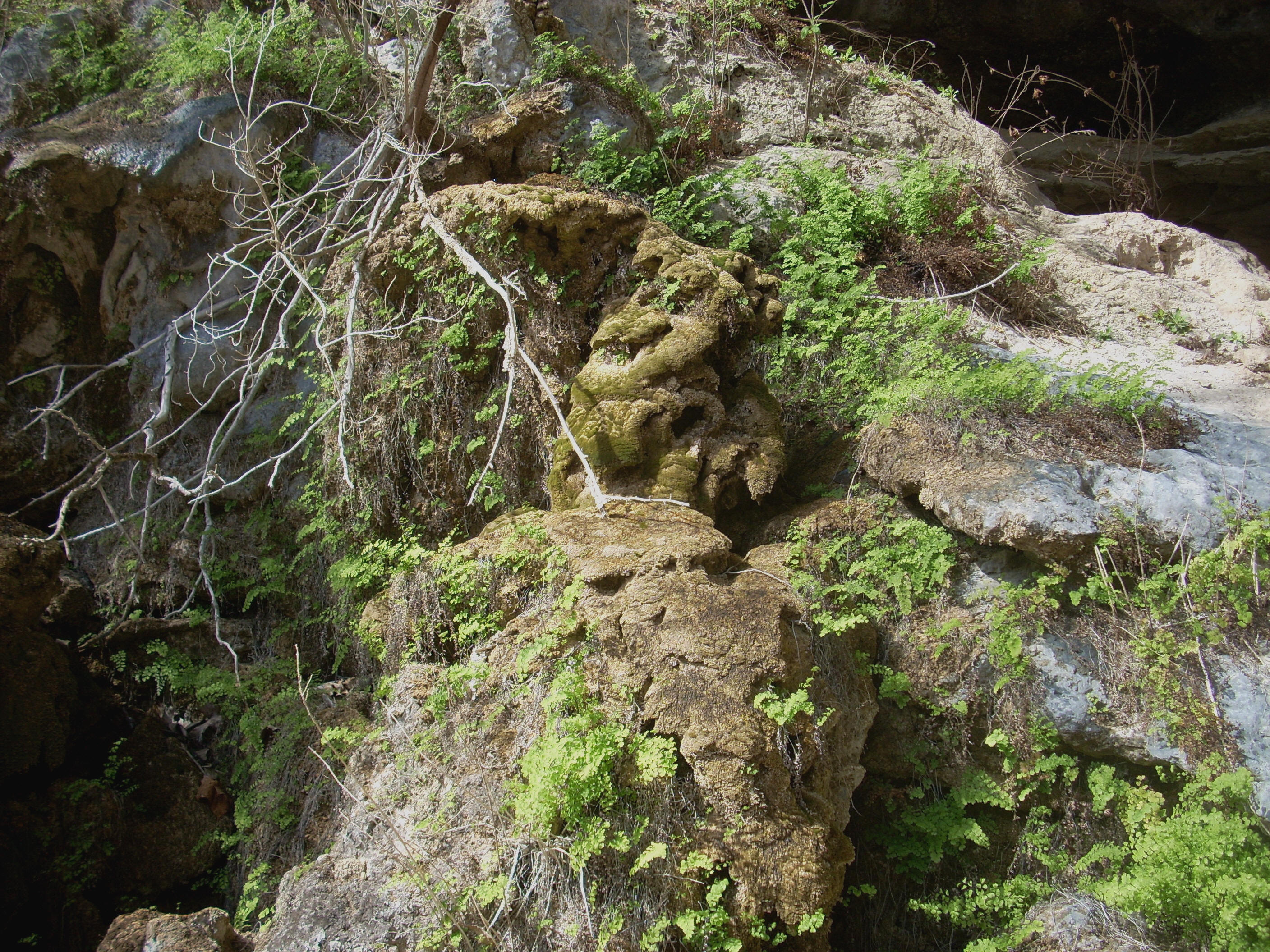 Once we'd walked all the way around the pool we made our way back the way we came in along Hamilton Creek. As mentioned, this trail leads all the way to the Pedernales River and it, too, was very popular today. Apparently you can walk right out into the Pedernales when the water is as low as it looked today and pace along the sandbars. I'm sure this was part of the draw, but the scenery you pass through in getting to this point is certainly worth the effort as well!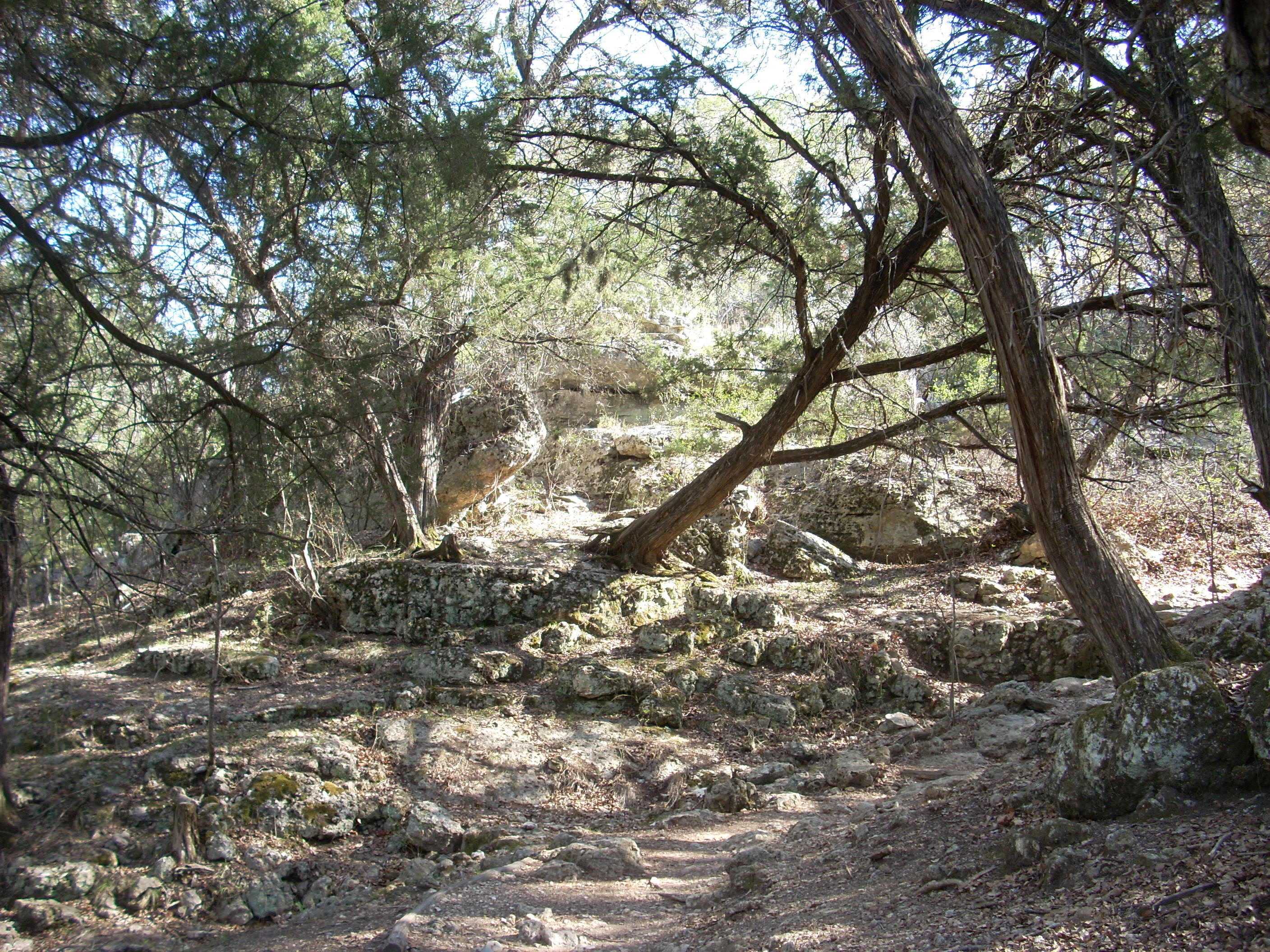 We didn't quite make it all the way to the end though. Mom had started to get a little concerned about her ankle, and had found a spot to rest while I continued on. While I knew that trail couldn't go on much further, I didn't want to keep her waiting too long, so I made it a little further down and then headed back.
I have no regrets at all about not making it all the way though. Having my mothers' company really meant a lot after all she'd been through. I had been concerned that the lengthy recovery from her surgery might spoil what I view as her greatest quality – her spirit. To have her go on a hike with me – even for a short one – was simply great!
Bottom line: this is a sweetheart of a little hike! It would be great for a family outing too, but get out here early on the weekends and during the summer when the kids are out of school. I get the feeling that while we were able to get in today, that the park will close quite early then as the parking lot fills to capacity quite quickly! And… watch out for those dinosaurs!!!
DIRECTIONS:
This park is out near Dripping Springs, Texas. You can take TX71 west from I35 in Austin and go to Hamilton Pool Road (a.k.a. FM3238). Take a left from this direction (the only way you can go) and the park is about 13 miles down according to the Menasha Ridge guide referenced above.