PLACES TO GO ON LAND DESTRESS OUTDOORS HOME PLACES TO GO ON WATER
Enchanted Rock State Park near Fredericksburg, Texas
Wednesday, March 25, 2009
I'd visited this park with my parents last year, and we'd climbed up what they call the Pinnacle Trail to the top of Enchanted Rock. It was a real quad and lung-buster of a hike, but it was also a very rewarding one, as we were able to see for miles of Texas countryside once we reached the top. At that time, I made up my mind that I wanted to hike the outer loop trail around the park the next time I came to visit - that's what I wound up doing today.
On the way out from my parents' place outside Austin on US290, I passed through Johnson City and Fredericksburg, Texas. I really liked what I saw of the former, and the latter had a super nice downtown area with many little shops and restaurants – and it included a pioneer museum which I really wanted to visit, but didn't have the time.
Also of interest was the Lyndon B. Johnson State Park and Historic Site (more information at: http://lyndonbjohnson.areaparks.com/index.html) which was between these 2 cities. It apparently consists of 718 acres upon which people can enjoy many activities, including hiking a nature trail through different botanical exhibits and wildlife enclosures. It looked to definitely be worth a stop, but once again, I didn't have time.
Once in Fredericksburg, I took a right on RR ( Ranch Road) 965 which would take me on a great drive through the Texas countryside. One thing about Austin is that it's an absolute BOOM town, so disappointingly vast swaths of the hill country surrounding it have been taken out in the name of urban sprawl (one sign even advertised "dozing and destruction" jobs), but the landscape is much more natural out here. Once you see a mightily large, bald rock outcropping (on your left if you come out the way I did), that will be Enchanted Rock.
I pulled in the park, parked the car, and went in to pay the $6 fee (they take credit cards). The people there didn't seem to be in the best mood, which was a bit at odds with the beautiful environment, but they did take my money, er, credit. After paying, I veered right on the roads until I came to a little parking circle, and I then headed off on down the Loop Trail around the park.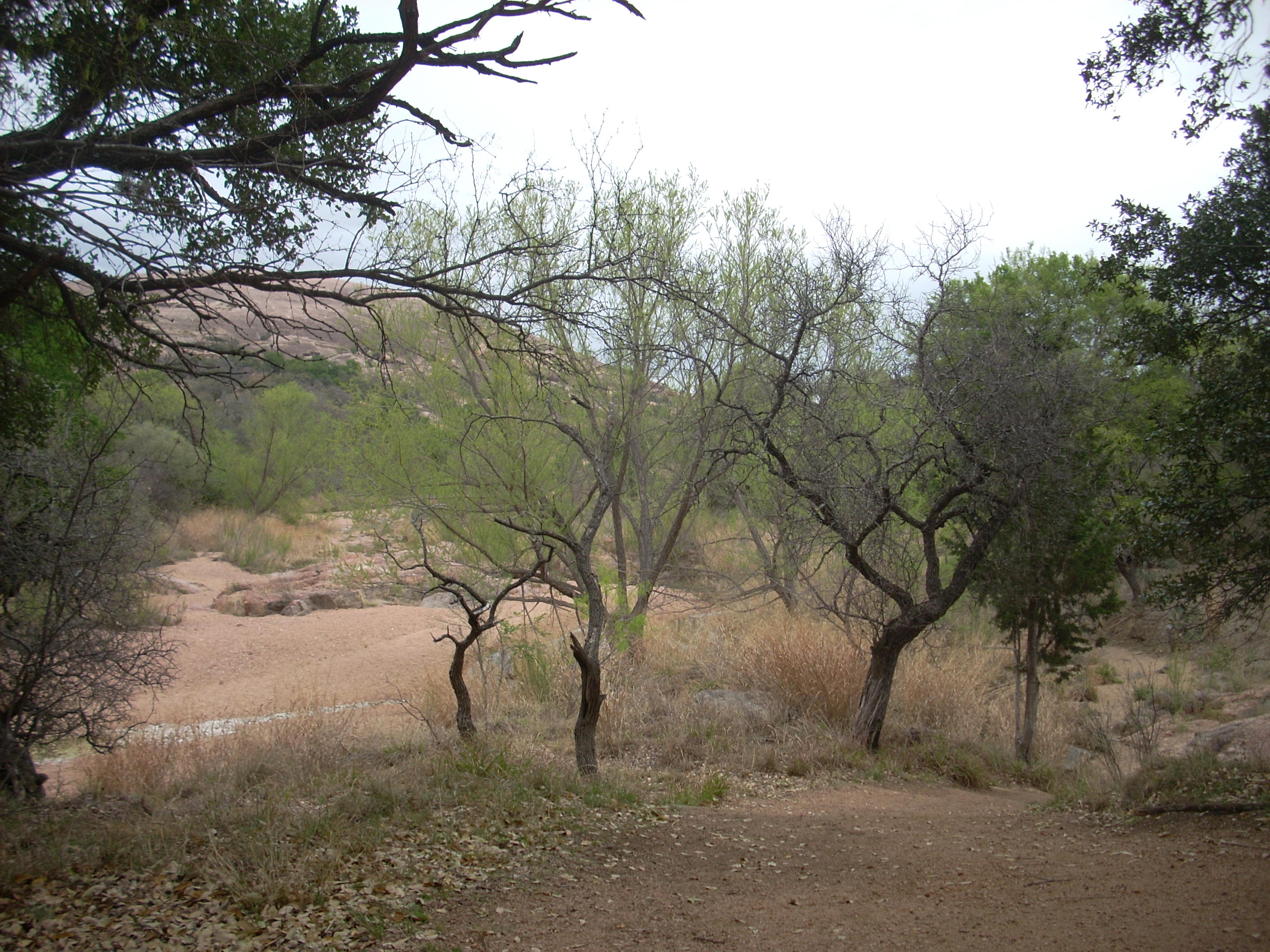 This trail is a 4.1 (emphasis on .1!) mile loop around the periphery of the entire park to include both Enchanted Rock (which I'll refer to from here on out as the "Rock") and Freshman Mountain (just to the East of it). There is also a trail all around the base of the Rock which seems to be part Echo Canyon Trail and part Turkey Pass Trail, and then there's the Pinnacle Trail up to the top of the Rock.
There are many others trails as well (although not all of these are "legal" ones!) that zigzag all over the place. Still yet, in back of the Rock, there are little trails off the main ones which lead directly to the Rocks' face for climbing access. These are designated trails though, and they're marked as such, with their own special trail signs. (In fact, on the back of the map of the park you can get when you pay, there are a few dozen of these different climbing areas!)
Needless to say then, you can make up many combinations of the trails to make your hiking day as long or short as you want. Since I'd been waiting quite a while to get back here though, I ended up doing the loop trail, followed by the Pinnacle Trail, then down the face of the Rock, and finally around about half of Echo Canyon/Turkey Pass around the Rock before the skies began to look ominous.
Starting out on the loop trail, it became clear that this was going to be an absolutely wonderful day, as the trail wound and undulated along and sometimes across a very nearly dry Sandy Creek (actually, the book I used as a guide for this hike, 60 Hikes Within 60 Miles – Austin/San Antonio edition (http://www.menasharidge.com/product.php?productid=16189&cat=0&page=1) has a picture from this hike on the cover).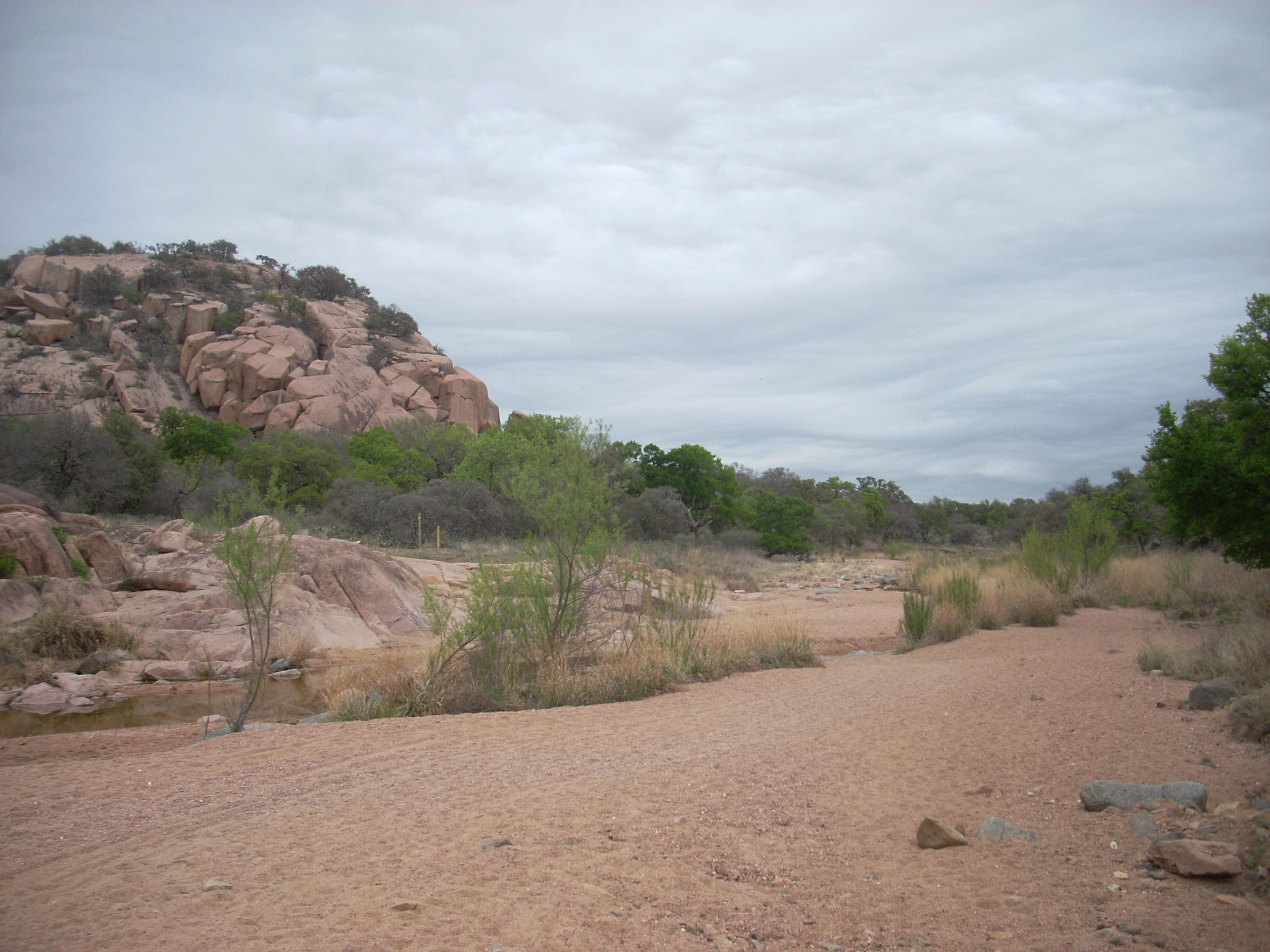 The first junction you'll come to is that for Turkey Pass, which will veer left and take you through the terrain between the Rock and Freshman Mountain (I would end up coming out on this path on my way back at the end of the day). On your right here will also be a group area complete with its own pavilion, and by this point I got the feeling that this trail might the most popular besides the Pinnacle Trail - I met quite a few other people in this section.
Continuing along the creek bed from here, you'll have a continuous mountain backdrop to keep you company, and if you look closely, you may be able to see little specks on top which will probably be people walking around up there. Some of them may come from the Buzzards Roost Primitive Campground which will have a sign for it at the next trail junction.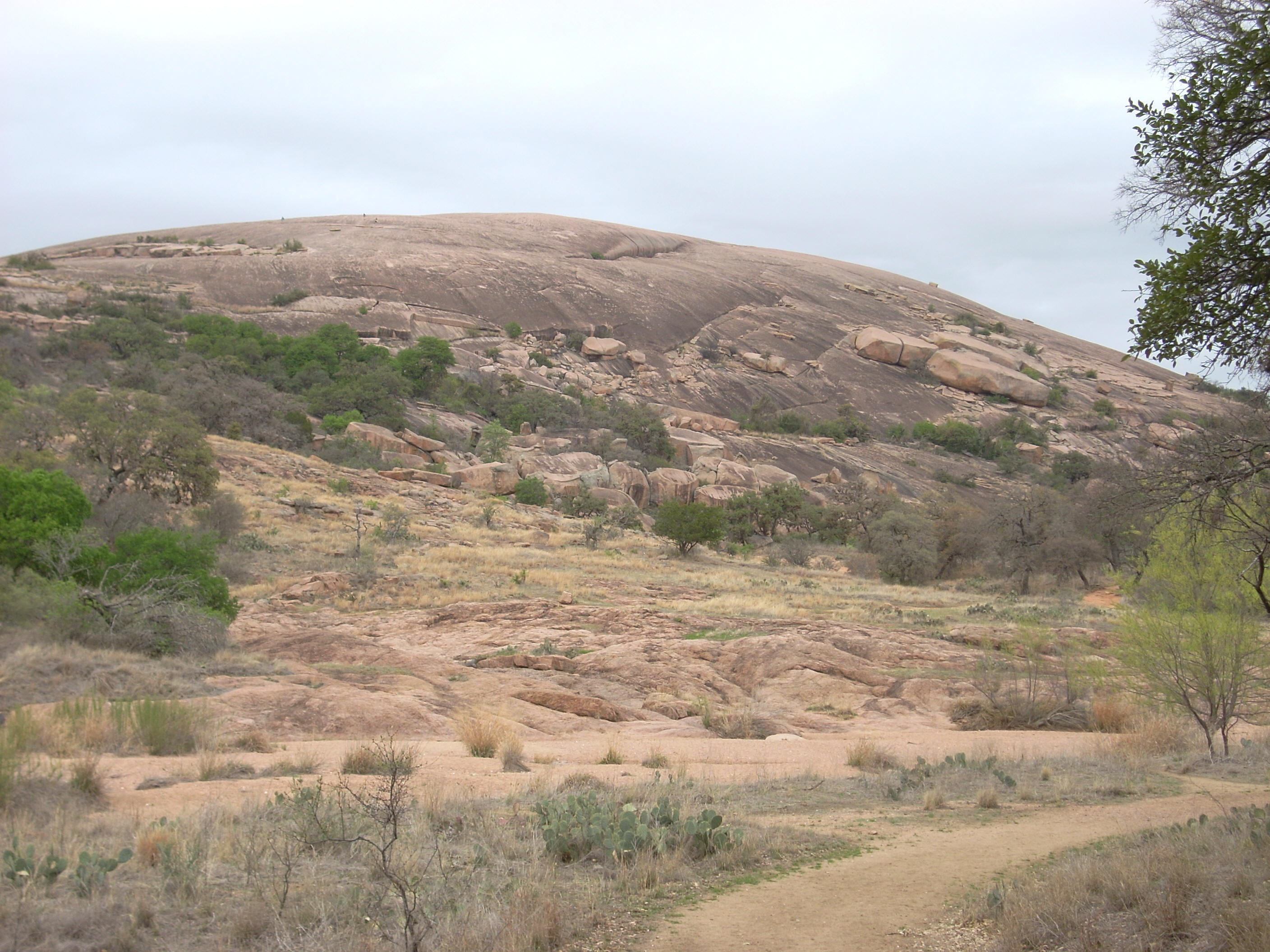 Following that path would take you to the right, but you'll want to take a sharp left if you want to keep following the loop. I must say though, that at this point I was a tad disappointed – I wanted to keep going straight! Sandy Creek had become quite endearing!
One note – as I passed some of the trees I noticed what sounded like bee swarms. I never saw a large swarm, but upon looking more closely, I did see that they were just scattered individually all around. It sure sounded like a ton of them though, and I didn't stick around too long to find out too much more! Just… mosyin'… onthrough!
The trail from here seems to take on the characteristics of a sandy gravel roadbed, and as I continued on, I passed many different kinds of blooms on the plants – including the cacti, which had some of the most amazing.
I also noticed the Spanish moss in the live oak trees along the trail which brought back memories of the time I once lived in the state, and as I looked back at the Rock from this direction, it appeared as if it was cracking like an eggshell with the actual shell slowly falling down the side with the assistance of gravity!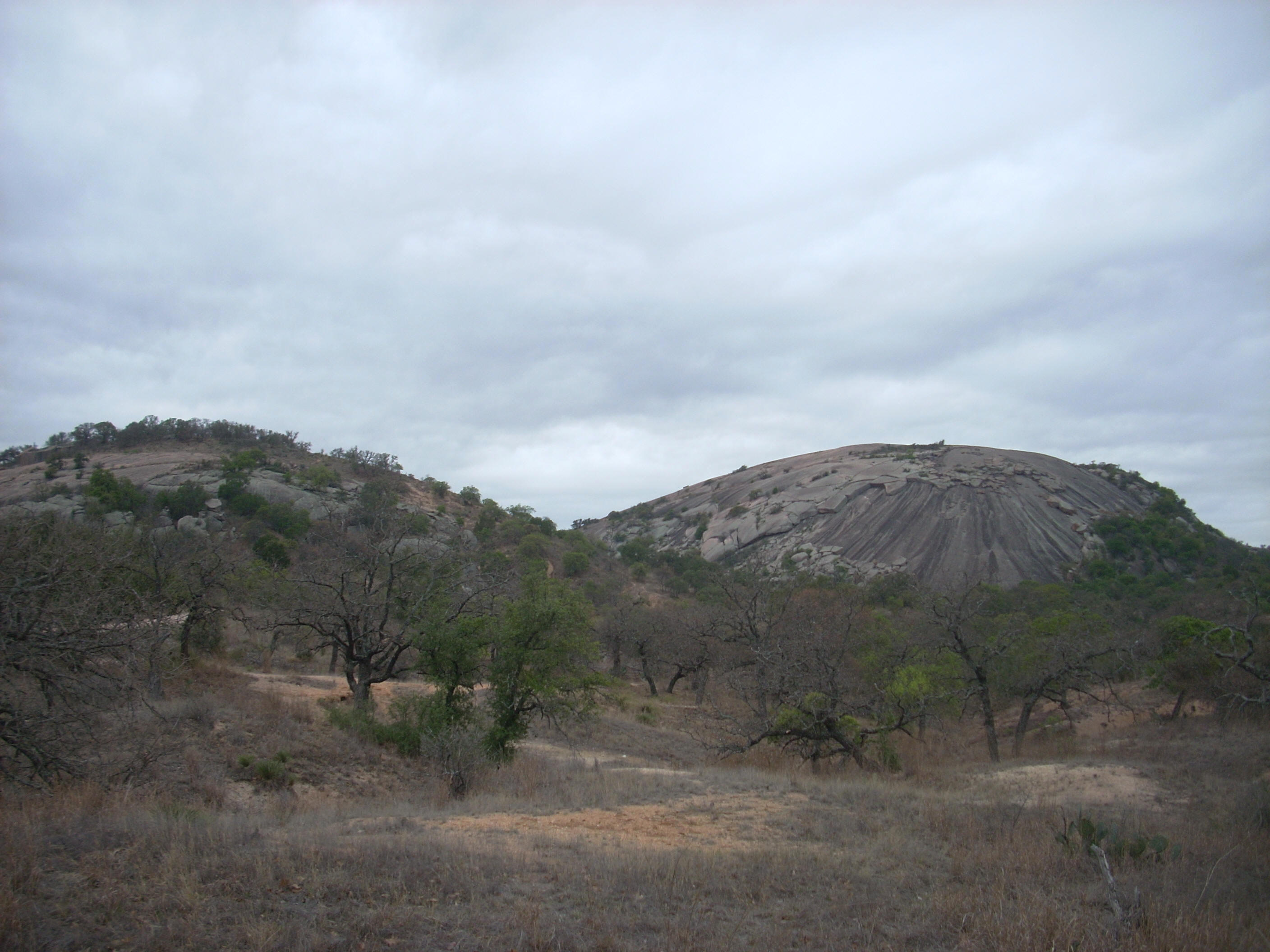 After passing the next trail junction (I believe this was the Turkey Pass Trail which had caught back up with the Loop Trail), I came to a tree which I just HAD to take a picture of. Now, this one has personality! It's the perfect Halloween Tree, and at about this point, you'll be able to get a great picture of the back of the 2 peaks (the Rock and Freshman Mountain).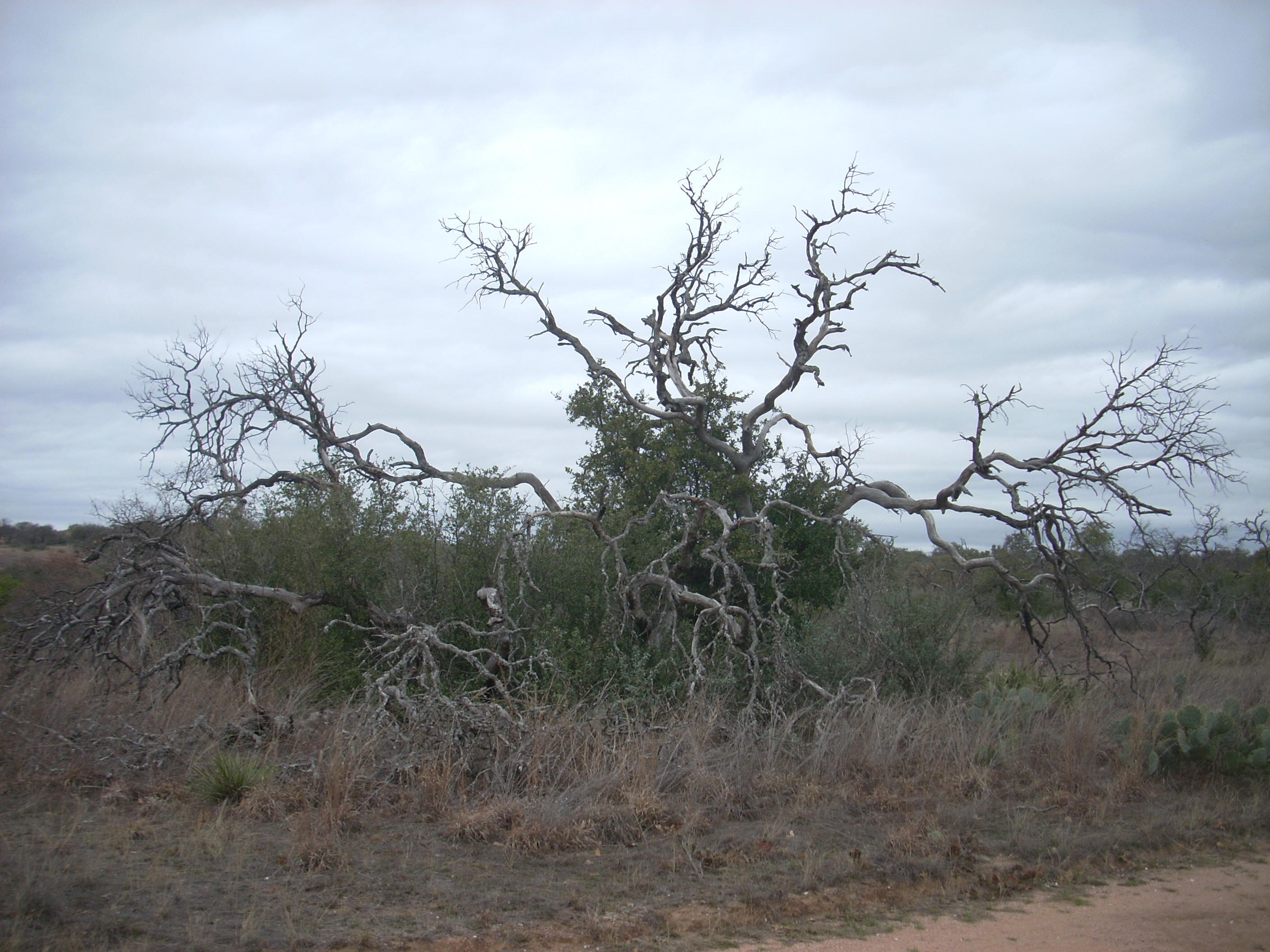 The path is quite flat by this point too, but you won't mind as the views are simply amazing! I'm not absolutely sure, but I may have wound up taking more pictures on this trip (223) than on any hike I've ever taken – I simply could not stop taking pictures! The loop hike is supposed to take about 2 hours, but it took me 3.
There was one area in this section that was particularly picturesque. The scene is below – a sweet little oasis! This was one spot where I definitely saw the specks of people atop the Rock. I wondered if they could see me too…
Probably... I was wearing my bluegrass blue Kentucky cap along with a fluorescent green hand towel in the carpenter belt around my waist! I bring these colorful items just for that reason – to be seen. You won't have to worry about it on this hike, but on some of my others, I simply don't want any hunters mistaking me for prey!
There's a point after this at which the trail almost bumps up against a ranch fence (farms are called ranches in Texas), and a sign obviated the point that there are certainly no trespassers permitted! I could hear the cattle from somewhere beyond the fence though, and the sounds of them and the sight of the specks of people atop the Rock were the only things besides the wilderness to keep me company. Thus, this loop was incredibly peaceful and I'd only run into one other person the whole time. You can see for MILES too even though you aren't that highly elevated at this point!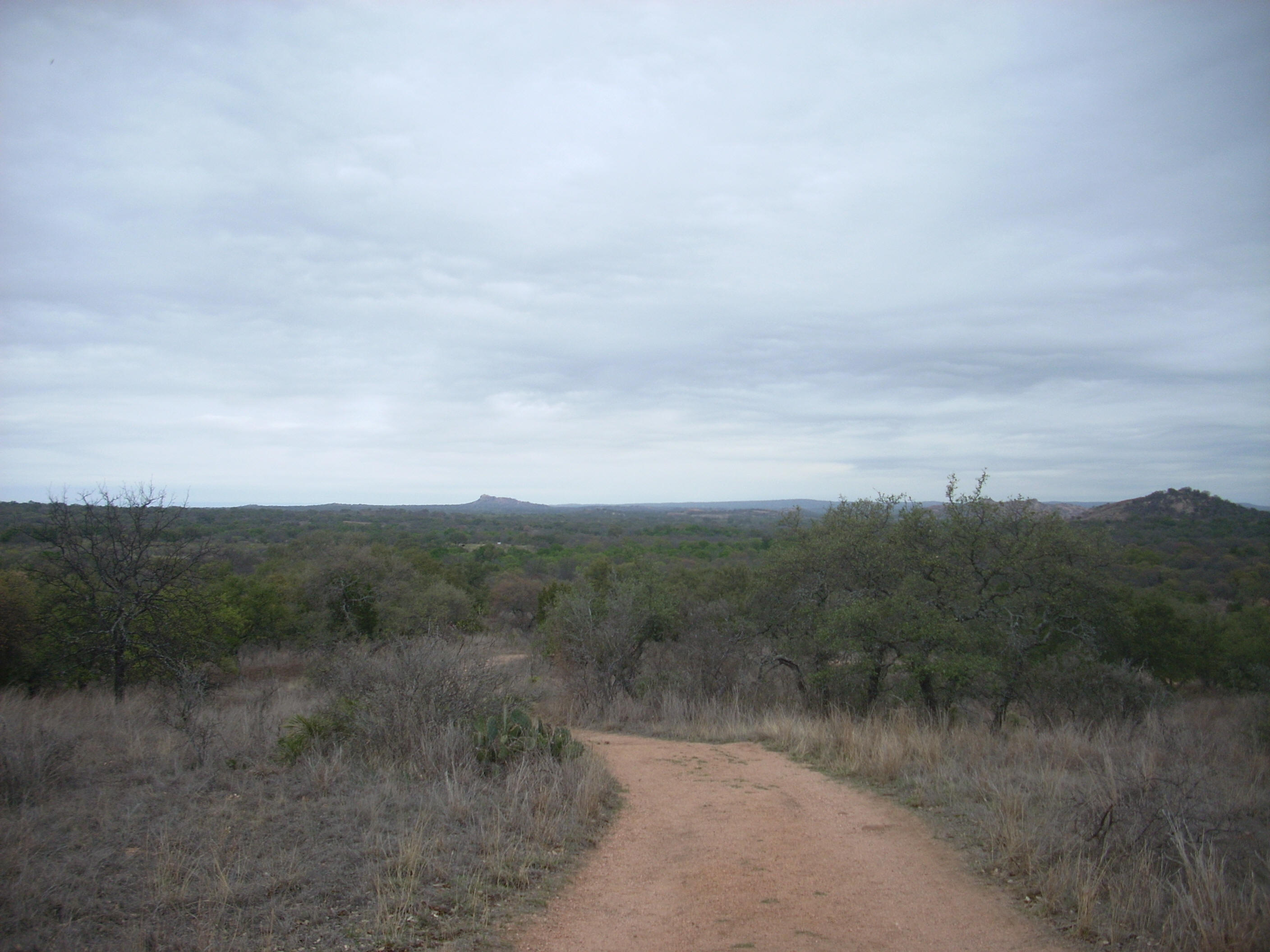 The trail signs can be kind of confusing though, and I was trying to match them up with the hiking guide I had. There was a point at which the path cut very sharply left, and it was clear that the main path continued on this way, but I wanted to check out the Walnut Springs Primitive Campground so I veered right across a mown path which would eventually catch back up with the loop trail.
As I followed it, I was led down into a little ravine which bottomed at a dry streambed and some nice looking campsites. The path didn't seem to be as well followed as the loop trail though, and when I eventually emerged, I saw a sign indicating that the section was supposed to be closed to park visitors. Ooops! I had not seen a sign like this when I entered from the other direction!
I saw some fantastic plants though, the likes of which I'd not seen before. Granted, I'm visiting Texas from Kentucky and the landscape is so different between the 2 states that I might as well be on a different planet, but these plants were still pretty amazing. Will you look at these!?! It looks like there are little gardens sectioned off for them too!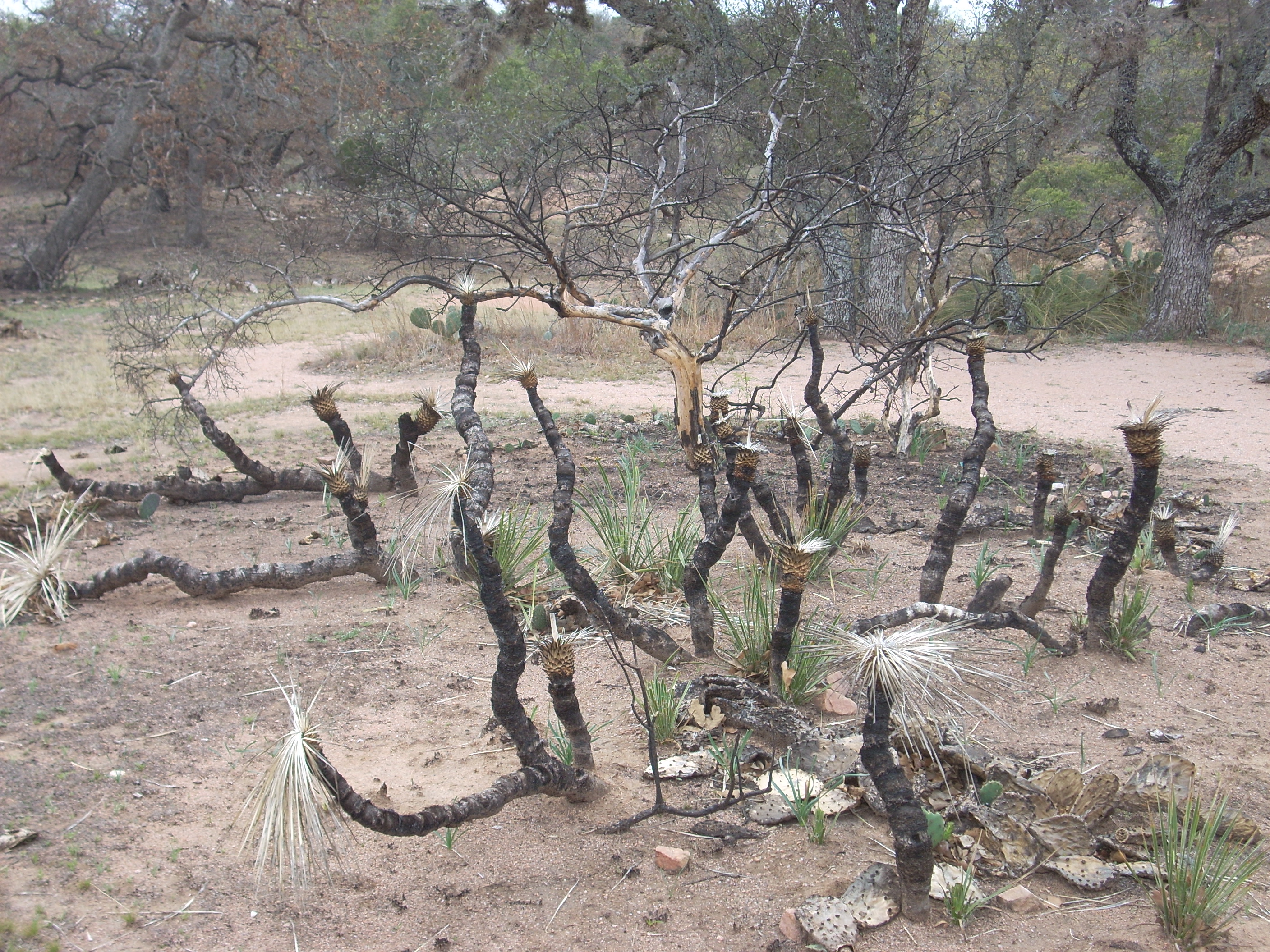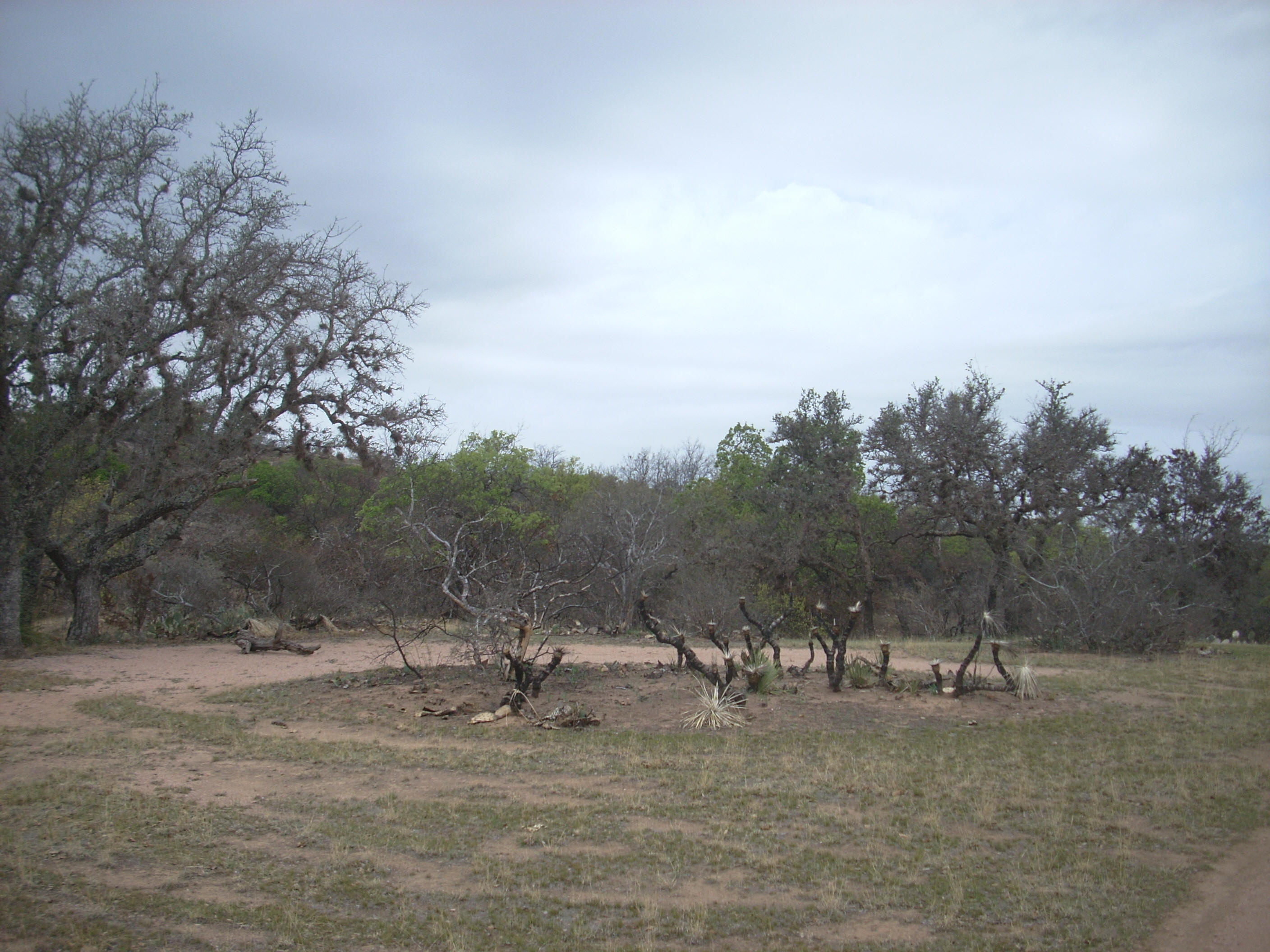 There was also one point at which it looked like you could go in 4 different directions, and each one was, in fact, quite inviting – so I took a picture in each direction!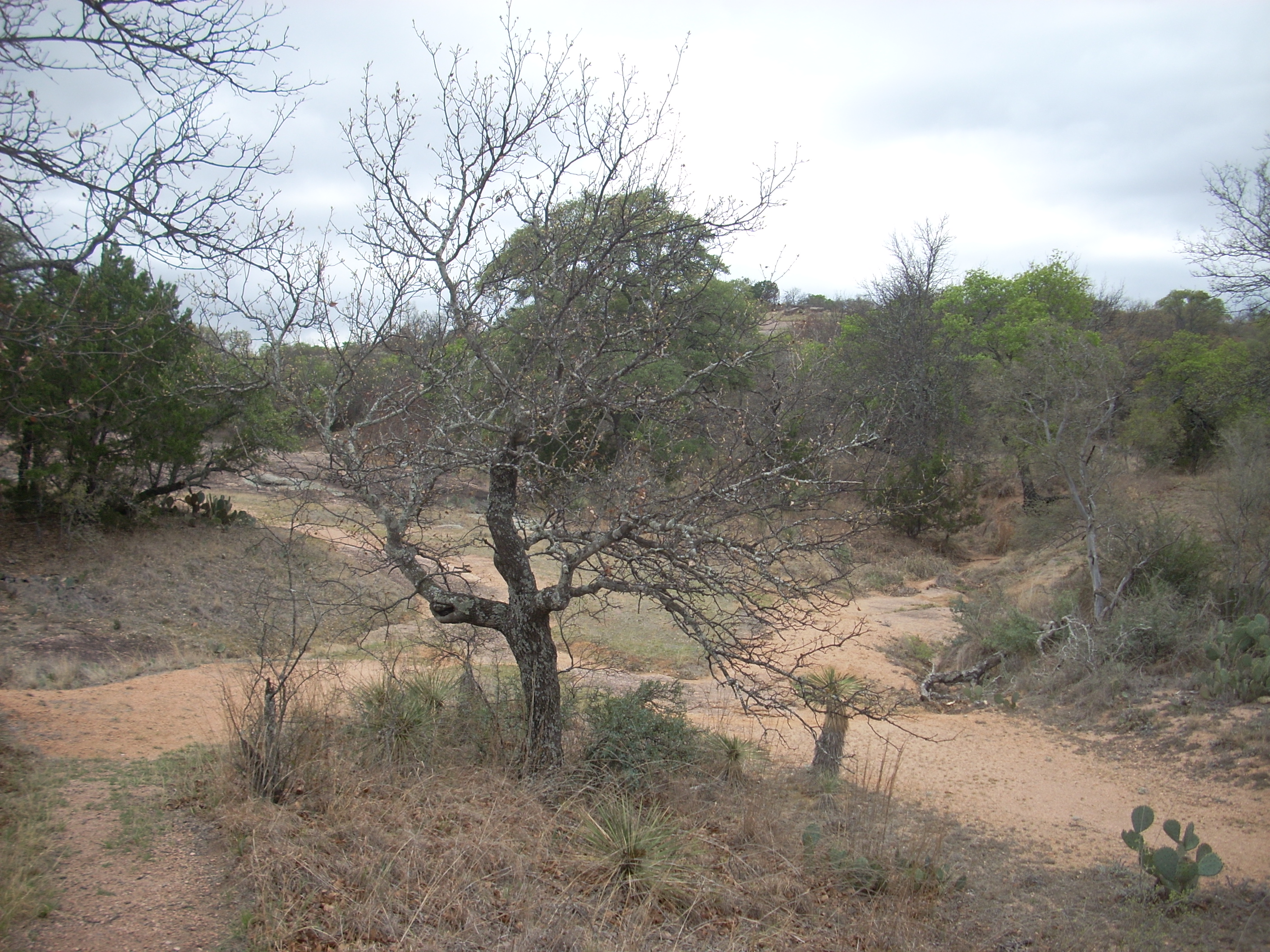 One disappointing thing though when I did get back to the loop trail, was that the overlook which branched off from it was also closed to visitors like the Walnut Springs area. I honored the sign, but I'm sure it would really have been nice to see!
You'll start to notice large boulders here and there alongside the trail at this point with little pathways leading up to them, and I took some of these. Most of them will take you right up to the rocks, where you can climb them if you want. They won't be as high at the Rock, but you will get some interesting perspectives, and some of them will have pretty sweet sculpture-like formations as well – carved by Mother Nature, of course. A couple of my favorites are below.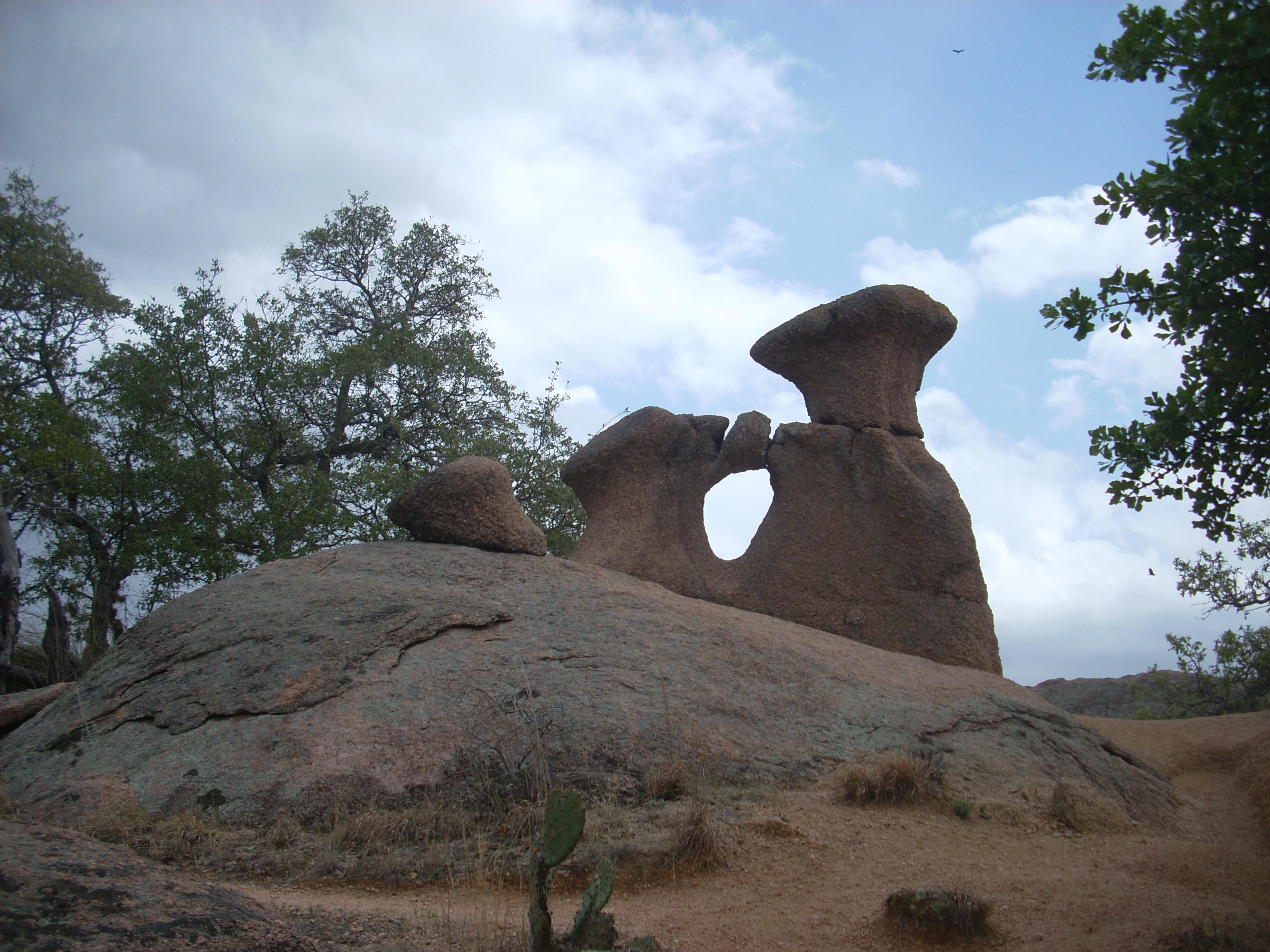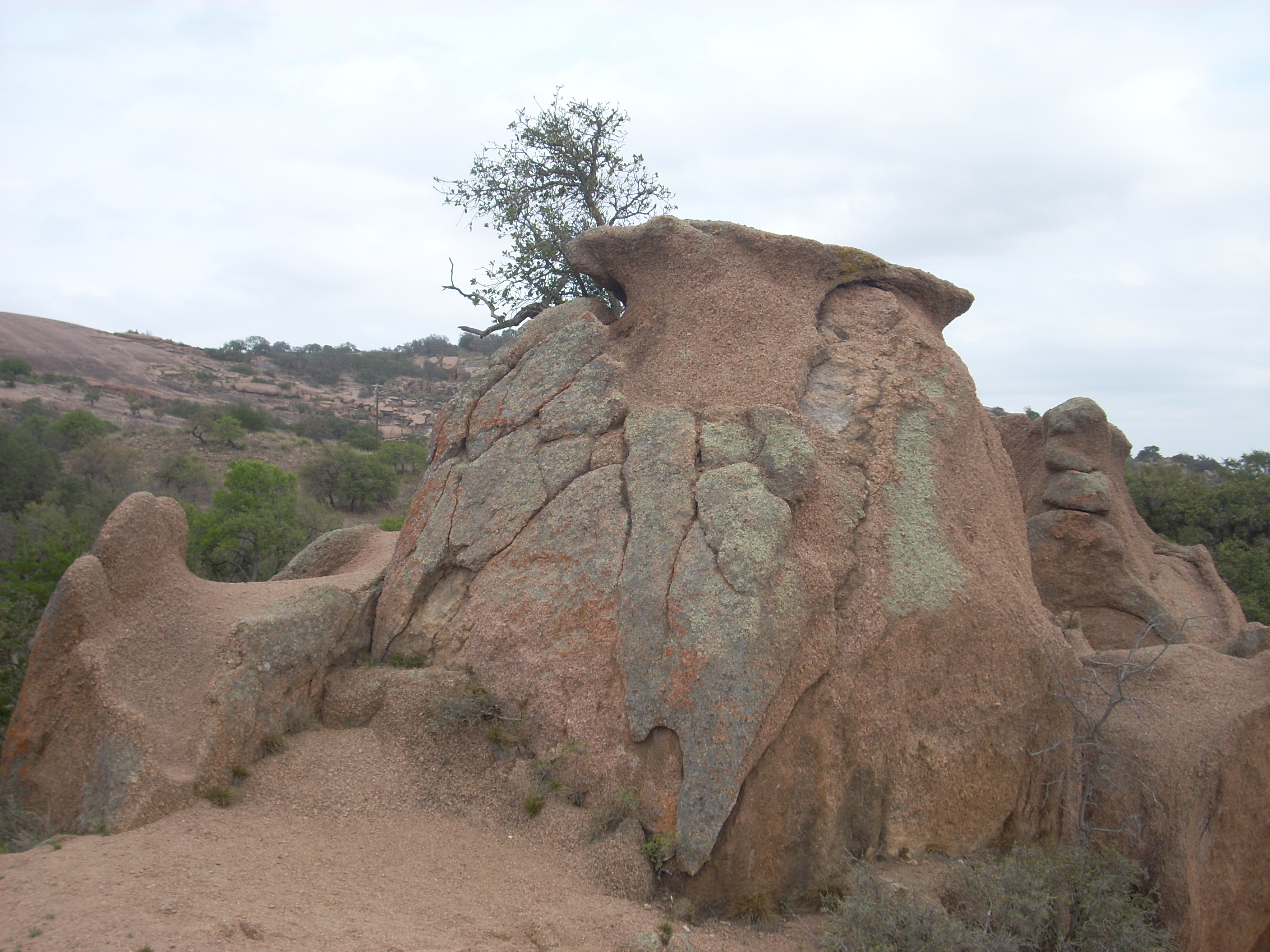 As I came to the last section of the loop, a real maze of different paths began to reveal itself, the trodding of which had probably been assisted over the years by all the campers visiting the campground that would soon become visible up ahead. This one is all class, too – very nice and shaded by the little leaves of the live oaks scattered about.
Interestingly, the population boom in Austin had led to water being a precious commodity, and the cedar trees there have become victims of this. The live oaks are spared because they don't take much water, but the cedars are systematically uprooted because they take up more. It's become people versus cedars – and the cedars end up being the losers. Even at this campground, it looked like the cedars had been taken out so that only the live oaks remain.
By now there were plenty of people around, a few camping and a lot climbing up the Pinnacle Trail. Interestingly, this crowd could not be defined by age. There were families with young children, seniors, and groups of what sounded like boisterous teenagers. I was pretty crazy as a teen too though, and when I think back on some of the things I did in order to seek peer approval, I absolutely just cringe! Therefore, while I do like teens, I tried to avoid them on this day – too unpredictable. This did alter my plans slightly, but not overly so.
The Pinnacle Trail was next. I could not have come out here without doing it. The views are simply amazing and the challenge would be a nice contrast to the relatively flat path I had just taken. As mentioned before though, finding the correct path at first proved to be somewhat of a challenge given the maze of different routes. I found myself on a couple different ones before I eventually caught up with the right trail.
Also as mentioned before, this hike is a real lung buster but the panoramic views atop this granite mountain are well worth it and once at the top, I skirted around the perimeter of the Rock in order to catch different glimpses of the loop trail I had just taken in the distance. There was also a lone hiker taking a breather atop Freshman Mountain just to the side of where I was.
When I got to the northwest side, I got a nice view of Moss Lake which I'd missed. The trail I'd chosen had passed around it, but there were more campgrounds there, and by this point I kind of wished that I had passed it! I therefore decided to attempt a descent down this side of the Rock in order to check it out.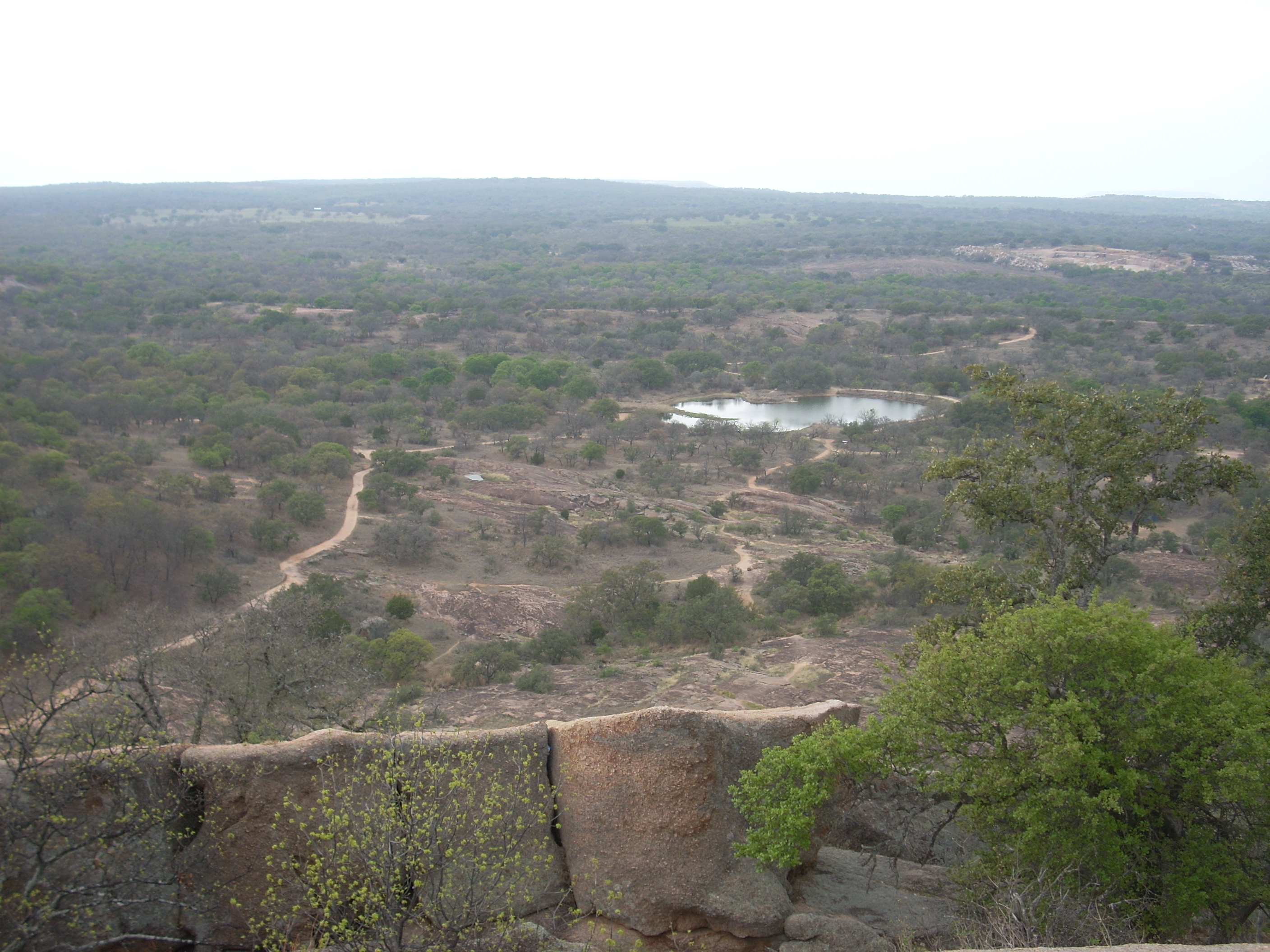 Very carefully I meandered down, and once there, I found a map of the backside rock trails as well as a primitive bathroom (there are a few of these around on the trails). My time was running out, however, due to darkening skies (I would end up just missing a thunderstorm), so I wasn't able to take the detour to the lake. I instead chose what I guessed was a good and fairly direct way to head back – through half of the Echo Canyon/Turkey Pass loop around the base of the Rock.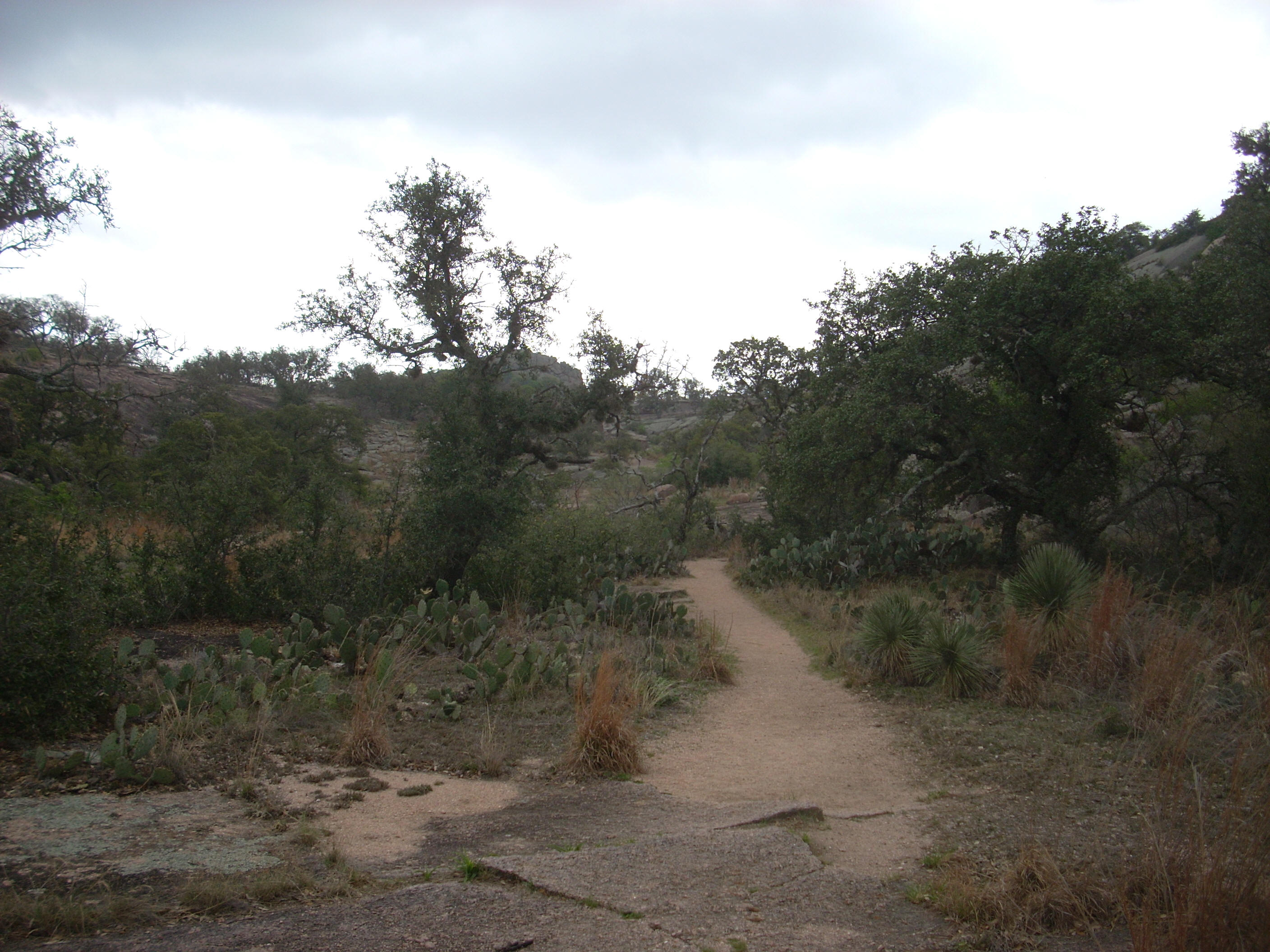 I was getting a bit tired at this point too, so I was about ready to get back, but my problem was that the scenery was so awesome, it seemed like I was stopping at every curve to take another picture!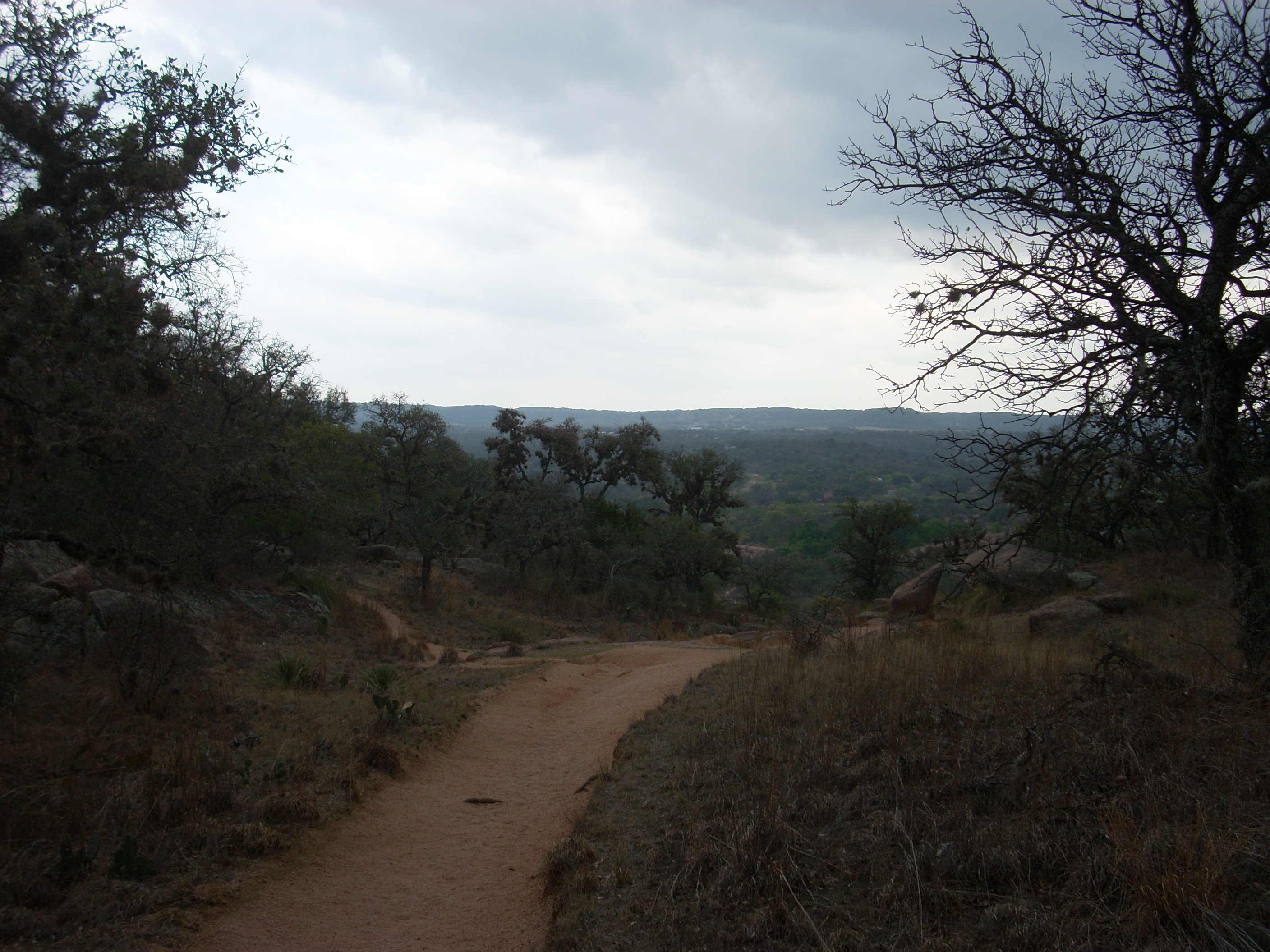 In fact, my favorite part of this whole day was, I think, the section of trail that went between the Rock and Freshman Mountain – just incredible!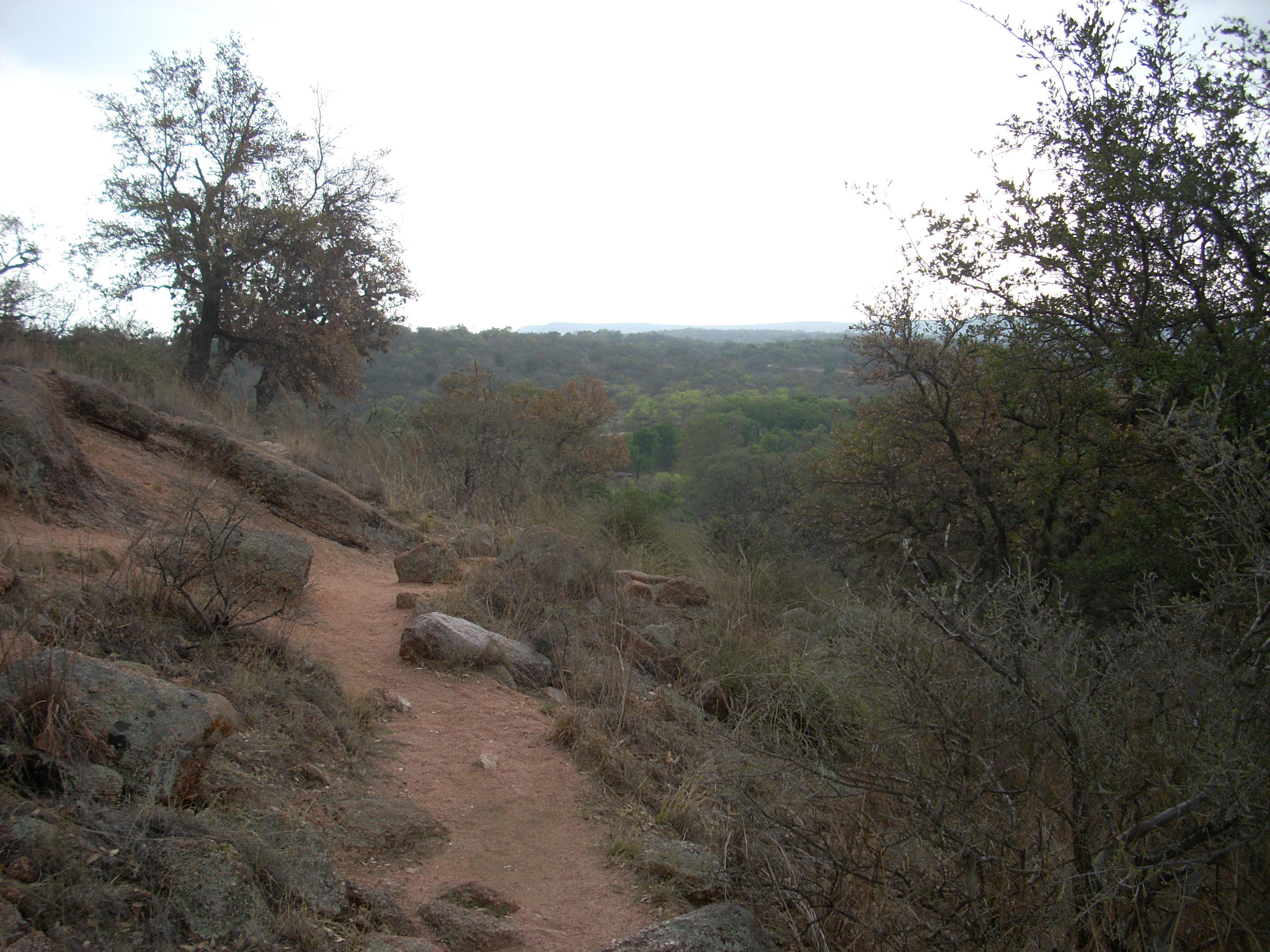 You've got to keep a keen eye out here for the path because it can be quite confusing in this area too. That's because a lot of the trail goes over rocks, where there aren't any signs. It's good to take a guide book with you if you're coming out for the fist time.
When I got to a little frog pond, I was almost back at the first trail junction I'd come to at the beginning of the day (the group pavilion was ahead), and once back at the parking lot I headed out. This was an incredible experience which I highly recommend. If you can get out here on a weekday though, it would probably be preferable since the park is very popular, and they say it often fills to capacity early on weekends. Admission is free for seniors, by the way.
DIRECTIONS:
From the Austin area I took US290 west to Fredericksburg, and then went north (right) on RR965 until I saw the Rock (you really can't miss it). The guide I used mentions that it's about 17 miles until you reach Enchanted Rock State Park.