PLACES TO GO ON LAND DESTRESS OUTDOORS HOME PLACES TO GO ON WATER
Radnor Lake (Otter Creek) State Park
General Park Overview via Lake, South Lake, South Cove and Ganier Ridge Trails
Monday May 2, 2011
Tennessee State Park Website on Radnor Lake: http://www.tn.gov/environment/parks/RadnorLake
Friends of Radnor Lake Website: http://www.radnorlake.org/welcome.html
This park provides both a great recreational and, indeed, a peaceful service to the residents of Nashville and today it was clear that it's much loved and appreciated in return. I must have encountered several dozen other hikers/walkers in the few hours I was here – and on a Wednesday, no less! You'd want to really get out here early if you come on a weekend! As per the state website, the park opens at and the visitor center opens a little later.
What really was to impress me today, however, was the amount of work they do to maintain all the trails given some pretty heavy use. Each appeared to have been very well cared for and I saw both recent and on-going signs of maintenance everywhere. They've either got a pretty large staff or a few very overworked people because this is clearly a never-ending task.
Now before I begin, some background… If you enter the park the way I did (full directions below) you'll be driving in on a road which will eventually be blocked off by barriers, and it's at this point that you'll encounter the parking lot - it's pretty much right beside the road. Well today I found the area fairly crowded with fellow new-comers, so instead of following the actual trailhead which begins behind the restroom above the top tier of the lot, I instead opted to take off down the blocked road to use it as access to the Lake Trail (there are a lot of options out here – I'd bring a map if you're unfamiliar so you can get the most out of your trip – again, see state website).
My plan today was to follow the Lake Trail around the north side of Radnor Lake, cross over the spillway, and then make a loop hike by combining South Cove and South Lake Trails on the south side of the park. Then, re-crossing the spillway back to the northern side, I'd retrace part of the Lake Trail until I reached the Ganier Ridge path and then follow that back to the parking lot. Incredibly, everything went as planned with the exception of one mind-lapse.
Anyway, Lake Trail will soon begin on your right after a short and very pleasant walk down the road which today was surrounded by a forest that seemed positively alive with the fresh shades of a spring green!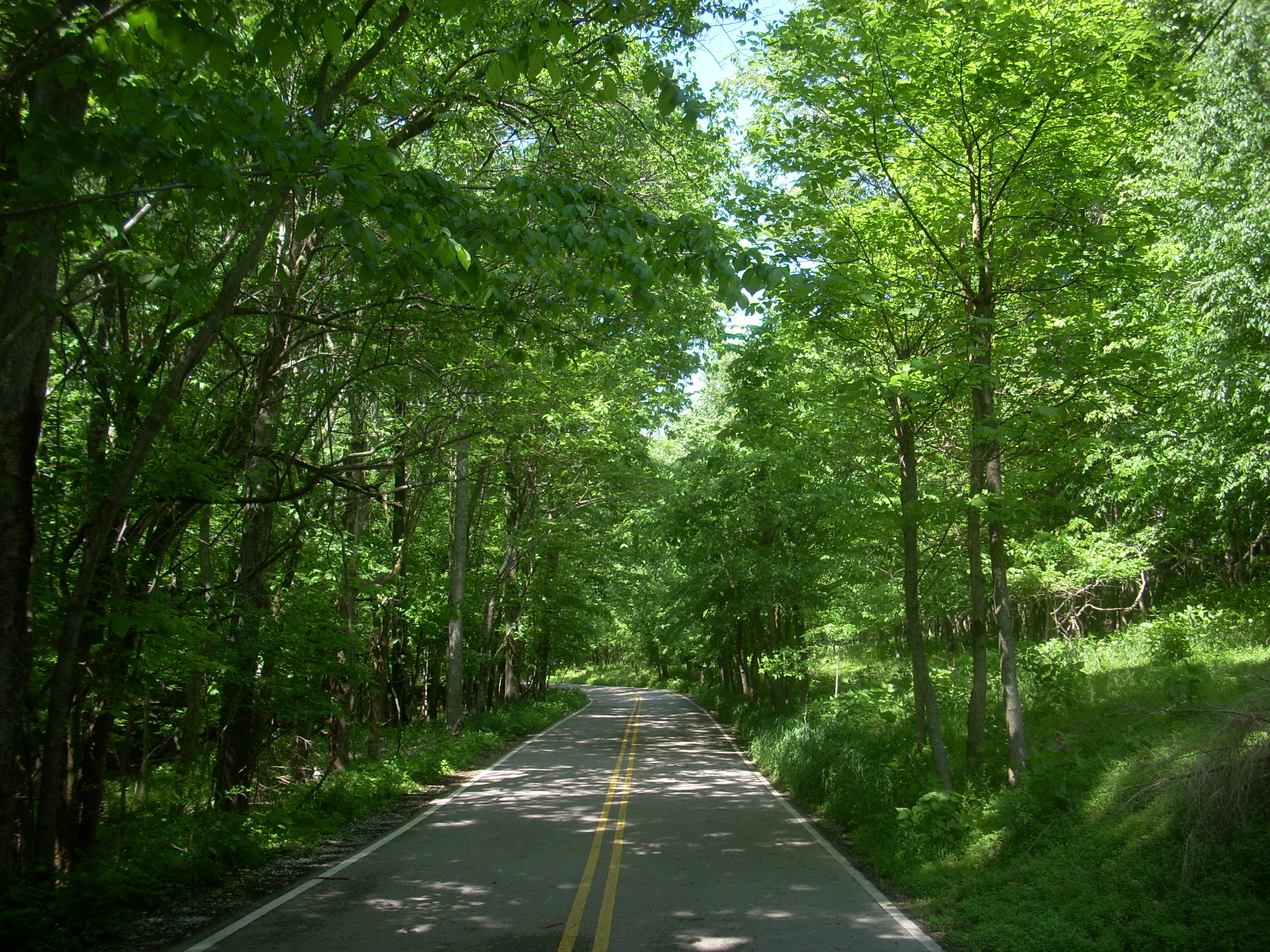 You'll find that Lake Trail is level and pretty easy to follow, by the way. All you have to do is keep the water beside you and if you're traveling in this direction that means that you'll veer left at every trail junction. Doing so, you'll span a bridge almost immediately and then you'll pass the first of two "Ganier Ridge" trail intersections, the first of which will lead you right back to parking lot if you want to make this a really short hike.
Keeping to the left I was to encounter a majority of my fellow hikers in this section. I guessed some were probably exercising on their lunch hours. The park, after all, is not that far from downtown Nashville, but I must say that the people I met out here over the course of the day were among the friendliest I've ever encountered on the trails.
Shortly after you pass the second Ganier Ridge turn-off, the path will split and here you can go either way as you continue on Lake Trail; you'll wind up in the same place. Then, after crossing another little bridge you'll begin to break away from the lake for a time for a brief tour of a little alcove which has been created by a Radnor Lake (or Otter Creek) tributary stream. Notice as you cross this particular bridge the little "alleyways" the stream has carved out of the sediment.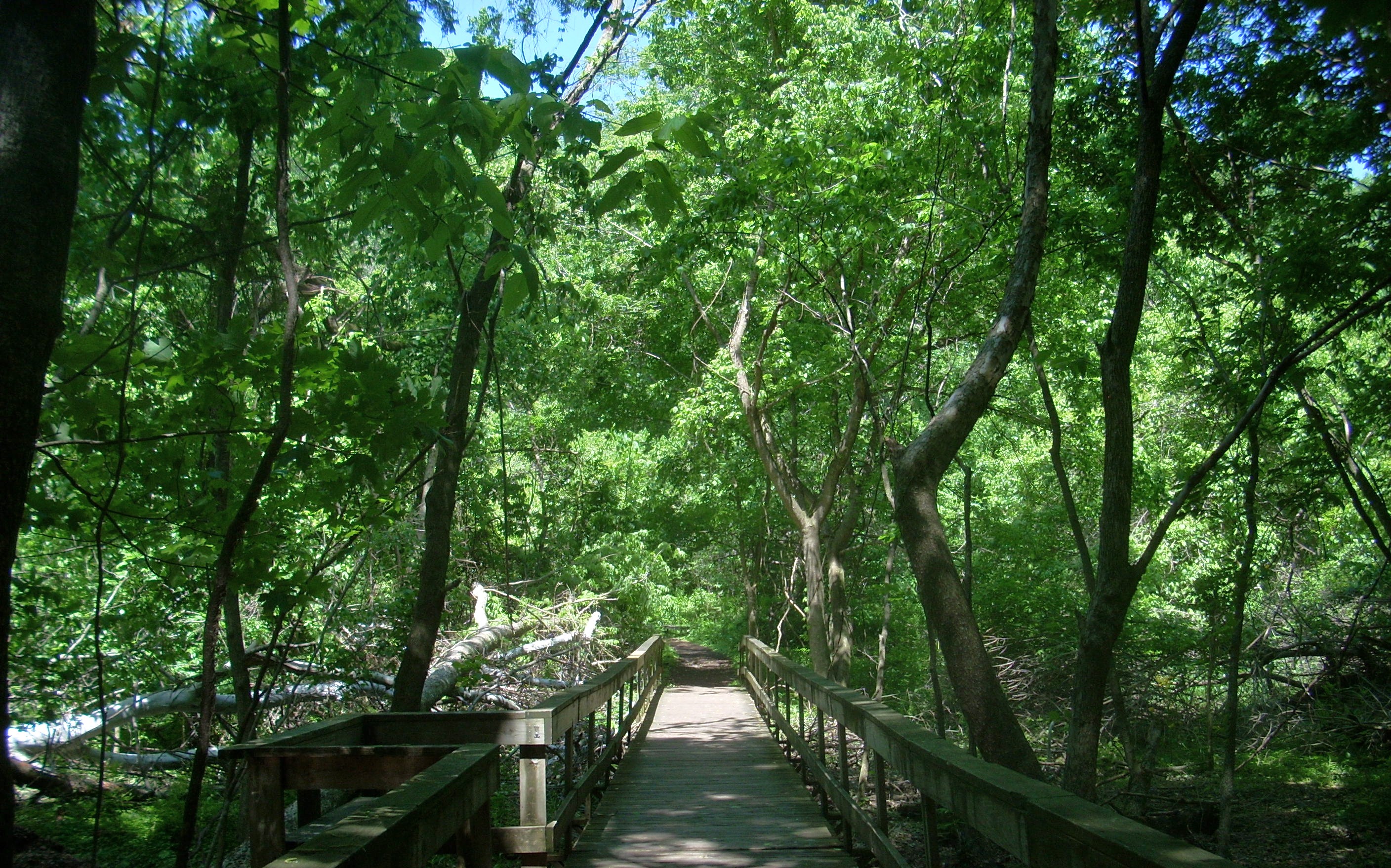 Curving left back toward the lake now, you'll emerge pretty close to the water and here you'll get some of you're nicest lake views of the day, one of which comes at a particularly inviting park bench where I also noticed the first pair of many turtles I'd see on the day…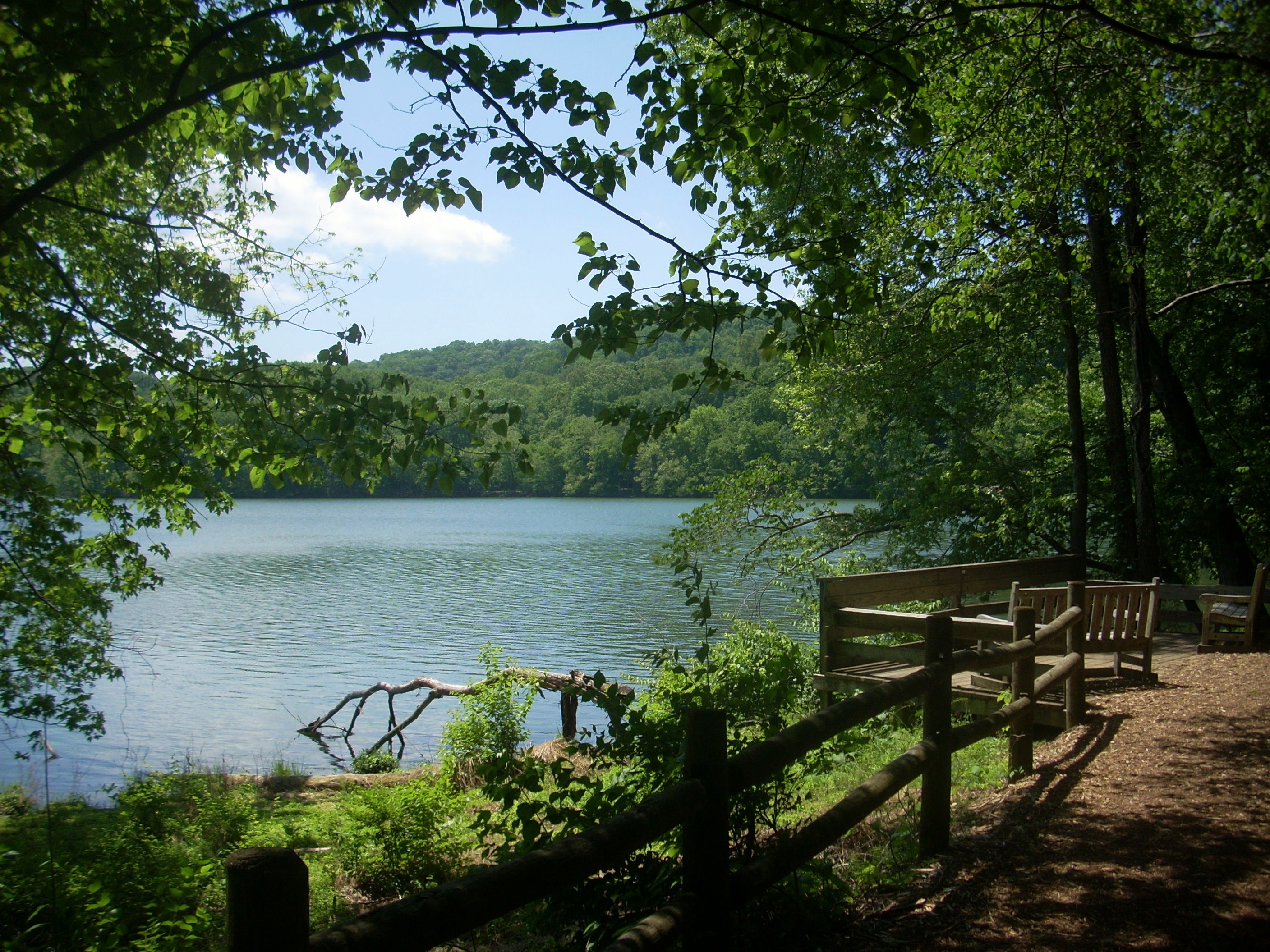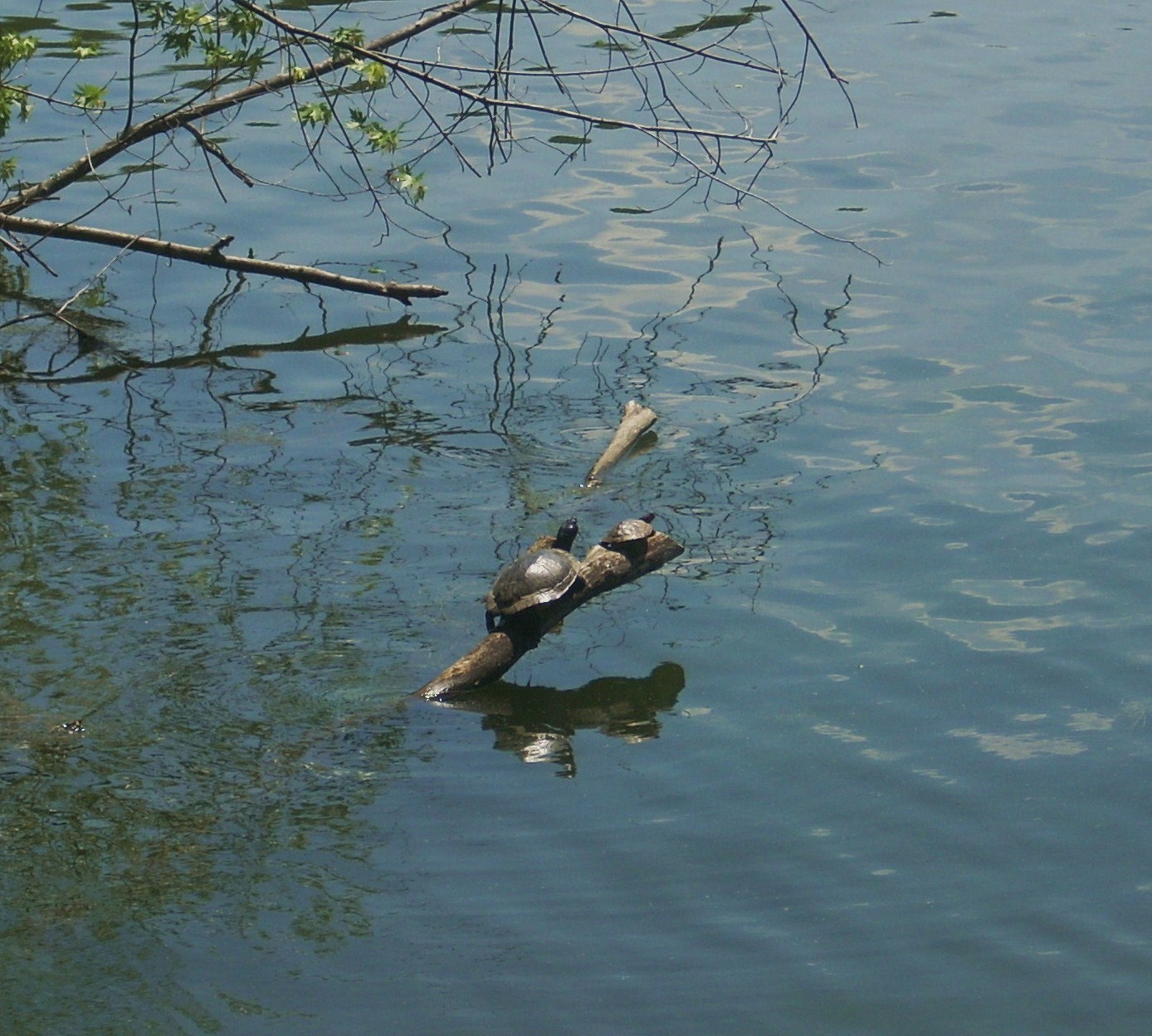 Then, after briefly passing back into another tributary stream you'll return to the lake and I found the terrain here to be particularly low-lying and fertile today. Look at this paradise!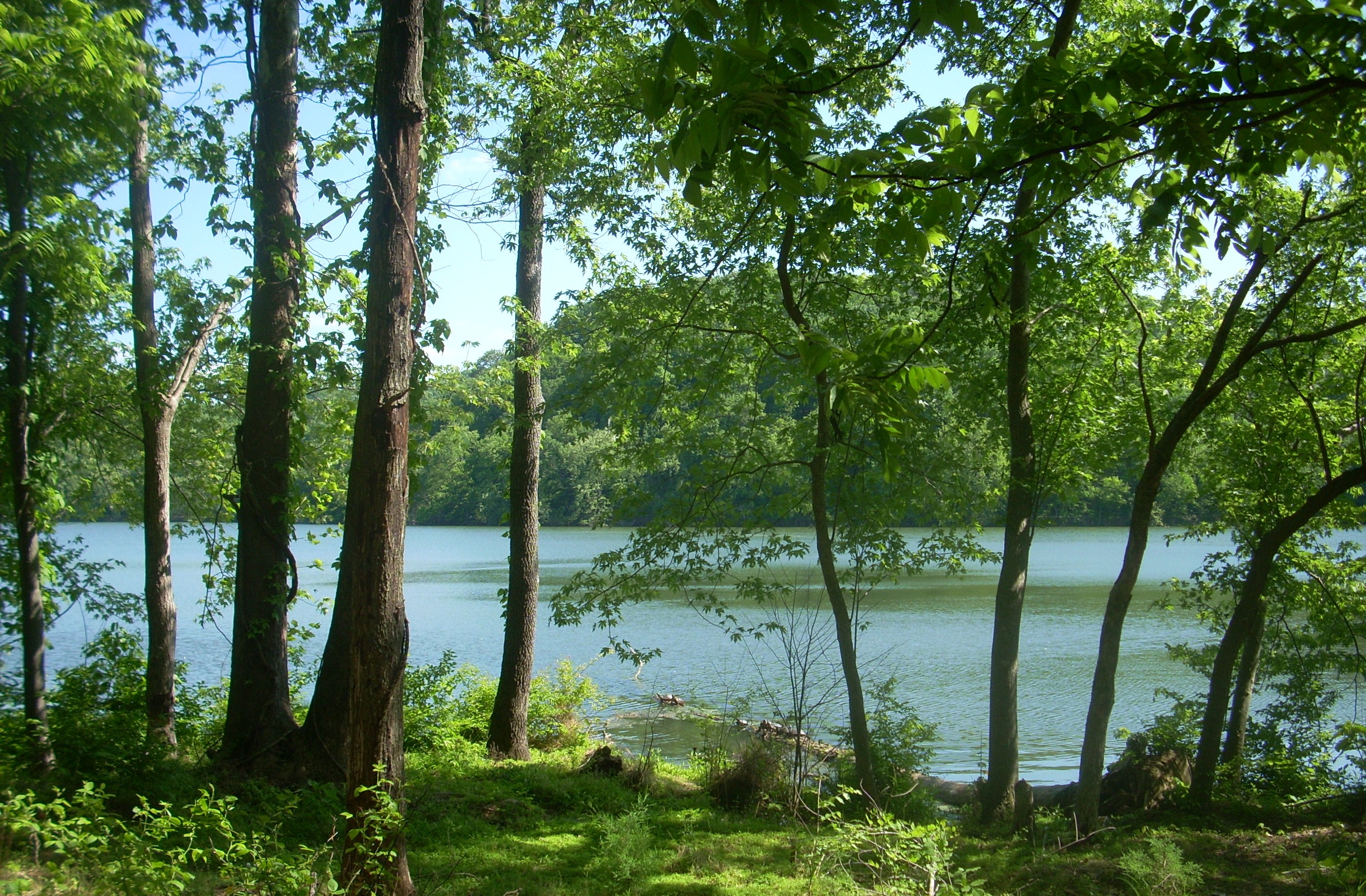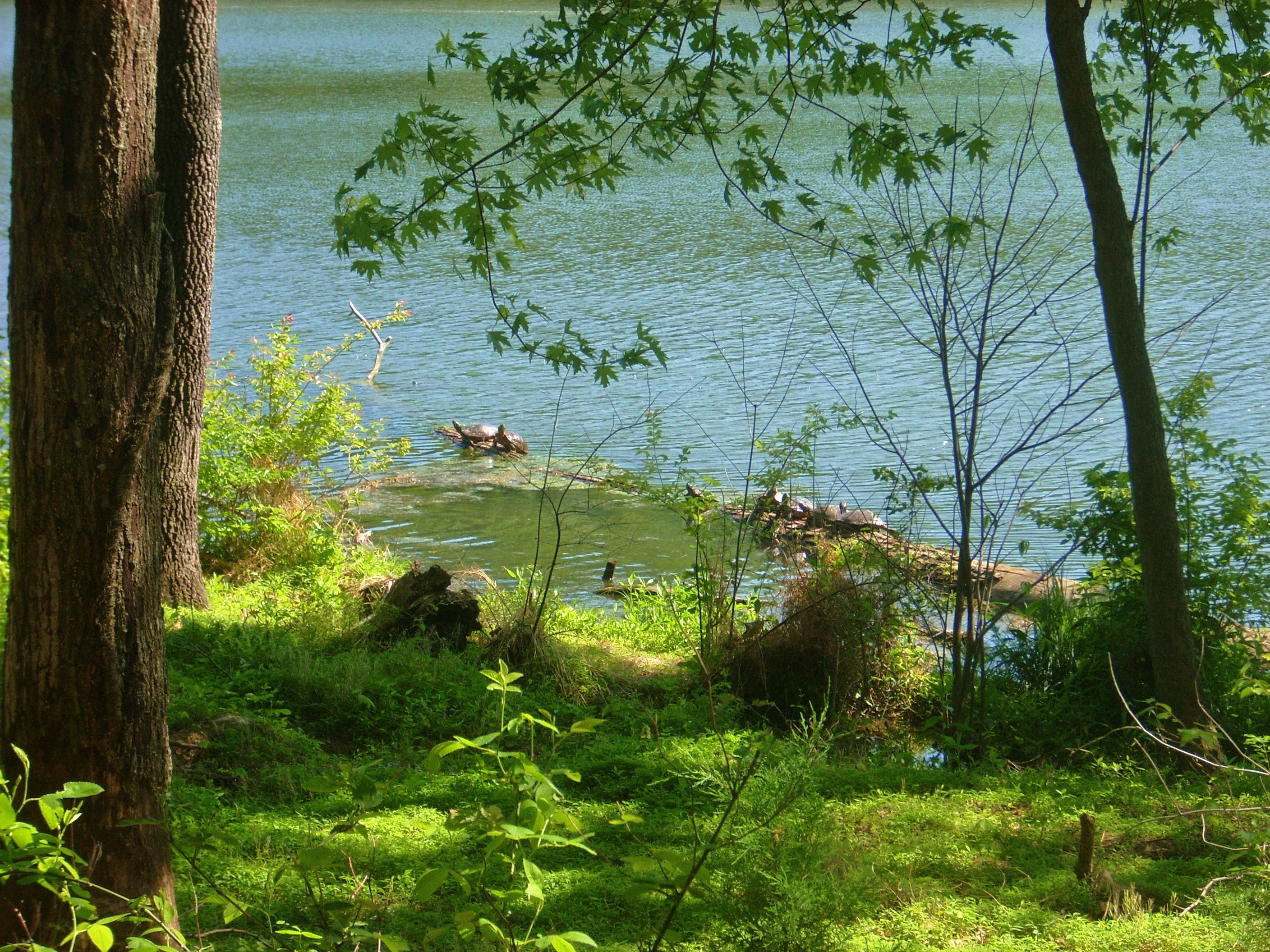 Soon you'll find yourself alongside the spillway. This is where the lake drains out and you'll take a left to proceed over it on another bridge. The birds seemed to be in a real frenzy around this area and I guessed that they were probably tending to their young nesting underneath. (By the way, if you kept straight instead of making the left turn over the bridge you'd soon arrive in another parking lot. You would, however, get some nice views of the rushing water along a short Spillway Trail.)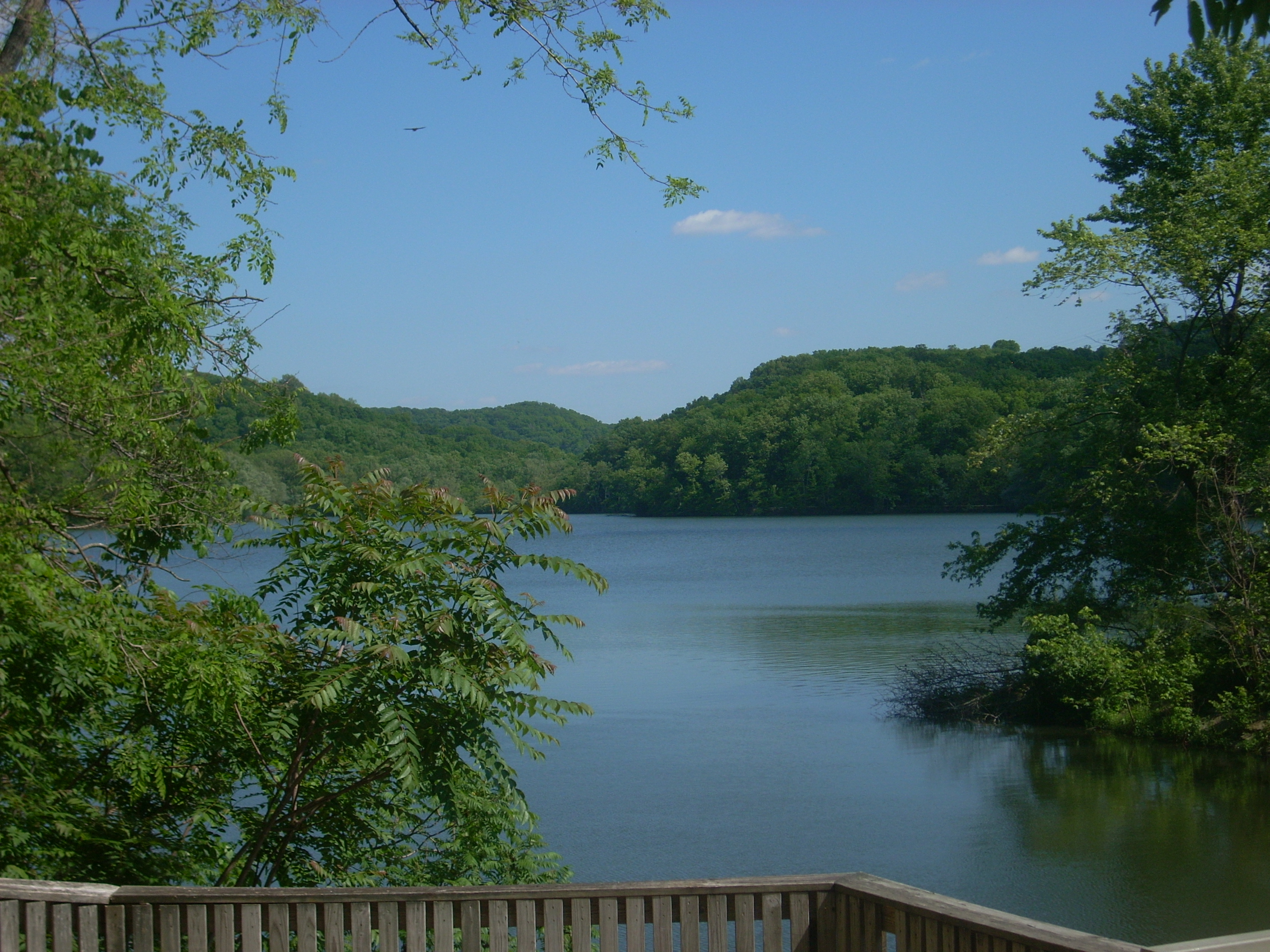 Anyway, on the other side of the spillway there's a gravel and blacktop area where you'll find a house. This is supposedly the Nature Center which seemed to be closed today, but I did find a great park bench overlooking the lake that I stopped to rest on at the end of the day. Doing so, I saw both a little (baby?) rabbit and a chipmunk scurry by.
Continue across the top of the levee they've built to keep the water in the lake from overflowing, and you'll meet up with the road again (yep – it's the same one you'll have driven in on). Take a left onto this, keeping the lake on your left, and you'll soon reach a trail junction on the right. Here you'll be led back into the woods where you'll have access to both the South Lake and South Cove Trails. I veered right onto the latter figuring that since I'd just taken a level path that it might be nice to break things up a little by adding some more altitude.
Sure enough, the trail started to climb almost immediately and I met a little friend. Usually I only see the shells of snails but this one seemed to have partially emerged to more closely observe it's environment (or to eat!). Snails sure do look pretty amazing with their little antennae sticking up out of their heads and even the shell of this one seemed to be more colorful than usual when I got a closer look at it…
There was one problem, however... This little creature was in a really vulnerable position lying right in the middle of the trail. I didn't know what to do. Snails move so slowly that I didn't want to move it - I might be putting it somewhere where it didn't want to be. Instead I thought it better to leave it where it was and fortify its position by elevating the terrain around it so that a boot wouldn't crush it. To do this, I found a rock and part of a mid-size tree branch that I put on either side. I hoped it would be enough…
At any rate, after a fairly good climb you'll briefly crest out atop a ridge overlooking the lake, and although this would probably be a great vista in the winter when the trees are defoliated, I couldn't see much today. That was OK - the path soon descended anyway and led me through an area where it was very clear the amount of work it takes to keep this place up. In fact, I think the path would probably be completely eroded in many places by now with all the foot traffic were it not for the workers out here. My thanks to the Radnor Park Rangers!
Soon you'll meet up with the first of two South Lake Trail junctions and here you'll continue to the right across another nice bridge. I encountered some deer soon after making this span; both the one below which I immediately saw because it was right in front of me, and a second right next to me which I didn't even see or hear until I stopped. Patiently I waited until the one in the path moved on. It did so after I motioned away from me and up the hill with my arm.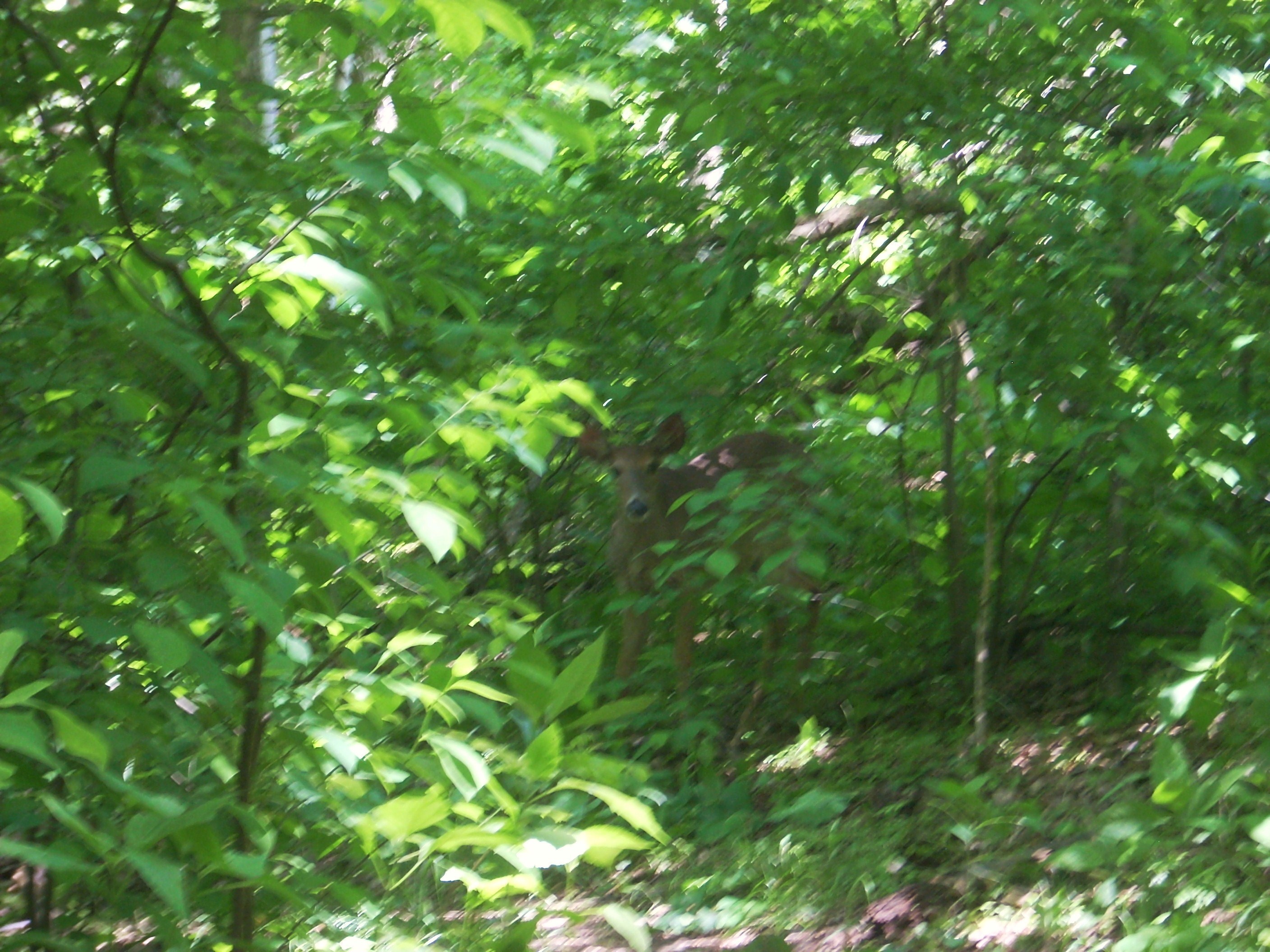 South Cove Trail ends at the second South Lake Trail intersection when you bottom out from the ridge. Gong left will lead you on an exploration of the latter, but before doing so I first had to check out the area to the right... Turns out, it leads to the confluence of 2 park roads where the Otter Creek enters to form Radnor Lake. Today, however, the creek looked more like a very green pond.
On to South Lake Trail… This is another fairly level path that winds around the southern contours of the lake and provides some more limited views of the water just above the same road you'll now be quite familiar with. In fact, you'll intersect it 2 or 3 times on the mile-long path (and I'm embarrassed to say that I can't remember exactly how many) but the last of these points is where you'll want to exit and follow the road to the left and back over the spillway.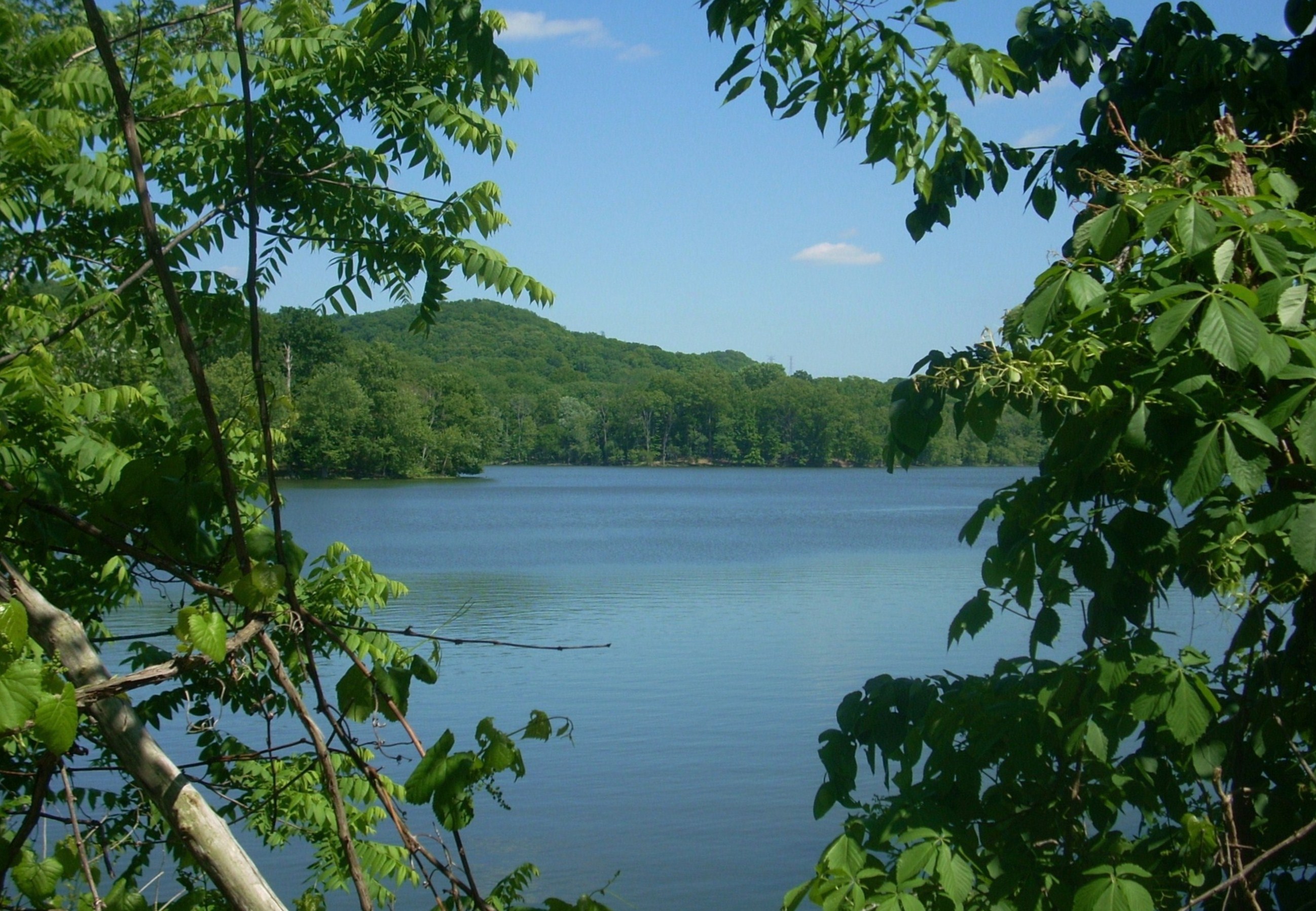 However: If you start a steep climb like I did you'll know you've gone too far… In fact, I'm so dense that I was almost all the way up to the top of the south ridge again before I realized that I'd missed the turnoff! I even missed my snail friend – it was gone. If you see a wooden sign atop the ridge about a foot above the ground with "Trial" etched in it and an arrow pointing back the way you came you'll know you need to turn back (unless, of course, you want to go around twice!).
At any rate, I retraced my steps and made the aforementioned left onto the road. You'll also recall that the levee comes up quickly after this and you'll want to make a right to cross over it. On a second trip out here with my mother we encountered another "hiker" here…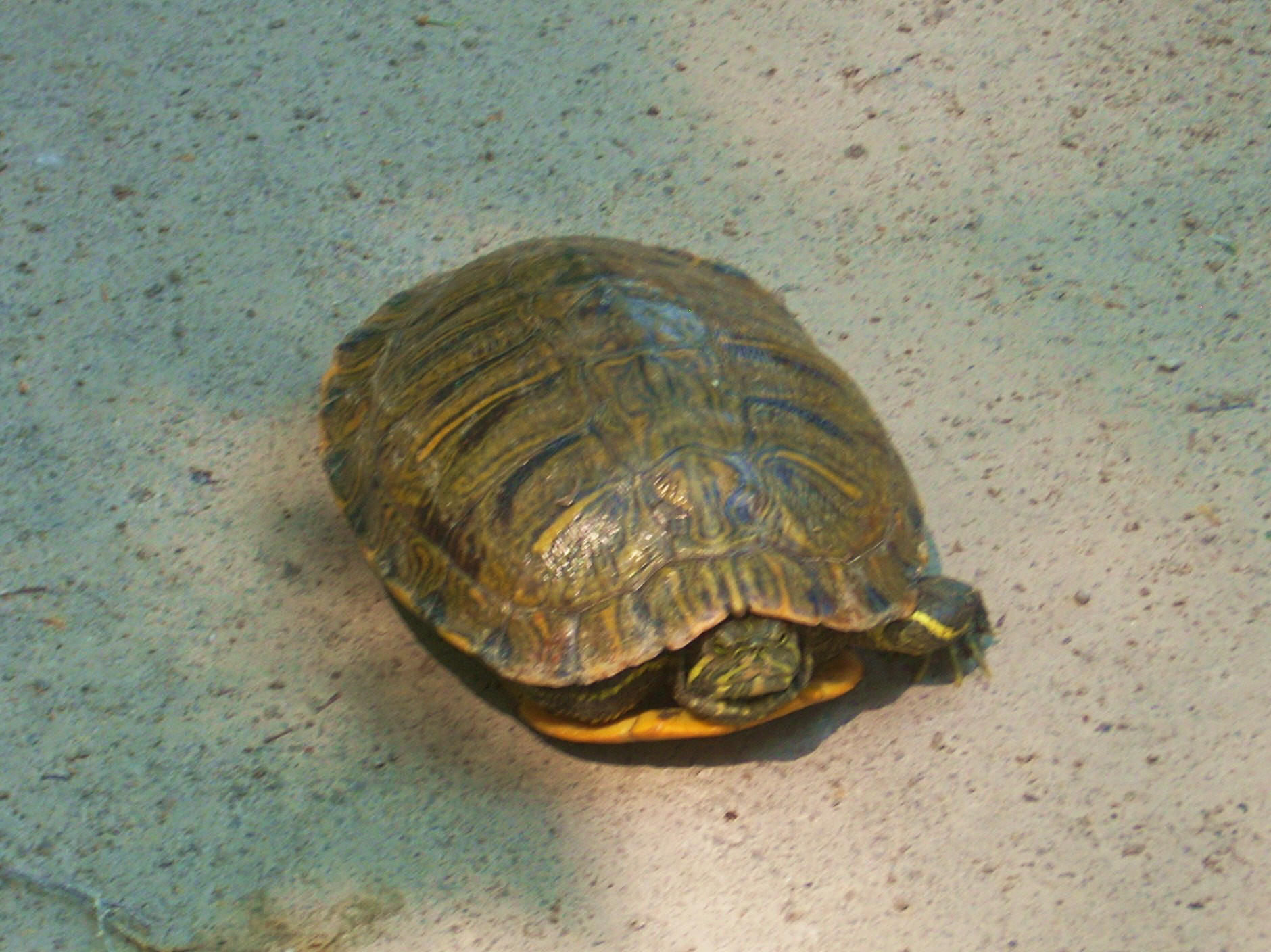 Next it's back over the spillway bridge, right back onto Lake Trail, past the nice lake overlook at the bench and over 2 more bridges. It's time for the Ganier Ridge Trail, the steepest of them all. This trail and ridge (according to a historical marker I saw) are apparently named for a man named Albert F. Ganier who was a naturalist, historian and the founder of the Tennessee Ornithological Society. Also interesting is the shape this path takes! It looks like the neck and head of a duck!
To begin you'll head back into and then around the same little streambed that you just crossed over on the last bridge, but when I first turned onto this path I found that I was walking through a good bit of pooled-up water and, having learned that it's best to walk right down the middle of such a path so as not to expand the trodden area beyond what is absolutely necessary, I proceeded on gingerly and with some regret... A visitor in town, I was unsure of how soon I'd be able to return.
The climb on this trail starts fairly gradually as you wind along the stream before spanning it again on another bridge, and in this first section I came upon a man and his toddler son actually walking barefoot though the mire! Crossing the bridge you'll really begin to climb in earnest. There are steps for you along the way to assist, though, and at one point you'll also pass over some rock outcroppings. You'll note that the trees are of a different breed in this rocky area...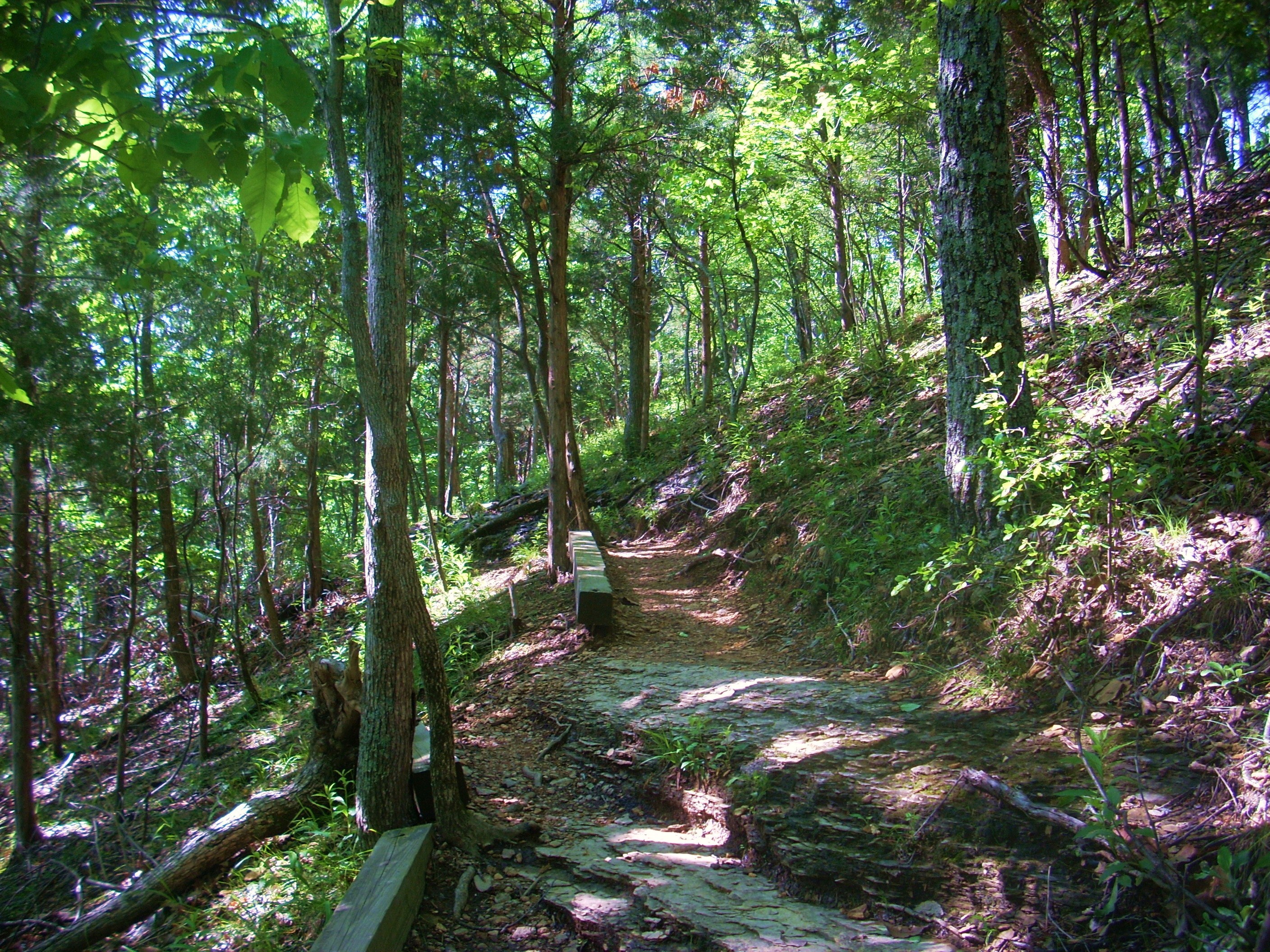 After making a sharp right turn (the ducks' bill!) near the ridge top you'll begin a very pleasant walk along it through the woods. This will allow you to enjoy the fruits of your climb! Again, the views in here were fairly limited today but I still enjoyed this nice stroll through the forest. There are also some park benches for you to rest on if you like. In fact, I noted these throughout the day and even saw one with a "65" on it! 65 benches upon which to sit and enjoy your surroundings!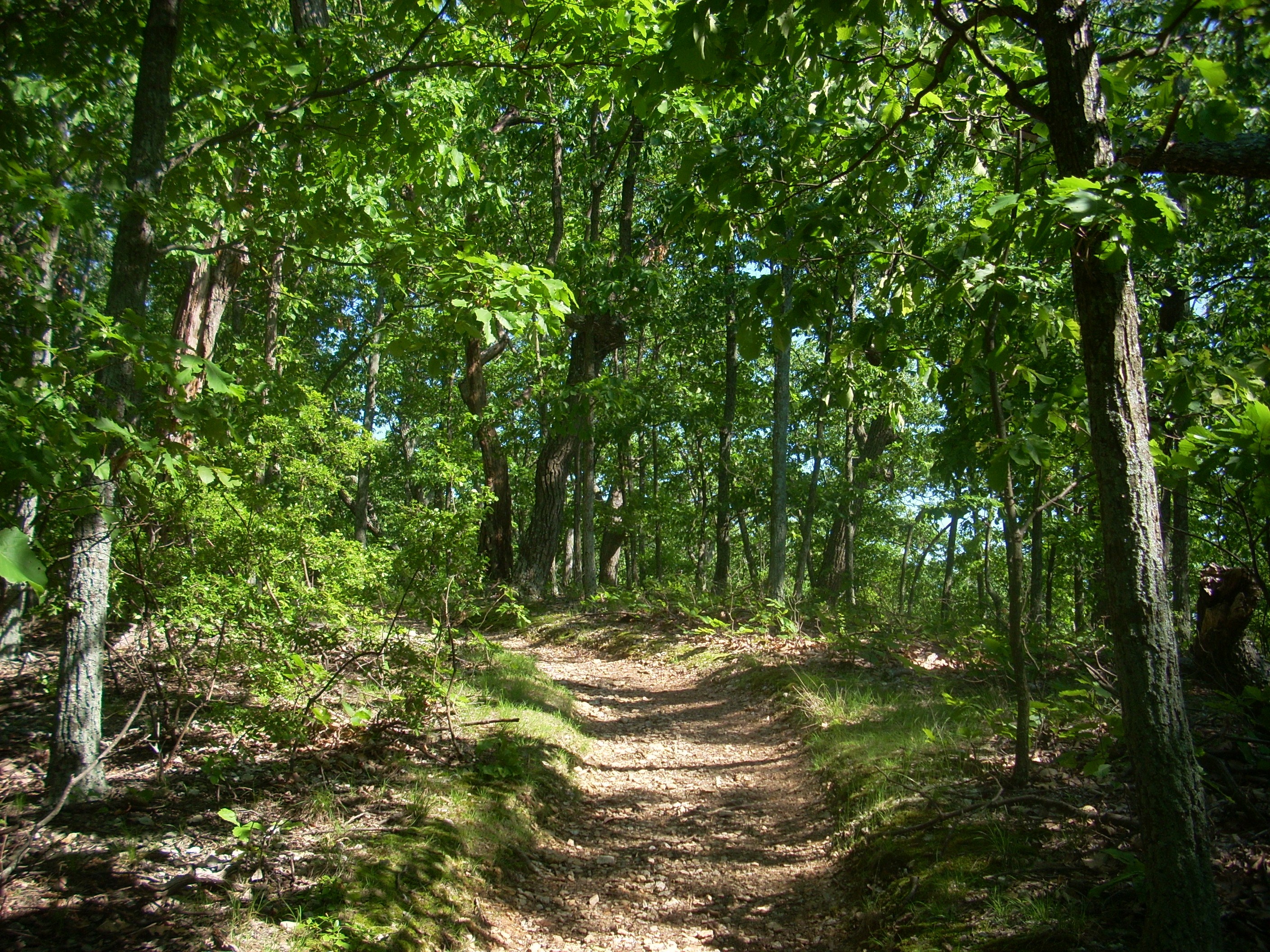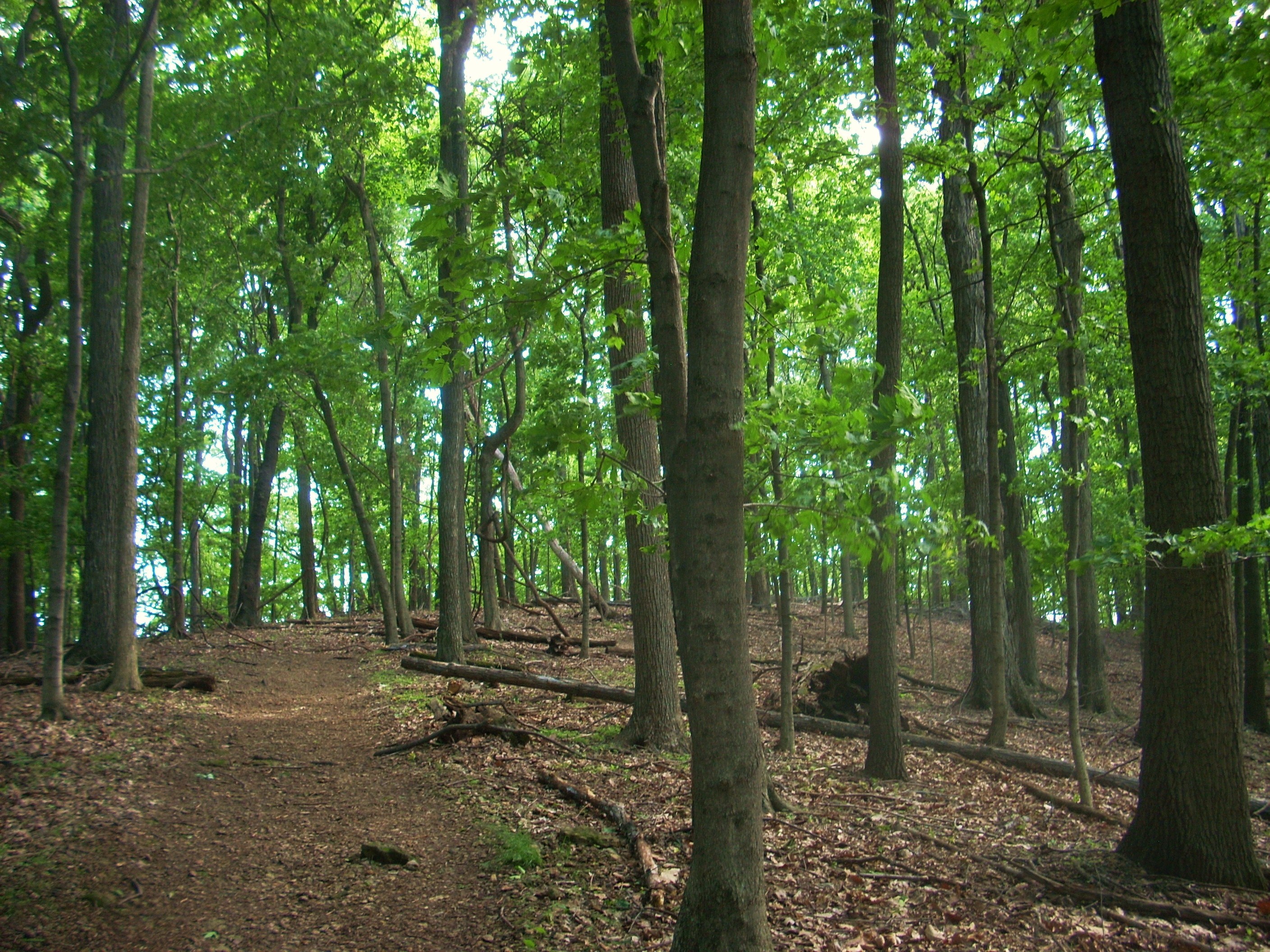 Once you've completed the ducks' head you'll begin to head back down the ridge, at one point along some switchbacks. The trail ends where it intersects the Access Trail. Take a left here and you'll soon be back at the parking lot.
…and look who was awaiting entry into the restroom!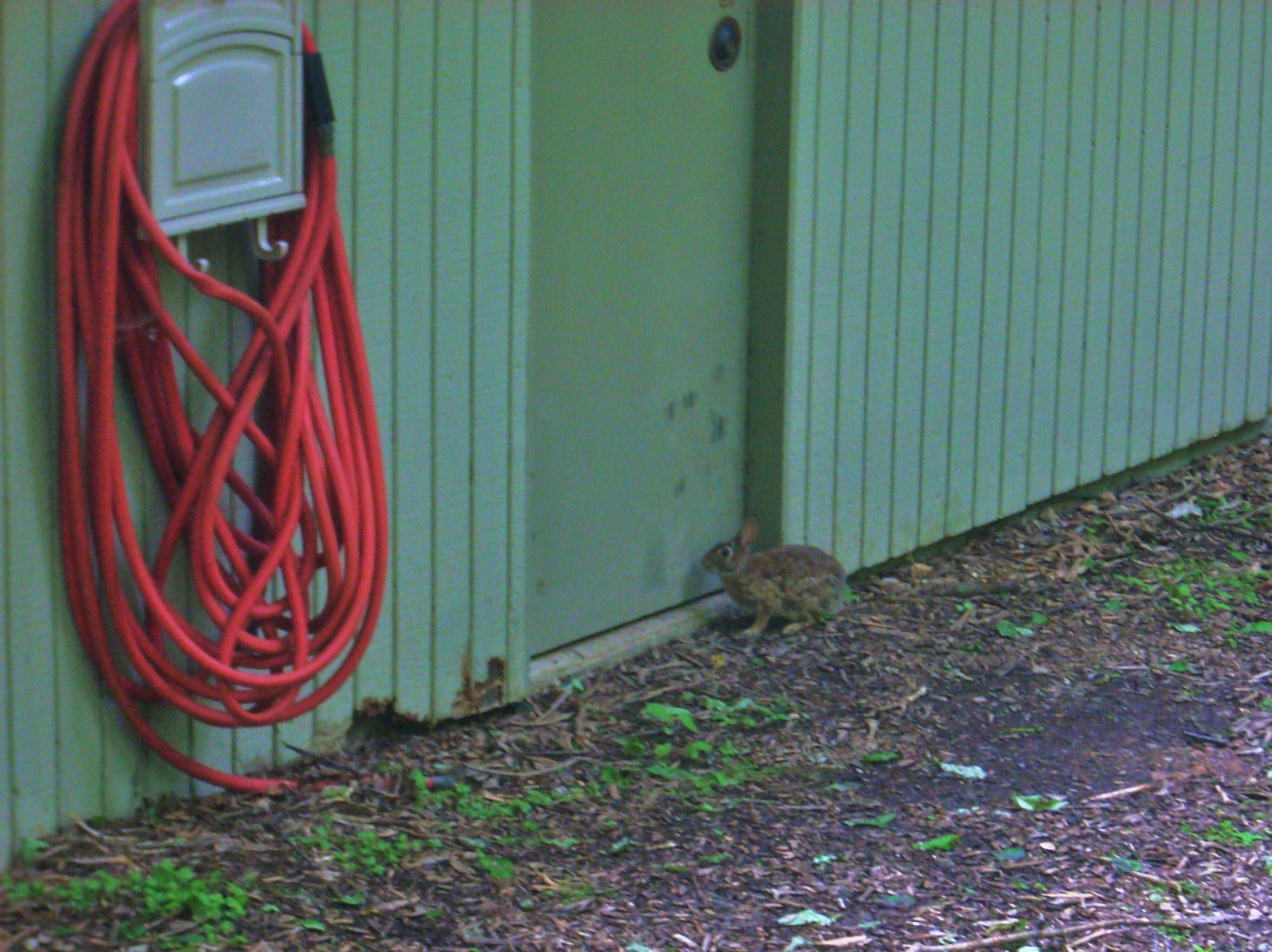 DIRECTIONS:
They have these on the above websites, but I came in locally from the south via TN31, or Franklin Pike. To do this, you can take I65 to the Old Hickory Boulevard (TN254) Exit and head west. You'll immediately encounter the TN31 intersection. Make a right here and travel just over 2 miles to Otter Creek Road. There's a stop light here. Take a left and drive not quite a mile and a half to the road block. The east parking lot will be up and to your right. As for the trailheads, the northern trails begin at the northern end of lot while the southern trails can be more quickly accessed by walking down the road.