PLACES TO GO ON LAND DESTRESS OUTDOORS HOME PLACES TO GO ON WATER
West Branch State Park
Buckeye Trail around the Michael J Kirwan Reservoir (West Branch of the Mahoning River)
Monday, March 27, 2012
State Park Webiste: http://www.dnr.state.oh.us/parks/parks/westbrnch/tabid/795/Default.aspx
U.S. Army Corps of Engineers Website for the Dam: http://www.lrp.usace.army.mil/rec/lakes/michaelj.htm
I got the idea for this hike on a drive down to another. I'd passed this body of water, you see, (I passed two, actually – the other was Lake Rockwell) en route to Beaver Creek State park near East Liverpool, Ohio from Cleveland on State Route 14. I wondered what it was... There was a boat ramp visible, you see, and I like to paddle. Well, it all led to the discovery of this loop around the Michael J Kirwan Reservoir.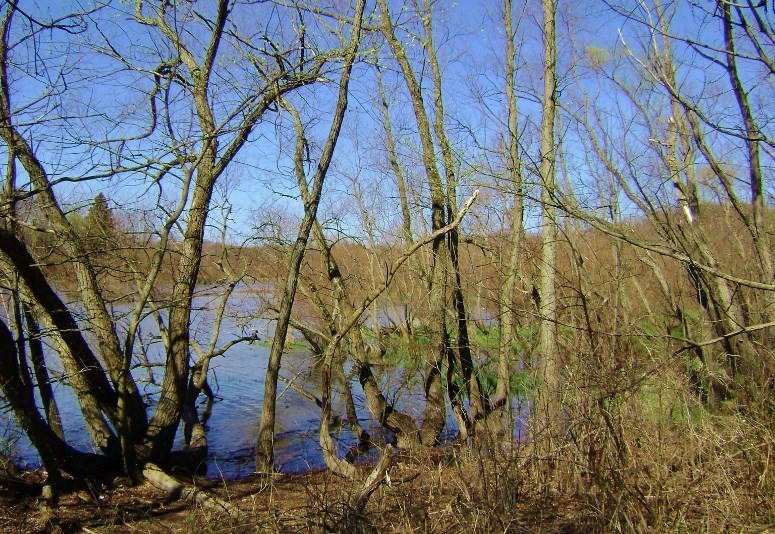 The hike that follows does have a little bit of road walking involved and it does run near some houses, but those are the only real drawbacks - if you'd consider them as such. I'd check in at the ranger station on this one, though, and bring a can of Halt! (or the like) as a precaution as I did arouse the suspicions of a couple dogs near one of the residences. They must have been tethered as they didn't come up on me, but it was cause for a little anxiety. You don't want to get bitten on any hike.
I parked in the lot for the same boat ramp I'd originally seen right off OH14 and proceeded to walk northeast along Knapp Road. The lake will be on your right at this point and you'll get some nice views…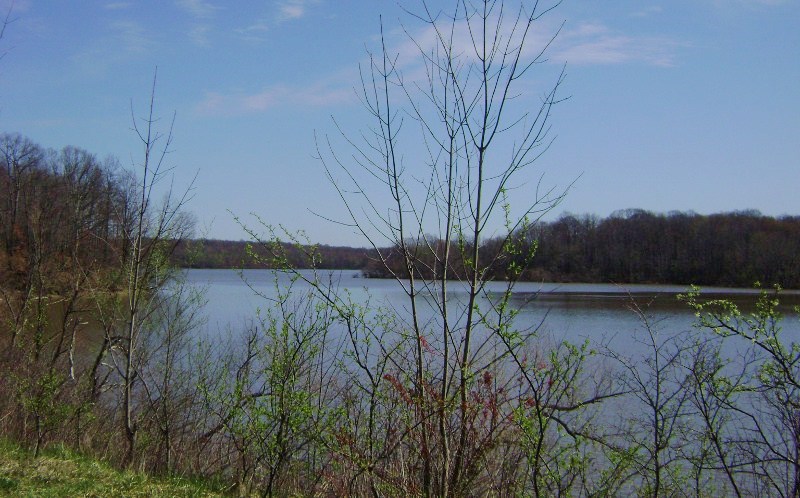 At one point on this walk I was mid-way past a guard rail (the one just after the first couple mail boxes) when I saw a trail break off toward the lake. I doubted that the path could possibly begin at this point yet – the cutoff wasn't supposed to be for a while - but I wasn't completely sure. I followed it. Well, would you know that it led into the lake on a very thin strip of land, yet part of the way down I was startled by a loud WHHOOOSH! What the heck?!? It was a mother goose sitting atop the eggs in her nest... I guess I startled her as much as she startled me! I cut this particular out-and-back short and went back to the road out of respect for the spirit of the animal.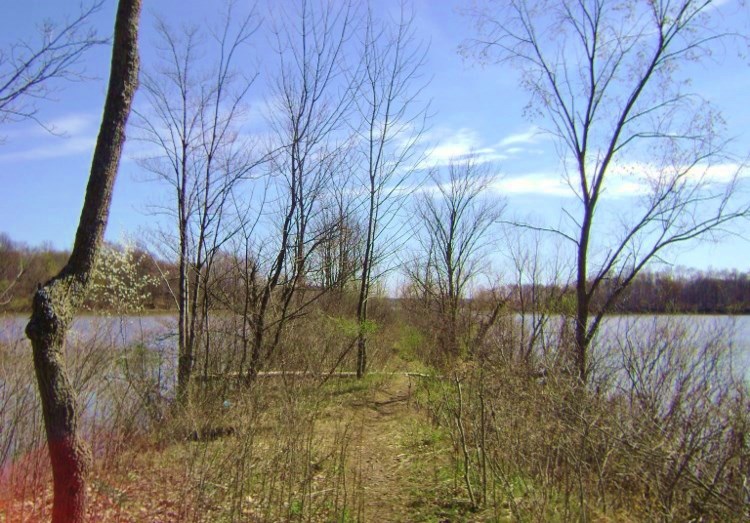 Anyway, back on the road you'll pass one roadside pull-off and then another near the same point as exists what looks like a very nice farmhouse across the road. It was here that I saw the path finally head to the right into the woods.... There's a signpost with a "No Horse" image here. Take the right to start the path, staying along the lake shore.
The path from this point will be marked with blue blazes. You'll actually following the Buckeye Trail now. Apparently this West Branch State Park connects with that grand loop around the state via a spur trail – a brief interlude option, perhaps?
Anyway, most of this first section of the path will have you walking through what looks like a newer growth forest around the lake as you'll find that little trees and shrubs abound. I'll bet if you waited another month the walk through here would be like walking through a tunnel of green!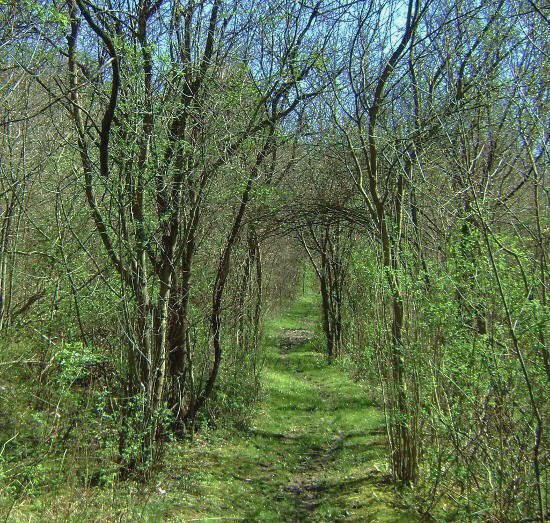 Continuing to follow the contours of the lake at this point I was soon to attract the attention of those dogs I mentioned. I think it's good to bring some kind of dog deterrent on these hikes – just in case – but it had me thinking: "What if 2 dogs came at me? A can of pepper spray might deter the lead dog but what about the other? In fact, might it be better to have an electronic dog device to deter more than one critter at a time?" I'm not sure yet. In fact, I haven't yet ascertained the effectiveness of these but in the meantime I simply carry both.
Anyway, distracted by all this I briefly lost the path but regained it again by simply following along an old roadbed that shortly led me past what looked like an old picnic shelter. Here there were some more nice, although limited, lake views but I'd also note from this point that the path seemed to be consistently wide enough to have once supported an old roadbed.
Shortly you'll pass under some power lines to then curve left and away from the lake into another little ravine, at the back of which you'll encounter some train tracks. The path actually winds back to meet them before it curves under and alongside them. This is an interesting point but you'll probably want to watch your step!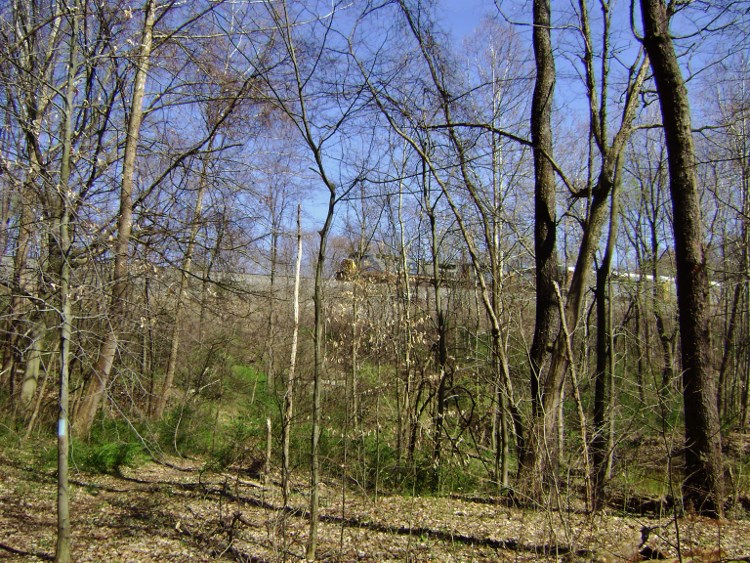 Now, once you come out of the ravine, you'll begin to ascend alongside the lake as the trail curves left. Here I actually caught sight of an oil well through the foliage!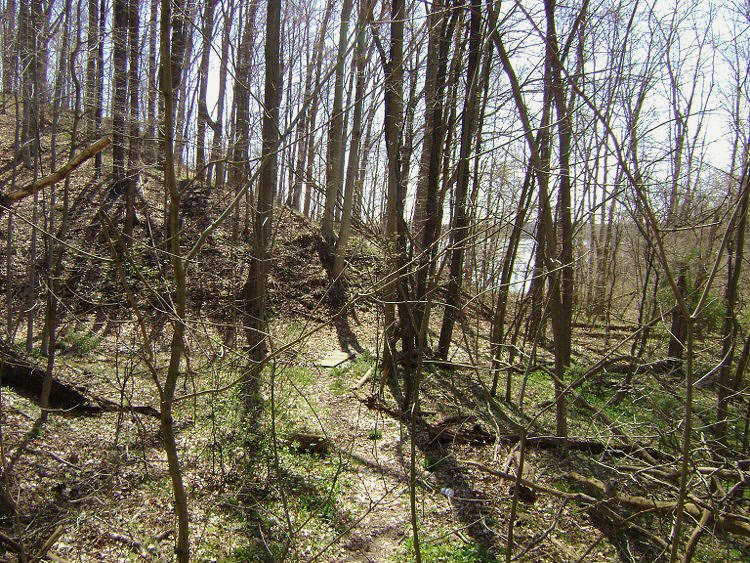 Pass through a power line clearing now and the trail will split. For this hike keep following the blue markings (I think the other path to the left is a horse trail) but what ensues is a pleasant forest stroll, near the end of which you'll see some water ahead. The area seemed incredibly picturesque today and I was thinking: "I sure hope the trail leads down there!"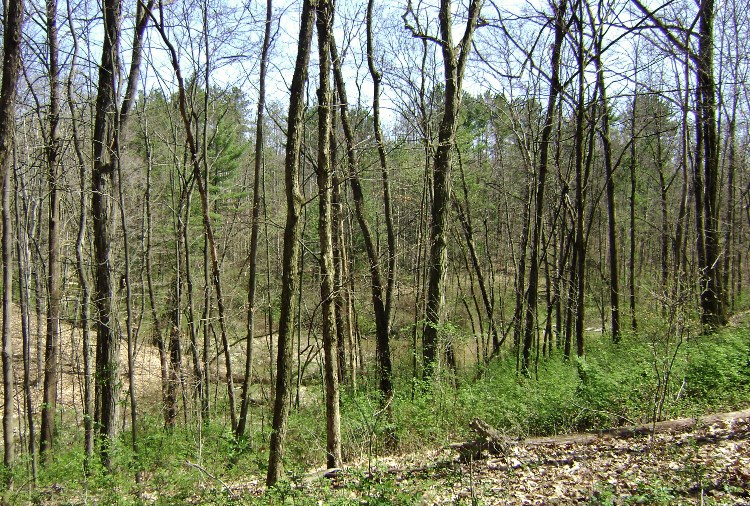 It eventually did.
Kind of…
This little body of water actually turned out to be a little pond where the water flow had been blocked by what appeared to be a small levee. Remember how I mentioned that the path out here seems to be almost one continuous old road bed? Well, I'm now guessing that this levee was constructed to support that road.
Anyway, as you near the pond its limited views will be followed by a stroll right beside it across the levee (the spot reminded me a lot of a similar pond on a trail at the John James Audubon Park outside Henderson, Kentucky). What a pleasant location this is! It was very hard for me to detach myself from the spot!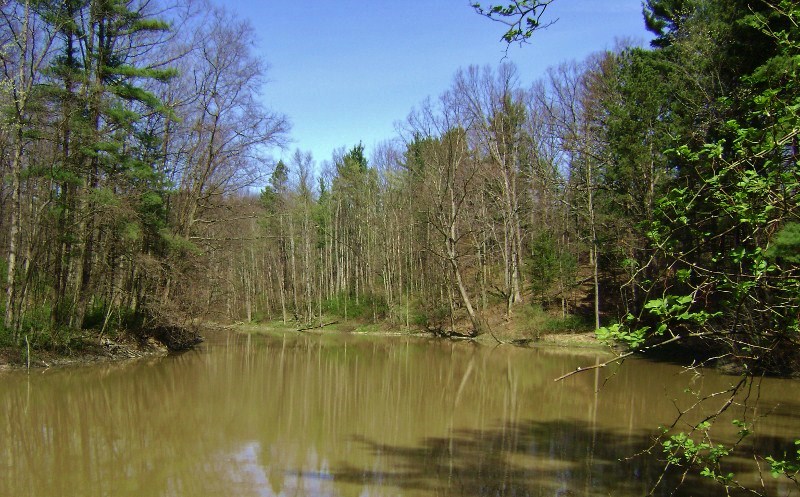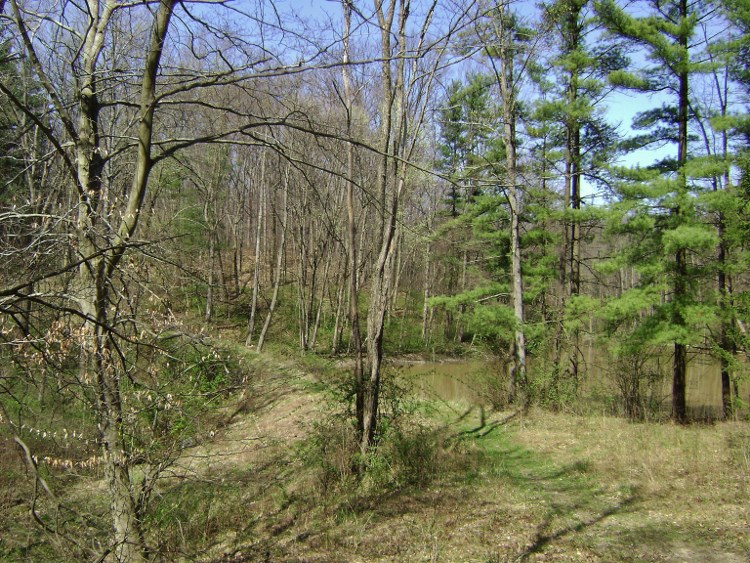 From this point you'll find yourself passing through a succession of forests. First will come a corridor of pines and then you'll be in the midst of some newer growth forest which, in turn, will be followed by another corridor of pines. It was in here that I noticed an interesting box marked "BT" along the trail. What was it for? Well it looked like some sort of mailbox of the type that sometimes contains little flyers for a trail, but I didn't find anything in this one today. I'd see one more of these.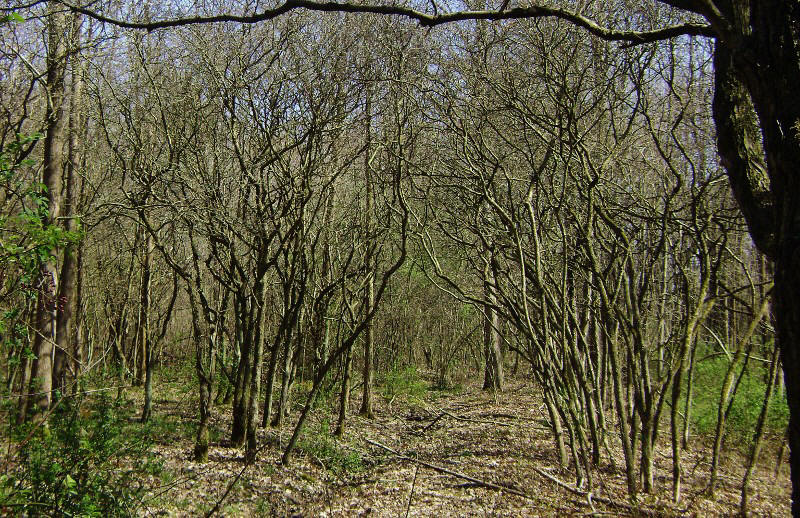 Soon you'll cross a wooden bridge on the path and you'll then find yourself directly beside the lake on the shoreline of a little cove. They've got some picnic tables set up in the midst of some shade trees here and the spot makes for a nice stop to rest if you wish.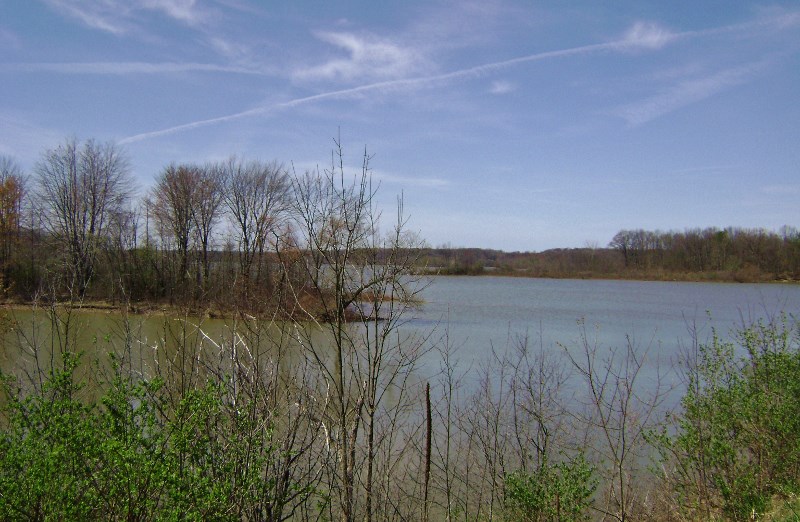 From here you'll continue to the end of a little peninsula and you'll see another boat launch area. You'll also see a road that crosses over the lake. You'll be following it to the other side. This is Rock Spring Road.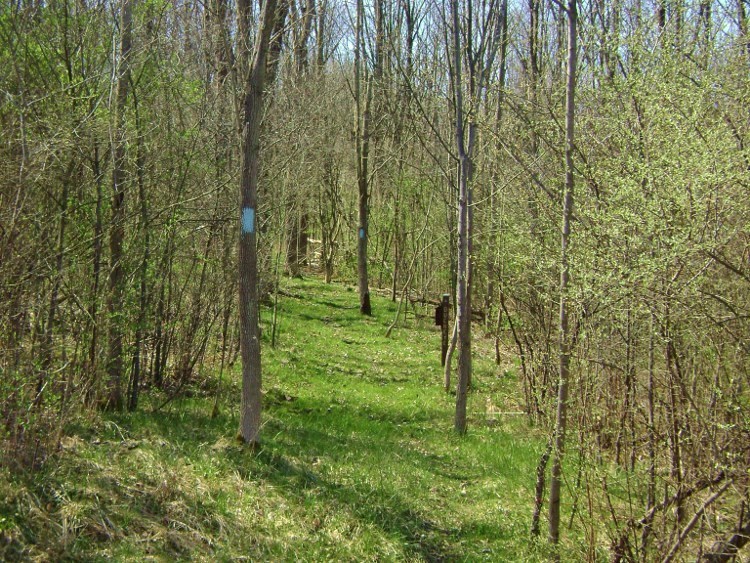 Reaching the other end of the lake you'll soon see that the Buckeye Trail markings indicate a right turn. You may already know this, but turns on the Buckeye Trail are indicated by two blue rectangles. You'll see one and then there will be another on top of it, but this second one will be drawn just to one side of the original. The direction of this second one – left or right - indicates which direction the path turns. In this case the direction was to the right. There was another one of those "BT" (Buckeye Trail) boxes here too. Nothing in this one either…
The path will now go through a very short section of woods to then cross another road – West Cable Line Road. You'll then catch the path again directly across the way. This is a nice woodland stroll and at one point I saw what looked like a very old, metal hunters perch followed by a large field. I thought the latter was a pleasant interlude from the woods…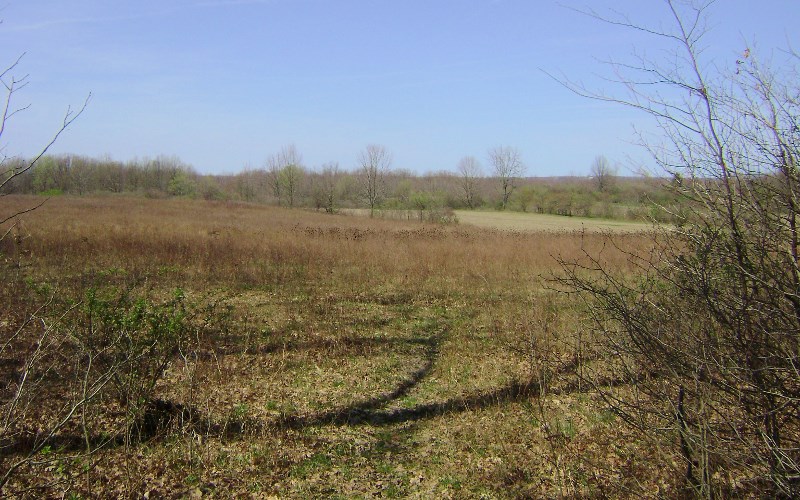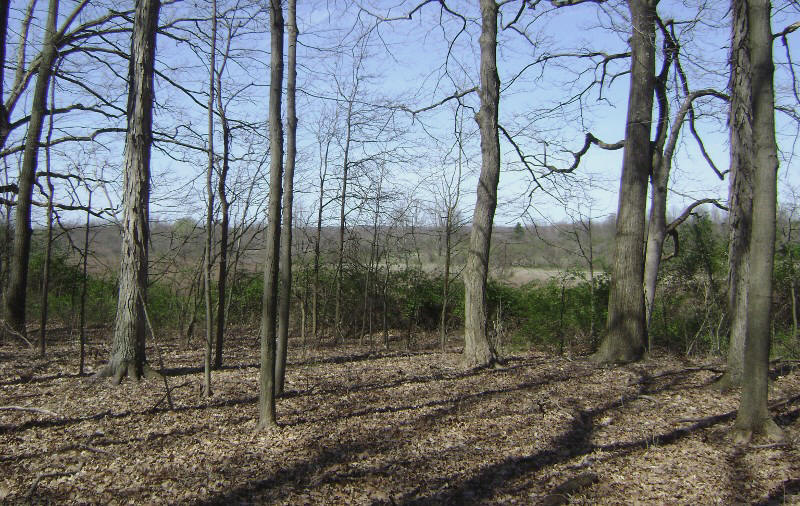 Continuing my woodsy stroll I began to ponder a familiar dilemma. When you're close to civilization you want to keep as quiet as possible so as not to disturb anyone or attract attention. When you're in the wilderness, however, (and especially when you're alone), you want to be a little bit noisier so as to warn away any potentially dangerous encounters. Since I adjudged at this point that I might be entering portion of the park that appeared to be closer to the latter, I made the decision to leave my keys to dangle on a belt loop. In this way they'll jangle around and give fair warning of my impending arrival to any wild dogs (coyotes, wolves), wild cats (bobcats, cougars), bear or even - possibly - snakes.
On this side of the lake you'll be undulating up and down many little ridges which, in turn, will have you dipping into the many little streamlets which help make up the Silver Creek and then the Bixon Creek basins. You'll want to be careful in here. The path is well marked but it can sometimes become a little confusing when you're passing along a particularly curvy section of trail like this. There was one point, too, where a large deadfall obscured the path and it took me a time to discern which way to go.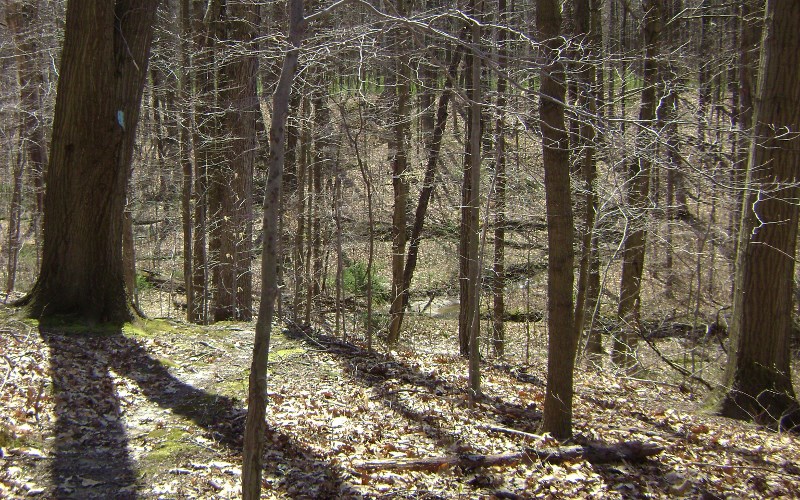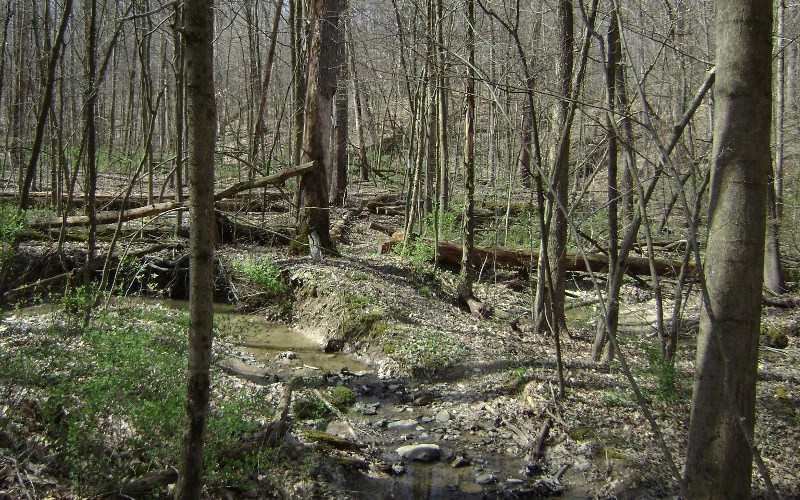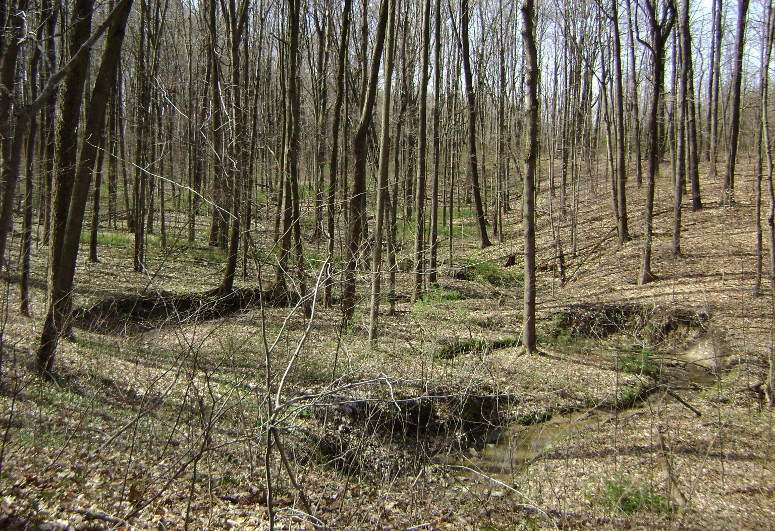 I found the old tree below to be interesting as it seemed to be much different than all the rest. It looked ancient with a lot of character…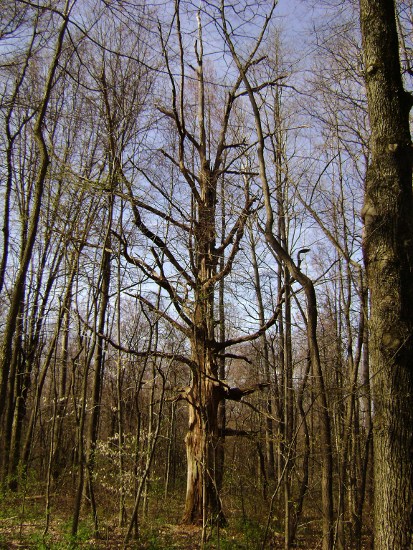 At one point, too, I stopped to take a closer look at some algae growing in the streambed. It always amazes me what awesome patterns life forms…
When you begin to find yourself on a slight climb along a grassy green path you'll know that you're about to exit from the woods (you'll probably already have heard the traffic of Route 14 by now), but before you do this you'll get some of your most pleasant scenes of the day. It really looks like a bird sanctuary in this low-lying area (and it most likely is!). Check out the huge herons nests atop the trees!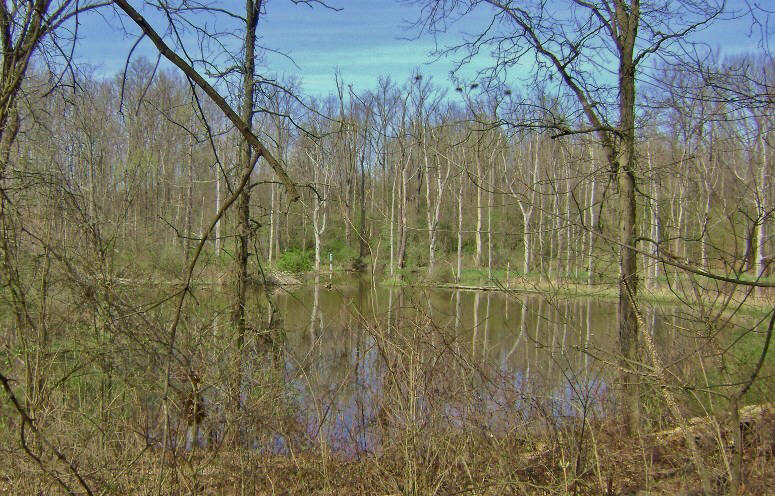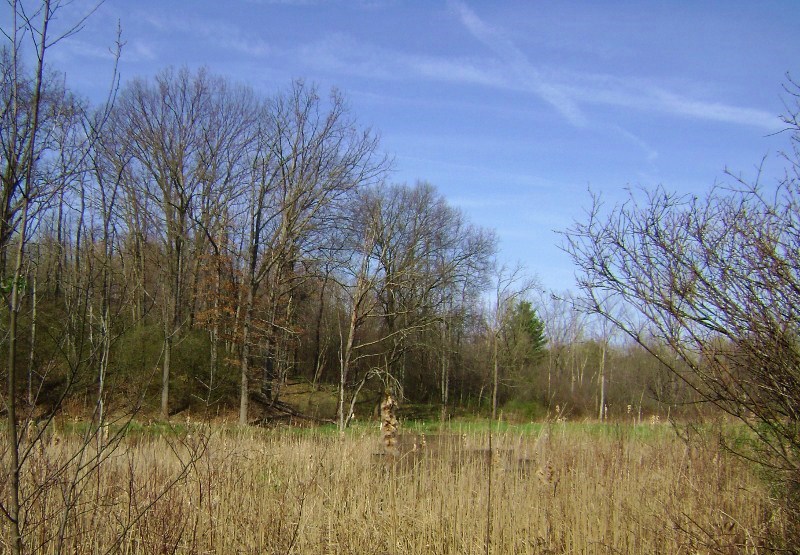 When you emerge onto the road you'll want to take a right and follow it (on the right hand side) back to your car. This road IS well travelled. Please be careful!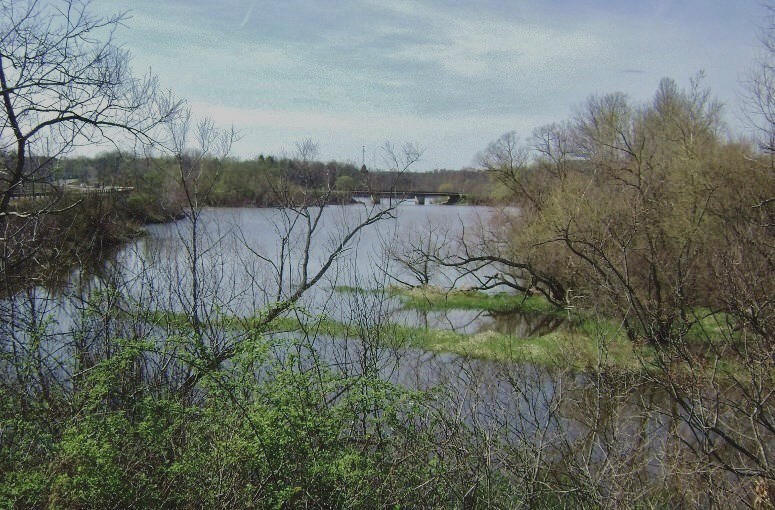 You'll see the scene below as you get near to where you parked. Walk along this road and then you'll see the parking lot on your left after a short walk.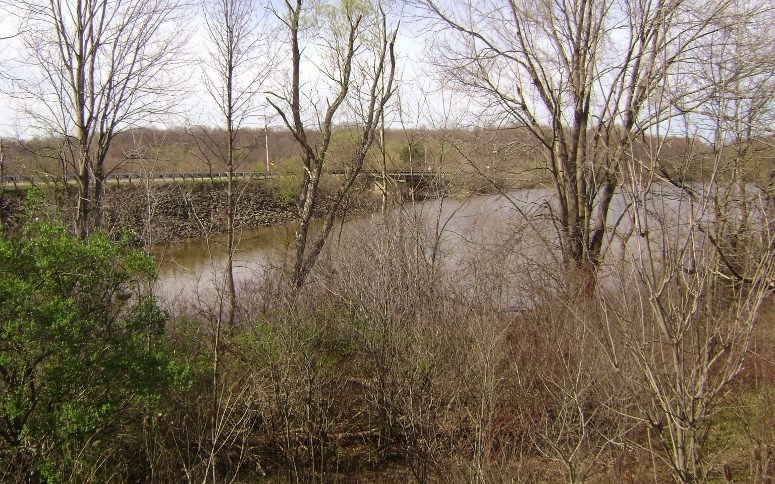 DIRECTIONS:
This nice park is located just southeast of Ravenna, Ohio on Ohio Route 14. I didn't use the main entrance; I simply parked at a boat ramp parking lot just off Route 14. If you're coming from Cleveland what you'll need to do first is get to Ravenna and you can do this two ways – by coming in via 271 South (which turns into Route 14 as it comes into Streetsboro) or by taking exit 187 off Interstate 80 and then heading south toward Streetsboro (which will also put you on Route 14 toward Ravenna).
From Streetsboro you've about another 15 miles to go. Pass Route 5 and start looking for the lake – it'll be on your left if you're coming from this direction. Once you see it, keep a sharp eye out for Knapp Road. This is the one you'll take a left turn on to reach the boat ramp which is only about a football field distant. The path starts by heading