PLACES TO GO ON LAND DESTRESS OUTDOORS HOME PLACES TO GO ON WATER
Hinckley Reservation "Hodgepodge" Hike around the Western Sections
Includes the Hinckley Hills Loop and parts of the Ledge Lake, Wordens Ledges and Hinckley Lake Loops
Wednesday March 15, 2012
http://www.clemetparks.com/visit/index.asp?action=rdetails&reservations_id=1011
Yes, I actually had a plan today, yet my fate as regards my plans has seldom gone according to any script. Today was no exception. If you come out here to roam the back trails you'll want to bring a map, a compass and a really good sense of direction. The map on the website is a good general guide but there are numerous trail intersections out here that aren't on it. It also looks to be completely off when it comes to the interaction between the Wordens Ledges and the Ledge Lake trails and the paths themselves are generally only marked at the beginning and at the ends. Therefore wrong turns are very easy to make. Adding to the confusion are the trail sections that are closed. Please be very careful and very alert!
As for me, my usual forgetfulness and general misfortune added to a comedy of errors today. Since it had been so long since my last hike I did not know where my hiking boots were stored and I was not going to waste precious money buying another new pair. I was stuck with tennis shoes. I also forgot my cap, phone and a towel today, I'd just wasted money buying new batteries for an otherwise faulty dog repeller and the trails themselves turned out to be quite "mucky" from previous rains. No matter – I enjoyed this hike anyway! Guys, there were quite a few really attractive girls out here today (or maybe I shouldn't tell you that) on the paths around the lake later in the day!
Anyway, my intention this day was to travel around the perimeter of the park on a combination of different paths, starting on the westernmost side of the preserve, so I parked in the second lot after the park entrance (full directions below). There's a first parking lot on the left and then there's a second one on the right and it's in between these two that the Bridle Trail begins – also on the right. You'll set off on this path through the pines as you wind around the edges of a field. Today this was a very muddy trail indeed!
Let me state that I never set out to travel on muddy trails. I like to wait until they dry out a little bit so that I don't mess them up any more than is necessary, but if you encounter a situation like this you have no choice as an ethical hiker - you don't want to avoid the mud and therefore spread out the trail any further into the natural environment. You've got to go right through the middle of the muck on the most direct route stepping onto any sticks, rocks and/or roots that are available on the path to assist. But did proceeding in this way ever give my tennis shoes a workout and mud coating!
Anyway, it was also in the midst of this first section that I got my first idea of just how confusing things would be today. What looked like an old path came up from the right with a sign which indicated that the area was closed for natural resource restoration. Well, if the map was correct (and I was still assuming it was at this point) then this was the start of the Hinckley Hills Loop Trail. If it was closed I thought I'd have to mark this section off my list…
Or not… As I left the field behind to enter the woods for good I came upon the first legitimate trail intersection. A sign here indicated that the Hinckley Hills Loop (marked with an olive colored bird silhouette) began by breaking off to the right. The Bridle Trail (marked in yellow) continued straight. Well, I have no idea why I didn't take the right... There must have been a reason but it escapes me now. What I did here was follow the Bridle Trail a short distance to the next "T" intersection (the map appears disproportional here as it seems to make this stretch look a lot longer than it actually is) and from here I followed the Hinckley Hills Loop in the opposite direction. You can do this too if you want – you'll just pass over this short stretch twice – but you will be making the entire 2.5 mile loop as opposed to doing just a part of it as I had originally planned.
You'll actually be linking up with a portion of the Buckeye Trail here by taking a right at this "T" to begin a light ascent up to the top of a ridge. The Buckeye Trail is a 1000+ mile path that travels through Hinckley Preserve as part of its circuit around the state. (Incidentally, you'll note throughout the day that the paths out here are so consistently wide that they'd make for great summer hiking – you wouldn't have to worry so much about brushing into foliage and catching ticks. Not only that, but you're likely to be shaded by the tress with room enough for a nice breeze to cool you off.)
The Buckeye Trail will split off to the left through a clearing at the next intersection. This is also apparently the direction of the Kiwanis Reserved Picnic Area off Kellogg Drive which you'll be able to spot in the distance. Keep to the Hinckley Hill Loop Trail by veering to the right here on the path marked as a Bridle Trail (told you it was confusing!). You'll head through a particularly pleasant stretch of woods now, pass another unmapped Bridle Trail segment (to the right and closed at the time I went through) and come to your next turn. Follow the olive bird sign to the right here onto a dirt path to continue on the loop (if you went straight you'd soon reach the Hinckley Hills Trailhead off Hinckley Hills Road).
Please be careful in this next section though! I, myself, lost the trail here at one point but I did come across a couple very interesting scenes! Crossing a little stream I happened to look down… Tiny bubbles! I was reminded of Don Ho! I thought it was incredibly interesting to see these and I wondered what might have caused them… If anyone could enlighten me I'd be grateful.
I then took a left at the next unmapped Bridle Trail intersection and made an interesting stream crossing…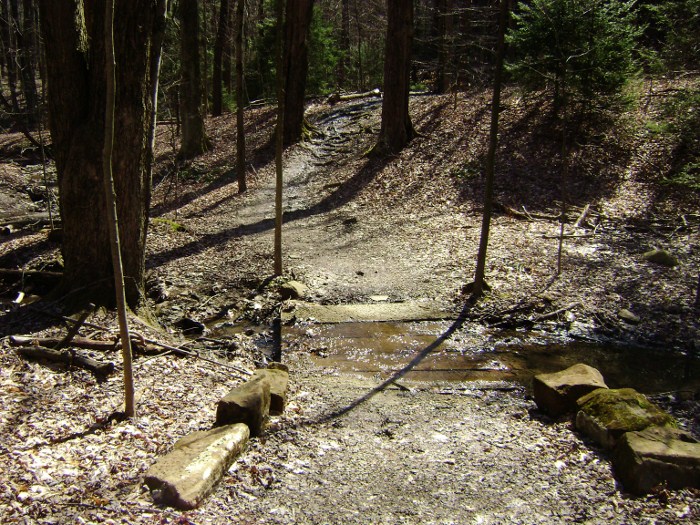 The last part of this Hinckley Hills Loop is completed by taking a left over a couple large rocks at a sign which indicates that no horses are allowed. You'll then soon return to a very familiar spot alongside a large field! You can return to your car if like as you'll have come about 2.5 miles by this point, but to complete this hike take a right and retrace your steps back to the aforementioned "T" intersection and make a left to start a new section.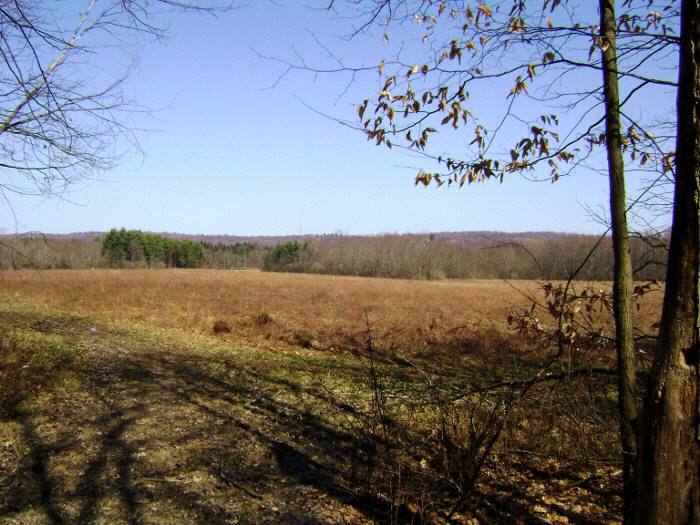 This is the Bridle/Buckeye Trail combo once again, but you'll now be going the opposite direction of what you did earlier. This, again, is a very wide and well-trodden path that takes you along the northern side of a ravine carved out by one of the streams that runs through the preserve and, given that the trail is so wide, this can be a very contemplative section. You can easily afford to take your attention off the trail a bit to engage in this pursuit – but only a bit because you will have to watch out for the occasional horse manure!
At any rate, you'll soon make a stream crossing and then take a right at another "T" intersection. You'll return here later to go in the opposite direction – left – so you'll probably want to keep this in mind. In fact, you're eventually going to retrace all of the steps you're about to make in this next section and return to this same point.
I made the right and sought out the Ledge Lake Loop Trail. It's marked with a squirrel and it quickly breaks off to the right just as the Bridle Trail makes a "hairpin" left. Here you'll begin what will turn out to be your steepest ascent of the day up the opposite (southern) side of the ravine you've just been walking along the northern side of. Here you'll get some pleasant views below…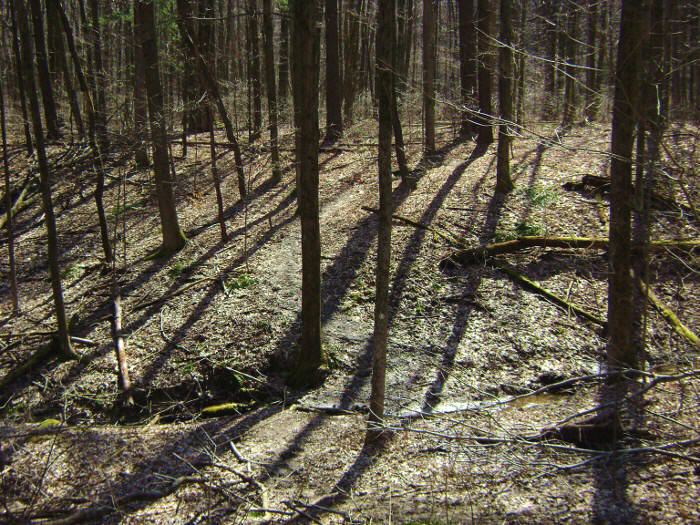 You'll eventually crest out, link up with another unmapped Bridle Trail intersection and then take a right to begin another leg of your ascent. On your left you'll soon notice a very pleasant looking moss covered rock garden accompanied by a white raccoon sign. This is actually the Worden's Ledges Loop Trail which, as per the map, isn't supposed to crop up until much later – on the second half of this Ledge Lake Loop! I figured I'd better go ahead and explore this or – who knows - I might not get another chance!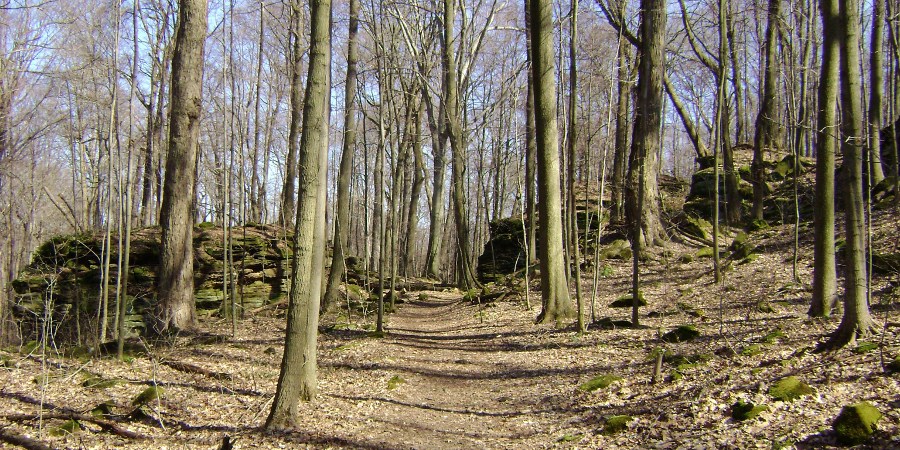 Well I, myself, did not find this to be a loop trail at all. The path seemed to die out at the end and I tried two directions, both of which merely had me blazing a new trail. I was not going to do this. I made it an out-and-back path. You will, however, encounter some incredibly interesting rock carvings here! As per what I've read these were made by a man named Noble Stuart in the 1940's. I was able to spot a sphinx, a schooner ship, Ty Cobb, another face I didn't recognize and an "H. M. Worden" along with what I assumed was a portrait of this person!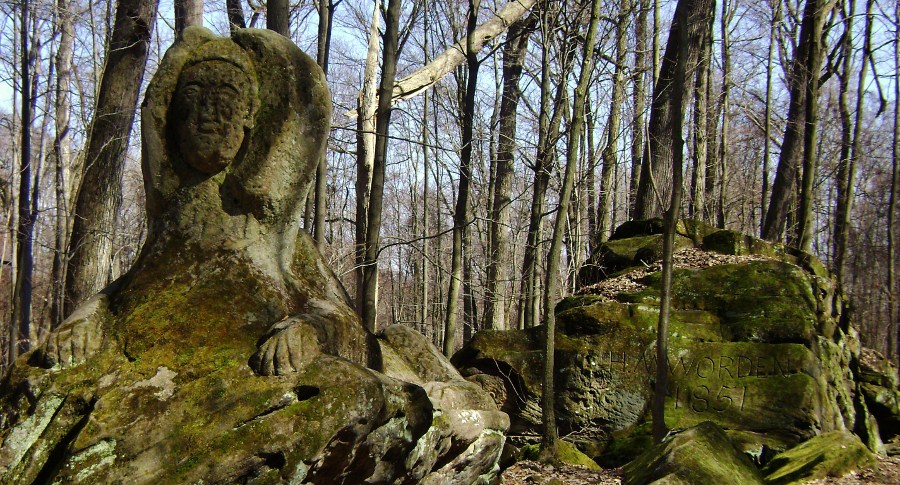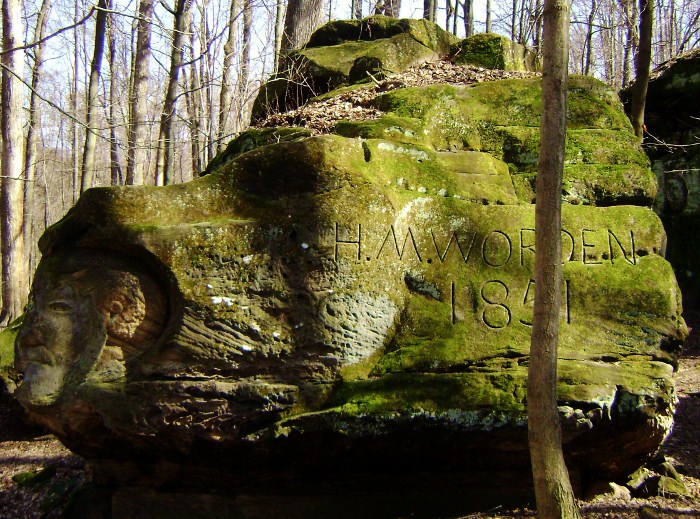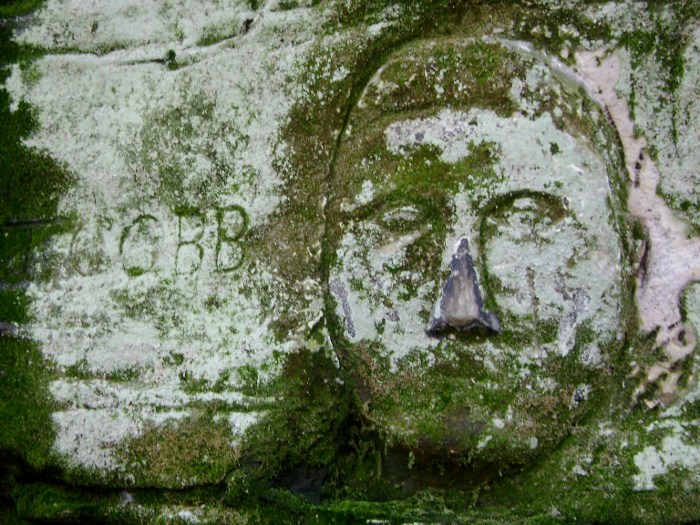 At first I thought that this H. M. Worden was the artist of note but as per a great website I found (http://siris-artinventories.si.edu/ipac20/ipac.jsp?uri=full=3100001~!333602!0#focus) Worden was actually the father of Noble Stuart's wife, Nettie (whose name you will also find carved here). Worden was also the owner of this land and guess who he purchased it from? Yep! Samuel Hinckley – the namesake of this preserve! Stuart must have found these rocks to be the perfect medium upon which to etch the images of some things which impressed him most.
Upon emerging from the Worden Ledges Trail I went left and over a bridge further up the path to continue on the squirrel-marked Ledge Lake Loop. Doing so, I made another little climb and crested out on a ridge top which was relatively free of trees but not of thickets. These were very tall and dense and they provided an interesting contrast to what I'd thus far seen. There was a picnic table here too upon which to rest or have a break for lunch, but afterward the trail very quickly began to descend and I really began to wonder where it might lead me. I'd completely given up on the map at this point and, as if to confirm this, I was to encounter another couple of unmarked trails breaking off to the right before I'd ended my descent.
What I seemed to be doing here was hiking along the form of a backward question mark down and then around an embankment built for Ledge Lake. The question mark ended here. Thus, Ledge Lake Loop Trail - for all appearances - was just plain Ledge Lake Trail. Like Worden Ledges, it appeared to essentially be an out-and-backer and not a loop at all. I was very confused. Anyway, I stopped to enjoy the lake for a while before retracing my steps back up the hill. The lake is quite picturesque but it's also very small and very popular.
When I got back up to the point where I'd gone over the bridge near the Worden Ledges cutoff I tried making a right before heading back down. I was curious to see where this path ended as the indications were that it was part of the Wordens Ledges Loop Trail – the one that had previously seemed to peter out at the end after going past those carvings I mentioned…
In the end I again found myself at the southern edge of the park in a spot that must have been the Worden Ledges Trailhead and there was a great old farmhouse here. Was this the Worden Heritage Homestead? Probably, but the indications were that the trail went right through the back yard and as this house looked like it might have been occupied I headed back downhill. I make it a habit never to tread on private property. I instead went all the way back downhill to that spot I mentioned previously and headed straight toward the lake on the Bridle Trail. It was time for the Hinckley Lake Loop.
I crossed the park road, briefly linked up with the paved all-purpose trail and then made a right onto a dirt path which would eventually take me all the way around - and directly beside - Hinckley Lake. Hinckley is actually a dammed-up portion of the East Branch of the Rocky River and if you, too, decide to follow the trail in this direction you'll first be led back toward the headwaters (or the origin waters of a stream – the direction from which the waters came before they were dammed). These lowlands make for some great picture opportunities as you'll pretty much be walking through a little swamp. This hike really runs the gamut of environments!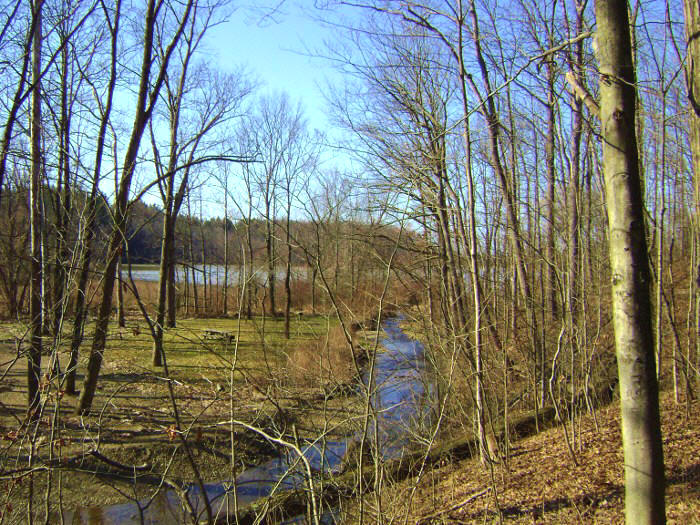 *** Y'know, I've just noticed something interesting… I'm sitting in a Barnes and Noble composing this and I've just now sighted a great poster on the wall depicting an artist's rendering of a scene from Henry David Thoreau's Walden. We share some things in common, Thoreau and I – and you probably do too if you're into nature – but I really feel the comfort of a kindred spirit composing here. I wonder what similarities Walden Pond might share with Hinckley Lake (although I know Thoreau had much more isolation at Walden Pond)? ***
Anyway, at first you'll be overlooking the swamp-like origin waters…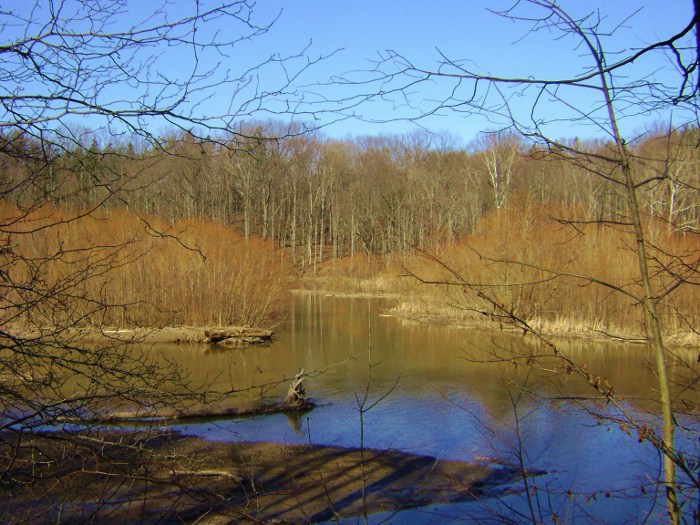 Then you'll be right down in them…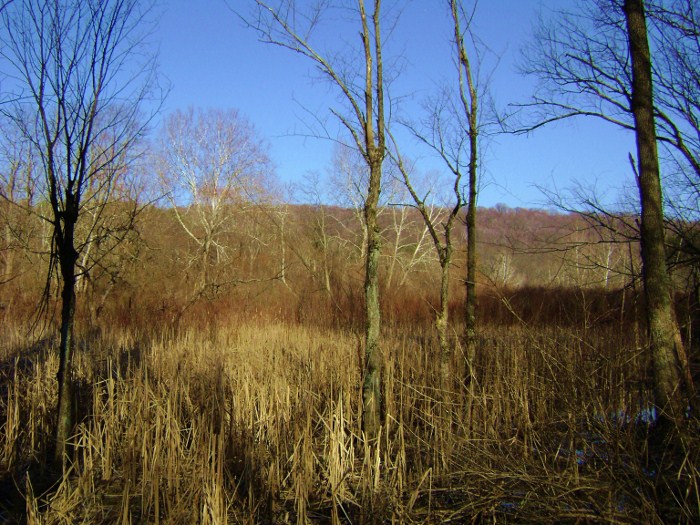 Take a left to briefly link up with the all-purpose trail again, cross over the water and then make another quick left back onto the Hinckley Lake Loop Trail. You'll now be following the shoreline on a pleasant stroll along the northern side – sometimes directly alongside the bank and sometimes on a higher plane – but at one point you'll make a little climb and the path will seem to end. Here you'll have to cross a park road and make a final link-up with the all-purpose trail which will eventually take you back around to your car.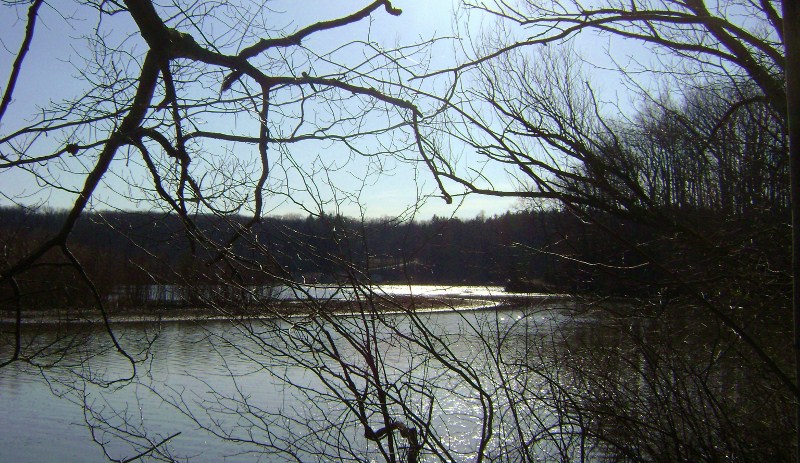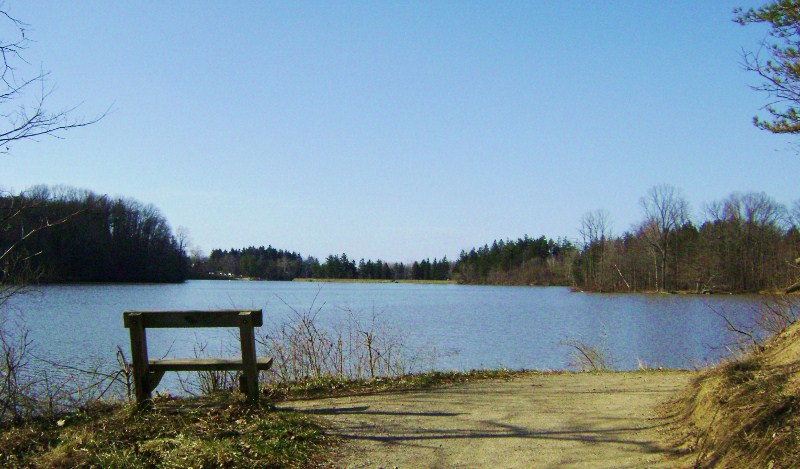 I cut through a large parking lot and went over a bridge over the spillway. You'll recognize this area as the point at which you entered the park. It's a pleasant, fun filled spot complete with a little beach/swimming area - a great place to spend some time with friends or a loved one.
Today turned out to be a very enjoyable day! I look forward to returning sometime to explore the eastern side of this preserve.
DIRECTIONS:
Hinckley Reservation is easily reached via I71 or I77 south of Cleveland of Ohio Route 303. Be careful though! It looks like you can catch 303 right off I77. You cannot! I found this out the hard way. Please see directions below:
FROM I77
Take exit 143 and head west on what is Wheatley Road. Go a little less than a mile to the light for Brecksville Road. Take a right and head go a little over a mile to the stop light for Route 303 (a.k.a. Center Road). You'll take a left and travel about 5 miles – just past State Road – to see a sign for Hinckley Reservation on the right side of the road. Take a left here onto Hinckley Hills Road and go a mile to Bellus Road. Take a left and the park entrance will be just ahead on your right. I parked in the second lot down the road. The trailhead I used today is between the first and second lots on the right.
FROM I71
Take exit 226 (Ohio Route 303) and head East. I didn't come in this way, but you'll go what looks to be about 5 miles – past Ridge Road anyway – to Hinckley Hills Road. Take a right here and go a mile to Bellus Road. Take a left and the park entrance will be just ahead on your right. I parked in the second lot down the road – it's on the right. The trailhead I used today is between the first and second lots on the right.