PLACES TO GO ON LAND DESTRESS OUTDOORS HOME PLACES TO GO ON WATER
Brecksville Reservation
Outer Loop Via Parts of Multiple Trails
Friday, March 17, 2012
Cleveland Metroparks Website: http://www.clemetparks.com/visit/index.asp?action=rdetails&reservations_id=1006
Cuyahoga Valley Scenic Railroad Website: www.CVSR.com
I'm embarrassed to admit that I lived near this park for nearly 3 years and never even knew about it! Of course, this was before I started hiking... Nevertheless, what an opportunity I missed! This preserve is a great resource and well worth your time to visit. There are trail options for every taste and fitness level with only one drawback – a general lack of solitude. You'll never be far from civilization and there are several road crossings on this hike, but if this doesn't bother you then you're in luck!
This hike will give you a nice overview of what the reservation has to offer as it takes you on parts of many different trails on a long lollipop loop around the perimeter of the park. You'll start out from the old railroad depot at the Station Road Bridge on part of the Buckeye Trail (one which loops around the entire state). You'll then meet up with a part of the Salamander Loop, travel most of the Deer Lick Cave Loop, traverse good portions of the short Wildflower and Prairie Loops and then explore about half of the Hemlock Loop (I'd also have incorporated the Chippewa Creek Loop but it was washed out today). You'll finally return on the main bridle trail back to your car.
What a place this loop starts from! There's an old railroad station (Brecksville Station) and bridge (Station Road Bridge) that goes over the Cuyahoga River at the spot and both make for really picturesque scenes. According to the placards placed here the station is not an original, but is rather one built from similar specs. You could have fooled me! It sure looks original!
Meanwhile, the Cuyahoga Valley Scenic Railroad (see above website) runs from here and they offer many options if you want to take a step back in time and ride on the train. They even have special wine and beer tasting rides and Thomas the Train rides for the kids!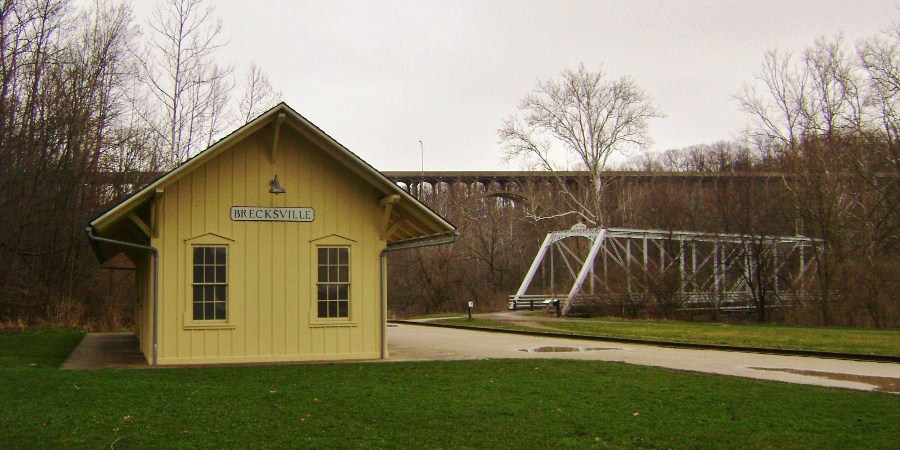 The Station Road Bridge, however, is original. In fact, after being used for more than 100 years it was eventually retired in 1992 but at that time it was treated with what bordered on reverence. Apparently disassembled, it was then shipped to New York, completely restored and then returned and re-assembled right here upon the original spot!!! Now that's dedication! Incidentally, part of the 1400 mile Buckeye Trail actually goes over this bridge on its way up to Mentor Headlands.
To begin the day, I first headed back toward the reservation alongside the same road I'd just driven in on (Chippewa Creek – see full directions below). There's a bridle path here that runs along the left side of the road while a multi-purpose paved trail runs on the right. I started out on the multi-purpose trail (the bridle trail was really washed out today) but before I got back to Riverview Road I crossed over to the left side. Here the path was a little ambiguous as there were two well-trodden passages which split. One went left and, as per the map, it had me heading directly toward a stream (Chippewa Creek) where I was to then cross over and make an almost 90 degree turn to follow the path across Riverview Road.
I couldn't do this though. The river was too high, so I came back and followed the path that had veered to the right. This one passed almost diagonally straight through the area and I instead crossed over the aforementioned stream directly on the road. You're now at a point on Chippewa Creek just before it meets up with the Cuyahoga River and you'll be following the blue-blazed path as it heads upstream alongside the Chippewa on the steams left side.
The path starts low, but you'll soon begin to break off to the left to begin a climb up through the pines. Ahead of you lies what they call the "My Mountain Scenic Overlook" and a spur path will lead you to it after you've reached the top of the ridge if you want to check it out – just take the right. I found there to be some nice, although limited, vistas from here but I think I was even more taken with the character of the trail leading up to the overlook!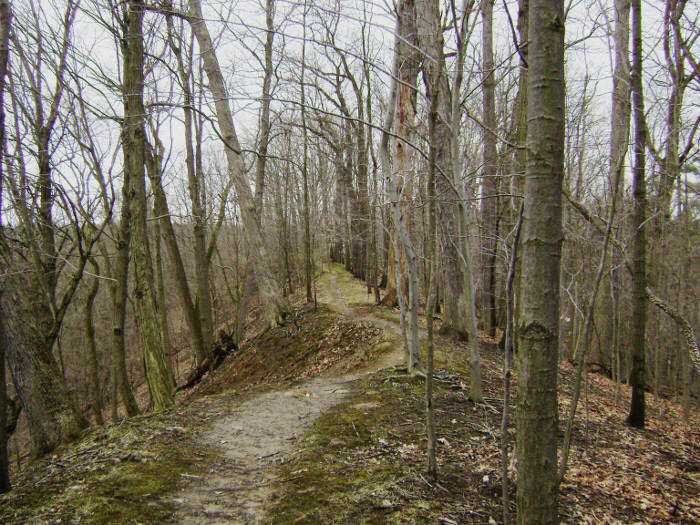 Upon your return to the main trail you'll continue to follow the blue blazes and at one point you'll reach an intersection. Take a left here. If you turned right you'd be led back downhill to the road – which is OK if you'd like a shorter hike.
The intersection afterwards was a bit more confusing for me today. I didn't see it on the map. The blue blazes will have you making a right here but it looks like if you took a left you'd be making a stroll along another ridge top. I didn't see any markings on this apparent spur trail so I guessed that it might be one of those that's been blazed by curious people. After all, you're generally apt to get some pretty nice views from ridge tops – especially if you've got deep ravines on either side and the ridge top seems to be coming to an end. That was the case here.
Anyway, the Salamander Loop Trail intersection comes next but this area was quite a bit boggy today and by this time my socks were almost soaked clean through! I followed this path a little way to get a feel for it and then came back – it's a woodsy stroll on a wide path.
Meanwhile, if you continue to follow the blue blazes back on the Buckeye Trail you'll soon cross a multi-purpose trail and then a road – the Valley Parkway. It's on the other side of this parkway where the Buckeye Trail seems to merge with the Deer Lick Cave Loop Trail for a time. The Deer Lick Cave Trail is one marked with a brown tree leaf, but at this point I'd keep following the blue markers. These will have you making a left after you cross the road and then you'll be following the parkway quite closely on the right (with one nice little interlude where you'll arc to the left around the side of a fairly deep ravine) until you reach the namesake of the trail – the Deer Lick Cave.
First, however, I should also point out that there's an interesting placard for the Buckeye Trail along this stretch... Apparently founded in 1959, the Buckeye is – as mentioned - a 1400 mile loop around the entire state, but it's not all loop! In fact, according to this placard it looks as though the placard marks the spot where the trail actually splits – one direction heads west to continue the loop while the other leads north up toward Mentor Headlands to end on the shores of Lake Erie.
Anyway, the area around the cave was one of my favorite parts of the hike today as the area is quite remarkable. In fact, it reminded me a lot of my hikes in Kentucky with all the moss covered limestone there and I became a bit nostalgic. I realize now how much I miss Kentucky, yet I know there will be plenty of great things to see in Ohio too! Anyway, check these out! It's really something to see (if you haven't already)!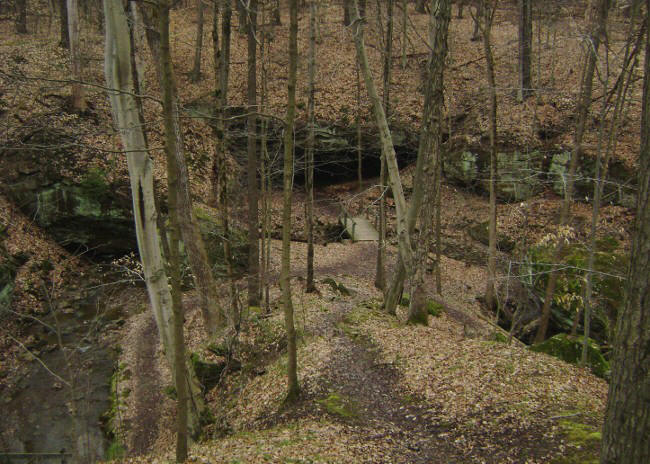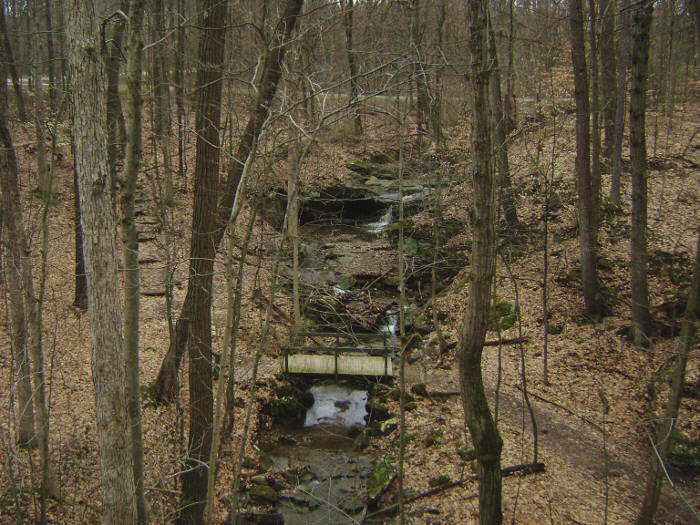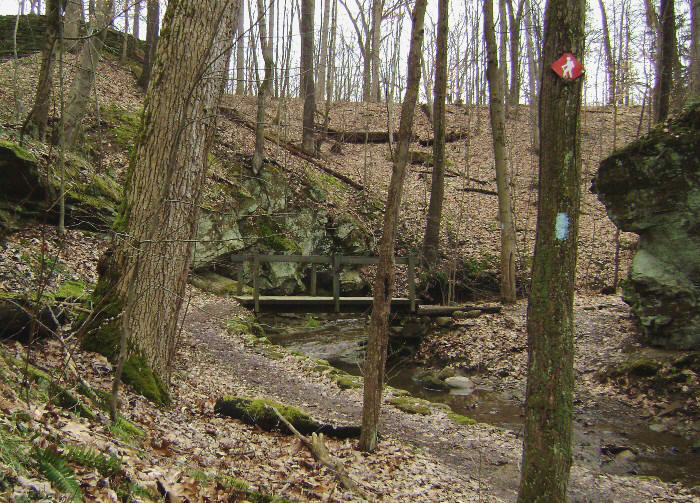 As you might be able to tell, this was one very tough area to leave! I lingered for quite a while not wanting to tear myself away.
When I was finally able to, however, I followed the path across another road – Meadows Drive in this case – and it's here that you'll finally part ways with the Buckeye Trail. You've been on it ever since the parking lot! It'll continue straight ahead while you'll turn right to continue on the trail marked by the brown leaf – the Deer Lick Cave Loop. In fact, this is a combo Deer Lick/Bridle Trail at this point and you're apt to see some horses – as I did - but you'll want to watch your step…
This section is pretty wide and it must have been an old road at one time. It'll have you curving alongside a golf course before it dips you down into the first of two little ravines, at which point you'll cross the streams which formed them on a couple nice wooden bridges. I liked how the road twisted its way through here…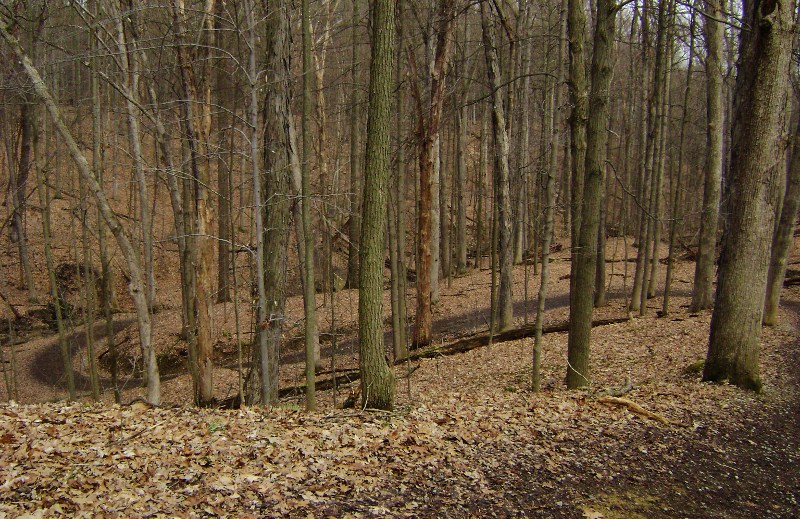 Wait… Do you ever have a song in your head that you can't get rid of? Hopefully it's a good song and not one that drives you crazy, but I had Boys Like Girls' "Hero/Heroine" in my head all day today! It's a really good, catchy tune though! I'd actually sworn this band off for a time because their name struck me as being so darned goofy, but they finally broke me down. They're quite good!
Anyway, cross another road (Meadows Drive again) and then continue to follow the signs for the combination Deer Lick/Bridle Path. This is a well-marked trail section, but you'll want to go left to follow the road for a short time before you re-enter the woods to then curve down into and back out of another ravine. As you do you may see a trail break off to the right. This is another section of the bridle trail according to the map. Keep left.
Meanwhile, there was a coyote sign along the road which was interesting. Apparently they've been spotted out here but they're generally passive. The sign indicates that if one does approach you the best thing to do is to walk away slowly while keeping the gaze of the animal. Then, if you keep yourself looking as large as possible it's also supposed to help. Out of concern for your safety here's the sign…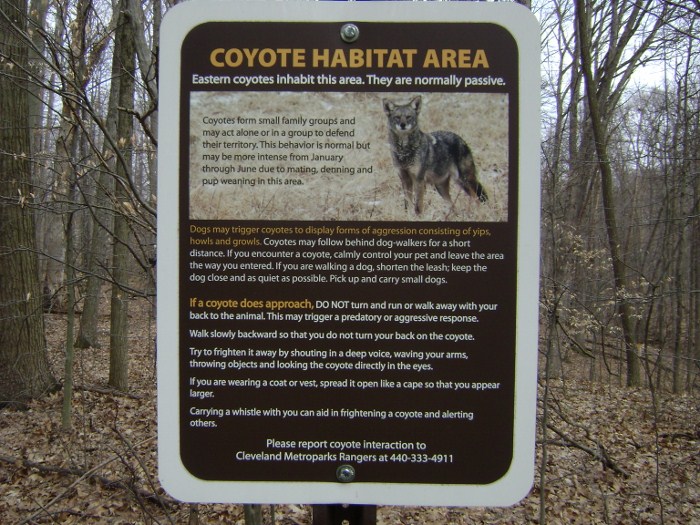 When you emerge on the far side of the ravine you'll be alongside a clearing and you may spot, as I did, what looks like a little Christmas tree – complete with some ornaments! This is all a nice contemplative stretch, by the way – simply a nice, pleasant, woodsy stroll.
Dip down into yet another ravine now which actually looks like it's been carved out by a few little streams. You'll span 3 bridges before you come out…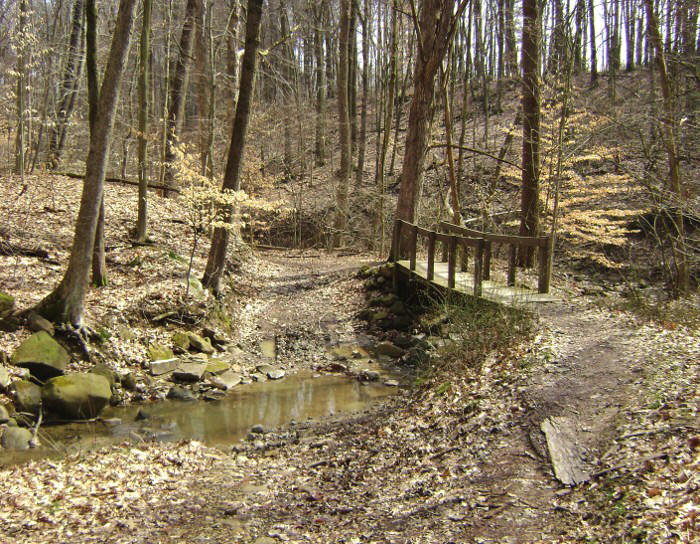 …and upon emerging you'll be near the Meadows Picnic Area. You'll probably want to be careful in here as the Bridle Path will cut off at a couple points - first to the left and then to the right. I'd continue to follow the brown leaf markings for the Deer Lick Cave Loop, but today I thought the second Bridle Trail turnoff (the second) looked more interesting as it led in an arc around a little field instead of going right through the picnic area.
Well, what I only wound up doing was getting my feet even soggier but there were some interesting algae's in this field…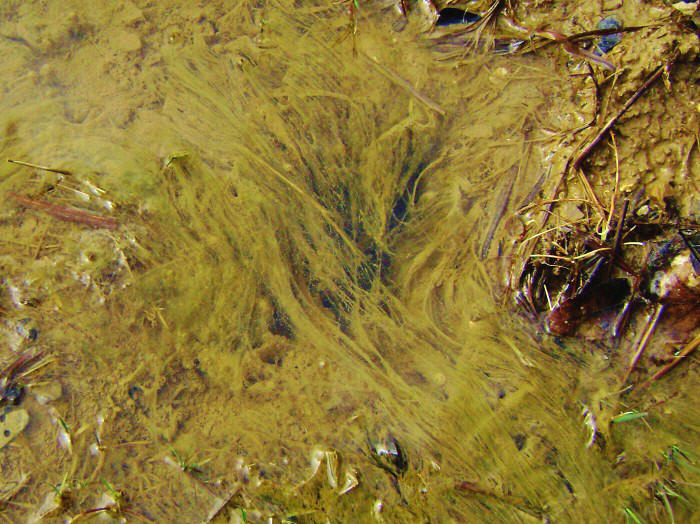 Meanwhile, back at the Deer Lick Loop things started to get a little confusing. You've got about 4 different trails intertwining in here and I found that Deer Lick had now merged with the Hemlock Loop, one marked to look like a blue Christmas tree! I followed this combo for a very short time right down a flight of steps. That was it! At the bottom of the steps I took a left to now to travel along the Wildflower Loop Trail and y'know what? It took me right back up another flight of steps! The Wildflower Loop Trail is a very short one (.75 mile) which is marked with what looks like a flower – a powder puff blue flower.
Are these steps ever interesting though! There are 3 flights of them that curve down to converge in the middle - and in the middle there seem to be about 10 trail markers! Again, I followed the powder puff blue ones. You'll want to follow this Wildflower Loop a short way. It's well marked with the possible exception of the first intersection – keep right through the woods. You'll soon reach the Harriett Keeler Memorial which comes up in the middle of a circle of pine trees. (I didn't see too many flowers on this Wildflower Trail this day, by the way, but it was still early in the year.)
The path takes you right through the Keeler Memorial and it's really pretty interesting. This Ms./Mrs. Keeler was clearly very well thought of, indeed! She was apparently a teacher and author and there are at least two memorial markers dedicated to her memory here – one on a stone slab in the middle of the circle, complete with a steel placard and another etched in a rock on the north side of the circle.
Also of interest on the eastern side of this circle of pines is a cleared out, grassy area which is apparently a Monarch Butterfly way-station! It's supposedly a "stepping stone" for these beautiful creatures as they make their journey from Canada to the central mountains of Mexico!
As mentioned, I basically passed right through the middle of the circle to follow a combination Prairie Loop Trail/Hemlock Loop Trail across the same road I came in on – Chippewa Road (this was at a point very near to where I originally come into the park off route 82). In so doing I passed the second Keeler memorial along with a couple other interesting mill stones by the side of the road.
Cross the road now and follow those blue Christmas tree markings. You'll make an immediate left onto the multi-purpose trail and then a near-immediate right to descend toward a nice rustic park shelter. Check out the views below! This is the Chippewa Creek Gorge scenic overlook! Another spot that's very hard to pull away from, you're apt to really be captivated by the beauty of this scene.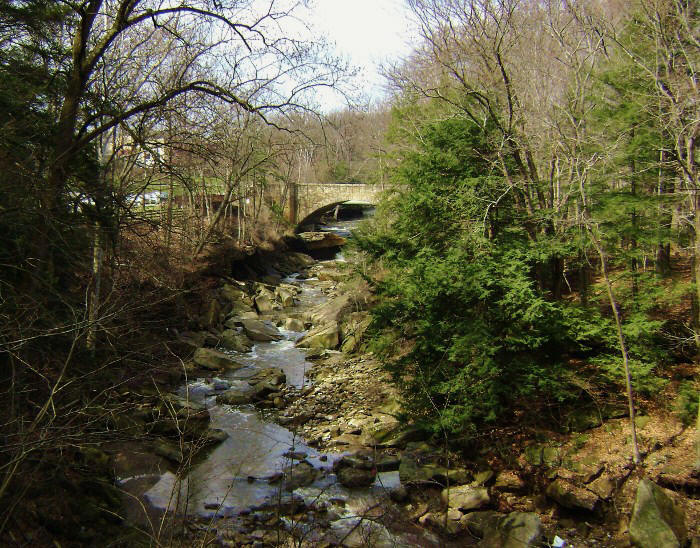 Once you break away head to the right. You'll now be following the trail high above the Chippewa Creek as it heads downstream and I found it interesting to remember that I'd started out quite a while ago by following this creek upstream from near the point where it emptied out into the Cuyahoga River – remember? You've just about come full circle. From here on you'll be travelling back toward that very spot – with the beautiful Chippewa Creek as a companion!
Near the point where you'll see the – and let me clarify this – the Harriett Keeler Picnic Area (not the memorial) the path will seem to split. Veer right. I believe this is another spot where curious hikers might have sought unmapped vistas, and in so doing tromped out a new trail.
Soon you'll begin to descend. You do want to thank the river for the beautiful vistas it's been offering you - don't you? (He asks with a smile.) At the bottom, after you cross a foot bridge, you'll meet the Chippewa Creek Loop Trail. I headed to the left here intending to loop around on this, but I soon discovered the trail to be washed out. I didn't really fancy a swim/wade across so I backtracked to the spot where I'd started and continued on the Hemlock Loop.
It'll have you crossing a couple bridges, one of which is one of those interesting cable suspension bridges and from here you'll get some great views too…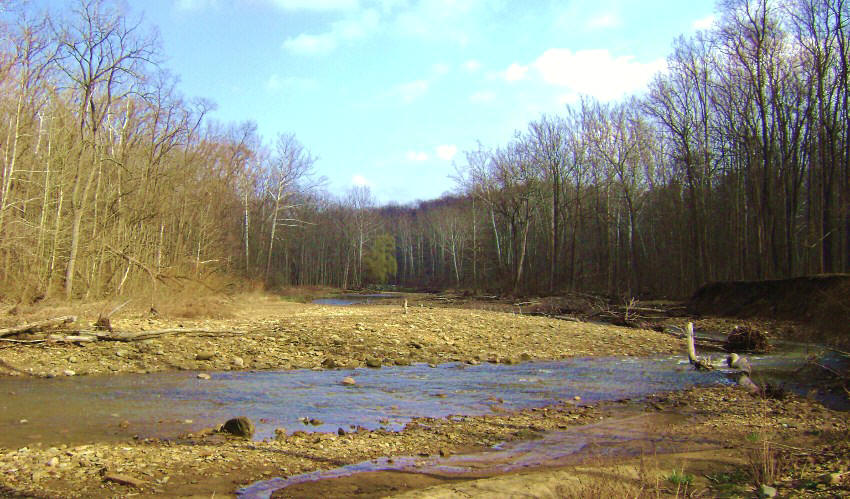 As you keep going you'll soon find yourself linking back up with the multi-purpose trail at a point near the Chippewa Picnic Area and here you could try to get too fancy (like I did) or you can simply follow the multi-purpose path to the left and all the way back to your car in the Station Road Bridge lot. That might be better... My intention was to follow the Bridle Trail back from here but I found it to merely be confusing.
Either way, there's a very pleasant spot on the multi-purpose trail where Chippewa Creek Road crosses the creek. I spotted some people enjoying the water here. It's a great spot, and for the remainder of the hike today I spent my time paying respects to (and taking pictures of) the creek which had been such great company today!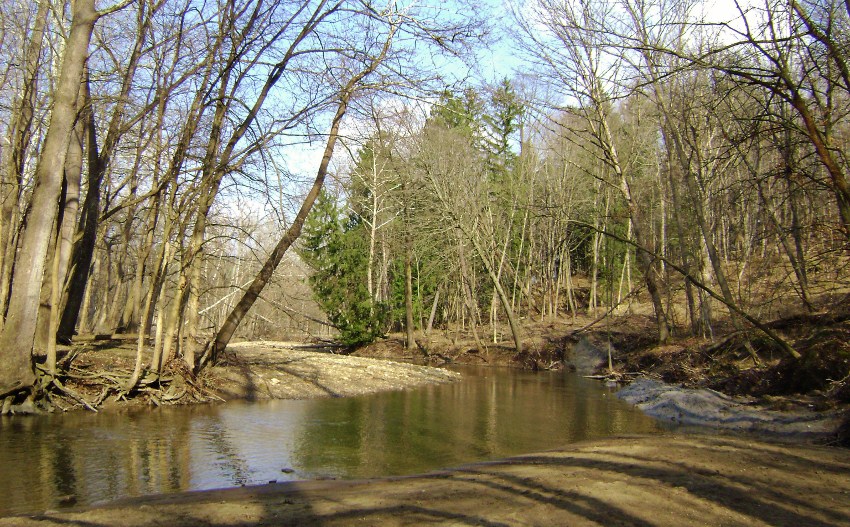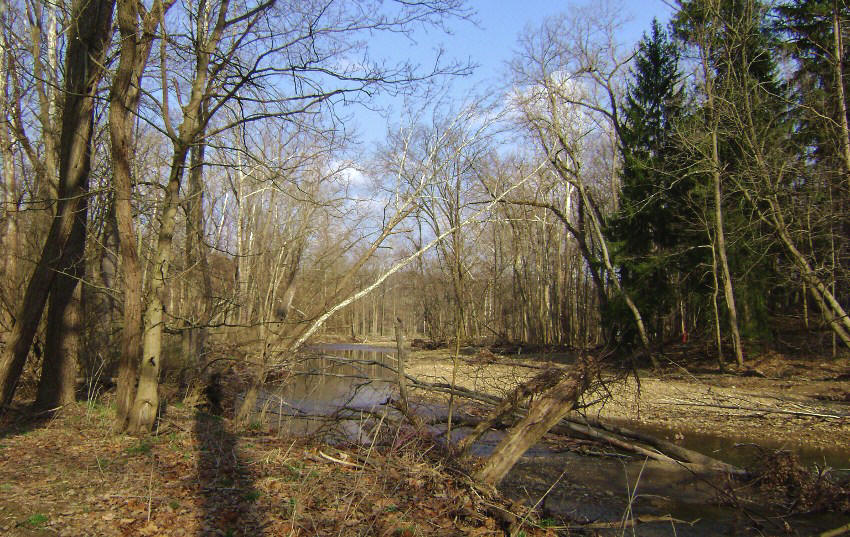 DIRECTIONS:
Super easy. Just take the Brecksville exit (Ohio Route 82) off of I77 south of Cleveland. Head east, cross Ohio Route 21 in downtown Brecksville and go just past the shopping center on the right. Brecksville Reservation is the next right turn (Chippewa Creek Drive). Head straight and go about 2 miles until the road dead-ends at the parking lot. You'll see the railroad depot. The trail starts on the paved multi-purpose trail.