PLACES TO GO ON LAND DESTRESS OUTDOORS HOME PLACES TO GO ON WATER
Beaver Creek State Park
Vondergreen Trail/Dogwood Trail Combo
Friday, March 23, 2012
Ohio Department of Natural Resources website: http://www.dnr.state.oh.us/tabid/714/Default.aspx
National State Park website: http://www.stateparks.com/beaver_creek_sp.html
Friends of Beaver Creek website: http://friendsofbeavercreekstatepark.org/mill.html
For Incredible pictures of the area: http://www.sandybeaver.com
In a word, spectacular – in every way! This park has 12 miles of hiking trails which run the gamut of terrains, a beautiful river which would be ideal for a canoe or kayak float trip and a multitude of pioneer history to include an entire pioneer village! On this combo hike I also went by the remnants of no fewer than 5 old locks and at least a couple old grist mills and I took more than 400 pictures on the day – more than I've ever taken on any one excursion!
One thing though – just like the Hinckley Reservation this is another park where it's pretty easy to get lost on the back trails because the horse paths are not on the park map. I also found that the trail markings themselves added to some confusion. While the Dogwood Trail was very well marked with white blazes, the Vondergreen Trail didn't seem to be consistently blazed with one color. Near as I could figure, this path was meant to be a trail marked with a blue/white combo of blazes but these markers at points seemed to be washed out, confusing or both. I lost the trail once following blue marks and once following white marks. (in Ohio Blue marks almost - but not quite always - seem to denote the Buckeye Trail, one which goes around the entire state).
Anyway, three things are certain if you want to make this hike and you're not really familiar with this park:
1. Don't follow the yellow/orange blazes unless you really want to get lost or you really want to go for a swim - these are horse paths that cross the river at least a 3 times that I noticed.
2. Keep alongside the river (except once that I'll mention at the 4th lock – Vondergreen Lock) and you should be OK.
3. BE CAREFUL! There are some drop-offs…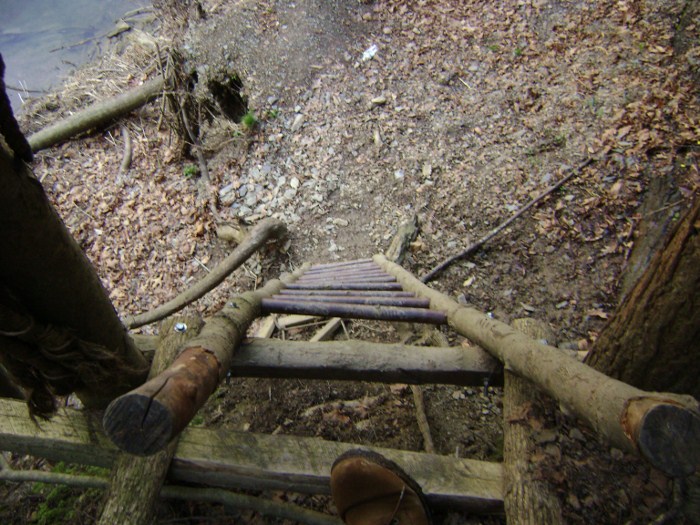 I started today at about 11 and returned a little after 5 so, given that my hiking rate is roughly 1.5 miles an hour; this is about a 10 mile hike. Please plan accordingly, but are you ever in for a treat! (You can also, if you want, just take the Vondergreen Trail out and back to make this a shorter trip.)
As previously mentioned, you'll begin on Vondergreen by heading upriver along the right (northern) side of the Little Beaver Creek. Back before the railroads (and highways, for that matter) goods were predominantly hauled on the water and this creek was actually dammed and locked to be part of a canal – the Sandy and Beaver Canal. You'll see remnants of it all over the place as you walk alongside the creek! Back in the mid-1800's (according to the park handout) this area was known as the pottery capital of the U.S. for its' rich clay deposits. The canal was built to assist in delivering these wares.
As you start out there will be a couple paths that will merge with you from the right. Don't worry about them – they simply come in from other campground locations above. Keep heading straight as you enjoy the sights and sounds of the river and its little riffles, but I had a familiar thought come to me here (as might you) - "I'd love to kayak this!" It's the same thought I've had a lot, but particularly on one of my other favorite spring hikes along the Big South Fork in southern Kentucky. In fact, this Vondergreen Trail would come to strike me as being VERY similar to a section of the Sheltowee Trace northbound from Cumberland Falls (the Dog Slaughter Falls section) and the Dogwood Trail I'd follow later would come to remind me a great deal of the Blue Bend Loop, a section of the Sheltowee southbound from Cumberland Falls.
Anyway, you'll soon reach a spot where the river curves around to the left and it'll split here to form a slender little island…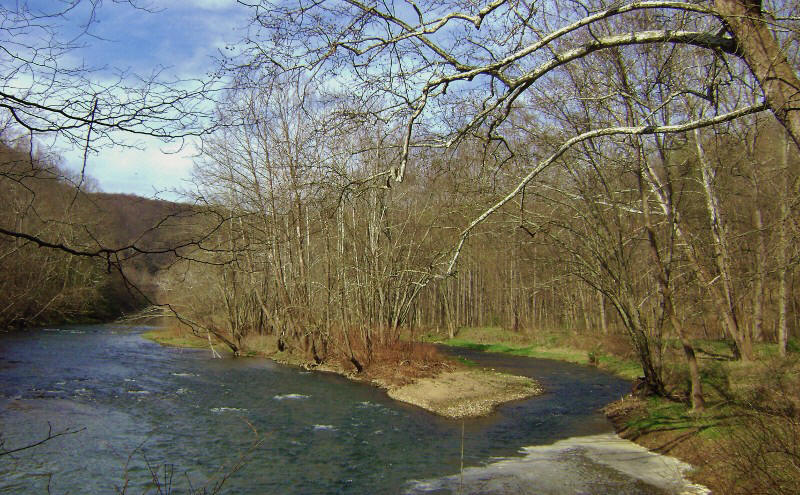 Then, once you've made the left arc and straightened out for a while you'll reach a very confusing intersection of many paths. A couple of these go left toward the water, a few more meander more or less straight through the trees and one turns right and begins to head uphill. Meanwhile, Gretchen's Lock - the first of the 5 you'll encounter today - is off to your left at this point and you'll see a placard. This placard is so sad that it's likely to bring tears to your eyes and I'm reminded that as lousy as this life can be it can always be worse!
You see, Gretchen was the daughter of the chief lock engineer, a man named Edward H. Gill. Gill sailed from Ireland with his wife and infant daughter, Gretchen, in 1827 to help build the canal. Well, according to this placard his wife died on the way and was buried at sea. Then, 10 years later, Gretchen died of malaria during her father's tenure working here and he had her temporarily buried within this loch until he could return to Ireland with her remains. His ship then sank on the way back and all were lost!
A more gut-wrenching tale I've not heard and it troubles me to no end. I, like many others, wonder why such horrible fates have to befall some while others seem to cruise right through life. I guess we just have to trust that it's part of some plan that will be revealed in the afterlife. In the meantime I, personally, just try to live my life as best (and respectfully) as I can while hoping for the best.
You'll want to stay alongside the water here, keeping the lock just to your left while you go up and around it. Don't do what I did! I originally thought that I was supposed to follow the blue blazes today (as that's how the trail started out) but these markings merely had me trudging up a steep hill and at the top I got a bit confused... "This certainly isn't right!" I thought. "I'm supposed to be much closer to the river."
Sooo… I headed back downhill toward the water on a horse path and turned right to link back up with Vondergreen. (I later surmised that I was following a path which led up to "Pretty Boy" Floyd area of the park. Floyd was a Depression Era gangster who once held out, and was then tracked down and killed in this area - as mentioned, there's a TON of interesting history out here!)
Anyway, if (unlike me) you actually did this correctly and kept travelling right beside the water you'd have made a right curve – and y'know what? In attempting to best describe the contours of this stream from here I've just made a discovery... If you turn the park map to align with the way that you originally started out from the parking lot you'll find that the contours form a facial profile (at least in the case of the Vondergreen Trail)! Thus, when you make this right curve you'll actually be rounding the tip of the bottom lip and entering the mouth of this face!
It's also at about this point that one of the orange/yellow colored horse trails will cross over the water, but after this you'll be in the midst of a left curve into and out of the "mouth" of the face. Of note on the way in: You're passing through a very pleasant green area of pines trees, ferns and moss-covered rocks but BE CAREFUL! The aforementioned drop-off will occur here and you'll have to carefully descend the ladder below...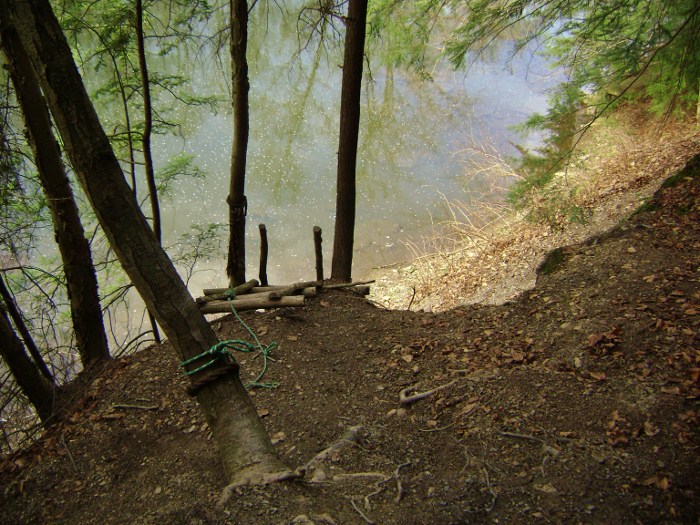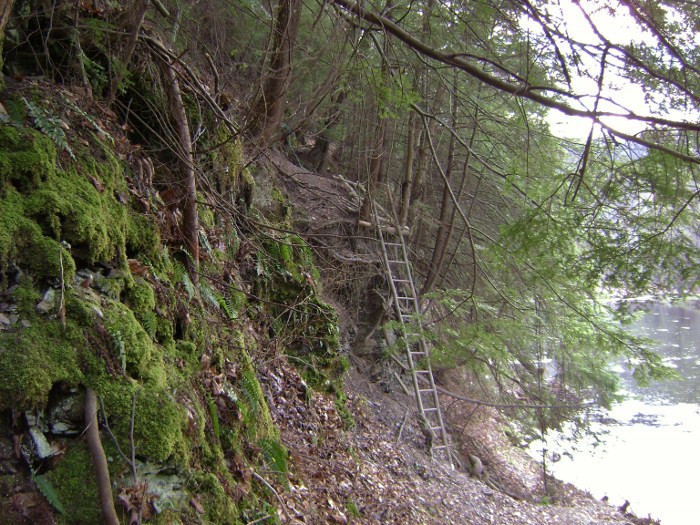 After this you'll pass along an outstanding section of crumbling rock wall before arriving down at the waters' edge. Kindly note here, too, that the second picture below contains a scene you might want to remember on your return trip lest you have the trail taper out on you like I did. When this image meets your eyes you'll want to climb back up to the rock wall over the "U" shaped bottom of that tree just to the left of center in the picture…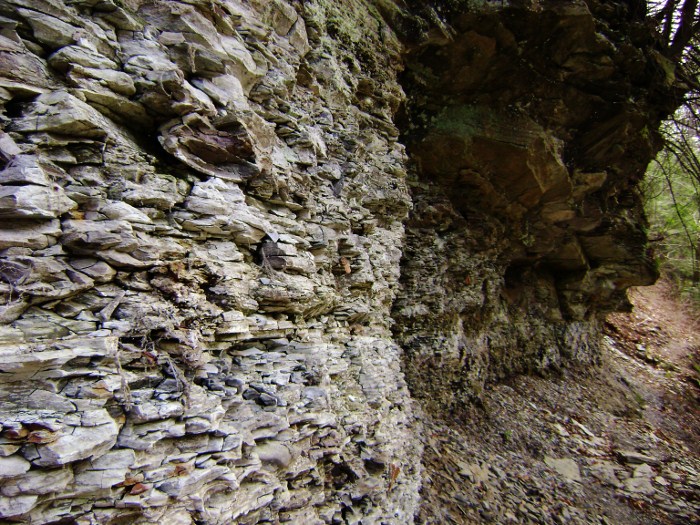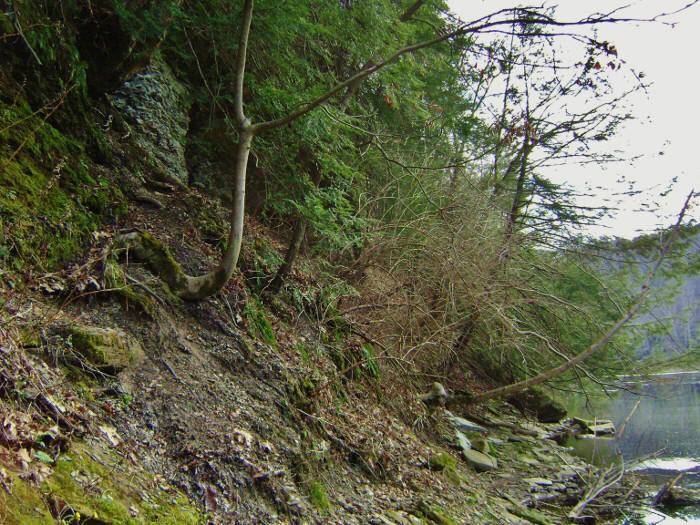 Of note in the middle of the "mouth" curve: The trail leads so close to the stream that a beaver dam construction area actually blocked the path for me at one point today (this is, after all, the Beaver Creek!!). I first went up, lost the trail, and then went almost right down on the water to cross over a combination of shore rocks and dam to emerge back on the trail (the thought of these funny rodents wreaking havoc like little gremlins in the night really cracks me up for some reason!).
Of note on the way out of the "mouth": A lot, actually! First come the locks... Two of them appear in rapid succession at the point of another island in the middle of the stream. Note in the pictures below how low the first lock is compared to the second! This second one is almost completely above ground and intact!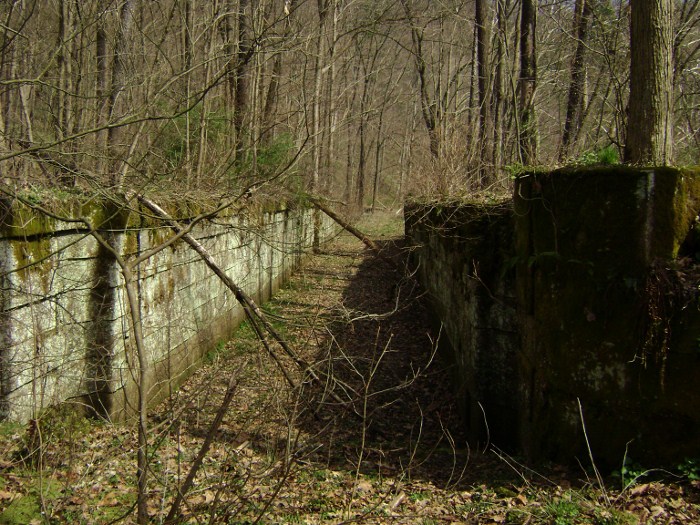 Then, after these, there's another horse path that crosses the water before the trail leads you alongside what appears to be an old grist mill…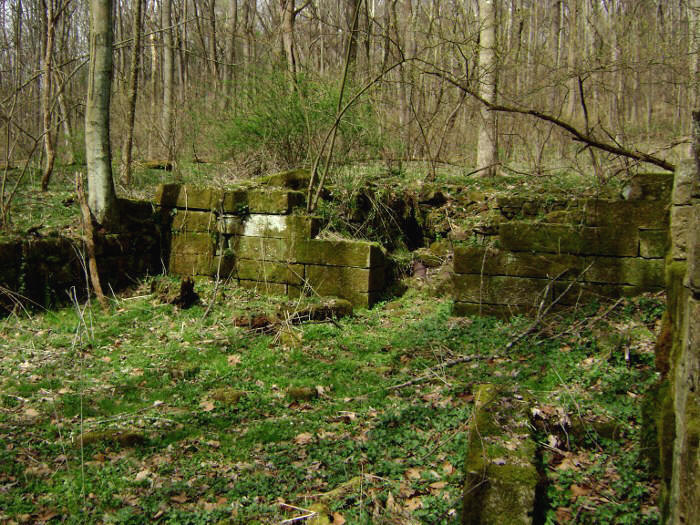 Finally, travelling atop a little ridge in the landscape (a ridge which might once have separated the river from the canal), you'll reach yet another (third) lock at the tip of the upper lip in the "mouth". This is Vondergreen's Lock, namesake of the trail and the aforementioned tragedy-plagued chief engineer of the old canal system). This is another very well preserved structure!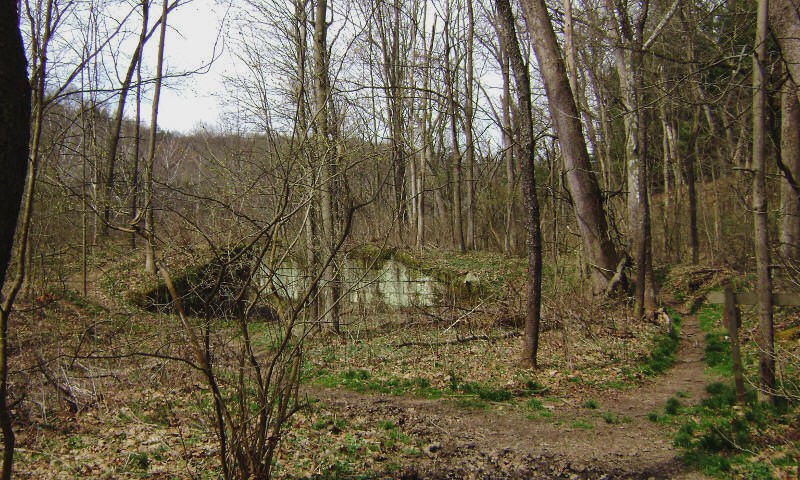 Meanwhile, this is another point where you'll encounter a very confusing multi-trail intersection. One path goes to the left of the lock and another goes right through the middle. These are horse paths. Veer right around the right side of the lock, avoiding the very next right which would take you up a couple flights of stairs on a blue-marked trail. Confusingly, a sign here points you toward Gretchen's Lock – a point you've already passed. I guess there's another way to go that I must have missed – or could it be that this path links up with the one which led to my earlier uphill mistake? If so, it could be an alternate trail to take in case the lower path is washed out. Either that, or it could be a part of the Buckeye Trail not on the park map.
On to the "upper lip" and then the "nose" of our facial silhouette… At the little indentation between the two you'll cross paths again with the blue-marked Buckeye Trail as it cuts off to the right and heads uphill. Here you'll continue straight and cross over a bridge before meeting up with yet another trail intersection. This is where the Upper Vondergreen Path comes down from below. I followed it on the way back, but for now I kept left to follow the stream. (You'll notice in this section that the path sweeps a little further inland than usual as you curve around the "nose". You'll also pass what looked to me like another old grist mill.)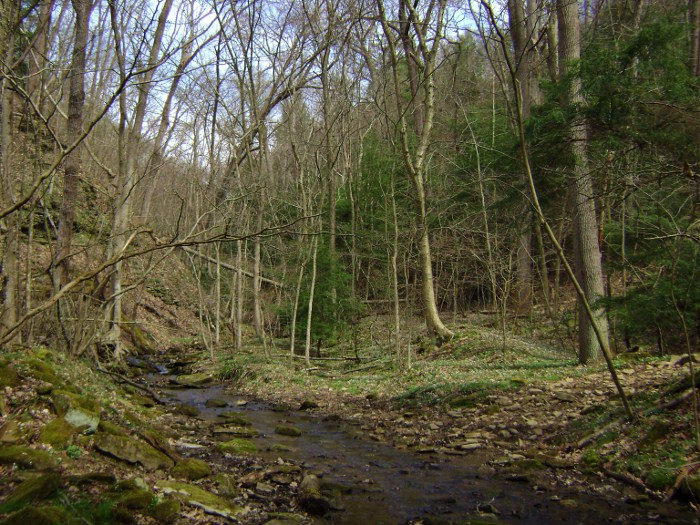 Anyway, at the crown of the nose you'll encounter your last lock (at least this was the last one I noticed today – there were supposedly 90 built on this river!). This is Lusk's Lock and a placard here gives you a nice picture of what the canal system used to look like...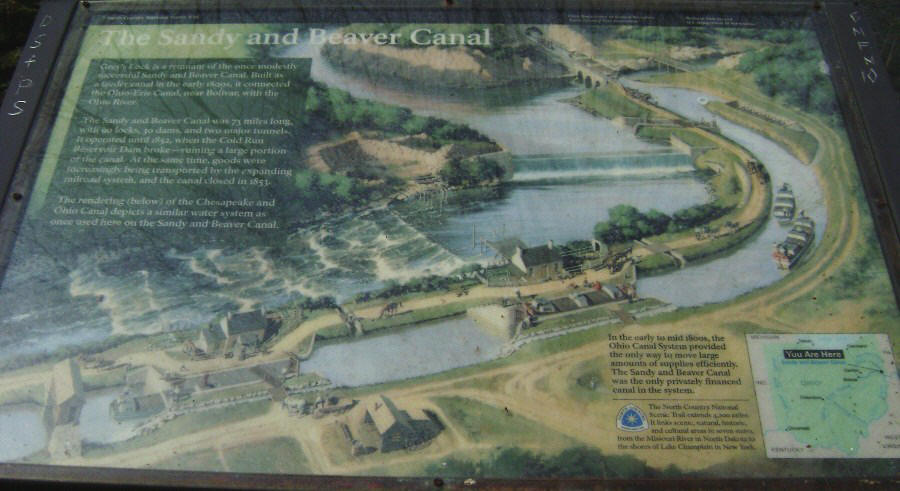 At any rate, the last section of the Lower Vondergreen will take you through the "eye socket" and then the "forehead" of the face to deposit you at a bridge over the water for the main park road (Echo Dell). This is the location of the pioneer village. You'll first be able to see the area in the distance but as the path gets closer you're liable to see more and more activity. It seems there's plenty to do out here! The path leads you over the rocks of a slender "beach" and then up to the bridge to complete this section.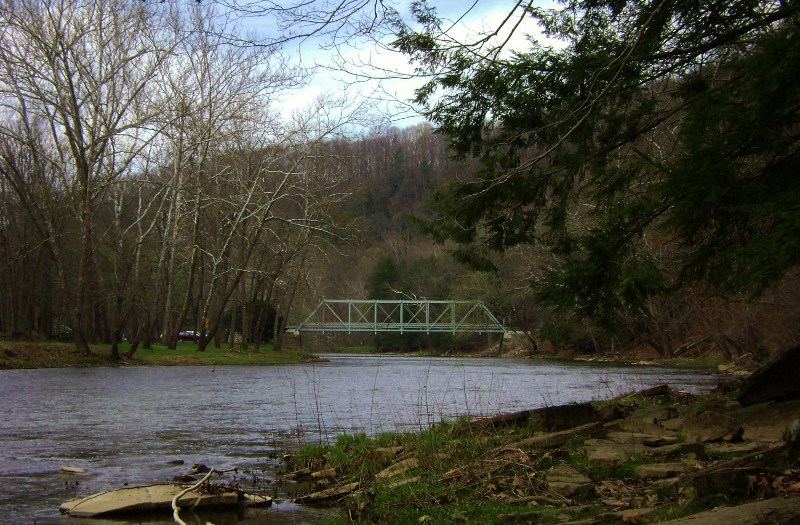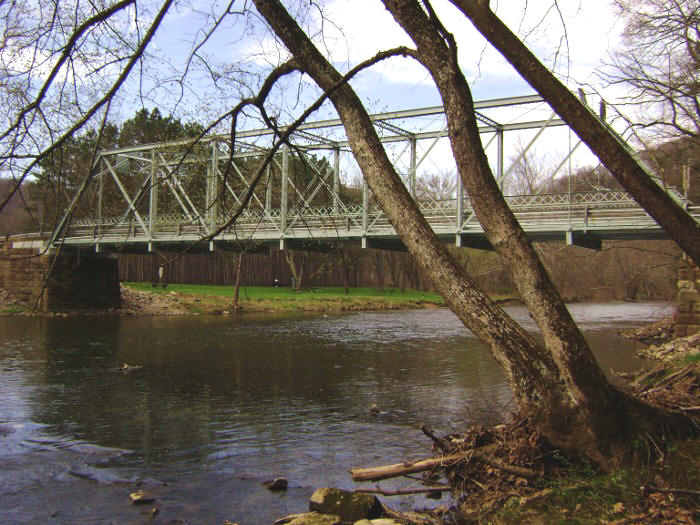 At this point I took a break. I just HAD to get a closer look at the village! There are some great websites I've found which will give you a much better idea of the place than I can too! These sites include both the Friends of Beaver Creek State Park website listed above and this page: http://oldmills.scificincinnati.com/ohio_mills_columbiana_gastons_page.html.
Anyway, check out the pictures below and you'll see why I was positively entranced by this area as I imagined how I might have lived during this time period…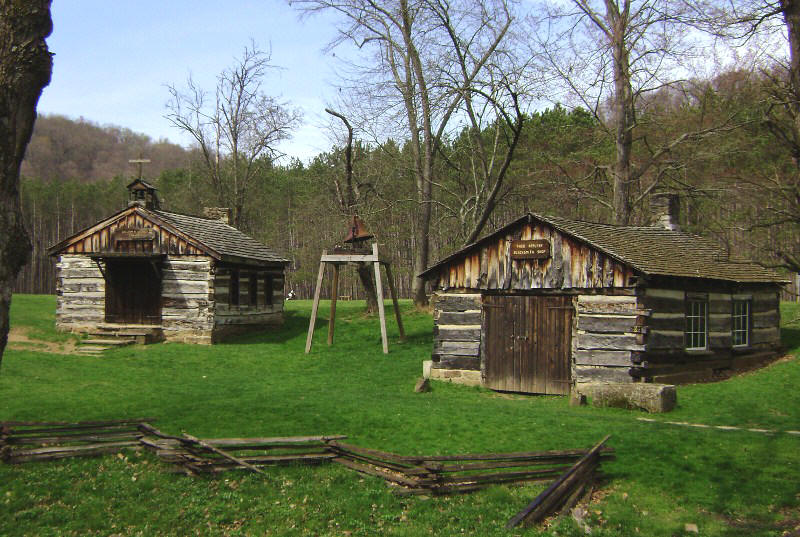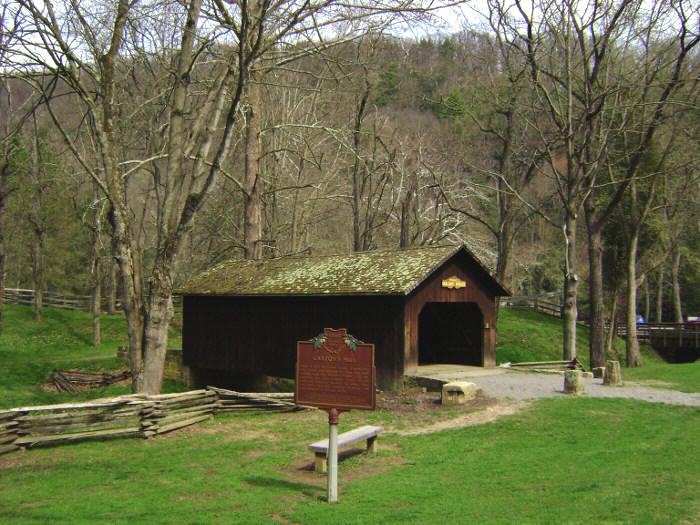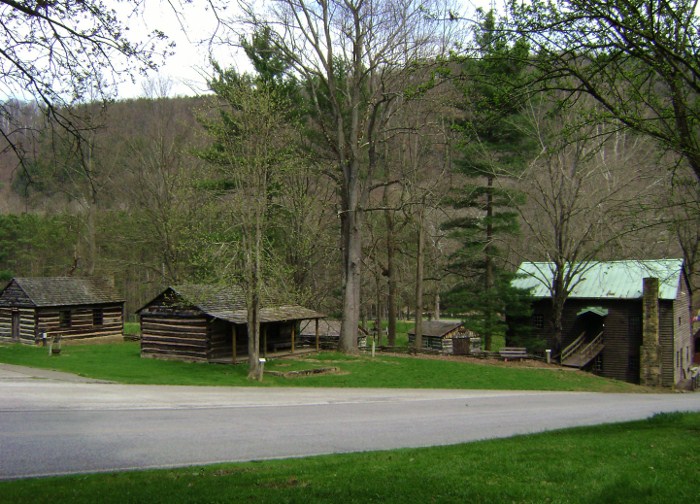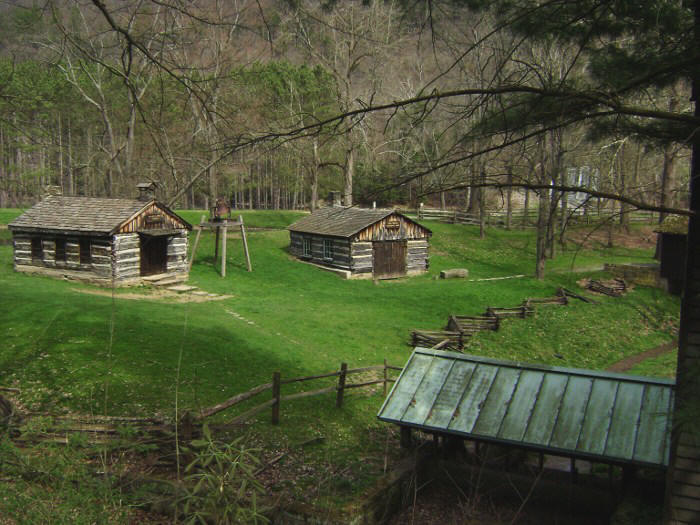 After quite a while I crossed back over the bridge to start the Dogwood Loop Trail. This one actually begins from the end of a campground lane which can be accessed on the very north side of the bridge. You'll head east along the road to wind up at a little circle in the back and along the way you'll get some more beautiful river views. In fact, in the springtime you're even apt to see large patches of purple/blue flowers (violets?) in the grass. These reminded me of the bluebonnets I'd seen in Texas in the springtime.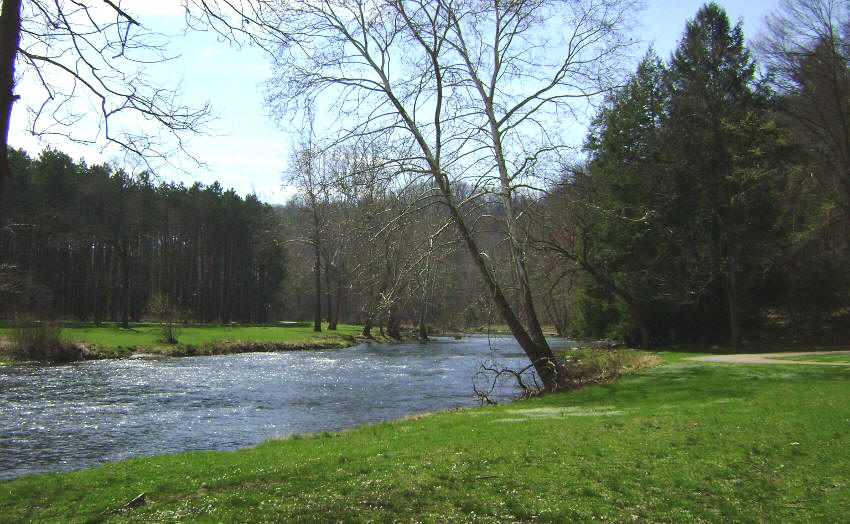 Anyway, I began Dogwood by following it straight alongside the water (and you'll later descend to about this same point from a steep-sided ravine). This is called the Dogwood Loop but it seemed more to me like the pine tree loop. That's because you'll travel a good part of the way through pine trees which, at some points, are spaced so perfectly that you'd think this section of forest was actually planted and not a random act of nature!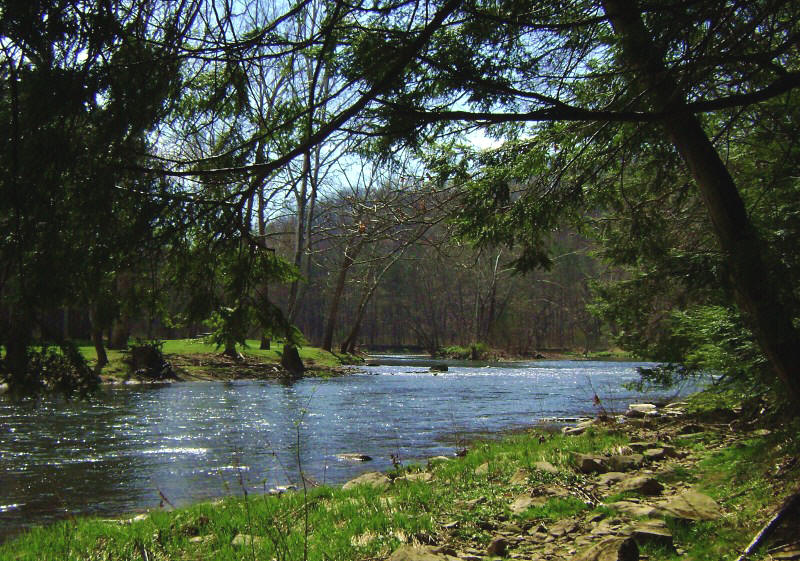 Following the path in this direction you'll be curving around to your right, at first low and alongside the river and then later high above it with limited vistas through the trees. If you've ever hiked the Blue Bend Trail in Kentucky at Cumberland Falls you'll be getting a sense of deja-vu here. The two paths are very nearly the same!
Of note is that just before you begin heading to higher ground you'll reach a split in the path where you could keep going alongside the river. Instead you'll want to veer right. This next area is one where you'll find the remnants of what could be another grist mill and it's the same area in which you'll notice some interesting plants. These were different than any I'd see today and I wondered: "Did their occurrence have something to do with the character of the soil here?" and "Could this be due to the old grist mill in some way?"
After this you'll continue to head uphill, briefly winding up into and then out of a little ravine as you follow the path along the side of a ridge...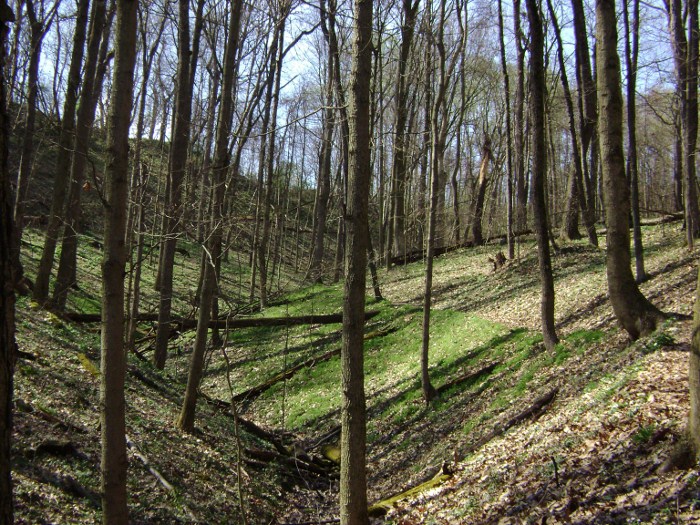 Then, at another point, you'll get one of the great - but limited - vistas I mentioned…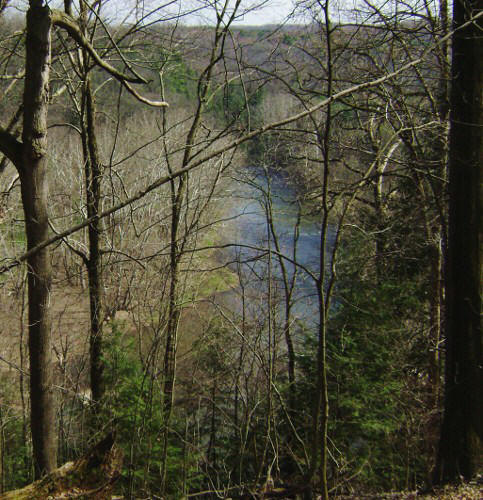 Toward the end of the loop, a junction leads left to another campground. Stay to the right here and begin a fairly steep descent back to park lane where you started. Then, simply head back the same way you came on the road. The Upper Vondergreen Trail awaits you when you back at the point where your lane forms a "T" intersection with Echo Dell Drive.
You'll head upward again along what is surely an old road to follow above the river, which is now down on your right. In this section – at least on the ascent - I did find that I was following some blue markers. You'll want to keep a keen eye out for them too because there are some sharp turns here. Then, as the path descends, you'll link up with an orange/yellow horse path for a brief time. It'll meet up with you from your right and then it'll shortly continue left as you go right to soon arrive back alongside the stream at a point which will seem familiar.
Go left to retrace the steps you've already made back to your car – but watch out for that one point so that you don't miss the ladder!
I had an interesting encounter on the way out as I neared the parking lot. Two people on horseback approached and announced themselves so well in advance that I didn't, at first, believe that they could be talking to me. They were. They called that they were picking up trash on the trail but they had a dog with them – a classic hound dog that they appropriately named "Duke". Duke, from what I could make out, was apparently friendly but possibly not. Shoot, if they don't know what chance did I have?!? They advised that I should pay him no attention or even talk to him. I let the dog pass. It was an interesting incident and it was nice to know that the trail is well looked after.
DIRECTIONS:
This park lies south of Youngstown, Ohio off of Ohio Route 11 (although you can also take Route 7 which parallels 11). The actual address for the park is 12021 Echo Dell Road in East Liverpool, OH. You'll have to look up directions online as this park isn't the most straight-forward to find and you can take one of many routes to get here. If you want to do this hike as I've described it, however, you'll want to park on the far eastern end at the primitive group camping area. From Cleveland I went one way to come in and one way to go out – you can come either way. Options:
I came in on Route 11 southbound and got off at the OH267 exit (the one for the airport) and took a left. This road is a actually 267 if you go southbound and Route 7 if you go northbound. It's helpful to keep this in mind. Anyway, the following is the easiest route to take from here to reach the group campground. Take the left after you get off Route 11 and then make a fairly quick right onto County Highway 425 (or East Liverpool Road). Veer left as it does at one point and then make a left onto Township Highway 1004 (or Cannon Mills Road). Keep straight so as not to get confused as this road will change names again, alternately becoming County Highway 428 and Sprucevale Road. At one point you'll pass Sprucevale Lookout on your left and then you'll pass over a one-lane bridge. After you cross make your first right into the parking area and go all the way back to the "Group 2" campsite. The trail starts by heading upstream directly alongside the bank.
You can also come in the way I went back. It's the most straight-forward from Cleveland but probably not the fastest. I was in the mood to avoid a little of the omnipresent contempt of the freeways today so from Streetsboro I took Ohio Route 14 all the way. If you're heading southbound travel 14 through Deerfield until you come to the outskirts of Salem, Ohio. Then take a right onto Route 45 to curve around and bypass the downtown area. After the curve continue another 9 miles on 45 down to Lisbon, a fantastic little town with a great diner - the Steel Trolley – with great eats at a great price (http://steeltrolleydiner.com/). By now you'll now be seeing signs for Route 154. Take it instead of 45 now, heading east, and continue on a fairly straight line for about 8.5 miles. This road will change names too, at one point being 154/E. Lincoln Way and then 154 will curve and break off to the left. You, in turn, will keep straight as part of this 8.5 miles to continue straight on a Middle Beaver Road/County Highway 419 combo. When you reach Route 7 make a sharp left and go 1.2 miles to County Highway 426, or Clarkson Road. Make a sharp right here and go 1.5 miles to County Road 428, or Sprucevale Road. Make a right and go another 3.5 miles to the campground entrance. It's on the right at the same point at which you'll see an ancient brick structure on the left – and just before you go over the bridge. Take the campground road all the way back. The trail starts back at campground 2 and takes you directly alongside the river.