PLACES TO GO ON LAND DESTRESS OUTDOORS HOME PLACES TO GO ON WATER
Sheltowee Trace
I75 to Camp Wildcat Monument (with Exploration of the Camp Wildcat Preservation Area)
Sunday, April 10, 2011
************************
Prelude
************************
I believe that some people are allowed to have a good deal of control over their lives. They can achieve success through their own devices. Others are being led.
Have you ever thoroughly planned something out using all the tried and true wisdom at your disposal, factoring for every contingency and then, just as success is being handed to you – so nearly in your grasp that you can almost feel it – you're suddenly shoved from behind into a completely different reality where you're left to start all over again from the very beginning?
Does this represent a pattern in your life?
You're probably being led.
Don't worry, so am I. …and don't think of yourself as a loser either! I don't, and you're not! There's something more to this than meets the eye. A good and just Creator would never give life to something only to torment it, so when I'm dealt with one of these setbacks I simply go into survival mode and release all my cares and desires for a while until a new path is revealed. This is done in the belief that when things don't go the way I plan it's simply the Lord trying to show me something different - something that's sure to be pretty darned important. Even so, I fear that I'm a weak person and that I'm not always as open to this as I should be. If I was I might be a lot more patient and accepting as I watch my disappointments slowly morph into points of inspiration.
Today was a perfect example. I actually started 50 miles away on a completely different part of the Sheltowee Trace with a plan all set out, complete with some contingencies for my usual mishaps – yet the series of gaffes which ensued upon my arrival was so ridiculous that I got right back in the car and began to head back home! My personal experience is that when things start to go wrong for me they usually don't stop until I've had to completely give up and move in a totally different direction (see the crushed kayak that finally ended my 2007 attempt to paddle the length of the Kentucky River!).
Anyway, I was quite angry as I drove away from my original destination.
"What a waste of time and gas!" I was thinking.
Then, upon reaching the first intersection:
"Maybe I'll at least try to head back home another way to see some new scenery."
(Less upset now, my usual pathetic optimism returning…)
"Hmm… This area of Kentucky sure is beautiful!"
(Heading north on KY1003 and then 1675 in Pulaski County, upset now resignation...)
"OK. Maybe now I can dare to try something else."
Insert Camp Wildcat sign on I75 here! I'd always wanted to see this little historic preserve I just wasn't expecting it to be so soon!
**************************
Let me say that with the exception of this Wildcat Preserve (http://wildcatbattlefield.org/battlefield.html) the Sheltowee Trace in this section is not really the best for hiking. I just drove it. Sorry, but it's all roadways! Parts are paved with a good deal of traffic and parts are narrow, one-lane gravel, but the preserve does have about 3 miles of hiking available and I enjoyed myself here.
From I75 the Sheltowee heads east on KY909 – a road which dead-ends in about ½ mile at US25. Here you'll make a right and follow the road a little over ½ mile before making a left onto Hazel Patch Road. Then, in descending along a fairly tight "S" curve, you'll cross Hazel Patch Creek and make a left onto a gravel road clearly marked with " Camp Wildcat" signs. (I'd be careful in this area if you're hiking it though. There were some dwellings along in here and I noted some unleashed dogs in the area.)
Now as far as history, this is an area of incredible significance – and not only because of the Civil War. This section of the Trace also runs along part of the original Wilderness Road and even more significantly, the road actually split somewhere in here near Hazel Patch, Kentucky. Some background…
In 1775 when Daniel Boone and his axe-men were enlarging the road for future travelers, a portion of the party led by Colonel Benjamin Logan decided to head northwest here instead of going with the main group to Boonesborough with Boone and Richard Henderson (namesake of Henderson, KY). They opted instead to break toward Stanford, Kentucky following a route then known as Skaggs Trace in order to found their own settlement (that prong of the road would eventually lead all the way up to Fort Harrod in Harrodsburg, Kentucky and then to the Falls of the Ohio in Louisville).
[There's a fantastic book, by the way – The Wilderness Road by Robert Kinkaid – which gives a historical account of the road. It's hard to find, but you're likely to be able to get it at one of the Kentucky Park gift shops.]
At any rate, the gravel road that the Trace now follows (Old Wilderness Road or FS737) leads you directly to Camp Wildcat in about 2.5 miles and you'll know you've arrived when you see the large parking lot plainly visible on the right.
I parked and walked ahead to take in the historical markers under the canopy. I'll be frank, however. It saddens me a little to think about the Civil War. Not only did so many Americans die in it, but they died fighting each other. Nevertheless, I'm reminded that as bad as things can get, they could always be worse (…and maybe that was what the Lord wanted to show me today!).
If you look to the left of the canopy you'll spot the beginning of the longest path in the preserve, a well-maintained gravel route that will take you up to the top of Hoosier Knob where most of the fighting took place. The trail sign you'll find here is somewhat confusing, however. Indications are that the path is only ¾ mile long, but that's only one way. This is an out-and-back hike. In fact, to me this one felt more like 3 miles in total, possibly because I was reading and pondering all the historical markers as I went. Either way, I'd go into this one with the mind-set that it's about a 2.5 miler just for the benefit of budgeting your time.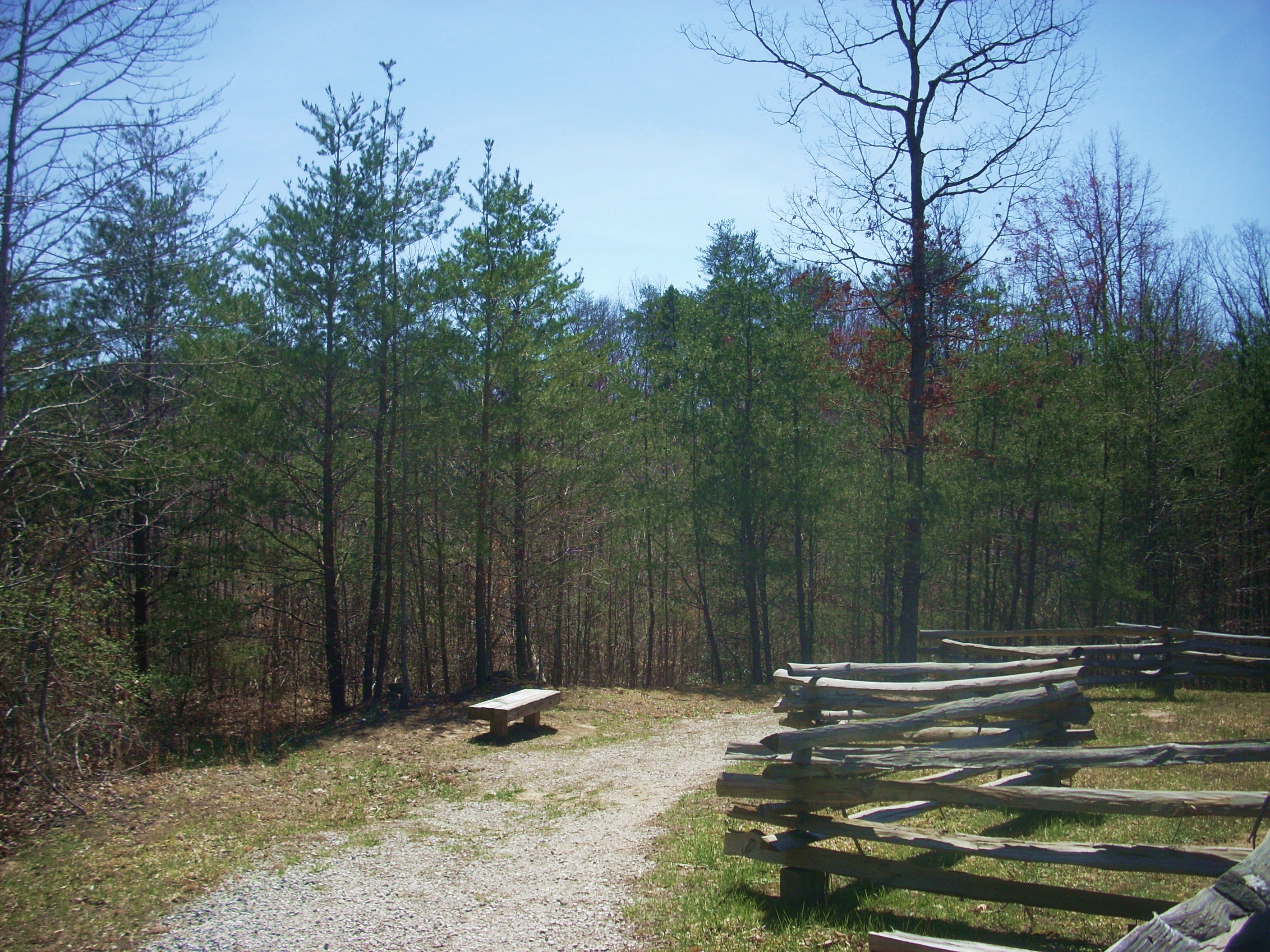 The path will start out by taking you on a light descent around the canopy and then it'll deposit you into the woods atop a little ridge where the historical markers will be intermittent company. As they relate to the war, its consequences, and its complications they really do a great job of bringing your mind back to the time-period.
Soon you'll spot a little hill up ahead and the path will actually form a question mark shape around it. As per the Kentucky Atlas and Gazetteer (http://shop.delorme.com/OA_HTML/DELibeCCtdItemDetail.jsp?item=156&section=10042) this hill looks to be at the southern end of Hoosier Knob, the general contours of which are formed by the Shetland Creek. There's an interesting little cave/rock house along in here.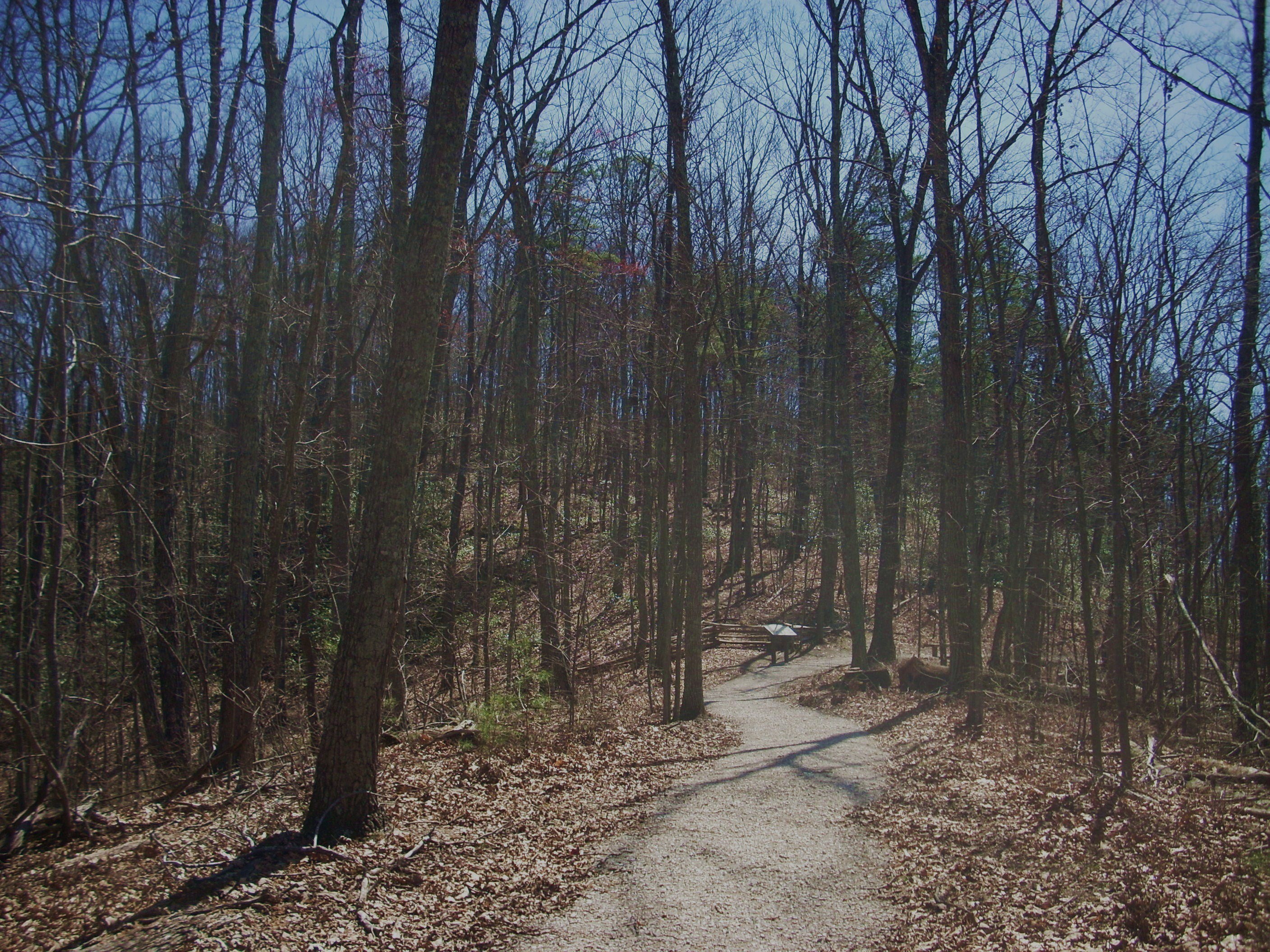 At the end of the question mark you'll have rounded over to the eastern side of the knob which, prior to full foliage, offers a nice view of a wall of rock that you'll arc around to your right…
Then, in making a final left curve you'll be on an ascent up to the top of the hill. Nice vistas will partially open up to you through the trees in here, but when you get to the battle site you're apt to be as amazed as I was by how well preserved it is. You can actually still see the trenches they dug! Sure, they aren't as deep as they used to be with foliage debris having filled them in over time (they were apparently dug to be near shoulder-deep with some additional height being added by logs), but they're still clearly visible.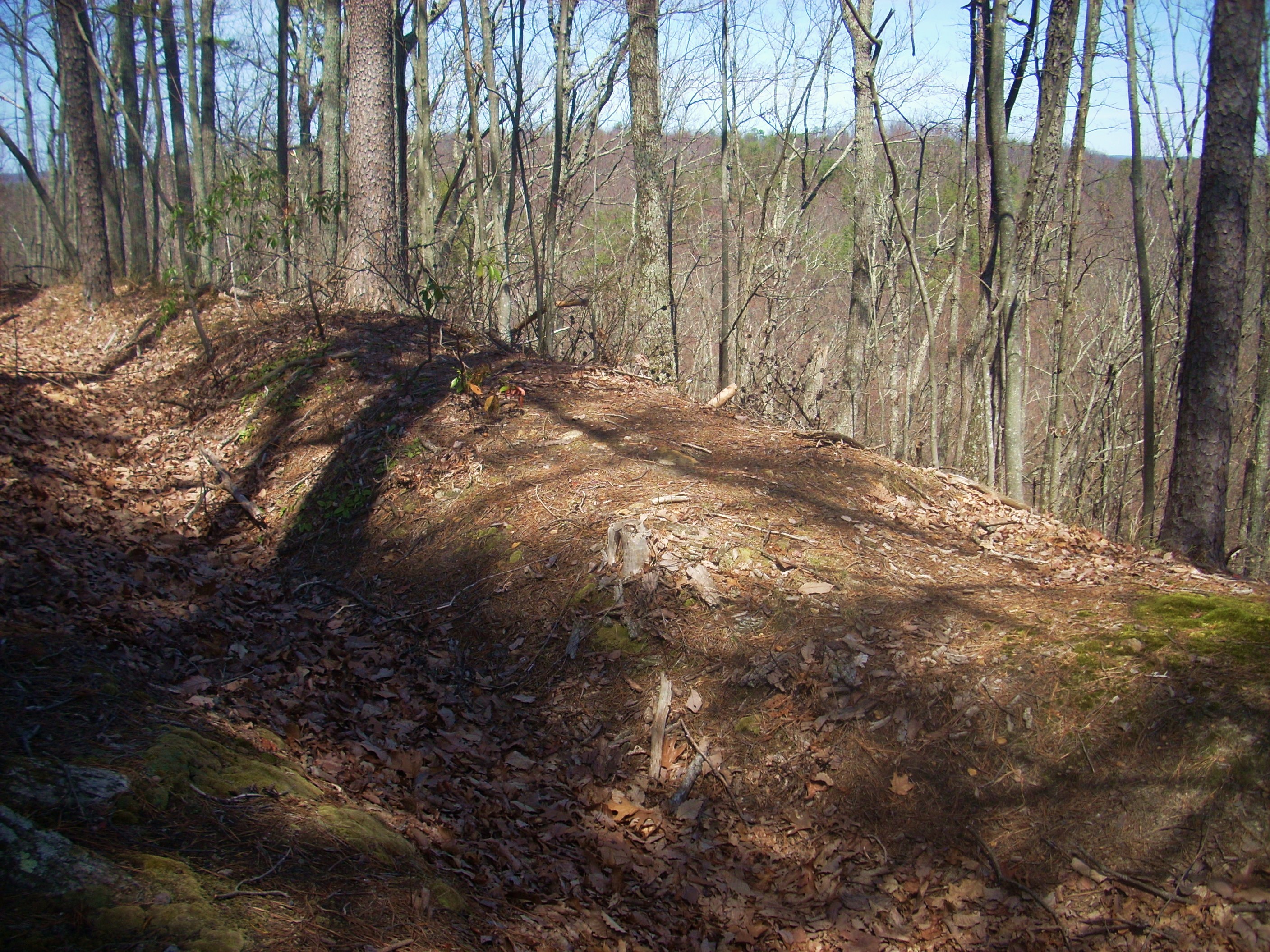 It's here that the path will cross over a shallow area of the old trench to put you inside the circle it forms all the way around the top of the knob. It'll then lead you around it. To me this was astounding! The trench was still clearly visible all the way around, serving as a grim reminder of what transpired here!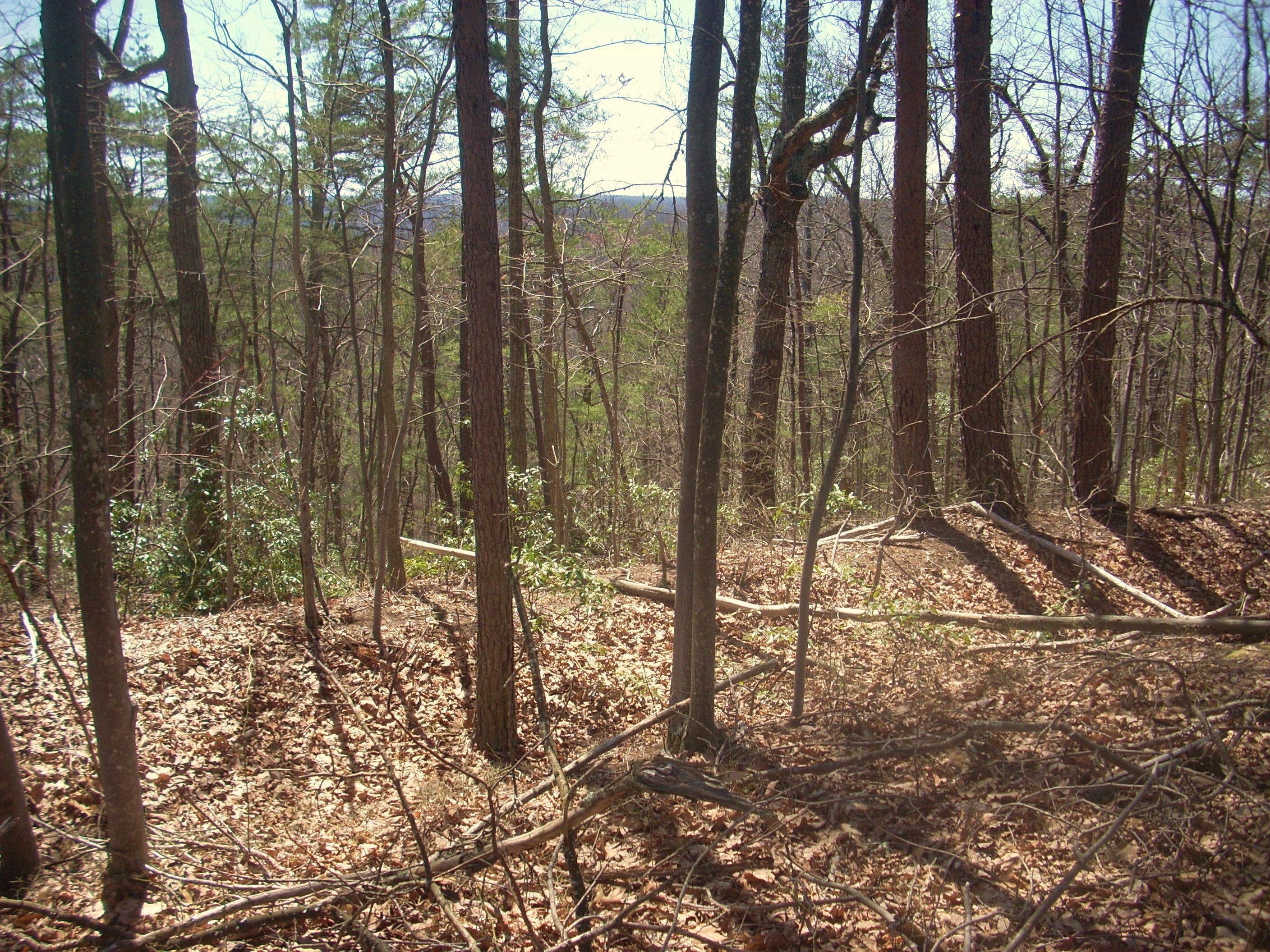 Let me remark also on the foliage – or lack thereof today – however, because when I read one of the markers it was clear that if I really wanted to experience what this battle was like I'd have to come back a little later in the year. Apparently the soldiers trenched in up here were attacked by a force that was almost totally concealed by foliage and underbrush, yet in looking at the sparse foliage in my pictures you can't really imagine it.
This being the case, however, there was still plenty for me to envision here on this day. So much so, that it was hard for me to get my mind around it. So much death, so much anxiety, so much hardship, so much sorrow - and the worst part of it was that of the guys that did survive the fighting, most apparently contracted disease as a result of the ordeal and died anyway!
I began to head back down the path... I wanted to check out the steps I'd seen on the other side of the parking lot and find out where they led…
Turns out, they'd deposit me right in the middle of Infantry Ridge Trail where some of the soldiers were encamped, and I had a choice of two directions here, neither of which went very far. The left prong led me past an old Civil War cannon before it quickly dead-ended. They won't let you go further because it's considered a fragile archaeological area, but there's a rock house just a little further on (Hospital Rock) that once sheltered some of the wounded from the war.
The other direction soon led me back to the same road I entered in on ( Old Wilderness Road or FR736) after passing by some more historical markers. Then it split. The Sheltowee Trace continues here by cutting to the right on Winding Blade Road while Forest Road 736 continues to the left and closely follows along the old route of the Wilderness Road. Was this the spot where Boone and Logan originally split up??? A large Camp Wildcat Battle Monument lies at the northern end of this split.
At this point I decided to go a very short distance up FR736 to check out the last little out-and-back trail before heading back. It led me down to a spot called Robinson Spring which was a pleasant little place for contemplation amid the sounds of trickling water - until the gnats started launching kamikaze missions into my eyes!
Having seen this, I had one last thing to do... I just had to at least travel a little way along the Trace. Indications on the sign here were that the Rockcastle River was 8 miles distant on this one-lane dirt and gravel ATV track. After passing by a fairly large pond that totally obscured the path, I made a slight ascent over some craggy rocks and finally reached a seemingly lonesome chimney shaped rock formation before I turned back…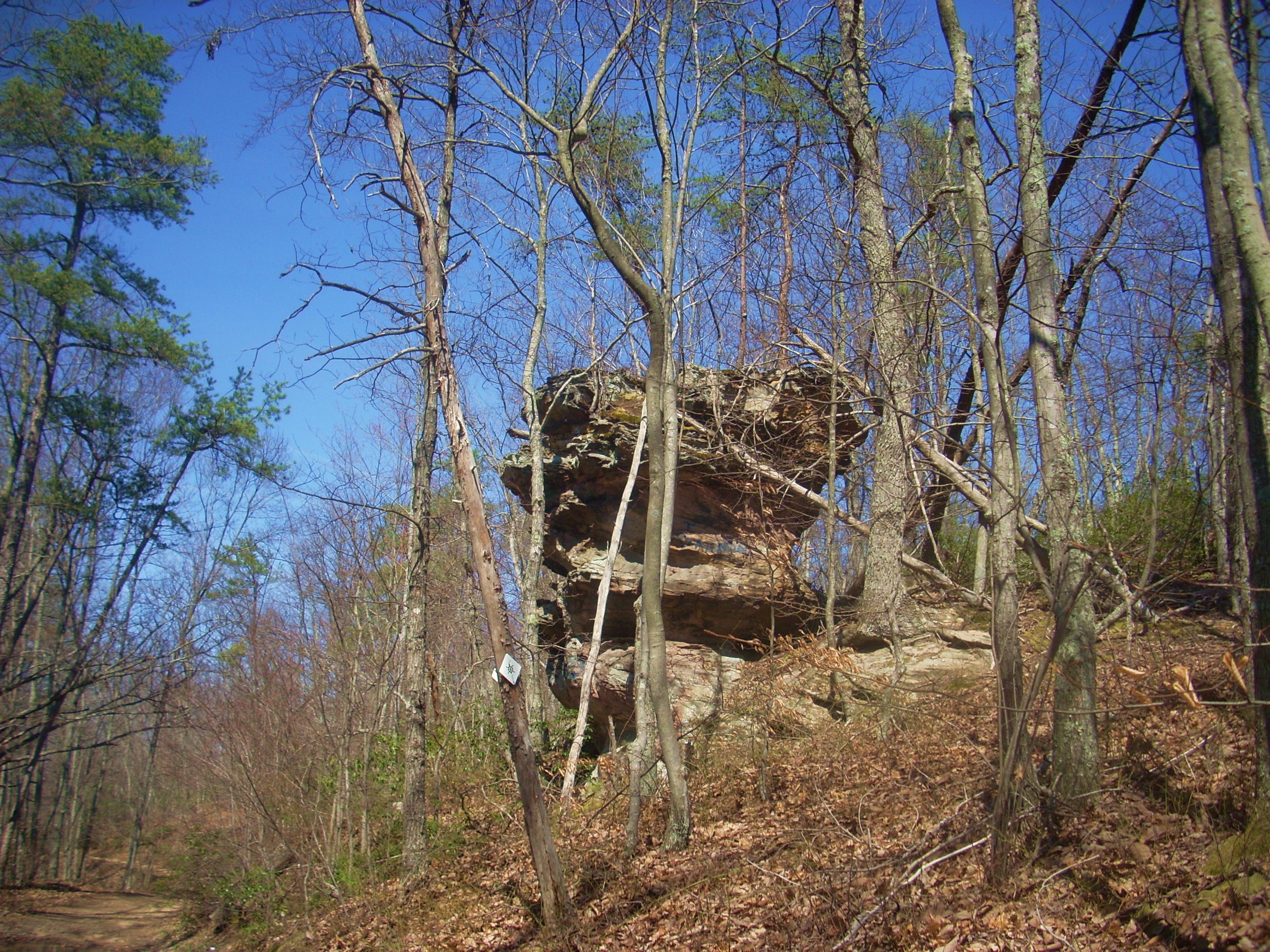 This was an interesting route, but there's no way anyone would consider traveling this "road" in anything but an ATV or dirt bike. No way...
Wait…
"What in the heck was that?"
…
A little pickup truck passing me by!?! I couldn't believe it! Kentucky sure is an amazing state!
To return to the parking lot just walk back to where you split off for the Sheltowee and take a left on the gravel road (FR736). The lot will come up quickly on your left.
DIRECTIONS:
I'm going to go directly from the pamphlet that's provided out here because they've done a great job of this…
Take the Livingston exit off I75 (exit 49) and then go .6 miles on KY909 until you dead-end at US25 South. Make a right here and go .7 miles. Then turn left onto Hazel Patch Road and go another .7 miles. You'll then make a left on a gravel road which a sign clearly indicates as leading to Camp Wildcat. The battlefield is in another 2.4 miles down this road but it's very narrow. Please be careful and courteous, but also watch for the beautiful farm you'll pass directly beside along the way.