PLACES TO GO ON LAND DESTRESS OUTDOORS HOME PLACES TO GO ON WATER
Sheltowee Trace
KY192/1193 Convergence Northbound to FS Road 457
Thursday, April 23, 2009
Last year I'd been a real oaf. I came out here and went the wrong way! I went south on the Sheltowee when I should have gone north! It was nice, as the trail wound around the beautiful Laurel Lake in that section (described in another entry), but it was still not quite what I'd intended. For that reason, it was until today that I'd had the most nagging of desires to get back out here and explore this section.
What you'll see on this hike can very nearly be broken into 3's. In the first part, you'll witness a stream (Pounder Branch or one of its' tributaries) go from infancy to maturity, in the second you'll follow another stream (Van Hook Branch) as it goes from maturity to about adolescence, and in the third you'll have a very pleasant stroll through the forest along old logging roadbeds and ridgelines. Along the way you'll meet with a wide variety of plant life, and you'll witness a few incredibly scenic waterfalls. In fact, in one of my books on hiking in Kentucky (http://www.globepequot.com/globepequot/index.cfm?fuseaction=customer.product&product_code=0%2D7627%2D3650%2DX&category_code), the author describes this as one of the prettiest paths in the state.
I parked in the grassy lot to the left of the above convergence and very carefully and quickly crossed the road to reach the trailhead. A sign here indicated that my intended destination, FS457, lie 6 miles ahead. This was interesting because it seems like much of this southern area of the trace can be nicely broken up into 6 mile increments. The last section I'd done (from Cumberland Falls to Star Falls) had been about this same distance, and the next 2 sections are very similar.
Interesting too, was that after today I found that I hike at a rate of about 2 miles per hour (I'm guessing that most people would be roughly similar), so apparently you can kayak just a tad bit faster than you can hike - I do about 2.5 m.p.h. on flat water).
Anyway, you'll start out flirting with the roadway, but you'll gradually move around and away from it as Pounder Branch (or a tributary at this point – I couldn't quite tell) slowly but surely enters your awareness. I didn't actually notice the stream myself until it began to run in what looked like a little gully – a gully which would gradually get larger and larger to become a ravine and then a near valley.
Your path will cross over this stream several times as it flows toward Cane Creek and on to the Rockcastle River (though I wouldn't follow it all the way to that river today). These crossings are interesting. Each has a set of rock "steps" which will take you over, and it almost looks like these rocks were cut and moved here just for that purpose.
Within this first mile I also started to notice something else which would definitely become a theme today – the plant life. I saw plants, moss, algae, everything – and a lot of it I'd never seen (or at least never noticed) before on my hikes. I'll include pictures of some of these as I go along on this particular journal. Here's one… Looks like some kind of grass or maybe a groundcover-type plant?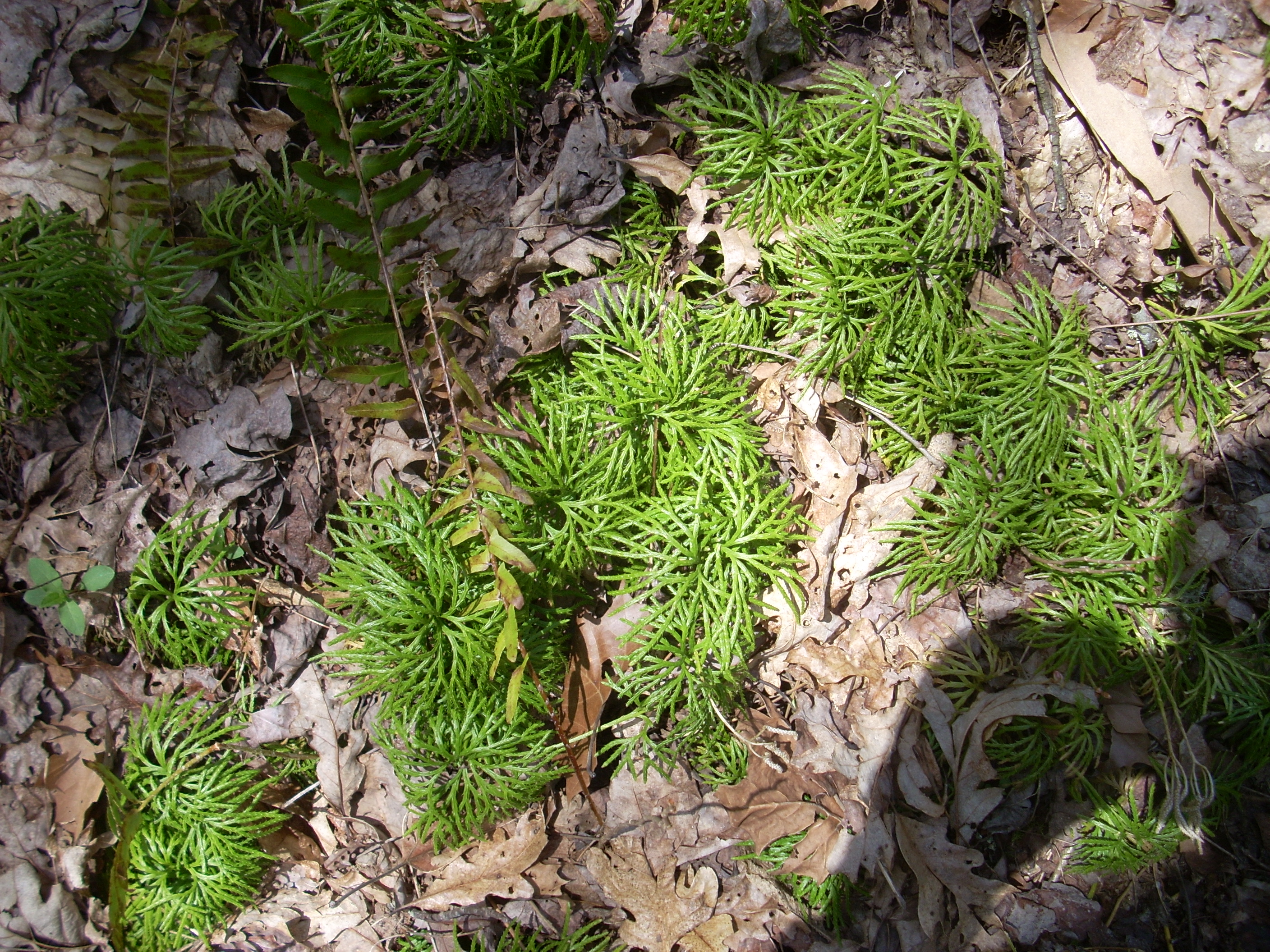 At any rate, about a mile into the hike you'll see a couple waterfalls. The first occurs a few feet away from the path after you cross one of the tributary streams. This picture was taken looking down at it…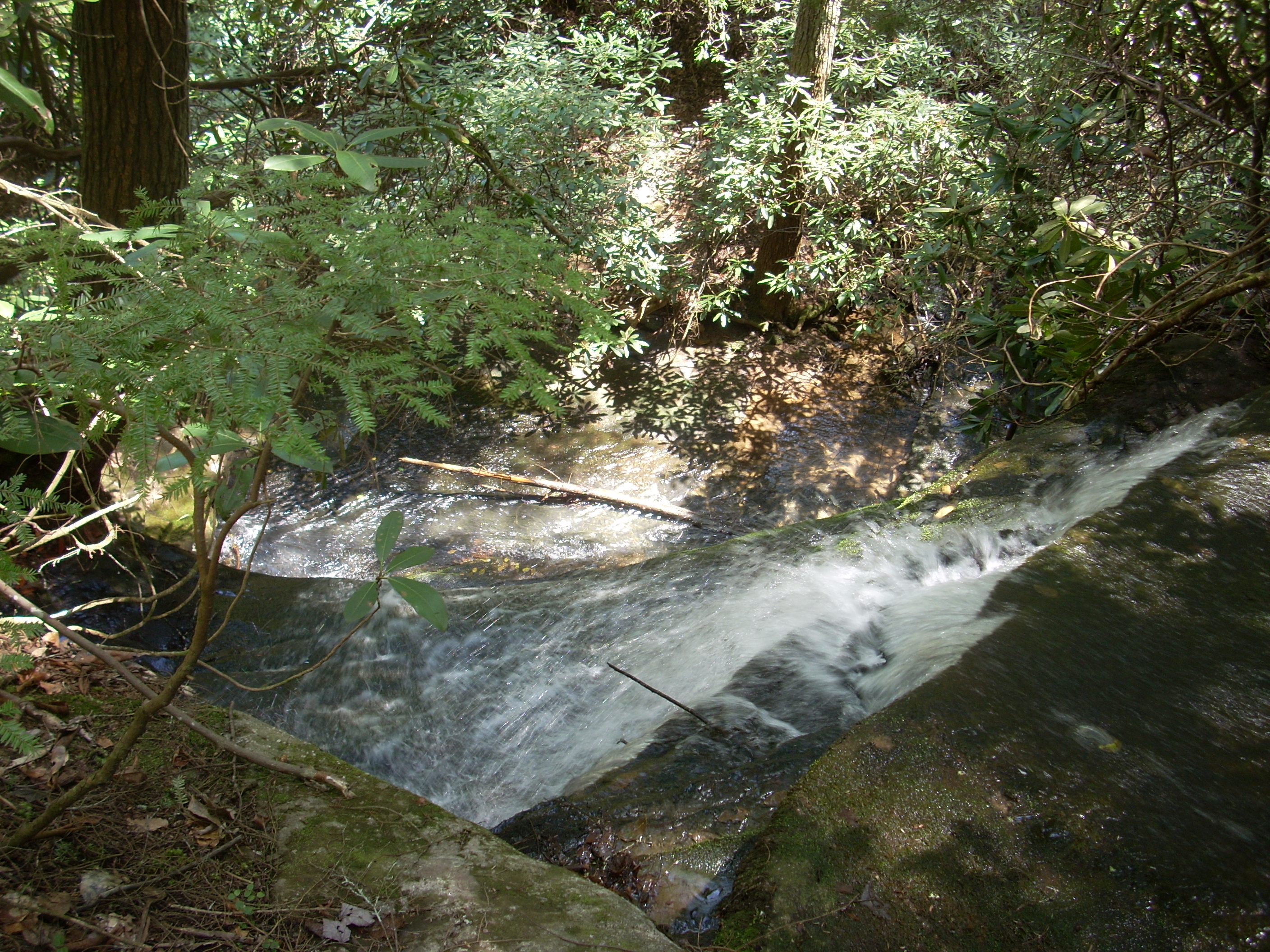 The second waterfall will become evident almost immediately after this. In fact, the first intersecting path today will take you to a great view of it. Go right on this path, walk several yards and you'll see it on the other side of the ravine. Here it is…
After this the route will take you right up against the rocky side wall of this ravine, and there will be some interesting overhangs and caves in here. Then, as you near mile 2 you'll reach the intersection for another, unnamed, path and you'll want to go right to emerge atop a large rock. I noticed the moss below along in this area...
The path will presently wind you down and around this rock to emerge at the convergence of Pounder Branch and Cane Creek, and you'll cross over 2 bridges in rapid succession. This is a pretty congested area in terms of water flow – and not just because of these 2 branches – Van Hook Branch must also enter the picture very near to this point (although I couldn't tell exactly where), and the 3 of these streams will flow on to the Rockcastle River.
All of this, of course, makes this a great location to stop and enjoy. It's really fun crossing over these bridges, too. The one over Cane Creek, in particular, is different in construction from other bridges I've seen. They put up what looks almost like a pyramid of steps on one side to give it enough of a rise to make for a level spot to put the planks across. Quite clever!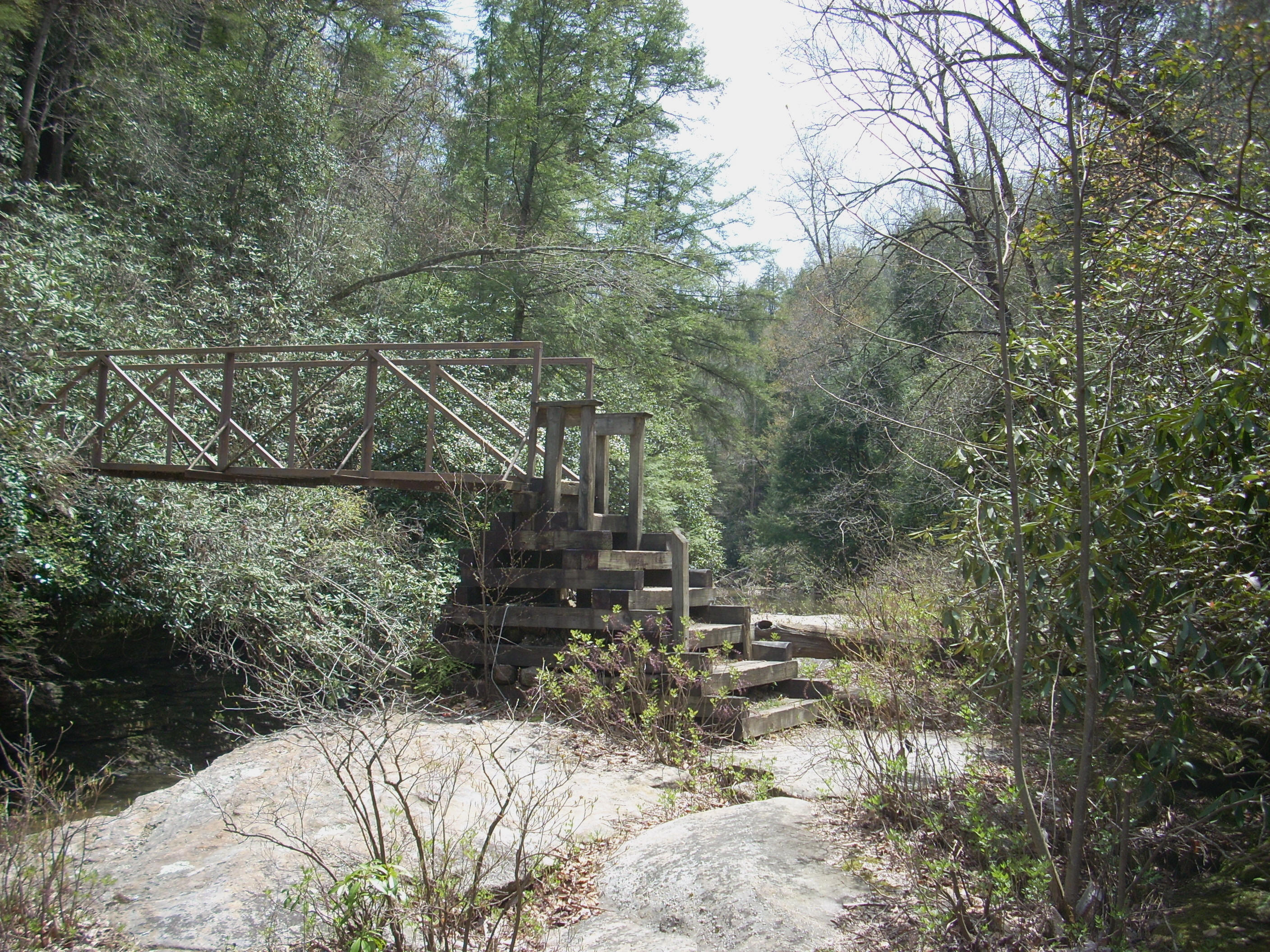 After crossing this you'll begin winding up another ravine - this one created by Van Hook Branch - and as you do, you'll pass some more nice looking rock overhangs and caves.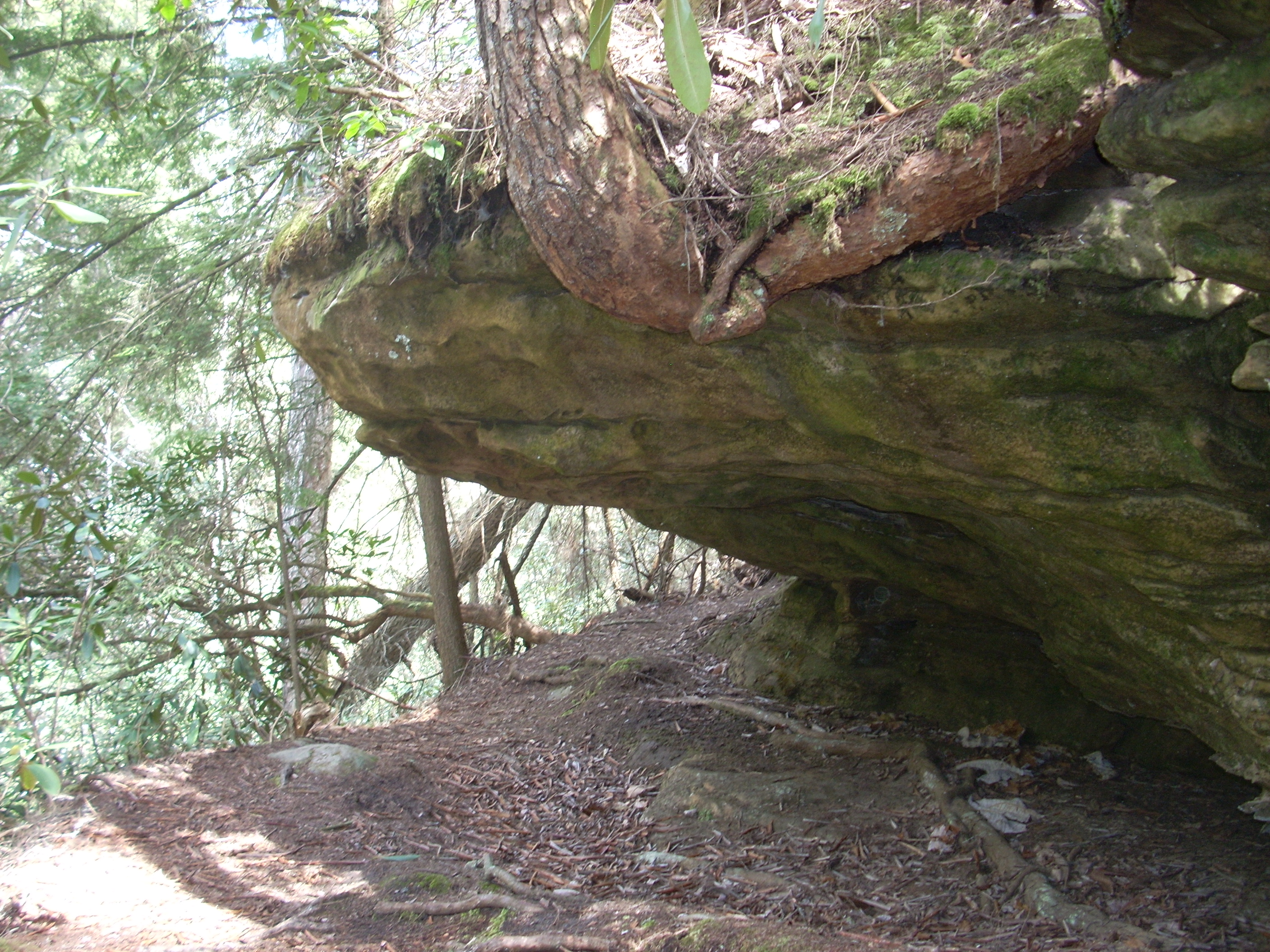 You'll probably also begin to hear the water going over Van Hook Falls which comes up quite soon. The only people I saw today were out here. It looked like they were enjoying themselves at the bottom - there's a side trail which goes down.
I continued on around near the top of the ravine and soon crossed over Van Hook above the falls. This was a particularly lush area which had me feeling like I was in a jungle (actually the whole area since I descended to the bridges has the same feel), and I noticed another one of the white diamond trail signs here. I was in a kooky mood today, so I was thinking about Lucky Charms. Y'know… What is it? Blue hearts, orange clovers, green moons… white diamonds?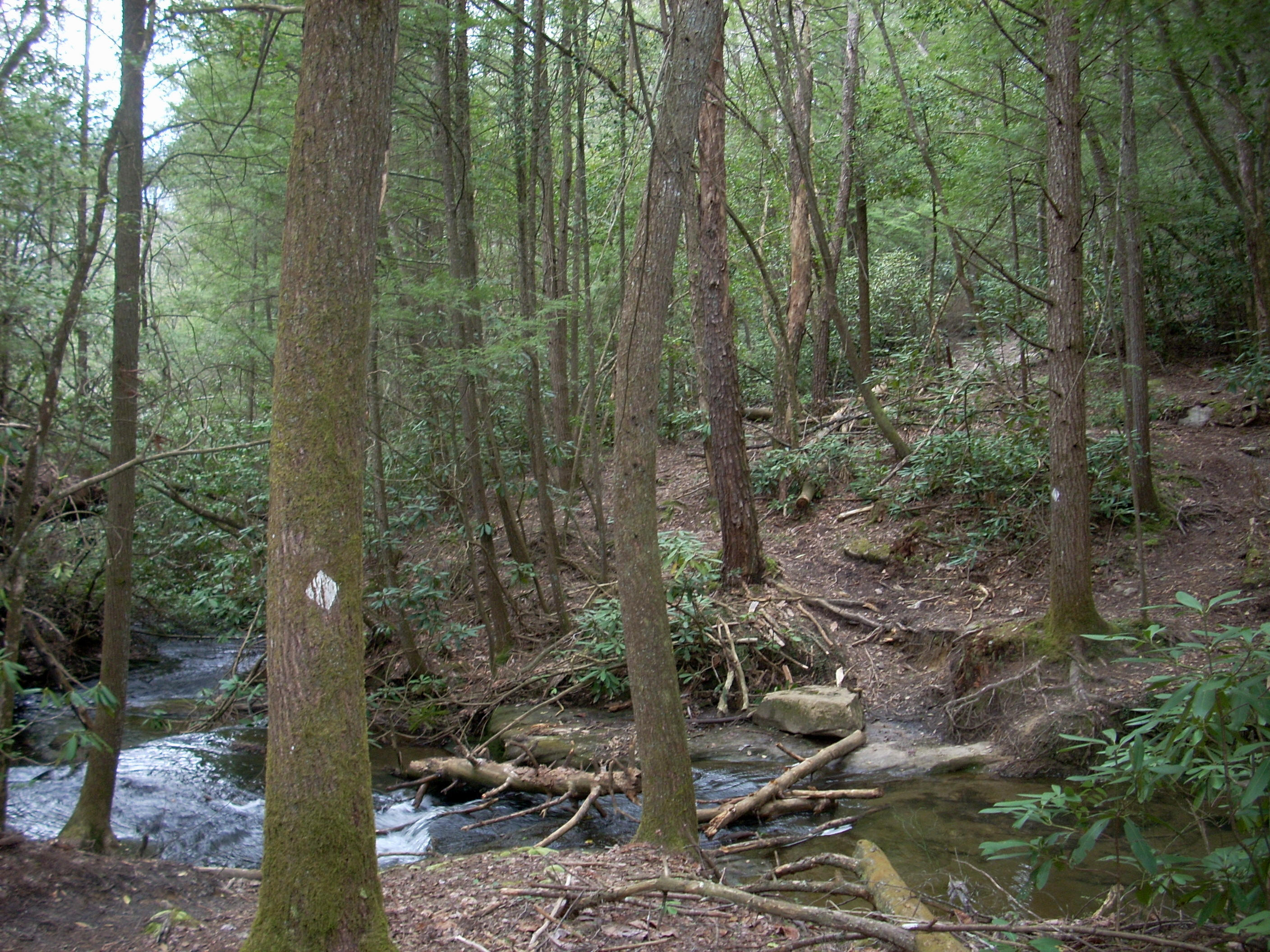 After crossing Van Hook, you can circle up the bank one of two ways, and then you'll come to a real convergence of paths. I went right to continue on the Sheltowee, but you can also go left and on to the Rockcastle Narrows East Trail (this is a loop path that you'll intersect again a little over a mile up).
The Narrows will take you to the mouth of the Rockcastle River where it meets Lake Cumberland and it will meander up the Rockcastle for a while before looping back – an introduction of sorts. In fact, it was after seeing this convergence via another path last year that I was so intrigued I came back and kayaked some of the area 2 days later (although I didn't journal it).
You'll flirt with the top of a ridgeline as you follow up the Van Hook Branch drainage for some of this next section, but you'll stay at a predominantly mid-level height in general, and it was in continuing through here that I really noticed the height of the trees. Some of them must be at least a century old or more – they're really impressive.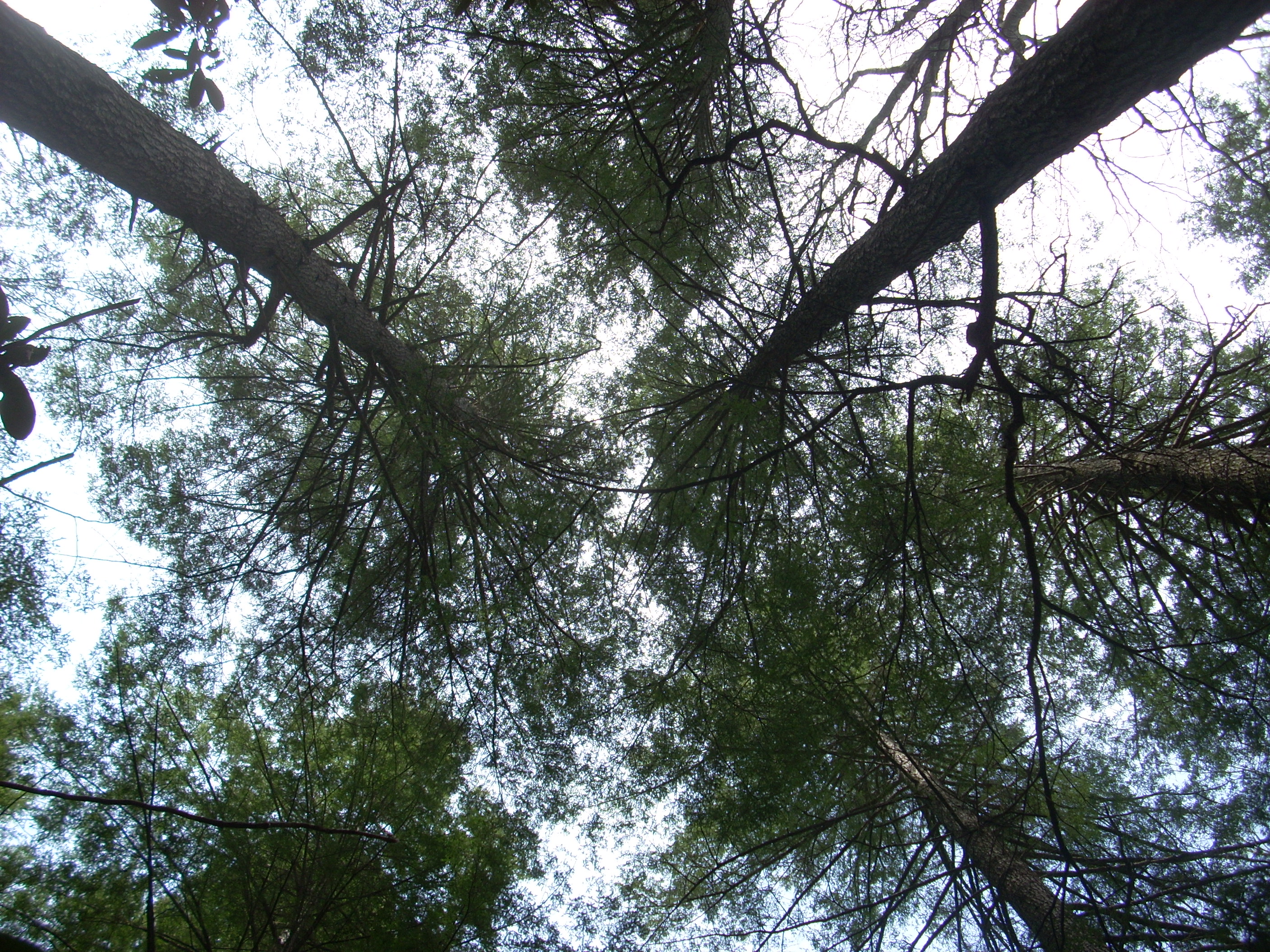 I also noticed how the moss (at least I'm assuming it was moss although it looked like a mass of little ferns) grows on the deadfalls.
Soon you'll meet and cross a young Van Hook Branch and one of its tributaries at about the 3.5 mile mark. To be honest, I think this is as nice a spot as any today – including the waterfalls. The trickling sounds of the water here are like a gentle symphony of sound to soothe and calm the spirits. It's wonderful!
…until the gants descend upon you. On the way back it would start to rain and I might as well have been the Pied Gnat Piper! I had swarms of them following me, and I'd only be able grab a quick swig of water before they'd be all in my face. I have a cap specifically for this purpose which has mesh inside it which you can take out and cover your entire head with. Problem is, it slightly obscures my vision just enough to have me concerned that I might miss something if I used it – I do so only sparingly.
The other Rockcastle Narrows East Trail junction intersects immediately after the crossing of these little streams, but I continued right to embark on an incredibly pleasant stroll through the woods (in fact, this area reminded me a lot of Raven Run Nature Sanctuary). Presently you'll reach the junction with Forest Service Road 749, and this was to begin the series of forest roads upon which I'd predominantly travel for the rest of my trip today.
Not unpleasant, these roads are dirt and gravel affairs predominantly used by forest service employees and recreation seekers, like me. They're often extremely narrow - so much so that if 2 cars pass each other, one is likely to wind up in a ditch. They often end at little fences too, so they're very seldom traveled, although I did pass by one vehicle today. I like them though. They are unobtrusive in a way which bows in respect to Mother Nature. They merely pass through - they do not despoil the landscape.
I took a left on 749 and kept following it straight until I reached its' intersection with FS119 (there was one of the little gates here, by the way). I then turned right on this road and soon found myself wondering when I might see the next Sheltowee sign to confirm my direction (it gets a bit confusing here – or maybe that's just me).
The sign comes up soon enough, but it's not completely visible from the road. The turnoff is on the left at what looks like the junction with an absolutely ancient forest road. Another slightly receded road gate for this was a sight which disturbed my reverie long enough for me to be able to spot the continuation of the trail which veers off just to the right of it.
This part, between FS119 and FS457 is nice. It's not directly on the roads and you'll see some great vistas from it because it runs right along the top of a ridgeline. You'll gently slope up, but at one point will unexpectedly have a little drop through some rocks. This area would be especially nice to see in the fall with all the color, but there's a sign toward the end of this section which indicates that there was quite a windstorm here in 1991 which toppled large swaths of trees – 100 acres worth and enough to build 250 houses according to a sign out here!
The end of the line today was just ahead at the trail junction with FS457. You're supposed to go left here (although I had to guess), and I did this just to get a feel for where I'd pick up the next section of the trail the next time I came out. Turns out, it picks up to the right of the road about ¼ mile up, where a sign indicated that it was another 6 mile hike to Sinking Creek with Highway 80 being 11 miles away. While there's no real parking right at this spot itself, there is just a tad further south on the road.
It's very hard to sum up this hike because it's so amazing. In fact, I'm looking through the pictures right now trying to figure out which ones to put up – and I can't do it! Even a hack like me can't take a bad one out here! I'll just say that it's an absolute shame not to put ALL of them up, and in terms of diversity of scenery and sheer beauty, this hike may be the epitome!
DIRECTIONS:
Take exit 38 off I75 near London and head west on KY192. Go about 15 miles down (passing signs for Marsh Branch Boat Ramp and Craig's Creek Ramp) on this road and start to slow down because when you get to the intersection with KY1193 you'll want to park on the left. This intersection comes up quite quickly after a curve in the road. There are 2 trailheads right here. The northbound one is a cross the intersection. PLEASE be VERY careful when crossing here!