PLACES TO GO ON LAND DESTRESS OUTDOORS HOME PLACES TO GO ON WATER
Shaker Village of Pleasant Hill
From Trailhead 2: Shawnee Run and Chinn-Poe Trails
Wednesday, April 21, 2010
Here are a couple more trails that one can hike in this great village/nature preserve. Shaker Village is, of course, just that - an old Shaker village - but they offer so much more. Like 40 miles of hiking trails! I don't think enough people are aware of this. You can literally walk through the farmland on these trails and pretend like you, yourself are a Shaker back in the day. Or a modern day farmer taking a quiet walk around your fields... These particular trails will also take you through forests and alongside streams, and toward the end of Chinn-Poe you'll be in an absolute Kentucky paradise which today included many different kinds of wildflowers.
I drove into the park and quickly checked in at the shop which can be accessed on a short little path that begins on the north side of the parking lot. You'll need to sign a waiver here and you'll definitely want to pick up a map. I found the trails to be very well marked in the forest sections, but in the field areas the markers didn't seem to be as plentiful and they weren't as clear to me in their indications. In fact, I remember one that seemed to point right down the middle of 2 different paths!
To reach the main trailhead I got back in my car and took a right past the pond (heading west) on the paved village road that was closest to US68. This goes back a little over a mile, and at one point you'll dead end near the parking lot for trailhead #1 which will be on your left. You'll want to go right, though, and head over a one-lane bridge. After this I took the first right, passed alongside one of the old houses, and parked in a mid-sized lot in the back. This is apparently a conference area.
Now, it could be that you're supposed to park further down the road, and there is a barn down there... Looking at the map it appears as if this could be the actual trailhead and check in, I don't know, but they didn't seem to have a problem with me parking in this particular spot – and I'd already checked in anyway. To begin the hike I took a short walk back to the road and went left onto the Shawnee Run Trail (this is the path through the meadow you will have seen on your right as you drove in).
A quick note about the 4 trails which branch off from this trailhead (#2): Shawnee Run is the longest, as it runs all the way around the perimeter of the Shaker Village grounds in this section. Chinn-Poe, by contrast, is a short out-and-back which leads outside of this loop and past some old mine sites before it reaches a point where 2 branches of the Shawnee Run meet. Then there are 2 lollipop loops inside of Shawnee Run which I would not get to today – the West Lot Trail, a 3-miler, and the Chinquapin, a 2-miler.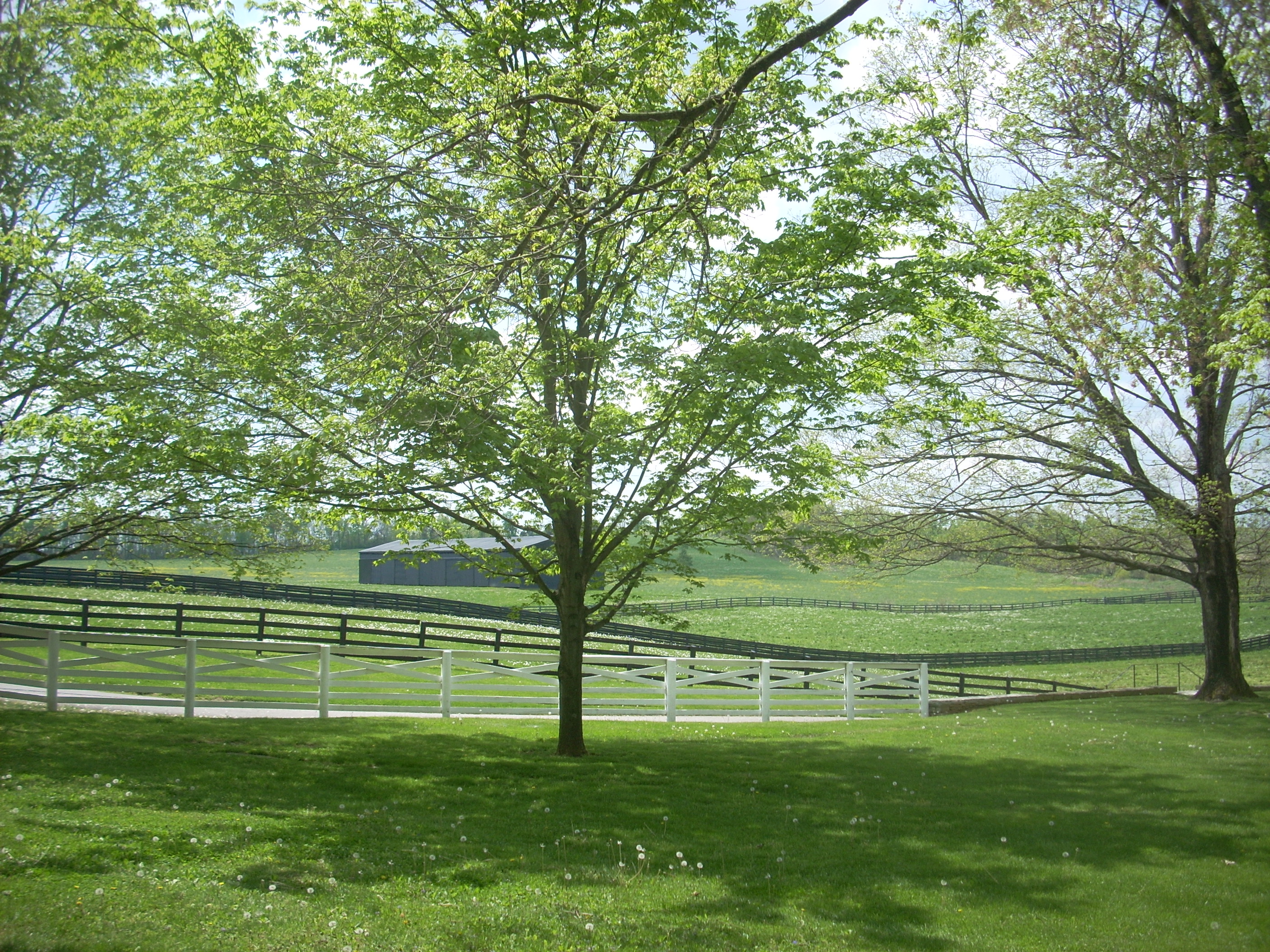 As you embark on Shawnee Run you'll essentially be taking a farmland stroll along a gradual descent toward this trails' namesake stream. Doing so, you'll pass by the first of a multitude of trail intersections. There are an absolute ton of these out here, most of which are simply connectors that link one trail to another, so it can be really confusing – another reason to be sure to bring a map. There was even one point early on at which I saw a Tanyard Branch Trail sign. Get on this one by mistake, and you'll be taking a totally different loop around a totally different section of this preserve. Tanyard is a 6-miler too, so if you wind up combining this with Shawnee Run you could very well wind up out here overnight!
Anyway, as you near the stream you'll be coming more and more into a forested area, and when you do finally reach the water the path will cross right through it on what looks like an ancient patch of concrete. It was around here that I began to be greeted by quite a few varieties of wildflowers. I counted what I believe were about 8-10 different kinds over the course of the day.
What greeted me next was right out of the history books. It was the site of an old fulling mill along the stream where a little waterfall was coming down. The water used to be channeled from here, across the stream, and into the old mill (you can still see the foundation) where it was used to assist in pre-treating the wool which would later be used in garments. This whole process is summed up on an interpretive kiosk here, and you can relax and take in the pleasant sounds of the waterfall on a park bench that they've made available.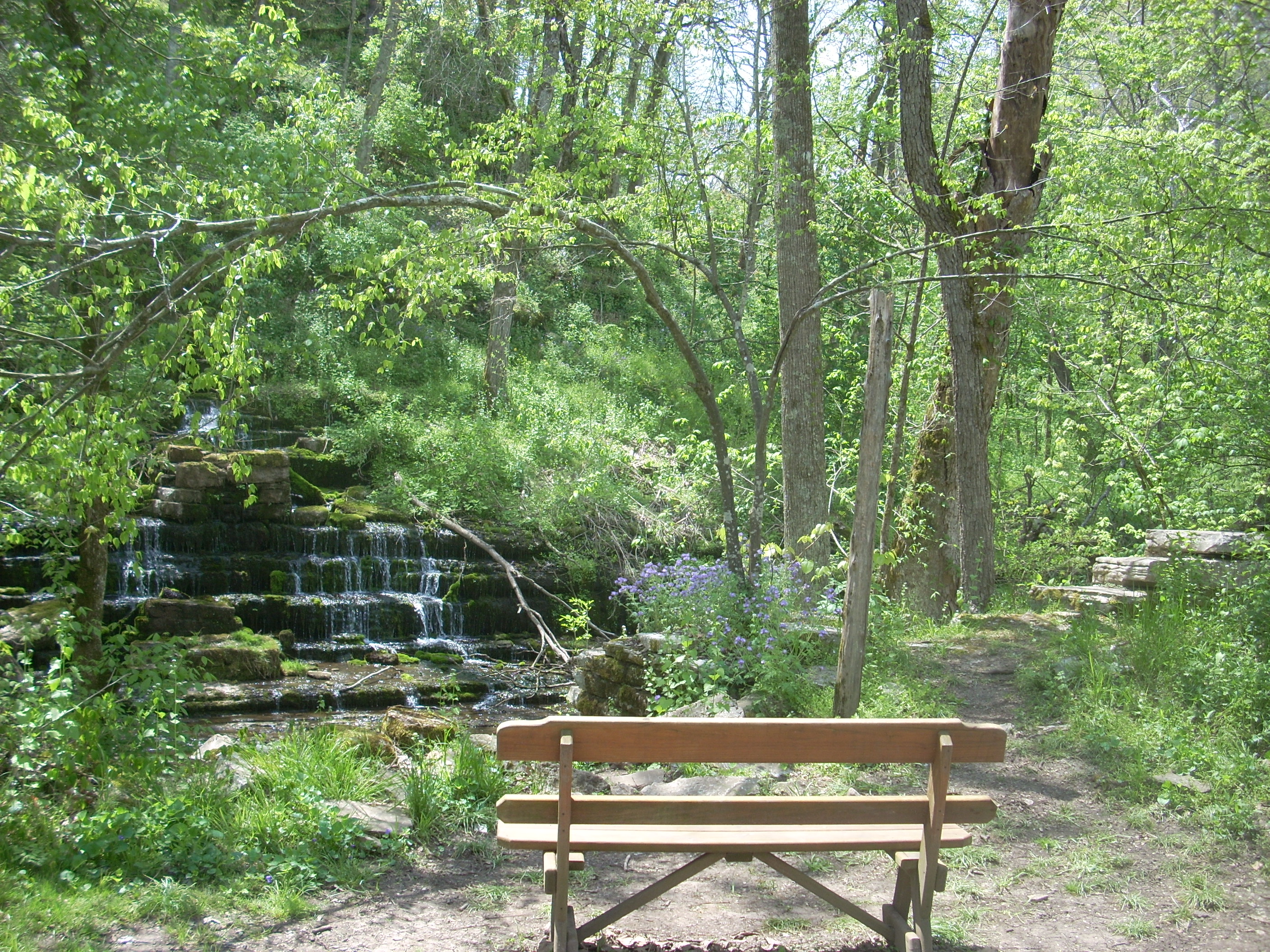 Eventually, however, you'll have to pry yourself away from here, and once you do you'll follow along the stream for a while before eventually crossing it a couple times in quick succession. On your first span you'll encounter a spot where the water has eroded into the rock and created a wall. Like the mill, this is another picturesque spot to stop and enjoy a while.
When you make the second crossing you'll begin to ascend away from the stream on a very gradual slope through sometimes knee to shoulder high sections of foliage along the path, and before you know it you'll be near the top of the ridge and Shawnee Run will be waaaay below you. Some more connector paths will cross here and these lead up to the field sections of the West Lot Trail. You'll just be able to make out these fields as you look up toward the top of the ridge.
After meandering maybe another mile you'll cross over a feeder stream for the Shawnee Run. The map indicates that there's a scenic overlook right before this (called Chimney Rock according to one of the trail signs I saw), but it's actually just after. They've got a bench here where you can sit and enjoy the scenery for a while, although today the spot was a bit overgrown. The location lies in the midst of some power lines which run overhead.
Passing this point, you'll begin the steepest of the Shawnee Run ascents (although there's one on Chinn-Poe that will be steeper), and as I neared the top I could have sworn I heard a donkey bray! …?...
Also near the top there was what appeared to be an old mine site to the left of the path, but all it amounted to was a gaping hole in the ground with a bunch of metal and wood fragments thrown in - including an old box spring. Yet, despite all this refuse the hole still wasn't completely covered, so I'd be especially careful up here. There are quite a few of these old mines around – especially on the Chinn-Poe Trail which comes up next. These are really not that interesting to be honest – just holes in the ground.
A picnic area was on my right when I emerged in a field section, complete with a picnic table. There was also an old barn beyond this, but it did not contain the donkey. It appeared to be abandoned. The mystery was still on…
If you want to take the Chinn-Poe Trail from here, you'll walk right up to the barn and take a right around the side. Doing so, you'll be led back and into the forest again. This trail is basically a walk downhill to the forks of Shawnee Run and back, and on the first part you'll pass by a few more old mine sites before curving left along a level stretch of path. Then, making a right, you'll head down into what I'd call a little Kentucky paradise.
The Blue Eyed Mary's seemed to be particularly abundant out here, and when I crossed the stream for the first time I met with an incredibly pleasant green scene that made quite an impression on me. I'm not sure exactly what kind of plants these are - mosses maybe – but I can't remember seeing them before in my travels. It may sound a little odd, but some of the things I see on my excursions make me feel as though I've gotten some kind of special V.I.P. pass to a private nature display. This was one of those times. In fact, the whole area had that feel, and so I'd now consider Chinn-Poe a must-take spring hike.
When you hit the water for the second time, you'll have reached the forks and this will be the limit of the Shaker Village grounds. With all the wildflowers and dense greenery out here it took me quite a while to break away.
When I eventually did head back up the hill, I took a right around the side of the barn to continue on Shawnee Run. In contrast to what I'd just done, the vast majority of the rest of this trail would run through fields which provided some nice rolling countryside views. The donkey mystery was soon solved in this section too, as I saw that the animal was penned in on a neighboring farm just outside the Shaker grounds.
This particular section kind of threw me though (although you can cut it off if you want as per the map)… That's because for a trail which had generally formed a circle up to this point, you're walking along a kind of nodule off the side of it in here. As I continued I got the uncomfortable feeling that something might be wrong. I went from being on a path to being on more or less of a gravel drive – a gravel drive which appeared to lead to someone's farm. When I heard a dog barking I turned around and headed back to try the nodule from the other direction.
Passing the barn again, I reached the aforementioned picnic area and took the cut-off path as per the map. There's another side trail off of this, too, which may confuse you. It takes you on a little tour of the native grasses before it catches back up with the cut-off path. In fact, I'll speak very generally and say that if you only want to follow the Shawnee Run Trail from this point, then you'll just want to head dead straight. Most of the next mile or so will be directly along the side fence of the village grounds. The trails which branch off to the left will all be connectors.
However… I was intrigued to discover just what the heck was going on with the nodule section. I'd been out here a couple of years ago and at that time I'd hiked all the way around it. Had something changed, or had I missed something? Well, of course I had to try and find out, so I attempted it from the other direction. To do this, you'll make the only right you can make on this cut-off trail. I did this and went back a little way before I heard the dogs again…
Oh well. At least I tried it, I guess. It's probably ok, but being alone I don't take any unnecessary chances. Before I try to make this little arc again I'll make some inquiries about the path. I can say, though, that some of the most pleasant farm scenes I encountered were back here along some of the old stone fences. I hope the owner of the house below doesn't mind me posting this picture…
Back to the Shawnee Run Trail… It will next dip you down into a section where you'll cross over a little stream, and this was where I encountered one of the more ambiguous signs of the day. What I did was just continue directly alongside the fence to begin a long and very straight farmland stroll. This is where you can pretend like you're a farmer (if you aren't one already!). The section will take you past a great view of the stables at trailhead #2.
What you're bound for is the stand of trees directly ahead of you, and once you reach these you'll find that there's quite a bit more here than meets the eye. Passing through the fence you'll find yourself in an incredibly diverse little forest – as diverse as any I've seen in the area – and the path will meander so much in here that it'll make up for the last section. It is, however, very well marked and easy to follow.
Emerging from this forest you'll find yourself hiking alongside a white fence beside the road you drove in on and, realizing that this was the end of the trail and that my car was just ahead of me behind the house, I took my time to let the experience sink in. On the way out, however, I had a situation... The geese back at the pond had my way completely blocked. There were 4 of them right in the middle of the road with another pair on either side, so I couldn't get through without trenching the Shaker Village lawn! I thought that honking the horn would help, but it didn't seem to have any effect, so I just kept inching and inching the car up towards them until they eventually got up and moved. It took a while… How rude!
DIRECTIONS:
Pretty easy... The village is located southwest of Lexington, Kentucky and northeast of Harrodsburg on US68. Just get to the intersection of US68 and KY33 and the entrance is immediately to your north.