PLACES TO GO ON LAND DESTRESS OUTDOORS HOME PLACES TO GO ON WATER
Shaker Village of Pleasant Hill
From Trailhead 3: River Road and Palisades Trails (along with a botched attempt at Meadow View)
Thursday, April 1, 2010
I thought this would be a nice day to return to Shaker Square (http://www.shakervillageky.org/). It's a fantastic place to hike, but I don't think too many people consider it as such or even know about its possibilities in this regard. That's because (as I once did) you can easily get caught in the pattern of seeing this as "only" an old settlement to tour. Well, this sweet little village has much, much more to offer than just that with around 40 miles of trails on 3000 acres of preserved land! They also offer lodging and meals, and they even operate a paddlewheel boat on the Kentucky River!
As you come into the village off US68 you'll want to park in the main lot (almost straight ahead but a little to the left) and then walk toward the north end. Follow the path you'll find here as it leads up and around to the craft shop where you'll sign a waiver form and get a trail map. The last time I was here I was also given a key to take with me to open some of the gates on the property as I went. Today, however, they said that all of them were open and that a key would not be needed.
There are 3 different trailheads out here and from each one of these there are around 12 total miles of trails. In terms of how they relate to Shaker Square itself, trailhead 1 is located about a mile west of the village, trailhead 2 is located just to the northwest of this about 1 ½ miles away, and trailhead 3 – the one I would utilize today – is located immediately on the northeast side. You'll be able to stay parked where you are to easily reach this one. Access to it is as simple as walking down "main street", but this and all of the trailheads are also accessible on paved village roads. The bottom line, however, is that I'd definitely recommend a trail map. Things can get quite confusing out here as far as both finding and following the trails.
Just walking to the store to get your map will get you going out here though. It's just so peaceful! You'll see many farm animals in the different pens around the grounds too, and the views are right out of a history book. It really is fantastic what they've been able to do out here – it's a real gem.
Today I had decided to take the River Road Trail which leads down to Shaker Landing on the Kentucky River and meet up with the Palisades Trail. The first of these hikes is essentially a 3 mile out-and-back, while the second is about a 1 mile river bank loop.
Proceeding, I headed up to the main village road after first making sure this was OK. There is an entrance fee for the village, but there is no fee to hike on the trails. I didn't want to feel I was taking advantage, but it was fine. How's this for a main street view?!?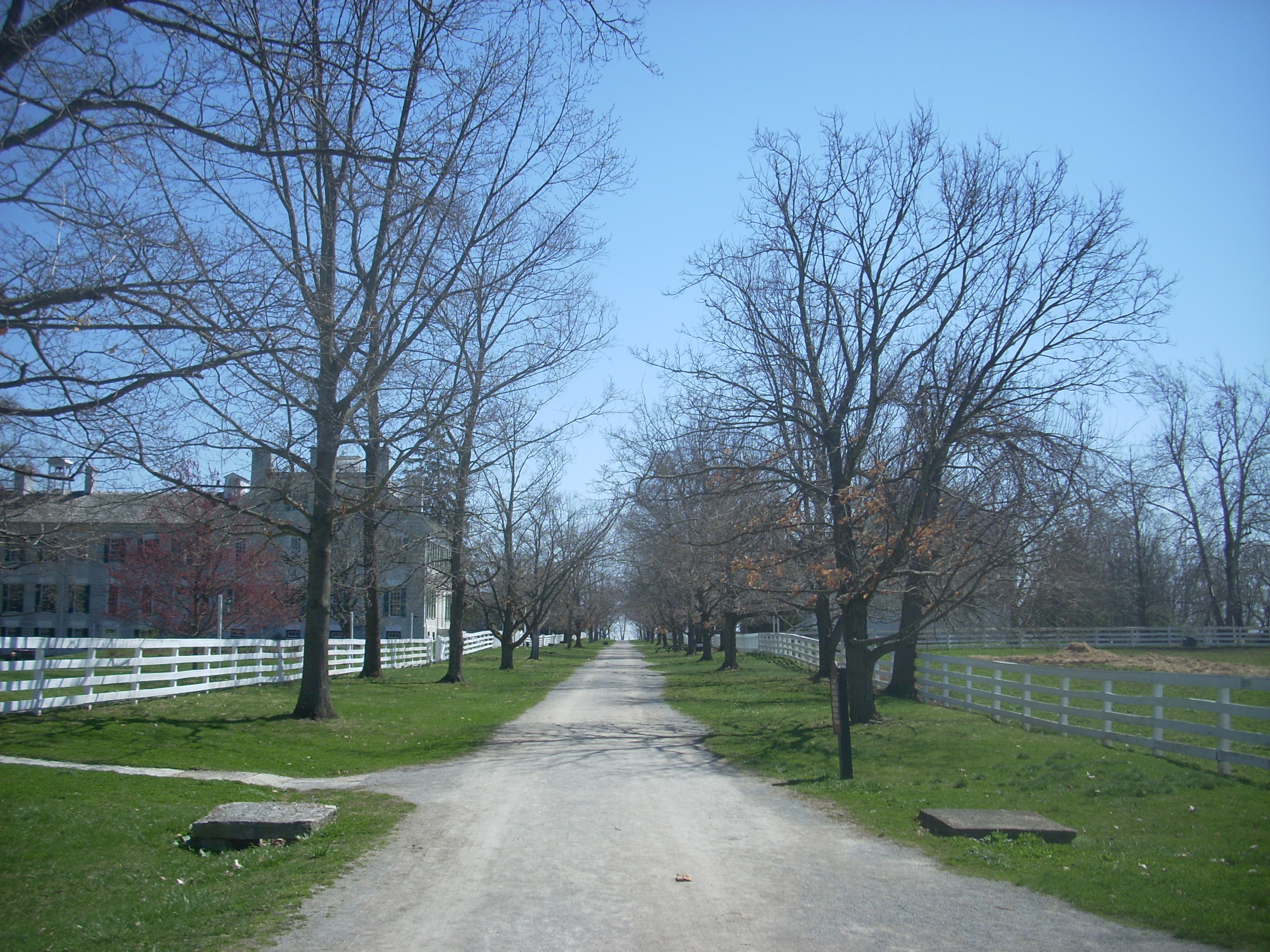 Anyway, I took a right on main and headed all the way to the end where the road seemingly dropped off to reveal some splendid views down into the farmland of the Kentucky River valley. There will be a split in the road here but you'll want to go straight through it to end at a stone fence with a stile to climb. I wasn't familiar with stiles, but they're a series of steps over a fence or wall which you use to get over. Like so…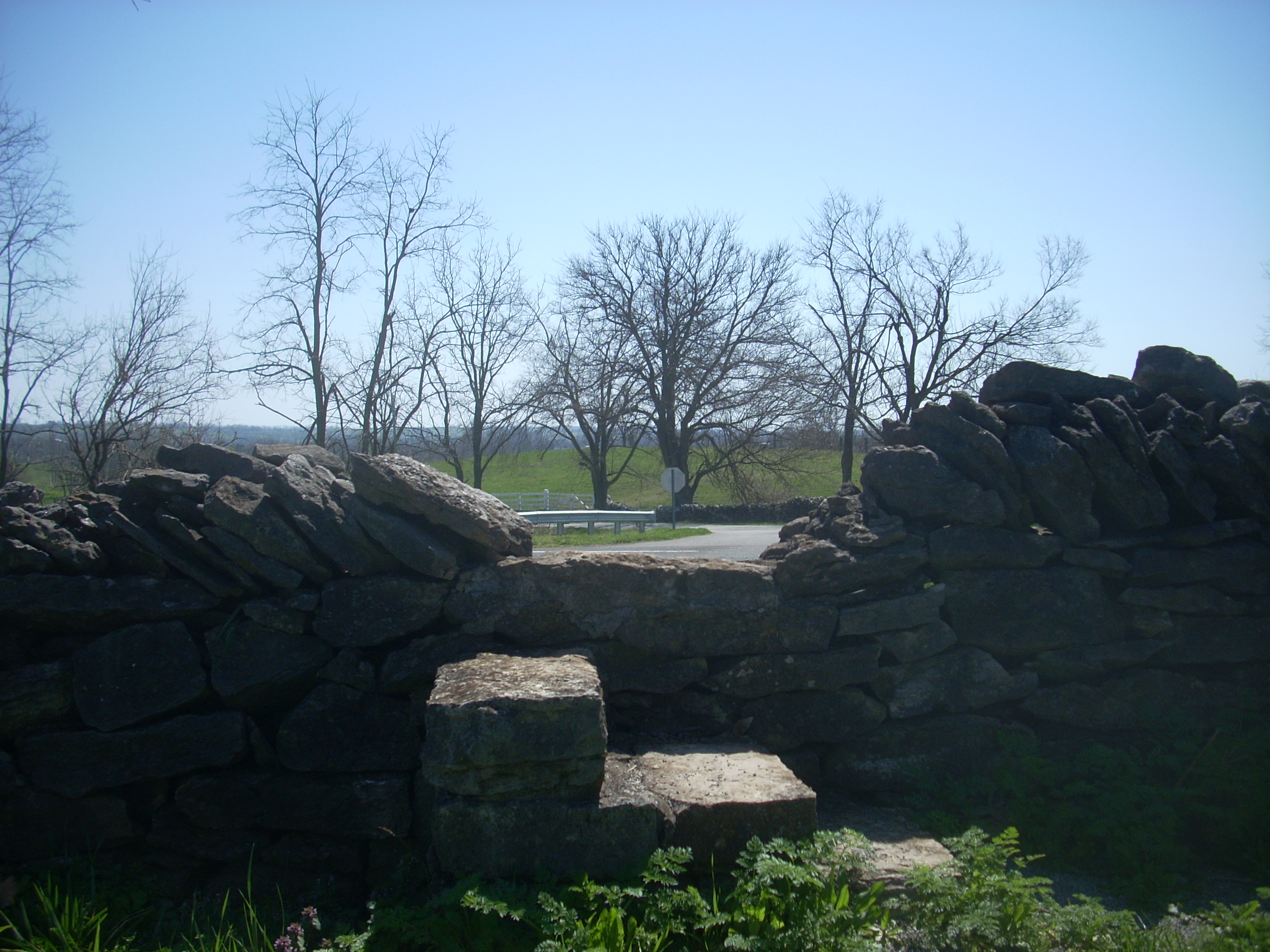 Once you've gone over be VERY careful. You'll want to cross over US68 at this point, and the road is very curvy. There's a pedestrian crossing sign, but I wouldn't take any chances. You have - and will continue to have - great descending views around this point, marred only by the power plant in the distance (the location of the Dix River dam at Herrington Lake).
Follow the road you see after crossing 68 and begin your slow descent toward the Kentucky River. The road you're walking is a re-route of the original that the Shakers used to transport their wares to and from the Kentucky River – the main route of commerce during their time. The Shakers were incredibly enterprising, and their wares were well known for exceptional quality. They would have used this road quite a lot. You will follow the re-route and then you'll shortly come upon the original road after passing over another stile. The point will be well marked on your left near the site of a couple little ponds.
Beginning this section on cow paths, you'll soon know you're on the original road when you reach the location (it'll be on the left) of some stone ruins which rise a few feet high. This was the old gate, or toll house! Passing this, you'll soon begin to descend more steeply on a long left curve down to the river, and you'll be able to spot the Kentucky River palisades and High Bridge in the distance. There's one point that's particularly striking. I'd call it a cleared out corner. Check it out…
The last part down to the landing is along a rock face. You're walking directly beside one of Kentucky's famed palisades! It's possible you may hear vehicles down below and to your right as well. That's because the newer road has been following you down there just out of sight. After climbing down a ladder, you'll meet up and cross this just before it ends in a parking lot.
Back to the ladder, however… As mentioned, you're walking along the old road - but this couldn't have contained a drop-off! I tried to reconcile this, and came to the conclusion that there must have been a rock fall at some point which necessitated the ladder and might have even led to the re-routing of the road (although this seems much too simplistic – either I'm totally off or there must be more to it than this).
Once having reached the bottomland, I surmised from the dip (visible on the right side below) that the old road had been routed between 2 warehouses. You can still see the foundations of these.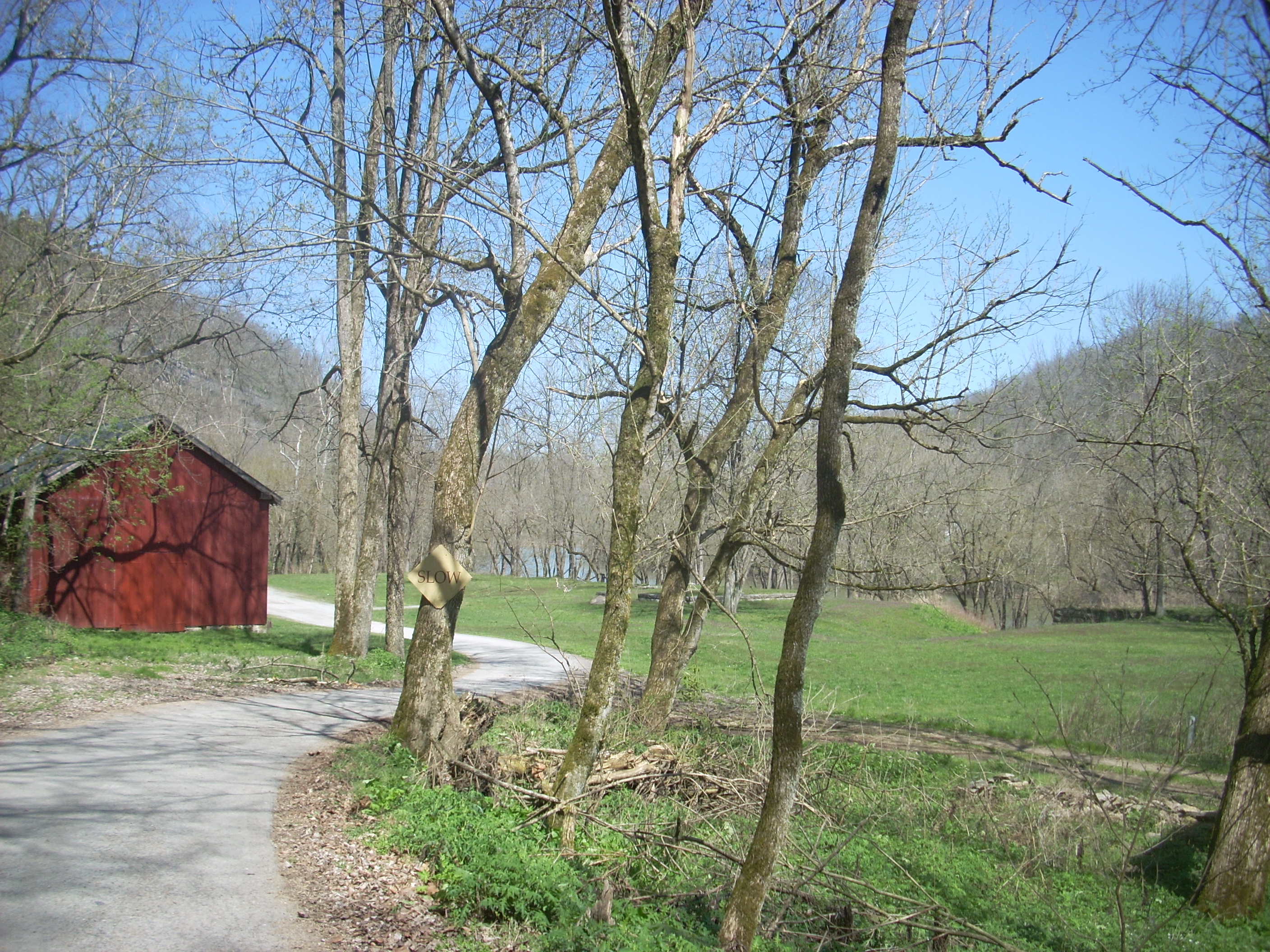 The landing itself still exists, of course. This is where the Dixie Belle riverboat is docked, and they'll take you out on tours at certain times (check out the link near the top for more info). Once commonplace on the river, I can tell you that having paddled the whole thing, this is the only one left to see (although there is also a sinking one just above lock and dam 10 in Boonesborough). Of note, too, they'll let you put in here in a canoe or kayak – but only at certain times.
Another note – there was an incredibly intriguing man named Paul Sawyier who lived alone in a boat on the Kentucky River for about 4 years in the early 1900's painting pictures of river scenes. Well, I've not been able to validate it, but I heard or read somewhere that the little brown shed-like structure in the picture above was part of this very vessel.
Y'know - adding the things I experienced here today to the experiences I had paddling the Kentucky River, I can now absolutely say that I really love this particular area. It positively mesmerizes me! You can almost feel a latent energy down here, a lingering remnant of this once-bustling area. I get this feeling most acutely in the picture below. This would have been one of the busiest parts of the old road - the stretch between the landing and the warehouses where the carts would have been loaded and unloaded.
The Palisades Trail? Well, it kind of rings this entire area down here. I tried to follow it by walking one way, but it ended. This did, however, enable me to meet one of the kind workers here as well as the captain of the boat. Both these guys were very gracious in putting up with my pesky questions. As far as the correct way to go on that path, it was quickly revealed by the family who had been picnicking at the table I'd just passed by. They had already finished eating and were starting their hike. I didn't want to appear strange by walking right up behind them, so I tried the other direction. This took me along a road which ended at what appeared to be a water intake. I went on past this to the right to follow a little stream for a while and then came back. Once emerged, I simply looped back along the Kentucky River for a while and ended up back at the boat (again, a map is strongly recommended).
You can head back up to the village on the new road if you want, but I chose to simply head back the way I came, and looking up the rock wall I thought the tiered scene below was interesting…
…and here's what it would have looked like to the Shakers as they brought things up from the river. In fact, I imagined myself as one of them on the way back. Not nearly as tired as they must have been, I still tried to envision what their ascent might have been like as they anticipated returning to their families at the end of a long, hard day.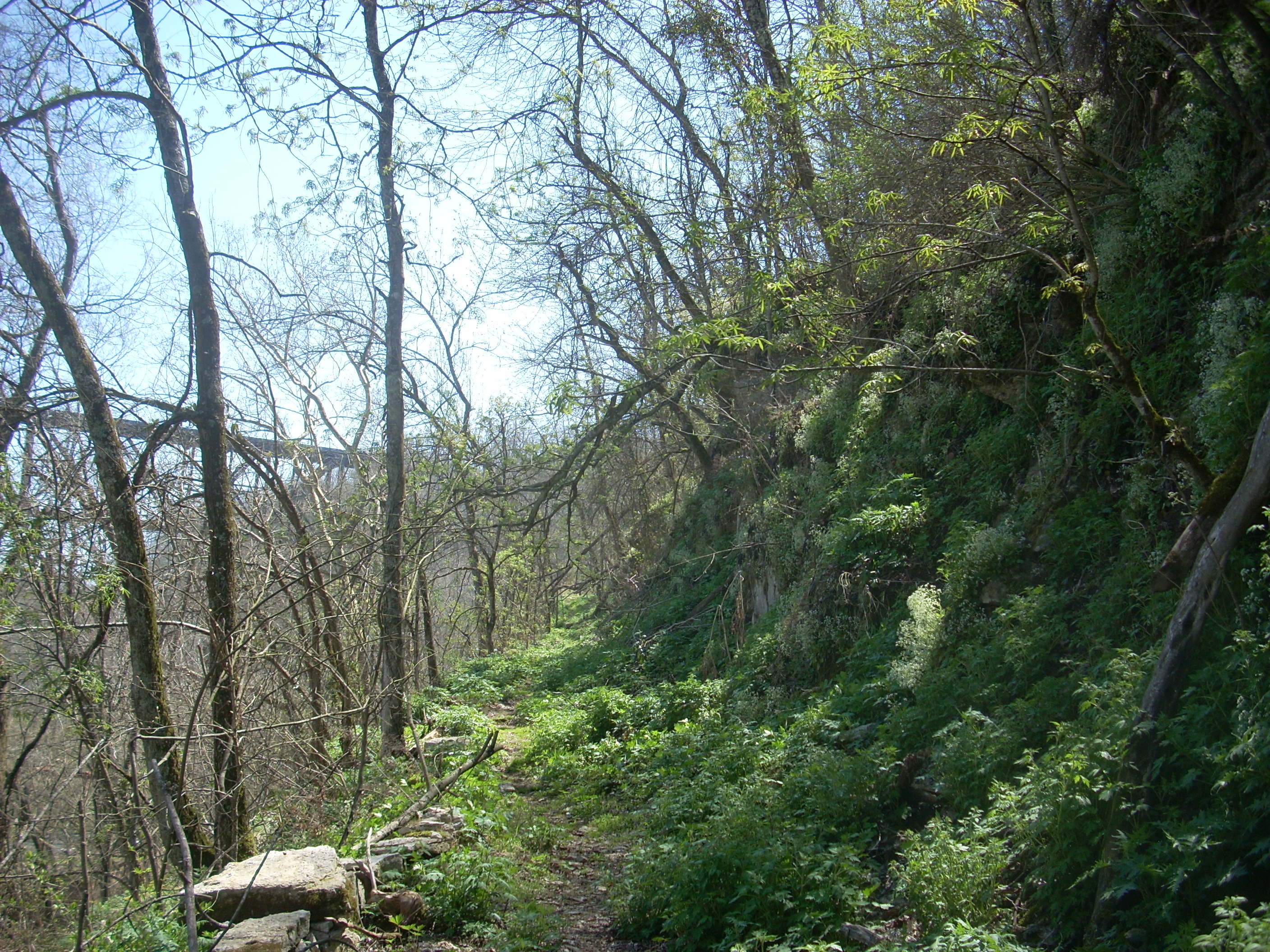 When I arrived back at main street, Shaker Village, I went on to see the actual parking lot for trailhead 3, around and to my right because I had ideas about trying the Meadow View Trail. I had some time left. How did it go? Certainly not well for me in regard to direction. Call me a dunce, but I lost the trail pretty quickly despite having a map with me. This one's confusing because parts are well traveled but unmarked, while others are marked but not well traveled. I did my best, but what I think I actually did was a combination of the Meadow View Trail, the Tanyard Trail, and the "James DiNardo Trail" (one which wanders aimlessly!).
Anyway, I started by walking along a road that led north, at first thinking that this might be a path that was wheelchair accessible. Well, that would have been nice, but I don't think it was the case, because it led me to the tannery house. This is where they originally tanned leather and pumped water back to village. It's available to lodge in now – and what an idyllic location to do it in! There's a pond too just out of sight to the left in the picture.
\
From here a series of misadventures ensued, culminating with me finding myself at the back of the village. A sign had pointed the way for Meadow View, but the indication was to follow along a stone fence on a "path" which was completely untrodden. Figuring I must have screwed something up, I kind of just botched it by heading directly back to village. I'll try this one again, maybe from the opposite direction next time.
I'd say you've simply got to come out here sometime – highly recommended! It seems there's something for everyone at Shaker Village of Pleasant Hill, including the little lake below where you can relax with the ducks and geese at the end of your hike and let the experience sink in.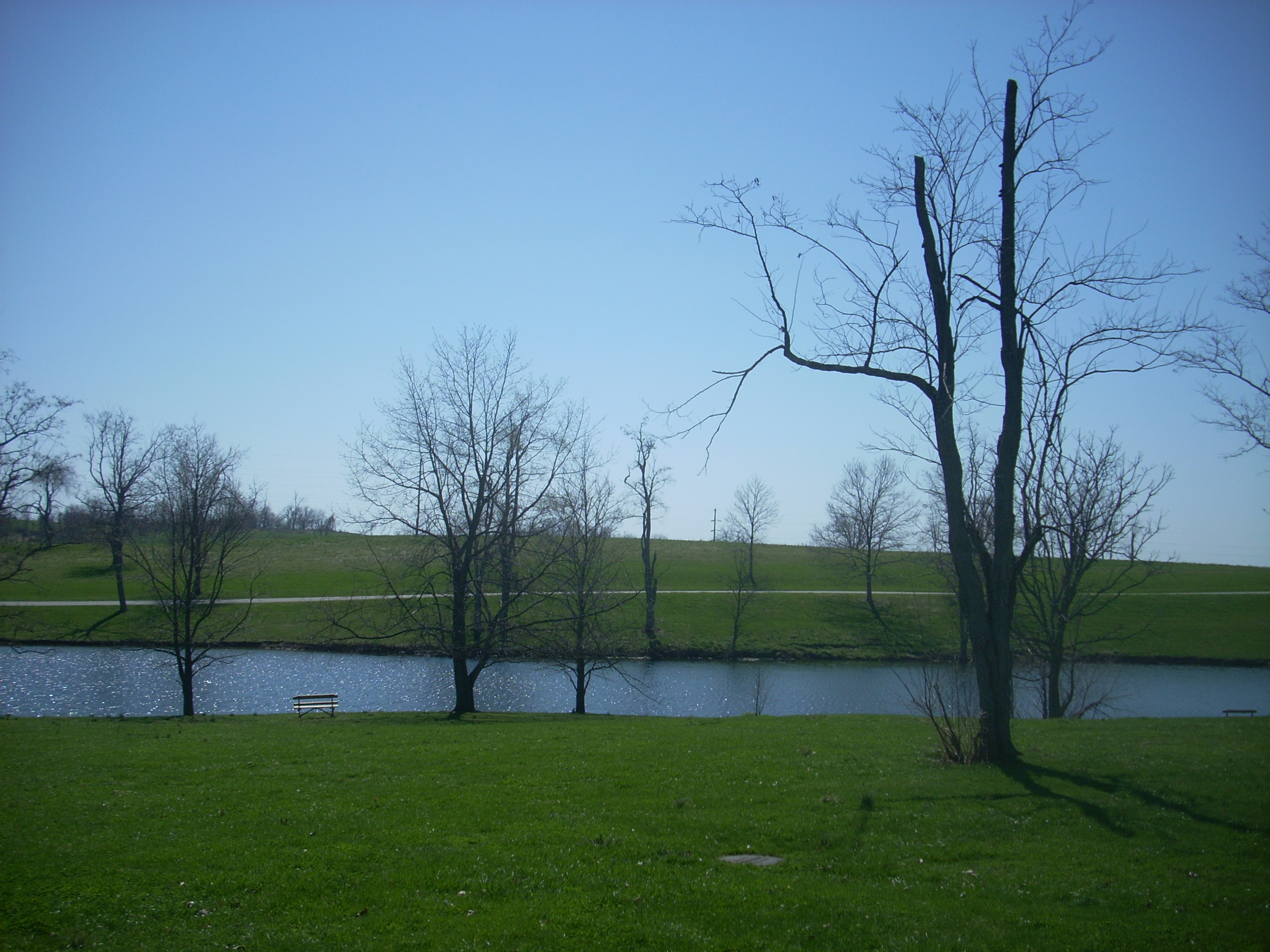 DIRECTIONS:
Pretty easy... The village is located 20 miles southwest of Lexington, Kentucky and 7 miles northeast of Harrodsburg on US68. Just get to the intersection of US68 and KY33 (the second KY33 junction if you're coming from Lexington - not the first) and you'll see the entrance immediately to your north.