PLACES TO GO ON LAND DESTRESS OUTDOORS HOME PLACES TO GO ON WATER
Red River Gorge
Courthouse Rock/Double Arch Loop
Monday, March 16, 2009
Today was my first fresh trip of the year (ie. a trip I'd never previously taken), and it sure seemed like a long time coming! I thought I'd never see the end of winter this year! I'd like to hike in the winter too, of course, but I don't have the vehicle for traveling the back roads in the snow. Give me a jeep and I'd be out all the time!
Anyway, the trip I selected for today was in the Red River Gorge both because it's so close to Lexington and because I hadn't previously written about it. In fact, I'd waited nearly 3 years to come out here for one of my hikes. I'm destined to go solo you see, and despite the fact that you'll always see other people in "The Gorge", it is so vast, so remote, and so potentially dangerous that I wanted to make sure I perfected my "A" game before coming out. It seems that just about every month you hear on the news of someone who has either been killed out here or has become lost. I certainly didn't want to add to that.
At this point in the year I'm getting back into hiking shape by working my way up to my normal distances in gradual steps. Step 1 is the 4 mile red trail at the Raven Run Nature Sanctuary, followed a couple days later by Berea College Forest (a hike of about the same distance but a little more strenuous), and then after a 6-7 mile hike I'm back in business. This was to be the 6-7 mile and it may now become a regular part of the yearly "routine". If you want to experience what its like to be lost in a vast sea of mountaintops and ridgelines which stretch as far as the eye can see, then this is a hike for you! Talk about feeling small! I consider myself to be a pretty humble person, but out here you'll feel positively miniscule.
I drove to the very end of Tunnel Ridge Road in the Red River Gorge Geological Area (directions below) and began my hike on the Auxier Ridge Trail which begins on the northwest (left) side of the parking lot. Seeing another group of people just about ready to head out, I emerged from the car with my backpack and headed out immediately, hoping to attain some distance before they started. As remote as it is, you will always be in the company of others in the gorge – guaranteed. The area is very popular and especially on weekends.
This hike begins on a level plane as it bisects a little forest of pines, and you'll immediately be awed by the views on either side of you as the wilderness stretches far into the distance, yet very soon the trail will curve left and begin descending this ridgeline. What you'll do here is arch around a beautiful valley as you hike at the mid-level of this ridge, passing rock houses and other overhangs along the way. Then, ascending again on a sometimes sandy path, you'll once again find yourself at the top of the ridge. Here you'll stay for a while to enjoy many spectacular vistas.
Presently you'll reach an intersection in the path. This is for the Courthouse Rock Trail, which seems like it would be a perfect shortcut to said rock, but for the fact that it meanders so much. I continued on straight. There are a lot of sites in this section which seem to make incredibly nice camping spots, but they've been roped off to allow for nature to reclaim them.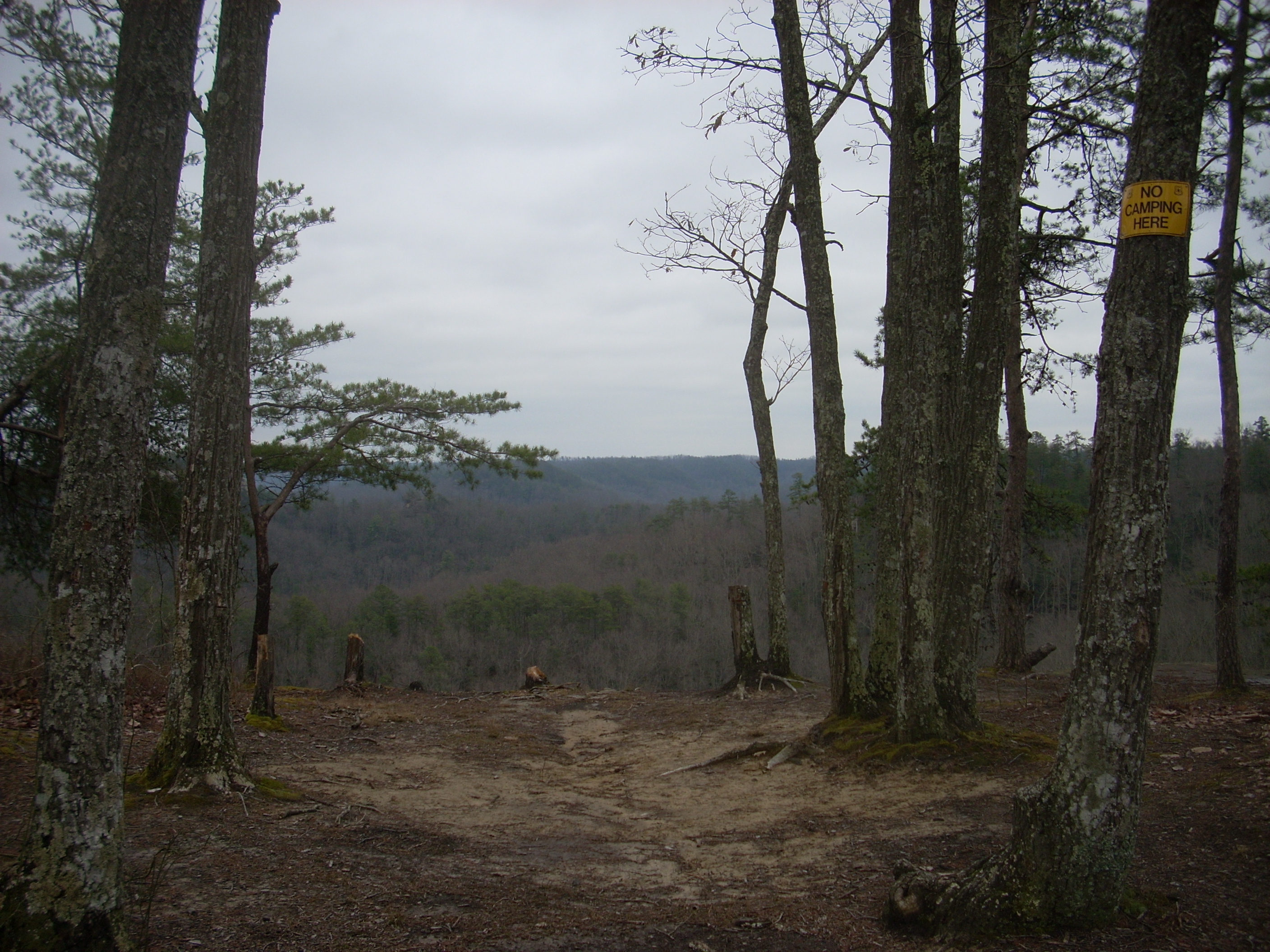 Another thing I noticed was a tree which had been perfectly split in 2, presumably by lightning.
Continuing on atop the ridge, the next sight I met with was absolutely "out of left field" – semi-literally! It actually was a field – a field so large that several 18 wheelers might have been driven onto it – and walking to the edge of this field the view that met my eyes was simply awe-inspiring. As clear as any of the views out at Berea College Forest – but without as many farmhouses – the sights from this particular vista are completely unobstructed for almost 180 degrees and you'll be able to gaze upon the gorge in all its' glory. The spot reminded me a bit of Pilot Knob.
This, incidentally, was the last point at which I'd hear the people who had been behind me. For the first mile or so it had seemed like they were "right there", and for a time I was even to hear a car horn in the distance about every 60 seconds (never know what kind of people will be out here!). After I passed this point, however, it seemed like the group disappeared. It was a bit odd. I thought they'd surely be right on top of me after I'd taken the time to explore around Courthouse Rock further ahead, but I wouldn't even hear their voices echoing through the valley the rest of the day as I was sure I would. In fact, the remainder of the trip was quite peaceful.
Anyway, after stopping to enjoy this spot (which, I can't believe, isn't named – The Panoramic Ledge, perhaps?) I continued on, losing the path once. It's very easy to follow with the white diamonds on the trees, but you'll be distracted by all the incredible scenery.
As it continues the path turns sandy as it weaves along with this ridgeline which seems to form an "S" shape. At times this ridge top becomes quite narrow and it's easy to see how it can wind up being so dangerous out here.
You'll pass some more vistas along with some interesting rock formations in this area, including a really nice one right before you begin your descent to Courthouse Rock on a steep set of steps. What you'll also spot is either Tunnel Ridge Road (the road you came in on) or a continuation of it in the distance below you amidst the sea of trees.
Once having reached it, the Courthouse Rock area literally looked like a playground full of large boulders. Courthouse itself was the largest, of course, but there were quite a few others. There's a trail junction here too at which you'll eventually head left, but go ahead and keep straight in order to reach the rock. I poked around here for a while, carefully climbing a little way up before moving on.
As I did, the Auxier Trail led me down into the valley below the ridgeline I'd previously been traversing, and at one point of the descent there was a rock ledge/overhang which would have made an awesome camping spot. I got the picture below as I gazed upon this at about neck level.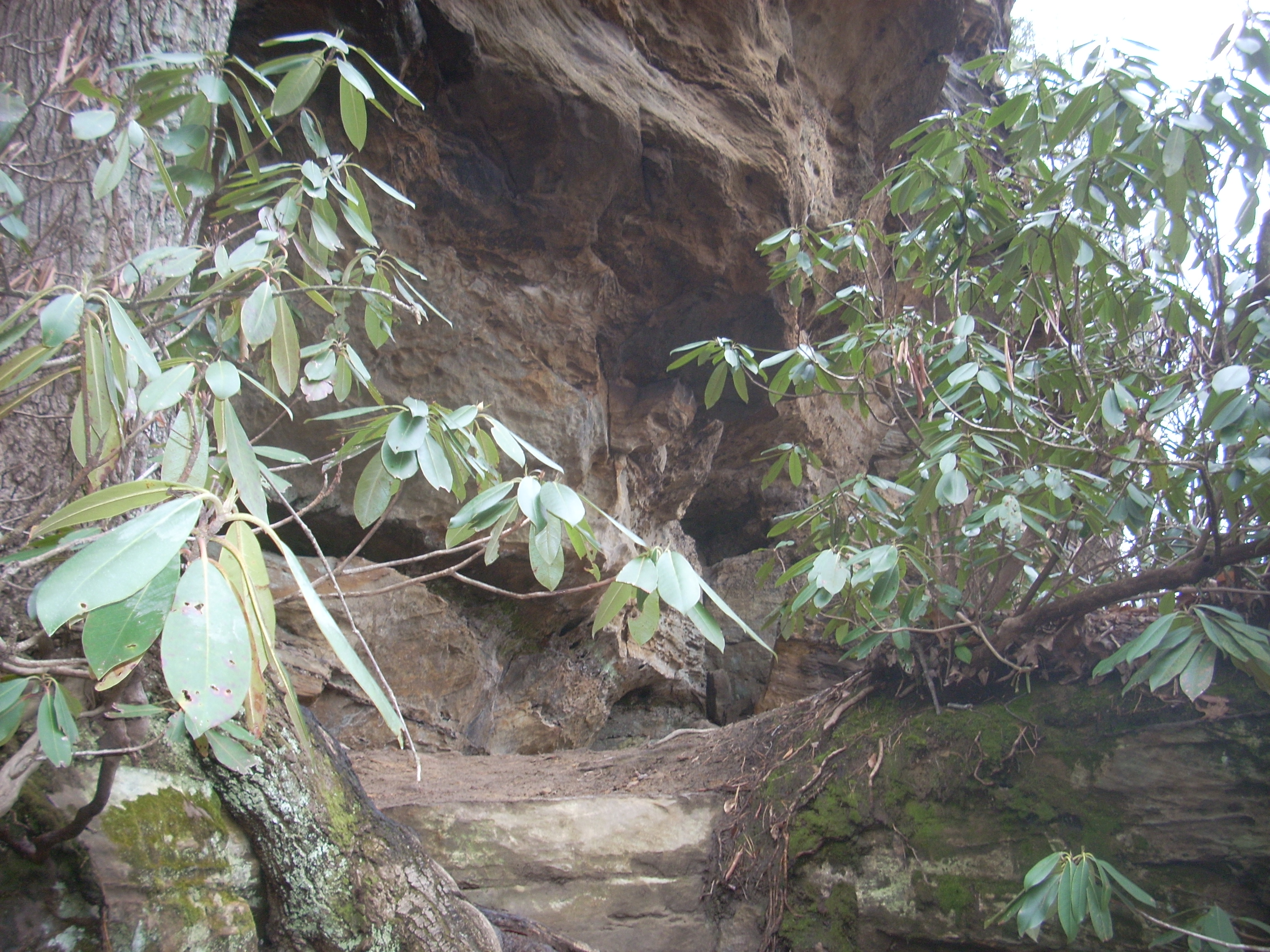 Look high and to your right and you'll spot what will, incredibly, be your eventual destination – Double Arch. You can't mistake it. As I looked at it I was thinking: "No way. That certainly looks like an arch, but it's so far distant! Could that possibly be where I'm heading?!?" Turns out, it was. It's really quite remarkable when you take the time to realize it, just how much distance you actually traverse on a hike. In fact, once I'd reached the pinnacle of the arch itself, this would become even more graphically apparent.
The other end of the Courthouse Rock Trail comes up soon. This is the trail I mentioned before that kind of cuts through this large loop I've been making. You'll continue to the right, and as you descend further and further into this valley you'll reach the trails' namesake – Auxier Creek. These little streams are always so endearing to me as I listen to and become soothed by the sounds of their gently trickling water. Today as I headed upstream alongside this I imagined that my troubles were passing through me and away down the waters of the stream as I walked in the opposite direction, effectively leaving them behind. This left me with a very light and airy feeling as I continued on, meditating upon this thought.
After a pleasant forest stroll the grade will strengthen uphill and as you ascend you'll get the feeling that you're about to have an up close and personal encounter with the rock face that lies just ahead of you. …and you pretty much will, because at the next trail junction you'll head right and travel all the way around the base of this rock face. In point of fact, what you'll actually do is form a coil around it as you wind your way up to the Double Arch. You'll do a complete 360 around the actual base on a very gradual ascent, and then you'll start on a second, tighter arc which will end at the arch itself. The arch itself? Stunning!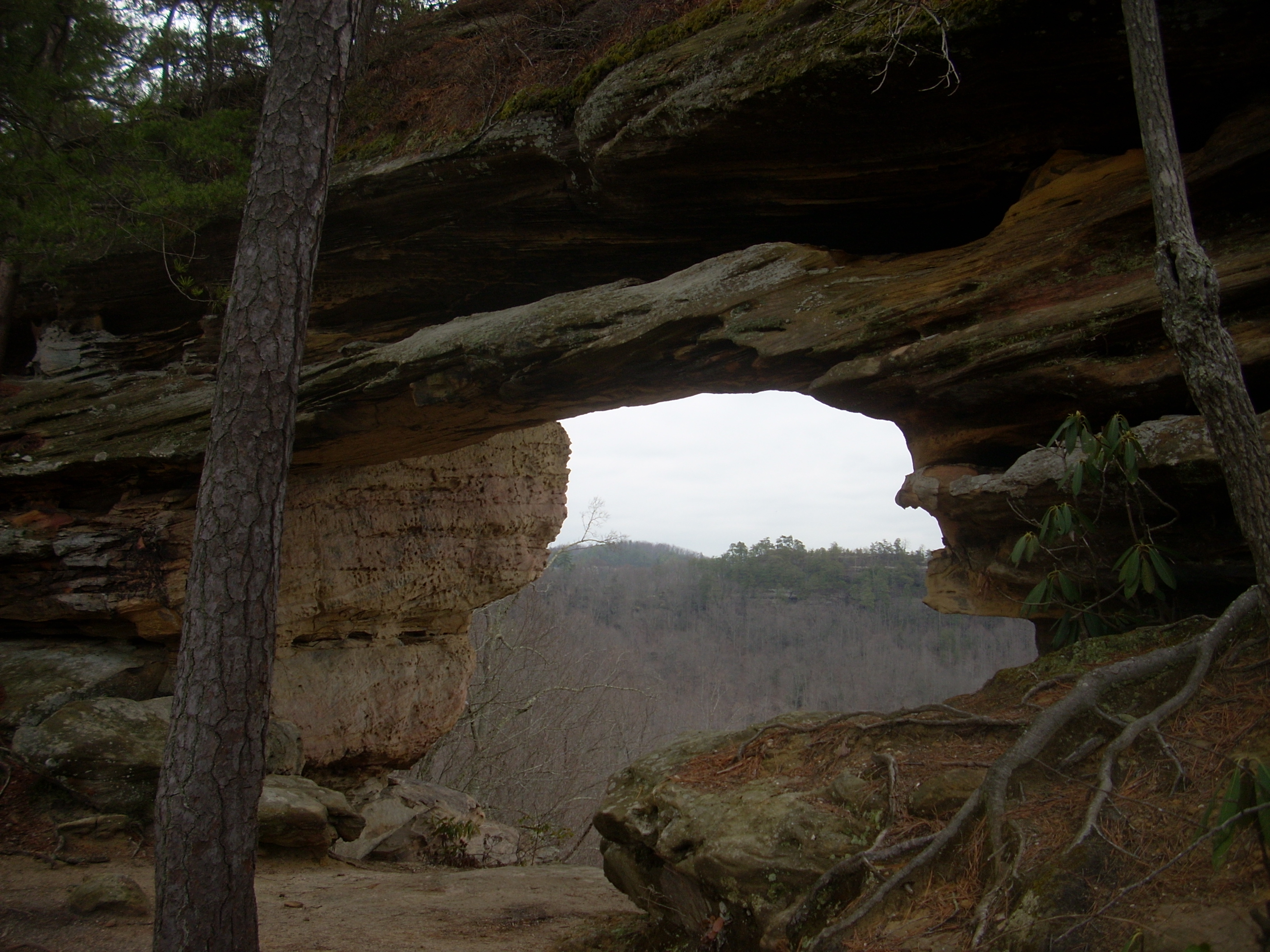 The views through it and around it are as fine as you'll see anywhere and you know what? There wasn't a soul around! I stayed for a while snapping pictures right and left, but it wasn't until I'd gotten almost all the way back down that I realized: "What the bleep was I doing?" There was absolutely no one around - full silence - and I don't think I took enough time to take it all in! I was too busy snapping photo's! I suspect I might have missed a fairly rare opportunity. I enjoyed it thoroughly, of course, just not enough. But isn't that a part of the human condition - never to be totally satisfied? In one way that's kind of sad, but in another I'm reminded of what I hear on Sunday's: "Our hearts will always be restless until they rest in the Lord". I think that's a much better perspective. 'Nuff said.
Around the right side of the arch you can climb up, and there are some steps carved right into the rock which will assist you in this endeavor. I thought these were really awesome and unique. This part is quite dangerous though. You really want to watch your footing up here. It's a very narrow ridge top.
As you look out toward the ridge top across the other side of the valley you may realize (if you haven't already) that you were just over there. You'll be able to see Courthouse rock as well as the large field that I mentioned a while back, and as you look down and into the valley you'll even see where you've just walked. I think it's really a neat feeling to see, in such a manner, just how far you've traveled!
On the way back down (the hike up to Double Arch is an "out and back") I noticed some incredibly colorful fungi on the downed trees I passed. Will you look at these?!? Fungi don't get much respect, but I'll tell ya - they can certainly surprise you sometimes! Some of these look like sea shells!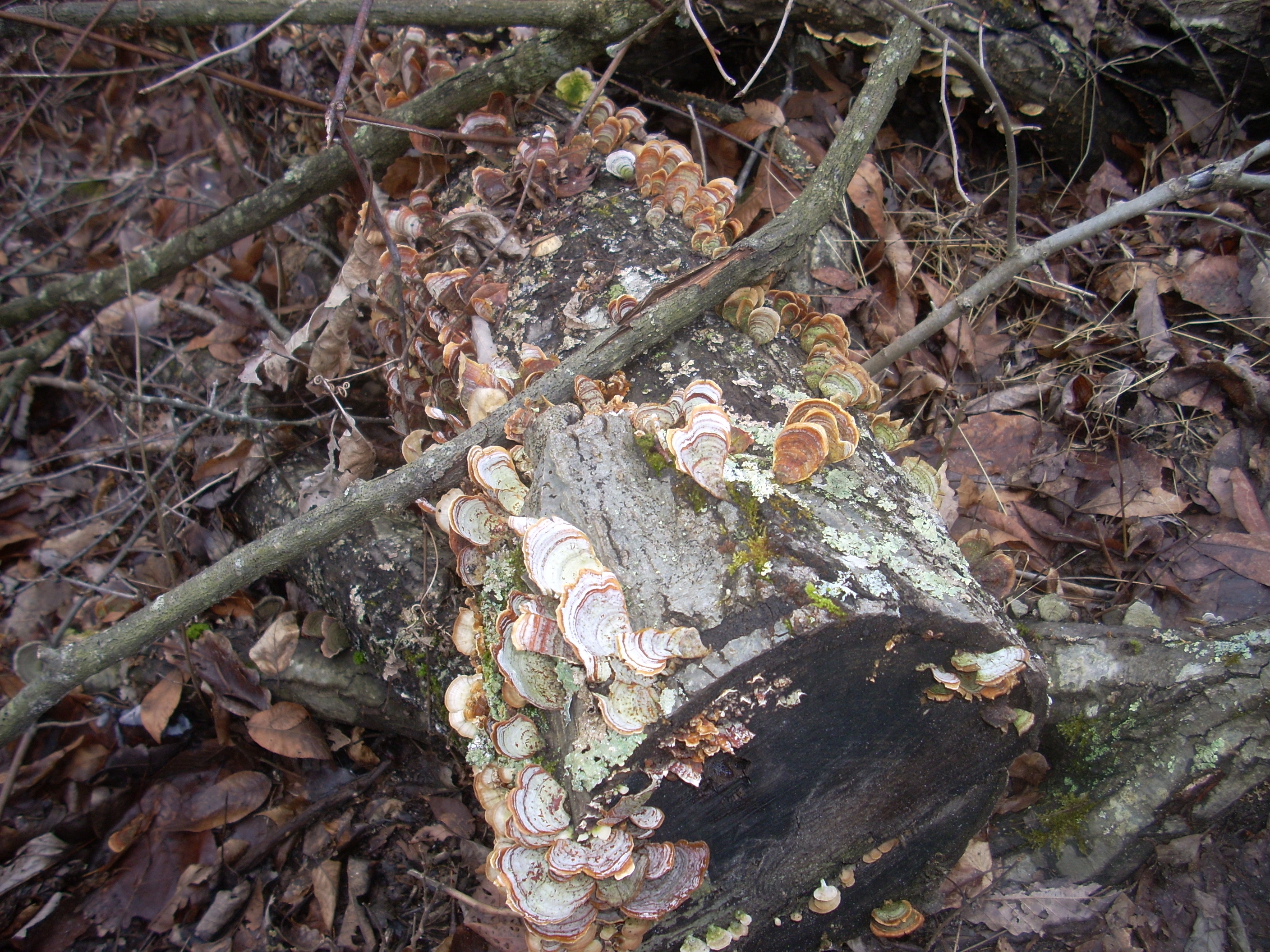 At another point I made out a face in the moss which looked to be yelling: "Hey!" Can you see it at the bottom just to the left of center?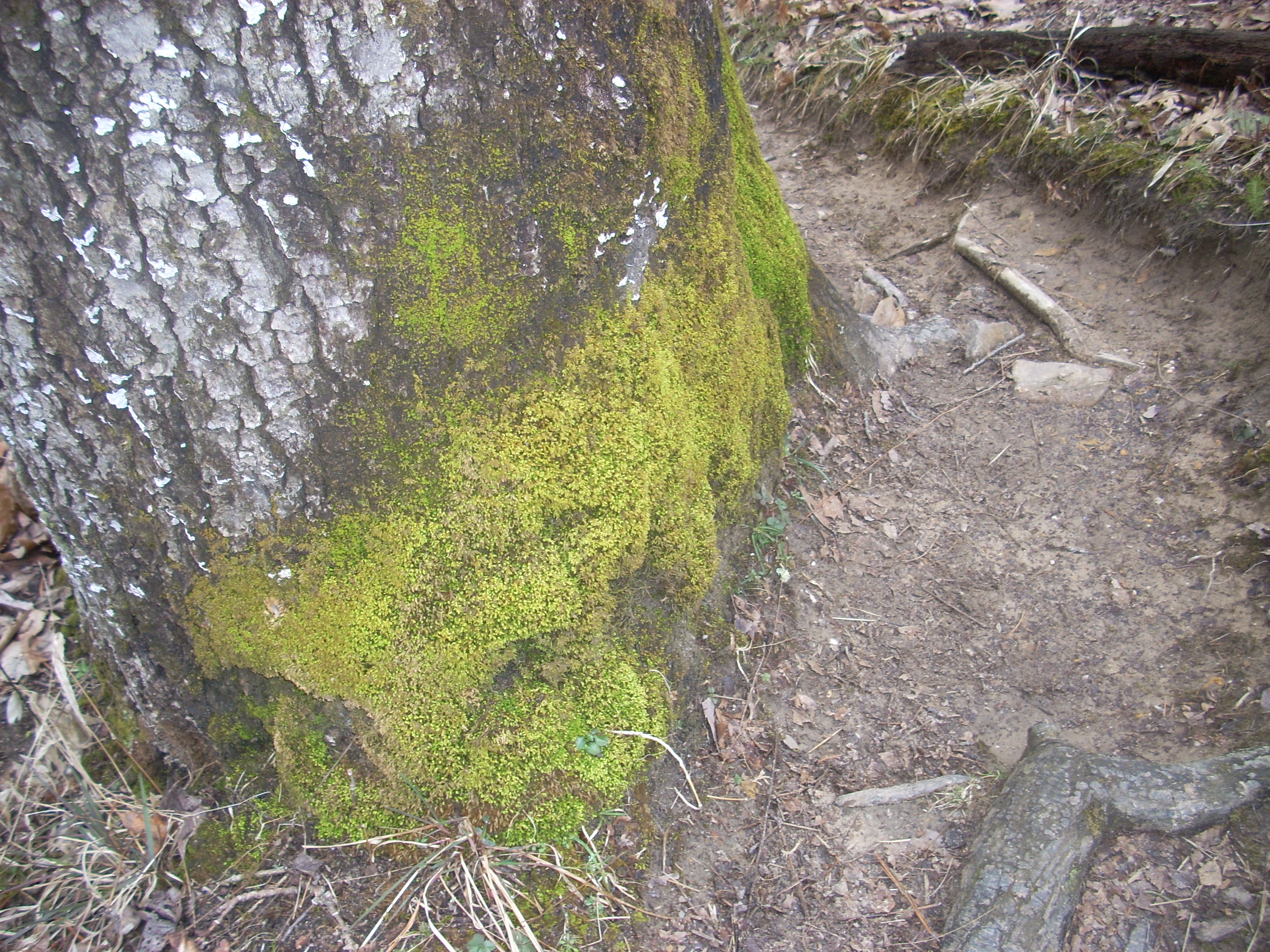 Soon after this I was to head back up and out of the valley on a steep set of switchbacks with steps at the end, and when I emerged I was looking at a road. Turns out, this is the continuation of Tunnel Ridge Road which is blocked off from everything but ranger traffic at this point. I believe that there's a shortcut to the arch at the end of this. Actually, you'll head left on this road and follow it all the way back for about a mile. It's somewhat anticlimactic, but it is a nice gentle segue back into the reality of your drive back home. You can better prepare yourself for the coming mayhem by making this peaceful stroll back to your car.
One note on my drive back – I stopped at an area which looked like a really old scenic view location off KY15, about half way back to the parkway and on the right if you're heading in this direction. It was blocked by large boulders at the time, so I figured that something bad must have happened for them to have closed it because it looks like a lot of work had been put into its original construction, especially as regards the brickwork. I did see a cross signifying that someone had lost their life here, presumably in a motorcycle accident. I assume that this was why it had been closed…
DIRECTIONS:
Take exit 33 off the Bert T. Combs Parkway and head north. You'll immediately intersect with KY15. Turn right and travel about 3.5 miles to the entrance to The Red River Gorge Geological Area ( Tunnel Ridge Road). There will be a sign on your right which will direct you to this entrance on your left. Watch for it and make the left turn. Go about 3 miles (passing numerous little camp site parking lots) all the way to the end of the road which will end in a circle and the parking lot for the Auxier Ridge Trailhead.