PLACES TO GO ON LAND DESTRESS OUTDOORS HOME PLACES TO GO ON WATER
Natural Bridge State Park
` ` `
"Outer" or Sand Gap Loop
Original/Battleship Rock/Rock Garden/Low Gap/Parking Lot/Hoods Branch/Sand Gap/ Balanced Rock Trail Combo (Whew!)
Monday, April 21, 2008
Don't ask me how I did it, but after a botched trip out to Pilot Knob I wound up here. I think I had bad directions (although it's probably more likely that I was simply misreading them - I now know that Pilot Knob is pretty easy to find!), but at one point I found myself looking at a sign on the side of road for Natural Bridge Park – only 10 miles away. I figured: "Why not!" My luck wasn't working in one direction (Pilot Knob), so I decided to simply try another.
Well, the experience I was to have would become one of my favorite ways to greet the spring, because this park is an absolute gem! Not only do you get fantastic vistas from atop Natural Bridge, but you also have quite a few trails to explore which go over impressively built bridges as they wind through jungles of rhododendron and forests of pine. As a bonus, they'll also take you by some caves and rock overhangs.
Adding to this in the spring are all the wildflowers which, added to everything else, make for a beautifully mesmerizing experience which can provide you with great sources of inspiration. I do some of my best thinking and planning on hikes like this – especially on the solitary sections – and since this is a fairly long hike (about 10 miles all together), you'll have plenty of time to do this. You're also apt to be psyched that you're getting the most of that final arrival of spring that you've waited sooooo long for!
You'll want to be careful on the Sand Gap section though. It's quite a long loop in which you're apt to encounter wildlife (more in this in a bit), and since the hike is so solitary and long you'll want to be well prepared – both in terms of what you bring with you and in the amount of time you choose to allot. As mentioned on the "How to Prepare' page, I like to bring the phone number for the park with me when I go just in case.
I parked at the activities center and started my hike around the backside of it. There's a really impressive ravine back here with the aforementioned bridges winding all over it. It's lush and impressive with a little stream trickling down over algae covered rocks. Such spots are great to meditate in if you're into that, although this particular area of the park is really popular (you will have plenty more opportunities for solitude).
The first part of this hike is a fairly steep climb up the ravine along some steps. I went right at the top and continued along what they call the Original Trail (I'd come back around the other way to meet up at this very same spot on my way out). One thing to note about the trails here though – they can be quite confusing if you're taking the full hike because a lot of them are basically little arcs in this one large loop. As a result, you'll have a title like the one above – a conglomeration of trail names. Hopefully you'll bring a trail guidebook with you - I still do and I've been out here a few times now!
Anyway, as you walk along this section you'll be looking up at rock walls on your left and down along a ridgeline to your right. There will be a parking lot down there as well as a lodge and some other paths which will lead up to yours. Take a left along the Original Trail and then make an immediate right onto the next one which is either Rock Garden or a teeny tiny little portion of Battleship Rock Trail. Then veer right at the sign for the Rock Garden Trail which, again, comes up almost immediately after this (told you it was confusing!).
Rock Garden is a great trail (I'd follow a portion of it for about ¼ mile) which is aptly named with all the moss covered rocks…
The next trail junction will be that for the Lower Gap Trail (upon which you'll travel about another ¼ mile), and this one will lead you down to the parking lot for the skylift. Along the way it occurred to me just how amazing it is the way the trees grow!
After a moderate descent to end this part of the trail, you'll be looking at a parking lot, and it's at about the 11 o'clock mark (over by the miniature golf course – there's so much to do out here!) that the trail will begin anew as Hoods Branch and take you on a fairly steep ascent back up another section of the park on a gravel coated path.
It's near the top of this path that you'll veer right onto a much longer section of trail – the Sand Gap is 8.5 miles according to the sign (they say to have 5 hours designated to hike this), and here's where you'll start to find that solitude as you wend your way through rhododendrons and little streams for the first miles along the Lower Hood Branch ravine.
It was here that I encountered a baby skunk last year! I had just turned a "corner" and was looking at a little incline in the path. Well, coming down at me was this baby skunk… Totally perplexed as to how to react, I just stood there and watched as this little animal proceeded to do a somersault for me! It tripped coming down and fell head over heals on itself! Then, completely unfazed, it continued on as if nothing had happened and as if I was not even there! It was probably the most amazing hiking encounter I've ever had.
Once you curve away from the rhododendrons which helped to define this first part of Sand Gap, you'll ascend into a fairly open pine forest for a while, and you'll have some nice rocky views of the ridgetop as you look up and to your right. There are some caves up there too which might be very interesting to explore if you were allowed to go up (although I'm betting that this would be frowned upon since these aren't along the main path).
It was in walking through this section that I had another interesting experience with wildlife on this particular day. I heard the "screeee" of what I'm guessing was a hawk since I've always known the more common turkey buzzards to be silent and the eagles are rare. When I looked up to see it I couldn't, but when I looked back toward the path there was a feather just to the left side of the trail which caught my eye.
Well, I had to pick it up and take it with me because, in a way, it almost seemed like there was some kind of spiritual meaning in this (I know… while that might make me sound like a bit of a kook, it sure seemed that way to me!). This was, however, the second interesting "encounter" that I've had here including those of previous trips. On another day there had been a third a little further up.
Anyway, this section must be the namesake of the Sand Gap Trail, as you'll walk along sandy areas amidst the wonderful scent of pine atop this ridge. There will also be some really nice vistas which will open up to you and make for some great photo opportunities (even I can't take a bad one here!).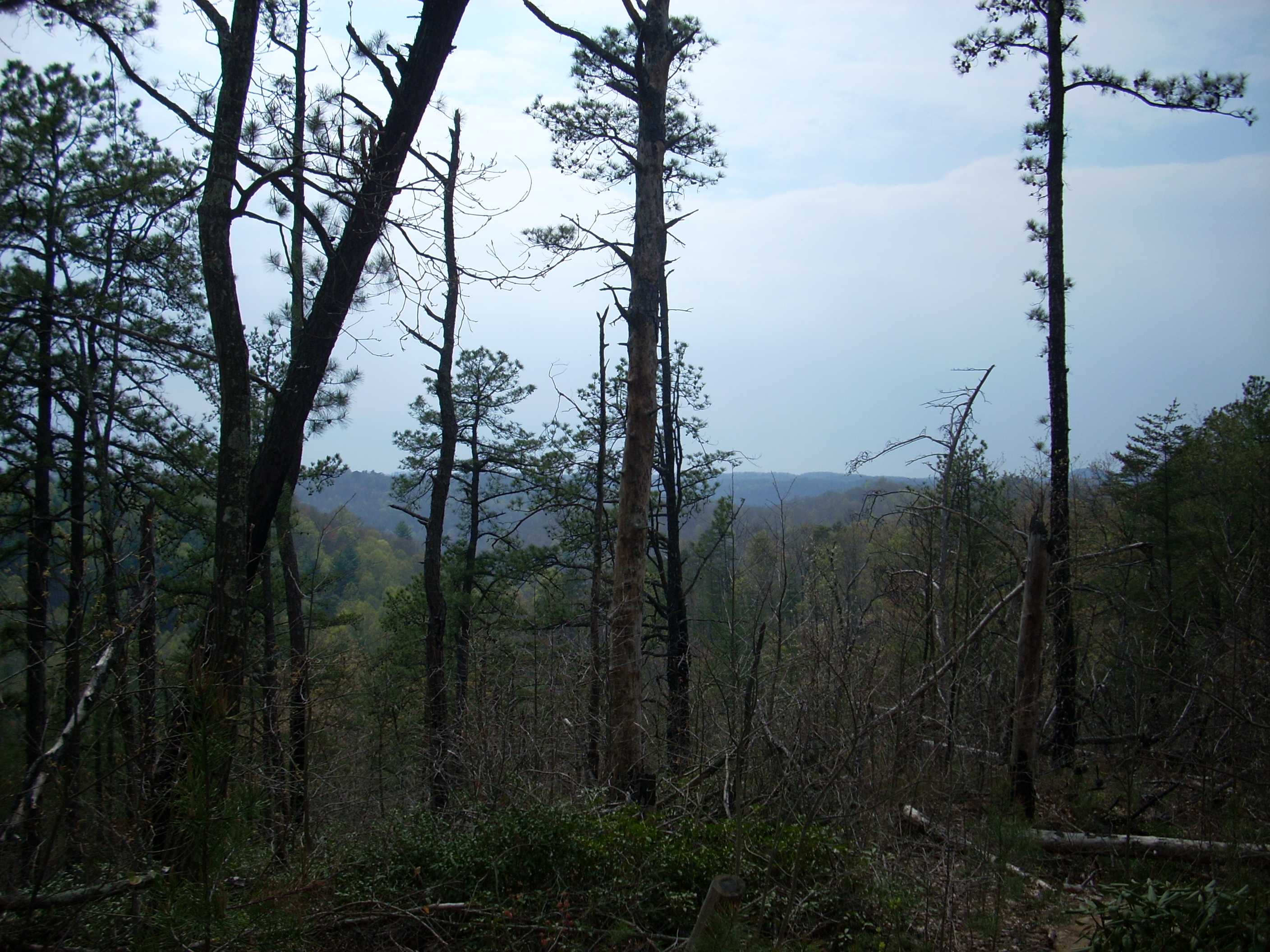 From this area you'll then descend a bit on the side of the ridge and level out for about the next mile as you stroll through an area which is a little more densely forested than the last – a very nice walk through the woods. This section will form the last arc before you link up with the Sheltowee Trace, and this was the area where I'd had a third of my "encounters" last year. This one was with a snake…
There it was right in the middle of the path! I don't usually encounter snakes on my hikes, as I think they'll generally stay out of your way unless they're sluggish after a meal. Yet, this one was just… right… there! It was pretty big too, and I didn't know what kind it was, but I wasn't going to take any chances on whether or not it was poisonous – I went WELL around the side of it even to the extent of blazing my own path a bit!
When you do see the Sheltowee sign you'll want to go left, but if you did go around the gate to your right, you'd soon come to an area on that path which they call the " Narrows". I've not seen this yet, but I certainly plan to because there are supposedly more great views out there. In fact, it's said that the area may eventually, through erosion, become a "natural bridge" itself. The Sheltowee sign also indicated that something called Standing Rock was 7 miles ahead, and that Heidelberg and the Kentucky River were 16 miles down.
There was another sign too. This one listed the Kentucky State Park Trail Regulations and it recommended that for your safety that you not hike alone. Oops. This is a problem for me since I'm usually a solo act, and even though I do come fully prepared, something certainly could happen. I accept responsibility for my actions though – you've gotta live! If I couldn't come out here alone I'd probably just be sitting around the house wondering what to do! Besides, and as mentioned above, I do carry the number for the park district in my phone with me in case of an emergency.
Almost the entire rest of the way to the Natural Bridge turnoff from this point is a ridgetop hike through a pine forest, and it was along this section that I noticed all the trees budding and quite a few different kinds of wildflowers that I couldn't name if I tried. I don't know exactly what it is… maybe it's just the COLOR that makes this time of year so incredible! Or maybe it's the newness of everything – the renewal! Not sure, but you certainly get a feel for it out here! Even the moss growing on the path was great to see!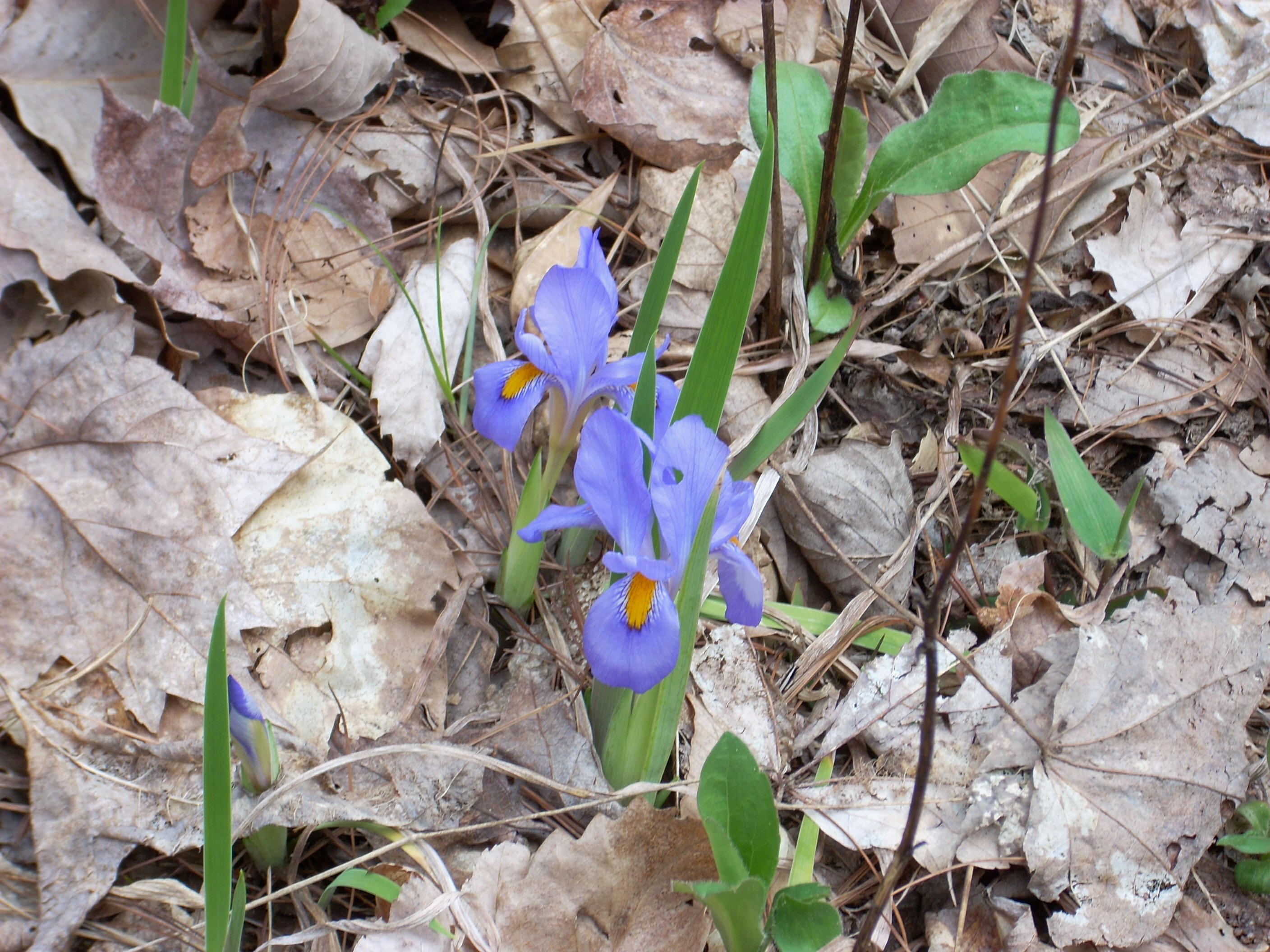 At one point in here I looked up to my left and noticed a little shelter which was nearly hidden by the foliage. There was a little path with a moderate climb leading up to it so I decided to check it out, and once there it looked like one of the structures I'd seen at the Audubon State Park down in Henderson, Kentucky which was built by the Civilian Conservation Corps (CCC) back in the 1930's. I had to get a couple shots of this – check the view looking out! This would be a great place to camp for a night if they'd let you (not sure if they would or not, to be honest).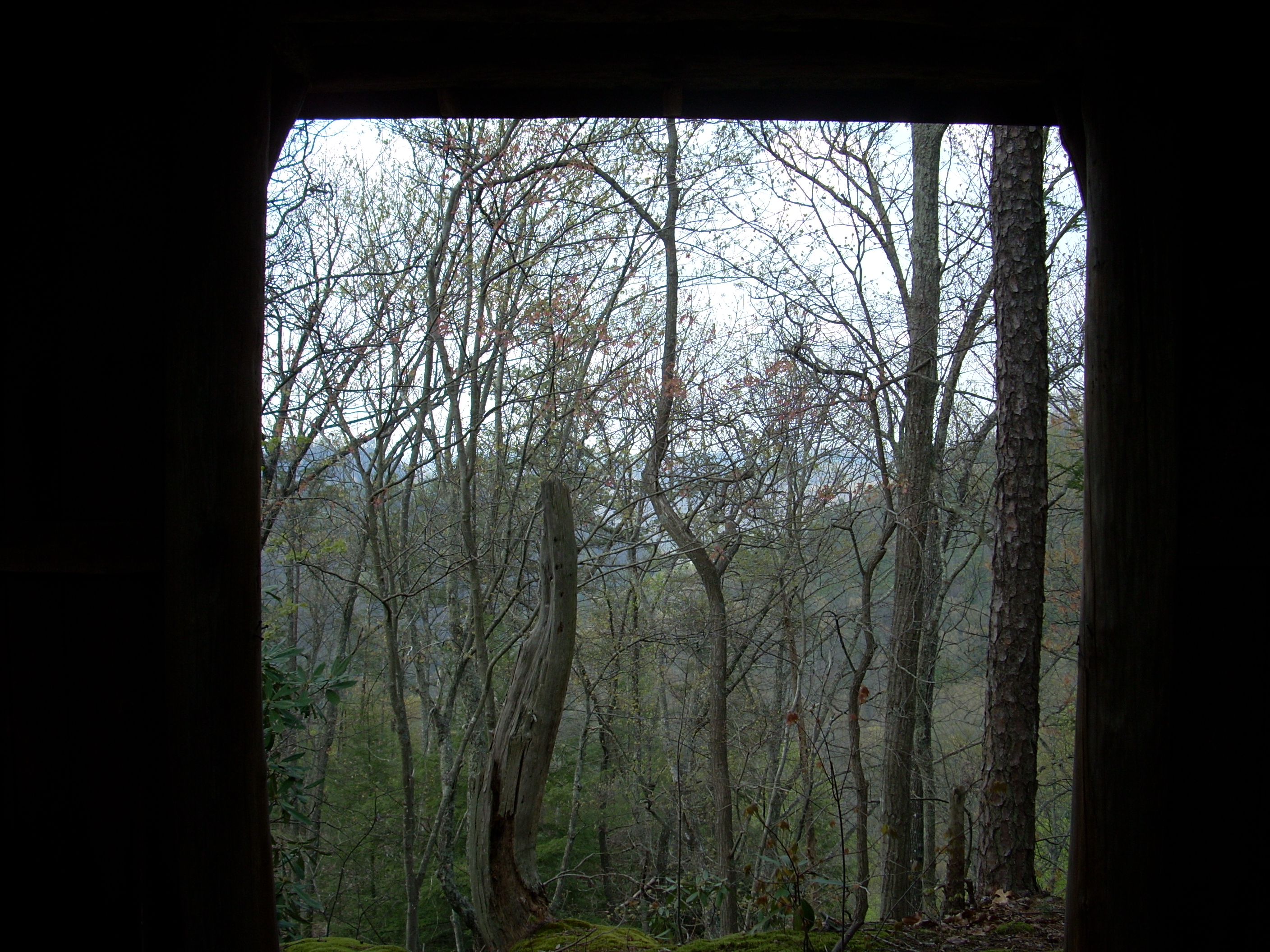 The Balanced Rock Trail intersection will be next. You can go left and to the bridge for the most popular area with its far reaching views, or you can go right and down. I did the latter since I'd seen the former before. The Balanced Rock Trail will descend back down to the area at which you'd first entered in about ¾ mile, passing its' namesake as it does.
You can enjoy some last looks from atop the mountain before you begin the steep descent down an incredible series of steps. Will you look at these!?! They absolutely blow me away! I never tire of them.
Also as the path descends, the 3 types of scenic areas you've passed along this hike today will give you "curtain calls" as they take a final bow – first the ridgeline pines, then the rock cave walls, and finally the rhododendron jungles. Extraordinary!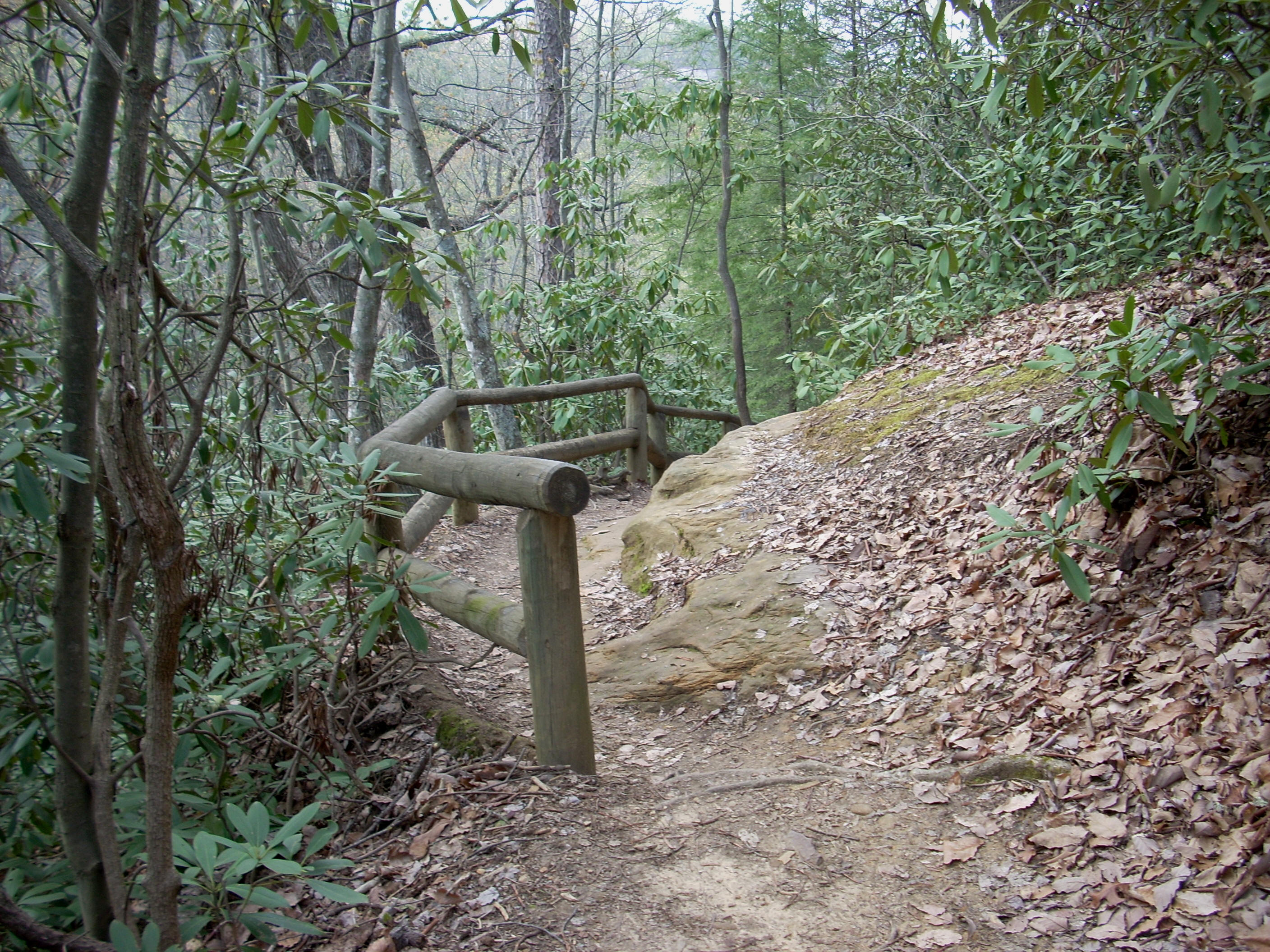 Balanced Rock itself will be an interesting view to greet you on your way down as well (you can't miss it!), and once you pass a rock overhang just beyond it, you'll have reached the point at which you began your hike today – with the maze of bridge and steps on the pleasant little ravine below.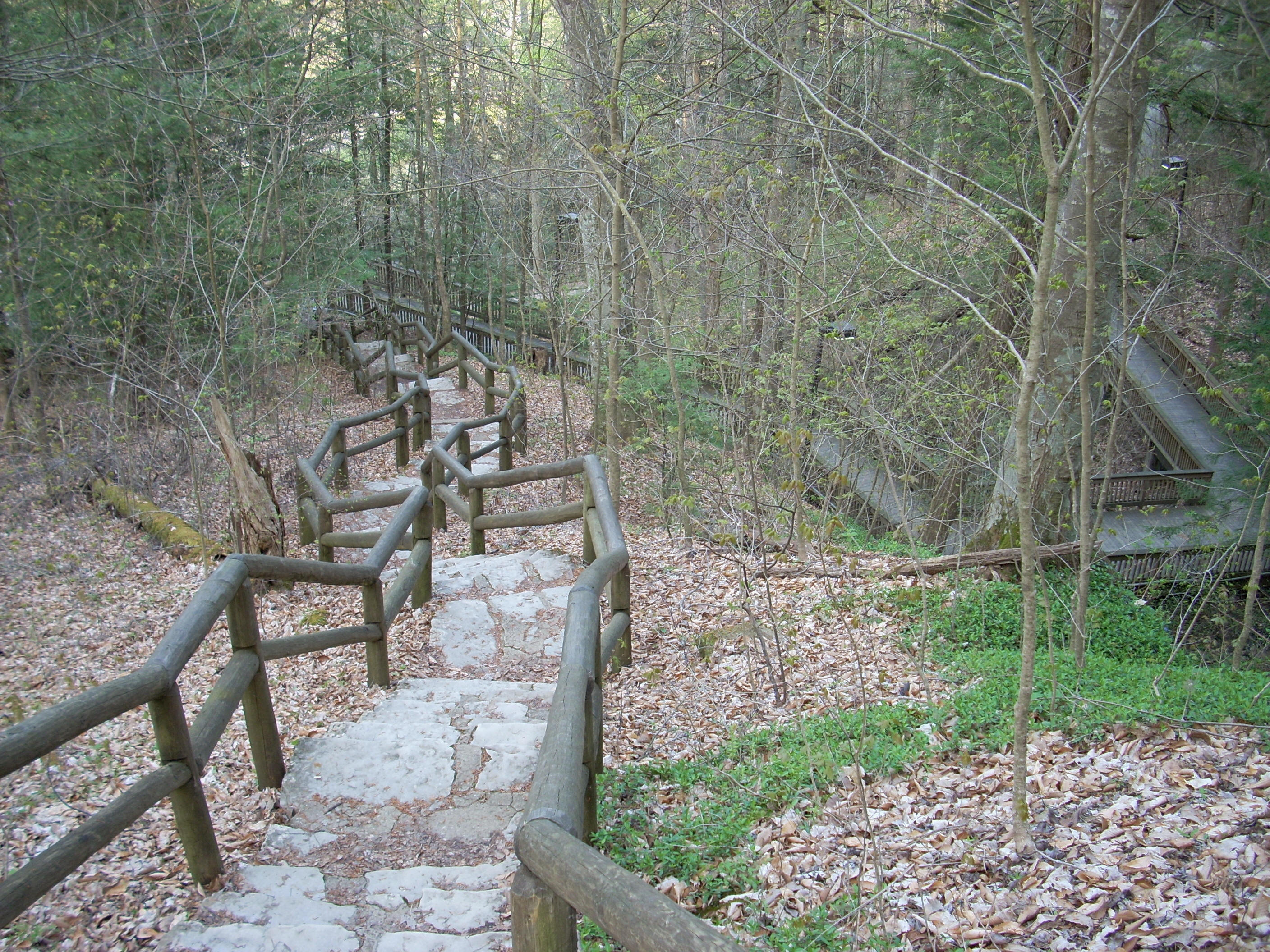 On your way out, there's a little nature museum room in the activities center which is worth checking out if you didn't already do this on the way in. Also on the drive out, check all the unique little businesses and shops they've got on the side of KY11. Some really interesting stuff here. Red River Outdoors used to be here too, but a fire took their business not too long ago. It'd be awesome if they could return.
DIRECTIONS:
I took I64 from Lexington and then got on the Bert T. Combs Parkway. Then I took KY11 via exit 33 and followed the signs for Natural Bridge (it seems like they've got signs within a 50 mile radius of this place though!). I went past the main entrance to the one which has a sign for the cabins on it (it's on the right just past the Whittleton Campground entrance on the left). I then just kept following the signs for the activities center and parked next to it. You'll go over a little lake and then veer left, then turn right.