PLACES TO GO ON LAND DESTRESS OUTDOORS HOME PLACES TO GO ON WATER
Lower Howard's Creek Nature and Heritage Preserve
Sunday, October 25, 2009
No way... I can't do it...
I simply don't have the necessary skill to do this great preserve justice with a simple photo-journal! You'll simply have to come out here to truly appreciate this place. What you'll find out here is not only a fantastic place to hike, but also a great place to view an old homestead, an old mill, an incredible bridge, some waterfalls, and an old wilderness road – all of this in the midst of some beautiful farmland along the Lower Howard Creek!
To make a point of it, I wasn't even aware that this spot existed until I was informed about it by one of the visitors to this site. You see, last year when I was on my Kentucky River trek I was told that there was an old mill back in the Lower Howard's Creek (the creek that Hall's on the River is on), so as part of that trip I tried to paddle back in far enough to see it, but I couldn't – the water was much too shallow. Well, my website visitor informed me that I would have had to go back about 2 miles to get to it, but he also clued me in about something else I didn't know – this preserve! Today I would find out just how amazing this place is, and I hope you can get a chance to come out here too, because it will be infinitely worth your time! What follows is my experience…
After visiting the web site for the preserve (www.lowerhowardscreek.org), I called in to reserve a spot on this hike. They seem to offer a few different one's each month out here and these are regularly updated on their site and on their Facebook page. To get here I drove straight out Richmond Road from Lexington (which soon turns into Athens-Boonesboro Road), and I found the entrance to the preserve on the left side just after the intersection with Combs Ferry Road, but before Hall's on the River. I almost missed it…
Just driving back in I could tell that today was going to be quite a day. You'll be making your way directly onto some farmland as you enter, and there were bales of hay lying around on this particular day as testament to that fact. At the end of the gravel lane you'll find a small parking lot. This is where everyone was meeting (there were about a dozen people along with me on this hike today).
Presently we met out guide, Clare, who made sure we were all accounted for, and the hike then started on an old wilderness road which provided some amazing views of the Kentucky countryside (as had the parking lot itself!).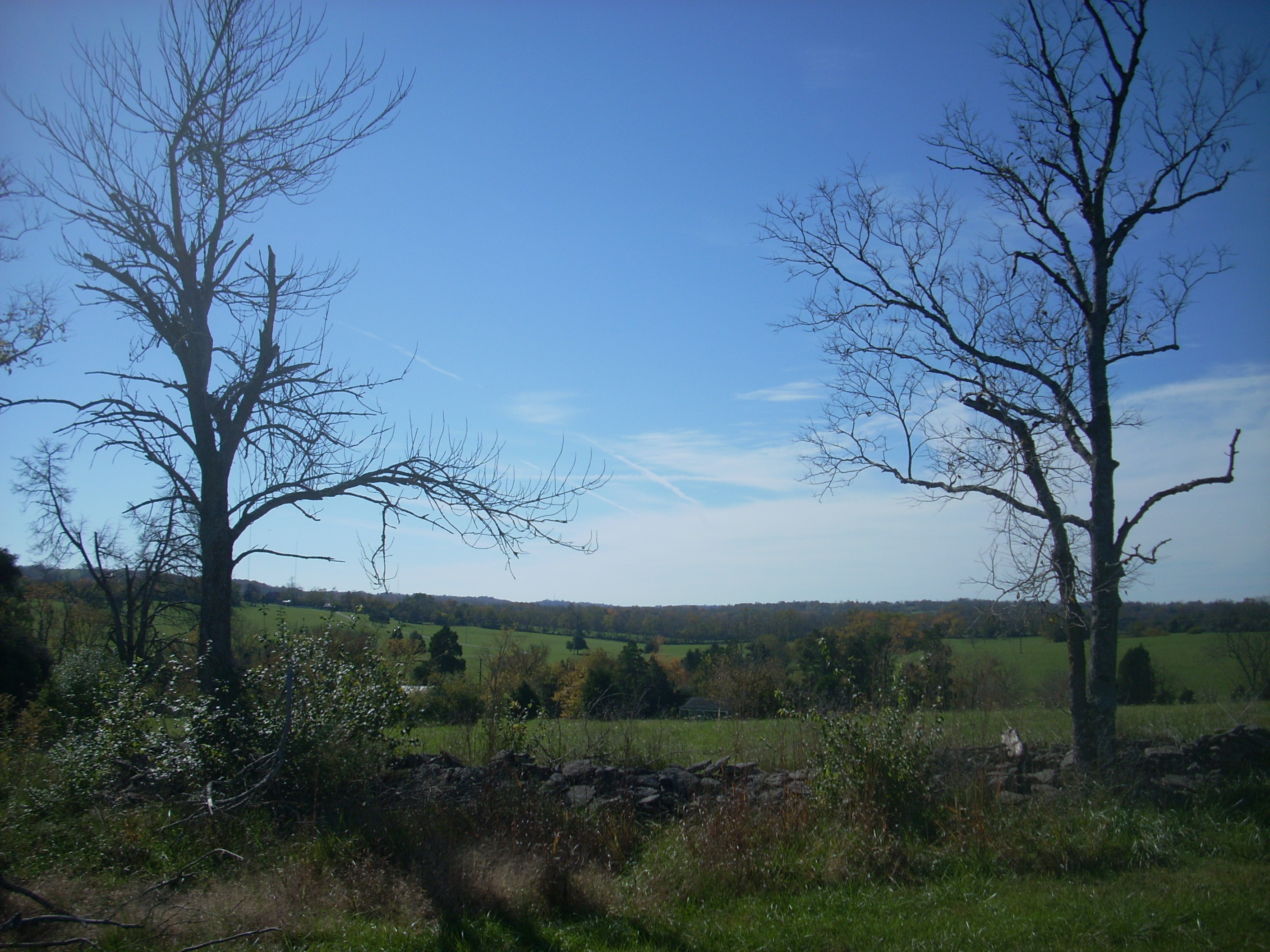 It was once we'd passed an old circular millstone that our afternoon began in earnest (this was about a 3 hour hike) as the path descended down a moderate slope in a right arc towards the creek. Clare stopped us occasionally here, and at other locations during our afternoon to point out and explain some of the local flora, select species of which are endangered or are otherwise threatened elsewhere. Here, however, they've found a real haven – hence, they only offer guided hikes out here (see directions below) and they don't allow for pets.
When we reached the bottom of the hill we were right beside the Lower Howard Creek. They've got some great looking stone wall reconstructions down here, although we'd see many more of the original fences on our hike today too! (Incidentally, they recently hosted a workshop on stone wall construction at this preserve!)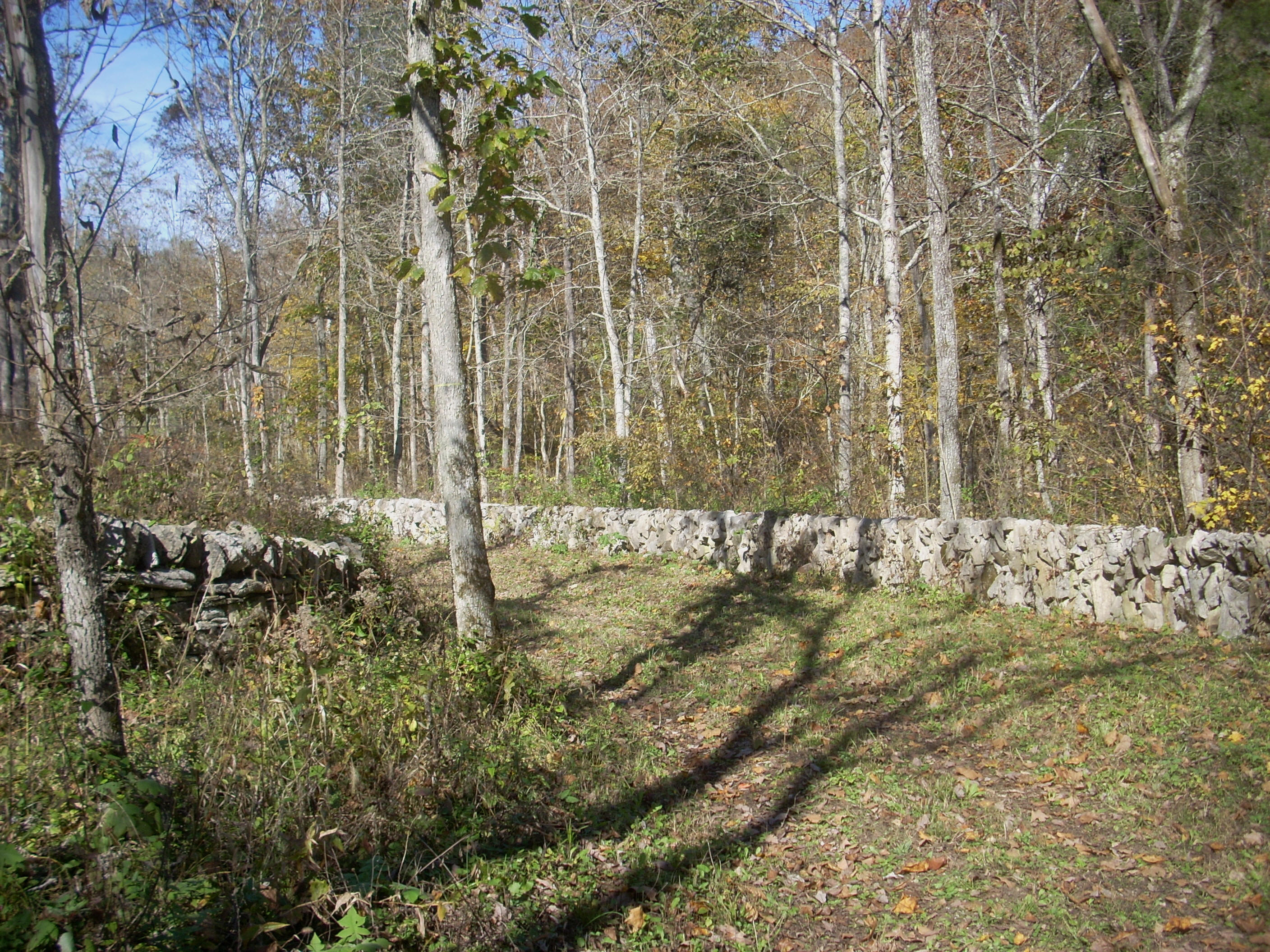 Continuing along the trail beside the creek (heading upstream) we very soon reached a bridge over it and crossed to the opposite side. Well, I can tell you that this bridge alone is worth coming out see! It's an amazing architectural feat, but you'll need to watch your step while going over this – with a dozen of us on it, we were swaying a bit!
What greeted us next was the old mill. Apparently it was thought that this mill was originally owned and operated by a man named Martin, but only recently was it discovered that a misinterpretation had been made, and that the real owner had been a man named Bush. The situation isn't exactly the same, but it's somewhat similar to how things can get lost (or gained) in the translation as they're passed on from one person to another over time. Something like how:
"John caught a fish." becomes:
"John caught a big fish." becomes:
"John caught a shark." becomes:
"Andy caught the Loch Ness Monster."!
You just never know how or how far these things can morph until they become something that's almost totally out of proper context. It's nobody's fault, you understand – it just happens…
Check out this mill, though! Believe it or not, my camera ran out of memory here just as I was about to take this picture! It seems that something comical happens on every… single… trip! Turns out, I changed the program through which I upload pictures from my camera onto my computer and forgot to change the settings to: "delete pictures from camera after transfer"! Aaaargh! I had too many pictures in the dog-boned memory! Luckily, I had a friend with me who let me borrow her camera or I would have had to re-take these pictures on my next visit out (although they do have quite a few pictures already on the above mentioned website).
Anyway, there's a great deal of this mill still to be seen. The water flow that once supplied its' power was furnished by a channeled stream that they used to call a "millrace" (presumably because it appeared as if the water was "racing" toward the mill on its journey through this channel), and we could see where this, too, had been. Though it appeared to us as a little ditch today, this millrace was once filled with water and it was much deeper too – the hillside had just eroded into it over the years. In its' day, this ran for almost 1/2 mile upriver to the dam which directed the water flow into it. We would see the remains of this dam soon…
Rounding the bends in the river, we eventually came to the remains of an old homestead just before said dam. One of the many things which really struck me today was that they've actually got a metal structure over the top of it, ostensibly to protect it from the elements as they carefully reconstruct it to look like it might have done when it was first built. This house was part of the Bush homestead, and it was occupied until the 1940's although it hadn't really gotten much TLC until now.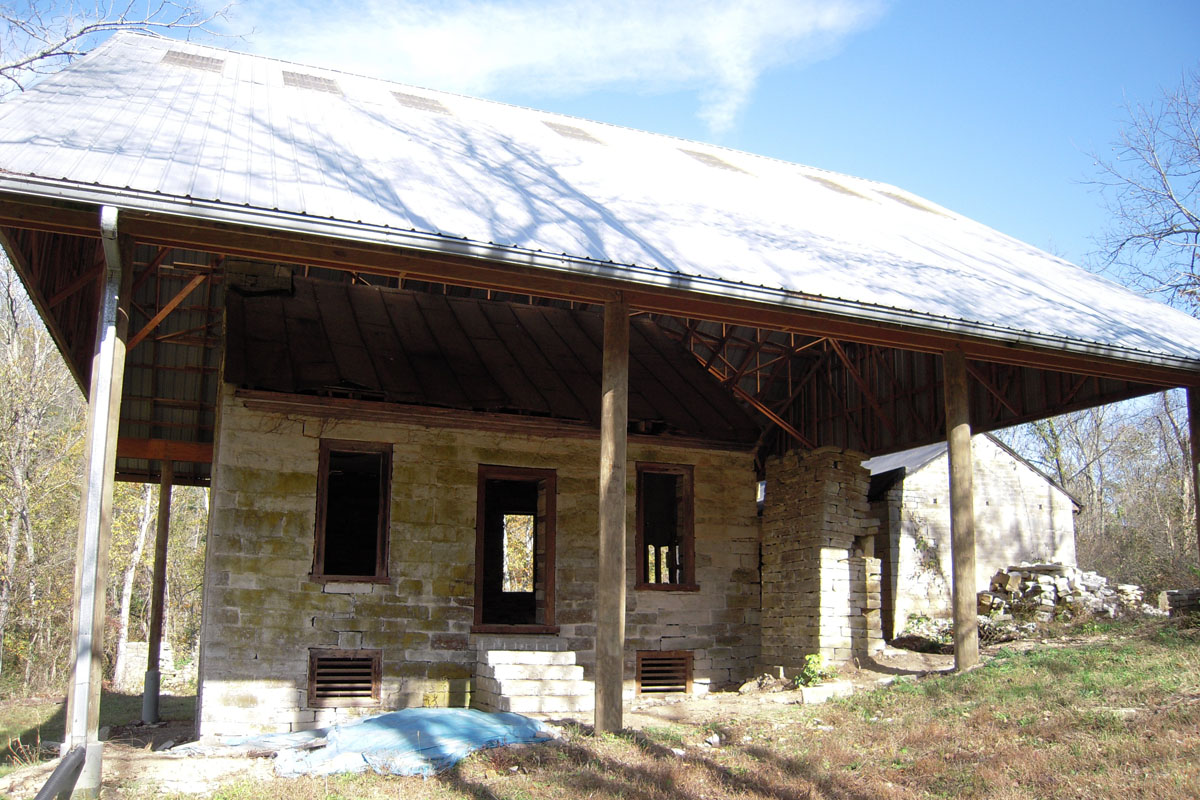 This is quite an operation they've got going out here! Not only are they reconstructing the house (a log home), but they're also working on 2 stone structures here as well, one of which is speculated to have been a smokehouse and the other a storehouse. Clare let us walk through these, and she also took us up to see a couple little cemeteries on the hill above these structures.
This homestead was apparently one of many which used be part of a thriving settlement and industrial center here before the railroads and then the highways preempted the Kentucky River as main avenues for commerce. Before then, the river was it! Therefore, in the earliest days the people of this community would do what many others along the river did – they'd load up their boats with their wares (in their case, most likely near the mouth of Lower Howard's Creek on the Kentucky), wait for the spring rains to lift the water level, and then they'd float said wares down the Kentucky River, and from there, who knows? They might end up selling them anywhere along the U.S. river system – be that in Frankfort, Louisville, or even New Orleans. Then, incredibly, I've read that many of them would walk back, prey to all kinds of highwaymen who might be lying in wait! What a trek! Can you imagine the unbridled joy of the family reunions upon their return??? Wow.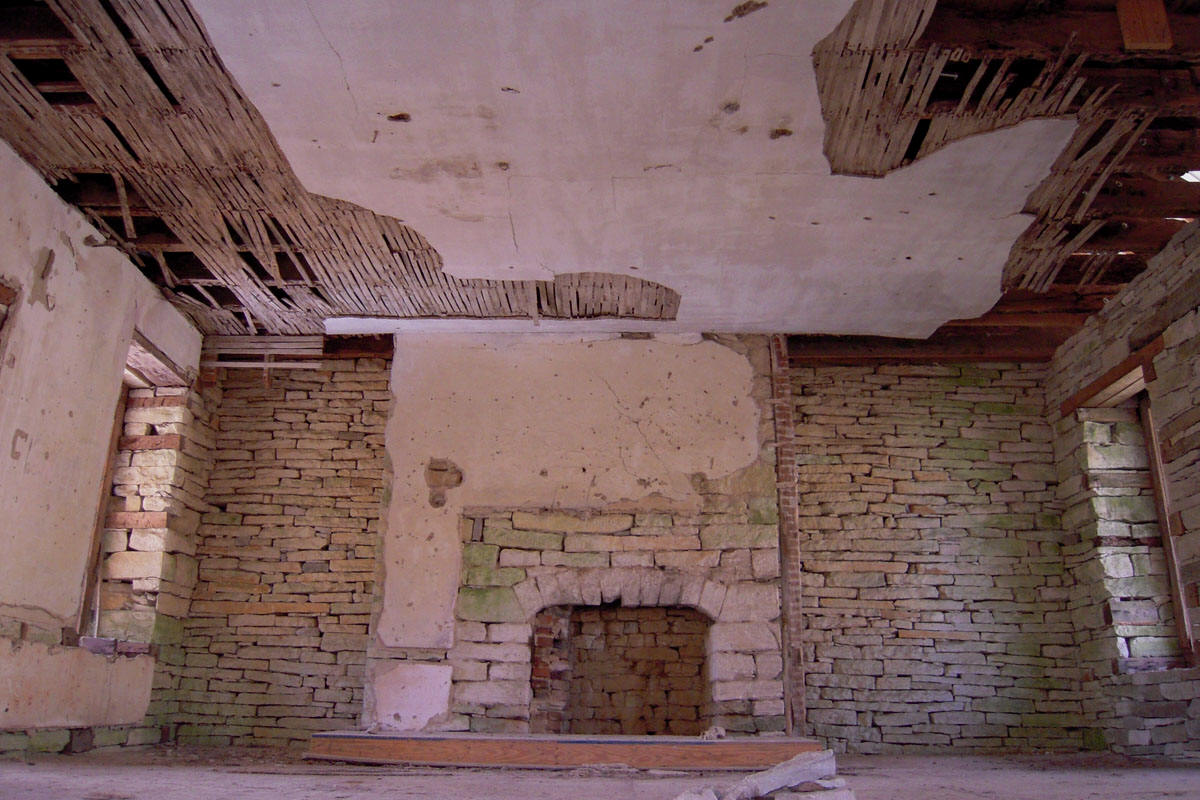 As for us, today, we all stayed for a while to take all this in, imagining what it would have been like to live here… Despite all the work going on back then at the mill, we were told that it would have been pretty quiet at this location – just the water rushing through the millrace and maybe the sounds of the mill grinding up the grain just downstream. It must have been a great and peaceful place in which to reside – and to grown up in! In fact, we were told that they found remnants of old toys out here…
A short stroll down the path from this we came to the remnants of the dam. There's not a whole lot remaining with the creek having reclaimed much of the structure, but we could see where the millrace began, and we certainly enjoyed the picturesque atmosphere of the stream! Speaking of the stream, we were supposed to cross it here, but it was a bit too high so we headed back on a different path. This would be the conclusion of our hike today.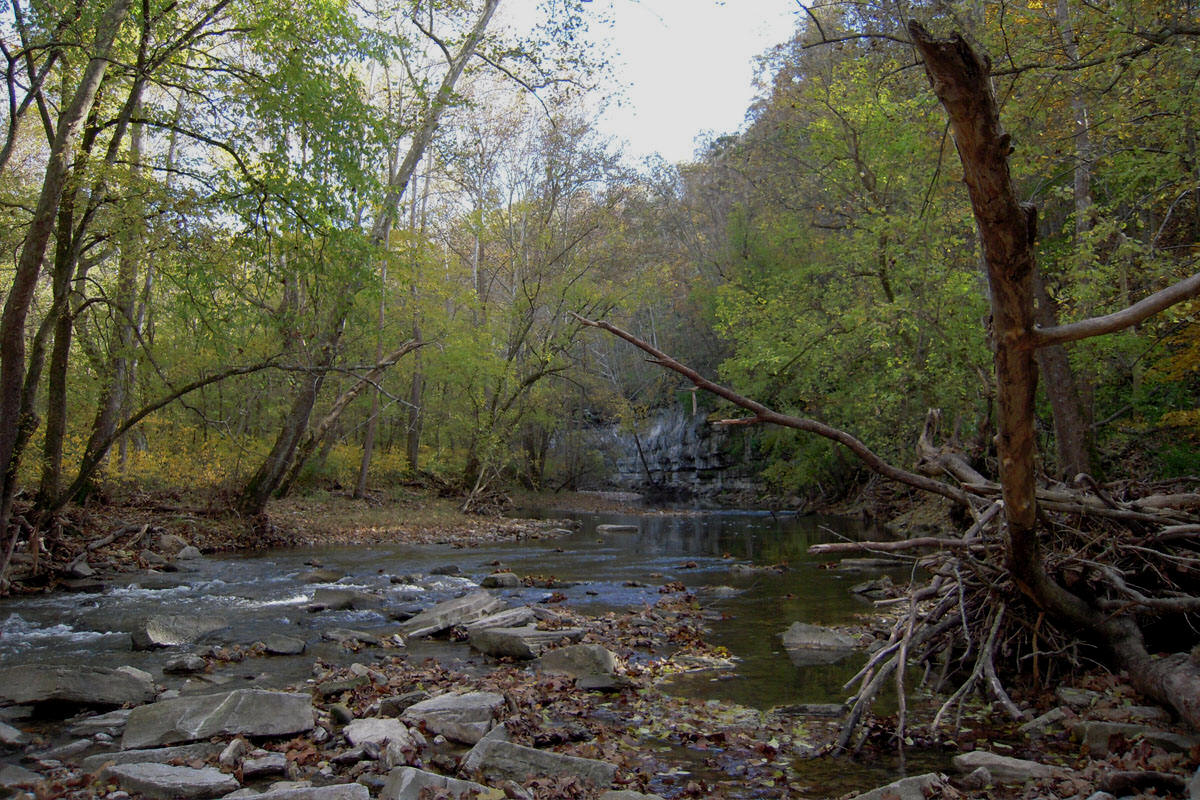 On the way back, though, we were able to see a waterfall and we got to re-cross the aforementioned bridge. We also went by some different points of an old quarry operation. In fact, one of these spots was where they'd originally obtained the stones for the 2 structures back at the homestead. It must have taken a lot of man (and horse) power to bring all these stones down the hill, over the river, and up to the buildings!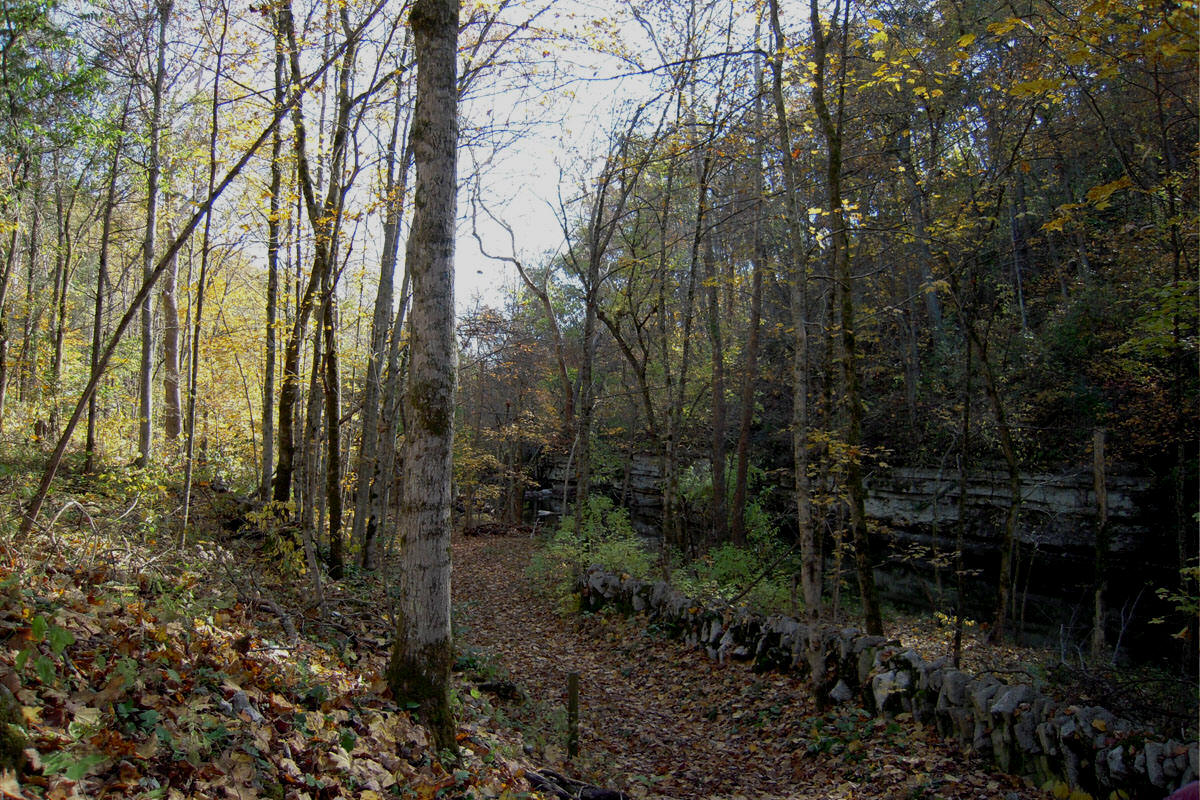 Once having climbed back up the hill we all said our goodbye's and headed back home, yet even though this was a fairly short hike, I really felt like I had just done something incredibly worthwhile. There was a ton of information to digest and consider, and my eyes were opened to so many things – and we were only on one section of trail today! They've got a total of 5 miles out here! Guess who will be coming back to visit soon? In the meantime I'll be left to daydream on what it would have been like to live on the Lower Howard's Creek in the 1800's…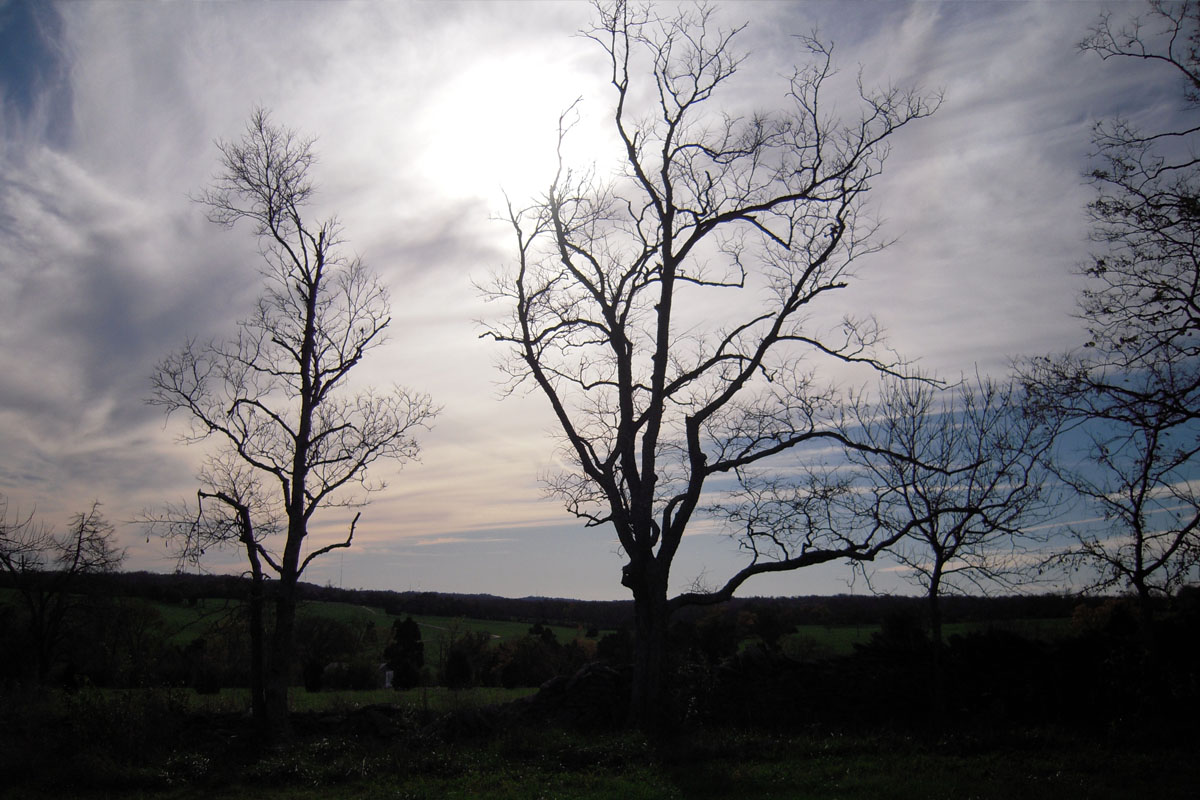 DIRECTIONS:
Please visit the website link above for information on the preserve. The hikes out here are only allowed on a guided basis, but they offer a few different ones each month (which are routinely updated on the site). In fact, they have quite a bit of information about the preserve on this site, including many pictures and a lot more historical and botanical information about the area. Check it out!