PLACES TO GO ON LAND DESTRESS OUTDOORS HOME PLACES TO GO ON WATER
Blue Heron Mining Camp
No Kidding!

Across Bridge and right onto ? Trail, ending at ? ( Clara Danger School?)
Saturday, March 19, 2011
Ever since I'd put in a kayak from this location a couple years ago (written up in the Blue Heron to Alum Ford journal) I'd wanted to return to hike this area. Heck, just driving into the parking lot out here is quite an interesting experience!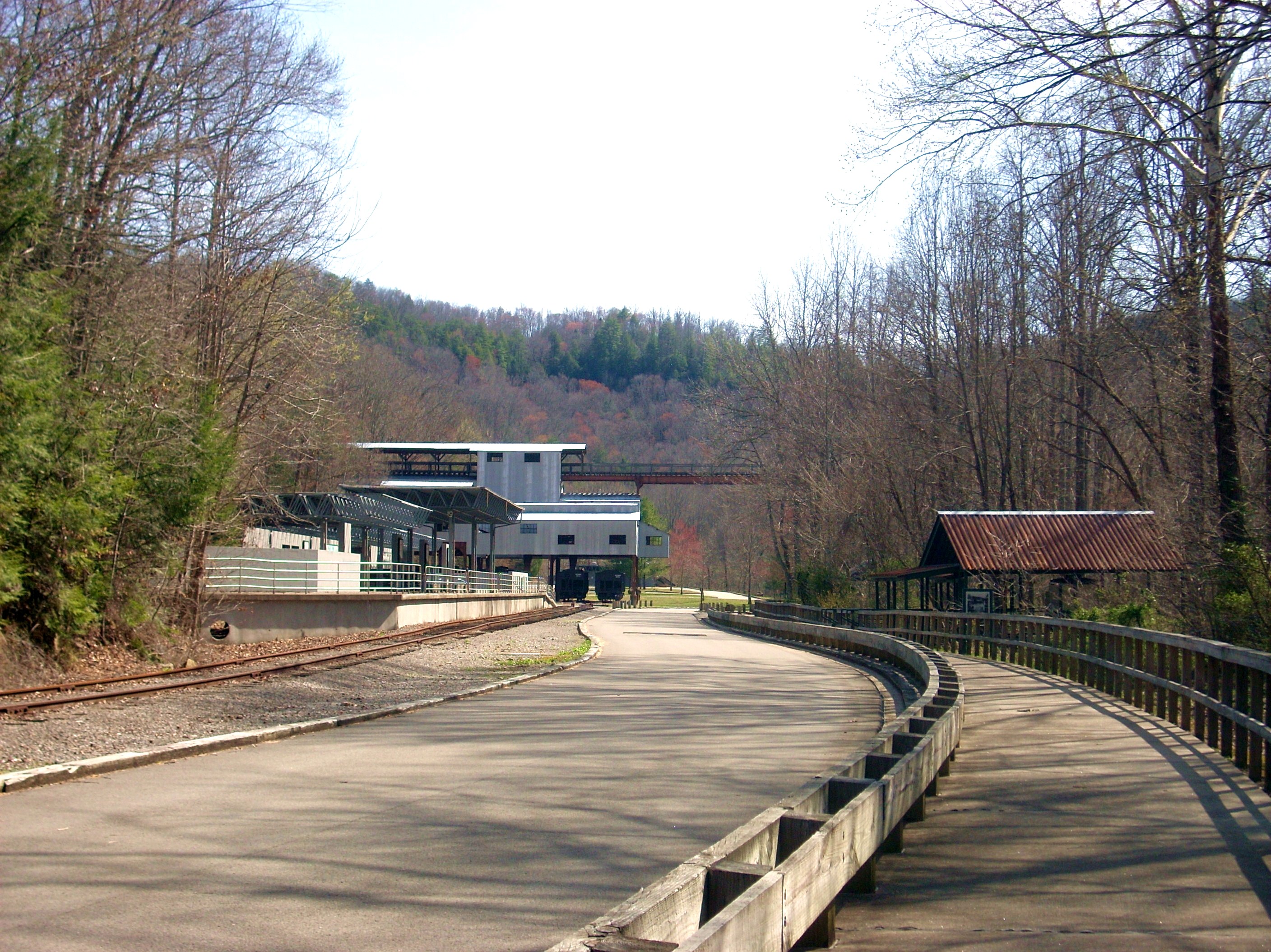 Blue Heron (http://www.nps.gov/biso/historyculture/blueheron.htm) is a former coal mining town that was essentially abandoned in 1962, but they do still have a lot of the original structures up along with a ton of interpretive exhibits. These do a fantastic job of giving the visitor a feel for what life was once like in the camp. The spot is also now a stop on the Big South Fork scenic Railway (http://www.bsfsry.com).
Today I thought about taking the 6 mile Blue Heron Loop Trail, but I decided to instead wait until next time. Today I was really intrigued to walk across the bridge! I didn't know what exactly what I'd encounter on the other end, but I was relatively certain that I'd find some kind of trail which might afford me the possibility of meandering along with the river for a while. This in mind, I crossed over and encountered some fine views. In fact, the bridge is itself an interpretive exhibit.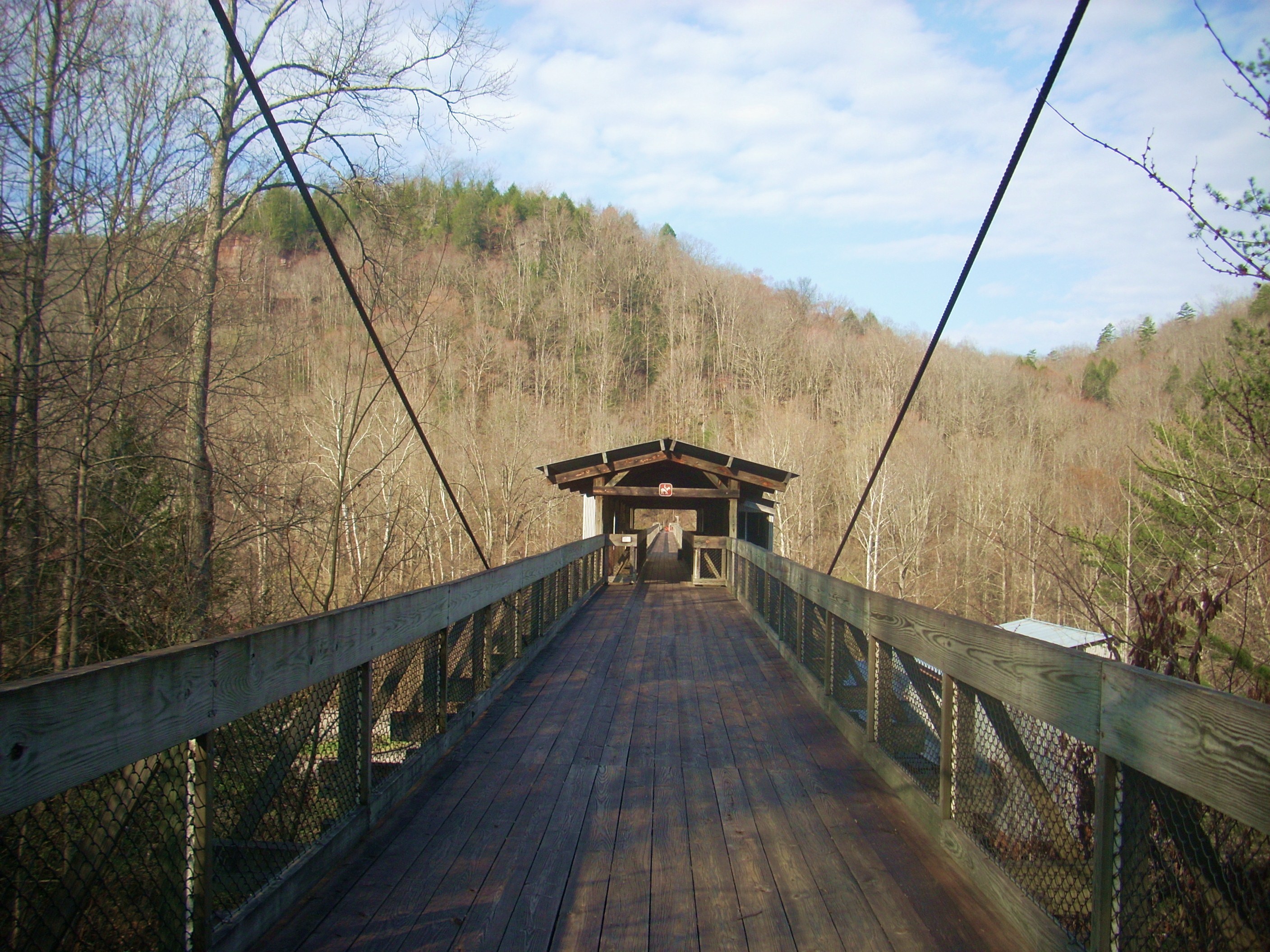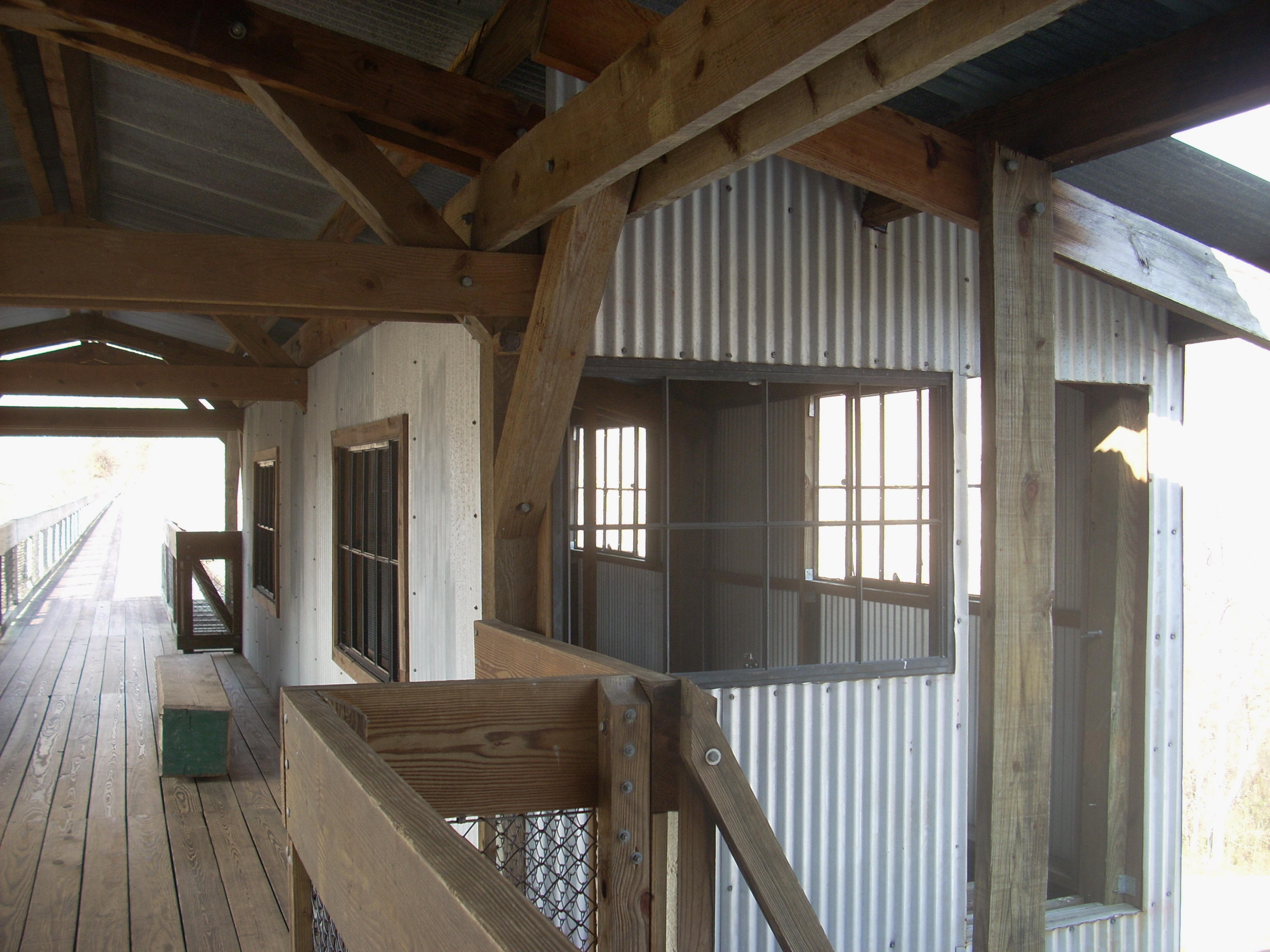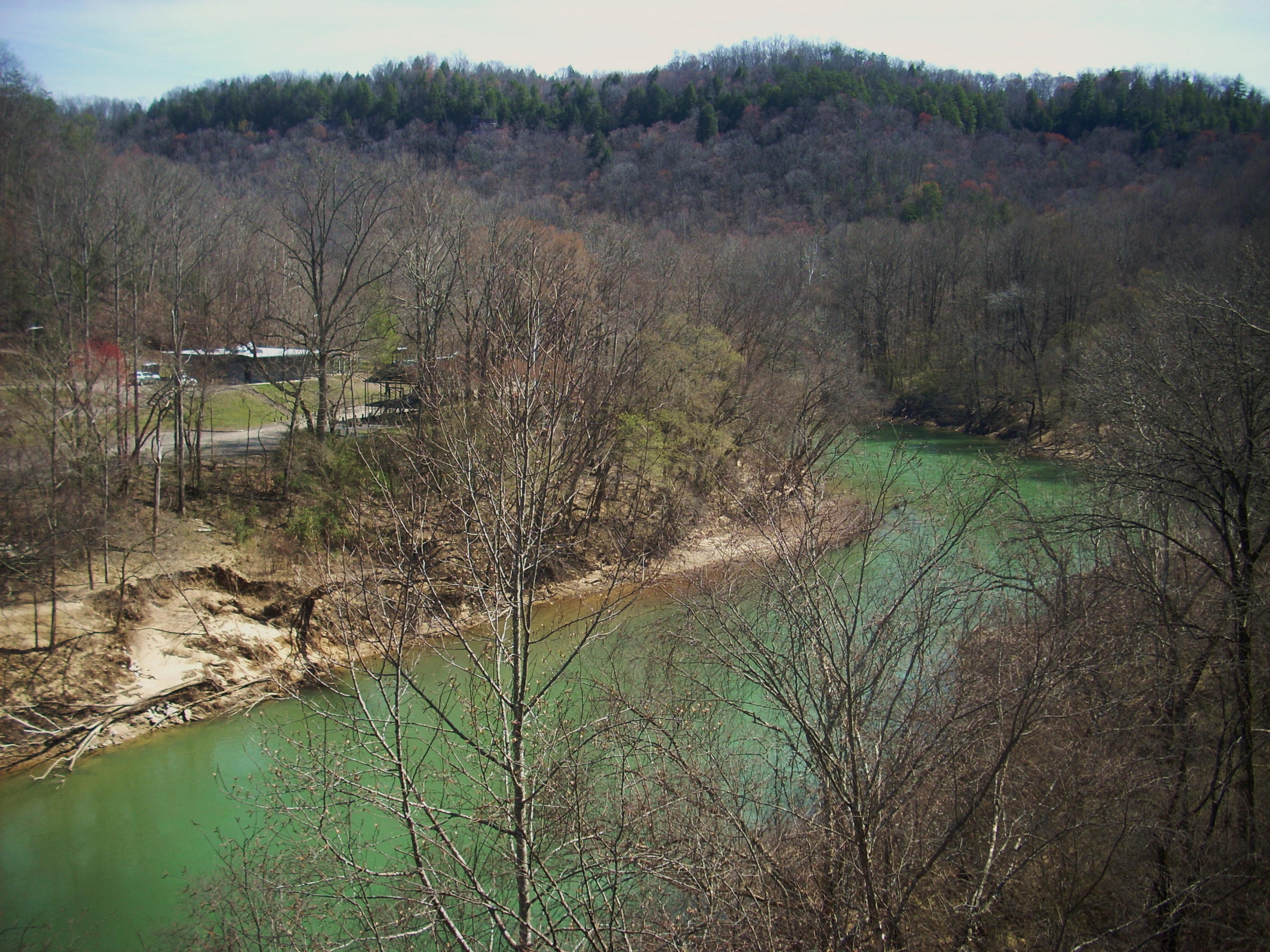 Now, when I got to the other side I was a bit perplexed. Lying here was a somewhat confusing array of trail signs, none of which I really expected to see. Take a right and the sign read:
YAMACRAW 8.8 MI.
NANCY GRAVE SCHOOL SITE 2.5 MI.
SHELTOWEE TRACE TRAIL 7.4 MI.
Take a left and the sign read:
LEDBETTER TRAILHEAD 7.2 MI.
OIL WELL BRANCH 8.8 MI.
CATAWBA OVERLOOK 1.7 MI.
NOT A LOOP TRAIL
To be honest, I just stood and pondered all this for a while… What to do, what to do… I eventually decided that I wanted to go more than 1.7 miles and less than 7.2 before I encountered something that was "sign worthy". I took a right toward Nancy Grave School…
What was the name of the trail I was following? I'm still not exactly sure, but I don't believe I was yet on the Sheltowee Trace. As per the sign, I believe I would have intersected with it in another 7.4 miles had I ended up going that far, but what was this trail? Well please pardon my ignorance but my best guess is that I was on something called the Kentucky Trail, one which I can't seem to find much info on…
At any rate, as you start out here you'll be walking high along the western side of the valley carved out by the Big South Fork (of the Cumberland River), but not for too long. Once you cross over a little creek and then by the foundation of an old house you'll veer away to begin an ascent along a series of switchbacks - you're now entering a little hollow carved out by one of the Big South Forks' many tributary streams. (I'd be careful here though. I found the green markers a bit hard to follow). Then, once you level out, you'll turn right to begin following along with what looks like an ancient roadbed.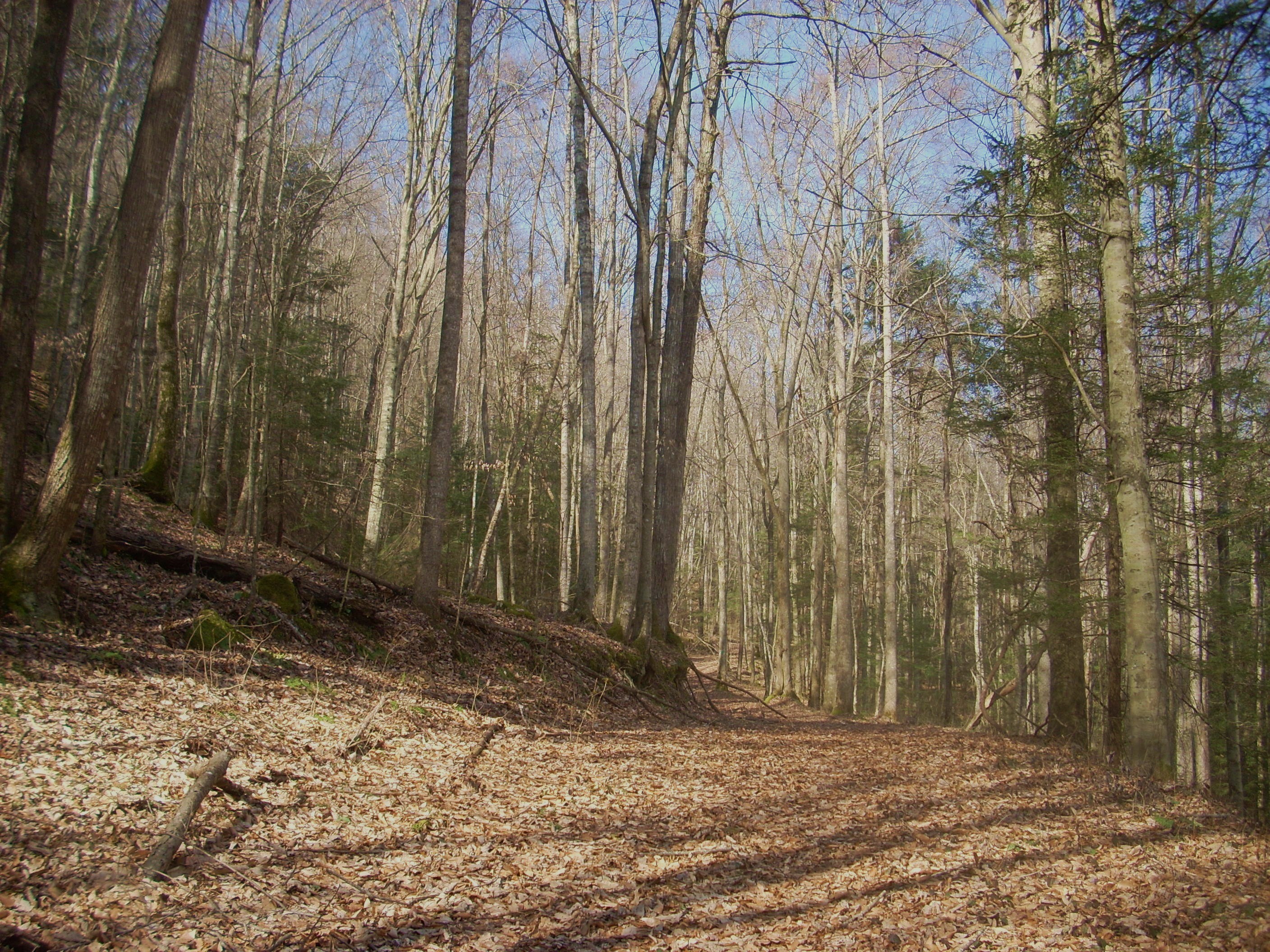 The next trail sign is very confusing. By my guess I'd gone about a mile since I'd seen the original Nancy Grave School sign. That one had indicated that it was 2.5 miles away. Now, however, it was still 2.3 miles away! Had I just gone nowhere? Which sign was right? Frankly, I'll never know... I never found the school! (I would, however, soon encounter something else which had me forming some opinions about the old roadbed I was following.)
At any rate, the trail now descends into a lusher area as you cross over a stream, and afterwards you're apt to find the old road to be as picturesque as did – picturesque but treacherous for any vehicle which might have passed this way…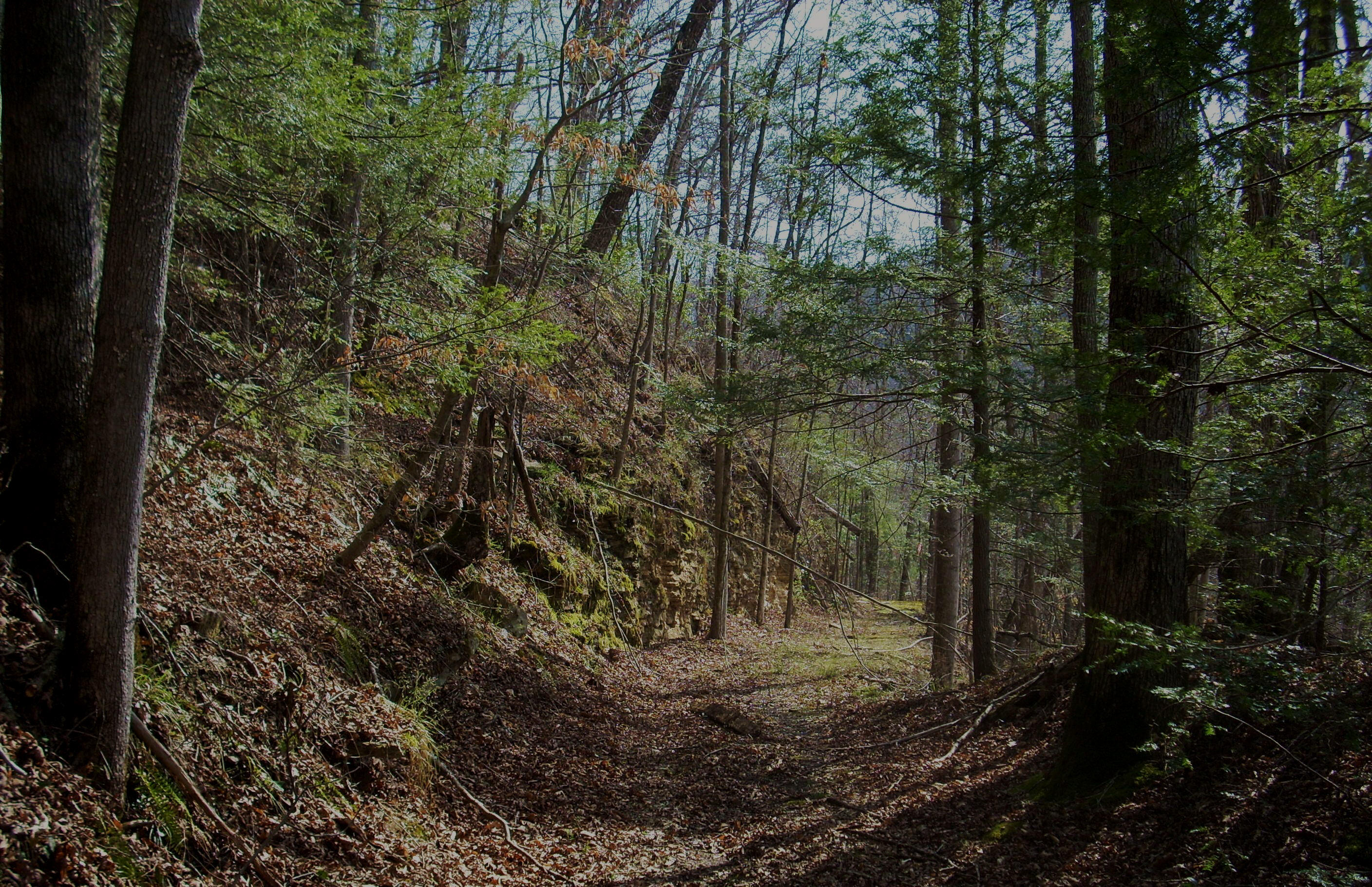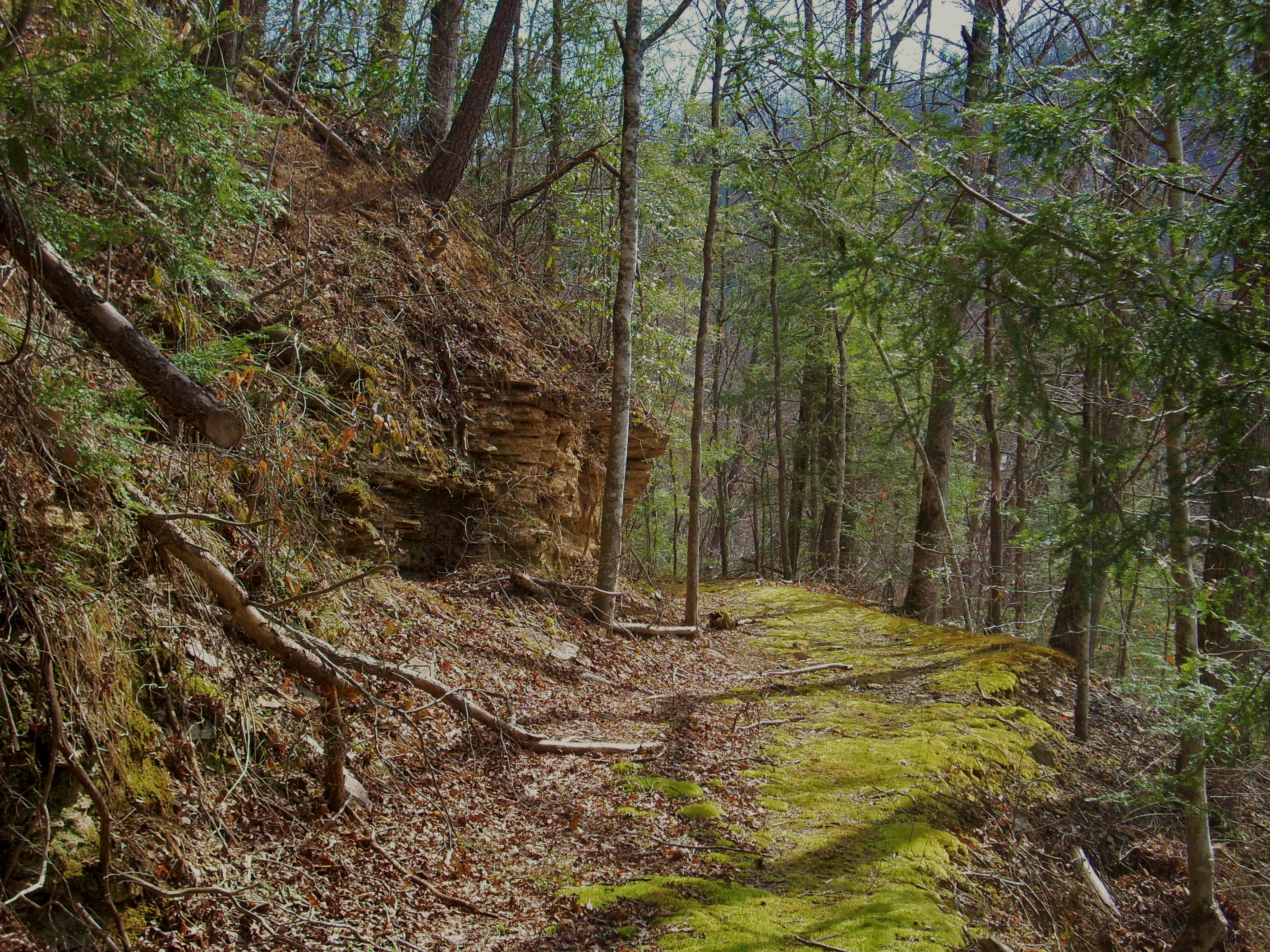 Now at this point you're in the midst of a left arc, the first part of which will lead you back to some Big South Fork overlooks, and at another point you'll see a split in the path; one way ascends and another descends. You can go either direction – both will meet up in a very short distance – but both are a little steep and the ground today was also a little "shifty" with all the fallen leaves. You'll really need to watch your step here!
Next up comes an old shed and then you'll pass under a power line, but what's really interesting is what lies at the end of this arc. I think there must have been an old milling site here on this little stream! (Incidentally, I'd now passed two of these. One looks to be called - gasp! - Devils Creek!) Anwya, was the road I'd been following an old wagon road leading down to this mill??? If so, it would explain a good deal.
Check out the pictures below... The first one marks the entrance to the spot and it shows some carved stones that I found there. The second two are of the "mill" site itself. Now I'm almost always wrong, of course, and I'd be interested in any other opinions, but this site does remind me a lot of the old Evans Grist Mill out at the Raven Run Nature Sanctuary and the road reminds me a lot of the one leading down to the Kentucky River from the Shaker Village of Pleasant Hill.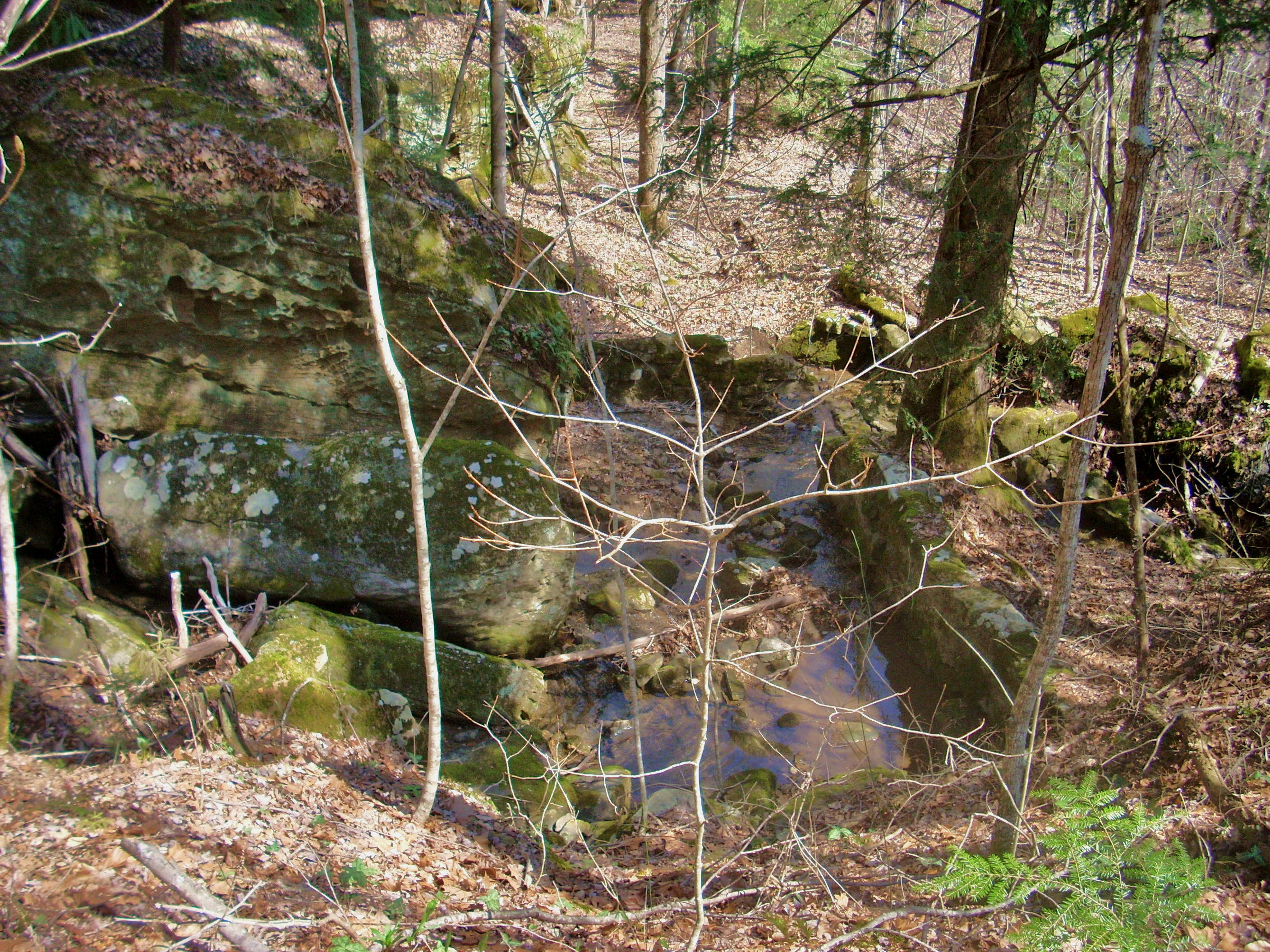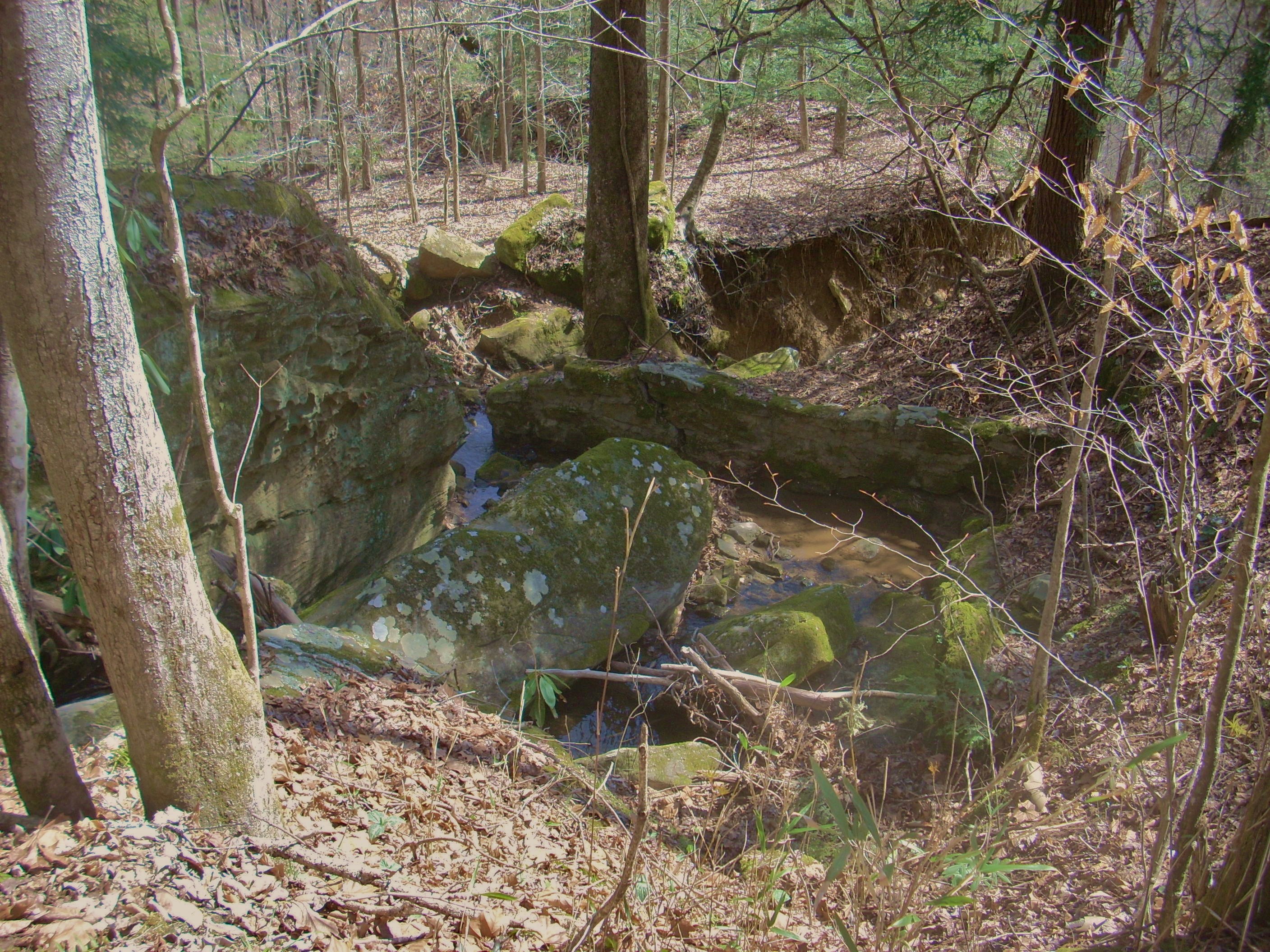 Anyway, you're now in another hollow, the same one formed by this little creek and today this was the lushest, densest area I'd hike through. In fact, it was as I was contemplating some flowing water in here that I had a little butterfly land on my arm. This was nice. To me, these little creatures have become signs of hope. They always seem to land on me when I'm feeling a little down and they actually make me feel as if I should be making a wish when they land on me – next time I think I will!
The last section I hiked took me back along the Big South Fork at the top of a mountain although the path was receded far enough from the river that I couldn't see it. As mentioned, I never saw the school and I stopped at a point where I'm guessing I'd gone about 3 miles. There was a large tree that had fallen across the path here and I could hear a dog barking at me in the distance.
Once back at the bridge you'll be able to put into perspective just how far you went. If you look to your left (or northwest) while crossing it's the third peak at about on the clock face.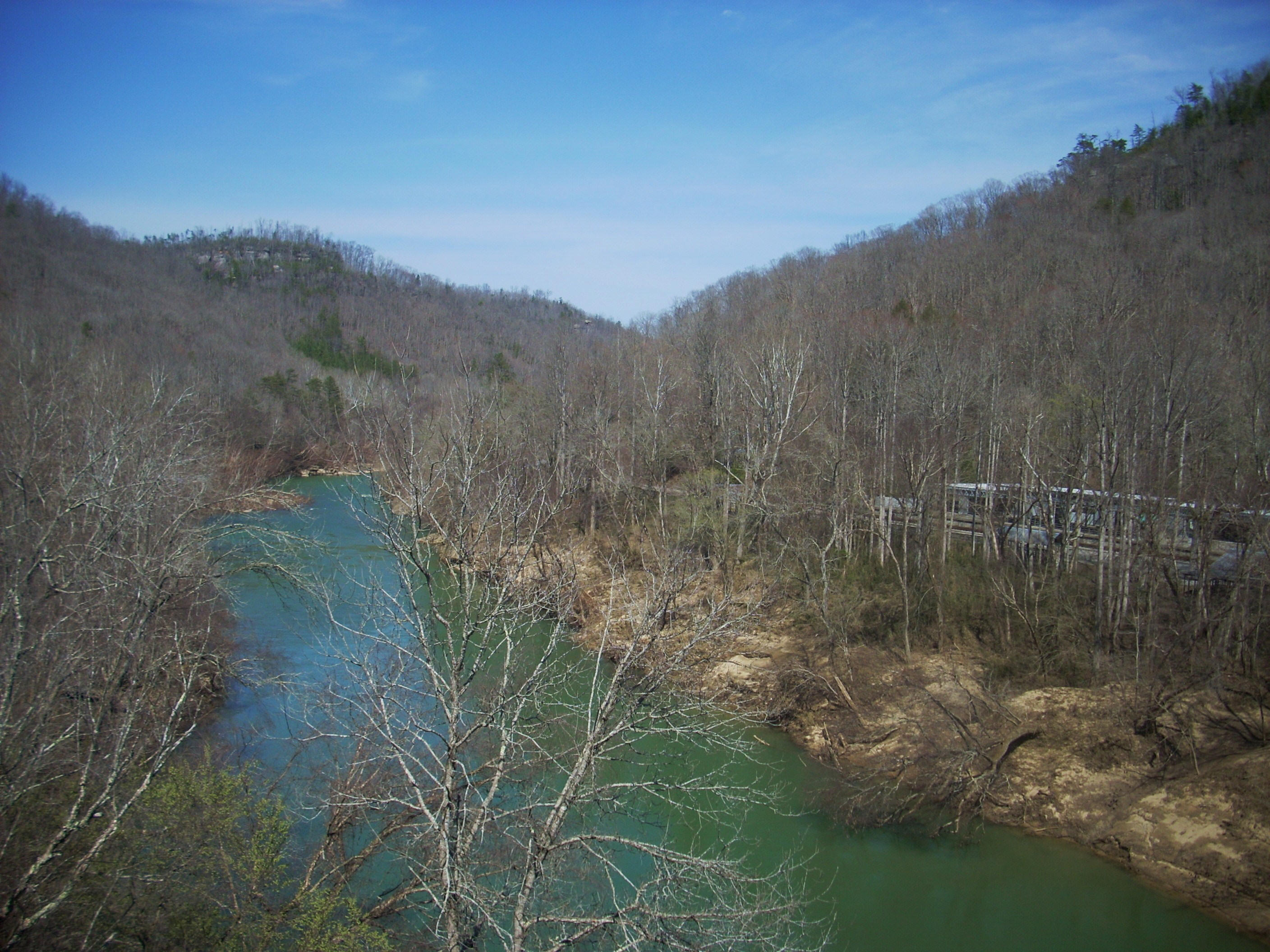 At this point I was done with the hike but I couldn't quite bring myself to leave just yet... Just the way I am, but I'd have felt ashamed to have accepted the recreational opportunities out here without also accepting the invitation that the exhibits offered to get a feel for what life must have been like at the camp. I did this, and after walking around for about 1/2 hour I felt as though I'd truly been touched by the spirit of the place. Blue Heron truly has a lot to offer!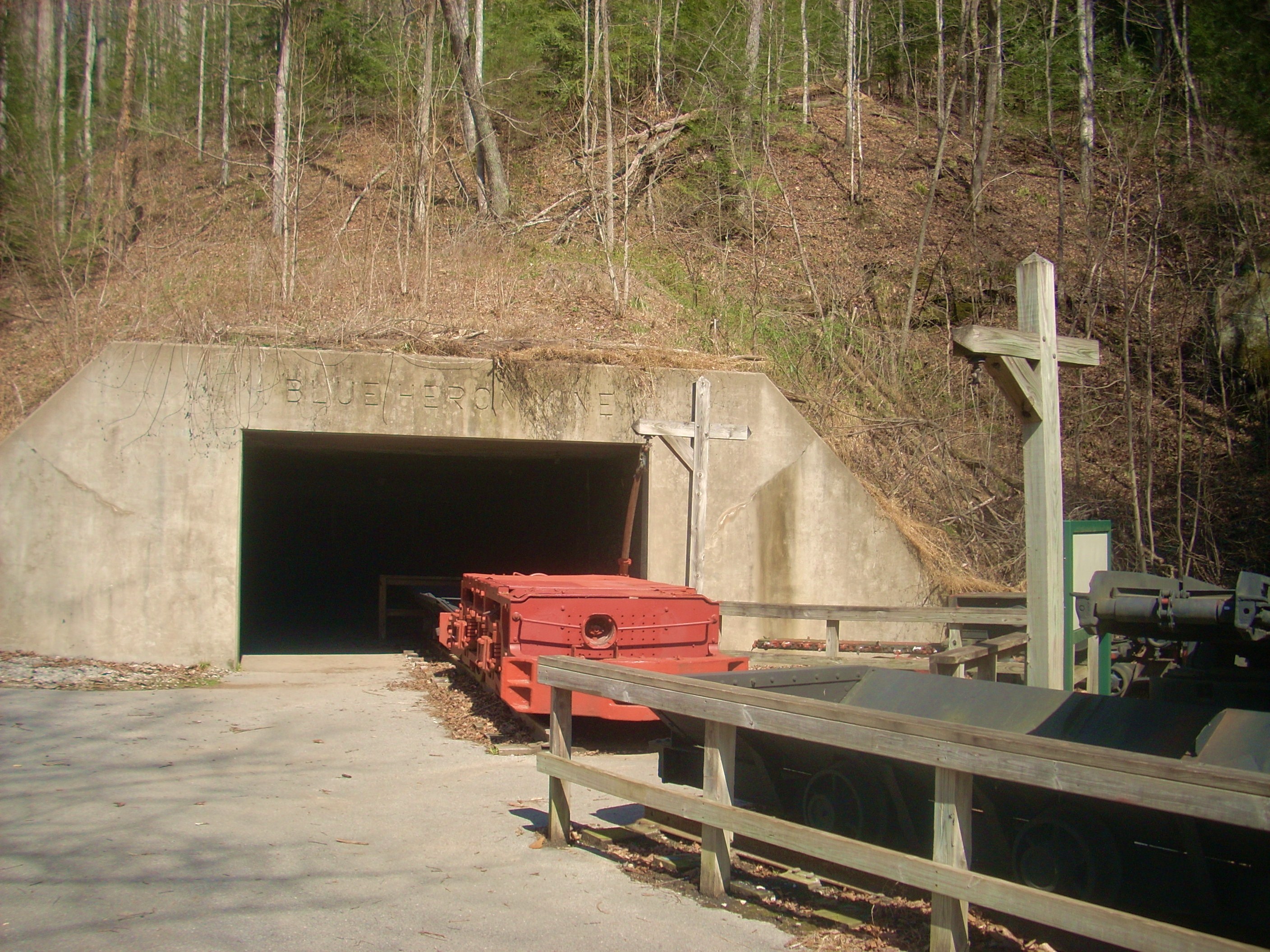 DIRECTIONS:
I took the Middlesboro Exit off I75 and went east toward Whitley City on US92. Then, after about 20 miles you'll reach the intersection with US27 at Pine Gap. Go straight across that intersection and turn right when the road dead-ends almost immediately thereafter. You'll be on KY1651. Go about 3 miles and then take a left on KY742 in the town of Revelo, Kentucky.
Once on this route, you'll end at the camp about 9 miles down, but you'll want to pass some things lest you get lost – as I seem to do almost every time I come out here. Don't make that left turn toward the overlooks just yet (although you might want to do so on the way out. I never have, but I'll just bet I'm missing something very nice!), and don't make a right turn just yet at the sign for another mining camp.
You'll soon arrive at Blue Heron after passing these, and you'll know it when you do. You can park just about anywhere. To start this particular hike just cross over the bridge.