PLACES TO GO ON LAND DESTRESS OUTDOORS HOME PLACES TO GO ON WATER
Cumberland Gap State Park
Pinnacle Overlook via Sugar Run Area Trailhead
Friday, March 18, 2011
Last year I came out here (http://www.nps.gov/cuga/index.htm) and they wouldn't even allow me to hike the trails – there'd simply been too much damage from an ice storm. I did, however, get a very nice surprise when, in my search for an alternate experience, I was led to a real enchanter of a hike at Pine Mountain State Park in nearby Pineville - a hike which, incidentally, turned out to be very similar to this one, albeit a lot shorter (it's written up in another entry). Today, however, I finally got my chance to explore this park.
Let me mention first that the Sugar Run area (the location of this trailhead) is a fantastic spot for a picnic lunch! It's named for the pleasant little creek which runs through here and you can plop right down on one of the many picnic tables they have available right alongside the water and enjoy! There's also a paved path that meanders along with the stream for a short distance that looks like it would be perfect for people in wheelchairs or for young children…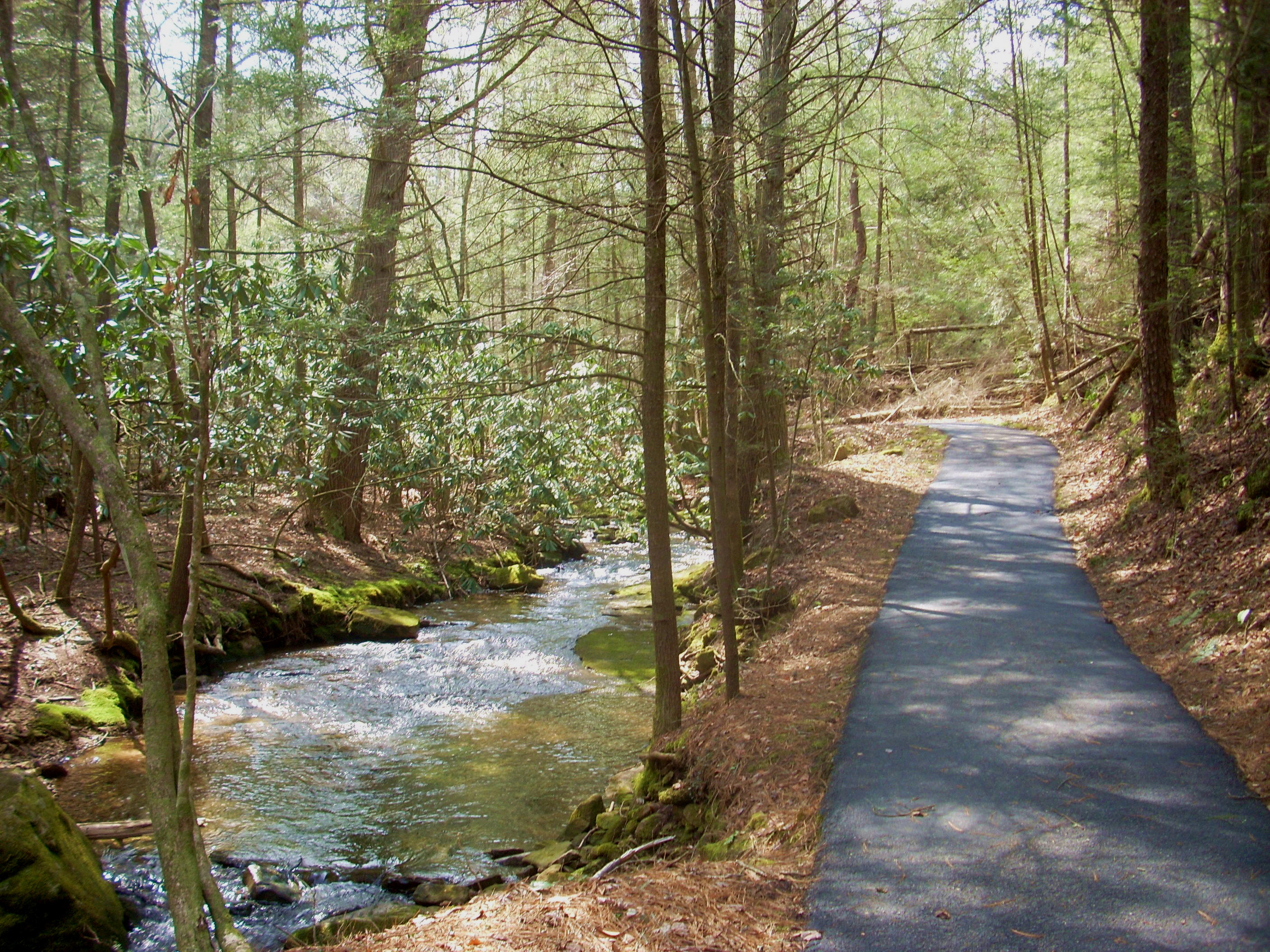 Anyway, what you'll want to do to begin this (about 8 mile out-and-back) hike is follow the creek upstream, and you can go one of two ways. I went directly around to the left on an unpaved path slightly uphill, but you can also begin by following the paved path to then make you're first left onto it - both ways meet up at the first bridge over the water.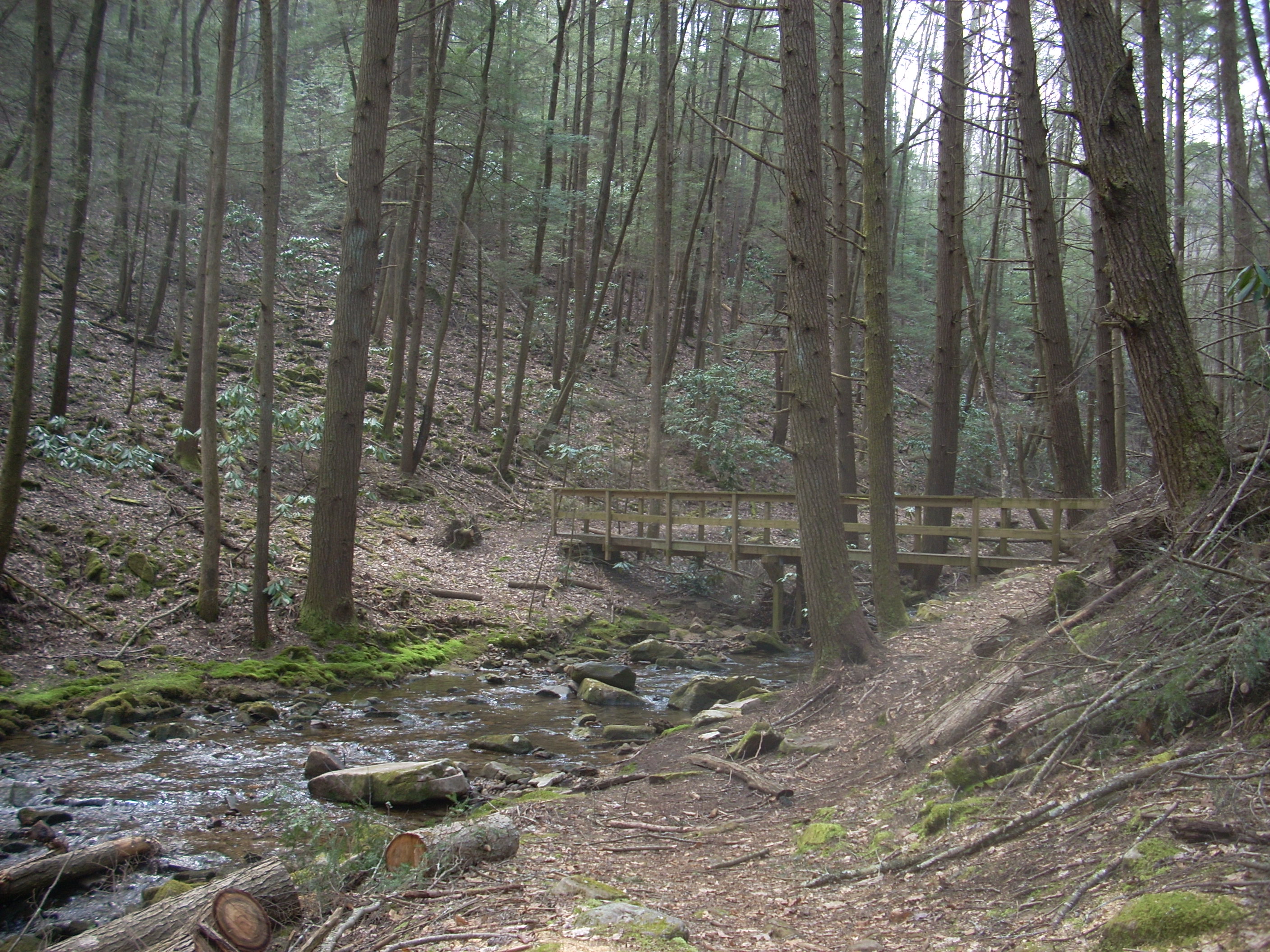 This first section is beautiful, indeed, but it would surely be even more so were it not for all the fallen trees – casualties of the ice storm, no doubt – but I'm certain the area will again become more lush and dense as the years pass (so long as no more ice storms set in for a while!).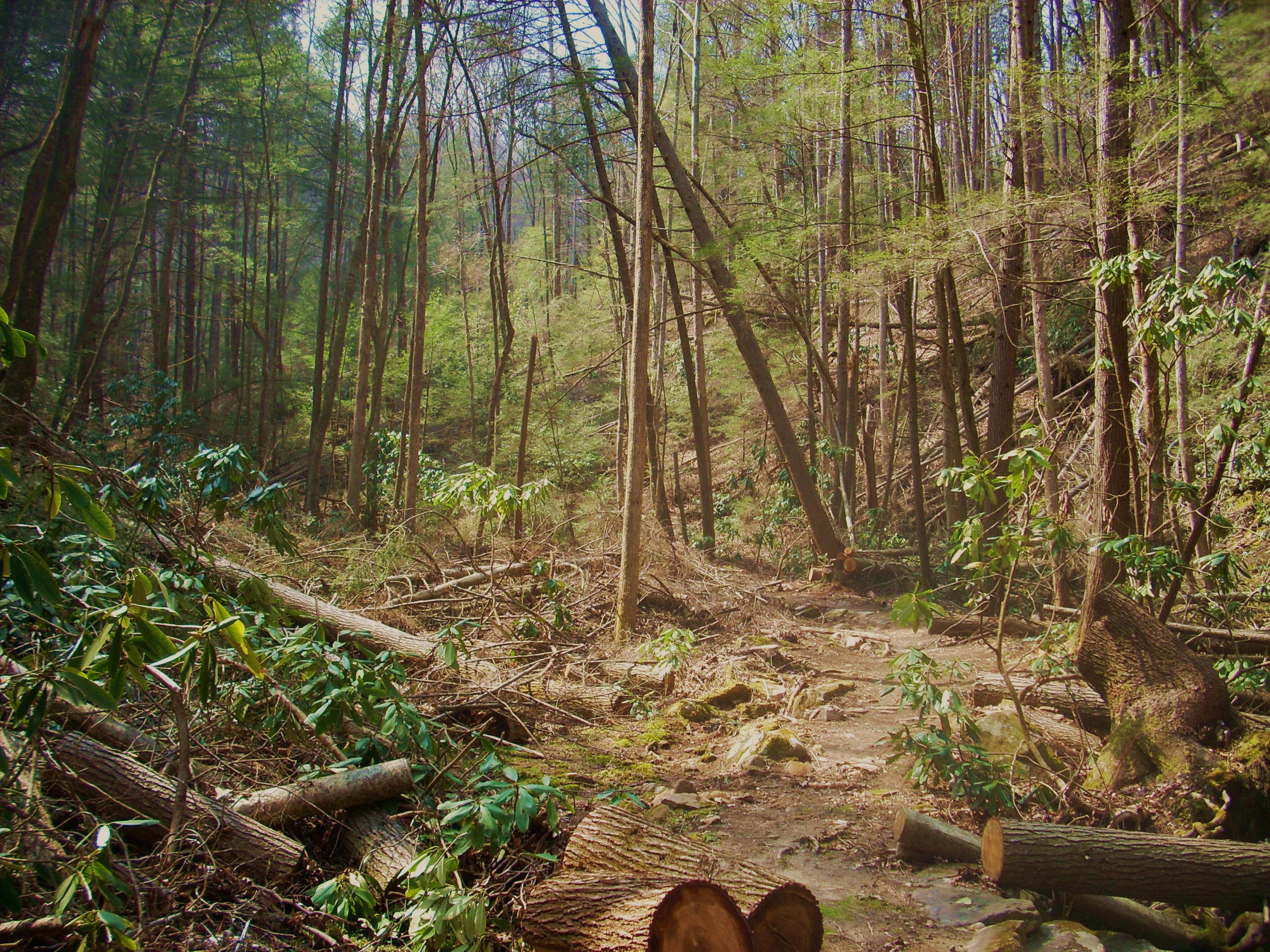 Anyway, if I recall correctly you'll either pass or go over 3 bridges before you begin a light ascent to merge with another trail. Here you'll want to continue left, still following Sugar Run upstream along the path it's cuts down through Cumberland Mountain. A sign indicates that you've got another 2.1 miles before you reach the Ridge Trail junction and another 3.9 miles before you reach the overlook. You'll also want to get ready here because this is where your climb will begin in earnest.
And don't do what I did.
Although the grade really isn't that steep overall, I'd made this my first fairly lengthy hike of the year – and I ended up overdoing it. You see, I usually work my way up to my first day-long hike by doing a 4 miler first. Then, after waiting a day, I go on a 6 miler. Then after another day of rest I'm ready. This year, however, the 4 miler hadn't been bad at all so I thought I'd just go ahead and launch right into this one... Not the best idea – one knee ended up woozy and both hips and legs felt like Jell-O by the end of the day. Plus, I'd already made reservations to hike the next 3 days straight! When I make mistakes, there's no middle ground. It's all-out mayhem.
At any rate, the trail itself is pretty easy to follow from here. In fact, the whole thing is wide enough to have the feel of being an old mining or logging road. Also interesting (to me, anyway) was the game of "peek-a-boo" I was playing with Sugar Run. For one stretch it would be right beside me and then I'd seemingly turn a corner and it would be hundreds of feet below. In still others I'd cross right over it successive times.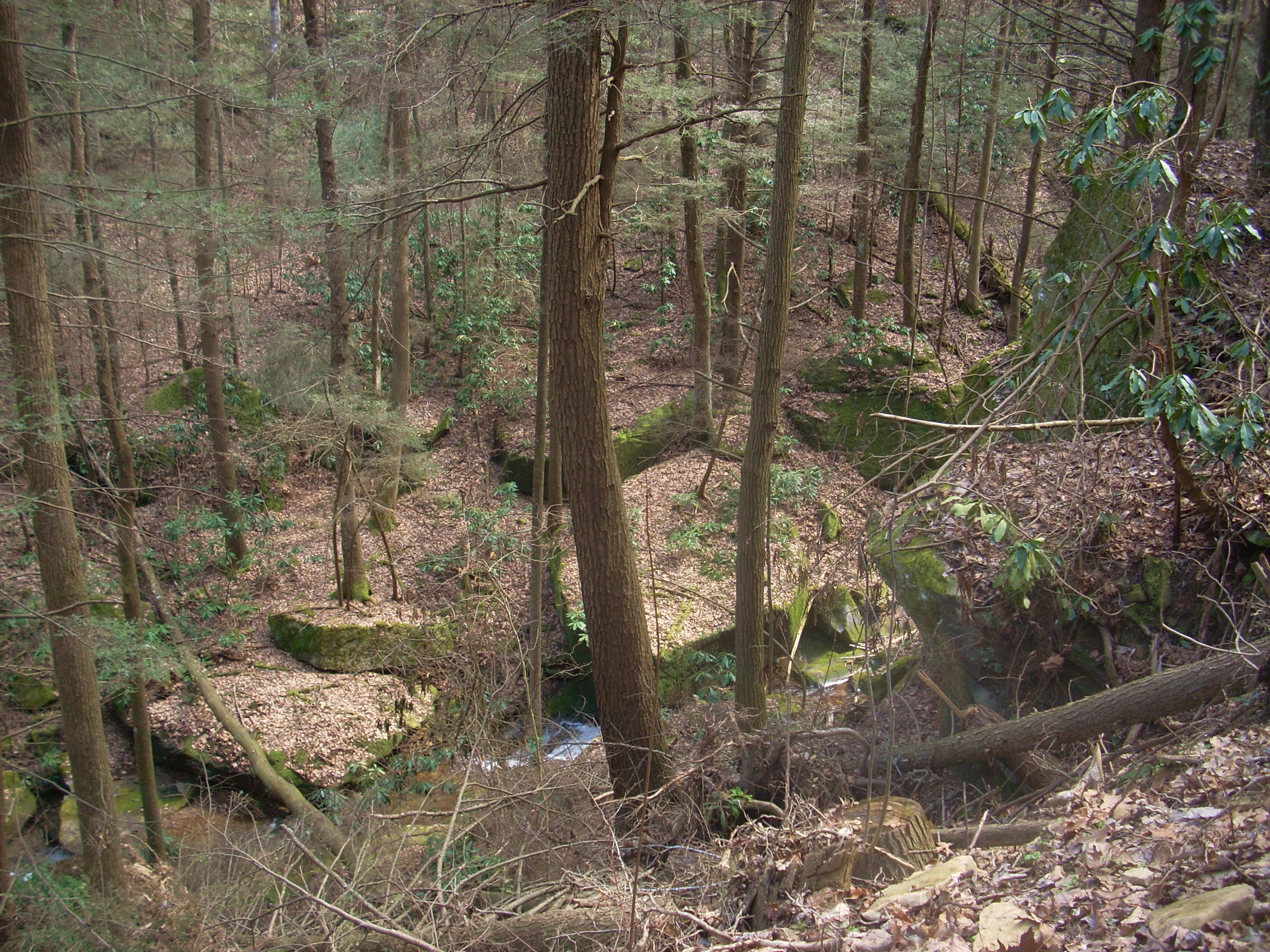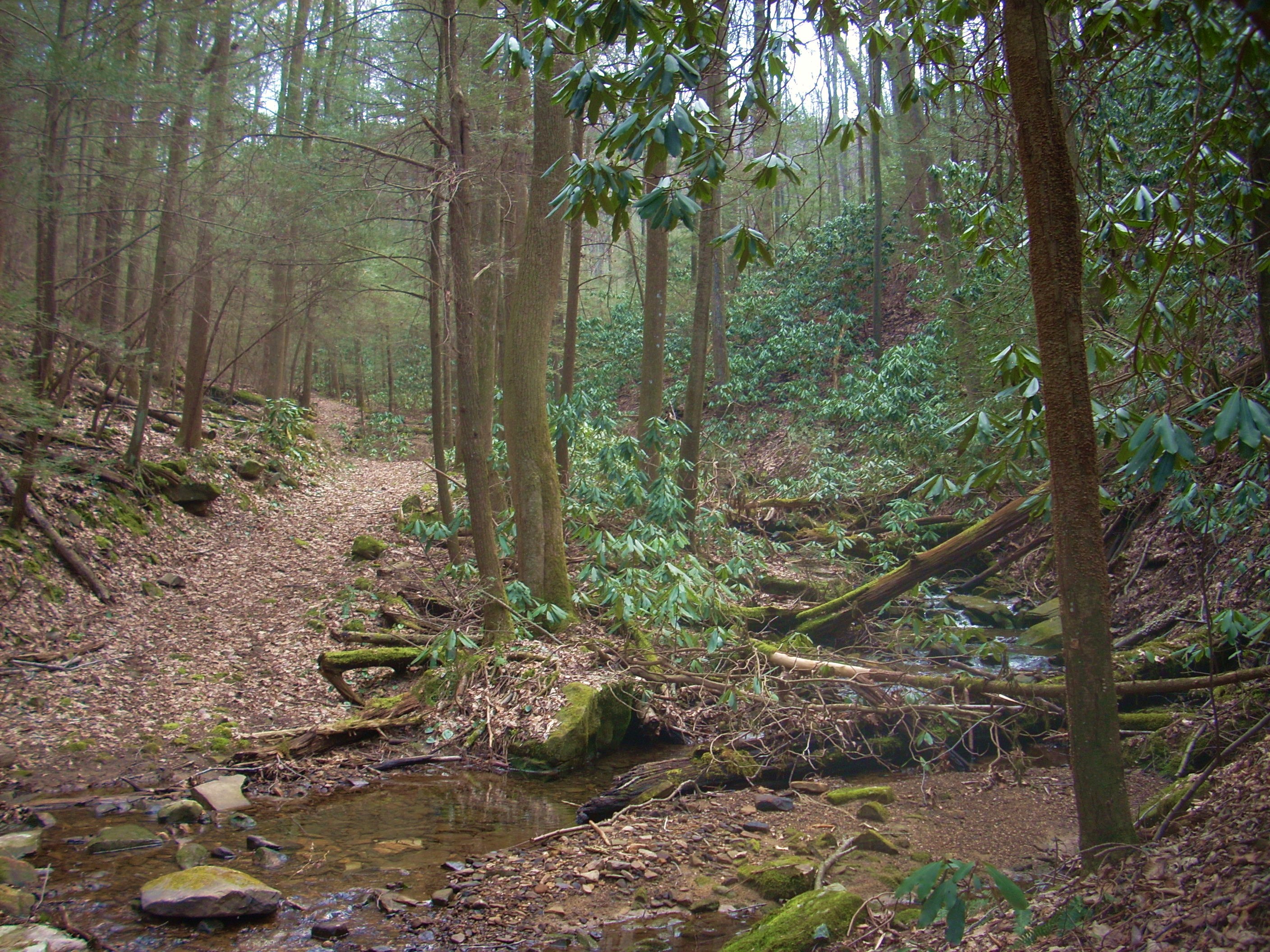 …and after the last of these crossings I was in a more open, forested area near the top of the mountain, soon to intersect with the next trail junction – the one for Ridge Trail. This path is interesting. It's the longest in Cumberland Gap State Park as it winds all along the top of that mountains' ridgeline fully 19 miles from one end of the park (Pinnacle Overlook is near the western end) to the other (White Rocks Overlook near the easternmost). You'll make a right onto it, following the "Pinnacle 1.8 Mi." sign.
…and it won't be long before you'll encounter some pretty awesome views. First they'll flirt with you through the trees, leaving you wanting a more...
Then they'll really open up once you get to a rock outcrop several steps off the trail to your left (don't worry, you'll know when you're there!). I actually thought that this was the actual overlook – it's not - but the views here were, in my opinion, almost as good as those I'd soon encounter - especially to the south (see below). I stopped for a while…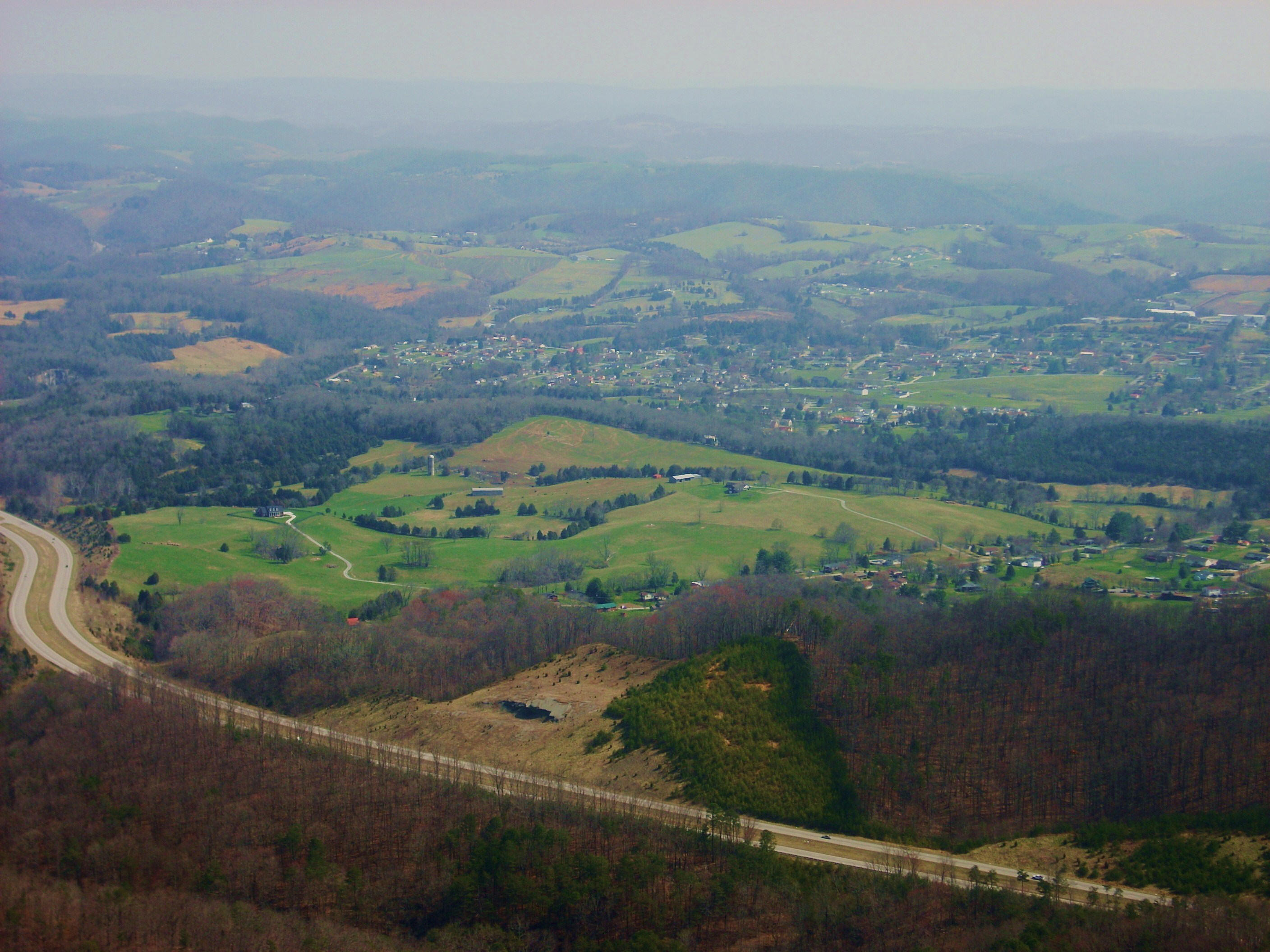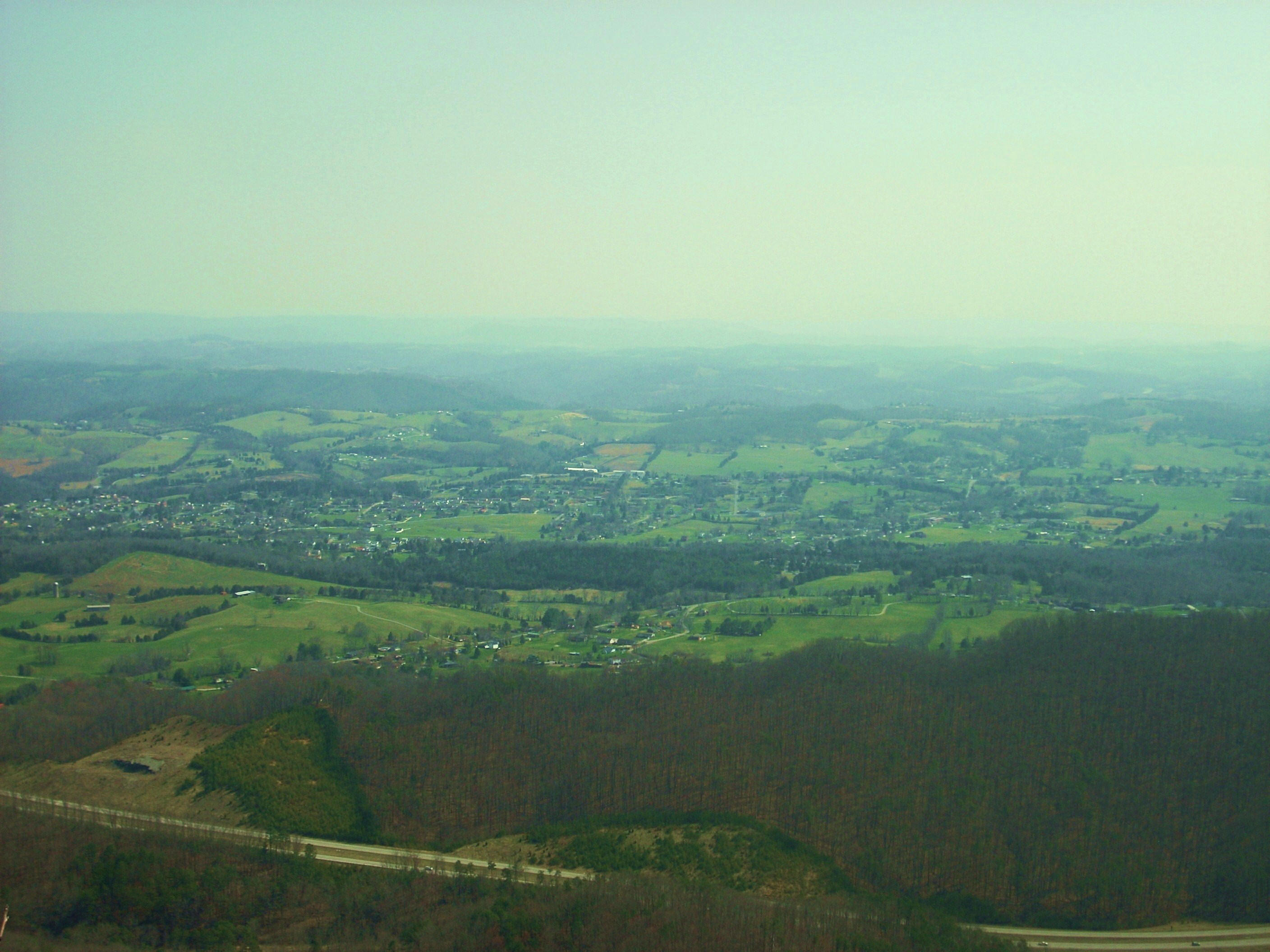 …until I realized that there was a couple that had come up right behind me... I'd just gotten here and I'd not seen or heard them coming, yet I didn't want to linger too long lest they'd be unable to enjoy the spot in peace for a while without me. Well wouldn't you know it, when I turned around to go I found that they'd unexpectedly departed quite quickly. It left me regretting that I'd not been more encouraging of them to stay.
Anyway, as I did leave I still thought that I had just seen the overlook, yet I wanted to make absolutely sure so I decided to keep on the path a little while longer... Good thing I did - the actual overlook would soon follow. What you'll do is make a light descent and then after a short climb up again you'll pass what looks like a little cabin followed by a sign-up post for hikers heading in the opposite direction. Next is an intersection with an incredibly inviting little paved path…
Follow this to the left...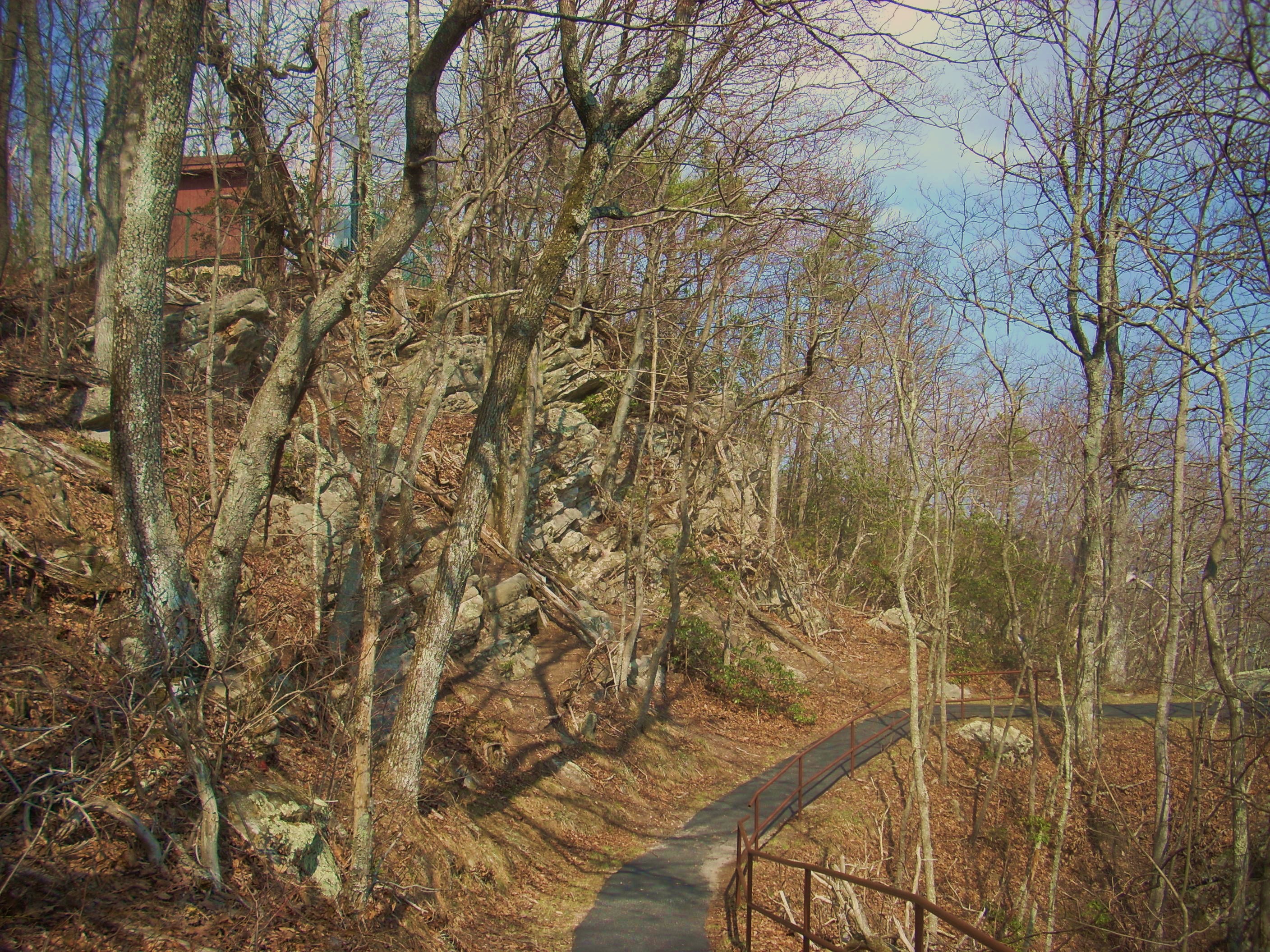 and you'll almost immediately reach the "actual" overlook. Check this out…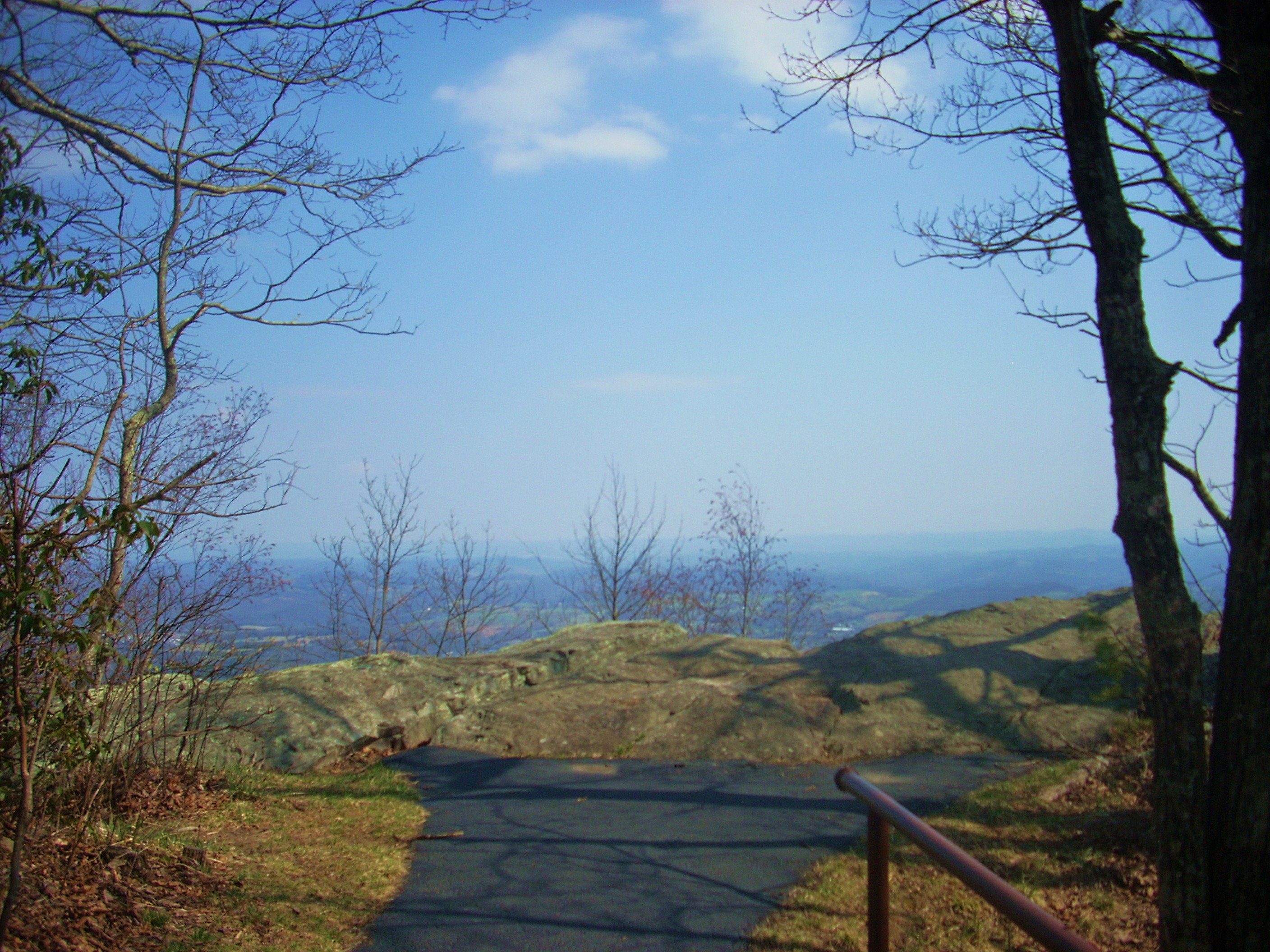 This was the best eastern-looking picture I think I got on the day…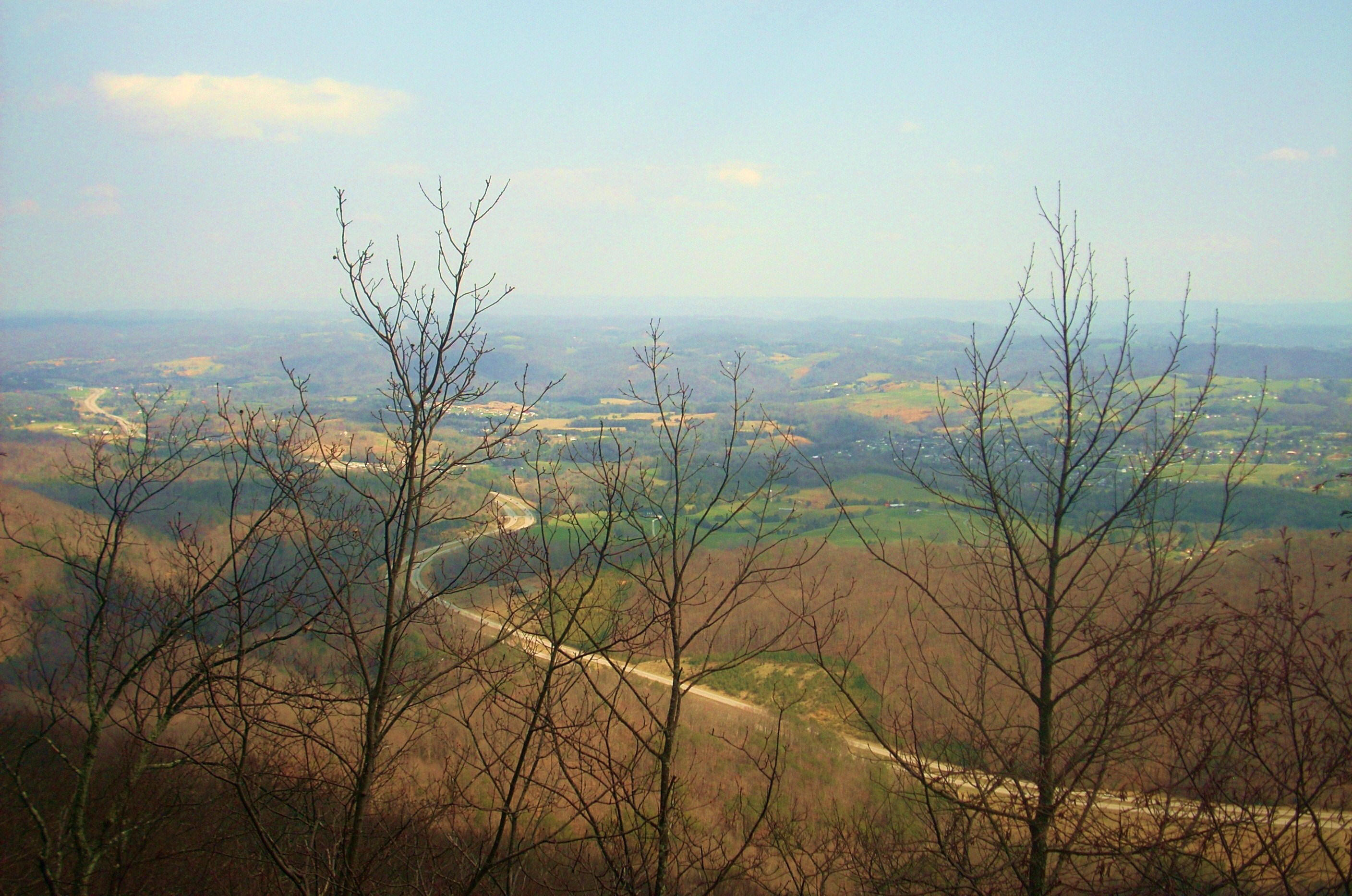 …while this was the best westward-looking...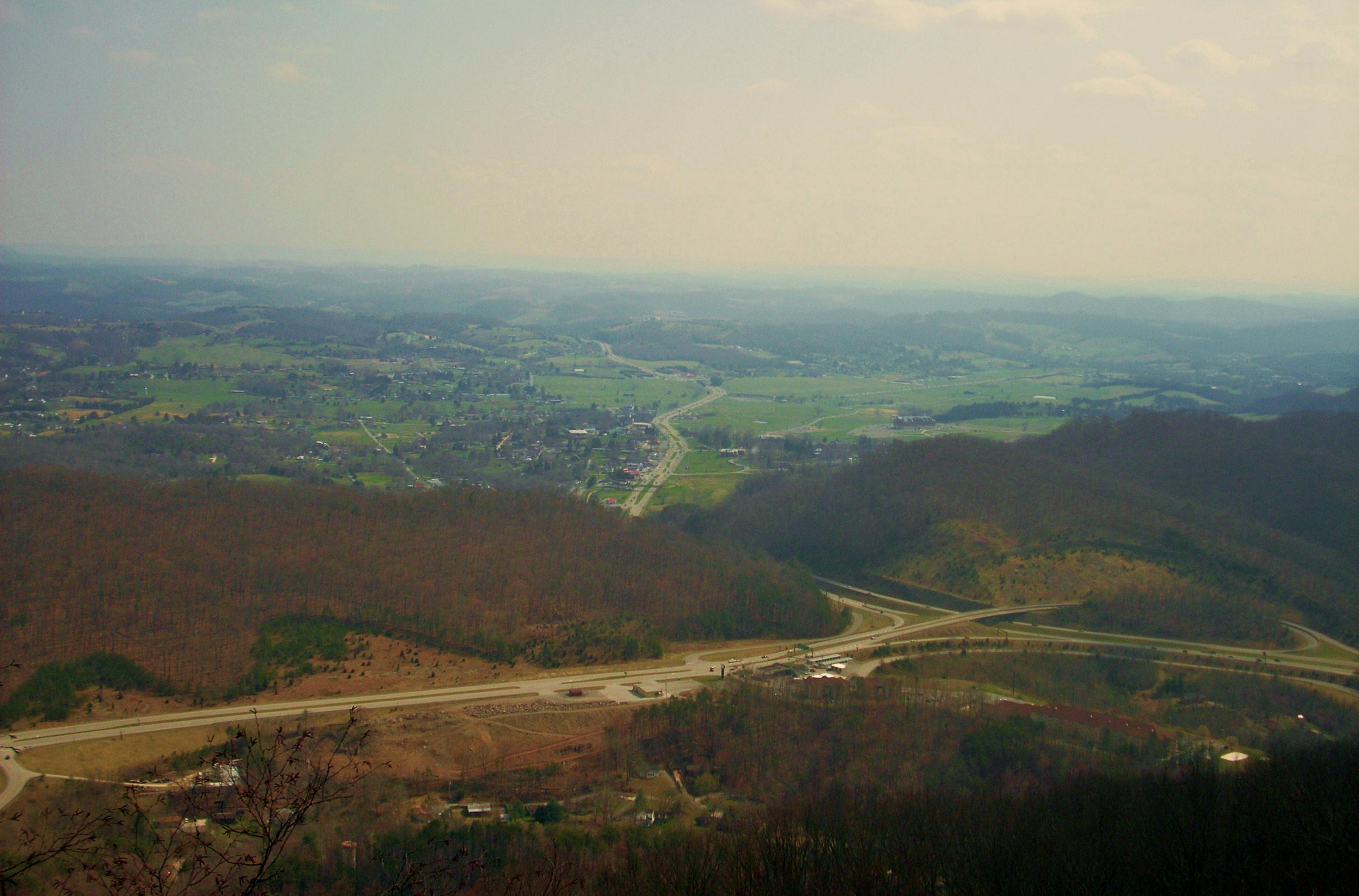 When you're done here you can retrace your steps to head west onto the path to find a civil war cannon. The parking and picnic area you see below you is actually where Pinnacle Road ends. Yes, you could have driven up here! As for me, I began heading back at this point vowing never again to disdain working up to a first hike! I hope to try this parks' next path to the east – the Gibson Gap Trail - on my next trip out.
DIRECTIONS:
I took the US25E Exit off I75 (near Corbin, KY) and headed East with the signs towards the Cumbeland Gap. You'll pass around Pineville, KY and then through Williamsburg, KY. Williamsburg is pretty congested with shopping centers and fast food restaurants, but these abruptly end and you'll quickly find yourself entering a very nice parkway. You won't stay on long, however, as you'll want to take the first exit for The Cumberland Gap National Park (in fact, the park office is off this very same exit and I encourage you to stop here if you have time. It's a very nice facility.)
For this hike you'll pass in front of the office