PLACES TO GO ON LAND DESTRESS OUTDOORS HOME PLACES TO GO ON WATER
Carter Caves State Park
4 C's Trail
Sunday, May 10, 2010
I took this trip to get away from my problems, and even though they found me anyway, I was grateful to have been able to experience this very unique park again. Most of the times I've been out here it's been for what they call the Crawl-A-Thon. This used to be a weekend event that they held in January where you could sign up for different caving trips and crawl around in one of the more than 20 caves they have both in the park and around it. It was quite an experience and it brought in cavers from all over the country. For myself, personally, and for my friends it was also an event which brought us together once a year.
For the last 2 years, however, they hadn't had the event because of a disease that the bats had gotten. They were (and apparently still are) concerned that all the dust thrown around by all the spelunkers would exacerbate the situation. Well today I decided to hike on some of the trails that wind around these caves, and I opted for this particular one because it's both the longest (with the exception of the newer Kiser Hollow Trail which is primarily for horseback riding) and the most comprehensive of the paths in the park. I had issues I needed to sort out.
Frequent visitors to this site already know that I have a problem with all the contempt I see out there on the road. Well today that problem began to affect me physically. After another ridiculous episode on the way out to the park today I had my first experience with an odd heartbeat. It was a little scary and it had me feeling a little downtrodden. I needed to do an incredible amount of thinking and engage in an incredible amount of introspection.
In short, I needed a calming hike like I'd never needed one before, and this was a nice path for that.
On the 4C's trail you'll have long, contemplative sections where you'll be walking through the woods and then you'll have a surprise or three which will awaken you from your reverie and enliven you. Take the trail in this spirit, and it will both renew and comfort you.
First thing's first though: the entrance to this park (http://parks.ky.gov/findparks/resortparks/cc/) is a thing of beauty! You'll drive in along a stream on one side and a steep hillside on the other, and there are a few places to pull over and enjoy this. I eventually parked at the visitor center about a mile in and got on the path immediately, forgetting to even put my hiking boots on (I'd pay for this in pain later). The visitor center is located in a sweet looking cabin, by the way!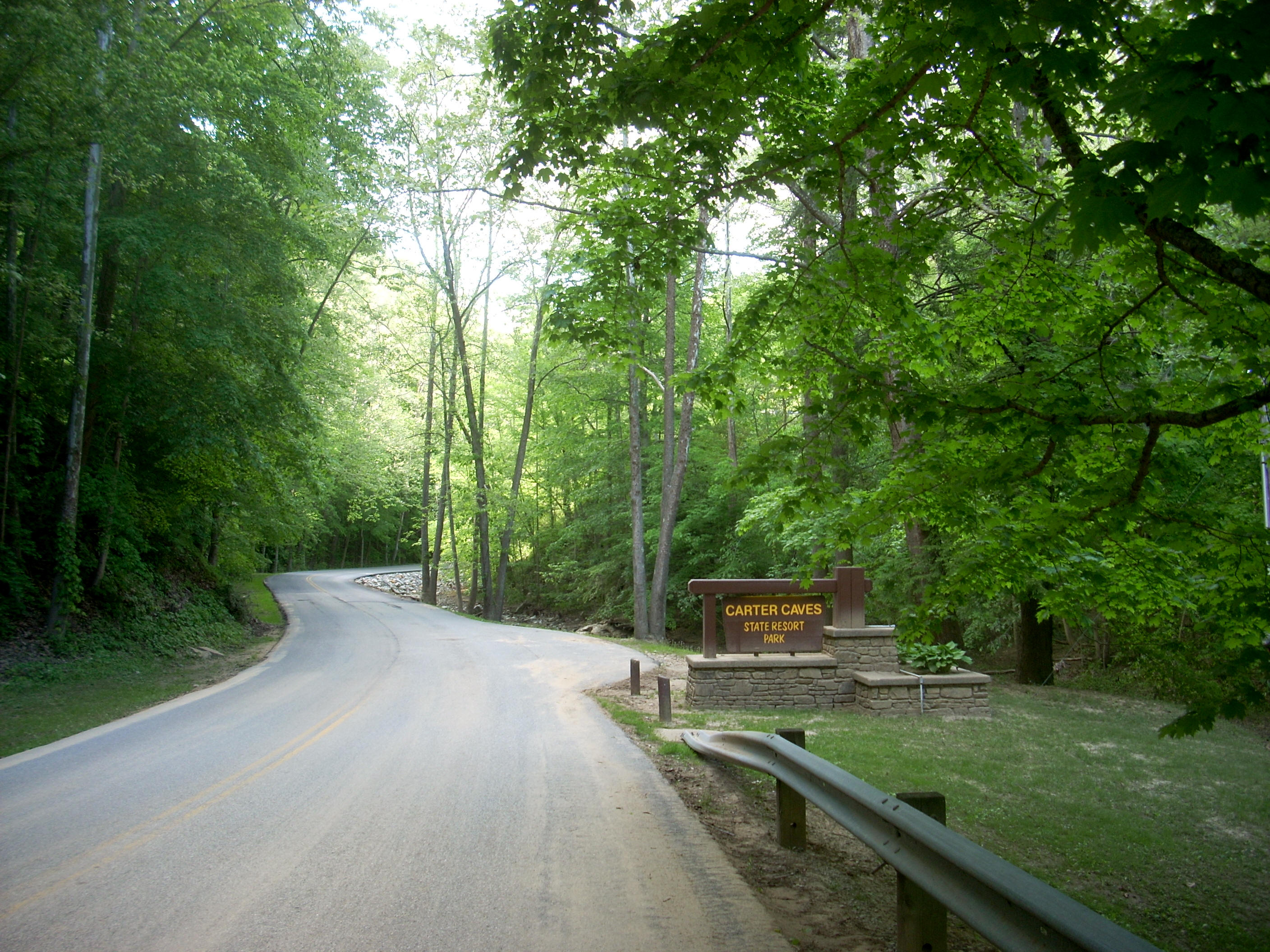 To begin the 4C's I crossed the park road and climbed up some steps which led me to an interesting structure. This was actually the entrance to one of the caves (Saltpeter). I took a left behind it and was immediately relieved to be on my own in the forest. A clarification: at this spot there was a sign that bore no indication that I was about to begin the 4C's Trail... What's happening here is that this first section of the path is actually shared by 2 trails - the 4 C's and the 3 Bridges. You'll know that you're headed in the right direction when you see both orange and red paint marks on the trees (orange for the 4C's, and red for the 3Bridges). This aside, the 4c's Trail is generally a very well marked one. I only got confused a couple times, and I'll describe these points in a bit...
Anyway, for about the first 1/2 - 3/4 miles I was walking above the park road at about the mid-level of a ridgeline, and at one point I passed a kind of metal grate over the trail. I took this to be a precaution against hikers falling down into Saltpeter Cave! As mentioned, this section was for me a very reflective one, so I wasn't as observant as usual, but I believe I crossed over a couple little bridges before reaching the first trail intersection. Taking a right here would have led me up to some cottages.
Continuing left on the main path, however, I was soon headed down a steep set of stone steps which led between a couple rock outcroppings. The spot was much like a portal to the natural bridge you'll soon be able to see. Appropriately called Fern Bridge because it's surrounded by them, the spot is absolutely beautiful. It reminded me a lot of a location along the Upper Loop section of the Hood Branch Trail at Natural Bridge State Park, and a little bit of the Yahoo Falls area in the Big South Fork of the Cumberland River. This one isn't a rock house like those, though, it's actually a bridge – specifically a sandstone arch 90 feet high and 120 feet long according to Michael Browns' Hiking Kentucky book (http://www.globepequot.com/globepequot/index.cfm?fuseaction=customer.product&product_code=0%2D7627%2D3650%2DX&category_code= ). Highly recommend, I use this book all the time.
This bridge would be a great place to stop and meditate for a while if you want. In fact, I was kind of surprised that it was so quiet out here today. Being a weekend day, there were a ton of people around and a lot of cars driving in when I first arrived. On the trails, however, I didn't see a soul all day.
Not long after passing this bridge you'll start to see quite a few more trail signs, some of which will lead you to the park lodge and/or to Raven Bridge. These trails will break off to the right, but to stay on the main path you'll continue following the 3 Bridges indications until you specifically see a branch-off for the 4C's. The sign for this will come at a point on your left just before you cross a little stream, and once you make this left you'll notice that the trees are now marked only in orange. Another point: this first 4C's marker indicates that the trail is 7.2 miles long, but you've already traveled some of this distance already (maybe 1 ½ miles from the parking lot?), so the actual distance will be a bit less.
Anyway, I made the turn and almost immediately came to a steep wooden staircase which began my descent toward a little man-made lake ( Smoky Valley Lake). On this descent the lake was down and to my right with a rock face directly on my left, and when I reached the water I was walking alongside a little streambed which I soon crossed over on a sweet little suspension bridge (one of 2 that I'd see today).
This area was interesting. The stream was Smoky Creek (the same one dammed to form the lake) and, in point of fact, this dam has created 2 Smoky Creek spillways – one flowing around either side of it. You'll cross the first on the bridge, and you'll reach the second quite soon – it's on the other side of the grass embankment. The path will take you up to the top of this and then you'll cross all the way to the other side. Here, however, is one point at which the trail can get a little confusing.
Your eventual route is directly in front of you as you walk, but it's on the opposite side of the little ravine you'll see. You'll just need to find your way across. I took the path left and it led me down from the top of the embankment to the rocky streambed of the second spillway. It was dry today, but there was a bunch of debris which made things a little more difficult. I followed the path first and was blocked, so I went along the little roadway I saw and was eventually able to bumble and stumble my way back to the orange tree markings.
Then, after climbing up a little grade, I found myself at a backwoods campsite complete with a little rock overhang that it might be fun to try sleeping under. According to a sign here this was both the 3 mile point of the trail and the site of an old homestead. Camping is apparently allowed by permit only, but there are no campfires permitted even though the "No" had been removed from the sign!
As for the path, it leveled out at this point and widened too, making me think that I might be walking on an old forest road, and it continued this way along the back side of the lake for maybe another mile. It was in the midst of my musings in this section that I had an encounter with a butterfly. Usually elusive, this one landed right in front of me on the path, and as I began to ponder this occurrence my troubles finally began to fade from my mind. Because of a butterfly? Well, not to get too spiritual, but here's why…
I was really troubled once about the Lord's promise of eternal life. The concept was simply too vast for me to comprehend – so much so, that it truly frightened me to think about it too hard - and so I asked my Uncle (a Roman Catholic priest) for help. What he told me is that this life vis-à-vis the next one is like the analogy of a worm to a butterfly. In this life we are as worms - our lives are awkward and often very difficult as we struggle to find our way. Pass this earthly trial by leading a good and just life, however, and our lives will be transformed into something truly beautiful in heaven.
Well, when I began to think of my troubles in this context they seemed a lot less weighty and my day finally began to change - I was at last on the road toward making sense of my situation instead of just dwelling on it.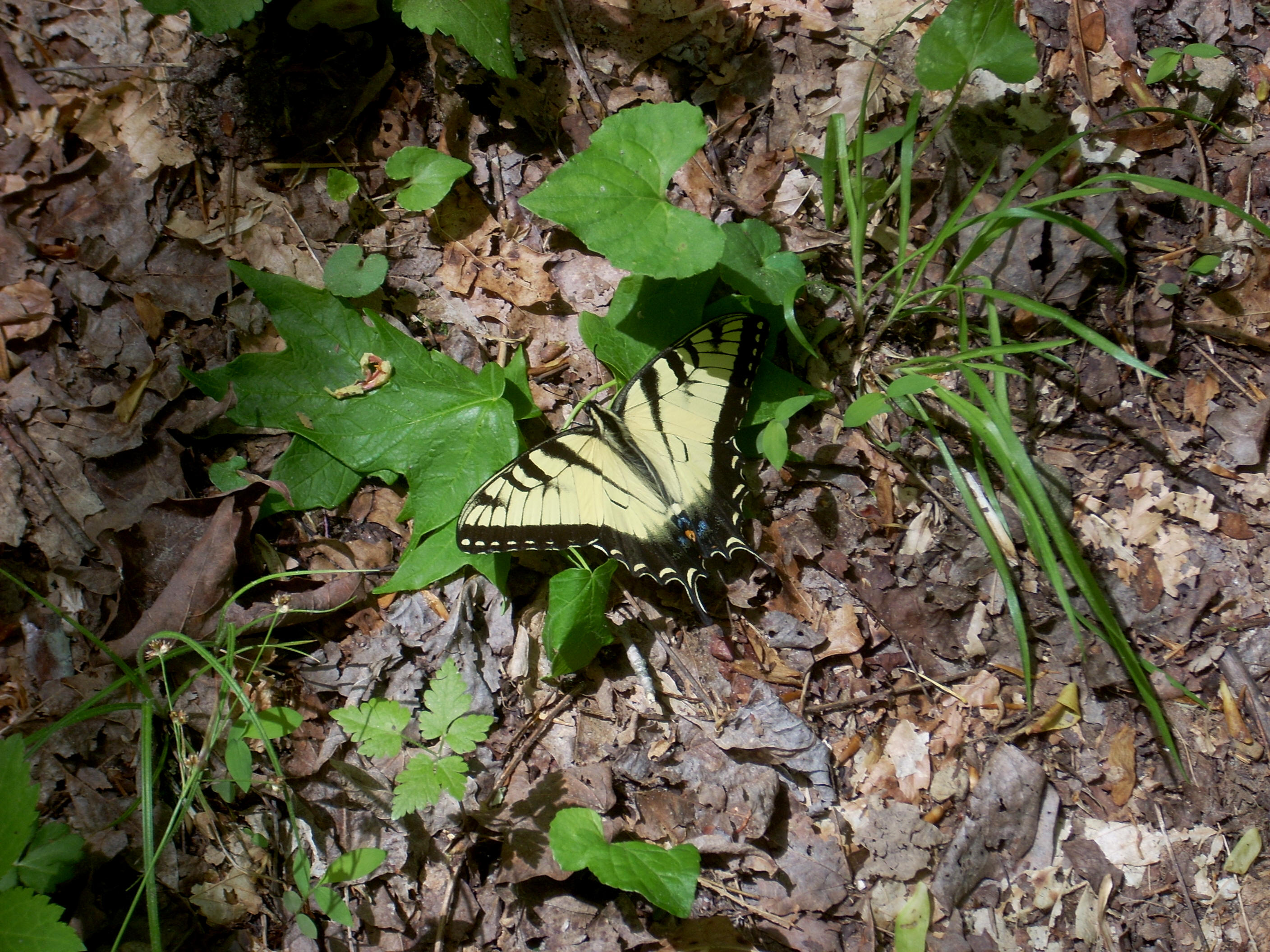 Soon passing by a small pond on the path, I then began to notice that I was making a descent toward another awesome suspension bridge. Longer than the first, this one went over the tail waters of Smoky Creek, but I had to really squeeze with my gear just to make it on. At each of the ends there were posts spaced only far enough to let a hiker through. I inched on by - it reminded me of tight squeezes through the caves!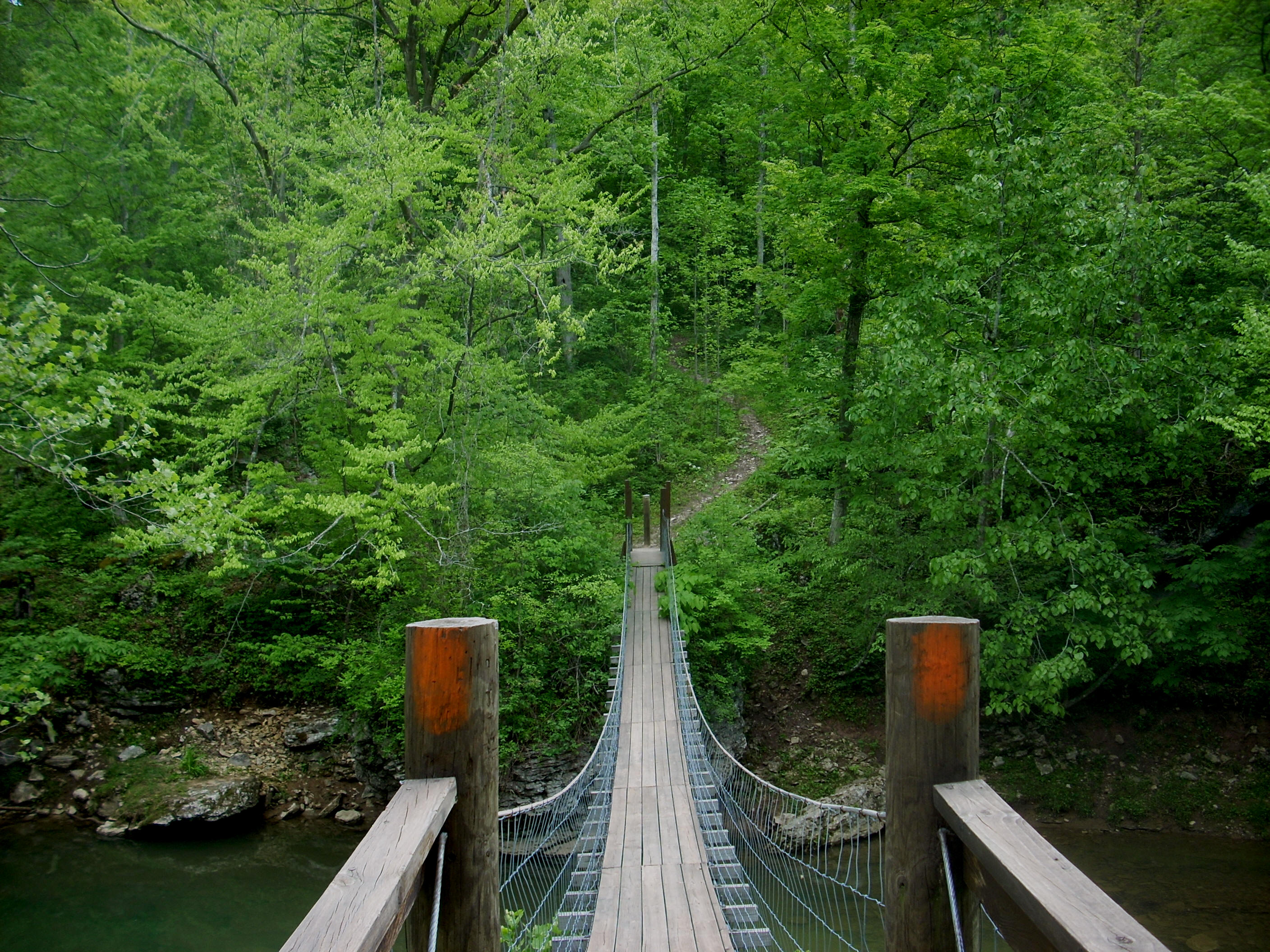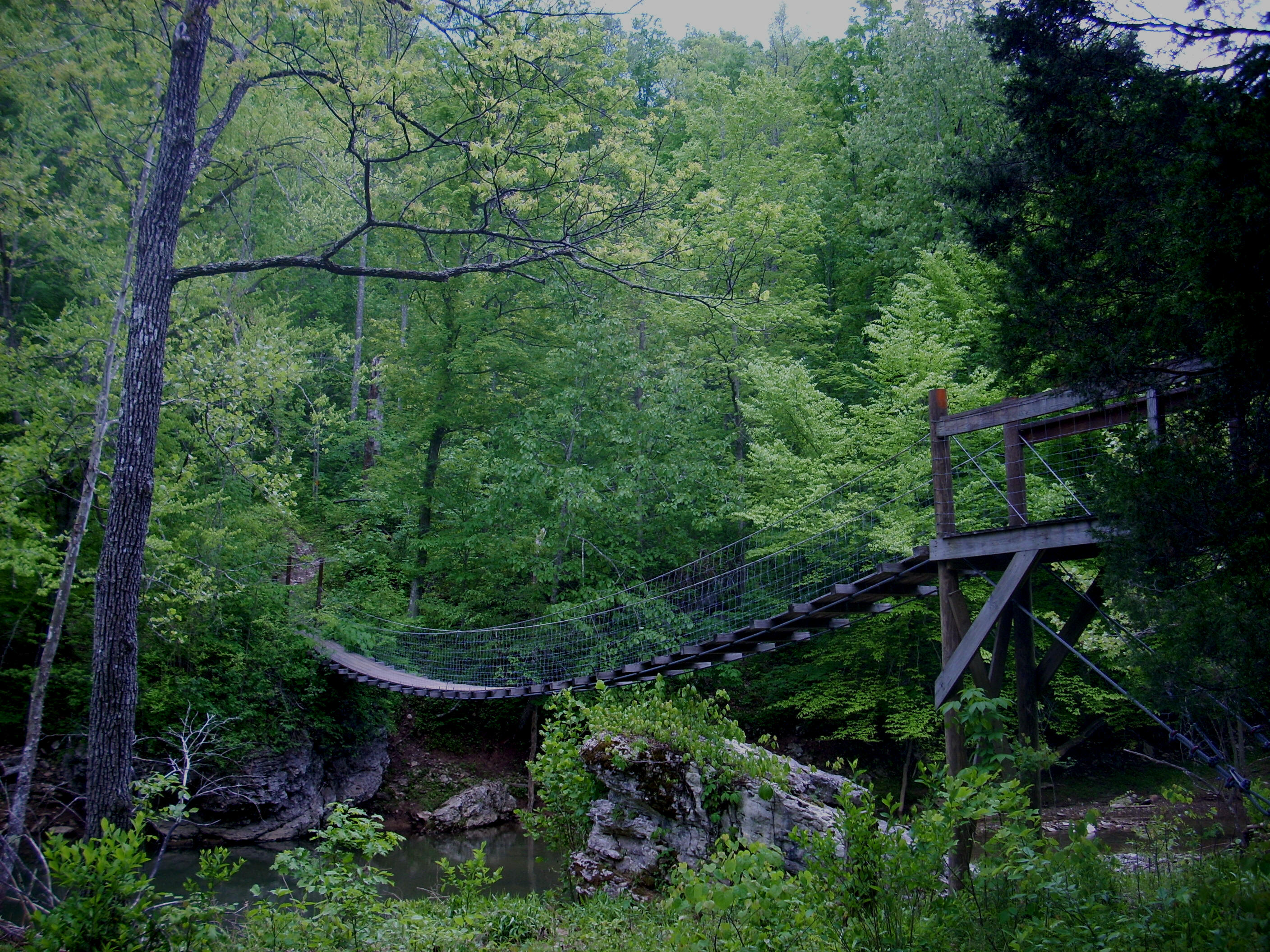 As it passes this bridge, the trail will first follow alongside the creek to provide some nice spots to stop and relax. One of these was an area where it appeared that the stream had a tendency to get quite wide – today I'd say the water was only flowing over about 1/10th of the area. Another nice spot was at a rocky point where an incoming stream entered…
I continued following along the east side of the lake in here, as the path generally following the backward "C" pattern of the lake. The water here had an awesome turquoise hue, and the whole area was very low-lying, so it was quite lush with plenty of wildflowers.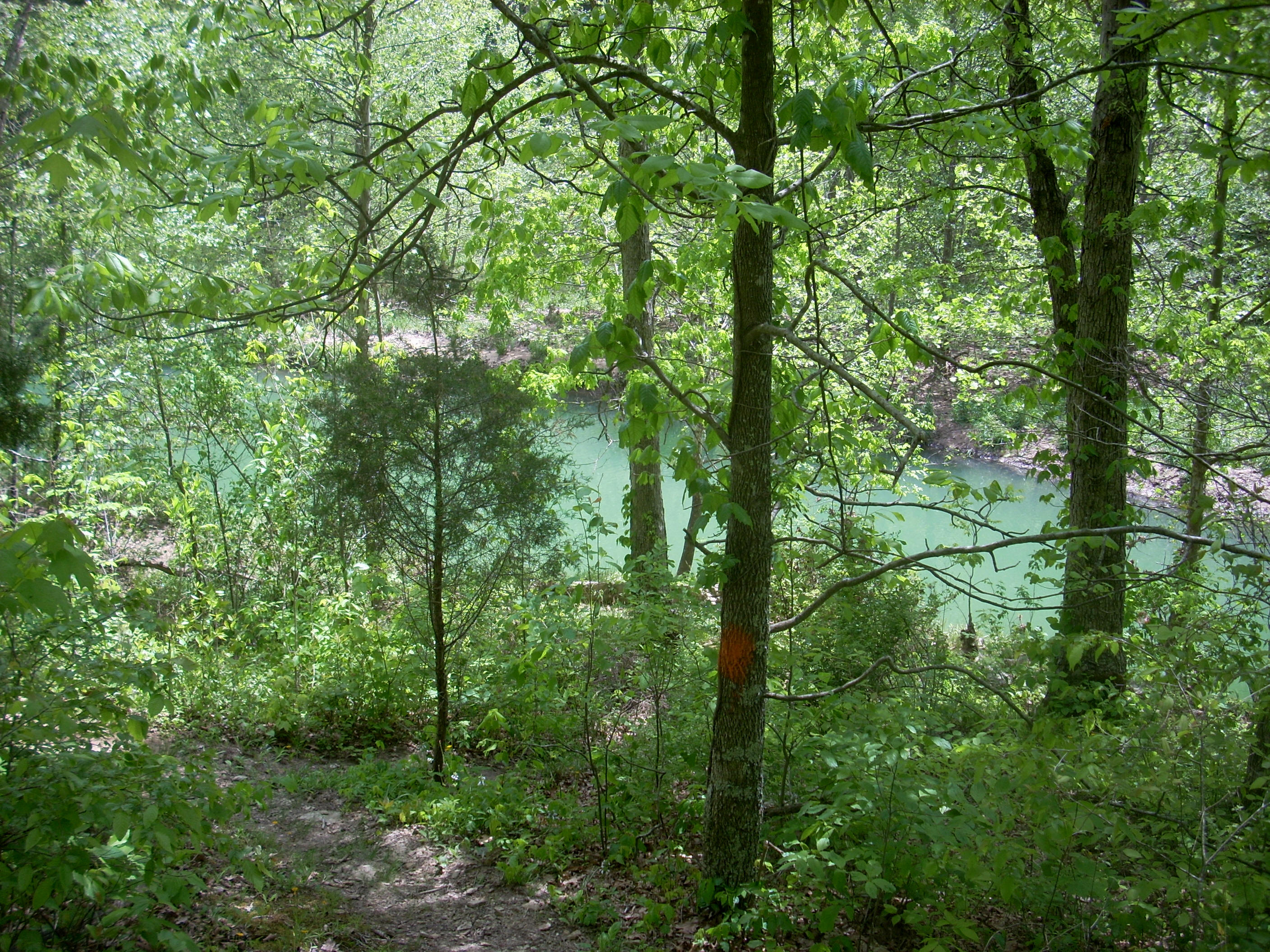 After passing a nice fishing spot down and to my right, I began to ascend again alongside one of the parks' trademark rock outcrops. This particular mid level ascent culminated in a very pleasant surprise - the Shangri-La Arch!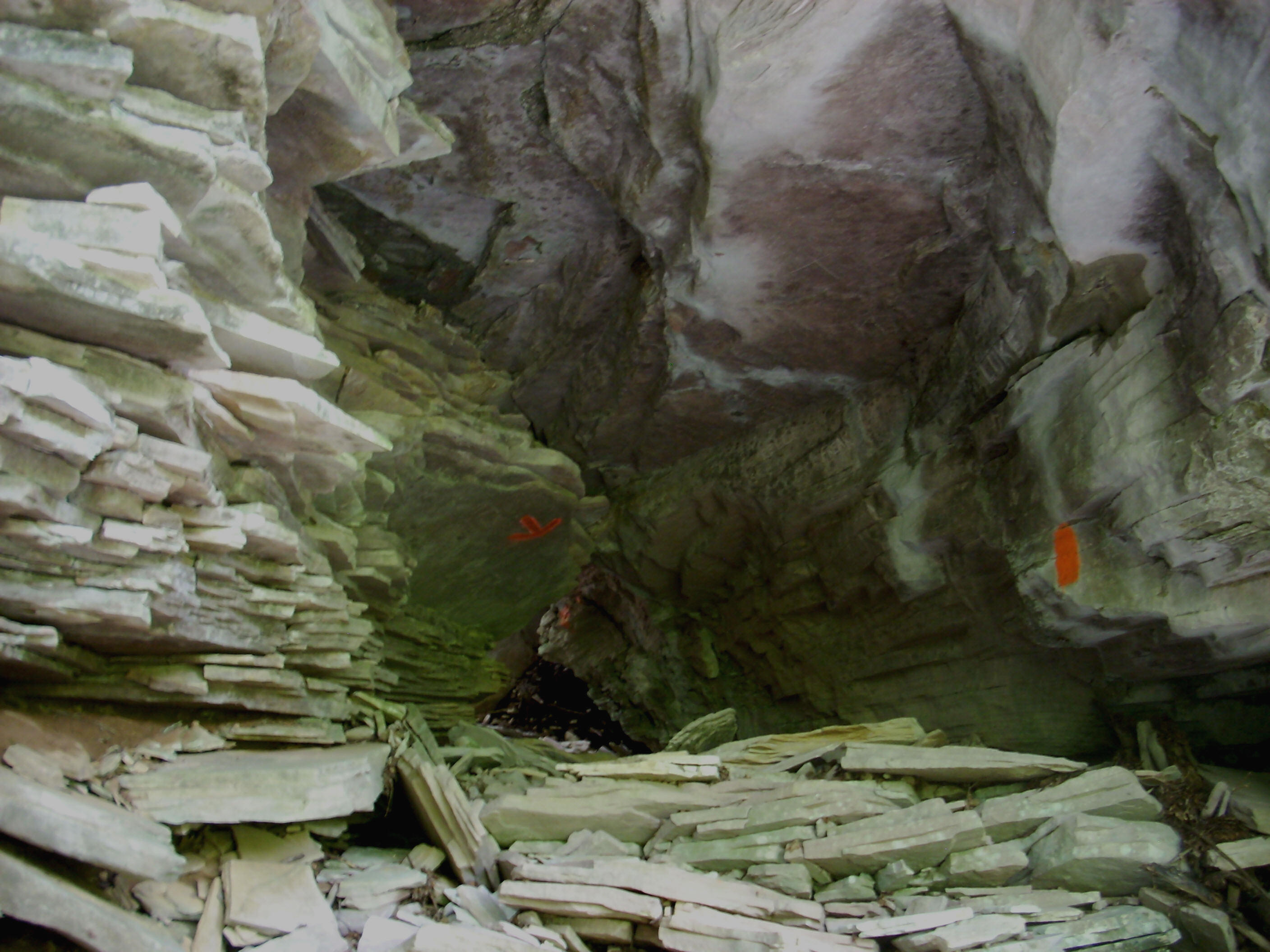 I was not expecting this, so it was really awesome to see, and once I passed under it I climbed a steep ladder up and out. I couldn't leave too quickly, though, because this was yet another awesome spot to stop and enjoy for a while. Gee - have I said that already? It took me maybe 4-5 hours to hike this path, but I could have easily added a couple hours. This is one sweetheart of a hike!
Anyway, the path from here might get pretty confusing if it wasn't so well marked. In fact, you'll even see another trail right across from you on your left at one point. This could be part of the Kiser Hollow Trail (marked in yellow) which you'll soon transect and then merge with at the top of the next ridge. In fact, what you'll essentially be doing – and really from here on out – is undulate quite a bit over different ridge tops. I found this interesting. Most of the trails I've been on in the state have taken a less direct approach as they slowly wind around – and maybe go over - one or two ridge tops. This one tackles a few of them in a fairly short span.
Anyway, at the top of this first ridge you'll pass through a kind of thin gate opening which only a hiker could get through, and then you'll take a left to merge with the Kiser Hollow Trail. There will be a sign to mark the way, but you'll also be able to tell from the trees because the markings are now both orange and yellow.
Of interest to me in this general vicinity was that in Browns' Hiking Kentucky book he mentions that there was an old trail here called the Simon Kenton Trail which once intersected with the 4C's. Apparently it's no longer maintained, but every time I hear that name I'm reminded of this fascinating pioneer who was made even more popular in Allan Eckerts' book, the Frontiersmen (http://www.allaneck.com/b_frontiersmen.html). The book is fantastic! I could not recommend it any higher. In fact, it's the basis for an entire series that Eckert wrote.
Very soon after the trail merge you'll cross a gravel road through a cleared out area to begin walking on a grassy path which looks like another old roadbed. This will shortly begin to descend (keep going straight here, as there are a couple other grassy paths which come in on the left). Once at the bottom, you'll have a little creek just in front of you and the 2 trails will split. Kiser Hollow goes left and you'll go right to follow the stream (mostly dry today). As you do you'll pass through yet another of those thin gate openings, and this one left absolutely no ambiguity – "No Horses" – said the sign.
At any rate, after a fairly level walk through the woods you'll come to the one point where I lost the trail today. There was a mown strip through the grass on the right here, but I thought the path curved left toward the stream. It was worthwhile following this because it led to a nice little cave, but the trail seemed to dead end here and it also occurred to me that I hadn't seen any paint marks on the trees in a while. I headed back to the grass!
Seeing this mown section had really thrown me. It was totally unexpected, and I attracted the attention of a yellow jacket in here. Usually these only show a passing interest, but this one followed me long enough to get me sweating a bit. I kept walking, and it luckily lost interest by the time I reached the next trail intersection. This comes up fairly quickly, and a pole with an orange marking on it will direct you to the left.
Again reentering the woods, you'll begin another climb over a 3rd ridgeline, making a left at the "T" intersection you'll pass. Then, making a right soon after, you'll come alongside another series of rock walls which will help to define the last stretch of the trail. Mother Natures' artwork is quite evident in the incredible striation patterns in some of these rocks!
You'll see and probably hear the people down at the visitor center shortly. Take a right when you reach the Horn Hollow Trail intersection and this will lead you down to it and to your car. You've just walked almost all the way around the perimeter of the park!
Before leaving I had to check out the cave I passed here. There's a short little rocky path leading to it. The entrances were gated off, but it looked like this was one of the caves they offered tours of. I also checked out the cabin which has a nice gift shop. Both are well worth your time – as is this wonderful trail!
So… Was I able to draw any conclusions as regards the problems mentioned above during the course of writing this journal? Yeah! Life's tough! You'll have to suffer through a lot. People have different coping mechanisms to deal with things, but it basically amounts to fight or flight. So I happen to be a considerate person living in an inconsiderate world… That's my cross to bear, so what? Do I flee from society completely to go live alone in the woods or on the water, striving never to interact with others again? I could, but what would my life be worth then – living only for myself?
I feel that the circumstances in my life have led me to this point for a reason that I'm still trying to understand, so to further withdraw from society – even for possible health reasons – would, for me, be like giving up on finding out what the culmination of those circumstances might be. My life hasn't amounted to much so far. I'm not a father, so I haven't given of myself in that way… I'm only just making a living, so I haven't been able to donate to charitable causes… How can I give of myself and make my life worthwhile?
Well, I have been able to take and write about my trips in nature, and I believe that I've been allowed to do this because I am doing it for unselfish reasons – to fight for a real need – to help de-stress my fellow man. So I have to deal with some adversity on the way to my destinations – welcome to the human condition! In fact, I believe the Lord himself is causing these instances to occur. Why?
Because if I were to experience how beautiful nature is on these trips without having to go through some adversity, then I might actually believe that I am in heaven - that's how profoundly beautiful nature has become to me. For why does nature exist anyway, but to pay tribute to and to glorify it's Creator? Thus, I'm convinced that the Lord makes me experience at least one nasty instance on every trip in order to remind me: "James, keep following me and I will lead you to a better life. Life on this earth doesn't have to be all there is." So who am I to complain? Who was I to complain?
Sorry - guess I did get a little spiritual!
DIRECTIONS:
Take US64 to the exit for US60. You'll then follow US60 East for about 2 miles as per the website, and then take a left onto KY182. Follow it for about 3 miles to the park entrance which will be on the left (this will come immediately after you cross a little bridge on a sharp right turn in the road. I parked at the visitor center.