PLACES TO GO ON LAND DESTRESS OUTDOORS HOME PLACES TO GO ON WATER
The Abbey of Gethsemani
Statue Loop
Monday, November 29, 2010
[To be honest, I wasn't aware of the possibilities that existed out here until I was told about them by my Uncle and a friend of mine. Thank you, Uncle Mark and Father Phil!]
It didn't start out this way, but I've found myself becoming more and more of a spiritual person the more I've experienced the outdoors. Natural beauty just seems to have that kind of effect on you. In fact, if you get out enough you may even find yourself experiencing what I can only describe as some kind of spiritual grace as you silently and appreciatively take in all that nature has to offer. The feeling is close to, but not as powerful as, the feeling you get in a house of worship and it was particularly evident on this hike.
Now, I've mentioned before that while I'm in the midst of an outdoor experience I sometimes have feelings of guilt when I pass by things that I feel I should have taken more time to appreciate. Well, looked at in a different way, one might also consider the possibility that at some point you'll cease to be just an observer of the scenery as you actually begin to become a part of it! Your senses will simply start to dull and in their absence will exist a state of quiet reverie.
And, if one could be persuaded to view it thus, nature itself is a reflection of the Lords' love for us as it stands in testament to Him with each wonderful scene that thankfully sings His praises – each in its own way. Well, I really do believe that at some point we, too, become a part of that – each in our own way! (In fact, the video I saw about the monks this day even seemed to indicate that an appreciation of the above is a form of prayer. I was truly inspired by this!)
This hike provides even more, though. Sure, it's a very spiritual little trek (as you can imagine being on the grounds of a monastery!), but like the natural scenes around you, you're also liable to experience deep feelings of thankfulness and wonder as you walk. Why? Because you'll not only have the most popular statues (which depict the Biblical scene of Jesus and His disciples at the Garden of Gethesemane in Jerusalem), but also placed at different intervals along the way are other fine religious statues and scenes which include the Good Shepherd, the Blessed Virgin, St. Joseph, the Sacred Heart of Jesus and St. Francis along with some nice places to sit and rest at each one. Add in the abbey bells you're likely to hear at different points along this hike and it all makes for one unforgettable experience!
Full directions are below, but I parked at Gethsemani's (http://www.monks.org/index.html) visitor center and then proceeded inside to get a trail map (and yes, they do have restroom facilities). While inside I found a fairly large gift shop with books, works of art, and other products which had been made by the monks. Exited as I was to get out on the trail, however, I decided to go ahead and start – I'd return to the store at the end of the day.
Now there are many hiking options out here, but I decided to take this little 1.5 mile circuit which actually begins with a walk back down the same lane you took into the abbey. As you walk you'll notice a sign which indicates that this monastery was founded in 1848 by the order of Trappist-Cistercians (the order itself was founded in 1098 in France). It further indicates that these monks are known for prayer, labor and silence.
Once you reach the road (Highway 247) you'll cross it and turn right, going maybe a couple hundred yards down the road before making a left onto a trail clearly marked with "To the Statues" signs. Please be careful on this stretch, though! There isn't a path alongside the road, so I walked on the pavement when there were no cars approaching. Then, when one would become visible in the distance, I'd get way over on the side! Let me also mention here that from this point on – and until you reach the Gethsemane statues – the pattern of this hike will very generally take that of a flight of stairs which you'll be climbing from left to right.
The path begins, however, by leading you straight back through a little grove of trees on a fairly level plane. Then, after crossing a little bridge, the path will dart directly to the right and have you walking all the way across the top of an embankment. There's a pond here (Guesthouse Pond) and it's a very pleasant location. Whilst I was taking it in, I spotted a ladder at the other end of the embankment. You'll want to climb this ladder and once you do you'll find yourself at or near the top of a ridgeline overlooking the lake. You'll soon encounter your first statue.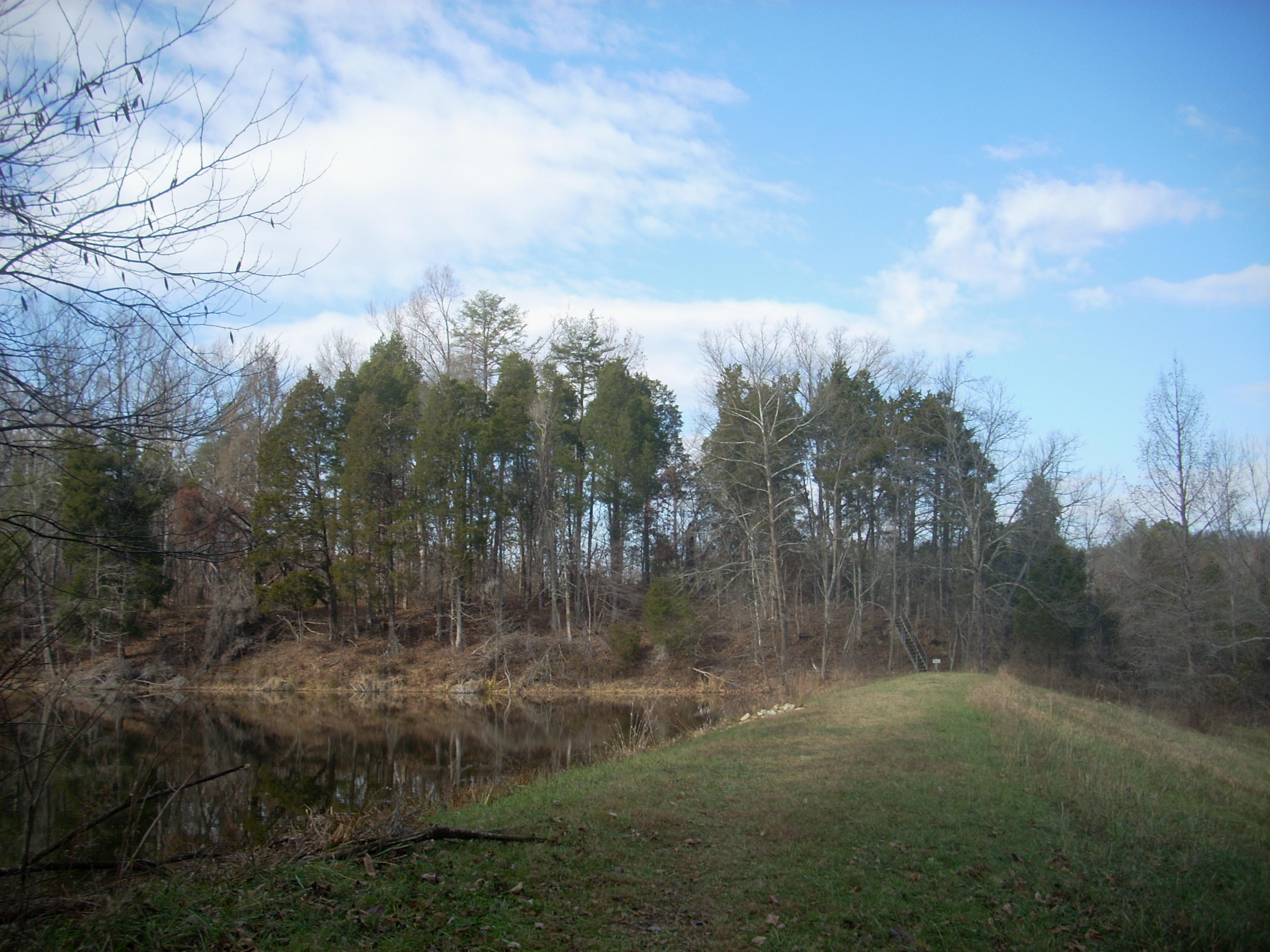 Now I'll be honest and admit that I wasn't expecting any other statues besides those of Gethsemane: "What is that white thing up there?" I thought to myself upon spotting it up ahead. Turns out, it was a statue of the Good Shepherd comforting a lamb. Here one might stop and reflect upon the spirit of this work of art and reach the same conclusion that I did: I envisioned myself as a "lamb" in the Lords flock, and having embarked upon this hike with all the things I have going on in my life I, too, felt soothed and comforted as I paused here for a while.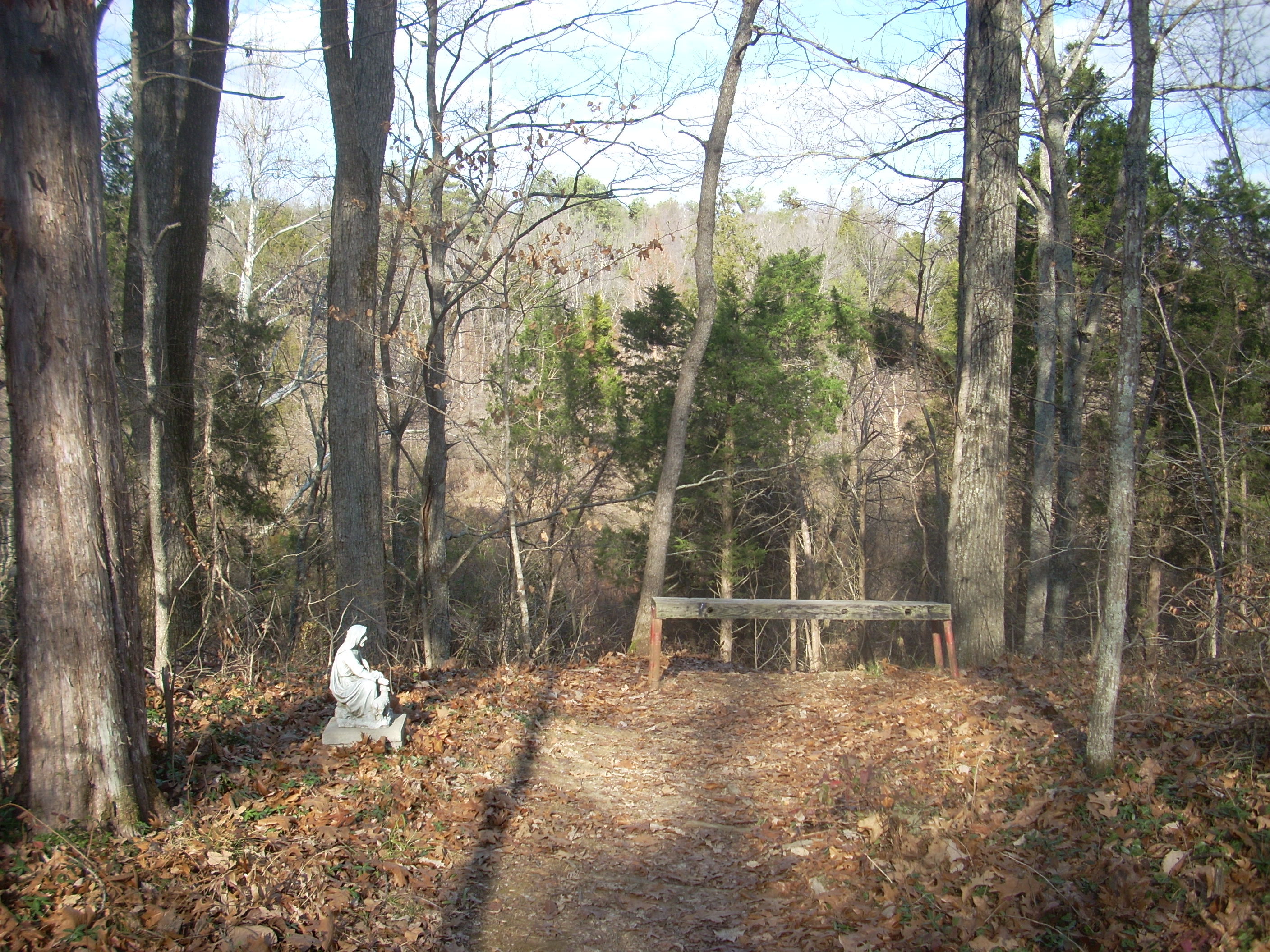 Then, just a bit further down the path, I encountered another scene at a sharp right curve. I believe it depicted Lourdes, France where Our Lady appeared to the little 14 year old girl, Saint Bernadette in 1858. There were also two stone slabs at this location, one inscribed with "pax".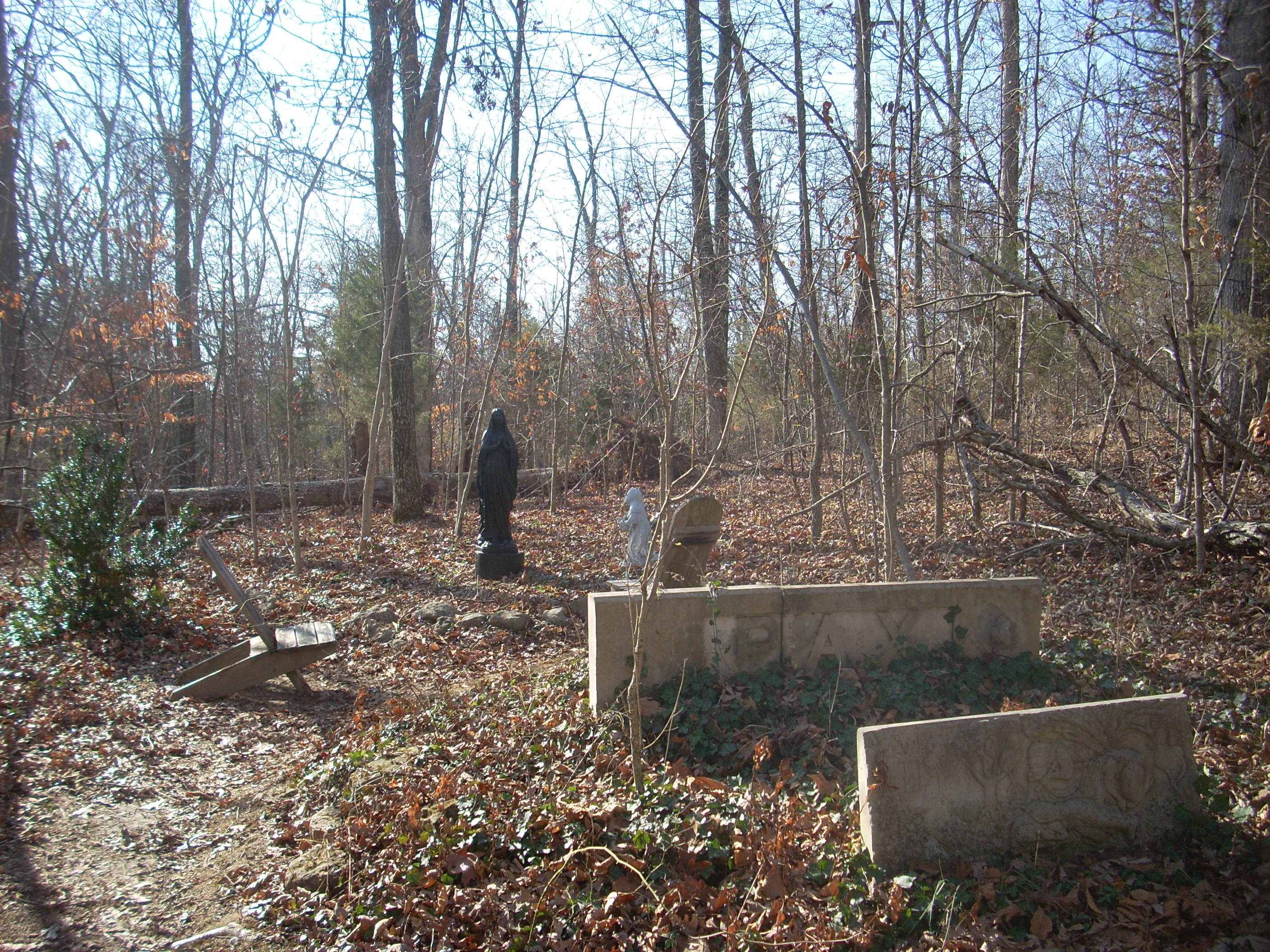 Further on was yet another set of statues – a pair of angels on either side of a Biblical passage from Exodus 23: , the reward for fidelity: "I am sending an angel before you, to guard you on your way and bring you to the place I have prepared. Be attentive to him and heed his voice. My authority resides in him. If you heed his voice and carry out all that I tell you, I will be an enemy to your enemies and a foe to your foes."
Saint Joseph was next. He was depicted with his tools as I made a left curve, continuing to follow the ridgeline. Here I found myself wondering what material the statue was made from, but it was not apparent. Nevertheless, it struck me what a good man Joseph must have been as he labored in support of the Lords will to raise Jesus along with the Blessed Virgin.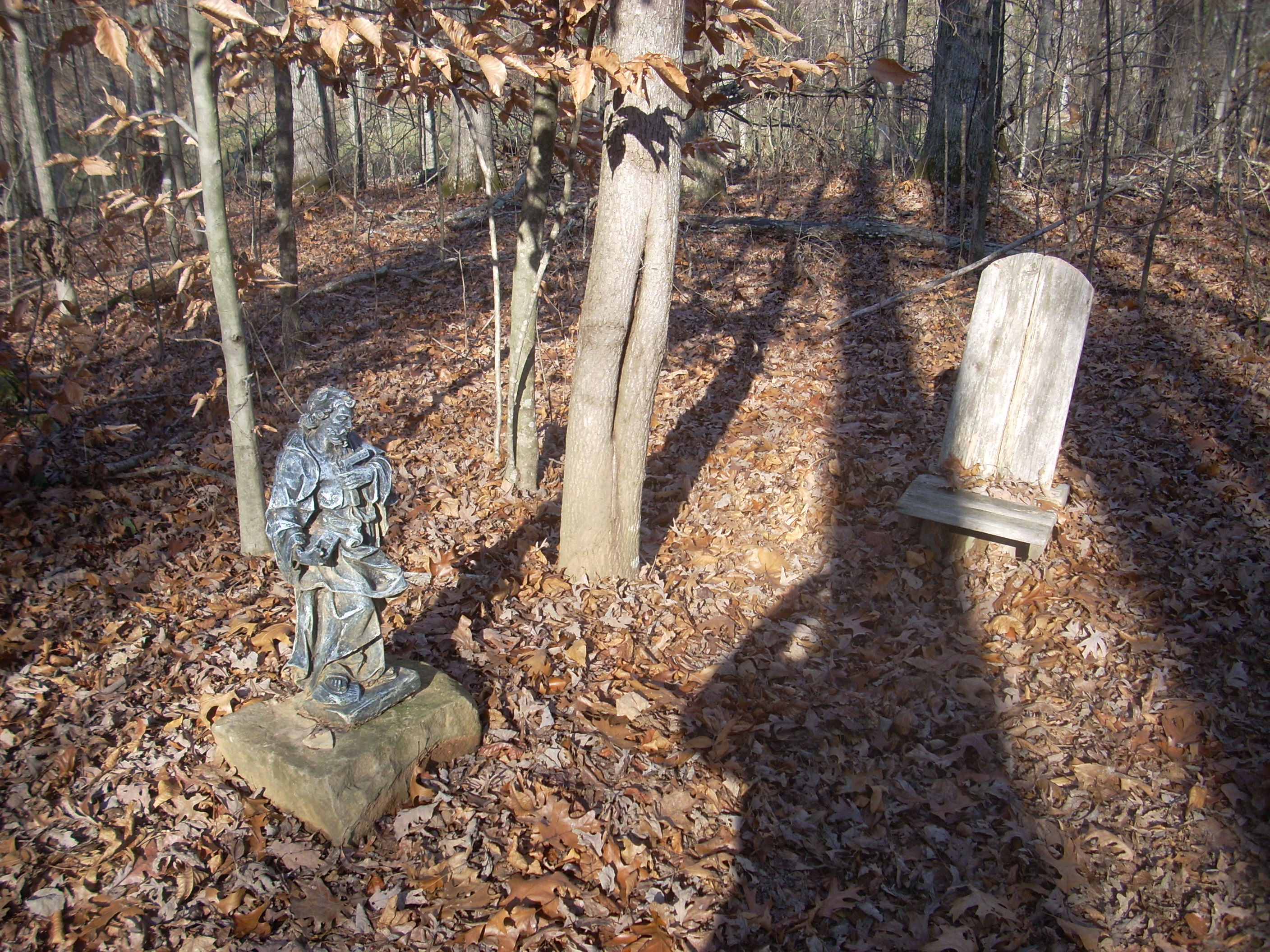 Now by this time I could see a field up ahead that I'd soon be entering, but just before reaching it there were two more statues – one of St. Francis and (further down) one of the Blessed Virgin. The expression on St. Francis' face, in particular, struck me. Check out his piercing, inquisitive eyes!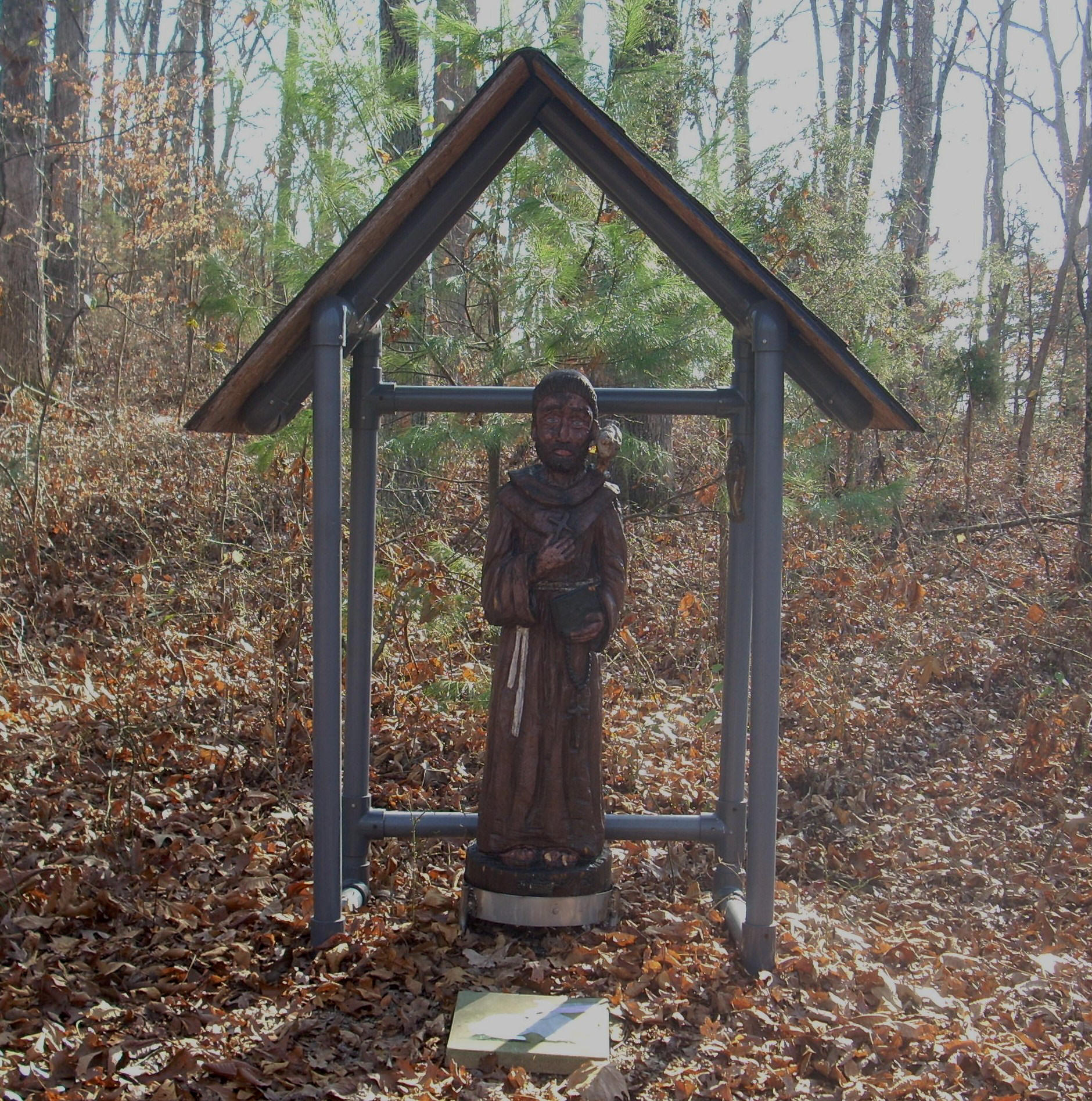 …and near the Blessed Virgin was a large rock which was said to be part of Thomas Mertons' rock garden.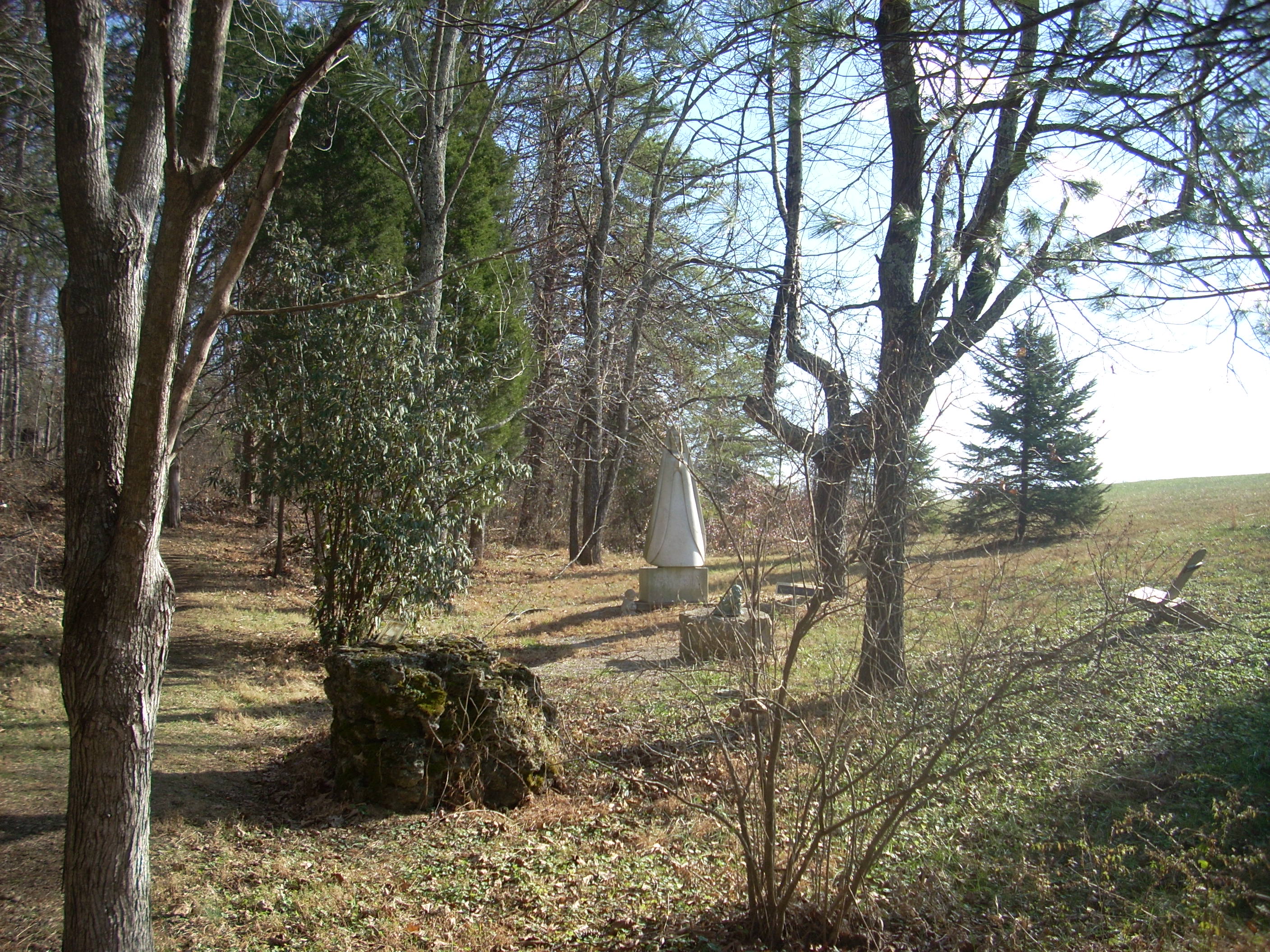 Once in the field – a beautiful, peace filled spot – I continued to follow the signs which directed me toward a little knob hill just ahead and to my left. A trail led upwards through the trees… But wait... There was a couple ahead of me. I decided to let them go so as not to disturb the tranquility of their experience. Instead, I'll at this point note that the trails out here can be quite confusing. You can always go back the way you came when you're done, but if you'd like to make this a loop the way I did I'll try to simplify it.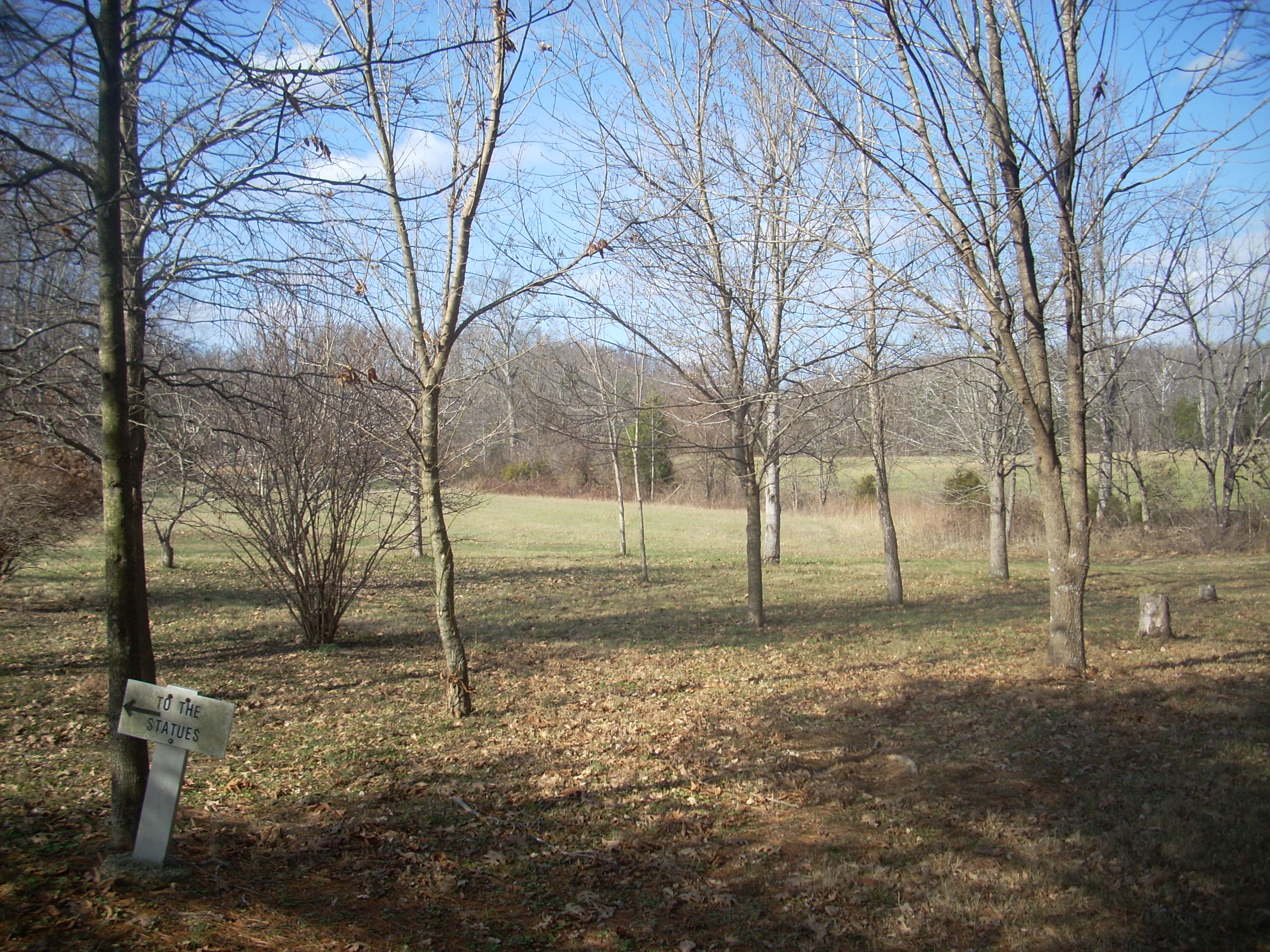 When you reach the point at which you're looking directly up the hill, spin around to face the exact opposite direction. Ahead of you lies yet another beautifully depicted scene of the Sacred Heart of Jesus, and at about on the clock face you'll also spot a pair of silos across the field. These are actually remnants of an old farm, but next to them runs a gravel road which you can't at this point see, but it will lead you directly back to the abbey if you follow it in that direction. Meanwhile, on the other side of your vision at about you'll discover that the road continues alongside another little lake (St. Edmond's Lake) if you walk in that direction. This is a nice place to explore later.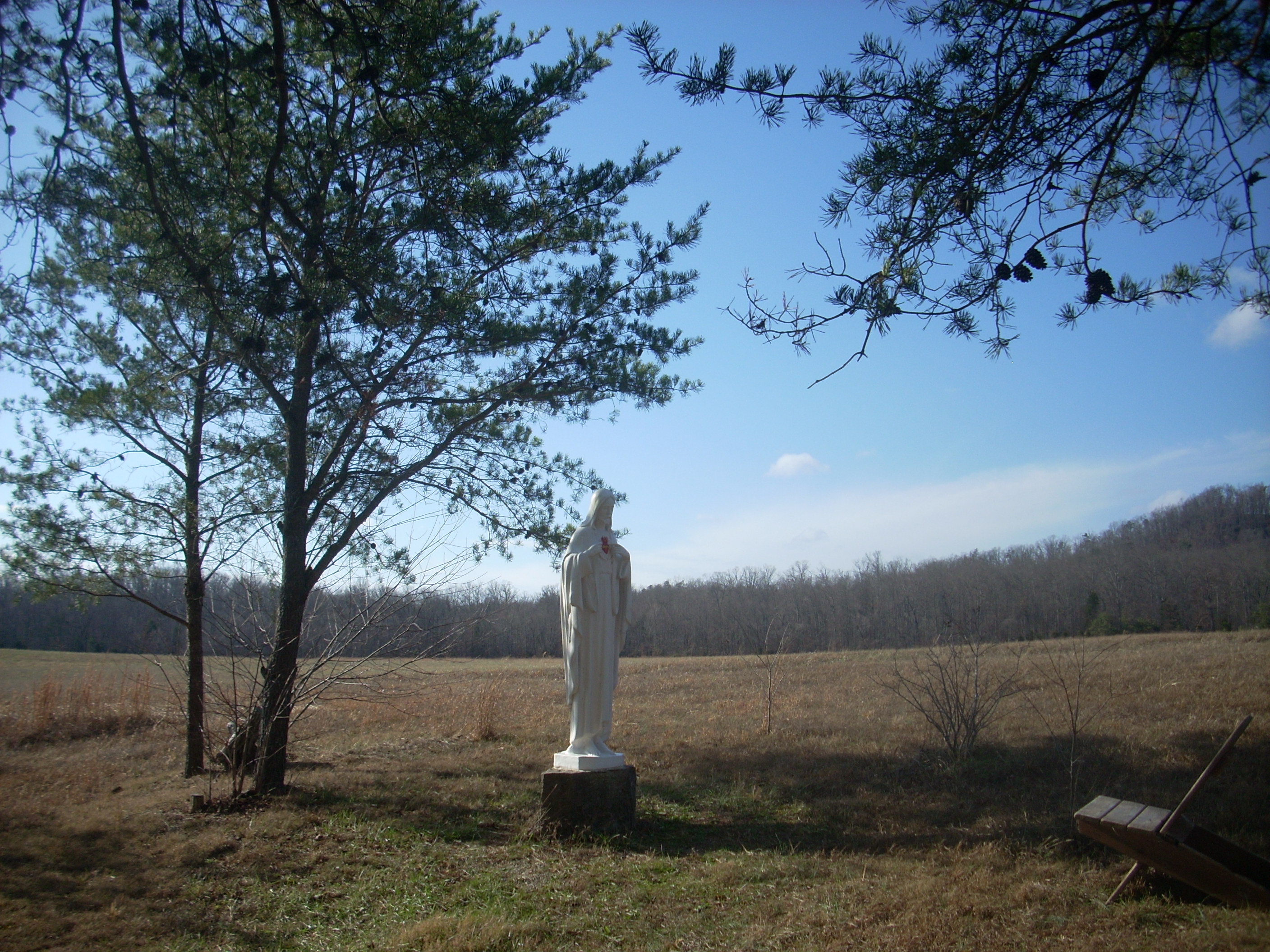 Back to the present... Climb up the hill and through those trees just a little bit and you'll encounter a scene so powerful that it's liable to have an everlasting effect on you. First you'll find 3 of the apostles - Peter, James and John - asleep.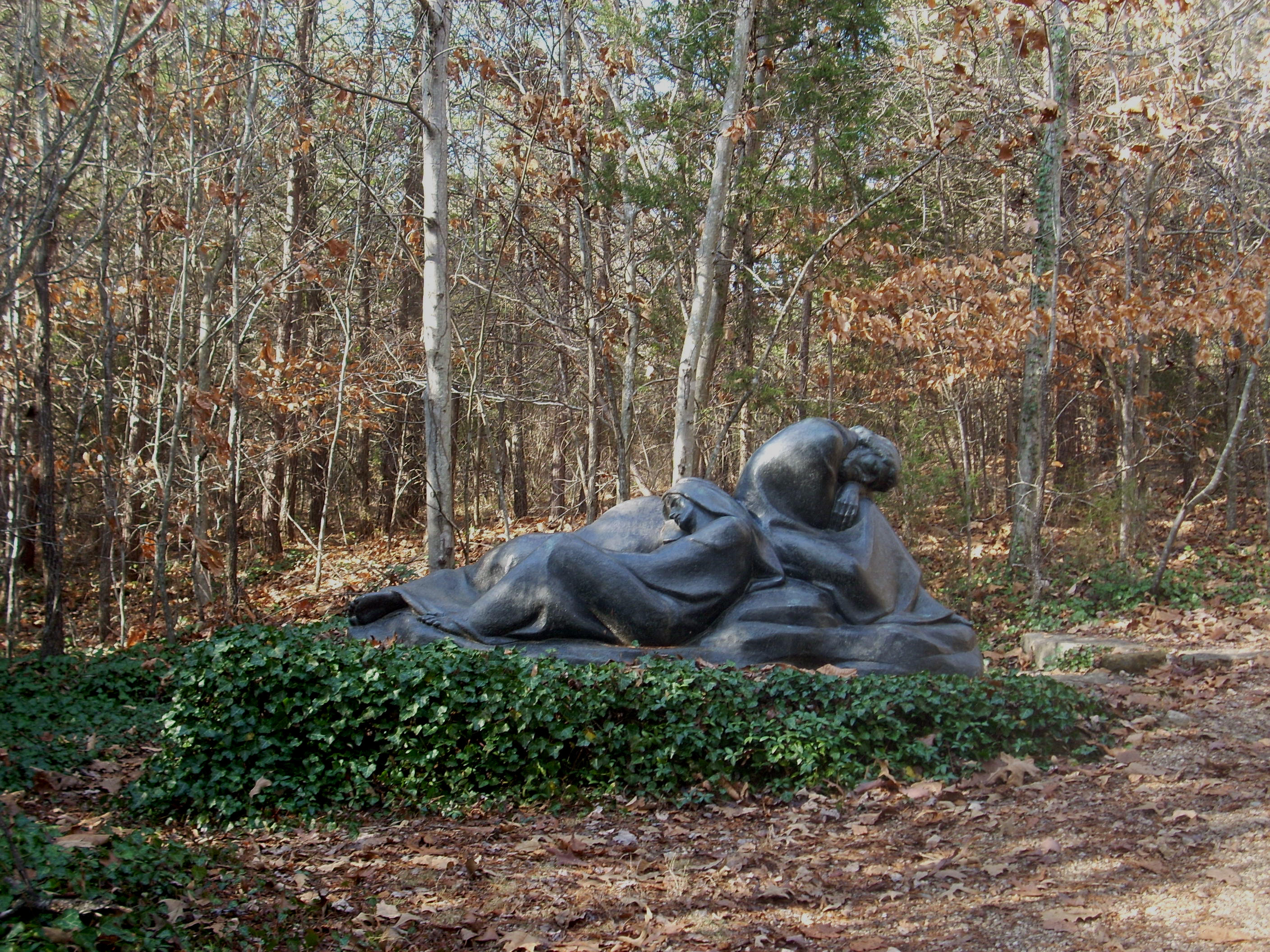 Then, maybe 20 yards further on, you'll encounter Jesus on his knees, arms at either side of his head as he looks toward the heavens in sheer agony. The scene was so moving that I found myself putting a comforting hand upon Jesus' shoulder not once, but twice.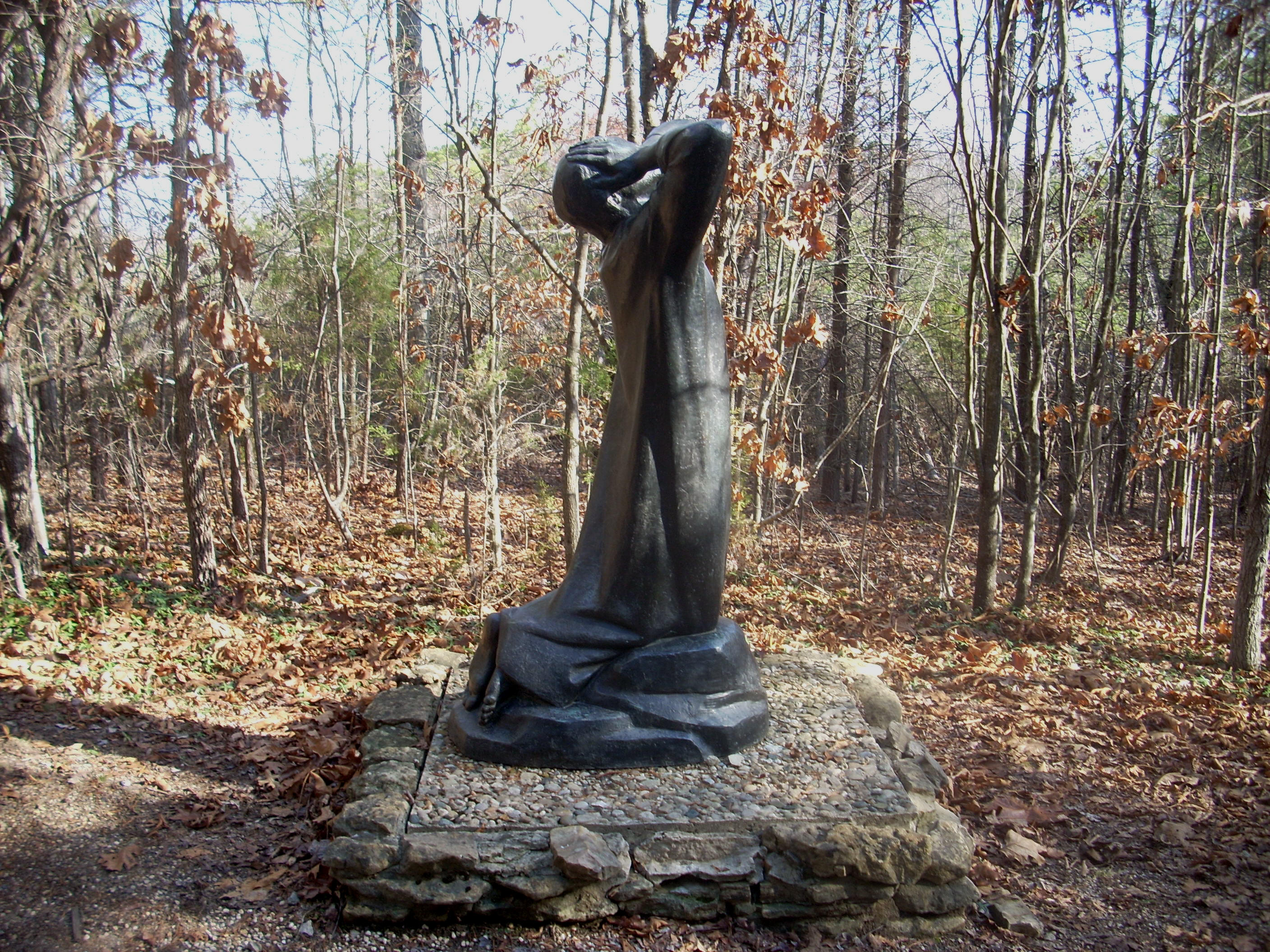 You can't help but feel sympathy for the apostles as well. My thoughts were these: Yes, Jesus told them what must to happen to him, but could they truly have believed that things would progress as horribly as they did? To face crucifixion was to face excruciating torture and death. It was a fate reserved for the worst criminals, yet Jesus was the sweetest entity on the planet! Surely they couldn't have thought that things could possibly get as bad as all that… Surely such horrors would not befall him! They fell asleep…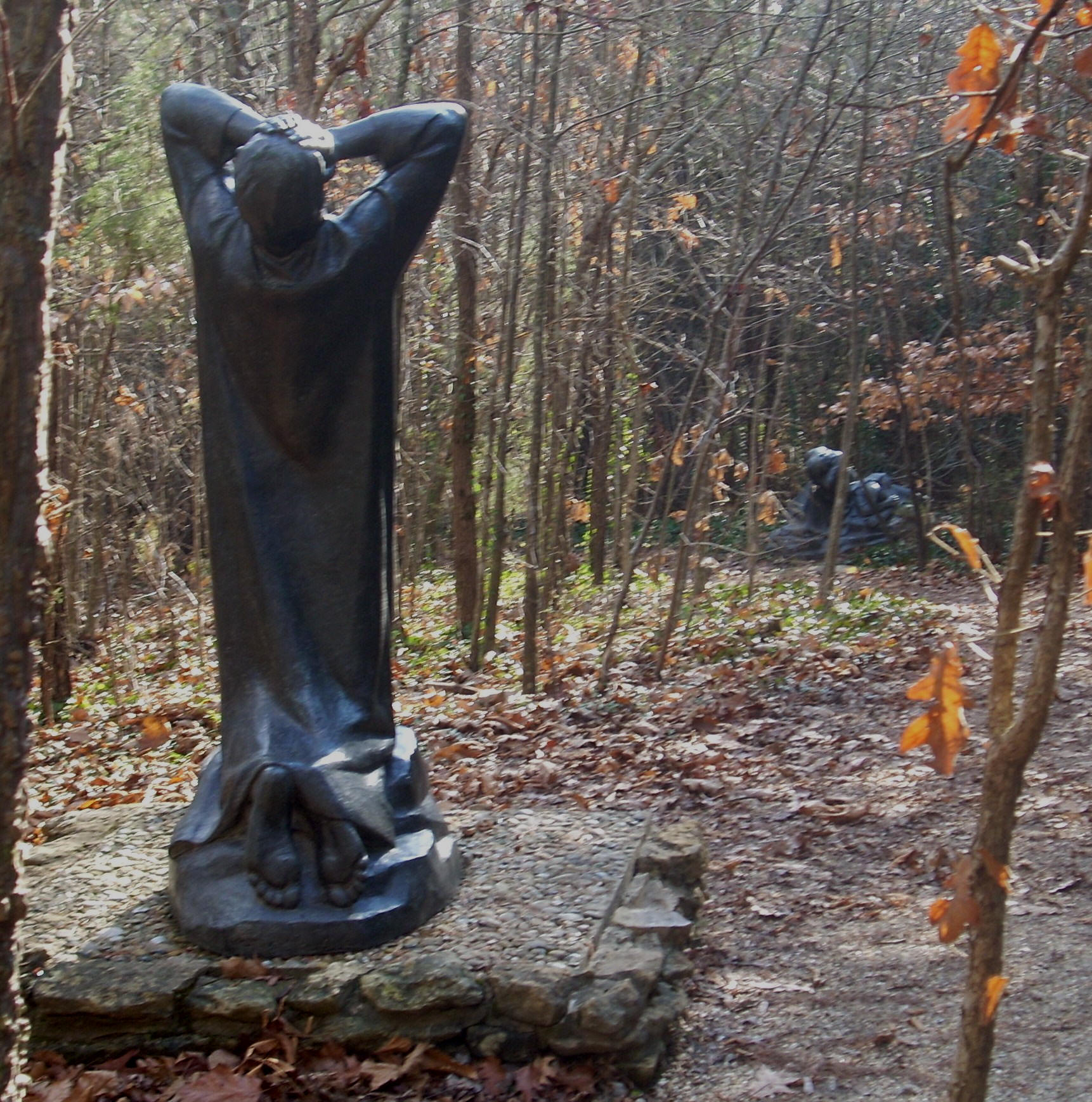 Well, with all this to ponder I stayed for quite a while not wanting to leave… According to a sign here these works of art were sculpted by a man named Walter Hancock. I couldn't find much information on this sculptor, but there's a nice write-up on him if you look him up on Wikipedia.
I eventually I moved on, but as I did so I found that the path was actually becoming harder and harder to follow. It just wasn't well trodden. No matter... It quickly reached an end as it descended back down one side of the hill and deposited me into another field (you're better off just retracing your steps). I took a left and actually wound up walking all the way around the hill and back to the spot where I'd first walked up!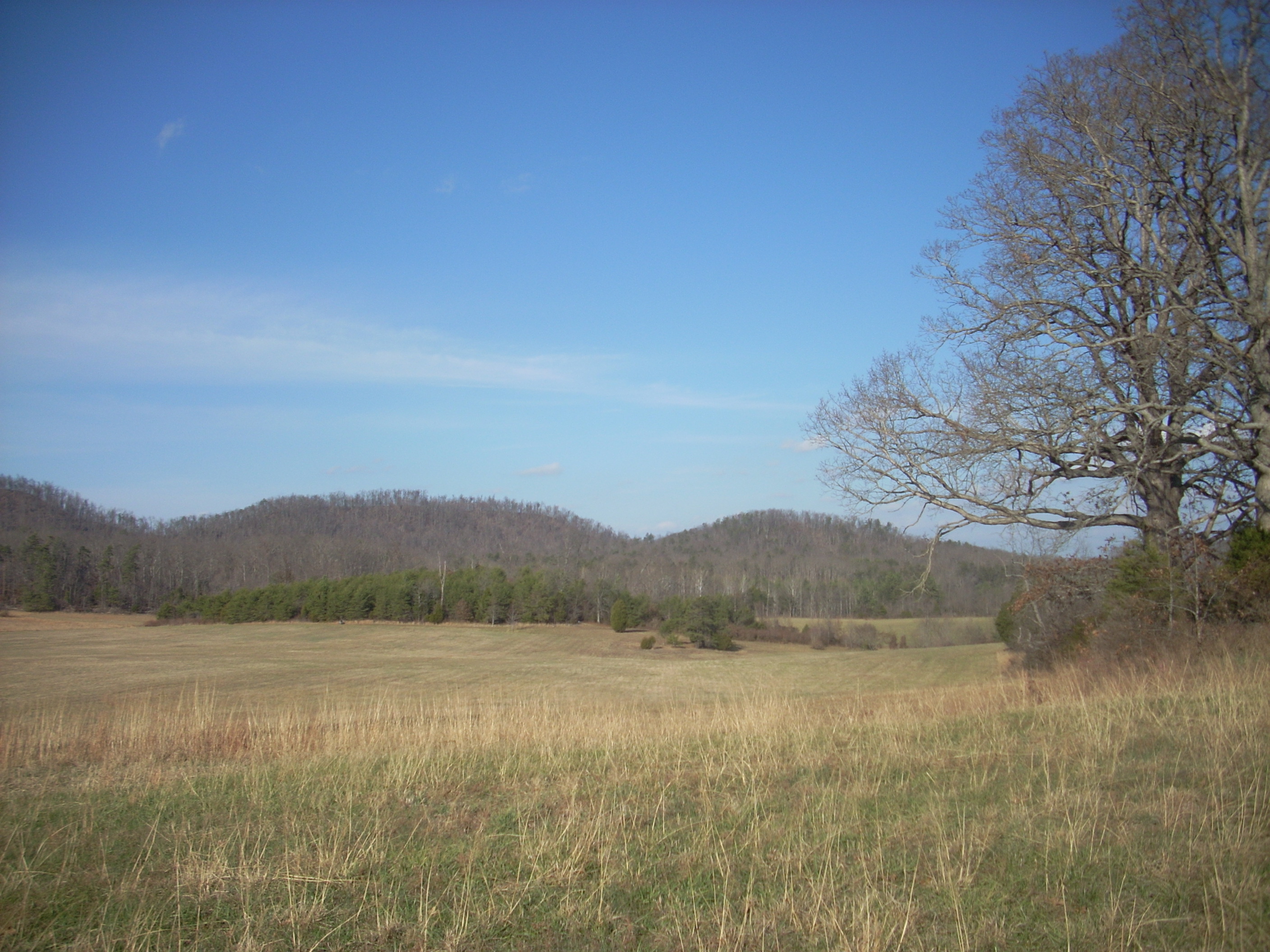 I assessed my situation... I really wanted to see St. Edmond's Lake before I left, but how far would it be? I needed to try and get my bearings… So, deciding to cross all the way over to the other side of the field, I went a little way up a rise and discovered the road. As mentioned, if you take a left you'll soon emerge back across from the abbey, but I first checked out the lake before heading back and found it to be another pleasant place for contemplation. I stayed a while...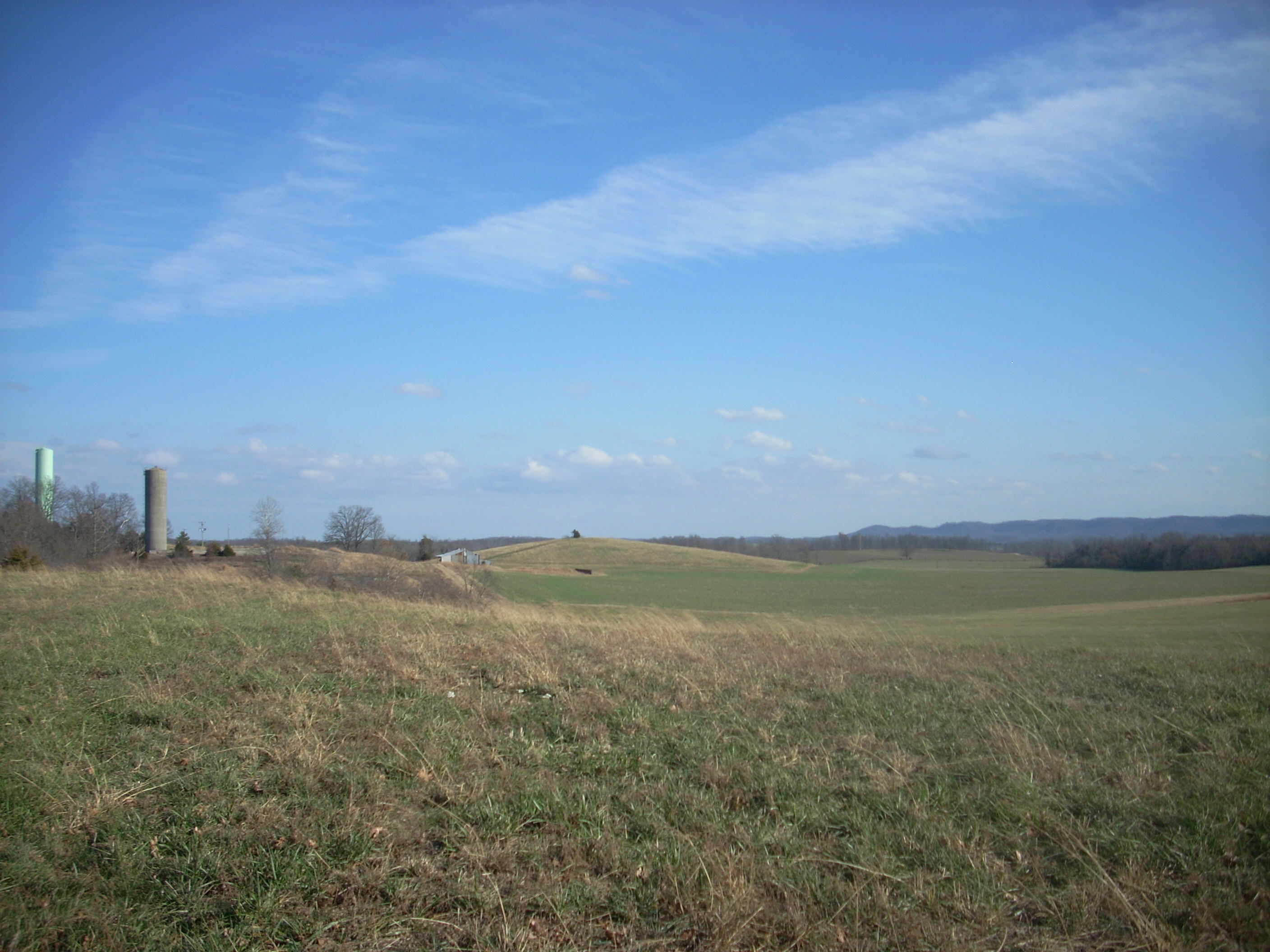 Back on the road, I pondered the two silos again and wondered whether or not the farm was still in operation. Would I have any dogs chasing after me? I didn't. The farm did seem deserted. Maybe someone donated their farm and all their beautiful farmland to the abbey? If so, I am very thankful to them and to the abbey for sharing this wonderful acreage with their visitors.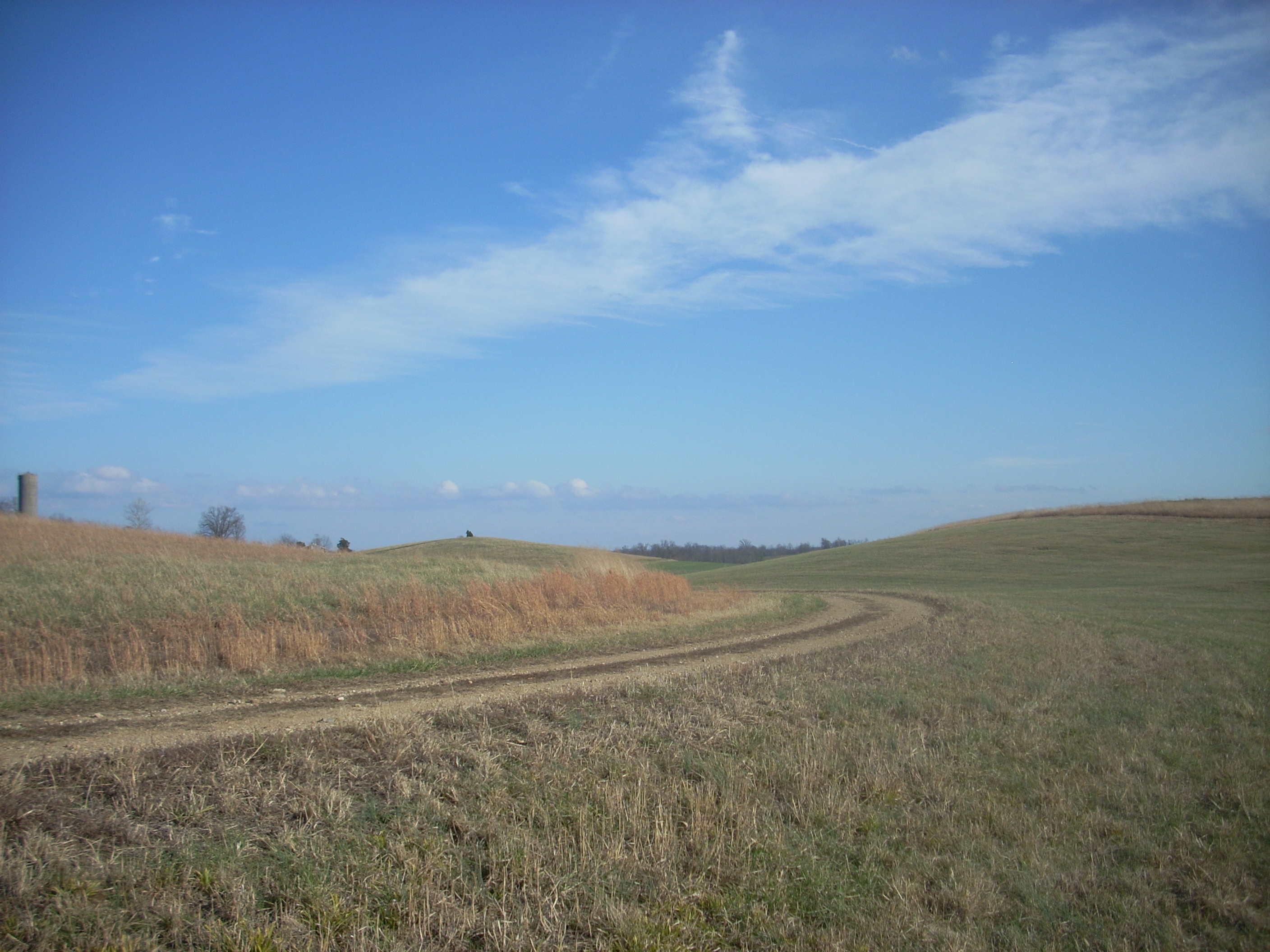 The remainder of the hike was basically a walk along this road, and once you spot the abbey in the distance, you'll also notice a couple little mounds which provide some nice overlook points. These are interesting and are definitely worth checking out, but at this point it was time for me to get back home. What an incredible experience this was! I'd more than recommend it to anyone, and it would be an especially powerful experience around Easter time!
DIRECTIONS:
From the Bluegrass Parkway take the US31E exit and head south. Then, after a little more than 6 miles, start looking for Highway 247 in Culvertown. The turnoff is pretty easy to find because it's got its own turn lane which comes after a convenience-type store. Make a left. The abbey will then be about 3 miles down on the left. It's easy to spot and the turn-in for it comes at a blinking yellow caution light. Make a left a park anywhere but be sure to check in at the visitor center and get a trail map. There are 1200 acres to hike out here, and even some monks are said to have gotten lost on the trails!