Saturday, July 3, 2010
Chautauqua Park (Part of Boulders' Open Space & Mountain Parks Area)
Royal Arch Trail
Having come to visit a friend and spend my first quality time in the state of Colorado (specifically Boulder), my friends suggested this trail.  It's one of the many that are accessible right from the center of the city.  In fact, the trailhead at Chautauqua Park is just one of the 17 they have in this "Open Space & Mountain Parks Area" (OSMP) of Boulder (http://www.bouldercolorado.gov/index.php?option=com_content&task=view&id=2996&Itemid=1035), and from these trailheads emanate more than 140 miles of trails!  In fact, just the drive out is nice!
We started at the Ranger Cottage (which has some nice displays and some equally nice people) and took the paved path immediately to the west of it.  Alternatively referred to as Bluebell Road or simply a "fire road", this paved path took us gently uphill as we enjoyed the views of some of the mountains we'd soon be exploring.  This is Flat Iron territory, a set of rock outcrops which all look like the bottom of an iron – hence the name.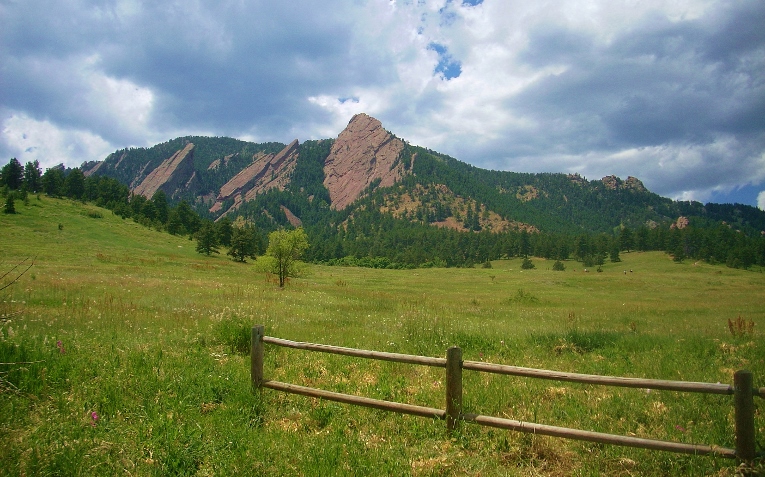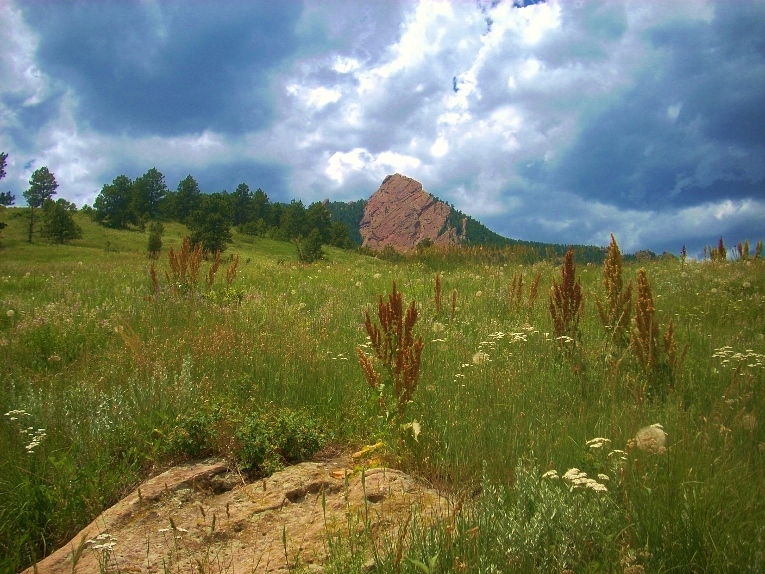 As we walked other trails became visible to us, but with all the paths out here it can be very confusing even with a map.  The Bluebell Road we were starting out on is actually the northernmost section of the Mesa Trail which is said to be the main north/south path.  We'd follow it only a fraction of its length as it soon broke off to the left, but we could also see the McClintock Trail on the other side of the ravine to our left and to the right there was also a meadow trail that I didn't catch the name of.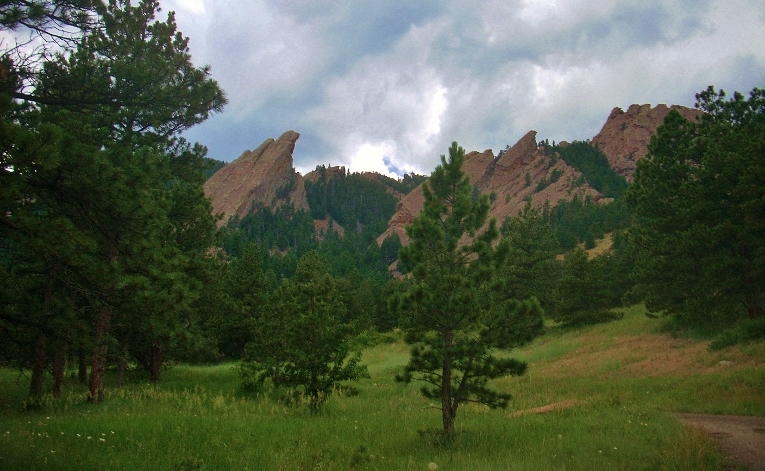 The Bluebell Shelter comes up at the .6 mile mark.  Here you can stop and gaze upon the city of Boulder as you decide what to do:  you can follow the path we did, loop right and head back to the Ranger Cottage via the paved Chautauqua Trail, or take a right onto one of the meadow paths.  As for us, we shortly arrived at the Royal Arch trailhead and began heading uphill on this mile long (2 miles out and back) dirt path.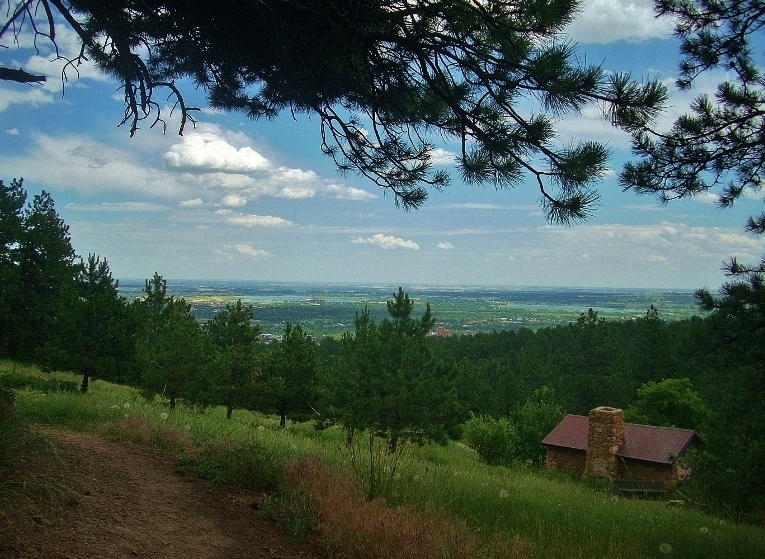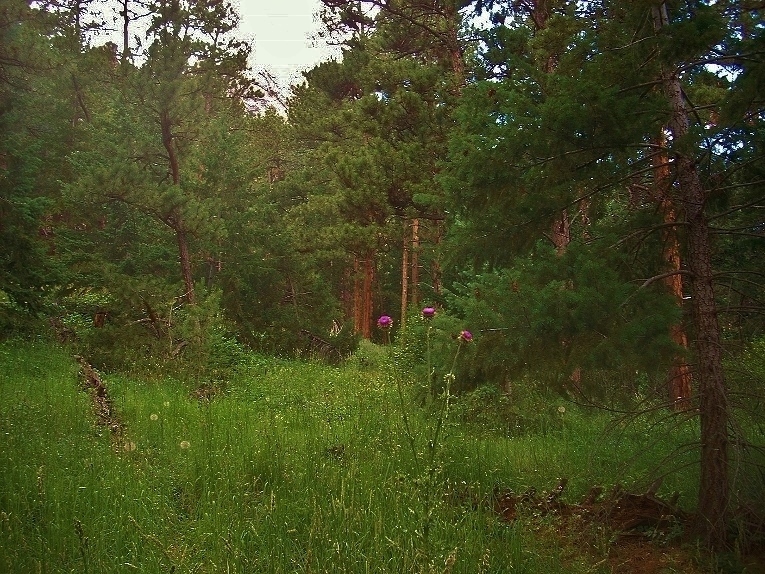 For roughly the first 2/3 of this you'll be making a very, very gradual right arc as you hike on a steady and somewhat strenuous climb (especially for those not accustomed to the altitude) up the mountain.  There are some very pleasant spots to stop and rest though, and at one point you'll pass another intersection for a trail which will branch right and take you up to the second and third Flat\ Irons.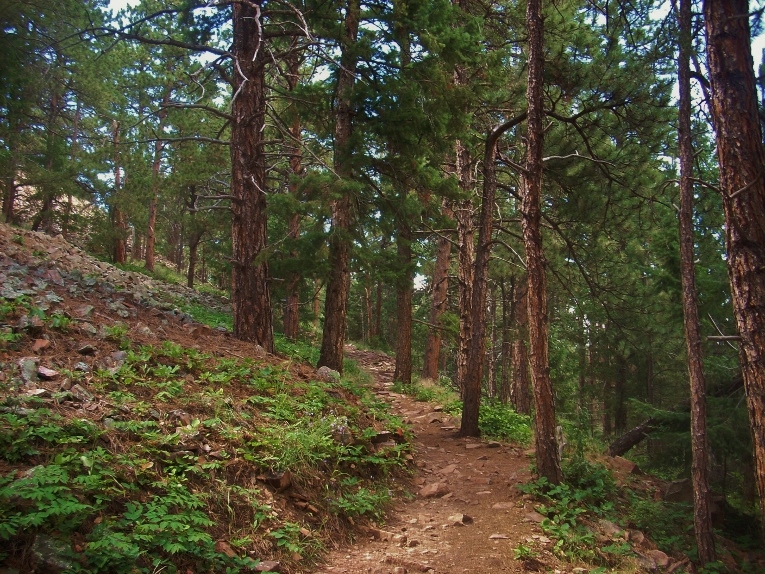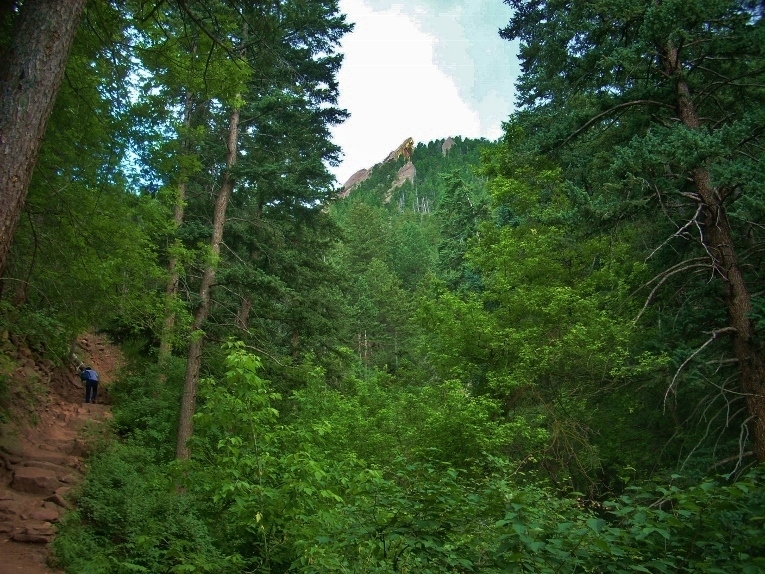 We continued straight, and for most of the following ascent we were on one or another side of a ravine.  Please be careful here.  According to a new friend I traveled with today, these slopes can be a little difficult to negotiate without slipping off the trail – especially when there's snow on the ground!  I was kinda partial to the rockslide views in here…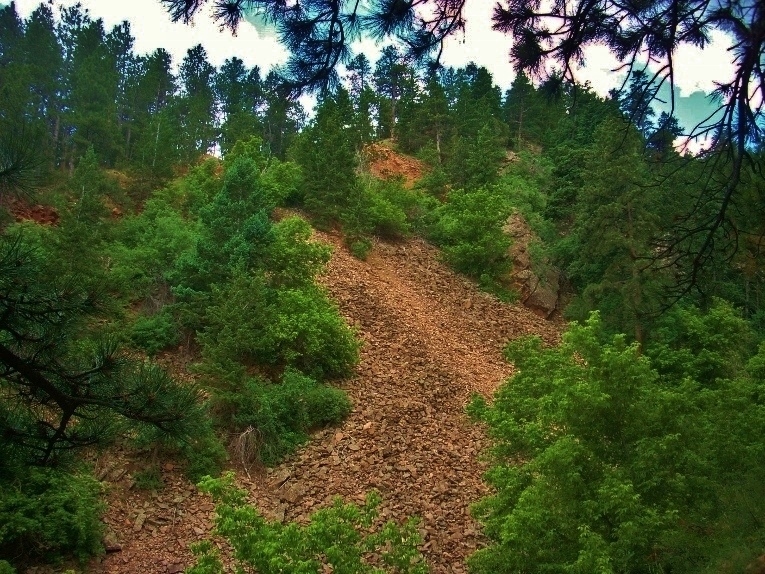 As you near the top of this first climb you'll begin to notice some great vistas through the rocks just before you take a left and begin a brief but steep descent which will provide a nice respite from your uphill labors.  The vistas here were so sweet that at first I thought it was our final destination, forgetting that the name of the trail was Royal ARCH.  We'd not reached an arch yet…  Note the spot below as well. This was one of those situations where I couldn't decide between 2 pictures so I'm putting them both up!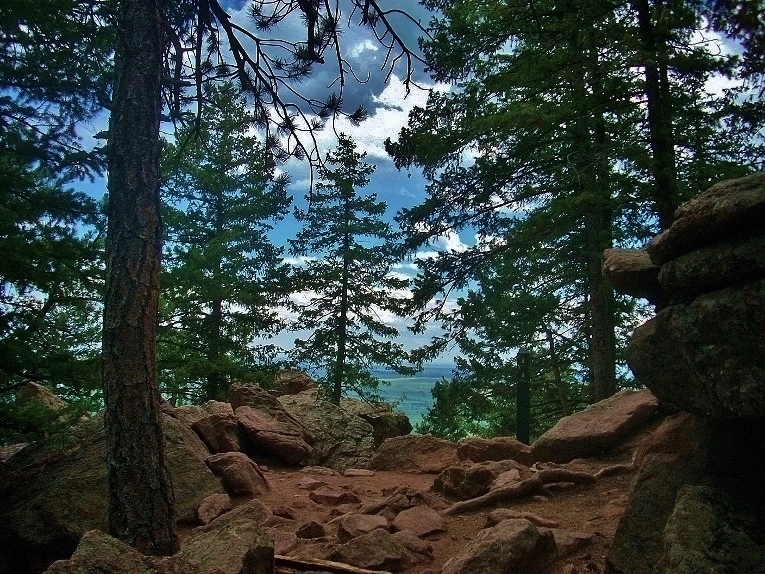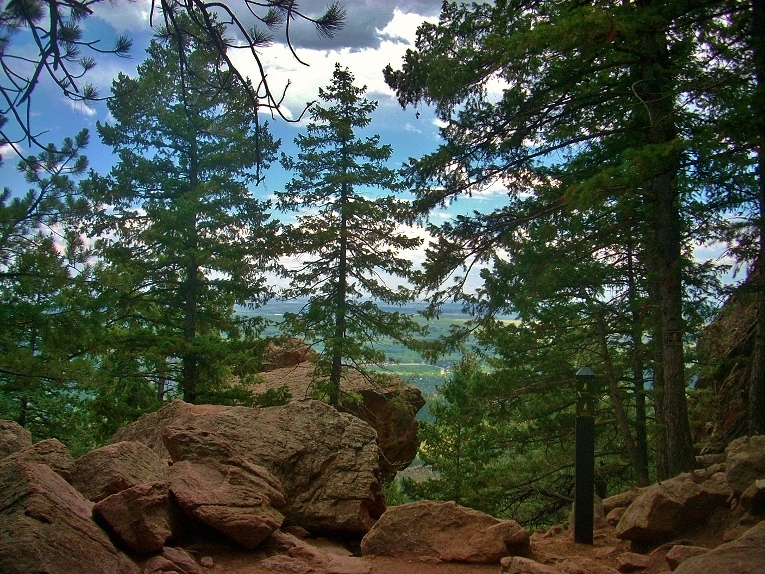 As we began our final ascent toward the arch what amazed me were all the children that I was seeing.  This is not exactly an easy trail, yet there were a lot of families out here spending some quality time together this Saturday.  In fact, there was a constant stream of people coming up and down the mountain, so I was starting to get pretty excited about the sights which awaited me up ahead.
Well, once at Royal Arch I was very thankful that my friends had chosen this path.  Spectacular views stretched as far as you could see.  These included an overview of the park, a birds-eye view of the city of Boulder, and a sweet silhouette of the Flat Irons.  And, since you actually get a slightly different view each time you turn or adjust your gaze a fraction of an inch, I felt as if each new perspective was a fresh reward for our efforts in climbing the mountain!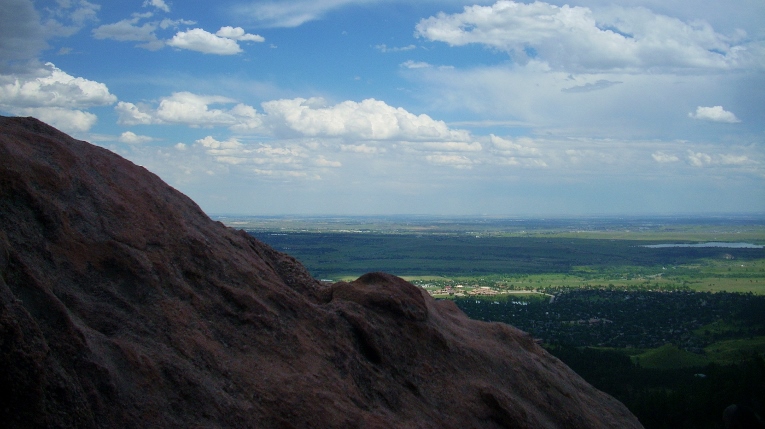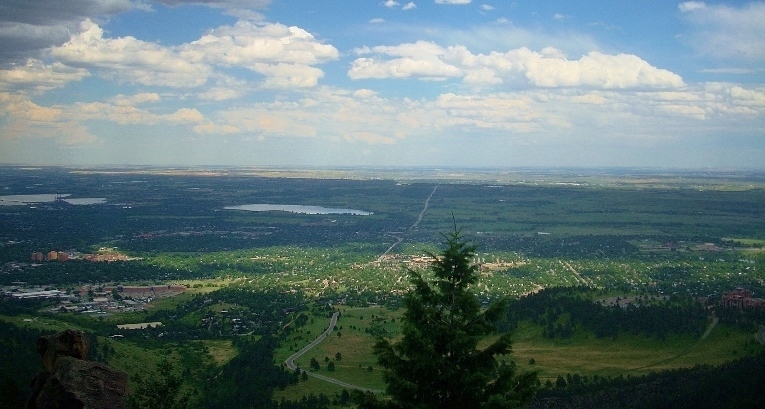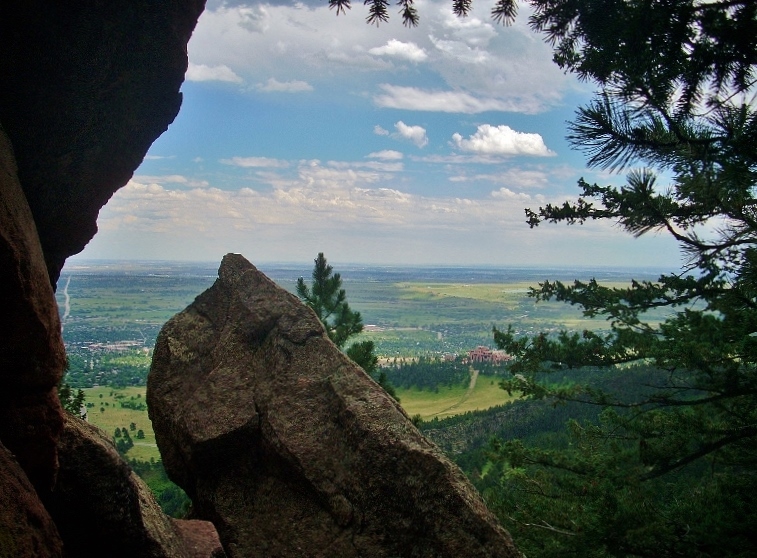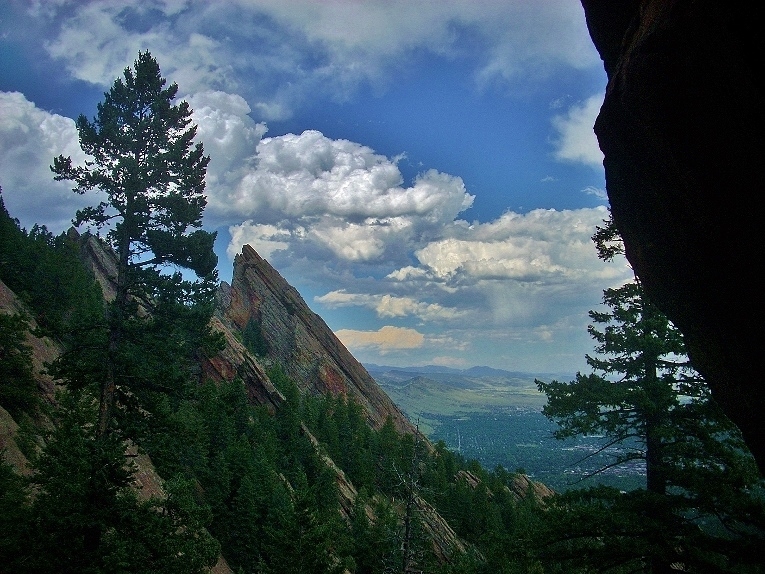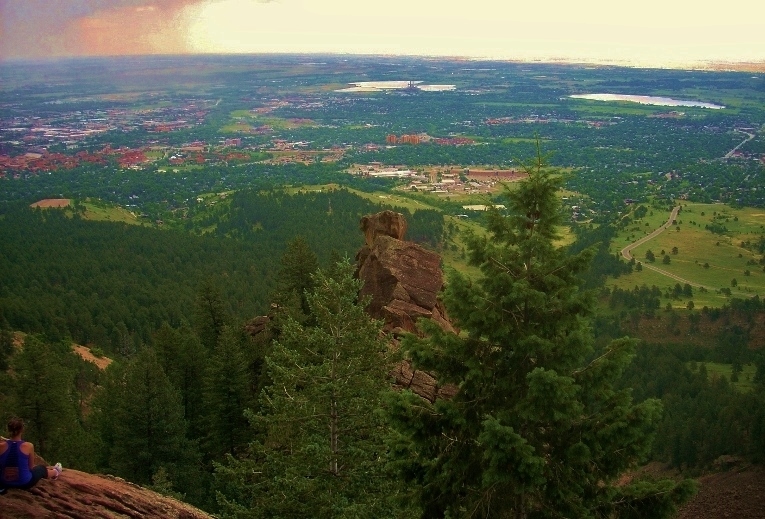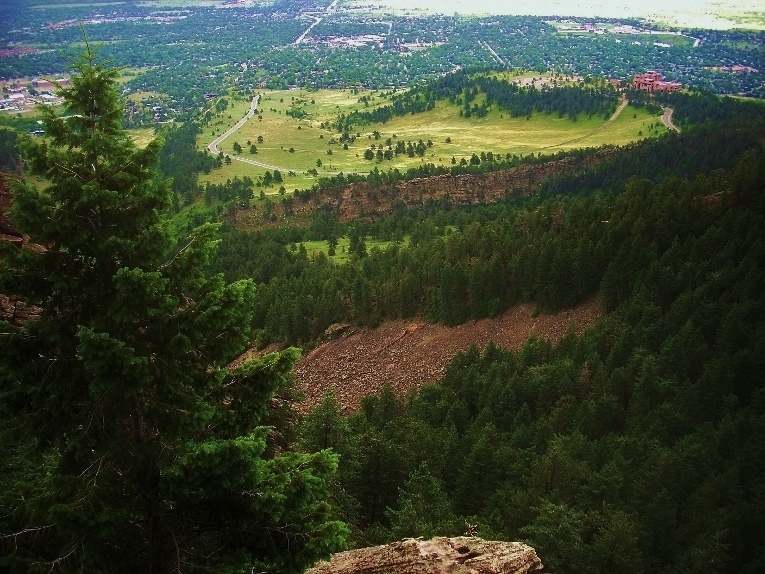 We stayed for quite a while (and a little longer because it started to rain!), but given this bonus time I was also able to notice some things about the people I was with - and take some more pictures of the flat irons on the way back.  The citizens of Boulder seem to be pretty friendly, quite outgoing, and very fitness and nature oriented.  Sure I was on a mountain, the kind of place that such people (like me) tend to congregate, but I also noticed these things in general during my time around the city.  In fact, I'm told that hiking and other such activities are ways of life out here.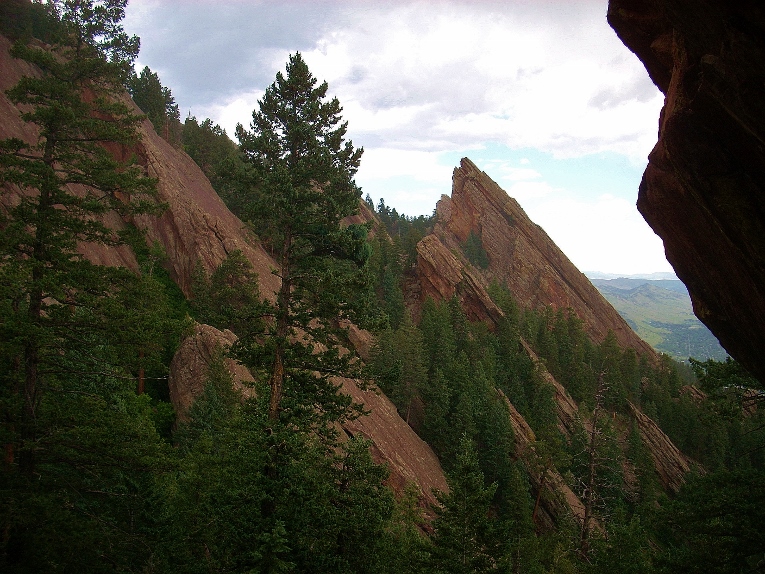 Pondering all this on our descent, I couldn't help but imagine what it would be like to live here year-round.  Boulder is not the cheapest place to live, but with its' multitude of hiking options and other outdoor opportunities I would be quite pleased to get back out here and do more exploring!  …and I certainly think that anyone would be pleased to check out this fantastic trail!  It's MORE than worth the time – absolutely exceptional!
DIRECTIONS:
If you take Route 36 into the heart of Boulder, start looking for Baseline Road (this intersection is actually at the very southeast corner of the Univeristy of Colorado).  Take a left (west) on Baseline, go through the Broadway intersection, and then go almost to the end of Baseline, or a dozen or so blocks.  The main park entrance is at the intersection of Baseline and Grant Place (Grant is right after 9th street).  There is a large parking lot, but it might already be filled.  We parked off of Baseline.